Can there have been a recent sight in the Formula 1 paddock more heart-wrenching than that of the dignified Peter Sauber (70 this October) admitting his eponymous team was experiencing difficulties in settling supplier invoices?
This is the man who, forget not, dipped into his own pocket to save the team BMW had dumped so unceremoniously at the end of 2009, double-compounding its actions first with an aborted sale to the controversial Qadbak organisation, then failing to secure an entry for the following season - thus effectively rendering the operation valueless.
Only intense behind-the-scenes lobbying by the trained electrician/former car salesman and his able lieutenant (and 33 per cent shareholder) Monisha Kaltenborn saved Sauber, and thus the livelihoods of 400 families living in the surrounds of rural Hinwil - almost 10 per cent of the town's population - their breadwinners employed by Sauber Motorsport AG.
Thus it is fair to state that after applying economic multipliers, around 30 per cent of the 1200-year-old town (population 10,000) would have been directly affected by Sauber's closure. Peter could well imagine the devastating effects on 'his' town, which had grown exponentially after he established his company there.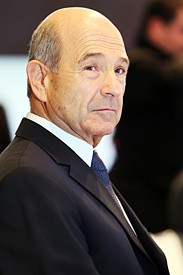 Peter Sauber has kept his composure through four tough decades in motorsport © XPB
This is the man, remember, who had been voted Swiss of the Year in 2005 after selling to BMW, the man who built a Le Mans- and grand prix-winning operation in the mountains beyond Zurich, in a country in which a total ban on motor racing has existed since 1955; the man who persuaded both Mercedes and BMW to subscribe to his vision, which included introducing Kimi Raikkonen, Felipe Massa and Sergio Perez to motorsport's top echelon.
This is the man who treats everyone in his orbit with absolute respect and humility despite his veritable record of success in an environment historically known as the "Piranha Club" and just this week officially dubbed a "Shark Pond" by a senior Mercedes spokesperson. To survive in such a place for well over 20 years while unfailingly retaining one's dignity requires enormous reserves of inner strength.
Finally, this is the man - whose surname, incidentally, translates as 'clean' - who, when things recently turned for the worse, again dipped into his own funds to ensure payroll obligations were met without fail, in stark contrast to the recent experiences of employees in other, ostensibly better-funded, operations.
Yet, having ended 2012 in sixth place in the constructors' championship, just 16 points adrift of the mighty Mercedes (which nicked Petronas, the sponsor Sauber had nurtured for 15 years, in 2010), his team was unable to secure sufficient funding to mount a credible 2013 campaign.
While rumours of a debt pile running to hundreds of millions are just that, there is little doubt Sauber has of late needed to turn to the banks to keep creditors sweet, with the hi-tech factory in Wildbachstrasse providing collateral. Now contrast that with 2005, when he sold the team to BMW: it was totally debt-free.
There are those, though, who point to Sauber's woeful overall 2013 performance as root cause, but they fail to understand that the trickle-down effects of such shortcomings are not immediately evident, for revenues are paid out 12 months in arrears. Thus its present share of the 'Bernie Money' pot was accrued during 2012 - with any current performance shortfalls only financially manifesting themselves next season.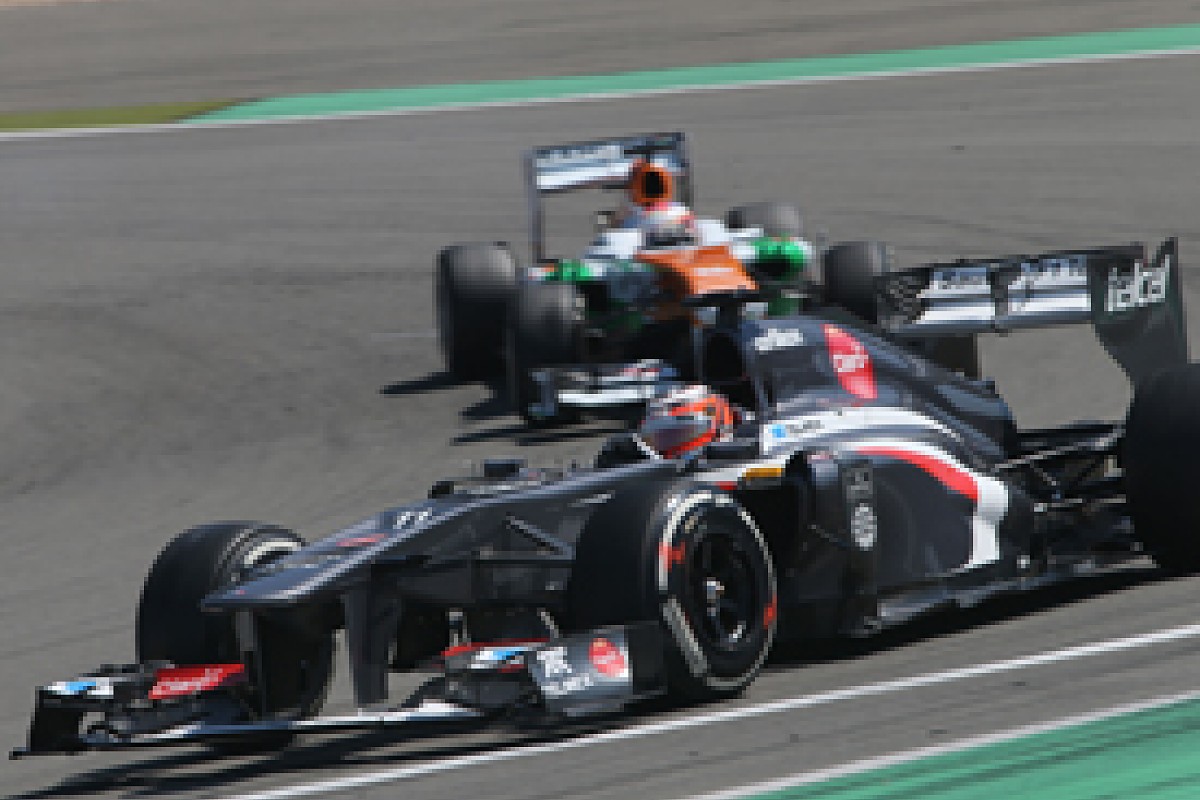 Sauber's cars have visibly lacked sponsorship in recent years © XPB
However, operating a racing team out of Switzerland is fraught with logistical, commercial and technical obstacles, with the country's ultra-strong franc (recently pegged artificially low against the euro to protect Swiss industry, but still frightfully over-valued) compounding issues.
Still, there have to be upsides, such as access to many home-grown companies operating on the global stage. Think: Swiss clockwork, Swiss chocolates, Swiss banking, just for starters.
True, all three product groups are represented in F1, with Rolex and United Bank of Switzerland being major F1 branding partners of FOM, and Peter Brabeck-Letmathe simultaneously acting as chairman of both Nestle, the Swiss-based nutritional and consumer giant, and the Formula One Group.
Rolex and UBS annually contribute an estimated $100m a year to FOG's coffers, of which Sauber is fortunate to sniff $6m, spread over 10 equal instalments 12 months in arrears. FOG trousers $40m of that upfront...
The reason these brands chose to go with 'bridge and board' deals rather than bedeck a team in their livery is simple: through its in-house production unit and vertical integration, FOM is able to guarantee partners worldwide exposure while simultaneously holding sway over broadcasts.
For proof, consider how cameras appear to linger longer on billboards or logo-littered corners, then reflect on last year's contentious Bahrain Grand Prix, which saw Force India withdraw from Friday's FP2 session over security concerns - and pay the price of annoying the powers-that-be through omission from qualifying footage despite making it to Q3.
This power endows enormous negotiating leverage on FOM, leaving already cash-strapped teams extremely vulnerable. One sponsor-hunter recently shared how he guaranteed a prospect 'bridge and board' exposure when said party expressed the option of going with a team:
"Simple: I committed to X minutes of flighting during the season, then suggested he request similar guarantees from the team," the agent said, "and of course it was no contest." Result: brand on board, but on bridges and billboards, not bargeboards...
Thus, next time a bare Sauber speeds past Rolex or UBS signage reflect on this anecdote; next time you see a Nestle choco bar question why the world's largest food/consumer brand by revenues is not visible in F1 despite a common chairman...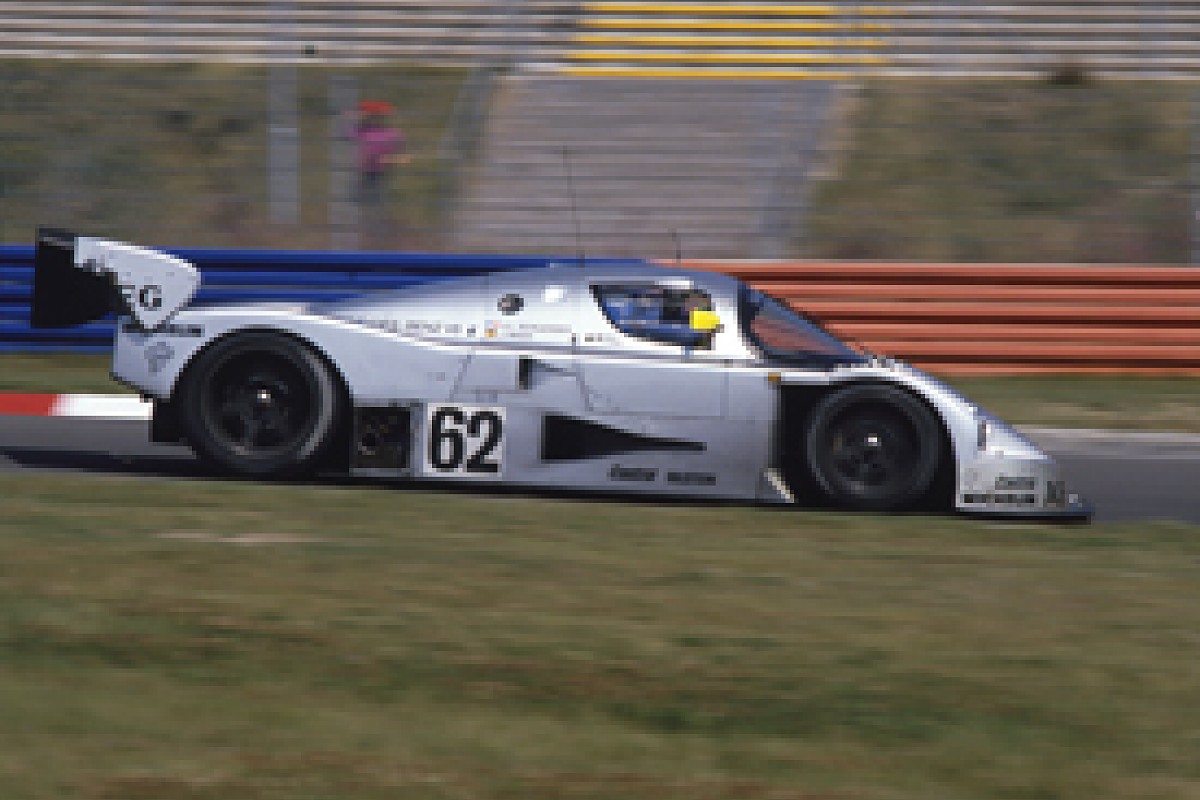 Sauber won Le Mans with Mercedes in 1989 © LAT
Back, though, to Sauber: through all the pain of facing an uncertain future, Peter Sauber kept doing what he does best - seek partners - while Kaltenborn kept a steady hand on the tiller at base and races.
Maintaining motivation amid rumours was not easy; somehow Peter knew he would find a way.
As he told this column back in May 2010 after saving Sauber Motorsport from extinction: "I always found a solution. I was in Formula 1 for 17 years; in sportscars for 10. The company is 40 years old this year."
Early this year a broker raised the possibility of a commercial and technical partnership with a Russian conglomerate. Peter and Monisha, a jurist with international law experience, poured heart and soul into the project, and by Bahrain it was clear from the smiles on their faces that progress had been made.
Still, dealing with Russian bureaucracy is an excruciatingly slow process, one littered with pitfalls - and occasional frustrations manifested themselves. However, they kept faith; crucially, the workforce did, too.
Thus the duo shuttled back and forth between Zurich Airport and Moscow, each visit adding another row of building blocks. What they sought to costruct was not a traditional sponsor/team relationship, but a mature version of the Petronas deal Peter had engineered back in 1997 - one that proved highly successful for all parties, yet has still not been replicated in the paddock.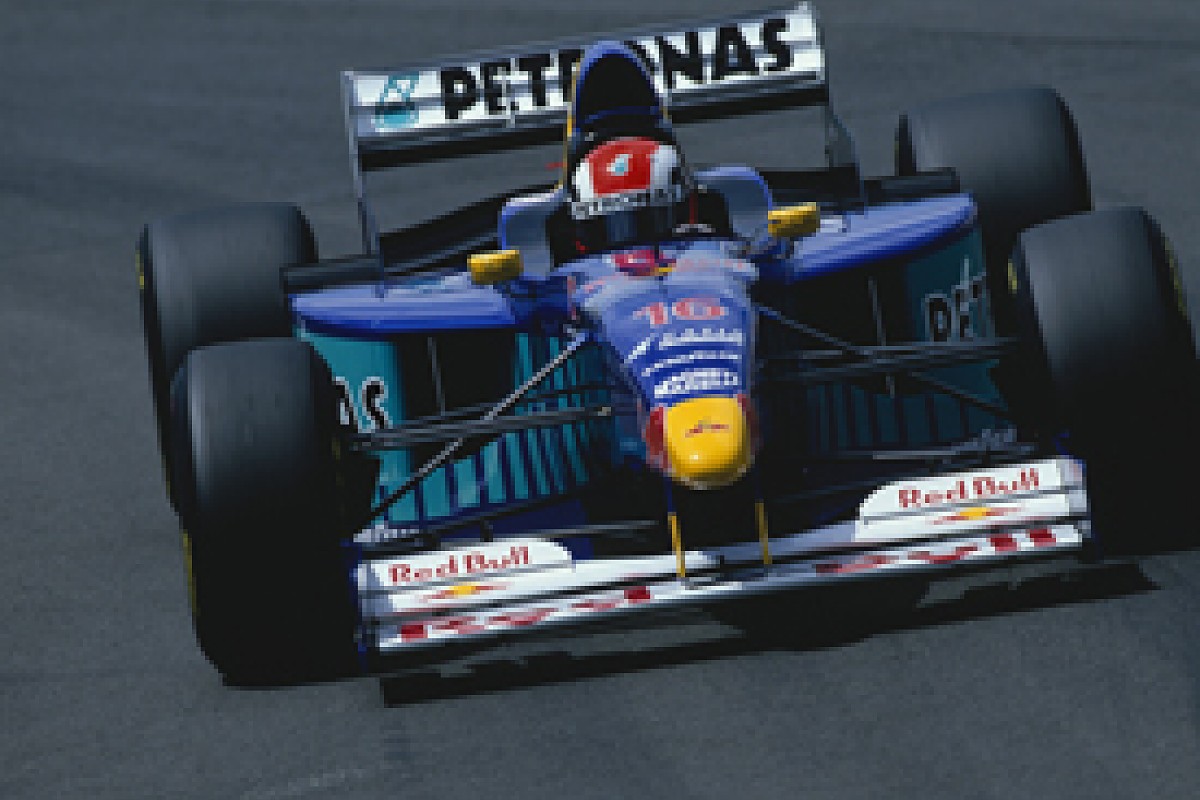 Sauber's Petronas deal had multiple benefits © LAT
At the core of the concept lies a strong technical partnership, one layered with commercial benefits provided by three distinctly different streams: pure sponsorship revenue (crucial to clear debts and fulfil existing commitments); monetising of shared technologies; and incremental revenues ('Bernie money') derived from improved performance facilitated by the technical partnership.
A young driver able to be 'grown' in the mould of a Raikkonen, Massa and Perez would be a considerable bonus - except this time the team aims to retain him - as would a talent exchange programme similar to that which provided so many benefits for the Malaysian state-owned petro-chemical giant and the team through rotating scores of Swiss/Malaysian engineers. Crucially, the team's shareholding was not to be diluted.
The three-week gap between Bahrain and Spain provided welcome respite from the media, but when F1 decamped in Barcelona the bombardment resumed. Yet they smiled broadly despite Sauber suffering the effects of a slipped disc, incurred while DIYing in his home garage. Kaltenborn on the Thursday evening confided to a select few that she had that day attended meetings in three different time zones.
That they had been to Russia became public later that weekend; then, of course, rumour-mongering started in earnest. With the team having a branding exchange with Chelsea Football Club, the media added CFC owner Roman Abramovich and Sauber, and came up with three.
After that concept failed to fly, all sorts of permutation were chucked about: Rotenberg brothers Arkady and Boris of SMP bank fame and suppliers to state-owned energy conglomerate Gazprom; Asian car companies, including no-name brands...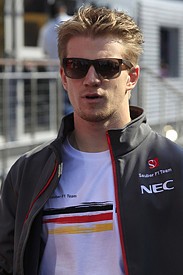 Suggestions that Hulkenberg was owed wages stoked the rumours © LAT
Virtually every Russian driver to have graced a grid - bar a certain 17-year-old - was linked to the team, with sources vowing they had seen grand prix podium finisher Vitaly Petrov in Hinwil immediately after Silverstone.
On the one hand the team's owners were besieged by accusations that the squad was a finger-push from bankruptcy; on the other they knew there was a glow at the end of the tunnel. Pessimists then suggested said light was a train speeding towards Sauber...
In Germany stories did the rounds that Nico Hulkenberg had not been paid his retainer for two months and that the German's management had given notice on his contract, with the criticism reaching a crescendo after the race.
An absent Peter Sauber simply could not fathom the level of vitriol aimed at the team he had founded, then personally saved - and was continuing to save: "Companies in Switzerland go bankrupt, and no one says a word; I ensure all our 300 workers get paid, and get criticised..."
Can the team be blamed for suspecting that unknown agendas were at play; that the entire campaign was orchestrated? Still, exactly a week after the flag fell on that grand prix - in which Hulkenberg finished 10th - all was in place.
Draft media releases shuttled back and forth; i's were dotted and t's crossed - and at 0930 CET on Monday official statements were fired off to the media in German and English.
Simultaneously a press conference was called in Moscow - then all hell broke loose. Business journalists who would not recognise the difference between Moscow and My Cow in Cyrillic professed to know all about the three entities in the venture: Investment Corporation International Fund, the State Fund of Development of North-West Russian Federation and the National Institute of Aviation Technologies.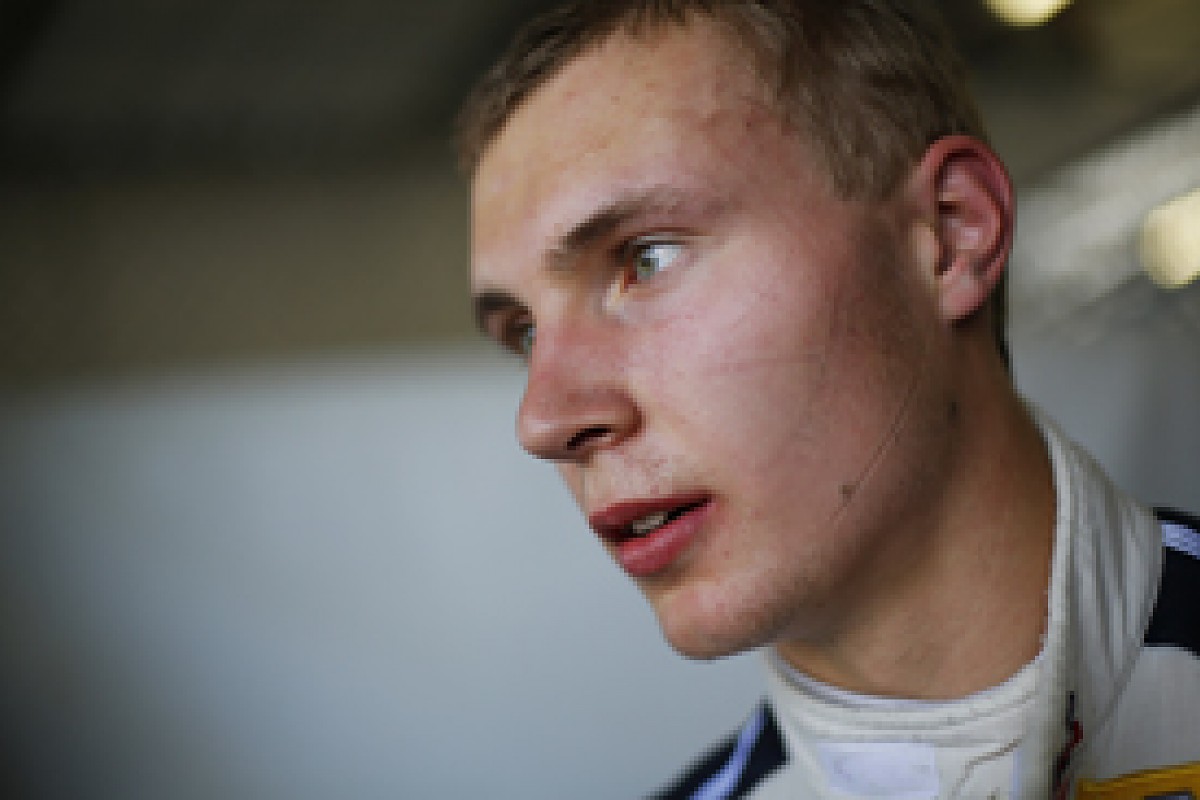 The deal will fast-track talented Russian teenager Sergey Sirotkin towards F1
Did they know that the State Fund of Development of North-West Russian Federation was headquartered in Saint Petersburg, President Putin's home town? Did they know that NIAT co-operated on Antonov and MIG aircraft design?
That ICI Fund operates offices in (tellingly) Zurich and Barcelona? Had they heard of 17-year-old racer Sergey Sirotkin, an integral part of the deal and whose father Oleg heads up NIAT? No on all four counts - but of course said Russian specialists knew these to be front companies. For? Silence...
One man not in the loop but certainly in the know was F1 tsar Bernie Ecclestone, who said Putin was extremely supportive of the deal - having, Ecclestone said, discussed the matter with him during three of their recent meetings. When Putin whispers 'jump', those about him immediately become champion pole vaulters...
How big, then, is the overall deal? Certainly large enough to clear the team's immediate debts and then some, with longer-term revenue streams on the horizon.
The technical partnership means Sauber, which has arguably the best windtunnel in F1, stands at the vanguard of 2014 aerodynamic and composite development, while the deal's structure means the team can turn its back on F1's Resource Restriction Agreement. Ever tried auditing Russian companies?
The team will eventually be rebranded, but final livery is dependent upon which brands and companies receive the official nod. Sauber will promote Russia's 2014 grand prix, while a later switch of venue to Putin's hometown cannot be ruled out. The brands publicised could as easily be Aeroflot as Gazprom or Megafon. All in, it's win, win, win and win.
In 1997, after Peter Sauber persuaded Ferrari to supply his team with engines, he was asked how he managed a feat long considered by most as impossible. Grinning shyly, the Swiss said simply: "I asked them."
How did he manage to get three Russian parastatals on board at a critical point in his team's history? The reply is equally succinct: he asked...