Five laps left. Romain Grosjean had just pulled out of Kimi Raikkonen's path, and now in the Finn's sights was the Red Bull of leader Sebastian Vettel as this thrilling, vivid race on a scorching summer day at the Nurburgring rushed towards an uncertain conclusion.
The Lotus was handling beautifully and, regardless of tyre choice, had enjoyed a wonderfully grippy front end all race.
It was taking whole chunks out of even the Red Bull into the entry of slow corners, but was also brilliantly quick out of Turn 11, the fast, banked right-hander leading to the back-straight DRS zone. This was where Raikkonen had passed Nico Rosberg and Lewis Hamilton earlier in the race and, as the laps ticked down, so did the gap. From 2.5s to 2.1s, 1.6s, 1.2s and now, completing the penultimate lap, Kimi was straining to get into one of the two DRS trigger zones.
He didn't quite get to within the required one-second at the activation line between the pit-entry road and the final looping turn onto the pit straight, where the more extreme rake of the Red Bull could be clearly seen, a key part of the car's aerodynamic effectiveness.
Down they went past the grandstands, the two Renault motors singing, stretched out through the gears, up to 190mph before the 5g braking for the second-gear hairpin that begins the infield loop of the Mercedes arena. This low-speed section rewards suspension suppleness, and is where Raikkonen's Lotus had been taking metres out of the Red Bull, but on this occasion Kimi got a little wide on exit, with a flick of opposite lock as the outer rear tyre found the dust and marbles.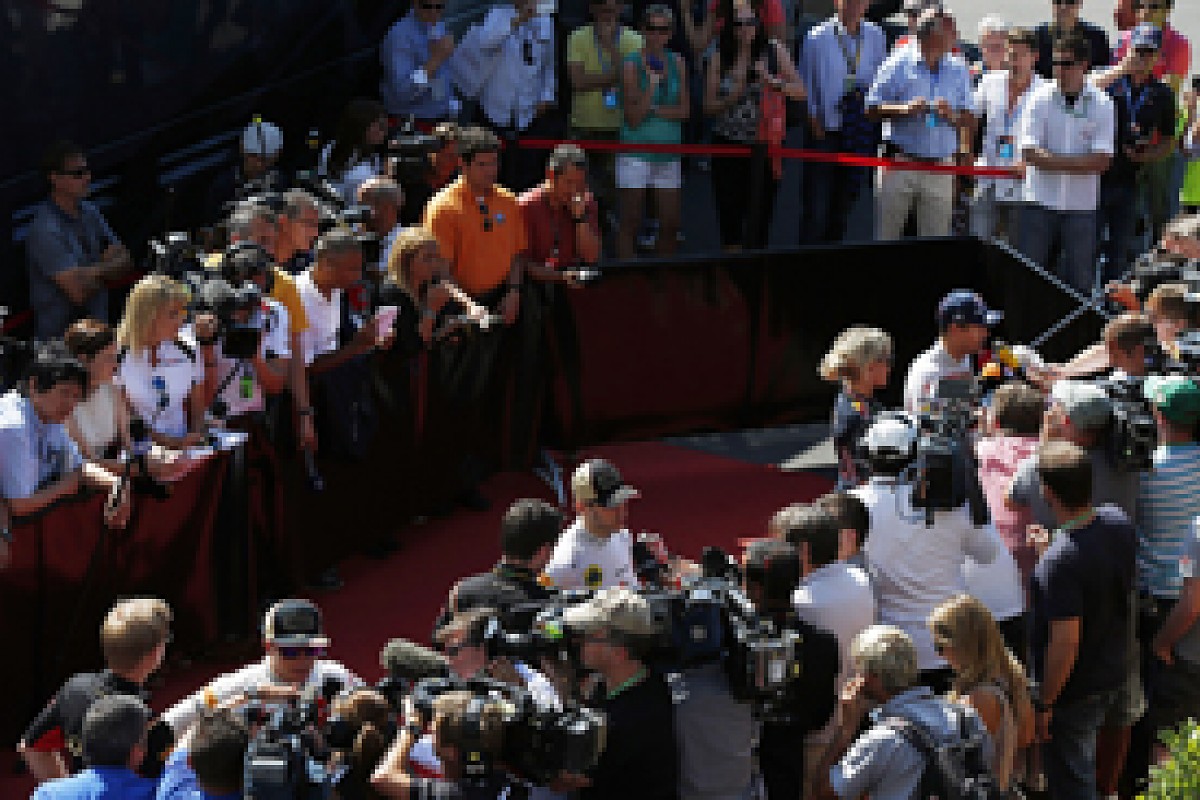 Raikkonen, Vettel and Grosjean recount their battle to the media © LAT
Then the slingshot out of Turn 4 down the short back straight, the sweep through the fast downhill left of Turn 5 - Nurburg castle high up on the hill looking down from afar upon these modern warriors - and into the long third-gear compression that funnels them down the kinking run to the lightly banked Dunlop Kehre hairpin, braking from 174mph to 60.
They accelerated, the left-rears of both cars hard over the green paint beyond the kerbs, up the steep hill, flat-chat in sixth through the Schumacher Esses, grabbing seventh on the exit and hurtling towards the horizon - where lies the detection point for the second DRS zone.
Raikkonen arrived there less than one second after Vettel, and would thereby have his wing-stalling device armed after they'd run through the banked fourth-gear left of Turn 10 and out through the faster downhill right of 11. Going into the chicane for the final time, Raikkonen was going to have a DRS run at Vettel - was going to try an attempt at depriving the world champion of his first victory in his home grand prix. If Kimi succeeded, it would in turn be his first German victory in 16 attempts...
It had looked nothing like this in the two days leading up to the race: Red Bull vs Mercedes had looked to be the story, with Lotus and Ferrari vying for best of the support acts. But the combination of this previously unraced rear tyre (the solution to the Silverstone blow-ups) and glorious weather that had the track temperature at 43 degrees and rising by 2pm Sunday completely changed the competitive picture.
The Mercedes was back to the tyre-eating beast it had been at Barcelona; the Lotus was the fastest thing in the place, but only by a small margin over the Red Bull. The Ferrari was an odd one: disappointingly slow on the medium prime tyres that were supposed to be its ace-in-the-hole, but coming alive on the soft option rubber later on, all Fernando Alonso needed to make a nuisance of himself.
The pattern of free practice had suggested the mediums were so durable that this was going to be an unambiguous two-stop race for almost everyone, even though the softs were expected to grain their fronts away in less than 10 laps. The heat and track conditions of Sunday reduced the graining of the softs and increased the thermal degradation of the mediums. That and an inconveniently-timed safety car pushed the race towards a three-stop.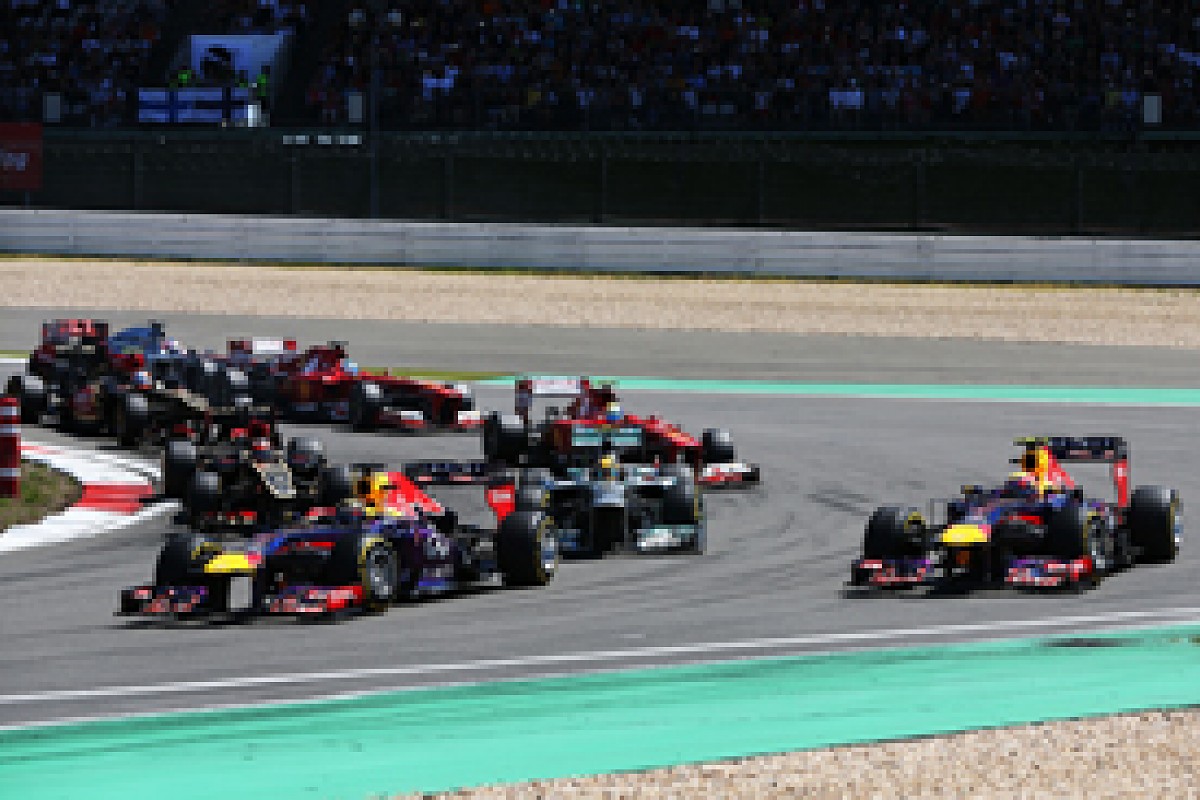 Hamilton's time at the front was rapidly over © LAT
Lewis Hamilton's start from pole position - he was instantly swamped by the Red Bulls, Vettel to his right into the lead; Mark Webber, on his left, slotting into second as they exited Turn 1 - was just the portent of a troubled afternoon for Mercedes, a day that would suggest its improved form of late has been about conditions not pushing its tyres beyond their heat threshold rather than any fundamental breakthrough in banishing the problem. In that context, Hamilton's race to an eventual fifth place rather took the steam out of any anticipated title battle.
Lotus, on the other hand, is hoping for a long, hot summer. Raikkonen ducked in tight behind Hamilton as they rounded the Mercedes Arena, Grosjean attempting to go round Kimi's outside at Turn 3, but locking the inside front and running slightly wide, just as he'd done in Friday practice.
Felipe Massa had scorched his Ferrari off the line and was tucked behind Grosjean, but already beginning to lose touch with him, and just behind him Daniel Ricciardo had pulled off an aggressive pass on Alonso around the outside of two, Fernando having to steer suddenly left to avoid contact. It was an impressive cameo from Ricciardo who would fade badly after the stops, the Toro Rosso's pace falling off disastrously quickly.
Webber kept pace with Vettel for the first couple of laps and they were setting way too hot a pace for Hamilton's Merc. It looked positively cumbersome through the slow sections, with reluctant turn-in and twitchy rear mid-corner. The effect was exaggerated when seen from the cockpit of Raikkonen's Lotus, which was crawling all over the back of it, but unable to find a way by even after DRS was enabled on lap three. Grosjean in turn was following their every move from very close quarters. This was all full-on, proper flat-out racing, not the endurance exercises we've sometimes seen in the Pirelli era. It left Hamilton dropping away from the Red Bulls at 0.5s per lap.
Massa spun out of his sixth place beginning lap four, locking the right rear under braking for Turn 1, failing to catch the resultant moment and stalling. Two laps later Hamilton triggered the first round of stops, bringing the Merc in for a set of new mediums. Vettel by now was 0.5s off his peak pace and was brought in next time around, Webber leading for a lap before he too was in, together with Raikkonen.
The right-rear wheel on Webber's car would not locate properly and the jackman dropped the car before the wheelman had completed his task. Raikkonen accelerated away, already ahead as the wheel departed from the Red Bull, bouncing precariously past the Lotus mechanics before hitting the camera of a fleeing FOM man and rebounding up into his unsighted colleague Paul Allen, who suffered broken ribs and collarbone. It could have been much worse.
Webber had pulled up halfway down the pitlane and knew nothing about the incident with the cameraman. Mechanics were dispatched to push his car back to the garage where another set was fitted. By the time he got going again he was a lap down.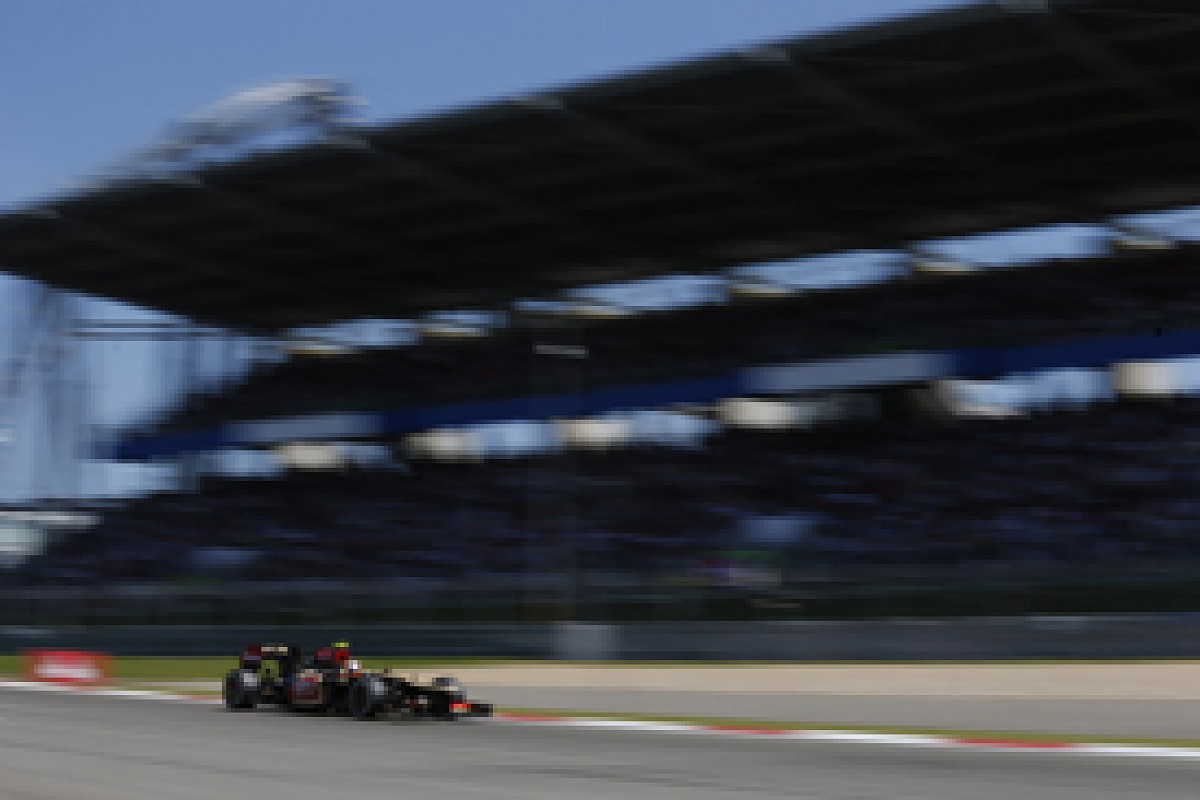 Grosjean produced one of his best races yet © LAT
Grosjean was now leading, but remarkably was showing no signs of slowing. Once Raikkonen and Vettel had pitted out of his way he upped his pace by 0.5s. He'd earlier insisted over the radio that he was much quicker than Kimi, but at the time Raikkonen was restricted to Hamilton's speed so it was impossible to know if that was true.
"The original plan had been to bring him in the lap after Kimi," recounted well-impressed Lotus engineering chief Alan Permane. "But he just took off. He was driving superbly, just as he had been all weekend, actually."
So fast was he pulling away from the medium-tyred Alonso in second that Ferrari brought Fernando in much earlier than planned - on lap 12. And still Grosjean circulated on his options!
He'd been just over 4s behind Vettel before the Red Bull had stopped, and for a couple of laps was going quicker on his old options than Seb could manage on his fresh mediums, and also as the reigning champion passed the yet-to-stop Nico Hulkenberg and Jenson Button.
Grosjean and Vettel then ran at an equally-matched pace for a couple of laps before Romain's tyres finally gave out on the 12th lap, when he lost 0.6s to Vettel. He was never quite in a position to have overcome that earlier 4s deficit and, by the time he came in at the end of lap 13, he'd dropped a further chunk. But he'd jumped himself ahead of Raikkonen and Hamilton and was now 4s behind Vettel once more - but closing fast with tyres that were six laps newer.
Furthermore, between him and Hamilton/Raikkonen were Button's McLaren and Hulkenberg's Sauber, both of which had started on primes and would run for a time yet, thereby allowing Vettel and Grosjean to sprint away in a race of their own. And this was how it was going to pan out: a straight duel between Sebastian and Romain. Fate had other plans.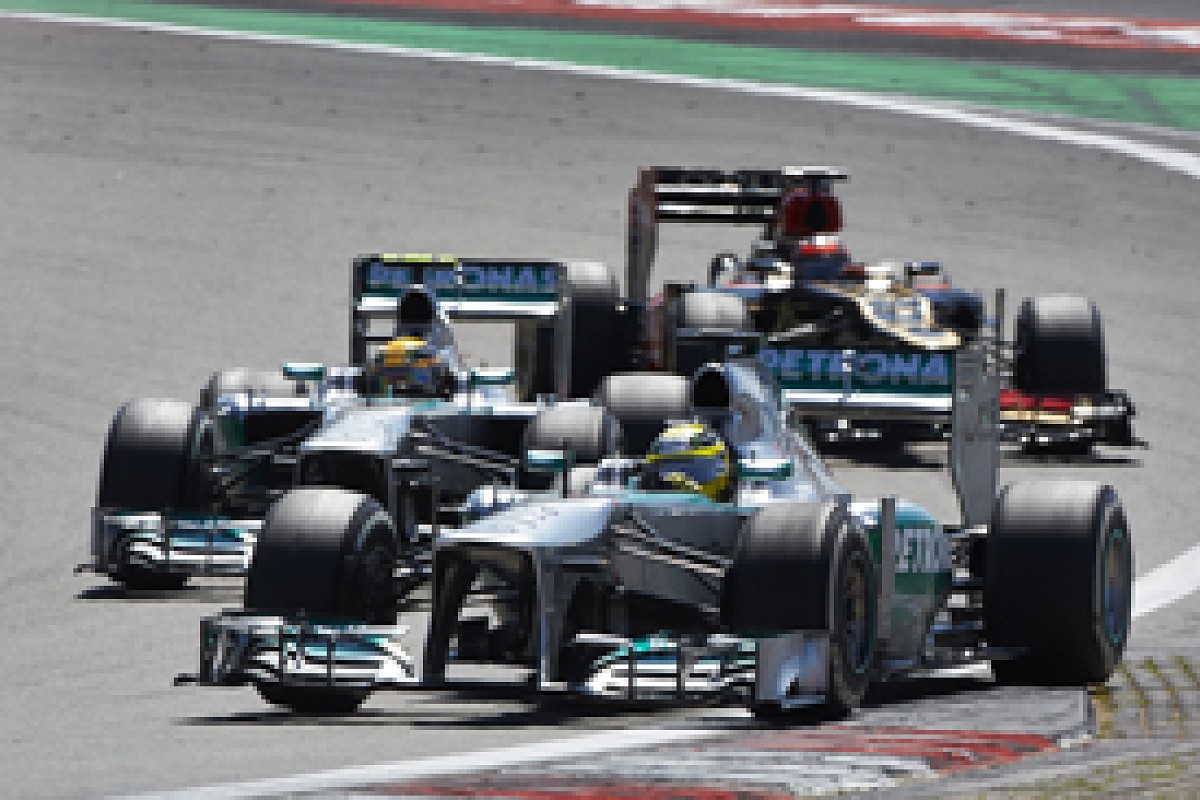 Rosberg held up both Hamilton and Raikkonen as strategies entangled © LAT
Raikkonen was getting frustrated behind Hamilton's Mercedes. He'd almost got by as they'd come up to Hamilton's yet-to-stop team-mate Rosberg. Hamilton was on the radio suggesting they move Nico on his older tyres aside and Kimi took a look down his inside at Turn 4. Nico eventually acceded to the team's request to allow Lewis by. Raikkonen took just a couple more corners before he slammed the Lotus by Rosberg on the approach to the chicane.
Within another three laps he'd made the same move on Hamilton, with Lewis complaining of no grip as his rears overheated and he came under attack from Alonso. By the time Button and Hulkenberg had pitted aside to bring Kimi up to his natural third place, Grosjean was 10s up the road and had halved his earlier deficit to Vettel.
"I don't know if we could have beaten Vettel with Romain," said Permane later. "He's a tough guy to beat. But we'd have given him a good run for his money and at the very least taken a comfortable second."
That version of the race was frustrated by the burning Marussia of Jules Bianchi, pulling off just before the chicane after 21 laps. The fire was extinguished by the car's own system even before Jules climbed out but, for possibly the first time since Jarama 1970, a driverless F1 car then careered onto the circuit, rolling down the incline back towards Turn 11. With a tractor trackside too, it was a potentially lethal moment. Even though the car then gently coasted over to the grass and stopped, the safety car was deployed.
This came at a moment in the race that effectively gave the earlier pitters their second stop for free - but probably too early in the race to then be able to complete the distance.
Vettel and Grosjean pitted immediately for fresh primes and were eventually followed by Raikkonen, Alonso, Rosberg and the others who'd yet to make their second stops.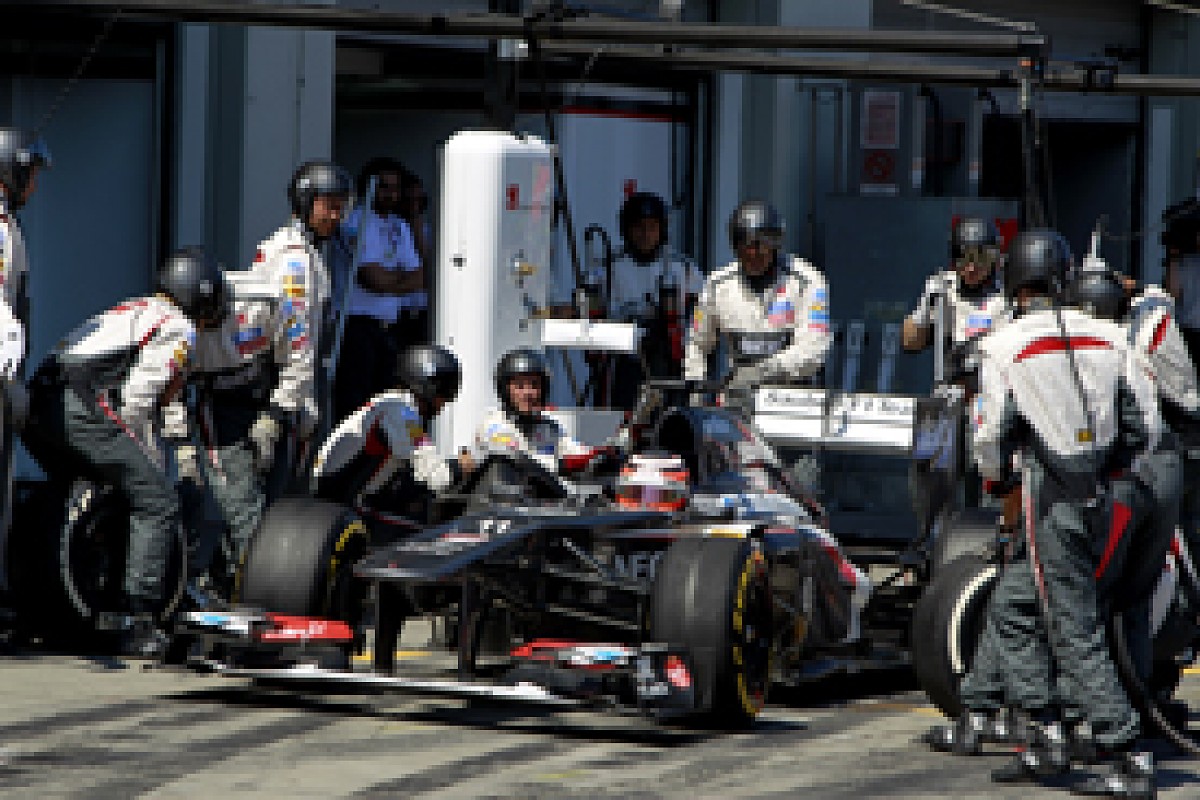 Hulkenberg was having another quietly impressive race © LAT
This didn't include Hamilton, who'd been in for new tyres two laps earlier. This shuffled him down behind that tenacious pair Button and Hulkenberg, both delivering classy drives in maximising the opportunities of the moment. Webber's one-lap deficit had been wiped and he was soon sitting at the back of the circulating pack, ready to pick off the tiddlers.
The safety car had wiped out the 10s advantage Grosjean had held over his team-mate. Kimi was back in the reckoning. For six laps Vettel, Grosjean, Raikkonen, Alonso, Button, Hulkenberg, Hamilton and the rest circulated, waiting for the contest to continue.
Could the gentle-on-its-tyres Lotus make a set of mediums last 36 laps? Even the team had its doubts. For most of the others, it was out of the question and there would have to be another stop before the end.
Racing got underway again at the end of lap 29. Vettel sprinted away, the Lotuses taking a lap or so to get tyre temperature. Alonso initially fell back from Raikkonen; Hamilton tried many different ways of passing Hulkenberg but was thwarted each time.
For 10 laps the Red Bull and two Lotuses circulated almost as one, Romain and Kimi frequently getting to use their DRS devices but to no effective use. As has often been the case in the past couple of seasons, if only a Lotus could get past the leader it would surely have pulled away. Here was the penalty once more for that qualifying shortfall.
But Vettel was being kept on his toes. We were approaching the third stops, and Seb was desperately trying to pull out enough time over Grosjean to be able to react to his stop a lap later without losing the lead.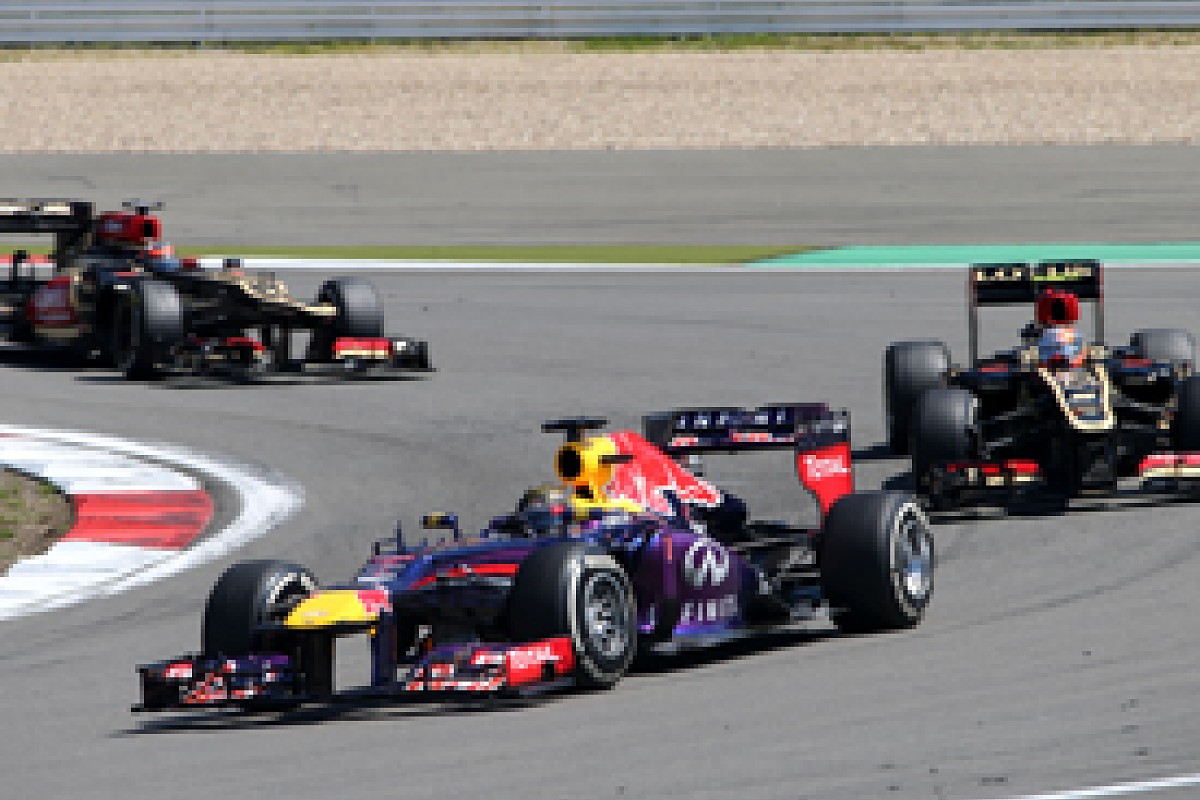 The safety car left Vettel with the Lotuses right on his tail © XPB
Complicating matters further, Vettel lost his KERS just as the vital moment was nearing! "It went for a couple of laps just before the final stop," he related. "Fortunately we did a system reset and it came back."
Grosjean was slightly scrappy on lap 39 as Vettel pulled out all the stops, extending his lead to just over 1s. Romain was called in and reminded how important it was that he leave no margin - and he responded with a beautiful in-lap. The team made a perfect 3.0s stop and he was underway on a pre-used set of mediums, exiting in sixth place but with clear track ahead of him.
Red Bull, knowing it could not get to the end on this set of tyres and stay ahead of the Lotuses, had to respond. But the team was in an invidious position because, by responding to Grosjean, it might have been surrendering the race to Raikkonen - if Kimi could stay out to the end.
As Grosjean was setting the fastest sector two time of the race on his out-lap, Vettel was giving it everything on his in-lap and he eclipsed even Grosjean's earlier effort by a couple of tenths. Under intense pressure the crew matched the Lotus 3.0s stop and Vettel was underway again on a new set of mediums.
These were tiny margins on which the outcome of the race was pivoting - an exercise in flat-out, give-it-everything performance that F1 should always be about. Vettel exited the pits just a few car lengths ahead of the Lotus and the pair was quickly upon the back of Hamilton's about-to-pit Mercedes.
So Red Bull - and Vettel in particular - had succeeded in staying ahead of Grosjean, despite what appeared to be a slower car, through the sheer perfect relentlessness of their performance. One slightly untidy lap by Grosjean on lap 39 - to the tune of 0.4s - was the only thing that separated them.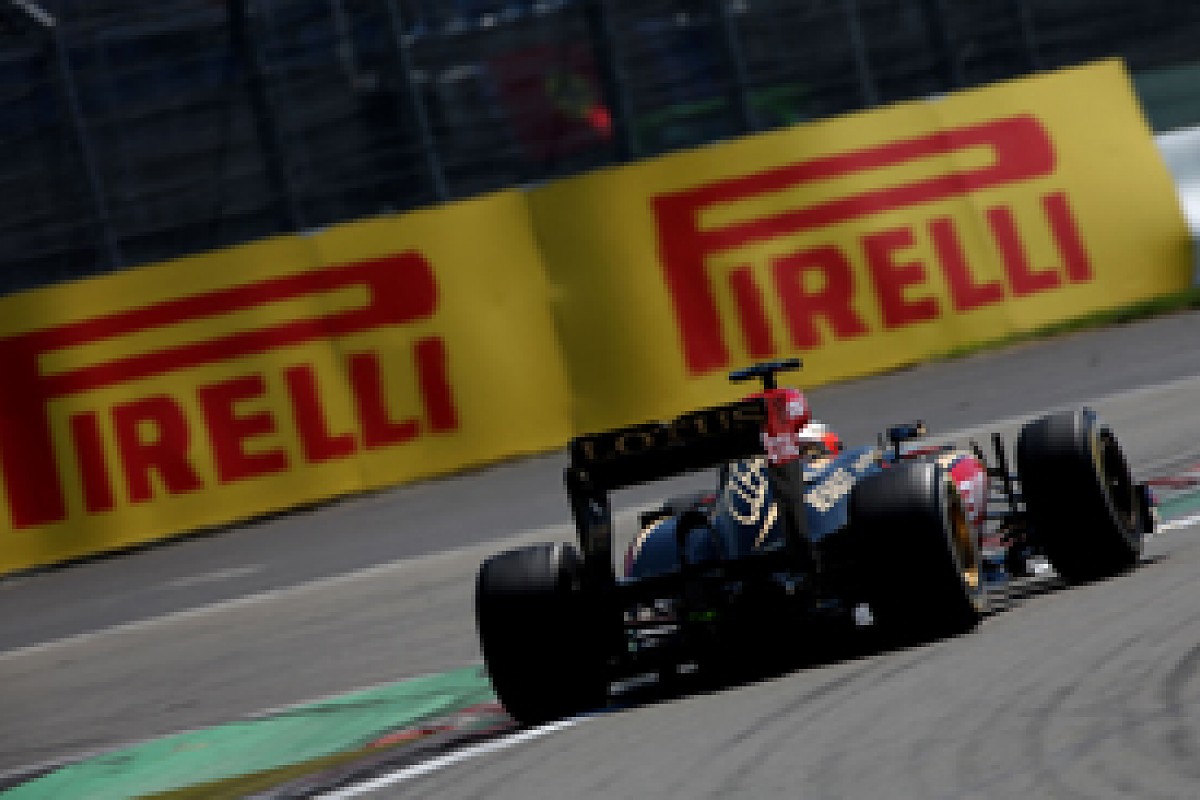 Raikkonen hinted that he could run right to the end on his third set of tyres © LAT
But in meeting this challenge, Red Bull was exposed to the possibility of Raikkonen, now leading, maintaining his pace at the front to the end. Kimi led Alonso by around 4s, but the Ferrari would need to stop as it had yet to use the option tyres. Vettel and Grosjean were 14s behind. A pitstop would cost around 16.5s, so Raikkonen would definitely exit the pits down in third - if he pitted, that is.
"Do you think these tyres can get to the end?" Raikkonen was asked. He replied. But a radio problem meant they couldn't hear what he said. They repeated the question. "I've already told you!" shouted an irritated Kimi. When eventually they'd convinced him to repeat his answer, it was ambiguous enough that it led them to err on the side of caution, with Shanghai 2012 in sharp-focus memory.
"If we left him out," explained Permane, "we'd have probably been swamped at the end. It wasn't a wear limit, just degradation; they'd just have got slower and slower. We thought 'OK, let's try him on the options.'"
Figuring the options would be good for a stint of 11-12 laps, Kimi stayed out front leading until lap 49 when, much to Red Bull's relief, he came in. Alonso pitted from second on the same lap. His options were new, Kimi's were three laps old. Vettel and Grosjean were duly promoted back to first and second, Raikkonen came out 4s off the lead, with Alonso a further 4s back.
Behind the top four, McLaren's Sergio Perez was going for the staying-out-until-the-end two-stop gamble and lay a distant and temporary fifth, being quickly closed down by the three-stopping Button and Hamilton. On lower fuel loads, the Merc was working much better, its rear-tyre temperatures under better control, and Lewis would pass both McLarens before the end.
Paul di Resta was lying eighth, another trying to get his second set of tyres to last 36 laps, making him vulnerable to Hulkenberg, Rosberg and the recovering Webber, all of whom would pass the Force India before the end, forcing it out of the points.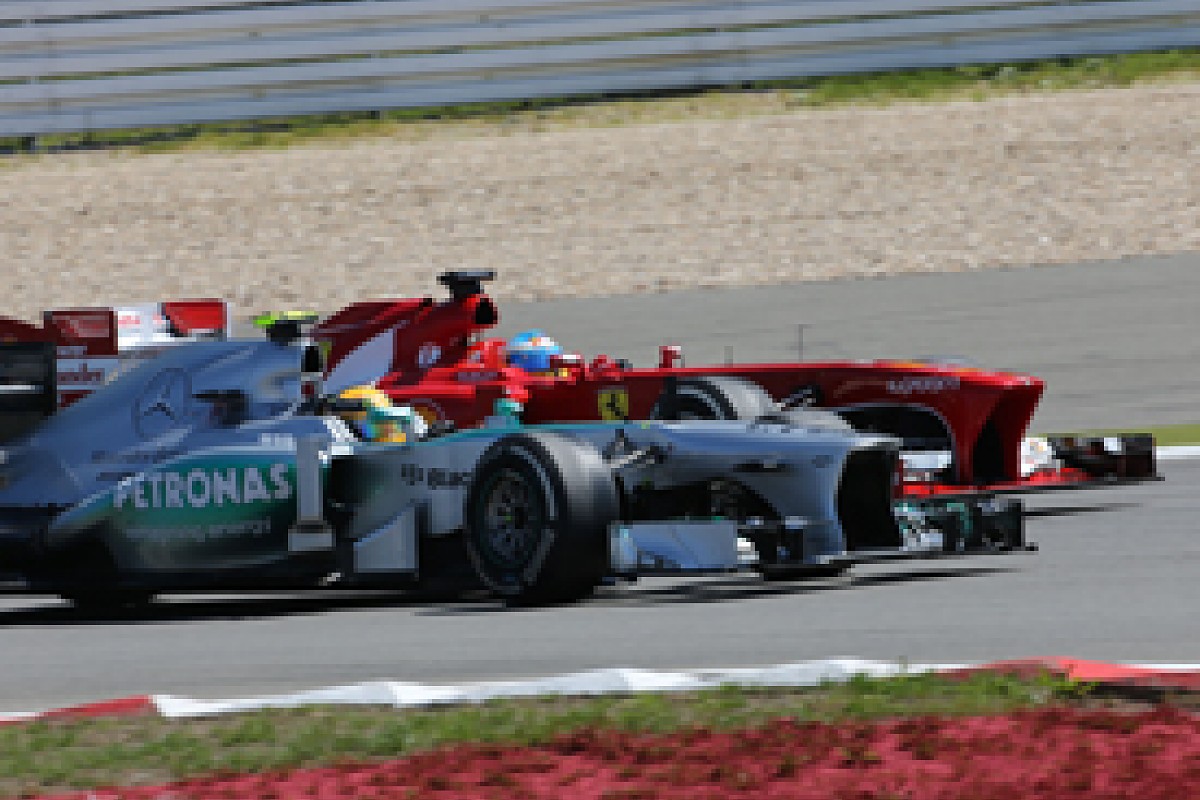 After a tough mid-race battle with Hamilton, Alonso dragged himself into podium contention © XPB
Raikkonen, on his options, began closing on Vettel/Grosjean at around 0.5s per lap. But he was nowhere near as fast as Alonso. The Ferrari was loving the fresh soft tyres on a track now well rubbered-in and warmed and, for a time, was 1s faster than the leaders, bringing itself right into podium contention. In the process Alonso set the race's fastest lap. It was another display of pummelling, relentless performance from Fernando.
If Raikkonen had been granted the same level of performance as Alonso, he'd have been onto that Red Bull sooner. He'd been allowed past Grosjean under instructions, but was only marginally faster than Vettel, who had responded like the champion he is, upping his pace by a full second with five laps to go.
...and so they rushed up to the chicane on the final lap. The Lotus DRS flap was open, but it wasn't enough. The move needed to have started from tight up the RB9's gearbox, not a few car lengths back. Another lap might have done it. Naturally, Raikkonen was disappointed and said he would have preferred to have tried to get to the end without that final stop.
Grosjean withstood the late Alonso onslaught to hang onto a well-deserved podium place. Hamilton followed 20s behind Alonso, having passed the gripless Button on the last lap. Webber nailed Perez for seventh at the chicane for the final time. Rosberg and Hulkenberg took the final points.
"That was a tough one," beamed Vettel, partly in exhilaration, partly relief. He'd finally won his home race. But, more significantly, he'd just extended his lead at the top of the table to 34 points over Alonso.
Hamilton, coming into the weekend wondering if the Merc tyre problems had indeed been solved and whether a title tilt might be feasible, seemed to have his answer as he shook his head and said: "Nearly 60 points behind, man..."