As a lesson in mixed messages, the ongoing Pirelli saga rates as an absolute masterclass even by Formula 1's own lofty standards, with the FIA's International Tribunal and Silverstone debacles serving only to further confuse the situation.
Although the question of Pirelli's future in Formula 1 was first raised by this column last year, over 12 months ahead of the expiry of its current 2011-13 contract, there now remain fewer than six months for F1's major players to get their respective acts together to ensure the sport is not reduced to racing on 'Fred Flintstone tyres', as Ferrari team boss Stefano Domenicali so wittily - yet no less accurately - put it back in April in Bahrain.
But, three months on, there has been zero tangible progress. OK, as exclusively disclosed here, a conditional three-to-five year 'bridge-and-board' signage deal was struck with FOM, holder of the lease over the sport's commercial rights. And true, a number of teams signed Pirelli's supply agreement (see below). Also, Pirelli last week again reiterated its desire to remain in F1 despite the image-ravaging effects of reprimands handed down by the Tribunal over the Barcelona Mercedes test.
But all these factors count for nought unless the FIA ratifies a future tyre supplier in terms of its own sporting regulations, which call for appointment by tender. And, with half a year to go, no tender has been called for by the governing body, let alone adjudicated.
All the while it is increasingly likely that Pirelli's board, hammered by continued dents to the company's image and battered by the European motor industry's ongoing crisis, will pull the plug. The damage inflicted by no fewer than five extremely public tyre explosions (plus two, on Fernando Alonso's Ferrari and the winning Mercedes of Nico Rosberg) could be the final straw.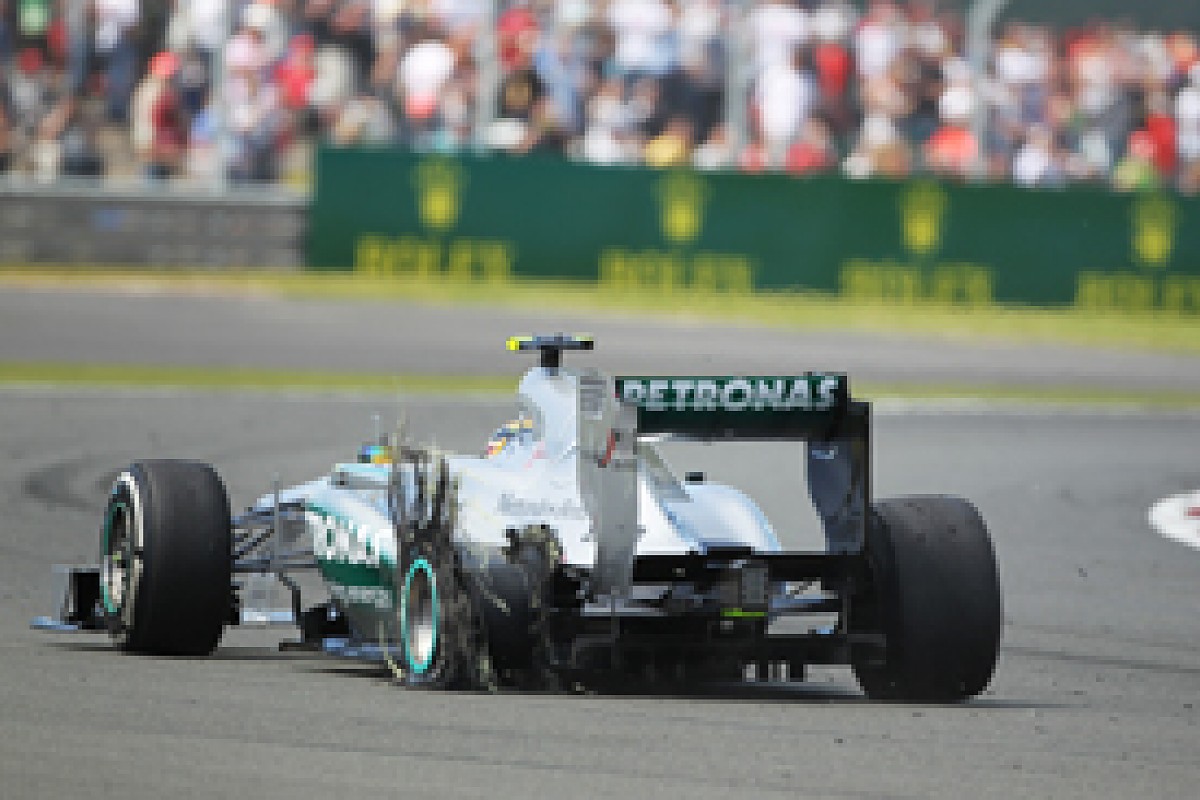 Millions around the world saw Pirellis blowing in the British GP © XPB
Yes, F1's current (non)-testing regulations make Pirelli's life extremely difficult, tenuous even; yet whenever executives were questioned in this regard their stock answer indicated that simulation tools delivered all the answers. Until, that is, delaminations came thick and fast, and a three-day 'private' test was hurriedly mounted in partnership with Mercedes...
The reason was ostensibly to test 2014 rubber, for an as-yet-unconfirmed campaign(!), yet post-race at Silverstone Mercedes team principal Ross Brawn indicated to the BBC that the tests had been staged to assist Pirelli with the delamination issue. Mixed messages, or what?
Formula 1's testing regulations have remained much the same since 2009 - two years before Pirelli entered the sport - and there were no issues for two years thereafter. In fact, until the end of 2012, the tyre supplier made much of the fact that its products had suffered no structural issues in 39 starts with up to 24 cars per race. This year, though, a lack of testing is blamed for the company's woes. This, Pirelli said, was due to the sophistication of simulation tools situated in both Milan (central R&D) and the F1 factory in Turkey.
In Le Mans a media colleague spoke with Michelin's technical management to establish the viability of the French company stepping into any possible breach at short notice. The gist of their reply was that F1 was off the radar, but that a ramp-up period of six months (just) sufficed as simulation tools now sped up the process. That was a week before Silverstone...
Then there is the crucial question of safety: Pirelli consistently denied there were life-and-limb issues at stake. Whenever questioned, motorsport head Paul Hembery stated the company's major concern was damage caused by flailing rubber to its image, and constantly stated the difference in construction between its 2012 products and current supply resulted in tyres deflating differently, spectacularly even, yet not dangerously.
In fact, in a post-Silverstone media release - subsequently described by paddock folk as 'incendiary' - Pirelli attempted to shift the blame every which way except on its products, stating: "A series of different causes led to the tyre failures at Silverstone: Rear tyres mounted the wrong way around, low tyre pressures, extreme cambers and high kerbs", before stressing "The 2013 tyres do not compromise safety if used in the correct way."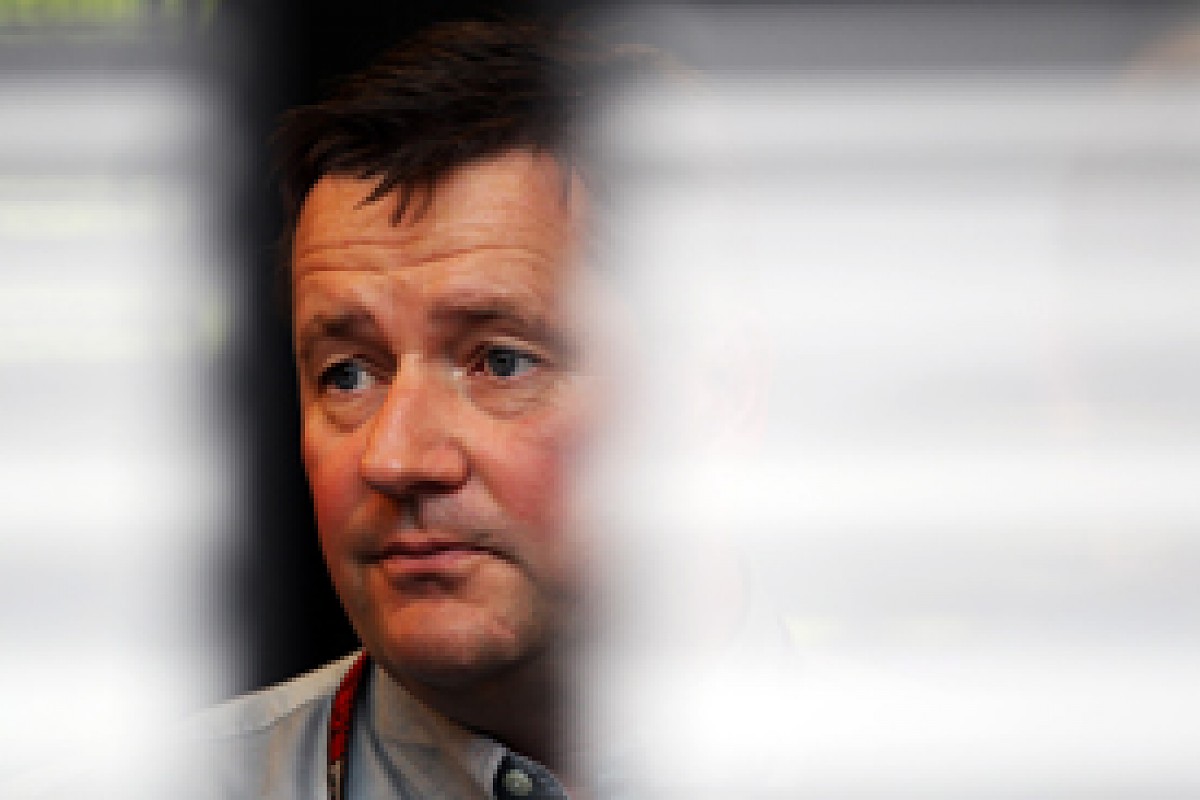 Hembery had to hurriedly clarify Pirelli's stance © XPB
However, aware that such insinuations had incensed the teams, Hembery issued a clarification within two hours of the original media release, stating: "Contrary to the impression that some people have formed, I would like to underline the collaboration and support that we are receiving from the teams, drivers, FIA and FOM. In no way are we intending to create arguments or attack anybody. We have taken our responsibilities upon ourselves as our press release indicates."
Still, Pirelli is adamant that its tyres are safe if used as intended - much as America's gun lobby insists firearms are safe, if used by good guys on bad guys, even as innocent kids are shot. Where lies the line?
Try debating this with Alonso as he pulls 3.5g in desperate avoidance of Kevlar shards mixed with steel shrapnel at 300 km/h; try persuading Kimi Raikkonen as lumps of sizzling rubber land on the taciturn Finn's lap; argue the toss with Felipe Massa, who experienced the trauma caused by five-pound chunks of steel bouncing about at F1 speeds.
Indeed, tell that to the GPDA, whose emotive press release issued after a meeting attended by FIA race director Charlie Whiting and Pirelli racing manager Mario Isola, ended thus: "...this avoidable problem with the tyres endangers again the lives of drivers, marshals and fans", and was published as F1 personnel pounded around the Nurburgring to raise money for the family of a marshal killed in Montreal, albeit not through a tyre-induced incident.
This threatened boycott raises an interesting question: what of non-GPDA members? Are they free to race? In fact, would some young gun, attracted by the lure of a hot seat vacated by an established star, place GPDA membership ahead of the opportunity of a lifetime?
Consider the hypothetical case of Alonso or Massa: should they withdraw, would Jules Bianchi turn down the chance of racing in real red? A host of GP2 drivers, too, hold superlicences - would they cross the picket to achieve their lives' ambition regardless of possible dangers? You bet... and thus a race is likely to take place, come what may, even if only with half a dozen cars. Shades of Indianapolis 2005.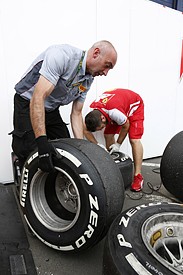 Pirelli engineers work closely with team personnel © LAT
Back, though, to the crux. Ultimately Pirelli's fitters mount all tyres on rims as provided by the teams, and the company's engineers are omnipresent in garages whenever cars are fired up and run, constantly checking data and temperatures. If they did not pick up on tyres being run in contra directions, and are not aware that asymmetrical tyres are unidirectional, then Pirelli's human resources department should consider paying out their pension contributions in cash. Immediately.
As for the kerbs: while the jutting surfaces at The Loop at Silverstone may have contributed to the problem, it is nonetheless a fact that the same kerbs were run last year, and that the World Endurance Championship ran its Six Hours of Silverstone round for heavier and torquier cars at the same venue in April. GP2 ran without mishap all weekend, as did, for that matter, last year's British Grand Prix, run in similar weather conditions. Is not the duty of a tyre supplier to provide rubber suitable for all conditions?
You don't remember Bridgestone ever suffering such issues during its 15 years in the sport; but you do recall Michelin's shame in 2005, despite the Brickyard's surface having then been re-tarred and diamond cut.
FIA president Jean Todt has been extremely sympathetic to Pirelli's plight, for example inviting the company to Wednesday's (unofficial) Sporting Working Committee meeting (note: the offer was extended before the British GP), and forcing through regulation changes to permit the use of current cars for tyre testing and for established drivers to participate in the young-driver test.
He also gave his support to a post-season test in Brazil, and referred the matter to the FIA's World Motor Sport Council for an emergency vote to stave off such legal challenges that may arise. These actions have been (mistakenly) interpreted by some as a tacit extension to Pirelli's contract.
Mixed messages are at play here too, for such concessions would assist any possible future supplier, not only Pirelli - and should thus not be misinterpreted for the prescriptions of Clause 25.1 of the current sporting regulations continue to loom large:
A single tyre manufacturer will be chosen by the FIA for subsequent seasons following an invitation for tenders to supply tyres to all the cars entered in Championship Events for the duration of such subsequent seasons.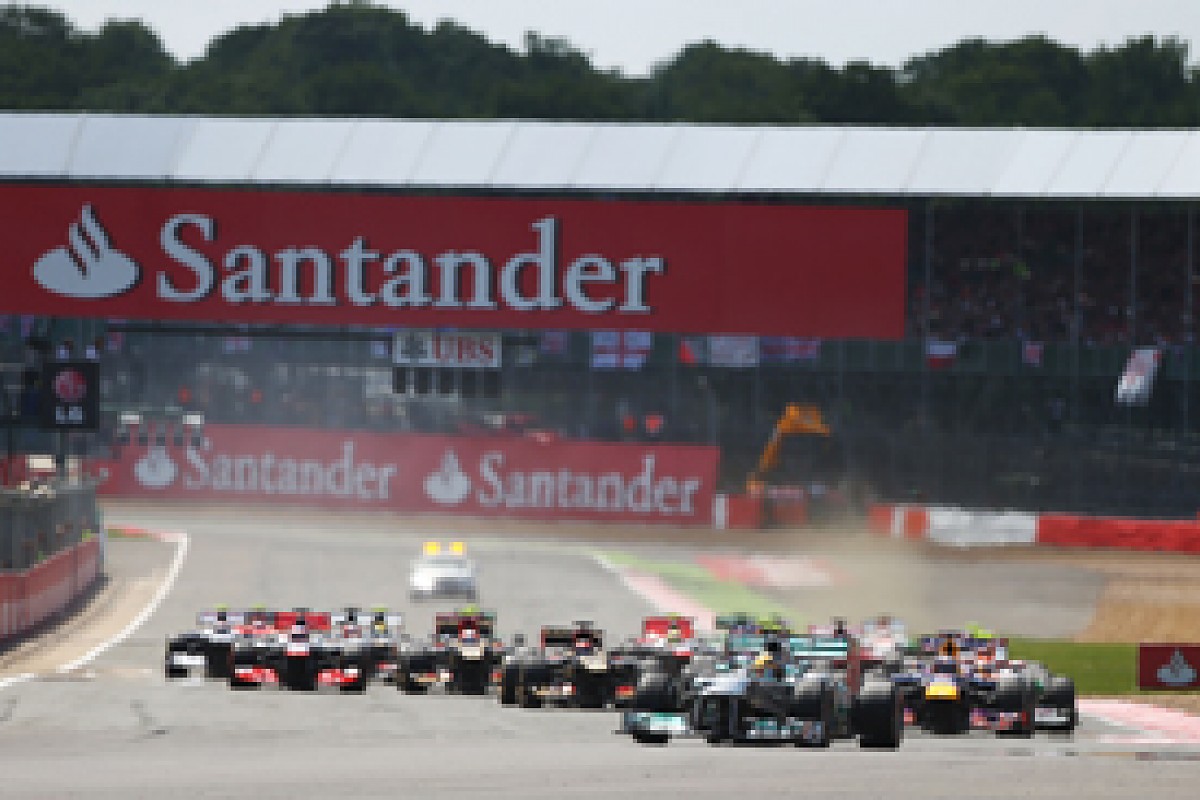 Right now, F1 has no knowledge of what tyres it will use in 2014 © XPB
Simply put, the jumbo in the paddock is the lack of any formal contract for 2014 and beyond between the governing body and Pirelli. Todt is fully aware that deviation from the regulations could see the governing body hit by legal challenges from wannabe suppliers. Thus any action apart from sorting F1's future tyre contract is putting the cart well before the horse. Or, as Flintstone puts it: "We can prioritise, conceptualise and tenderise." But, until a formal document is signed, that is the full extent of it.
According to sources, as of Silverstone just three teams - Red Bull Racing, Ferrari and Toro Rosso, all cajoled by FOM - had signed bilateral agreements for future supply with Pirelli, with McLaren (premium partner of the Milan-based public company through McLaren Automotive) about to capitulate on commercial grounds.
Although Mercedes AMG, a major (if not the largest) customer of Pirelli on the original equipment side of Pirelli's automotive business, was originally thought to have signed up in May during the Spanish Grand Prix, insiders indicate that the black pen was left hanging. Given the outcome of the International Tribunal and the events at Silverstone it would be rather surprising to discover that they have since cut a deal.
Thus the indications are that an absolute maximum of five teams have signed supply contracts (or will do so in the near future) - not even 50 per cent of the current grid. And, if the GPDA really is forced to execute its threat, the suits in Milan could suffer chilblains even before winter arrives.
"Yabba dabba doo!" as Fred would say...