Even if you've been hiding in a bunker sealed from the outside world for the past week, you're unlikely to have avoided hearing about the latest round of Pirelli tyre controversies.
After the alarming scenes at Silverstone, where five drivers suffered spectacular blow-outs and several others, including race winner Nico Rosberg and third-placed Fernando Alonso, narrowly averted similar fates, Pirelli has changed its tyres for this weekend.
The tyres brought to the German Grand Prix will use the same compounds raced previously, but with a major change in the tyre's construction. Instead of the steel belt introduced at the start of the season, Pirelli will switch to a Kevlar belt in the hope of tackling the recent spate of blow-outs.
Given how critical tyres have been this year, this can't fail to have at least a small impact on the competitive order. For starters, the new rears operate up to 10C cooler than the previous tyres, which could potentially help Mercedes. But, perhaps more significantly, there will be a difference in the aerodynamic characteristics.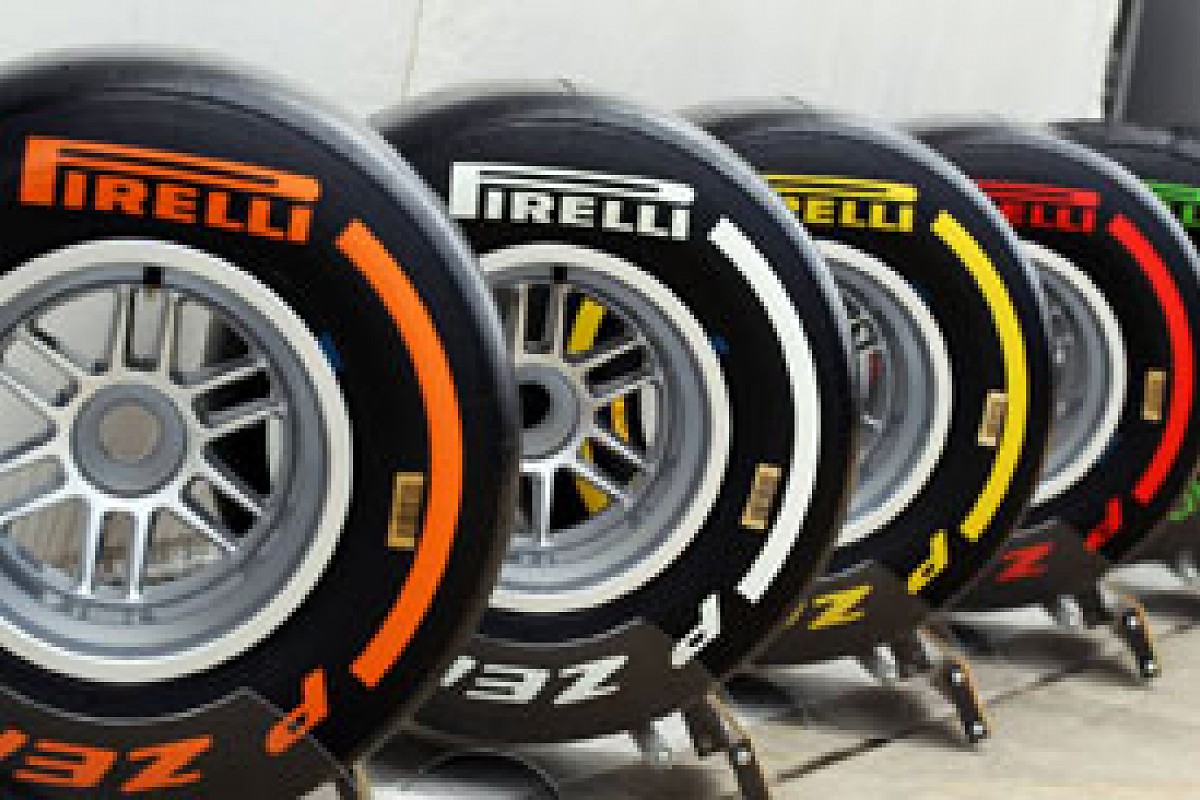 Pirelli will switch to a Kevlar belt construction for Germany © XPB
While that might sound minor, the most complex part of the aerodynamics of an F1 car is near the wheels, causing all manner of vortices and turbulence as they rotate.
At the time of writing, the exact status of the promised rules ensuring that camber and pressure limits are respected remains up in the air, so expect there to be plenty of hot air about, ironically, hot air over the course of the weekend.
The question is just how big a difference the tyre change for this weekend will make. It might be imperceptibly small differences, but it does have the potential to mix things up a little.
MERCEDES READY FOR GREATEST DAY
Since returning to F1 as a full works outfit after acquiring the Brawn team at the end of 2009, there have been plenty of tough days for Mercedes in F1. But it heads into this weekend as favourite for a 'home' grand prix victory that would make up for those years of hurt.
The Mercedes is unquestionably now the best car in terms of raw speed. In the constructors' championship, it is now within 50 points of Red Bull and with 43 available for a one-two, not out of the question this weekend, that gap is hardly going to make the reigning world champion team relax.
Things are a little tougher in the drivers' championship, but the points gained by both Lewis Hamilton and Nico Rosberg at Silverstone on leader Vettel have made things more interesting.
If Mercedes can deliver on home soil, it will make the fight for both championships come alive.
HOW WORRIED SHOULD FERRARI BE?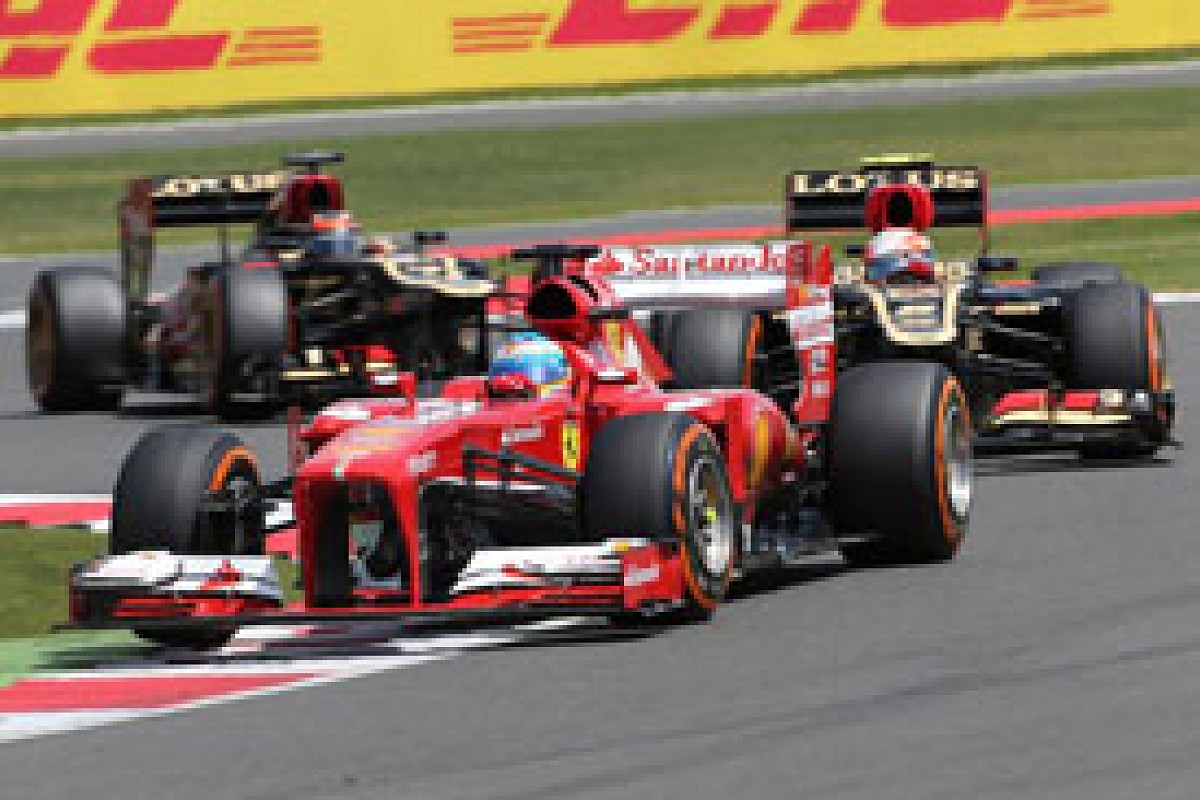 Alonso was second, but it was far from an emphatic weekend for Ferrari © XPB
Silverstone was expected to be a strong track for Ferrari. Although Fernando Alonso went on to finish third and close the gap to world championship leader Sebastian Vettel by 15 points, it was hardly an encouraging weekend.
It was expected that the return to more traditional circuits, such as Silverstone, the Nurburgring and Hungaroring would help Ferrari return to the winning form it showed in China and Spain. But with upgrades not delivering the hoped-for performance boost, it now seems Alonso's drivers' championship hopes hang in the balance.
It could be that the Ferrari simply isn't as strong in the seriously quick corners as hoped. So maybe the Nurburgring, which does have a significant number of not-especially fast turns, could play into its hands.
But if the car is as off the pace as it was a year ago, it's conceivable that we might be watching Alonso's championship hopes fade, particularly with Mercedes on such strong form.
VETTEL'S HOME HOODOO
Two facts about Vettel will be bandied around liberally this weekend. The first, that he has never won a grand prix in July, is an irrelevant quirk of the Gregorian calendar. The second is perhaps more significant: he hasn't won an F1 race on home soil.
In five attempts, Vettel's best result at the Nurburgring and Hockenheim has been second at the 'Ring in 2009. By and large, he has endured trying weekends, certainly since a strong run to eighth for Scuderia Toro Rosso in 2008.
In 2009, he played second fiddle to team-mate Mark Webber, finishing behind the victorious Aussie, and the following season, he made a slow getaway from pole position and, in trying to prevent Fernando Alonso getting past, simply allowed Felipe Massa to jump both. He went on to finish third.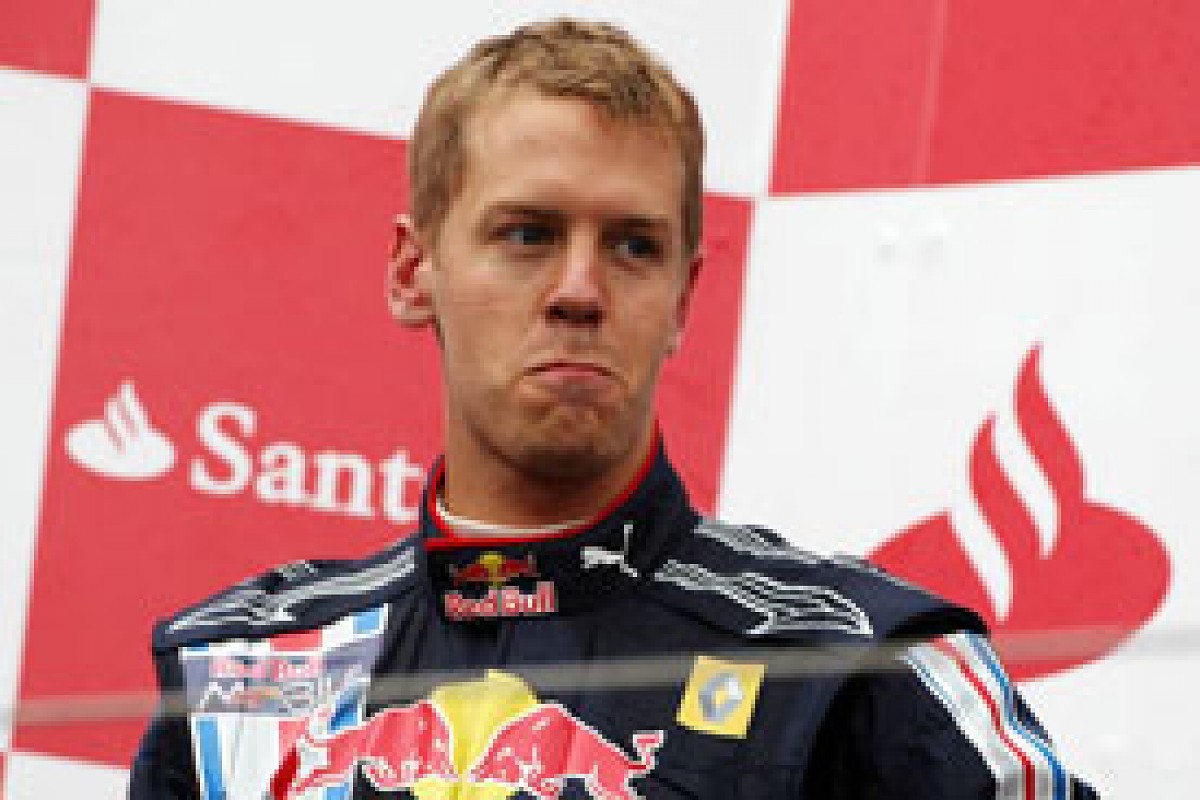 Vettel was second in 2009, but victory continues to elude him © LAT
In 2011, he turned in his worst performance of a dominant season, finishing fourth after an uncharacteristic spin, while last year he finished second on the road but, bafflingly, thought he would get away with running off track at the exit of the Hockenheim hairpin to pass Jenson Button; he was relegated to fifth by a post-race penalty.
It might just be coincidence, but it's conceivable that the distractions and pressures of a home grand prix make life difficult for Vettel. In particular, the Nurburgring seems to be a bogey circuit, with Webber outperforming him in their two outings as team-mates here.
DI RESTA DUE A BIG RESULT
Paul di Resta has started the past three grands prix from the lower reaches of the grid and has had to fight hard to salvage points on Sunday afternoons.
After the team misjudged the weather in Monaco and cost di Resta the best of the track conditions in Q1 in Canada by keeping him in the garage to adjust a mis-set gearbox setting, the confusion over his weight at Silverstone and resulting exclusions made it a hat-trick of disastrous grid positions.
But his speed has remained and he is unquestionably due a big result.
By rights, he should once again be on the shopping list of the big teams having shown remarkable consistency this year, scoring points in every race except for Malaysia where the two Force Indias were pulled from the race because of a temperature-related retained wheelnut problem. A podium finish would certainly ram home the message that he has been one of the most impressive drivers in 2013.
It's vital for Force India, which needs to maximise its points haul to consolidate fifth position in the constructors' championship. Just think how many points it would have now had it not shot itself in the foot several times, particularly in the case of di Resta...
McLAREN REVIVAL HOPES
The last time McLaren was so uncompetitive during an F1 season, in 2009, it was at the Nurburgring that the key upgrade package that helped Lewis Hamilton to win two grands prix was introduced.
Unfortunately, there is no sign of such a package appearing this weekend.
McLaren cannot call upon a 'magic bullet' as it did in 2009 © XPB
The team has made some progress with the car, but Silverstone proved to be one of its least competitive outings of the season and, at best, development has been par relative to the rest.
By contrast, in 2009 the addition of the double diffuser gave it a 'magic bullet' that at least partly explained some of the downforce deficit. This year, there is no such trick.
Its best hope is that the changes to the tyres, first here with the switch of construction to the Kevlar-belted Pirellis and then with the long-term fix that will appear in Hungary, improves things. But based on the evidence so far, even beating Force India to fifth in the constructors' championship seems to represent the limit of its realistic ambitions.