"We haven't made a great deal of progress on that," replied a downbeat Lewis Hamilton on Thursday after being asked if he felt that Mercedes had cured its rear-tyre degradation problems, now that we are back at a track that punishes them.
However, the running on Friday afternoon suggested that the Mercedes was capable of quite a respectable race-stint average speed.
With Red Bull, Ferrari, Lotus and Mercedes each completing long runs of similar duration, they revealed Hamilton to be an average of 0.35s off the pace of Sebastian Vettel's Red Bull on the hard-compound tyre, while Nico Rosberg was an average of 0.8s off Romain Grosjean's Lotus on the medium.
While these numbers don't suggest that Mercedes has race-winning pace, they are far from the disaster we saw at Barcelona where the Mercs were around 2s per lap slower than the winning Ferrari after sewing up the front row.
But, Friday's afternoon running at Silverstone was damp and cool and, as such, the generic limitation for everyone was front-left graining. The Mercedes is no more susceptible to this problem than any other car.
The real test will come with the increased track temperatures that are expected for the rest of the weekend. Then, front graining will then probably cease to be a problem and therefore the demands switch to the rears - and this is when we may see Mercedes run into trouble.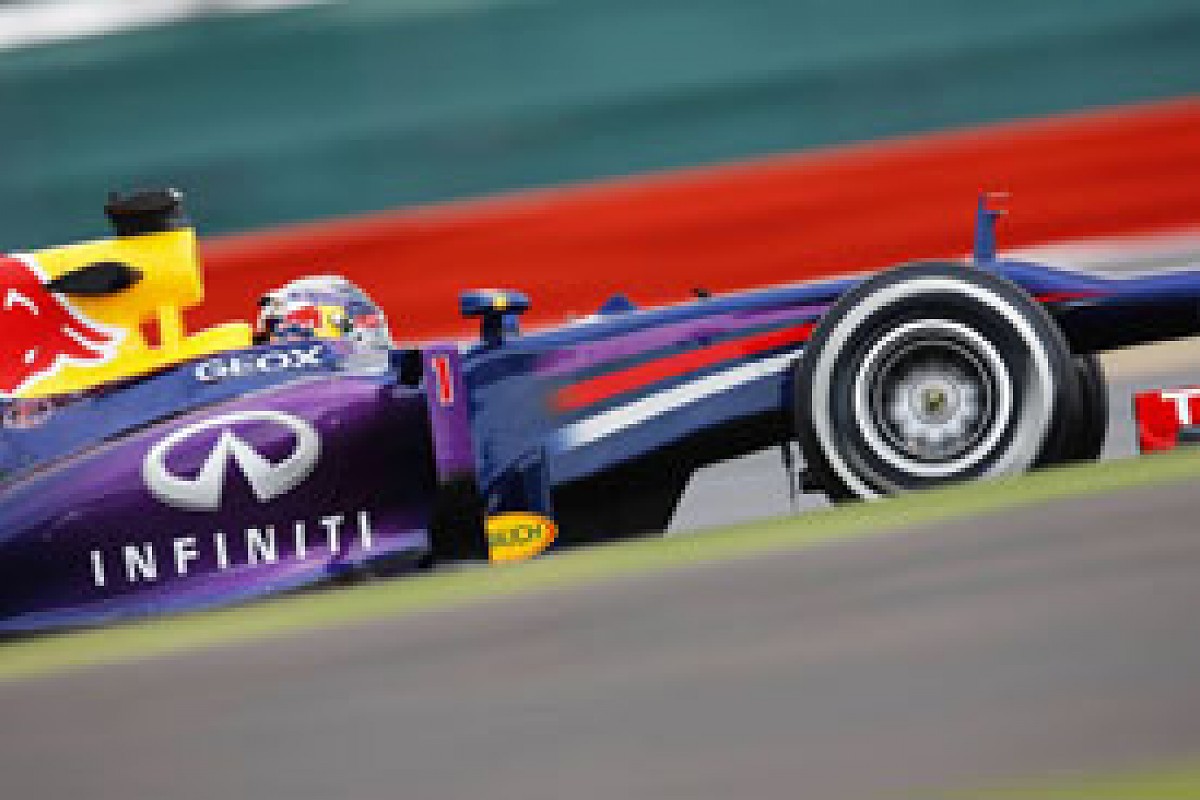 Red Bull looks to have stronger race pace than Mercedes © XPB
It would be no surprise to see the team continue its sparkling qualifying form. Rosberg put together the fastest lap on the low-fuel runs, a full 0.3s clear of Mark Webber's Red Bull.
But with Lotus, Red Bull and Ferrari all looking to have stronger race pace, Rosberg and Hamilton would be fighting a rearguard action if they can add to their front-row tally.
"It all depends how close we get to that cliff face where our tyres go over the temperature threshold," said Ross Brawn.
"We saw in Malaysia, for example, they didn't and we had good strong race pace there. But at Barcelona they did and we struggled.
"Today we didn't appear to be close to that cliff face. But it all depends upon track evolution whether that will continue to be the case."
In terms of race pace, the picture will depend a lot on whether the hard or the medium tyre turns out to be the better one over a race stint. The picture on Friday afternoon did not make that clear.
The Lotus was fastest of all on the medium - and Grosjean on that tyre averaged a faster race stint than anyone, including those on the hards. However, Vettel's Red Bull on hards was marginally quicker over a stint than Webber on mediums. At Mercedes Hamilton (hards) averaged almost the same time as Rosberg (mediums). If the track becomes quicker it might be expected to shift the balance towards the hard - for Red Bull and Mercedes, at least.
At Ferrari we didn't have a comparison thanks to Felipe Massa's early shunt (his third practice accident in three races). But the gentle tyre usage of the Lotus may just enable it to remain quicker on the softer tyre.
If that should prove to be the case, with everyone else having to shift their emphasis to the hard, then Lotus could be looking very good on race day. But, as ever, the challenge is whether either Grosjean or Kimi Raikkonen can qualify far enough up the grid to make winning use of that.