When news broke in January that the Nurburgring would be hosting this year's German Grand Prix, it was obvious a somewhat unorthodox deal had been struck, for not only was this classic circuit complex in liquidation, but doubts existed as to exactly which entity - liquidators, local state/council partnership or concession lessees - was legally empowered to negotiate with FOM, the sport's commercial rights holder.
From there it was a logical step to question what would possess any of the three to commit to race-hosting fees given that a) future ownership remains in doubt until such time as the liquidators sell off the circuit at auction, with German auto club ADAC said to be among a host of potential bidders; b) Hockenheim, the other German Grand Prix circuit, is locked into an 'even-year' rotating deal with FOM through to 2018, thus reducing income potential by 50 per cent; and c) grand prix gates are dropping like lead balloons across the world unless cut-price tickets are offered.
Thus speculation has long existed that a deal had been cut with the liquidators whereby the traditional hosting fee was waived in exchange for use of what's known in the trade as a 'white' (unpainted, bare) circuit, with income from the gate, signage, programmes, hospitality and concessions providing FOM's income stream. As they say, a bird in the hand and all that.
Such deals, mostly involving gate-money splits of varying percentages, were not unknown in pre-FOM F1, having historically been struck by Bernie Ecclestone, CEO of FOM, during the early days of FOCA - the team-owned equivalent of FOM, then headed by Ecclestone - in South Africa, South America and some European circuits.
However, as the sport's popularity grew (in tandem with Ecclestone's commercial aspirations) and governments and local authorities were persuaded to underwrite ever-increasing hosting fees, so this practise gradually decreased before being resurrected in January this year to ensure a race in the country that not only delivered the reigning (triple) world champion, but gave the world the car (and every form of four-stroke internal combustion engine, whether Otto, Diesel or Wankel).
Thus the circuit - for which read liquidators - could boast an event (and income), with FOM not only benefitting from associated income, but also being able to satisfy the contractual demands of TV broadcasters.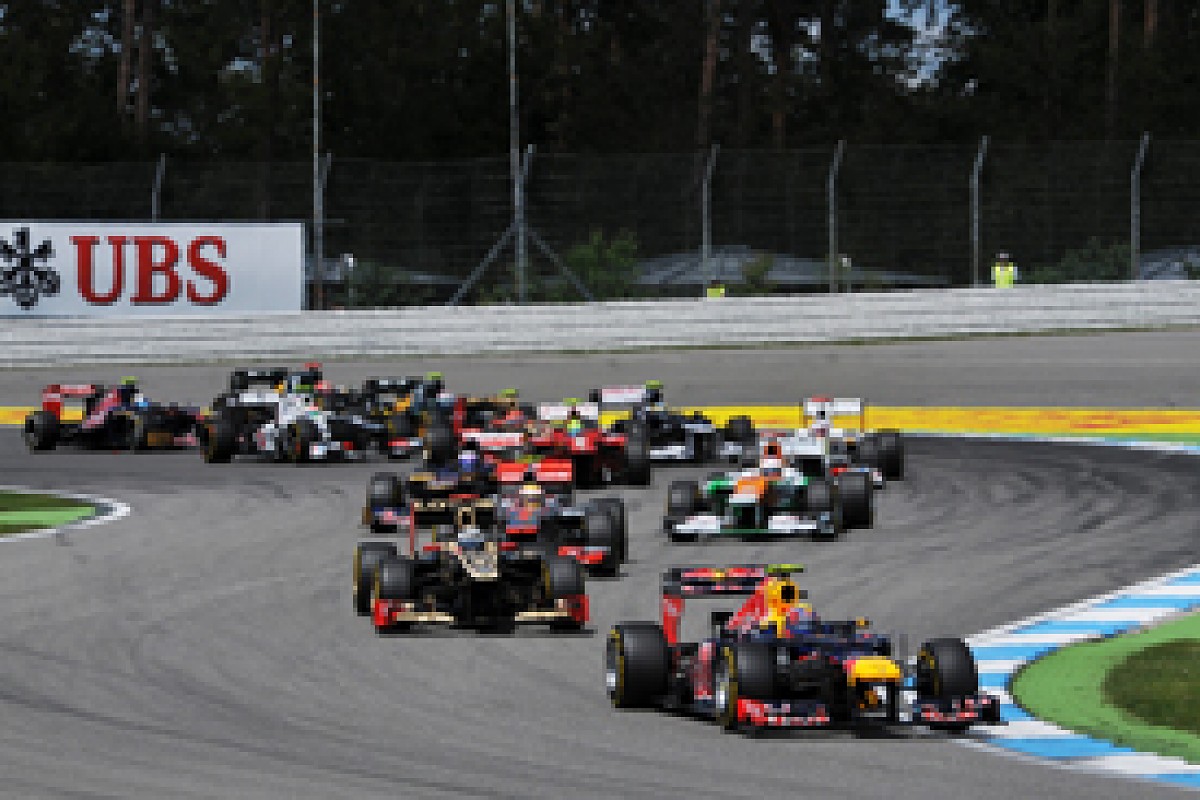 Hockenheim and the Nurburgring are now supposed to alternate German GP hosting honours © XPB
A win-win situation salvaged in the face of seemingly insurmountable odds? On the face of it, yes.
However, dig deeper and in common with all discount schemes - which is precisely what the deal is - the goods are ultimately soiled, with, ironically, the biggest losers in this instance being the teams, now on an (unequal) 63 per cent share of the sport's underlying income as opposed to the 50 per cent of last year and 23 per cent of previous years.
Thus where pre-2009 Ecclestone's entities, in the case of a discounted GP, would have forfeit £77 in every £100, that is now reduced to £37. Rather good fun giving away Other People's Money, or OPM as it is called in paddock parlance, eh Bernie?
It could, though, be argued that the teams receive 63 per cent of revenues that would otherwise not have materialised, all while being able to satisfy their sponsors' demands. Unquestionably true, save that ultimately there is no such thing as a free lunch, most certainly not in Formula 1. Something, somewhere has to give - and give it will at some stage.
Former FIA president Max Mosley (and Ecclestone friend for 30 years, through thick and thin) once suggested that the F1 tsar's business genius lay in his ability to perfectly price every component of the sport, to understand each individual event's market forces, whether they shape hosting fees, hospitality or whatever.
That was certainly true when the going was good and the sport was on an upward trajectory, with circuits, governments and promoters falling over each other in their haste to stage the next big race.
In the process the calendar stretched from 12 to 14 to 16 and even 18 races, with the sales clincher always being that Ecclestone had at least half a dozen race applications sitting on his desk at any one time. That held true in times of 12-race calendars (only six applications?) and was likely even at the 16-race level.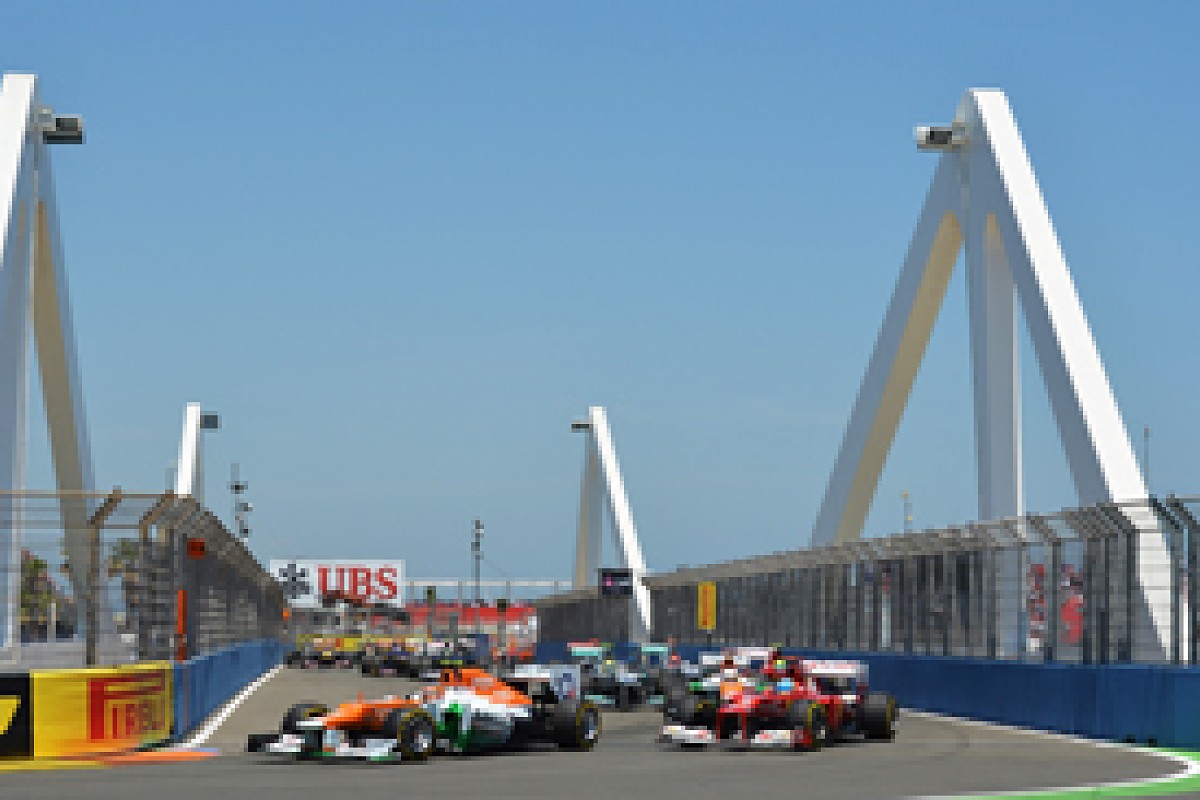 Valencia has now dropped off the schedule © XPB
But, as the fixtures increased, so the number of fall-backs decreased, the latter effectively hitting zero in 2012 with its record 20-race calendar and the effects of the continuing global economic crisis. The whip hand seemingly now holds but a twig.
When Valencia withdrew due to financial issues and New Jersey signalled its inability to step into the breech despite wide-ranging statements to the contrary, the number dropped to 19 - not good in the immediate aftermath of a record season, but still explainable to patient TV broadcasters, teams and FOM's official partners, the number and magnitude of which has been steadily increasing in recent years on the back of promises of increased international spread.
How, though, to explain away a 10 per cent year-on-year drop in races - which was precisely the conundrum Ecclestone and the sport found themselves in when it became abundantly clear that a bankrupted Nurburgring could not fulfil its obligations, and that Hockenheim was unwilling to take a knock to add to the one it suffers bi-annually.
Fingers were unfairly pointed at the latter circuit for failing to pick up the 'odd year' deal, but given the circuit's losses, due to the sport's stratospheric fees, the decision to not commit was nothing other than prudent. If anything, there lurks a salutatory lesson, namely that circuits will no longer take on such additional burdens at any cost.
Having tried every which way to cajole Turkey into making a return (imagine for a moment, given the political climate in the Euro-Asian country, had he managed to secure a mid-July date, as intended...), failed in persuading the French at either Magny-Cours or the Ecclestone family trust-owned Paul Ricard, and seen the Red Bull Ring in Austria slide off the list of hopefuls, sheer desperation kept leading Ecclestone back to the Nurburgring.
Not once, but, according to sources, many times, and a deal was quickly struck once it was clear there were no alternatives, meaning no protracted commercial negotiations.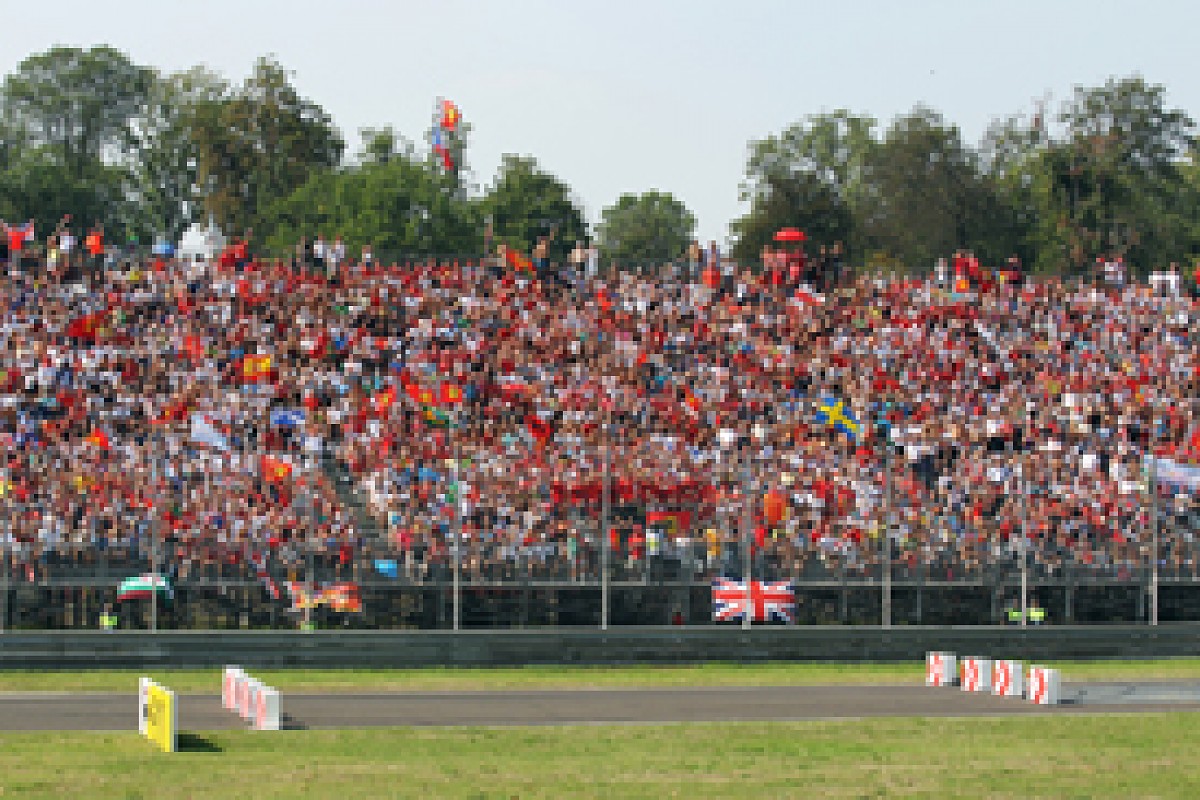 Could even the hugely popular Monza be in jeopardy? © XPB
Thus next week the sport heads for the Rhine Palatinate and its brooding Eifel mountains. Simultaneously, though, race promoters across the globe are rubbing their hands in glee as they, too, go after the big prize of zero hosting fees and deals over their gates.
Imagine the honchos at Monza, which in recent times was so cash-strapped that the only form of refreshment in the media centre was tepid water served out of recycled paper cups (this column kids you not), squaring up to Ecclestone: "Bernie, you're a friend of Nurburg but not Monza; we can't afford your fees either..."
It seems he has already considered just this possibility, for earlier this week Ecclestone suggested that the hallowed circuit situated in Monza's Royal Park may well make way for some or other Asian race in the foreseeable future.
"It's possible Europe will lose a couple of races in favour of emerging markets," Bernie is quoted as having told Italy's Panorama weekly. "If we do move away from Monza - and I say 'if', because no decision has been taken yet - it would be only for economic reasons.
"Of course, the quality of the circuit and the organisation could also be better," added Ecclestone, "but that is not the crucial point." Note the final point: gloss over Monza's sub-standard facilities, and consider only the geld...
Ferrari's reaction in this regard will be most interesting when/if push converts to shove; imagine the Scuderia without a home race, having had two less than a decade ago.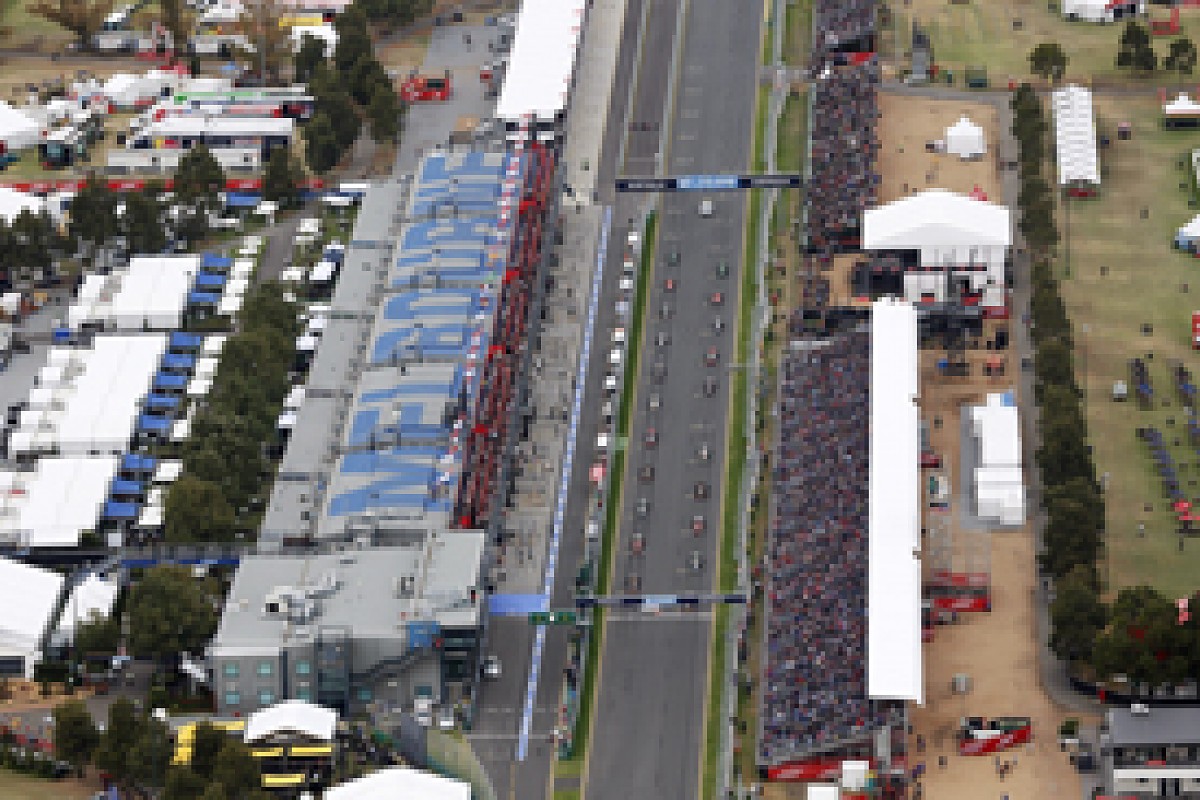 Melbourne authorities have long pushed for a better F1 deal © LAT
Then there's Australia's race: despite being run by his friend Ronald Walker, local politicians are increasingly pushing for reductions in fees. The news that a bankrupt circuit previously on a rotating deal was granted just that will be manna to Melbourne, which is already toying with its options.
Malaysia has recently pushed for discounts, while the Chinese two years ago managed to negotiate a massive reduction. Bahrain? Well, politics rules the embattled island and race, but when the political tide turns whichever way, so will their stance.
Spain can be expected to plead even further poverty when it comes to extending its contract, while Monaco already enjoys a zero-sum game.
Montreal? Well, a month ago Quebec premier Pauline Marois opened negotiations over the race, with the sticking point being resistance by the Canadian federal government to increase its C$15 million (£10m) annual contribution. Heck Bernie, if you could write off that amount for the Germans, at least cut us some slack...
Silverstone, too, is feeling the pinch - which will likely get tighter after this weekend's results are published. Yes, the circuit has a valid contract stretching through to 2026, but if there is no money, there simply is no money... so out with the bowl.
Spa has already negotiated downwards, and it's only a matter of time before reality hits the Hungarians, who are already suffering via their rapidly devaluing forint.
Korea? Discounted already, while rumours surround the future of India's race. The list is, seemingly, endless and Germany's contract has provided promoters across the board with renewed hope.
Quite how CVC will take to this is unknown, but not unimaginable. The venture capitalists controversially acquired the sport's commercial rights with the single objective of exploiting (a soft term in this instance) F1 to their own ends. But discounts left, right and centre hardly featured on the original blueprint - and certainly do not feature in listing plans - so surely it's only a matter of time before a 'no discount' edict is issued.
What then? Fewer races? More bankrupt circuits? Ultimately the Nurburgring deal enabled the sport's commercial rights holder to maintain the veneer of an 18+ race calendar, but the underlying costs thereof will be counted for years to come in a classic case of short-term expediency.
Hardest hit will, though, be the teams, who will collectively carry 63 per cent of that burden...