Between them, Jenson Button, Damon Hill, Johnny Herbert and Martin Brundle have an impressive record: two Formula 1 world titles, a brace of British Grand Prix victories, a world sportscar championship and success at Le Mans are just some of the highlights.
They also have a special relationship with the British Grand Prix and Silverstone. During their time in key roles with circuit owner the British Racing Drivers' Club, Hill and Brundle were also involved in saving the British GP and making Silverstone what it is today.
AUTOSPORT's Dan Cross spoke to these four top Brits at the Northamptonshire venue ahead of this weekend's grand prix. Here's what they had to say...
JENSON BUTTON, 2009 WORLD CHAMPION
It's unlikely that you're going to be in the hunt for victory at Silverstone, but is it a weekend you're still looking forward to?
Even in the difficult times, much worse than now, I still love coming to Silverstone because of the support you get from the crowd.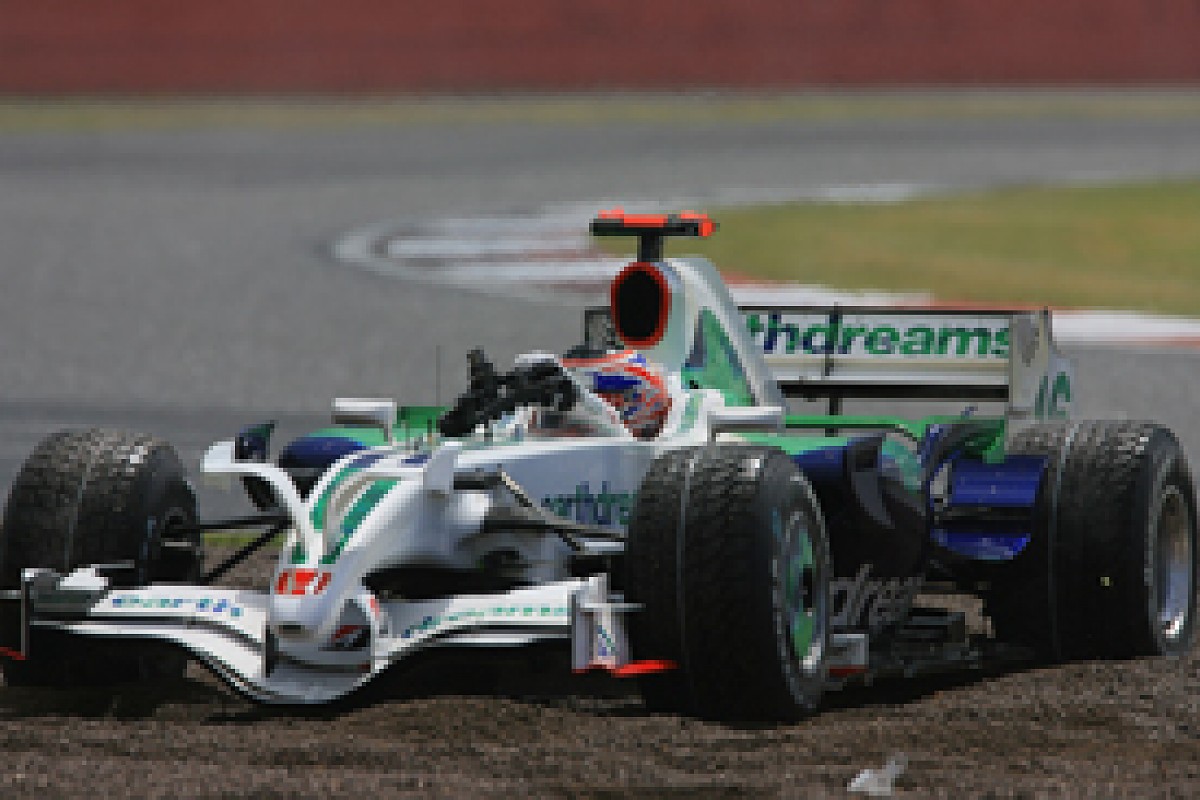 Even when Button was struggling with Honda in 2008, he enjoyed great support from the British crowd © LAT
I remember going on stage back in 2008 when we were really poor [with Honda], and still I received massive support, which was really nice and that really helped me for the rest of the season.
I'm looking forward to racing here and hopefully seeing a full house. We will fight and do the best we can. It's going to be very difficult, even to get a podium, but the most important thing for us is to get the best out of what we have. Hopefully that will be enough for the fans - we want to do well for them because they've been so supportive.
What is it about Silverstone that drivers love?
I think drivers love it because motorsport is very British. When I was racing in the lower categories, everybody came to Britain to race. There's also a lot of people who work in Formula 1 that are British as well.
Silverstone has so much history and the circuit layout is a lot of fun for the drivers. We love the fast-flowing nature of it - it's very much like Spa and Suzuka. But it's extra-special for the British drivers because of the fans here.
To see so many flags and rocket-red caps is a great feeling. I must say, though, the British fans are good in the way they're very patriotic, but they also support other drivers. They will cheer everyone, which you don't always get at certain races around the world.
How aware are you of the crowd when you're in the heat of a race?
After the race you are, but during it, no you aren't because you've got to remain 100 per cent focused. After the race, whether it's been a good or bad race, it's nice driving around slowly on the slowdown lap and seeing the crowds.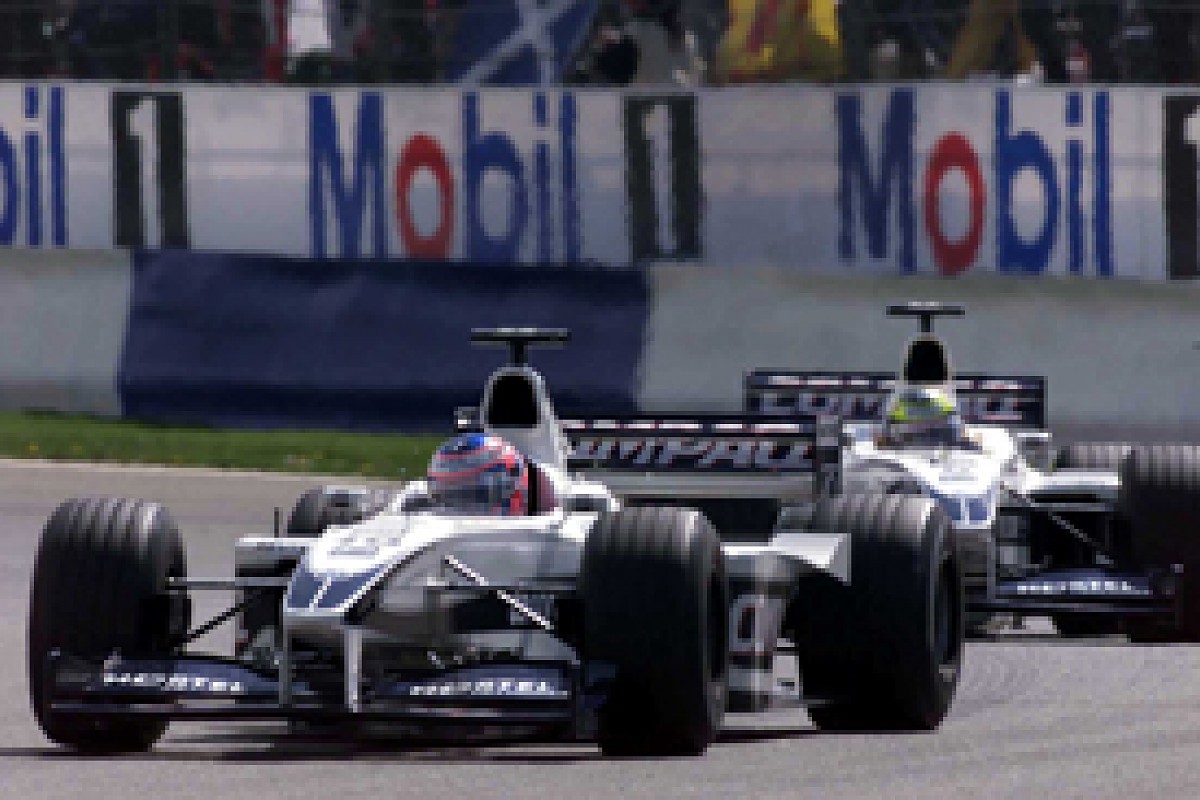 Button starred in his maiden British GP in 2000 © LAT
I remember my first year here back in 2000 when David Coulthard won the race. It was my first British Grand Prix and I overtook Michael Schumacher on the outside at Copse and finished fifth, so it was a great weekend for me. And to see the crowd going crazy for DC as well made it a very special weekend and one I'll remember forever.
We risked losing Silverstone at one point. What do you make of the new facilities? Do you think they're up there with the other tracks?
The Wing looks mega and they've done a great job with it. I think with many of the facilities they've upped their game. This is definitely one of the circuits that has outstanding facilities.
I think Farm is nice for us - that's where we camp in the BRDC, which is great for us as we can actually live inside the circuit. It reminds me of the good old days of karting when we used to go camping for a race meeting.
What one thing makes a difference to winning at Silverstone?
There are many things a driver needs to be good at here, but he also needs to be working with a good team and driving a good car.
With us, this grand prix is going to be a difficult one. But I think we'll be stronger here than the previous races because it's a fast-flowing circuit. I think we have OK downforce, but the problem for us has been the ride quality of the car lately, so there are massive amounts of movement that really hurts the airflow and hurts the aerodynamics.
Here it shouldn't be so much of problem, except for Turn 1 [Abbey], which is going to be a little tricky for us.
DAMON HILL, 1994 BRITISH GP WINNER, 1996 WORLD CHAMPION AND FORMER BRDC PRESIDENT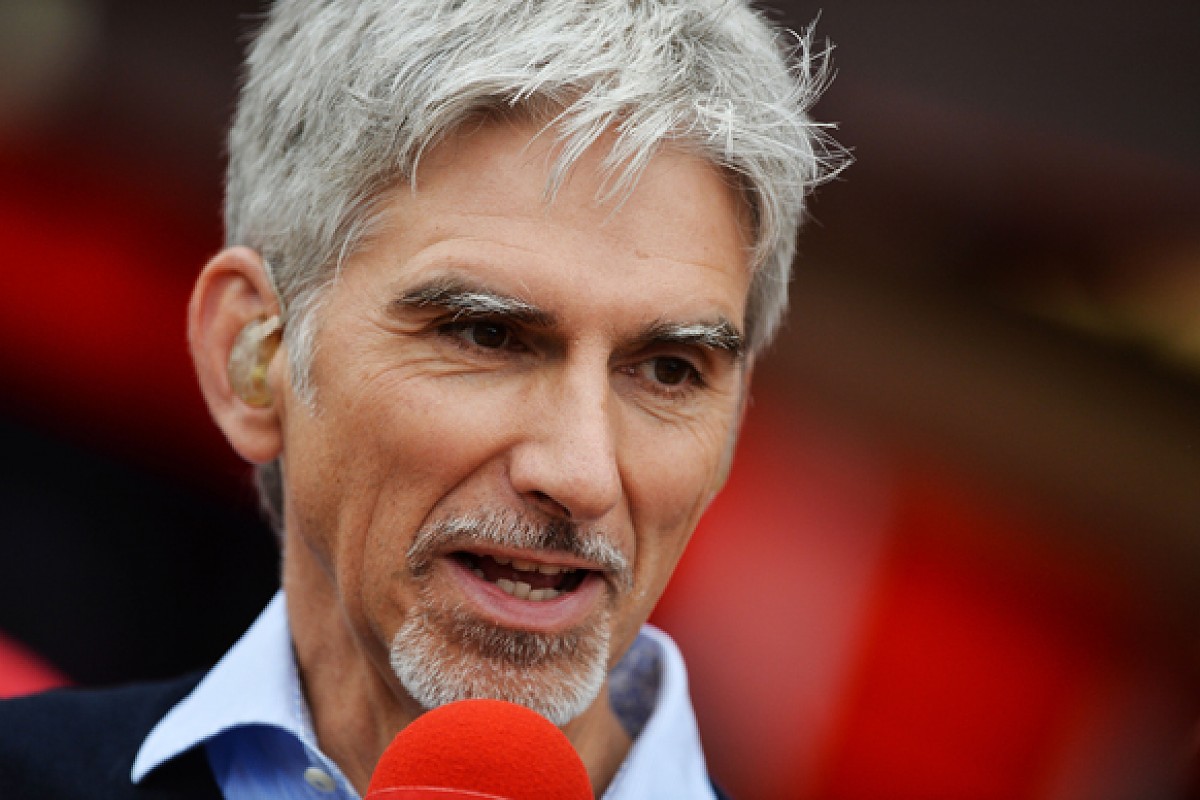 What are your thoughts on the British Grand Prix?
The British Grand Prix is one of those things you that wouldn't know what it's worth unless you didn't have it. We faced that possibility and we fought very hard, and we are in the middle of a tenure contract now - or Silverstone is - and it's part of the sporting social calendar in Great Britain.
Not only that, but it's watched around the world by 600 million people, and people come to Britain to watch a great sporting event take place.
We had the Olympics last year, but the GP happens every year and it's a great opportunity for us to advertise ourselves.
It also shows this country has got an industry that produces the most sophisticated and competitive equipment. A good majority of them are built not very far from this circuit and this is the world centre for technical excellence, and sporting excellence as well. We put on a show - the sport puts on a fantastic show - and, God willing, the weather is good and everyone has a ball.
It's not just the teams - more British drivers have won their home race than any other nationality...
That might be because we produce a lot of top drivers. If you look at the number of championships won by British drivers, we are still well up there. Germany just keeps on repeating the same two drivers, and while they have won a lot, we have more different characters driving.
It's very important we have British competitors who are at the sharp end. Realistically, Lewis Hamilton is our only real hope of winning the race. The Mercedes is a quick car. I know he would love to win.
I think Jenson Button has a tall order being at McLaren at the moment, but you mustn't rule out Paul di Resta as well because he's very strong. But I think, coming back to Lewis again, he'd love to get pole position here. I think he can get pole, and if he does then there's no reason why he can't also win the race.
The circuit is a bit different from when you were racing here. What difference do you think the recent changes have made?
The clouds are the same! The thing about Silverstone is you don't look at the track, you look at the clouds when you're racing. You look at the sky...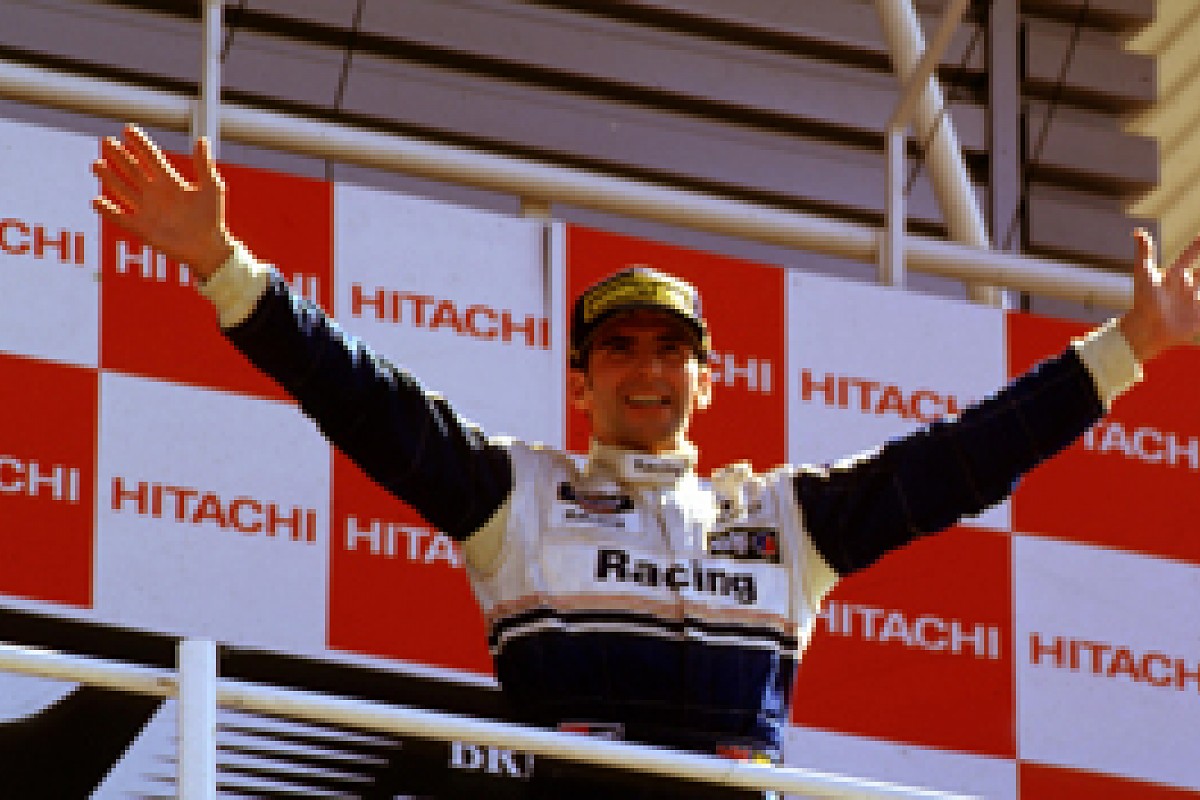 Hill won the British GP in 1994 © LAT
You won here in 1994. What's it like for a British driver to win in front of a home crowd?
The thing that really whetted my appetite, I suppose, was that I'd been coming here for a very long time as a boy when my dad was racing. We just didn't have the access in those days - like Sky Sports F1, for example, and on-board cameras and the rest of it.
I came here and qualified for my first grand prix in the year Nigel Mansell was king of the world and there were 150,000 people supporting him. I had one of the best seats in the house as I got to see him five times in that one race. He kept approaching me in my mirrors and then disappeared into the distance!
I also saw him cross the finishing line as well because I was the next one over it. The crowd just erupted around the circuit, so I got an insight for what it was like for Nigel, and two years later I got a taste of it myself.
You can't really describe it. It was a perfect day. It was a fantastic day.
Are you aware of the crowd when you're driving?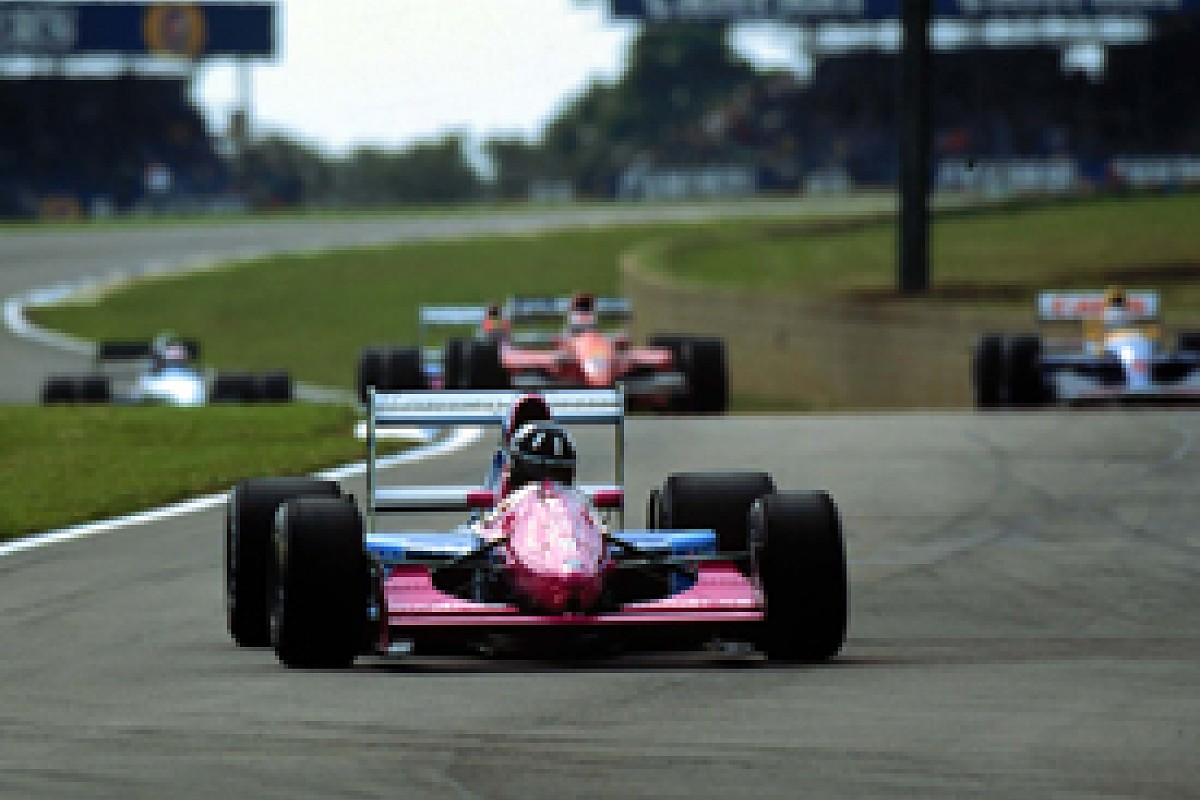 Two years before he won at Silverstone, Hill scraped onto the grid in a very slow Brabham © LAT
Absolutely. You can see them get animated as you get close. You can see them waving their banners and their arms, but you can't hear them shouting. Nigel claimed he could hear them, but I think that might have been a bit of poetic licence.
From a personal point of view, you've done a lot to save the British Grand Prix. How does it feel to be standing in front of the Wing? Is this what you envisaged?
The dream is still there. The dream is to continue to develop Silverstone to reach its full potential as an iconic motorsport venue. There's so much more that could be done to provide the full experience for race fans.
Phase one is completed, but there's still a lot more that can be done and I hope Silverstone is successful in its plans to get investment, because around the world you see entertainment venues that are big revenue generators and there's still a lot more that could be done for Silverstone to maximise that.
Do you see venues like Abu Dhabi as a threat?
I think every circuit has its own unique character and Silverstone's greatest asset is the challenge that it presents to the drivers.
The thing that should also come very high on the list is the experience the fans and visitors receive and the ability to be able to see what the drivers are doing. A lot of work has gone into positioning grandstands at key points around the circuit. It's a problem the sport has in that it requires a large area for the cars to be fully exploited, but that means viewing opportunities are limited.
If you go to somewhere like Spa... the idea as a driver is that you want to go to places like Spa, you also want to go to Monaco, you also want to go to Suzuka, to compete on circuits where the great drivers have raced.
The Wing is the centrepiece of Silverstone's new look © XPB
That means being able to develop a circuit that provides the spectator with the thrill of seeing racing cars around the entire track is difficult, but with modern communications it's possible to sit there and have a screen you can watch, as well as big television screens around the circuit.
That's the real buzz about Formula 1 cars - they are spine-tingling as they go past and to see in the flesh.
As either a spectator or competitor, which one British Grand Prix sticks out most in your mind?
As a spectator I would say I saw some stunning ones with Mansell - him overtaking Piquet a few laps from the end in 1987 was thrilling.
I was at Brands Hatch when James Hunt was allowed to restart [in 1976], watched Ayrton Senna doing a qualifying lap, or Keke Rosberg's qualifying lap [in 1985] - I was standing at Abbey when he went past on full boost, and in those days you could just stand behind two layers of Armco and watch them go past. That was stunning. As a racing driver you get a real buzz out of those sorts of things.
I suppose it's difficult to say from when I was racing because I was actually in the race.
JOHNNY HERBERT, 1995 BRITISH GP WINNER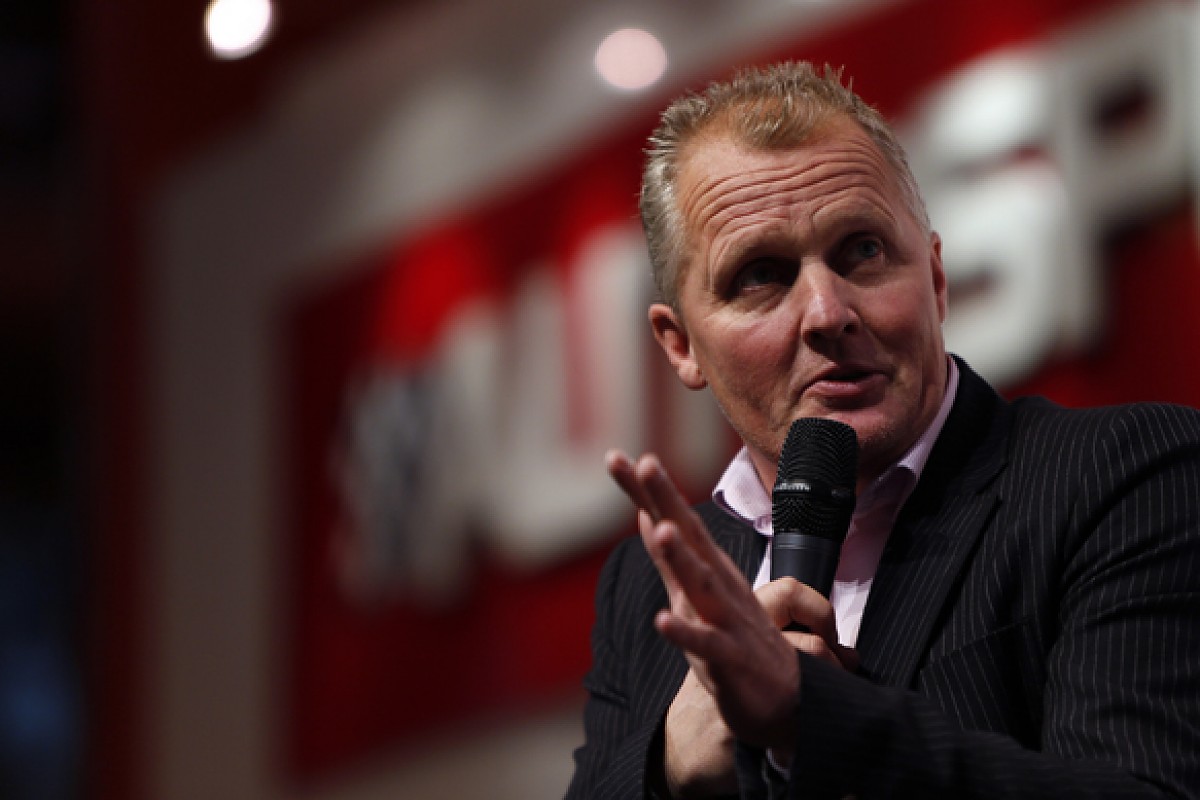 Which British Grand Prix stands out for you?
Probably 1987 with Nigel [Mansell] and [Nelson] Piquet - the wheelnut, and then the comeback with 11 fastest laps, then going wheel-to-wheel into Stowe. Although that wasn't the highlight of Mansellmania, that one sticks out.
I was doing Formula 3 with Damon [Hill] that weekend, so that one sticks out. I do remember the buzz of the crowd going with it. Good ol' Nige.
Looking at Silverstone now, what do you think of it as a circuit?
There's always criticism that comes from Bernie [Ecclestone], but basing it on when I first came here in about '84 or '85, which was almost the old-style circuit, the amount of changes that have gone on over the years...
Some have been good, some have been not so good, but they've always adapted and I think the track we have today has still got the old Silverstone high-speed corners and a few technical ones to go with it, which sort of goes back to the circuit I knew when I started racing.
So they've adapted it a good six or seven times now, which is good from Silverstone's point of view. Then you've got the Wing, so that's another upgrade that's come with it.
From a European perspective, Silverstone to me has been the top of the heap as far as adapting to when F1 changes, and probably from [former BRDC presidents] Jackie Stewart's time to Damon Hill and [current president] Derek Warwick, they've turned this place around and they've put it in a very good place within the calendar.
It's still popular with the drivers, still popular with the fans, there's still some great racing, and we're very fortunate with everything that goes on here.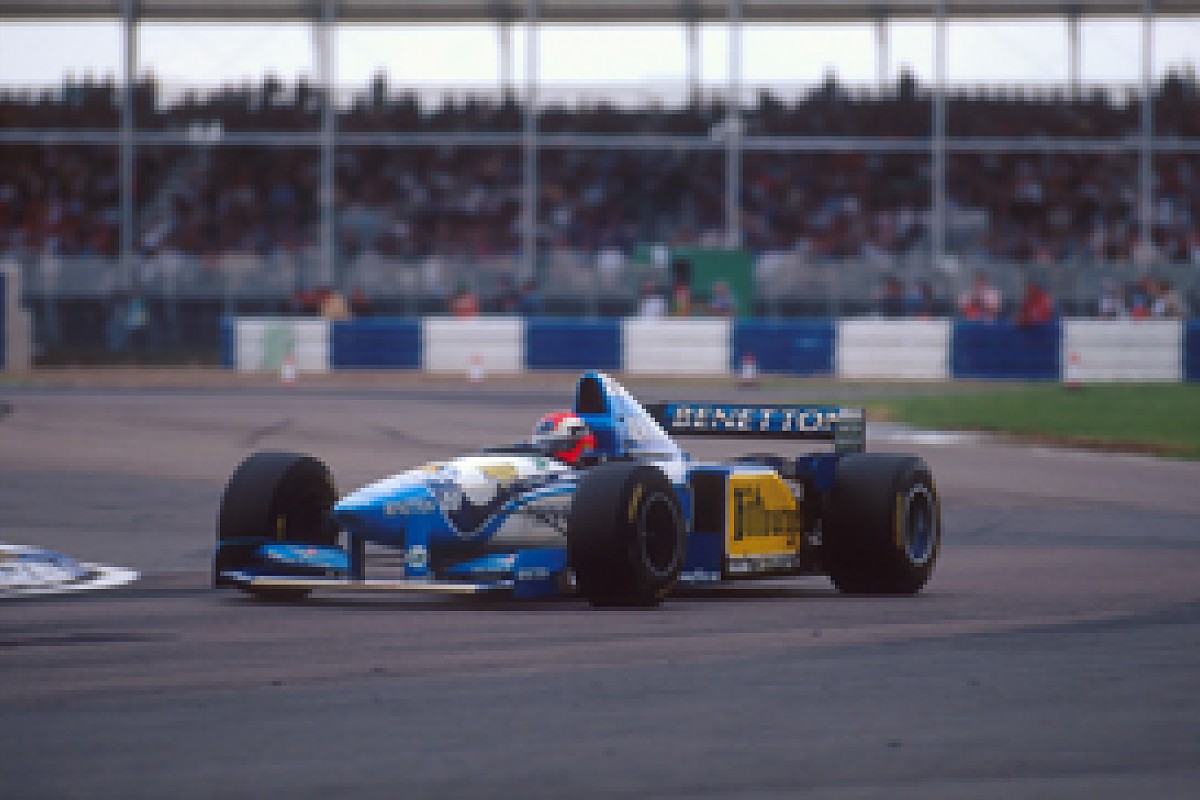 Herbert won at Silverstone in 1995, but wasn't a fan of that year's circuit configuration © LAT
But what's special is where they've adapted the circuit and changed it and they've listened to drivers who've said, 'That's not very good' and they've actually adapted it again.
When I won here in 1995, Stowe was a horrible Mickey Mouse thing, and they've changed it so it's something between the old Stowe and that horrible 90-degree corner.
They changed Copse as well - that was horrible - but it's back to being a fast one. So again, that's what I've liked about what the BRDC has done.
Some people complain that we've lost Bridge and how terrible it is without it, but now we've got Abbey, which is a nice fast corner that leads on to the technical Loop section.
You've got to be smart in how you use the Loop for when you come out on the Wellington Straight to make a pass - as we saw last year - so I think that works OK.
We've got the old Brooklands-Luffield bit that's always been quite difficult, and then you've got the wonderful flow into Copse and through Becketts, then round to Stowe and then that final little tricky one.
It's quite tricky down at Club - it used to be quick in the old days, but they've changed it recently and it's quite a challenge when your tyres are past their best.
Do you think that F1 as a sport would be damaged if there wasn't a British Grand Prix?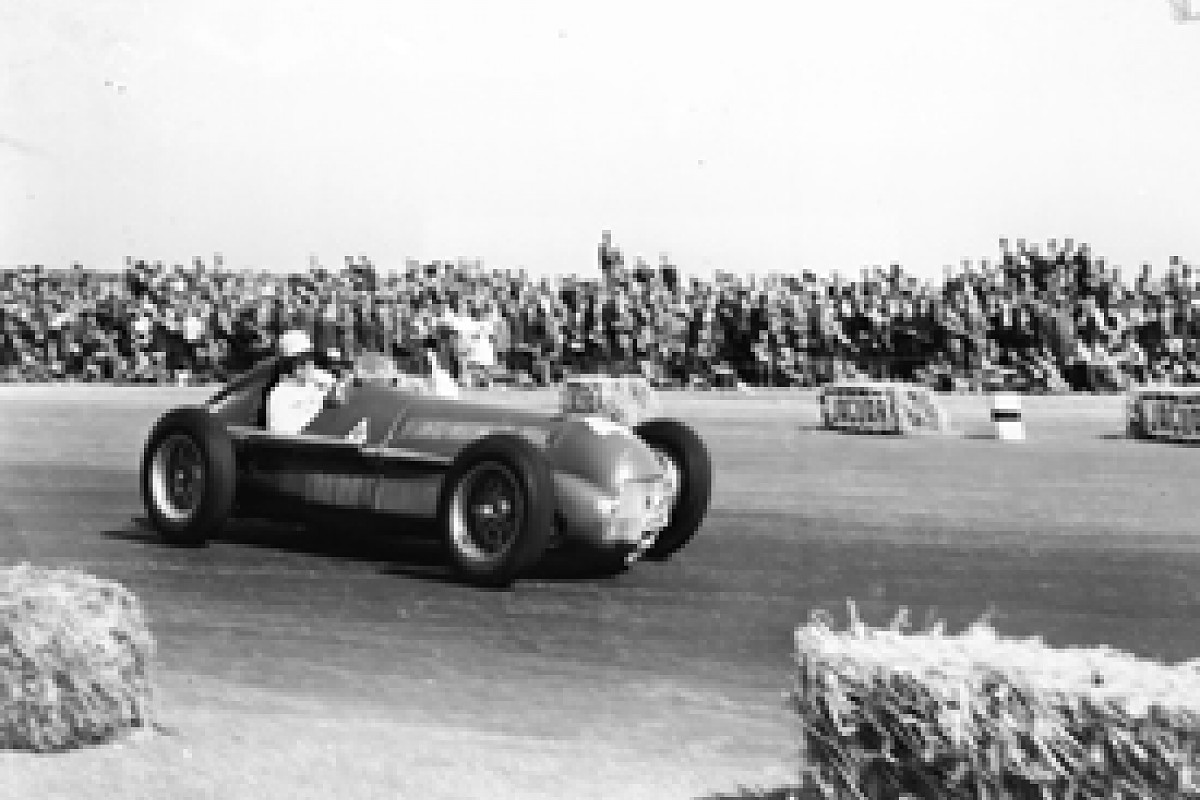 Silverstone hosted the first ever world championship F1 race in 1950 © LAT
There's still the historic link that you have with the running of the grand prix here, but also with the teams that are based around it - from Force India across the road, down to Lotus and Caterham that are scattered around. Cosworth is still obviously in Northampton; we're probably not going to see them next year, but they've always been part and parcel of F1.
I think the sport would survive, yes, but it would be wrong to take it off the calendar because it's such a great track that the drivers like to come to, and the important factor is they do adapt the circuit to the changes that F1 brings, and if they're doing that, there's no reason why it should be taken off the calendar.
How do you think the Brits will fare this year?
I suppose Lewis has the best chance. But then, does he really have a chance because obviously that Mercedes is chewing its tyres up?
They'll probably be there or thereabouts in qualifying, although the Red Bulls have been pretty strong here before, and then the next one along is probably Paul.
Force India probably isn't looking at a race win, but if it all went sweet through the weekend they could well get a podium. I think Paul himself is in a very good place at the moment to be able to achieve that and Force India can give him a car worthy of a podium finish, so they're probably the main two.
Jenson is still... they're still working on that McLaren at the moment and it's a bit of a dog at present and doesn't appear to be getting that much better. It's improved a bit, but it hasn't improved enough.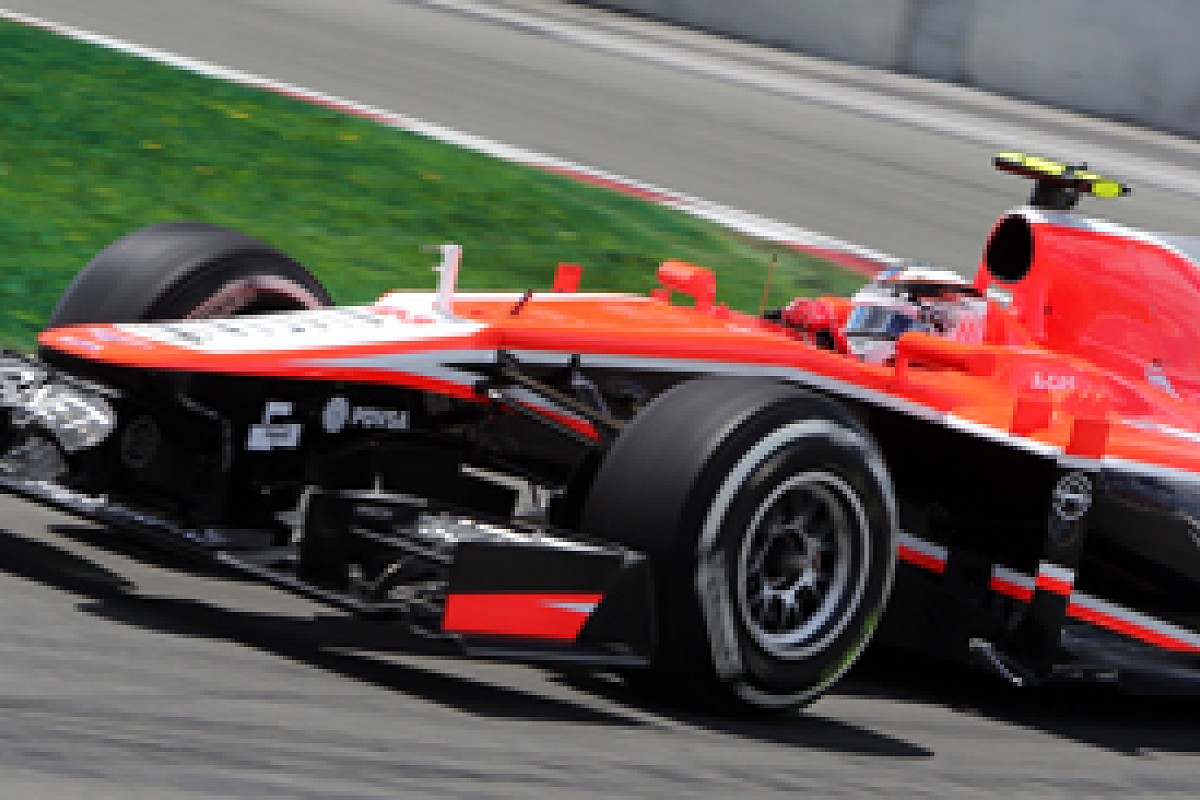 It will be a very different British GP for Chilton © XPB
And bless Max [Chilton], a bit further back, but it's good for him. It's good experience going against [Jules] Bianchi and he can learn and take it to him. If he does, I think that'll put him in good stead for the future. He's still young, he's still progressing, still growing.
Overall, Lewis is the best chance. You never know, the weather might come and that might help them [Mercedes] as well. There may be things and ingredients that put it in favour of Lewis, but I think ultimately they're still struggling with their tyre problems.
What would you say to those debating on whether to come this weekend?
I think they should come. The whole event from Friday through to Saturday has always been immense.
This race is great to come to because the support the crowd gives the British drivers is brilliant. Being involved with that atmosphere as a fan is wonderful, but also as a driver you do sort of feed off that support and you can try to use it.
Nigel [Mansell] used to say it gave him a second per lap. I'm not quite sure that was true, but it does make a difference.
I think the fans should come and support the drivers as it's one of the biggest events we have in the UK and it's still immensely popular.
Silverstone has done a lot to improve the infrastructure from what we had last year. I thought it was quite harsh the way it was portrayed last year, but at the end of the day it proves they can make changes where necessary.
The dual carriageway never existed when I first came here and I used to drive along the back roads!
MARTIN BRUNDLE, BRITISH GP PODIUM FINISHER AND F1 COMMENTATOR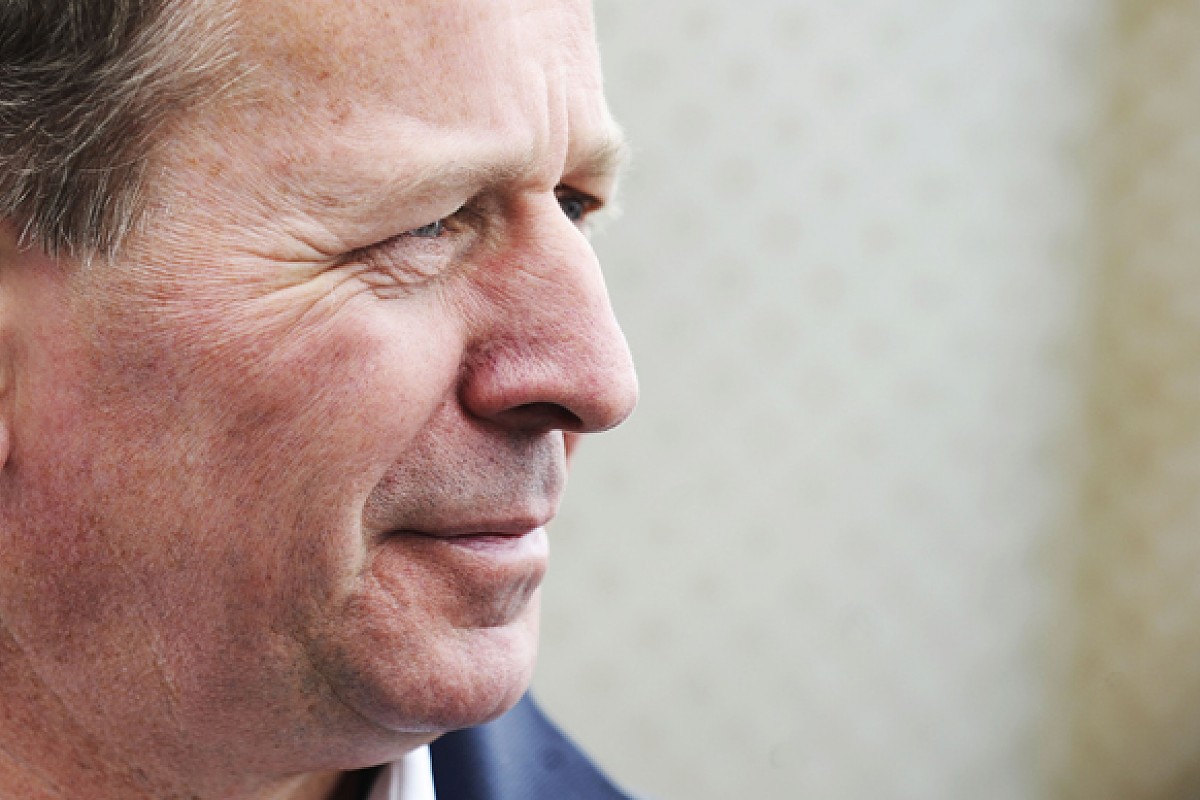 Do you continue to have a close connection with Silverstone?
I do indeed. I came here as a kid when I was four or five years old back in the '60s and saw my first grand prix standing at Copse, all the way through to touring cars, Formula 3 and Formula 1, then I got on the board and became chairman and we put a lot of the car parks and dual carriageway together, and now obviously with television.
So now I'm 54 years old and 50 of those have revolved around Silverstone and I feel huge pride and satisfaction whenever I drive in.
You obviously travel to all the circuits around the world, but is Silverstone still up there with the best and will it be able to hang on in the future?
I hope so. I think every year is a peril because it is hard for them to keep finding the money.
They're not sponsored by the government like most other places that we go to, so it's purely on a commercial basis, and as we've seen, all the European grands prix are struggling even if they are supported by regional or national governments.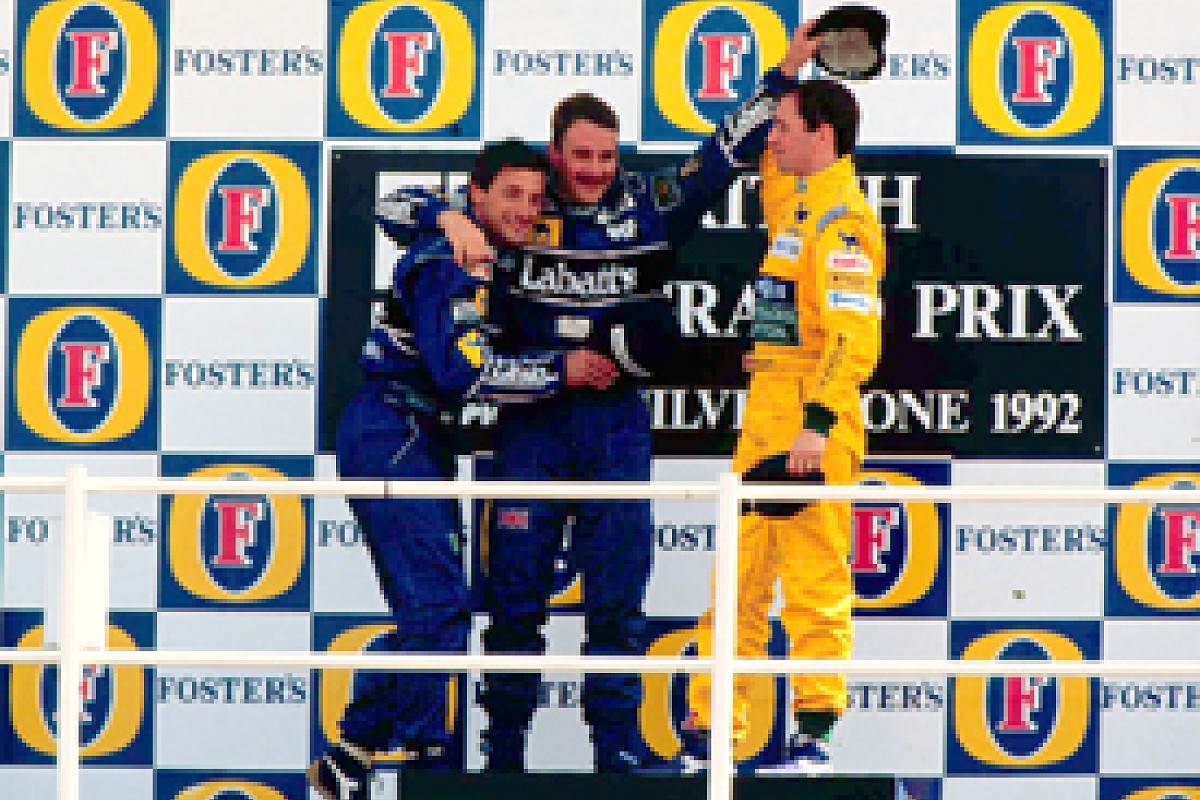 Brundle joined Mansell on the Silverstone podium in 1992 © LAT
I think it's an ongoing struggle, but hopefully they'll win here - they've got a long-term contract.
What's unique about Silverstone is that it's got the history and heritage, but it's also got fantastic facilities as well. If I go to Sao Paulo or Montreal or Monza, they just don't have these kinds of facilities.
I think you have to have some of that history and spirit. All the modern circuits are fine, and some of the events like Singapore, for example, work very well, but they will take half a century to get the history of this place because so many things have happened here and not just in F1.
I think this place is pretty unique in that respect and the British Grand Prix has been on the cards ever since day one, so we have to fight to keep it.
From a heritage point of view, could F1 survive without Britain?
There are a lot of teams based here, of course - I think it's eight of the current 11 are here in the UK - and the cottage industry of motorsport is a huge business. We gave up building cars and motorcycles, and we can't give up our motorsport industry; Silverstone is pivotal to that. It is pretty much the centre of gravity of British motorsport.
We've got the university going up, we've got facilities still developing. I know it's hard work and it will always be a struggle here because it's run by a private members' club. Nobody wants to see it fade away and I don't think it will.
Do the modern drivers feel the tradition when they come to race here? Maybe the Brits more so, but are the others less aware of it?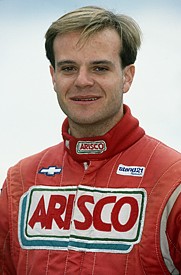 Barrichello was one of many F1 stars who came to Britain for their racing education © LAT
I think because the national racing scene in Britain is so strong - most drivers have come through British championships somewhere along the line - they know Silverstone pretty well.
When they come from Brazil or wherever their first port of call used to be Van Diemen in Norfolk, or [Rubens] Barrichello moving from Sao Paulo to Cambridge. I think they have an affinity to Great Britain and the British motorsport scene.
I think what they love about Silverstone is the high-speed corners and that's why they come and enjoy the circuit. They love challenging themselves against corners that are not quite flat-out, like Copse, Becketts and Stowe and places like that. That's why they rave about it.
Which British Grand Prix stands out most for you, driver or otherwise?
For me, it was 1992 when I finished on the podium and the track was invaded by the crowd at the end. That was naughty, but really good, and they mustn't do that anymore!
I think the most dramatic that I have commentated on would be the 2008 race when Lewis [Hamilton] won in the rain. I thought he was just extraordinary that day. I don't know how he found the grip. He just had a confidence and a skill that day that was way beyond anybody else out there, so that one sticks in my mind.
The crazy priest running down the track in 2003. Rubens won it that year and it was quite an exciting race, wasn't it? There have been some classics here and some really great races.
In 1992 you made the podium. What does it take to be good at Silverstone, even with this revised layout?
Tracks keep their character by and large. I won a race here in F3 and the world sportscar championship with Jaguar. You need a car that you can believe in and trust because you are carrying huge speed through some of the corners.
Whatever the layout, Silverstone has always had a flavour of speed - a theatre of speed, if you like - and that's good.
What's your thought on the current layout?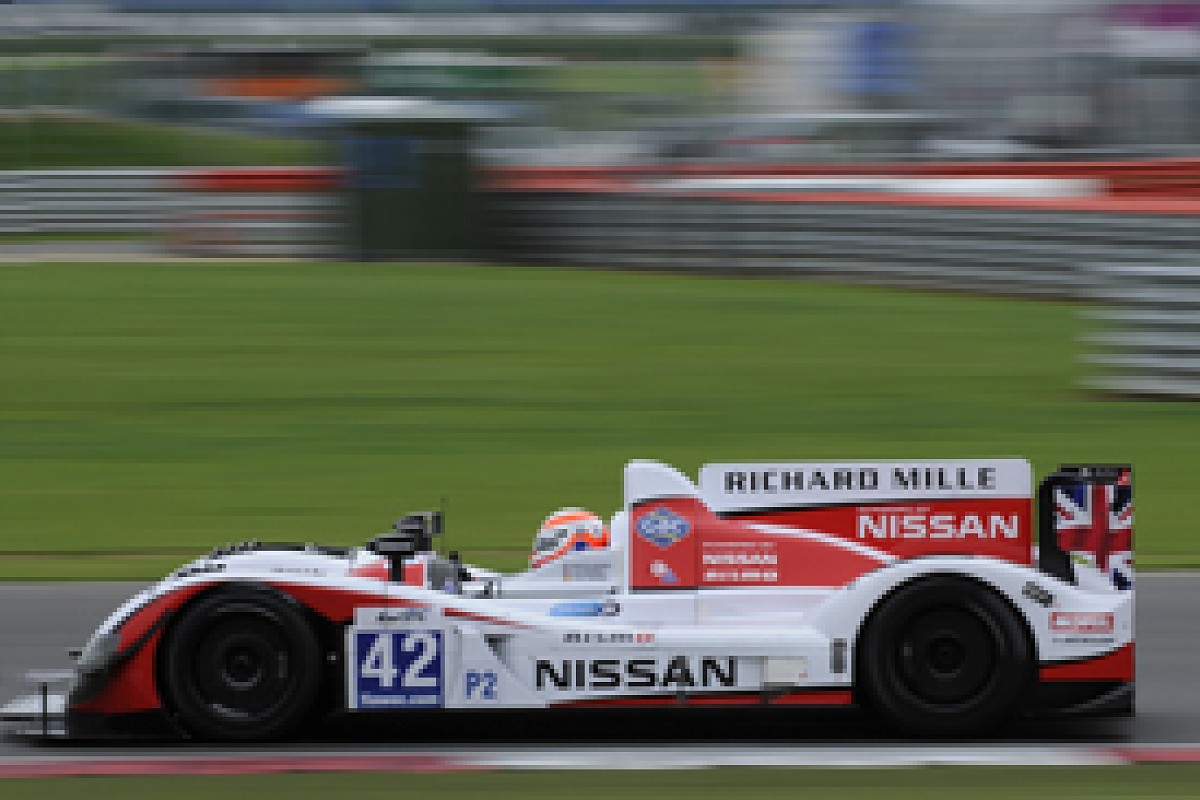 Brundle (and son) raced at Silverstone in the WEC last year © LAT
I raced on it last year in the World Endurance Championship with my son Alex and I really enjoyed it in the LMP2 car. Abbey is a cracker of a corner.
I think what's clever about it is that they can have different events here and they can segment it and maximise the asset, which is what you've got to do. It's the only way Silverstone can survive.
I go to a lot of tracks of this size around the world and they've got all sorts of ambitions about young drivers and race schools, and they never ever happen and they're not used from one year to the other. It's tragic, really. This place is busy every day and it has to be to survive. It's nice to see.
I don't mind the layout. I think it's good in a fast car, but I think some of the slower cars take too long to get around it, if I'm being honest. What's an F3 car around here? Just over two minutes? I think in an F1 car it's a minute and a half, and that's spot-on.
With regards to the British drivers, who do you think stands the best chance of reaching the podium this weekend?
Lewis Hamilton has a chance, perhaps Paul di Resta. You fear for Jenson Button a little bit because of his car. If they don't find improvements in it, I'm afraid this place will show up a deficient car.
They [McLaren] should be better here. They've been hurting on the more bumpy tracks and in the low-speed traction zones, they should be alright.
Paul's got half a chance, but Lewis is the main person for the British fans, who I think really support and appreciate something special, whether it's a Brazilian or a German - they're motorsport fans first and foremost rather than just beating the drum and waving the union flag.
What would you say to those who haven't bought a ticket yet?
I obviously love making F1 television, but nothing beats hearing and seeing and feeling them live. If you've never seen an F1 car in anger, it has to be on your bucket list - you need to be here and you need to experience it.