When Jose Froilan Gonzalez unexpectedly overcame a three-car team of pre-war Mercedes-Benz racers on two successive weekends in February 1951, at the wheel of privateer Ferrari on Buenos Aires' coast-front roads, little did he know that four months later he'd be forming part of the works Ferrari team, playing a central role in Alfa Romeo's first Formula 1 world championship defeat.
"It was for me a terrific happiness racing for Ferrari, and then I had the luck of being able to win that day at Silverstone in July 1951," he says.
"I had won some months earlier in Buenos Aires with the small Ferrari, against the Mercedes of Fangio, Lang and Kling, and then received a congratulations telegram from Mr Ferrari himself."
Those two wins on home soil proved to be his passport to a seat in the works team soon after, but they weren't his introduction to Enzo Ferrari.
"I got to know him quite well during my first year in Europe [1950, with the Equipo Argentino, also referred to as Escuderia Achille Varzi]," he recalls. "The team had among its cars two Ferraris [166 F2 examples], and with Juan [Fangio] we used to drive down to the factory to fetch spares for the cars, and so we'd talk with Mr Ferrari when we get there."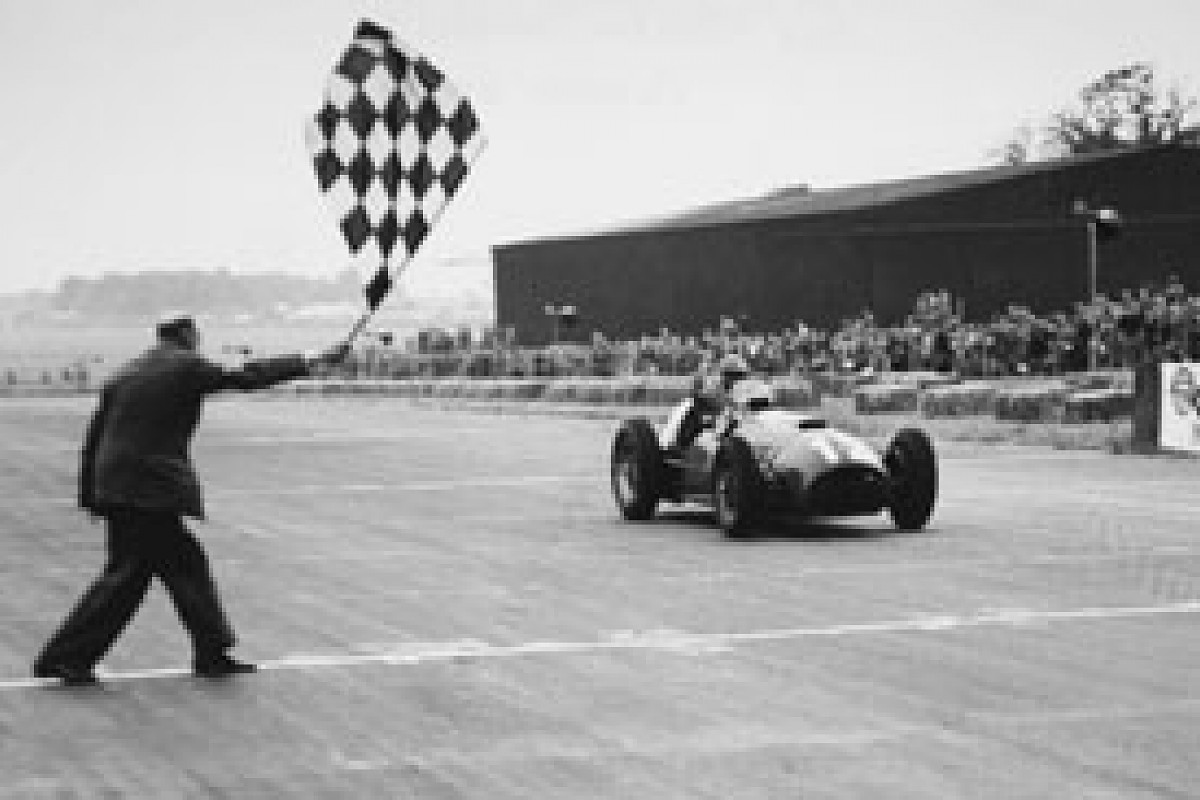 Gonzalez scored Ferrari's first grand prix win in 1951 © LAT
Interestingly, one year before that first Silverstone win, during what had been his world championship grand prix debut in Monaco in 1950, Gonzalez had already given the Alfas a run for their money during qualifying.
He placed one of the Equipo Argentino's much-used Maseratis on the front row, alongside the Alfettas of Fangio and Giuseppe Farina, and ahead of Luigi Fagioli's. Unfortunately, fire originating from a badly closed fuel-filler cap had led to burns on his back, and retirement on the first lap.
Legend has it that, after the first win against the Alfettas at Silverstone, Gonzalez was one of the few people to be able to walk into Ferrari's office without having to knock on the door.
"He was certainly very happy with that win at Silverstone," says Gonzalez. "At Reims [two weeks earlier, on his debut with the team] I had been asked to hand over my car to [Alberto] Ascari, and we shared the six points of second place.
"But by Silverstone I had already signed a contract with Ferrari, which specified that I didn't need to hand over my car to a team-mate during the races."
Despite missing the 1951 Belgian GP, that season netted him third place in the world championship, behind Fangio and Ascari, after having arrived at the final round in Spain as one of the title contenders.
He remembers the 1950s as very different to today's racing scene: "There was not all this enormous amount of professionalism that there is nowadays.
"I also remember many of us were quite frequently changing teams in those days. I raced for Ferrari in 1951, and then followed Juan to Maserati for 1952 and 1953. Ascari and Villoresi went from Ferrari to Lancia in 1954, which was the year I returned to Ferrari and Juan signed for Mercedes-Benz. And then we had changes in the technical rules in 1952, and more changes from 1954, with the bigger engines."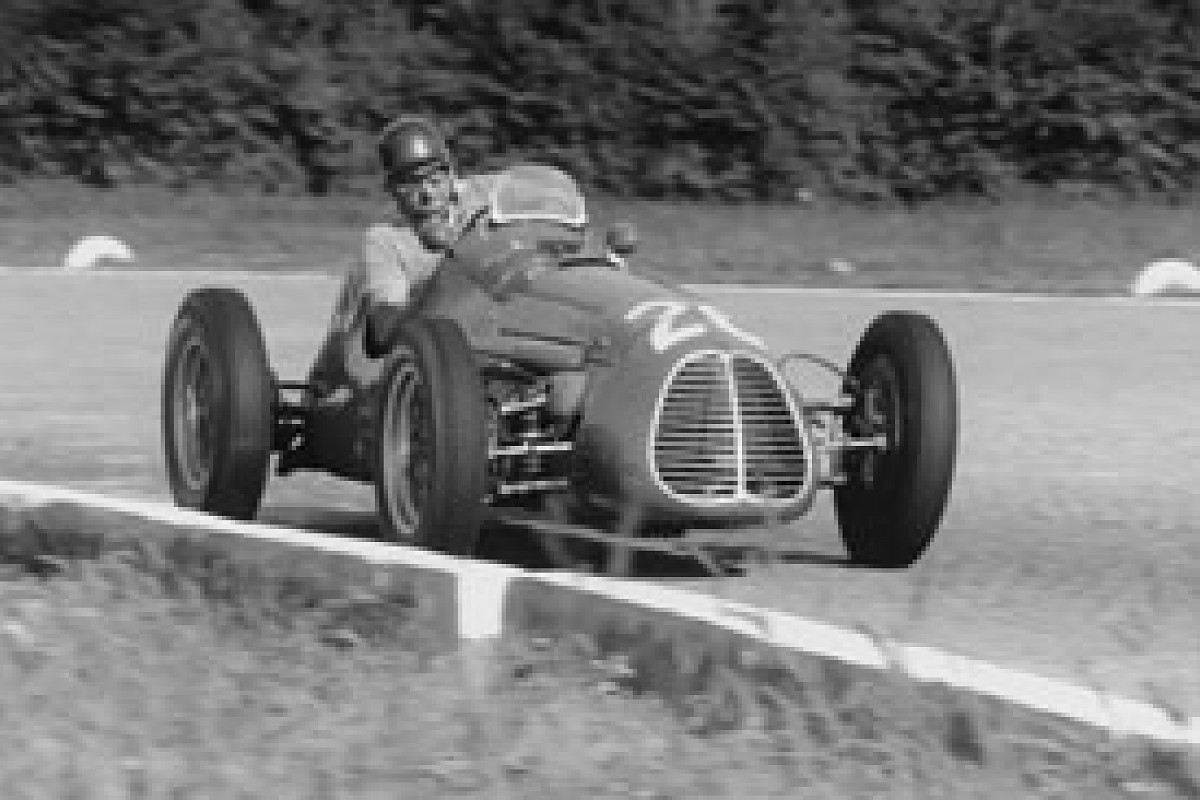 Racing for Maserati in 1952 © LAT
With Maserati not having a full programme to offer its drivers during 1952, Gonzalez drove a variety of machinery that season, for example winning the Daily Graphic Trophy at Goodwood at the wheel of the Thinwall Special and, at the same track, the Richmond Trophy abroad a BRM V16, a car he has little doubt was the most difficult to drive of all those he raced. Both he and Fangio had been contracted to test the car at the beginning of the 1950s.
The subject of Fangio brings many fond memories regarding his long-lasting friendship with the five-time world champion: "We were great friends, and spent much time together in Europe during the racing seasons. He was best man at my wedding and he had been a friend of my uncle, who was killed in a race in 1940.
"I met Juan in 1946, when I started racing, and we remained friends until his death in 1995. That's nearly 50 years of friendship. I was not so close to Ascari nor [Luigi] Villoresi. They always seemed to be debating things a lot, while I simply liked to race. Ascari, Villoresi and Juan, together with Farina, were my toughest rivals of those early days."
During his first days of racing in 1946, Gonzalez used two pseudonyms for his first few races, due to parental opposition. But soon he would become known.
Following some strong seasons in his country's single-seater Mecanica National championship, in 1949 Gonzalez sold his racing car, his street car, a truck, borrowed some money and acquired an ex-Farina Maserati 4CL. He then went on to show much promise at the wheel of the car during the first rounds of the December 1949/January 1950 Argentinean Temporada.
This led - weeks later - to an offer to join the state-backed Equipo Argentino for 1950 in Europe. He arrived there as a burly 27-year-old, and was sometime later nicknamed 'The Pampas Bull', given his build and because of the way he wrestled his cars around the corners.
He was well-accepted by his peers: "I was quite a bit younger than most of the drivers of those days. Juan, for example, was 11 years older than I was. Ascari was near my age, while Farina and Villoresi were quite a bit older than me, but I never felt I was treated differently because of the age gap."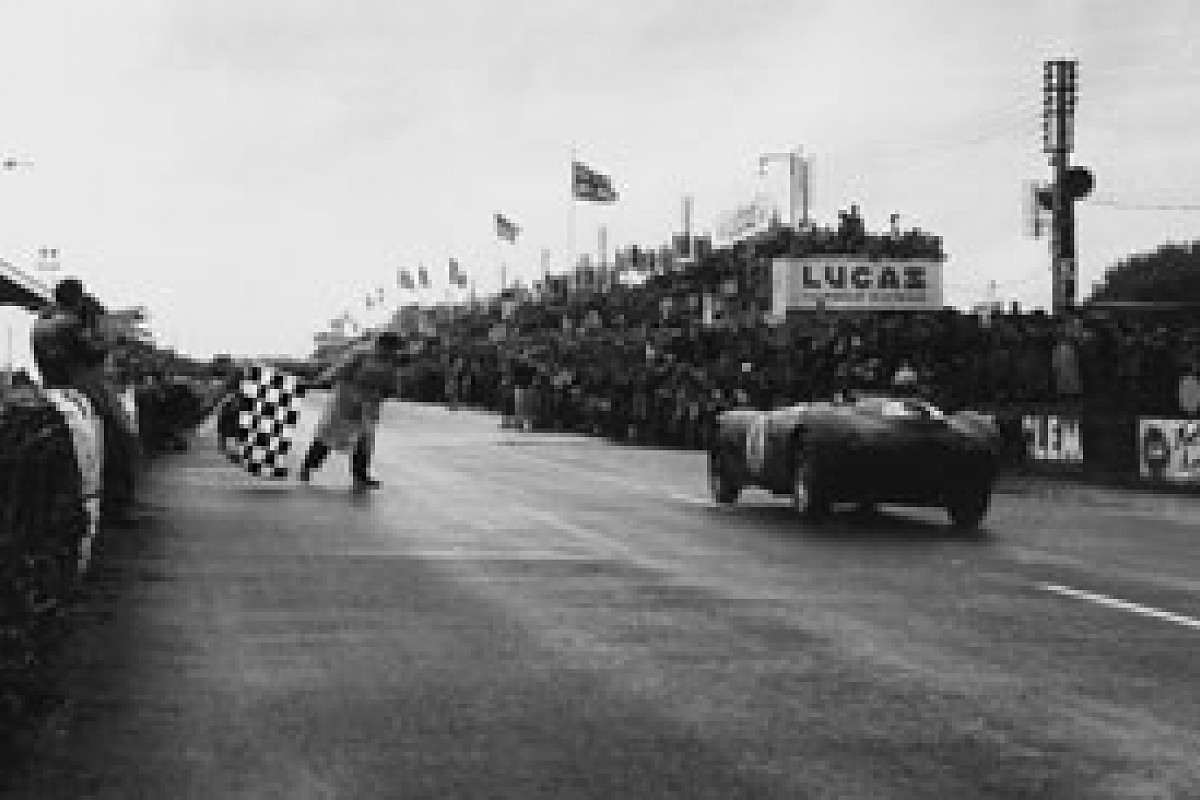 Gonzalez scored five wins in six weeks during the 1954 mid-season... © LAT
Gonzalez considers the 1954 season as his most successful one. In a hectic period of six weeks during mid-season, he claimed no less than five victories in seven events, abroad Formula 1 and sportscar machinery.
It started with the Bordeaux Grand Prix on May 9 abroad a Ferrari 625. Then, six days later, he won the International Trophy at Silverstone, where he took over a team-mate's 625 for the final.
Later the same day, he took over Ferrari's awesome and undeveloped 375 Plus five-litre car and showed the Aston Martins and Jaguars a clean pair of heels in the sportscar event, in which several sandbags at the rear of the car improved its handling in the damp.
The following weekend brought another win in a 625, at Bari in Italy, and then finally came victory with Maurice Trintignant in the Le Mans 24 Hours on June 12-13.
"I think I must have driven about 15 hours," he says of Le Mans. "The team thought I should drive as much as possible because I knew the car better.
"We had some problems - the brakes wore out quickly, we had trouble during the last pitstop, and the car would sail from one side to another down the long Mulsanne straight during practice. But the rain saved us - it helped cool our car's brakes."
A month later came another win, his second in the British Grand Prix at Silverstone, this time after leading all the way in the 625.
But 1954 was to also end up being his saddest season, as the close-knit Argentinean trio of Fangio, Gonzalez and Onofre Marimon lost its youngest member less than a fortnight after the Silverstone win. The popular and ever cheerful Onofre 'Pinocho' Marimon crashed his works Maserati 250F at the Wehrseifen sector during Saturday's practice at the Nurburgring and was killed.
It was a pivotal moment in Gonzalez's career, and things were never quite the same after that: "After Marimon's crash, I suddenly had all my family against me - my wife, my father, my mother, they were all wanting me to retire and come back to Argentina."
But Gonzalez had not finished his season quite yet, as good results in the Swiss and Italian rounds led to him claiming the runner-up spot in the 1954 world championship, behind Fangio.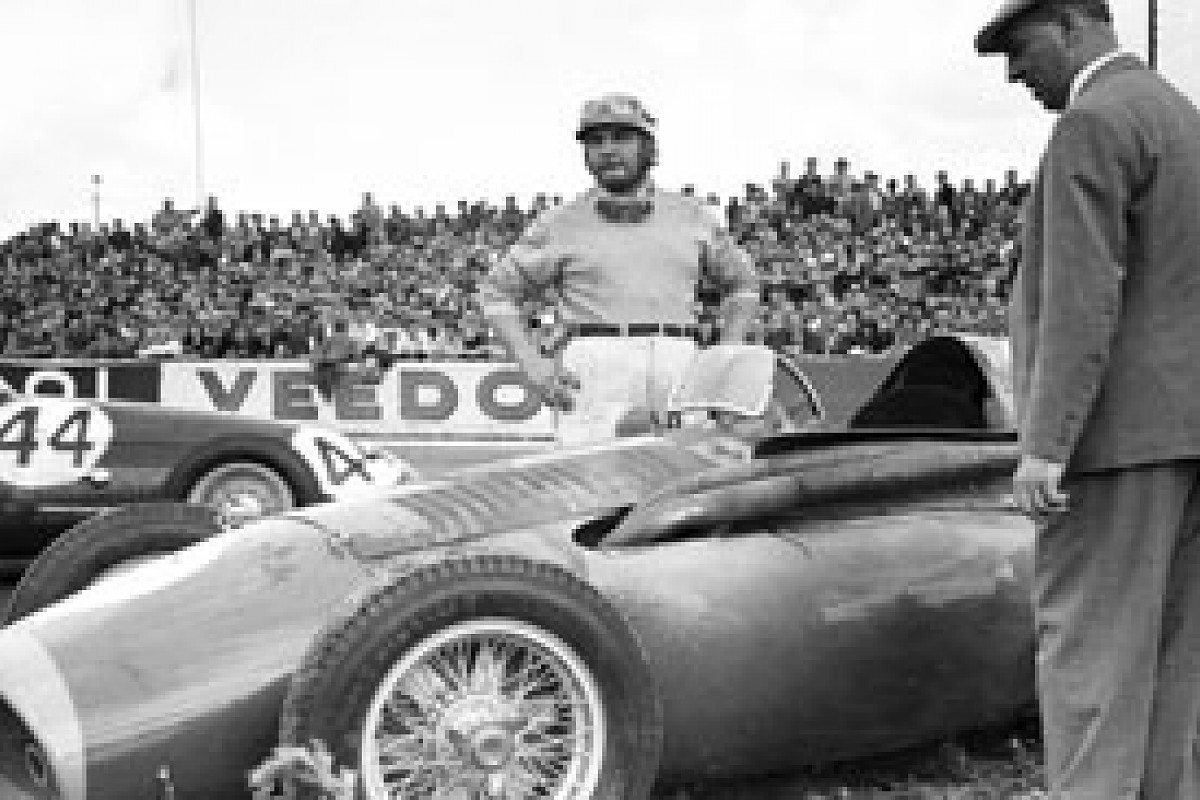 ...but he ended the year by deciding to stop racing in Europe © LAT
In the end, that season was curtailed due to injury: "I missed the final grand prix [Spain] of the season because of an accident while practising at Dundrod [for the Tourist Trophy] - I hurt my back quite badly that day."
The devastation felt by Domingo Marimon, Onofre's father and also a friend of Gonzalez, must have weighed heavily on his mind when deciding to quit racing in Europe.
Back in Argentina from 1955 onwards, he competed abroad international machinery only in his home events, which were the season-opening Temporadas.
He lined up for Ferrari in 1955, '57 and '60 and for Maserati in '56. In the 1955 Argentinean Grand Prix, he led from pole and might have even won the race had his injured back not given him trouble, a fact that led to his sharing the car with Farina and Trintignant on the way to second, behind Fangio's Mercedes-Benz.
He also (briefly) led the 1956 Argentinean GP, this time at the wheel of a works Maserati 250F, until a broken valve spelled retirement. In the 1957 event he drove one of the Lancia-Ferraris (which he handed over to Alfonso de Portago mid-race, as the team was short of cars for its huge driver line-up) to fifth. He signed off from Ferrari with 10th place in the 1960 Argentinean GP, abroad a Dino 246.
During the 1957 Temporada, he received an unexpected gift that helped extend his days as a racing driver.
Accompanying the six Lancia-Ferraris the team had shipped out came a much-used but spick-and-span Ferrari 625. This was a present from the team, and it would bring a new lease of life to Gonzalez's career.
He duly installed a V8 Chevrolet unit into it, and the combination proved practically invincible in the South American races between then and his retirement from the sport, in mid-1960.
"We put a five-litre Chevrolet engine into the car and won the two [1959 and '60] South American championships," he remembers. "We had about 350bhp, between the 6500-7000 rev range."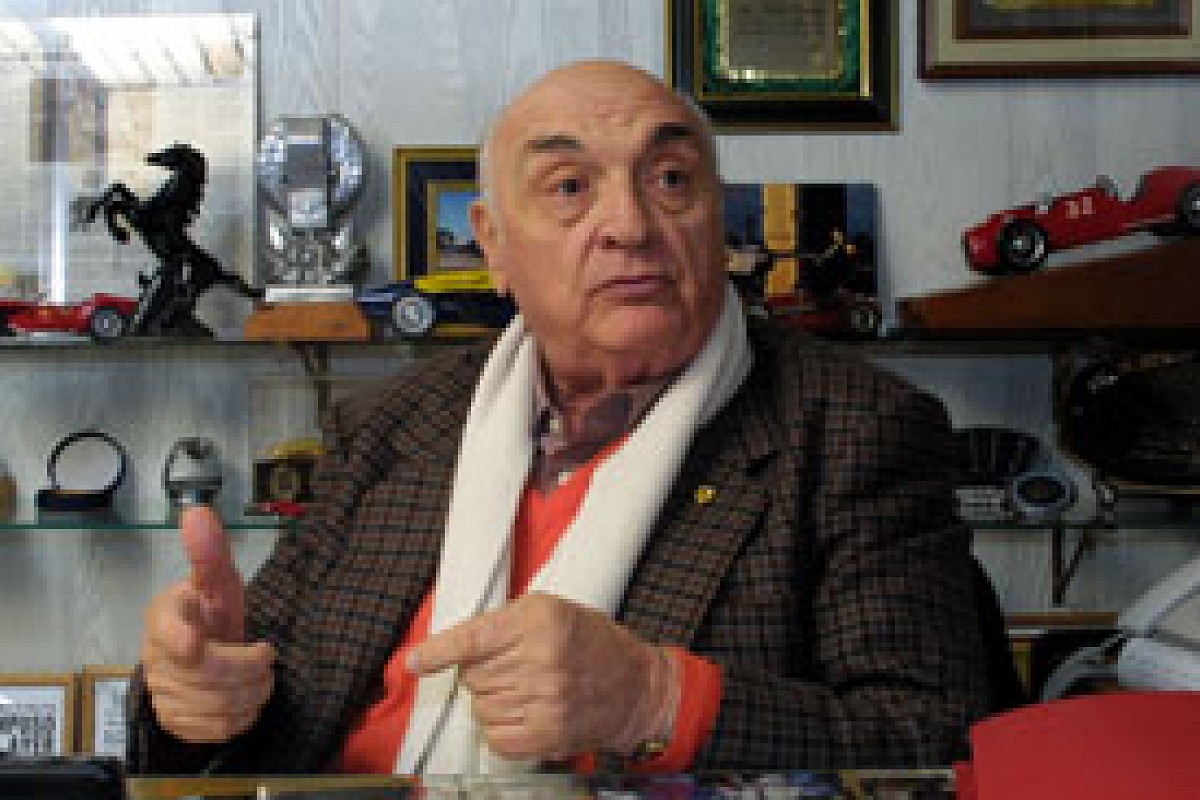 Gonzalez was a dominant force in his final years as a driver © LAT
Those Formula Libre series - run on Brazilian, Uruguayan and Argentinean soil - were known as the Torneo Triangular de Automovilismo championships, and the 1960 running incorporated more recent machinery, such as several Maserati 250F chassis powered by North American-tuned Chevrolet engines. But talent - and tons of opposite-lock - meant the blue-and-yellow Ferrari hybrid continued to win regularly.
Gonzalez modestly recalls: "Well, the Ferrari with the Chevrolet engine ended up being quite a powerful machine and I even found myself improving some of the lap times we had done at Buenos Aires with grand prix machinery some years earlier."
Gonzalez would buck his European retirement for a one-off, when he flew across the Atlantic to England during the second week of July 1956: "Mr [Tony] Vandervell offered me one of his cars [Vanwalls] for the British Grand Prix that year.
"Things went well in practice [Gonzalez qualified on the second row], but right at the start, as we accelerated away and I changed into second, one of the half-shafts broke. I decided to return home straight away, although there was a chance of continuing with them."
Ever since his retirement from the sport in 1960, Gonzalez has remained very close to racing circles in Argentina, and is frequently invited to Ferrari's Maranello headquarters and to historic events around the globe. His generosity led to his lending his Formula Libre Ferrari-Chevrolet to several drivers after hanging up his helmet.
Some years later, in 1964, he caused quite a stir in one of his country's leading tin-top series, Turismo Carretera (a division in which he had also dabbled at the start of his career), by developing one of the then-new American compacts, a Chevy II, and going on to claim huge success with the up-and-coming Jorge Cupeiro at the wheel of the car.
Now into his eighties, Gonzalez drives into his Buenos Aires offices every day, and continues to be greatly interested in all aspects of the sport: "I follow today's racing closely, all the time. You notice how this country's [tin-top] divisions - Turismo Carretera, TC2000, TRV6 - are continuously evolutioning during these years?
"And in Formula 1, there are always changes and development, always things changing. It is interesting that the drivers now have fewer electronic gadgets in their cars. It's good for the driving. And those tracks they race on now, they're a world apart from the ones we used to race on. They're so much safer than before, aren't they?"
What about the current crop of F1 drivers? "Of the drivers [no names given], I think there are five, six or seven that are very, very good nowadays."
Heard of AUTOSPORT? "Oh yes. Please send my regards to all the team there!"