The larger-than-life figure of Professor Sid Watkins casts a long shadow, as perhaps it should. In these more enlightened times it's hard to visualise the world inhabited by the likes of Jackie Stewart, who once awoke on the floor of a circuit medical centre, such as it was, to find it dirty and littered with cigarette ends. Medical coverage was patchy - Stewart took to bringing his own doctor after finding that the local medic at one race was actually a gynaecologist - right up until Bernie Ecclestone recruited Watkins at the end of the 1970s.
Post-Sid, we cling on to the romantic notion of the 'Formula 1 doctor', upon whom anyone in the paddock could call to resolve a medical complaint, but who also stood guard over the drivers in action, riding to the rescue, pausing only to stub out his cigar before rolling up his sleeves and administering life-saving treatment trackside. And yet things have changed; you won't find a humidor in the AMG Mercedes medical car, and its occupant isn't a flamboyant character, as in the past, but a qualified specialist with a specific remit.
"I may be called upon to treat people working in the pitlane if they fall ill," says new FIA medical rescue co-ordinator, and former Silverstone chief medical officer, Dr Ian Roberts. "But each host country provides a medical team and they would usually take care of that...
"We [the FIA medical delegation, led by Professor Jean-Charles Piette] review the medical services before each grand prix. We make sure that the circuit medical centre is appropriately staffed and properly equipped, and that everyone involved has the right training. They may not be very experienced in motor racing, because some countries don't have such a long background in the sport, but they're all keen, well-trained, and senior in their respective specialities."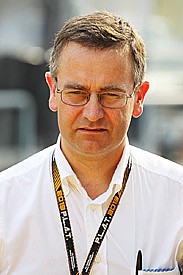 Ian Roberts © XPB
It's Roberts who you see out of the corner of your eye as the cars line up on the grid before the start. The last vehicle to come to a halt, a few metres shy of the back row, is the Mercedes-Benz C63 AMG Estate, bearing Roberts in the passenger seat, former BAR F1 test driver Alan van der Merwe behind the wheel, and a boot stocked with life-saving equipment.
For all that, the Mercedes looks like it's packed up for a camping trip: the rapid-fire way Roberts guides F1 Racing through the contents of each bag makes it clear that he knows exactly where every piece of equipment lives, should he need to lay hands on it in a hurry.
"We talk - in trauma terms - about the 'golden hour', but in motorsport it's more like the platinum ten minutes," he says. "We need to get there within a minute and make a fairly rapid assessment of what's going on."
Since Ayrton Senna's tragic - and incredibly public - death at the San Marino Grand Prix in 1994, the FIA has made a number of attempts to curb overall car performance as well as stepping up the crash-testing regime. And yet, over time, F1's legion of engineers has responded by going ever quicker. In spite of everything, the rev-limited 2.4-litre class of 2013 is not far off the lap records set during the peak of the 3.0-litre V10 era in 2004. So, while the cars are safer than ever, and injuries are fewer and milder, the possibility of serious injury is ever present.
"The beauty of the cars nowadays is that they're so strong," says Roberts. "Collisions that in previous years would have caused mild to moderate injuries are having much less of an effect. It's the major impacts we worry about because although the monocoque is very strong, once that's disrupted there's a lot of energy being put through the driver.
"Obviously it's important to have doctors present, but we have a lot of other people to thank for the reduction in the number of injuries - engineers, designers, the people who make the rules and the people who design the circuits. We come into action when all the safety protocols they've designed have been bypassed."
Quietly but enthusiastically spoken, Roberts is a very different character from his more swaggering predecessors. His accent places him distinctly as coming from the Midlands (he was a consultant in anaesthesia and intensive care at the George Eliot Hospital, Nuneaton) and he has a very British sense of humour, where you might perhaps expect someone from a background in trauma medicine to come with a more grave demeanour. That isn't to say he's not serious, just that he's clearly someone whose first instinct in any crisis is to bring calm rather than create drama. Precisely the sort of mindset you need when you're sitting at the back of an F1 grid, watching the red lights come on in sequence through a boiling heat-haze of exhaust gas and hot rubber.
"There's a sense of excitement - it's all go! - and then the pack just leaves us," he says. "There's so much power in that group of cars disappearing into the distance. And then it's all about close observation, looking for yellow flags, looking for any cars that have stalled on the grid, and looking into the middle distance for any incidents we're going to come across. We've got radios - with more than one back-up system - and we're in contact with Race Control. Plus we've got the timing screen."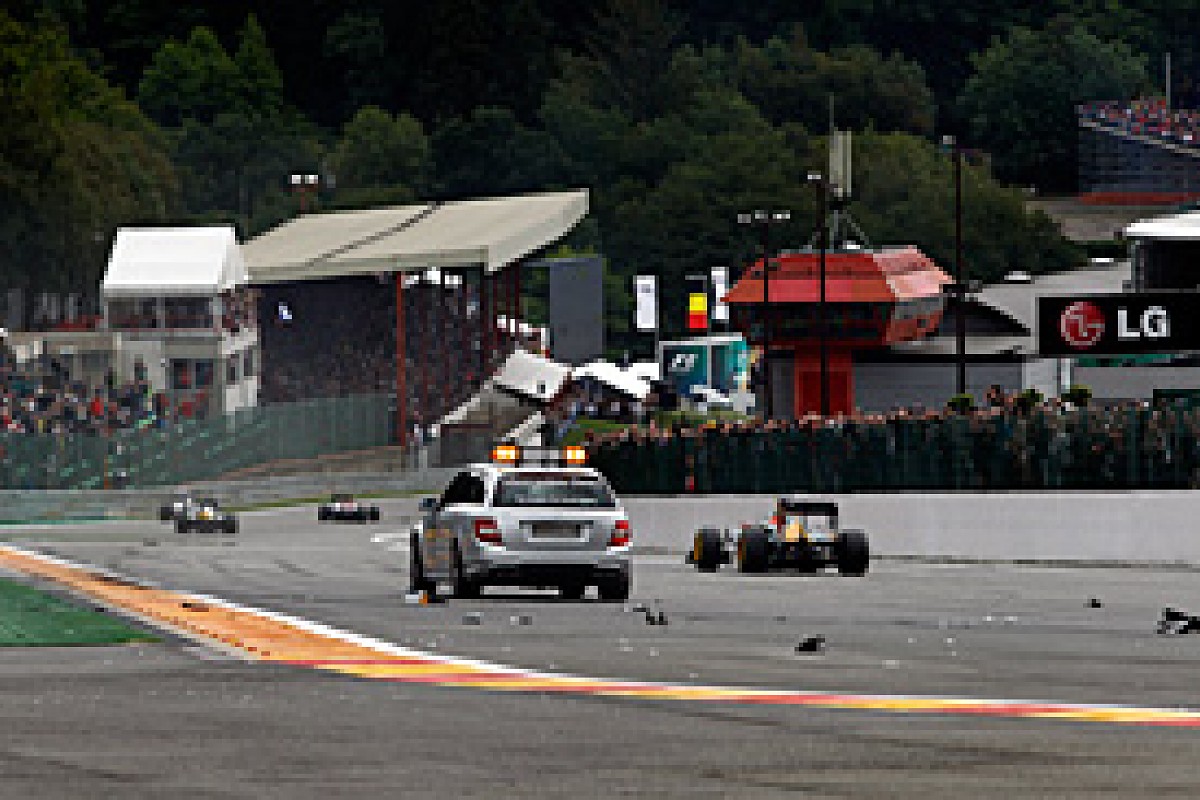 The medical car must be driven on the limit too © LAT
From a standing start, on tyres some way off optimal temperature, an F1 car still takes less than two minutes to complete an opening lap.
To be on the scene of any incident quickly - and to complete that opening lap and duck into the pits without being swallowed up by the leaders - the medical car has to be spanked around absolutely on its limits, miserably slow though that may look on television. Van der Merwe and Roberts do practice laps every day of a grand prix weekend, and their team dynamic is essential to the job.
"Alan is there to get us both safely to the incident," he explains, "as well as the doctor from the host country who's riding with us. We're a team - and I'm doing things for him as well, looking further ahead to spot any problems we might be about to come across."
After running in the wake of the opening lap, the medical car parks at the end of the pitlane, ready to deploy if needed as the race unfolds (one of the television screens inside the cabin shows a live race feed - but only, of course, when the car isn't moving). So you may be wondering why it makes that opening lap at all. Is it an unnecessary bit of theatre? After all, accidents can happen at any time during the race. There are certainly some conspiracy theorists, albeit ones who operate at the crankier end of the spectrum, who believe that the medical car's presence on the grid is merely a sop to keep the supplier (Mercedes-Benz) and sponsor (Allianz) happy. Roberts emphatically lays that notion to rest.
"It's not just the likelihood of a collision," he says. "Everyone is so close together on the opening lap that the likelihood of a collision with injury is at its highest."
If anything does happen, Roberts not only has to be on the scene promptly, he has to make his assessment within a few seconds - in fact, with a gridful of cars bearing down on him at racing speed, he may not even get out of the car for a minor knock. If the driver is moving inside the cockpit, it's a job for the marshals, who all receive extraction training before the event. An FIA-mandated sensor within every race car notifies Roberts if the deceleration force has exceeded 15g, in which case the driver has to report to the medical centre.
For major accidents - "if the car is in the barrier or the damage to it is consistent with a lot of energy being sent through to the driver" - the race may have to be stopped as Roberts heads to the scene and deploys the carefully selected contents of the C63's boot.
"You can end up carrying the kitchen sink, if you're not careful," he says. "What you have to carry are those things that will make a difference immediately. We've got airways, oxygen, and the equipment for intubation if necessary." Endotracheal intubation - readers of sensitive disposition please skip to the next paragraph - is the process of clearing a patient's airway by inserting a tube into their nose or throat.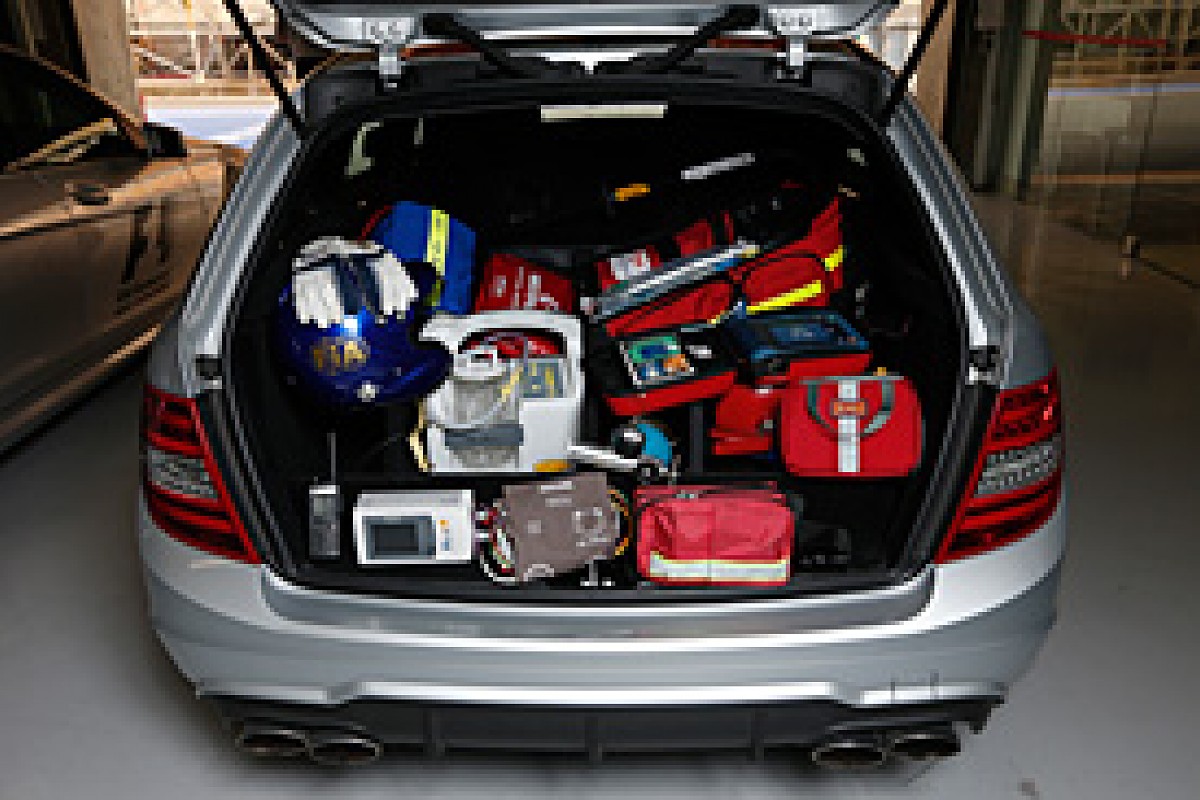 The medical car carries a lot of equipment © LAT
"We've got suction as well, in case we need to clear an airway of blood or any secretions, and a defibrillator. That can be immediately life-saving - we've also got defibrillators in every garage, including the scrutineering bay, in case of a KERS-related accident." There's also a red bag labelled 'Stat Pack', with what some may find to be an inappropriately frivolous piece of graphic design, a jagged line like the shape of a heart rate trace, on the maker's label. "I see what you mean... That's our ECG [the electrocardiogram, which monitors the electrical activity of the heart]. These machines were bigger at one time and took up a lot of space.
"Again, there are some things that we don't need. There's no need to carry loads of drugs which you won't use, and which may go out of date and potentially be dangerous. We generally won't be taking blood pressures because, as a measurement out there," he gesticulates in the direction of the track, "it's fairly meaningless. But we do pulse oximetry, which is checking for oxygen levels in the blood. That's very important because these guys use up oxygen reserves from their lungs very quickly.
"We carry cardiac-arrest drugs, so we can get some adrenaline into them rapidly, and there are other drugs that enable us to control their airways in the event of a head injury. But that would be in an extreme situation. Most of the time we look to do the minimum on track - the life-saving stuff. We don't want to perform interventions that make the situation worse. The priority is to get them in an ambulance and away to the medical centre where we can do the definitive work in controlled conditions. Trying to intubate someone who is lying in the gravel may not be the best thing to do."
Law practitioners talk about the 'CSI effect', where juries schooled on the popular crime drama have unrealistic expectations of what forensic evidence can provide. I ask Roberts if he and his colleagues are ever concerned that something similar could happen in their sphere, given the current state of smartphone technology. For instance, a spectator could video a post-accident intervention and upload it to YouTube later, where it could then be viewed and endlessly dissected by armchair experts. Lawsuits could then follow.
"It is a concern because it can give a false sense of what's actually happening. People can be critical and judgmental. They've seen one angle but they don't necessarily understand the circumstances, or why people are doing what they're doing. And, really, it's pretty... ghoulish. Having footage of accidents can be useful because you can see what's happened and what the mechanism of injury may be, but how far do people need to go? Do they really need to have all the gory details?
"At Silverstone [not during the British Grand Prix weekend] we had an incident where a guy was badly injured. There was almost nothing left of his car. And people were videoing it. That really was... distasteful."
In some countries there's a shortage of medical personnel willing to volunteer to get involved in motor racing, whether for personal liability reasons or for legal restrictions on practice hours. Roberts isn't ashamed to admit he's a race fan - "Like most people I started out spectating, but I wanted to get involved" - and that's what led him to volunteer at the 1995 British Grand Prix, ultimately becoming the circuit's most senior medical officer. So he's keenly aware that more medical experts need to be drawn into the pool.
"Doing this is incredibly exciting and rewarding," he says. "Safety is about teamwork. We need to attract doctors into the sport and the FIA Institute is now running a motorsport medicine course to help them develop. Anaesthetists are common in motor racing because we're quite hands-on, but we even have some obstetricians as well.
"Everyone has a skill set that can be used. Like I said, it's a team effort."