When a former world champion claims that you are beyond reason and suggests physical violence is the only way to ensure you modify your behaviour, it's never a good thing.
Sergio Perez certainly attracted plenty of attention, not to mention criticism, after the Monaco Grand Prix, with Kimi Raikkonen, Fernando Alonso and team-mate Jenson Button among those to accuse him of over-aggressive driving.
It was Raikkonen who responded to a question about whether the drivers needed to talk to Perez with "that won't help, maybe someone should punch him in the face?"
It was not a particularly constructive response, but one plenty agreed with. Perez certainly overstepped the mark on several occasions, leading to McLaren team principal Martin Whitmarsh having to defend his "committed" driving after the race.
So did Perez deserve such censure? Or were his moves more acceptable than his rivals believed?
Perez versus Button
Having qualified behind his team-mate thanks to a fuel pump problem in Q3, Button was determined to get ahead of Perez as soon as possible.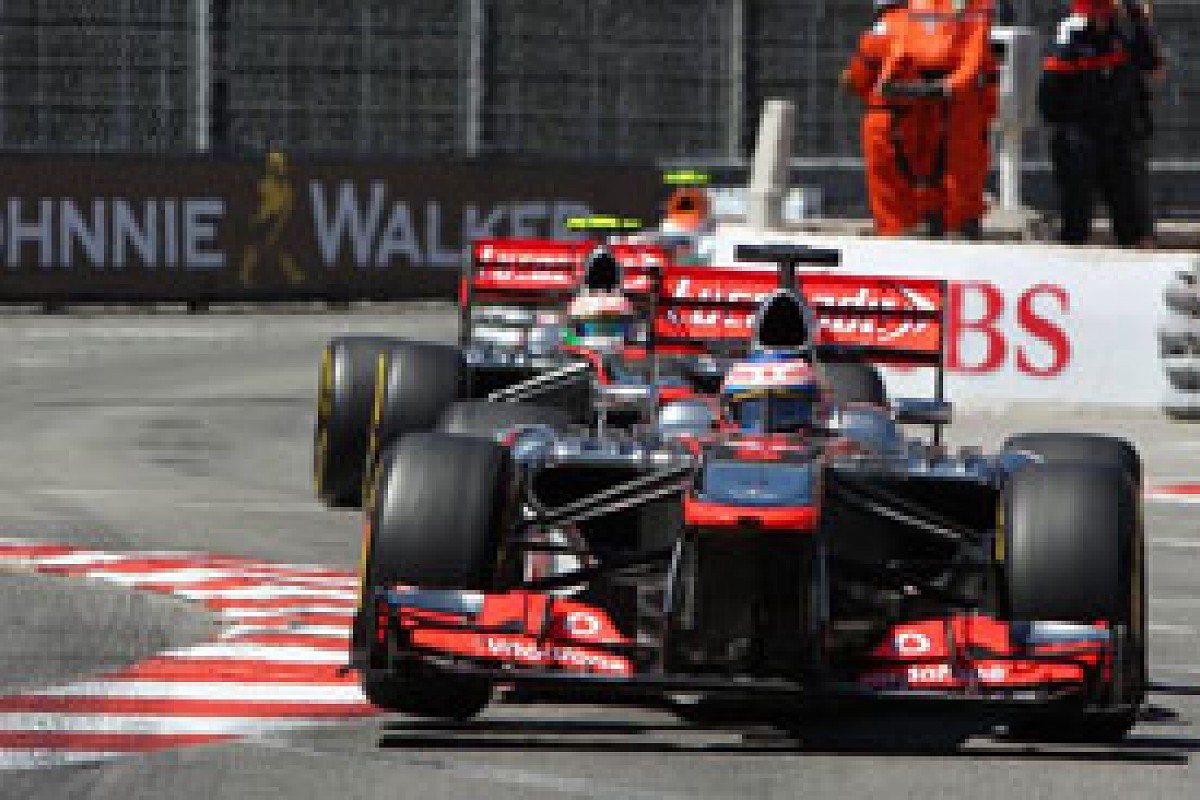 Button and Perez crossed swords several times during the race © XPB
He set about his task on the first lap, taking a look up the inside into the chicane. While it wasn't the most committed move and did ask for some co-operation from his team-mate, he was entitled to expect Perez not to squeeze him and tap his front wing.
"Checo just cut the chicane," said Button over the radio. "He's got to stop turning in on me, guys. I know we're both team-mates but he cut the chicane when I was on the inside of him."
Button had another go at the second part of the swimming pool, getting more decisively up the inside, only for Perez to again short-cut the chicane. Later, he was told to cede the position.
But later in the race, the pair crossed swords again. On lap 42, Perez made a decisive move up the inside at the chicane. It was certainly a more emphatic pass than the one Button had attempted, but then again the 2009 world champion showed his class by knowing when he was beaten and allowing his team-mate space.
Perez versus Alonso
On lap 44, shortly after making his pass on Button, Perez set about attacking Alonso. Again, into the chicane, he braked late and dived to the inside.
Alonso opted to cut the chicane, keeping hold of his position. During the red flag period, he was instructed to let Perez back past.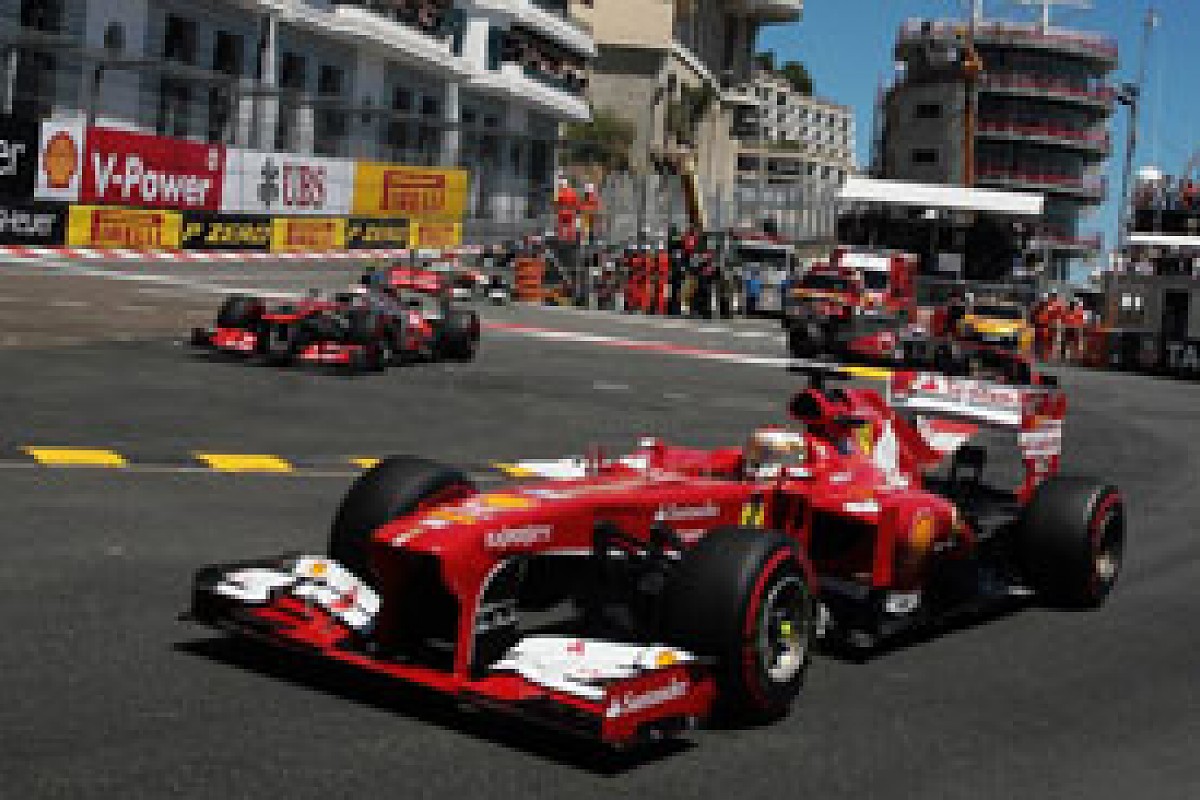 Perez had himself cut the chicane before forcing Alonso to do likewise later in the race © XPB
"He was lucky this year with two or three incidents in Bahrain with Jenson and with me I had to go off the track or we made contact," said Alonso. "Here [Monaco] I cut the chicane to avoid contact. Kimi was not so lucky."
Alonso is being a little disingenuous with this interpretation of events. Having left the door wide open, he was mugged by Perez who was able to make the corner despite the briefest of lock-ups. Once up the inside, it was his corner.
So it was right and proper that he was ordered to give the position back. Having criticised Perez, Alonso did accept the judgement.
"I tend to agree with the decision," he said. "I cut the chicane to avoid a contact. Here in Monaco there is no space for two cars, so I cut to avoid the contact and then you need to give back the position."
Perez versus Raikkonen
While the collision between the pair on lap 69 grabbed the headlines, it was Perez's failed move 16 laps previously that was worthy of condemnation.
Once again, he made a late dive to the inside of the chicane, but there is no question that it was too late. Raikkonen wisely opted to straightline the chicane, while Perez had no choice in the matter, his momentum forcing him to short-cut it.
Perez emphatically overstepped the mark in this incident and Raikkonen deserves credit for being alive to the danger and avoiding an accident.
The controversial moment when the pair collided is more difficult to call, something that the stewards clearly agreed with as no action was taken against either driver.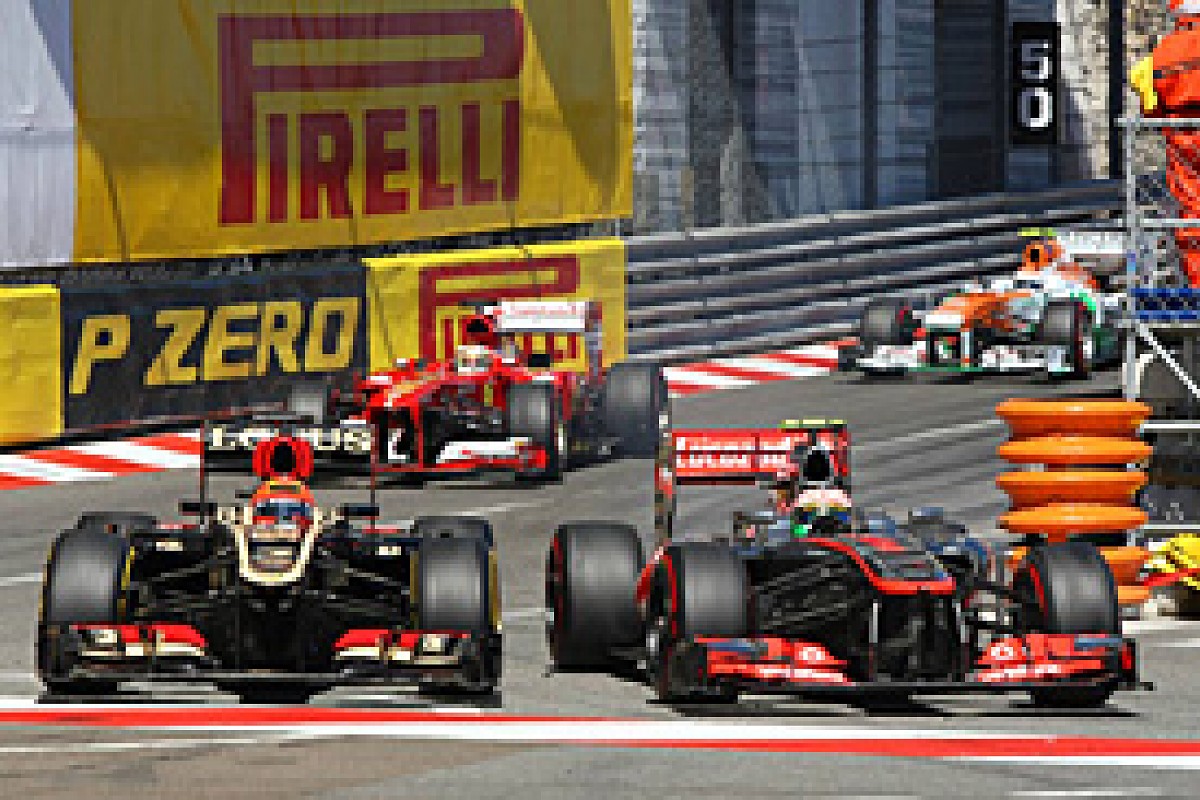 Raikkonen and Perez made contact © XPB
Perez was a little closer this time, looking to the inside while plunging down the hill to the chicane. Raikkonen was wise to this, holding his middle line rather than breaking to the outside of the track and, while clearly looking in his mirrors, continuing to squeeze Perez.
Chances are, with the memory of what had happened a few laps earlier, Raikkonen was feeling somewhat belligerent but it was short-sighted to continue to squeeze Perez. After all, the McLaren man had already committed to the pass and had nowhere to go other than to make contact with the Lotus and the barrier.
"Kimi did not give me any room at all," said Perez. "I overtook Button and Fernando there and Jenson overtook me there, so at the end of the day you have to give a little bit of space."
While Perez was certainly making a pretty late move, it's perfectly plausible that he would have been able to make the corner. Sometimes, it just takes two to make a racing accident. It's easy to see why both sides felt aggrieved.
As Martin Brundle pointed out in his Sky Sports F1 commentary: "I think he was entitled to some space there."
Retirement
Perez's eventual demise came as a result of overheating brakes following his contact with Raikkonen. While holding up a queue of cars, he had a braking problem heading into Rascasse, letting Adrian Sutil's Force India through.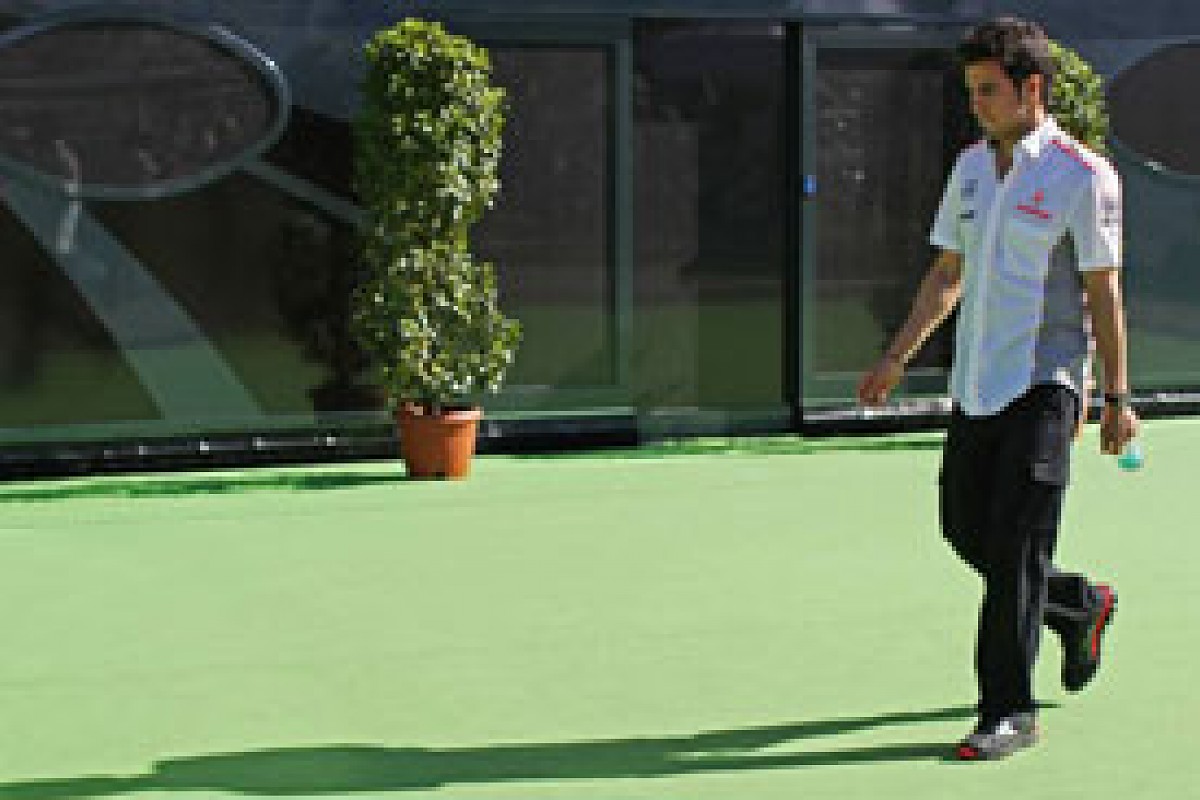 Perez eventually retired with damage, but he almost side-swiped Button trying to make it back to the pits © XPB
Inevitably, his natural instinct was to dive into the pits, but in doing so he came perilously close to side-swiping Button. This showed a certain lack of calmness that was perhaps more concerning than any of his battling antics.
Fortunately, he realised in time and abandoned his attempt to reach the pit entry, wisely parking his car on the run-off at the final corner.
But of all his mistakes, this one suggested a worrying muddiness of thinking only partly excused by changing his trajectory to avoid Button.
In conclusion
Perez was under fire from all directions in Monaco, but many of the incidents were not as clear-cut as they were made out to be.
There has been widespread criticism of the Mexican as some kind of mindless animal, but he's nothing of the sort. Just as he did in Bahrain, there were moments where he over-stepped the mark. Some criticism was justified.
But considering Monaco is a race at a circuit where the near-impossibility of overtaking is criticised and at a time when the tyres lead to extensive moaning about the lack of racing, he also deserves some credit.
In the early races of the year, he was seen as a little soft in battle but he has now got his elbows out to the point where he has some of the biggest names in the sport rattled.
Certainly, he has once again given Button something to think about and reminded everyone that this is motor-racing.
He was far from perfect in Monaco and you can't blame Raikkonen for suggesting a pugilistic course of action post-race.
But Perez only needed to dial it back a touch and show fractionally better judgement to have been a hero in Monaco.
And that would have led to him being given a pat on the back rather than threatened with a punch in the face.
That is the nature of the fine line between success and failure at the top level.
It's a line that Perez must learn to dance on without ever drifting onto the wrong side.