All eyes are on Mercedes heading into the Monaco Grand Prix, with some suggesting that the combination of the F1 W04's prodigious speed and the near-impossibility of overtaking in Monte Carlo add up to a potential first win of the season.
This year's Mercedes is a seriously quick racing car. So quick that it has bagged the past three pole positions, and would surely have four out of five qualifying successes but for early-season bad weather.
Unfortunately for Mercedes, its Achilles' Heel is making the tyres last, something that has led to Nico Rosberg finishing the past two grands prix sixth and then ninth from first on the grid.
Heading to Monte Carlo, a circuit where Michael Schumacher topped qualifying last year and Rosberg finished a strong second, there's no reason to believe the car won't be a competitive proposition over a lap. The question is whether the difficulty of overtaking in Monaco will allow the silver machines to stay there.
Mercedes motorsport boss Toto Wolff believes a big step will have to be taken on tyre management for his team to thrive.
"Although overtaking in Monaco is difficult, we can't afford to be complacent in terms of tyre management and we'll need to do significantly better than we managed at Barcelona in order to score a strong result," says Wolff.
BARCELONA SECTOR-THREE FORM GUIDE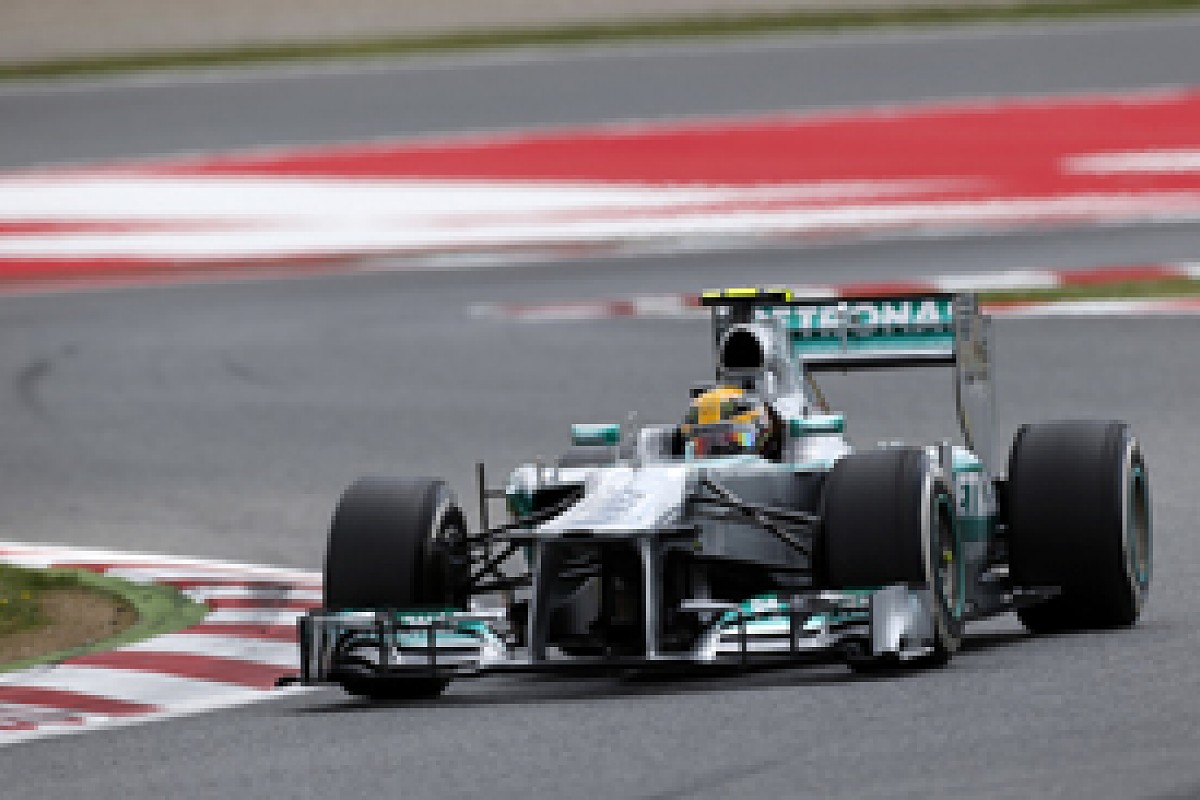 Mercedes was mighty in Barcelona's Monaco-esque sector © LAT
The final sector of Barcelona's Circuit de Catalunya is a good indicator of Monaco form. Starting 85 metres before the second-gear Turn 10 hairpin, it includes several slow corners, while pace off the final chicane comprises a significant proportion of the sector time.
In qualifying for the Spanish Grand Prix, Mercedes bossed this sector of the track. Nico Rosberg was over three tenths of a second faster than the quickest non-Mercedes, with team-mate Lewis Hamilton second fastest. Considering the same margin covered third-placed Sebastian Vettel all the way down to Daniel Ricciardo, 13th fastest, it was a decisive advantage.
Team principal Ross Brawn was quick to downplay the significance of the pace of his cars, but it can only be a good sign for Monaco.
"We were strong in the last sector and I think a lot of that was down to the drivers eking out the tyre in the best possible way during the lap," says Brawn. "They made very intelligent use of the tyres."
Barcelona sector-three times - qualifying
 1.  Rosberg        27.738s
 2.  Hamilton       27.795s
 3.  Vettel         28.097s
 4.  Perez          28.100s
 5.  Webber         28.100s
 6.  Alonso         28.249s
 7.  Raikkonen      28.283s
 8.  Massa          28.328s
 9.  Sutil          28.348s
10.  di Resta       28.378s
11.  Vergne         28.410s
12.  Grosjean       28.411s
13.  Ricciardo      28.430s
14.  Hulkenberg     28.533s
15.  Button         28.544s
16.  Gutierrez      28.598s
17.  Bottas         28.812s
18.  Maldonado      28.932s
19.  Bianchi        29.491s
20.  van der Garde  29.589s
21.  Chilton        29.721s
22.  Pic            29.846s

WEBBER'S LAST CHANCE TO HIT FORM?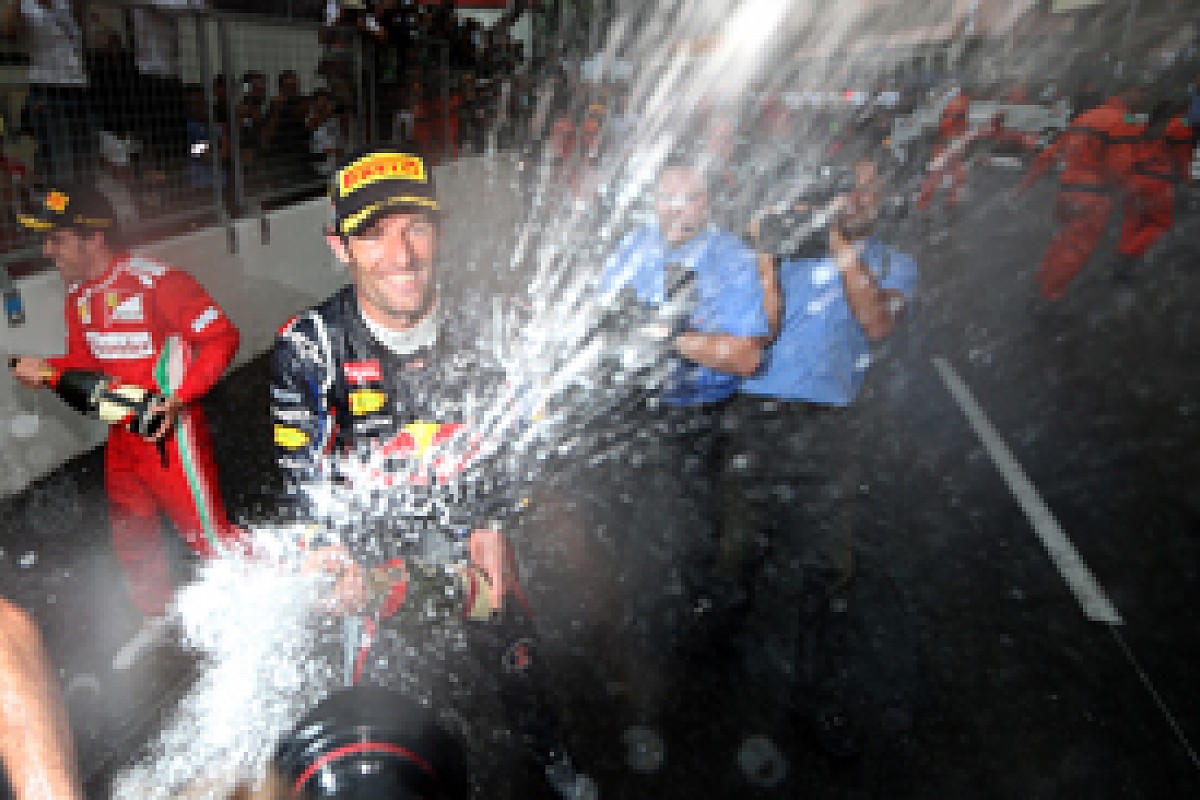 Webber needs to be doing this again in Monaco © LAT
Mark Webber has won the Monaco GP twice in the past three years, and with team-mate Sebastian Vettel already 47 points clear he really needs to make it three to give himself a chance of building the momentum he needs to fight for the title.
The Australian had hoped the Spanish GP, two weeks ago, would be the springboard, explaining it was the start of a run of races where he has traditionally gone well.
"I have won at Monaco, won at Barcelona, won at Budapest, won at Silverstone, won at the Nurburgring, so I've got some good form coming up," said Webber.
"I need to capitalise on that. It's quite timely and those races in the past have been OK for me.
"To get back in the championship [is possible]. It's still very, very early days but I'm looking to hit those middle steps [of the podium]."
While the Spanish GP wasn't exactly a great race for him, Webber will be determined to get the ball rolling in Monaco, on a track where he has consistently excelled.
McLAREN'S REVIVAL
McLaren's upgrades didn't transform its prospects © LAT
McLaren's much-vaunted upgrade package for the Spanish GP was an improvement, with Jenson Button and Sergio Perez coming home eighth and ninth respectively, but not by enough to change its place in the competitive order.
With the McLaren struggling for traction in the slow corners, and hardly proving to be an effective car over the bumps, all the signs are that a repeat of the Spanish GP result would represent a very good weekend's work in Monaco.
Then again, Monaco is a circuit where the driver can make a little more difference and if 2009 winner Button - or Perez, always rapid on the streets - can overachieve in qualifying it may be possible to do a little better.
ONE TYRE STOP - OR MORE?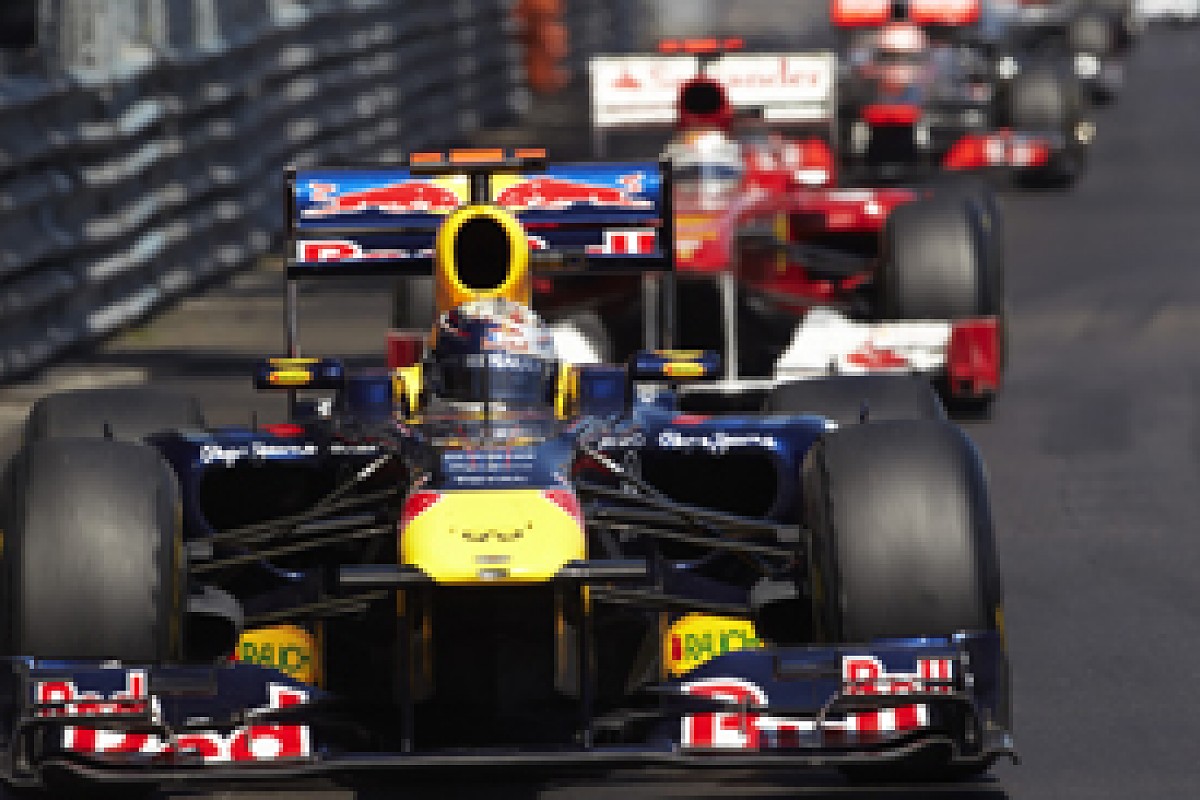 The 2011 Monaco GP was building to a fascinating finale before a red flag saved Vettel's tyres © LAT
During the first five races of the season, there has been much talk about the Pirelli tyres. The Spanish GP produced a mix of three and four-stoppers, but in Monaco the picture is expected to be very different.
Last year's Monaco GP was a one-stopper for the vast majority. But with the compounds softer than they were last year, it could be a more complicated race strategically this year.
A year earlier a spectacular finish was in prospect. Sebastian Vettel and Red Bull ended up rolling the dice on a one-stop strategy after a communication problem, and it boiled down to the German trying to hold off Fernando Alonso (two stops) and Button (three) in the closing stages.
Vettel was doing a beautiful job to hang on despite a lack of grip, but the red flag caused by Vitaly Petrov's crash at Swimming Pool cost the dramatic denouement as it was possible to change tyres during the stoppage.
With a uniform one-stopper less likely than last year, expect to see plenty of situations where one driver is behind another car but with the advantage of more grip.
WATCH ALONSO IN QUALIFYING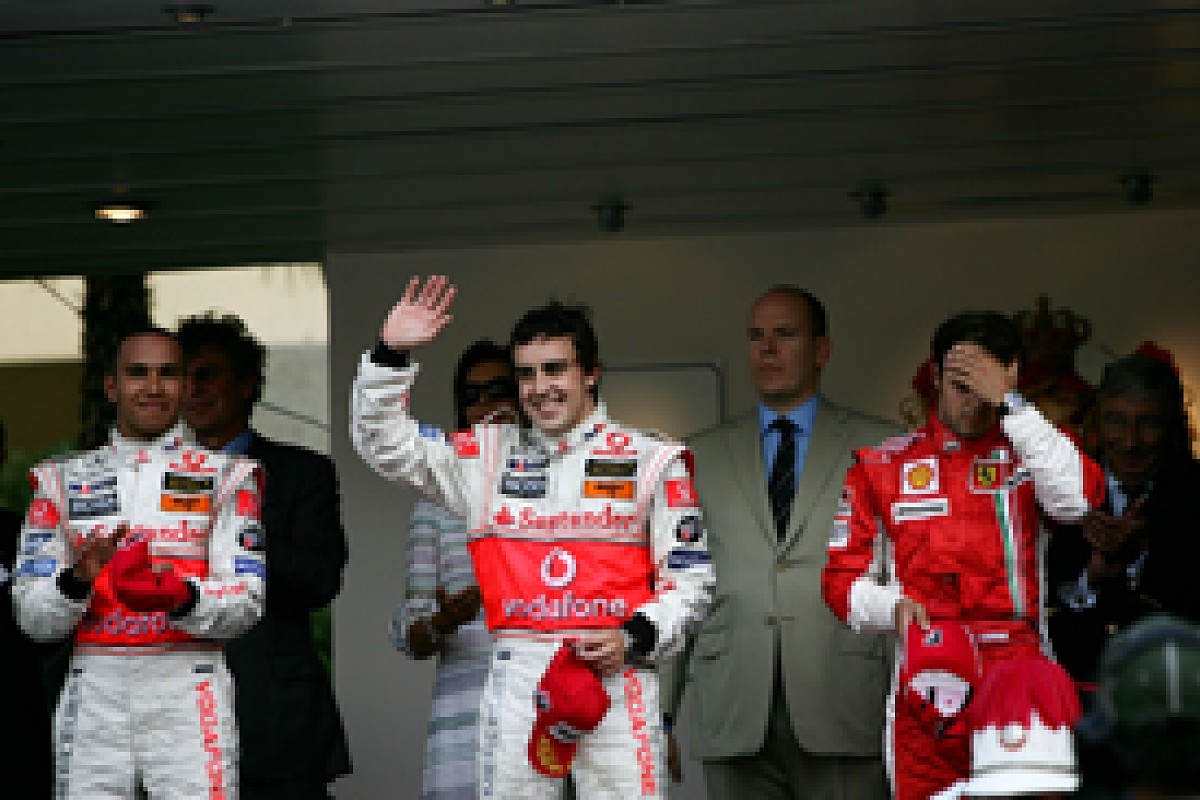 Alonso is a two-time Monaco GP winner, but his last triumph was six years ago © XPB
Alonso's victory in the Spanish GP was very timely for his world championship hopes, and he will view Monaco as the perfect opportunity to further slash Vettel's 17-point advantage.
Alonso has a good record in Monaco, although he hasn't won in the Principality since his second win, for McLaren in 2007. In 2010 his race was ruined by a heavy shunt at Massenet during Saturday morning practice, which wrote off his chassis and forced him to start from the back. For the past two seasons he has driven well to the podium.
His reward for victory would be to join Stirling Moss and Jackie Stewart on three victories in Monaco, which seems befitting of a driver who has achieved so much in the sport.
But it all depends on qualifying pace. This has been the biggest weakness of the Ferrari this season and, with little space to make up positions in the early seconds of the race, it may need an Alonso special on Saturday afternoon to make victory possible.
MALDONADO MAGIC
Williams has yet to score a point in 2013, but Monaco will probably provide it with its best opportunity to get into the top 10 yet thanks to Pastor Maldonado.
The Venezuelan's outings in the Monaco GP to date have been disappointing, with Lewis Hamilton wiping him out of sixth place two years ago and a red-mist moment with Sergio Perez in practice running his chances in 2012.
But he has won in Monaco in both Formula Renault 3.5 and GP2 and has always shown impressive pace there. He heads into the weekend hopeful of a big result.
But with the line between heroism and disaster at Monte Carlo always wafer-thin, he will have to be wary not to overdo it.