The image was compelling, and I caught it as we were boarding the flight to Malaysia: Ricky Ponting, former Australian cricket captain, wearing a black eye and a face of contrition.
"I have to admit to myself that I have a problem with alcohol at times and I intend to overcome this problem... I apologise for my actions," he was saying on ABC TV. "I am seeking counselling and I've already gone ahead and arranged that..."
The documentary was looking back over Ponting's career and the incident in question happened in 1999. Most Australians had forgotten all about it, and those who did remember were able to laugh it off. Ponting went on to give 100 per cent for his country. He moved on to greatness.
In spite of - or because of - that black eye? Did that hardship, at that stage of his career, add to his grit, to his self-discipline thereafter?
Adrian Sutil's story is different, but not massively so. The F1 world, for the usual reasons associated with money, ego, power, the lure of materialism and a fear of non-conformity, has been considerably less forgiving of Adrian than was the entire Australian nation of Ricky Ponting.
One minute Adrian was another fast German; the next, following that incident in a nightclub in Shanghai, he was F1's shame. The money - and therefore the comfort zone - stood with the injured party (Eric Lux, a director of Lotus F1 and its holding company, Genii Capital). In Formula 1, Sutil was but a driver - Lux a major player.
I remember watching Adrian jogging alongside the river in Canada in 2011, by which point his future was beginning to look fragile. He looked a little ungainly; he wasn't your triathletic Jenson. He gazed into the middle distance, his face drawn, his body language restricted. I distinctly remember thinking: 'This guy is lost. It's a wonder he can even drive the car, let alone wring its neck.'
Adrian continued, though, to extract the maximum from his Force India. A court case loomed; his career continued to spiral downwards; and yet still he drove superbly - something that culminated in a sixth place in Brazil.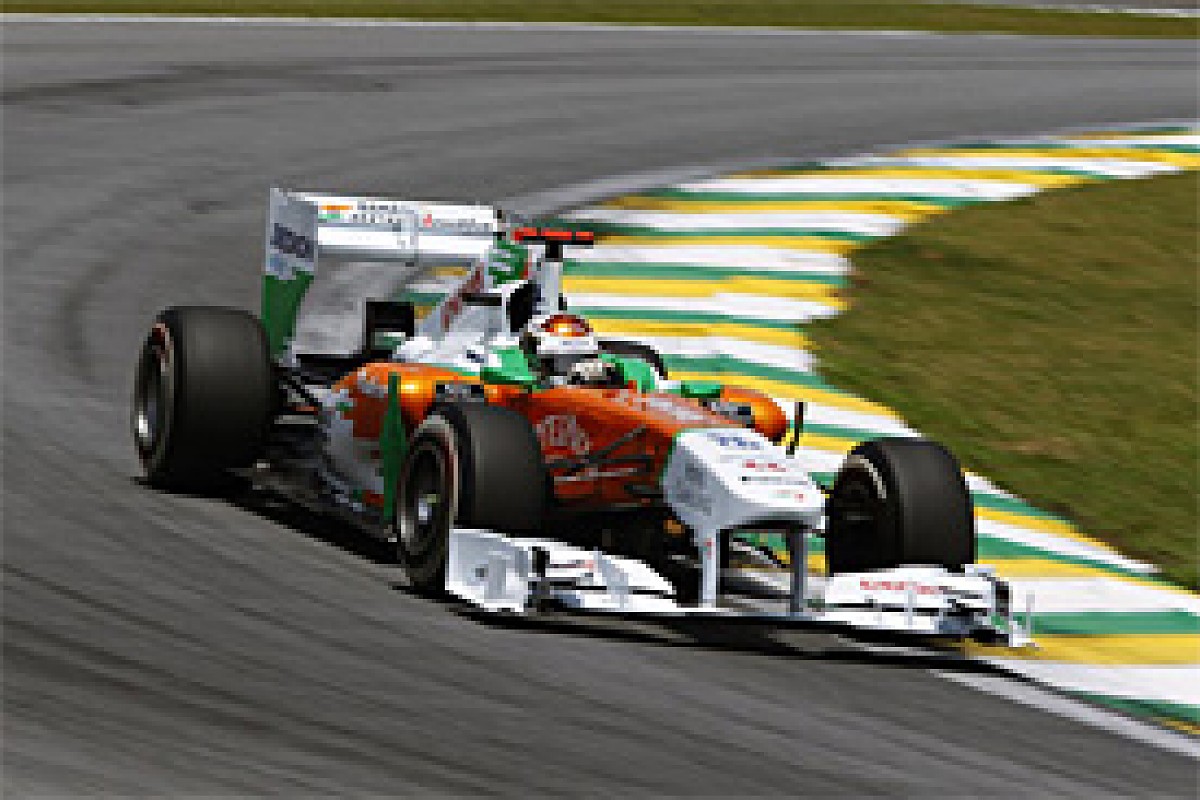 Sutil shone in Brazil 2011 before being forced to take a sabbatical © LAT
The key here is his natural feel. As I mentioned in my column last month, Adrian, to my eye, has always been a V-driver, by which I mean a driver who makes the corners as short as possible by extending the straights both in and out of the rotation point - making the corner a 'V', in other words.
To do this well - to do this up there with Kimi and Lewis - you need a sublime touch for the brakes, steering and throttle. The perfect moment of rotation varies with every corner, every lap. It is all to do with the right amount of initial brake-pedal pressure, initial steering input, the right release of the brake-pedal pressure, the correct increase in steering load relative to brake release, and then to the correct loading of the outside rear. Done well, it is why Kimi or Lewis rarely look to be out of line.
Its counterpoint is Romain Grosjean or Sergio Perez, out there on the traditional racing line, magically correcting their own mistakes. Lovely to watch, but ultimately not as quick.
Even at their best, though, Adrian's inputs left him more prone to locking inside fronts, more prone to braking a tad more harshly than, say, Lewis. Nothing, to my eye, has ever been massively wrong with Adrian's handwork; it was his footwork that became increasingly frantic as 2010 gave way to '11.
Adrian was dropped by Force India at the end of 2011. The court case was looming. He was found guilty of grievous bodily harm in early 2012 and sentenced to an 18-month suspended jail term; in addition, he was required to donate €200,000 to various charities. The F1 world moves quickly: Nico Hulkenberg replaced Adrian and the new season began.
No Ricky-Ponting-like second chance.
"When I had my court case it was a very difficult time, but also I learned a lot," says Adrian now. "You have to go through hard times to get better. It's all about experience in life. If you never make mistakes, you never grow. So I just took it rationally.
"I tried to control my emotions. I thought, 'OK. I got my penalty for it and now I move on and I show everyone that it's still possible to have a future in Formula 1. I never give up.
"There are so many different ways, if you really want to achieve something. If you have the will to do it, you can do anything. I could be a successful businessman if I really wanted to; I could be successful in another sport. It's just here, in the brain, that you have to be well sorted."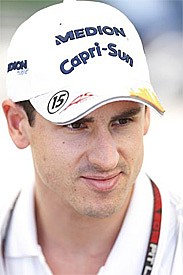 Sutil admits it was hard not to race in 2012 © LAT
So what did he do in 2012? How did he live his life? How did he come to terms with what had happened?
"I can say I enjoyed my life in 2012," he says. The glint in his eyes tells you he's genuine. "I really enjoyed my life. I live in a beautiful country - Switzerland - and until then I had never had time to enjoy it.
"It was hard at the start of the year, when I had no drive, and I had to ask myself: 'Why?' "But no one can answer all the questions. I think everything happens for a reason and I tried to understand my situation. I forgot about the negatives and I just took the positives out of it.
"And the positives were that it was nice to have a normal life and to be able to spend time with my friends. And to appreciate that life isn't just about Formula 1. It's not the whole life. I have a real life at home. I know now where it is and I now see F1 as my job, not my life.
"And I think it's important to know that, because it makes you stronger. Life goes on without racing. You can perform here, in F1; no problem. But if you can't do anything else in life except race then you put yourself under so much pressure to perform."
He did the things you can never do if you're constantly on the move, racing in F1. He read books ("business studies, art"), he stayed fit ("but not too fit: I'm a race driver, not a runner or a cyclist or a marathoner") and, when it looked as if one of the regular drivers might be under pressure, he upped his game a little ("just to be ready!").
For the most part, though, he renewed friendships and strengthened his "network". "I came out of this much stronger, much more with my life in perspective," he says. "Yes. I made a mistake. I apologised. I paid a penalty. And from that I grew..."
Were there any feelings of bitterness or resentment? "Not really. As I said, if you want to be successful you have to control your emotions and here in F1 it's important to do that by dividing your private life from the racing. People ask me about my relationship now with Lewis. It's a little bit different, the relationship, but I wasn't the one who changed the phone numbers. I can't do anything. If he wants to talk he can come over to me. He hasn't done that so far, but then this is my private life anyway."
By the time Adrian received the phone call inviting him to test at Barcelona earlier this year, he was ready for anything. "I did everything to get the seat, but when we got to that point I was able to say to myself: 'It's the last available seat. I've done everything. If this doesn't work I can do sportscars or DTM, and if I don't get a drive anywhere I can always do something else. I'd earn my money another way."
As it happened, Adrian slotted right back into the Force India with barely a glitch. "It took just a few laps to get back into the car," he recalls. "I went into it as if it was just another test day. Of course you feel it a bit in the neck here and there, but I was amazed, actually, how quickly I was able to get back into it. It was as if I had never been away from the sport." He knew he'd got the drive about an hour before the news went public.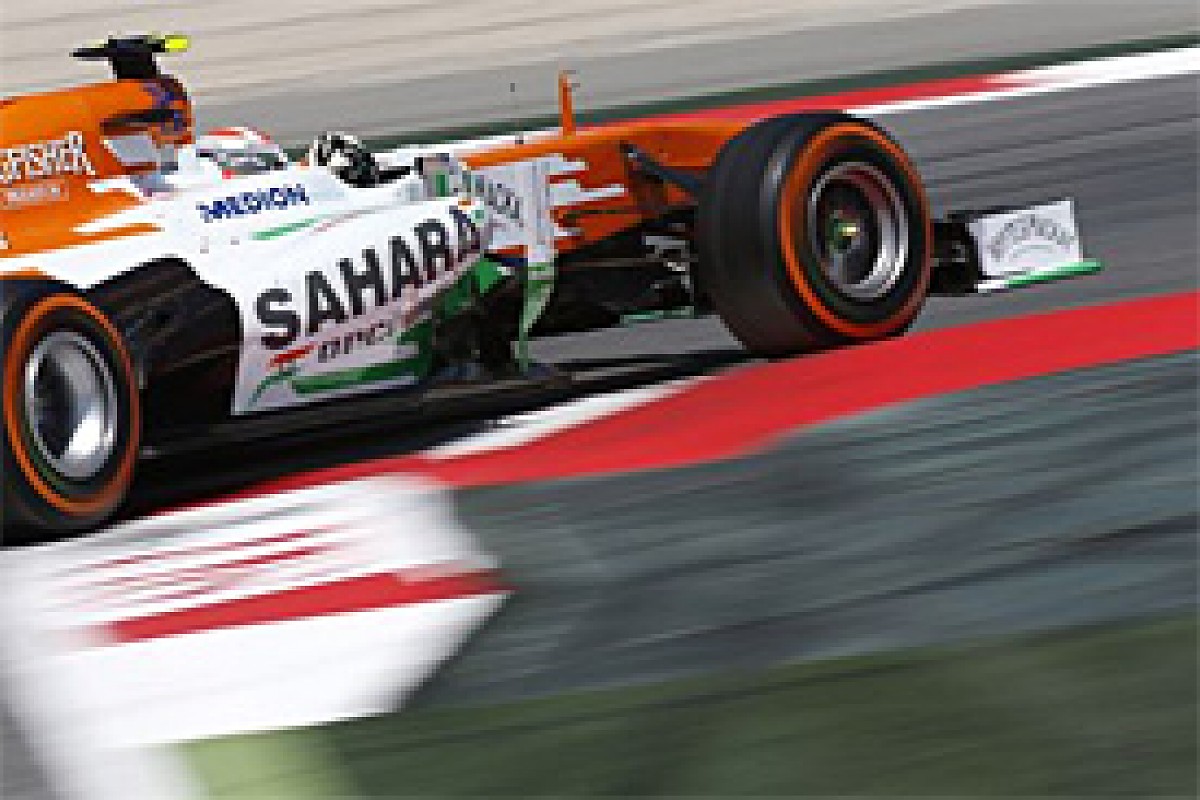 The German feels stronger now © LAT
"You know, sometimes you push harder and actually you get slower. Being away for a year has made me more relaxed in the car. You drive as you should - by not pushing too much. I think I had finished on a high level at the end of 2011, but at that point I was probably at the limit of my possibilities. I didn't know how to improve more. Now I am restarting at that pace but I know how to improve. So it's definitely a big advantage."
The footwork, in other words, has become more supple, more adept. A more relaxed mind has taken away the frenetic late-braking; high minimum speeds are no longer a priority.
"It's the energy, I think," says Adrian. "I got a lot of energy last year. I had to look within myself - that's what happens when you go through hard times. And if you're going through a hard time and you solve it, you can move up to a higher level. The alternative is just to run away from problems, but they will get you in the end.
"Then you take a step back and you take two steps to the front. Normally when you try something really hard, and you don't succeed, you wake up the next morning and you try it again. And, first try, it works. So you learn."
Adrian drove beautifully in his return race. He left a logical margin in the wet but he was right there in the dry, driving without error into the heart of the race, maximising his P12 grid slot and his Pirelli mediums.
"When I found myself up there with Vettel, then, yes, I had to smile. It was what it - the year away - had been all about. This was how I had changed. I am a better driver. I enjoy F1 more. I have a new perspective on life."
F1 quickly forgot about Adrian Sutil; indeed, some observers, even after he was picked to race for Force India, decried the choice. Now, Formula 1 is, for the most part, welcoming Adrian's return. "I know how to take this sort of stuff now," he says. "I put it into perspective. It's my job, but it's not the only thing."
Black eye-wise, you can read 'Adrian Sutil' for Ricky Ponting - with that one major difference: Ricky didn't lose his slot in his team. Adrian effectively did. And still he's fighting back...