All five members of the rookie class of 2013 failed to escape Q1 in China. A dire indictment of the quality of emerging talents? Hardly.
The most powerful mitigating factor is that four of the newcomers are driving the three worst cars in the field, with the fifth, Esteban Gutierrez, driving a Sauber which is, at best, seventh fastest. This pretty much guarantees three or four would drop out in the first phase of qualifying whatever happens.
But Sauber team principal Monisha Kaltenborn's comments about Formula 1 having to rethink its approach to how new drivers are prepared and Pirelli's proposal for an extra set of bespoke 'rookie rubber' for Friday morning practice, are a timely reminder of how conditions for newcomers are extremely difficult right now.
Jules Bianchi has deservedly received plenty of positive press for his impressive performances for Marussia, but the other four have been cruelly dismissed in some quarters.
This is in large part down to the failure of many to recalibrate expectations of what is possible for rookies with such limited running. A more objective look at their progress means stretching beyond a quick glance at the results sheet.
VALTTERI BOTTAS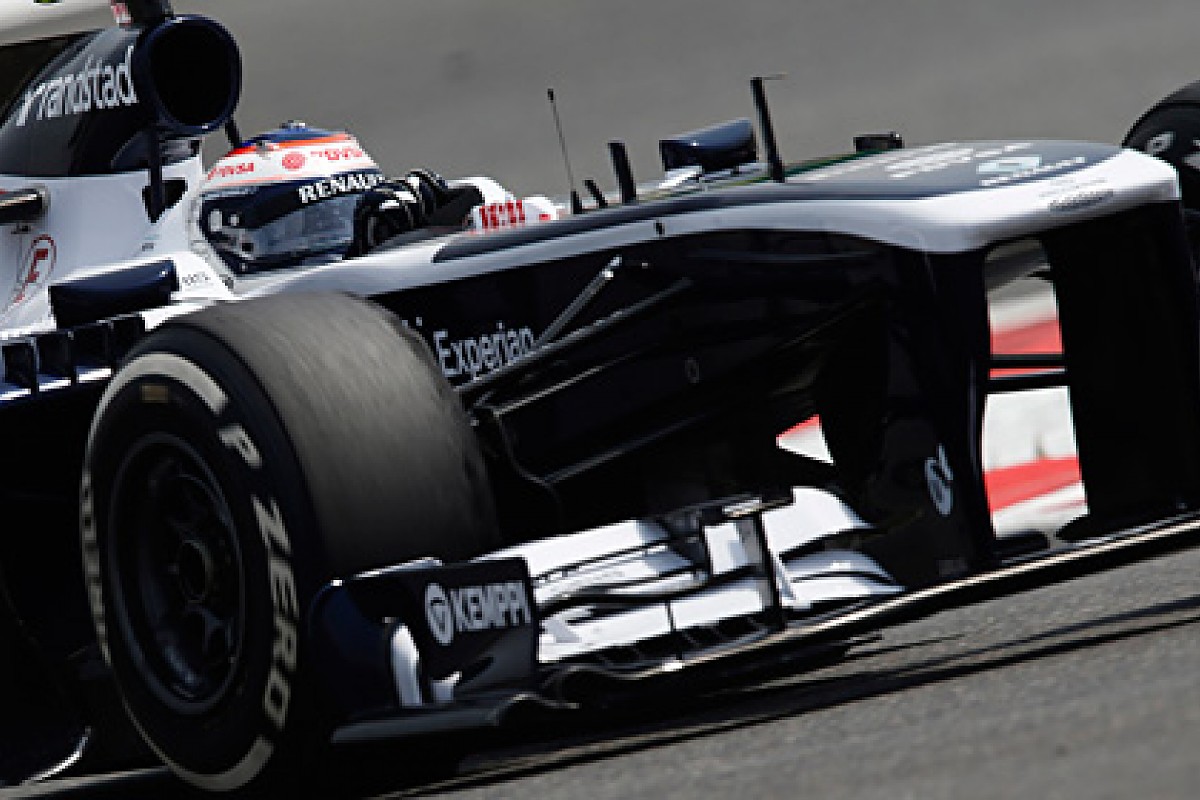 Race results: Australia - 14th, Malaysia - 11th, China - 13th.
Expectations were sky-high for Bottas heading into this season. As well as his prodigious ability, he has the most relevant preparation of any of the rookies, with 5140kms of test mileage for Williams since November 2011, 15 Friday practice outings last year and an association with the team dating back to the start of 2010.
We must add the caveat that he did not race at all last season and skipped the Formula Renault 3.5/GP2 step in the ladder.
On paper, results are unspectacular. But he is in the ninth best car, so falling twice in Q1 is hardly grounds to condemn him. His qualifying record compared to the rapid Pastor Maldonado, a grand prix winner, is perfectly respectable for a rookie. He outqualified Maldonado in Australia, which was a good start. In Malaysia he was three-and-a-half tenths off and, after being caught out by a change in wind direction in China on his all-or-nothing single run, he ended up just under half-a-second off.
"You are in the same car as your team-mate and you can still compare quite well," says Bottas. "It was funny to see the results of qualifying and all the rookies were in the bottom six, but always what kind of car you are in matters a lot. But it seems to be very tricky with the car and tyres and if you have more experience it helps."
Race-wise it has been a completely different story. In all three races, his result has been better than Maldonado. Unlike his team-mate, he didn't bin the car in Australia pushing too hard (although he did have one trip across the grass).
In Malaysia, Bottas not only recovered from dropping to last on the opening lap after being crowded off the track to finish only 1.5 seconds off the points, but was also ahead of Maldonado, who had been off earlier in the race, when his team-mate retired with a KERS problem.
Then, in China, his race performance was very similar to Maldonado and thanks to running softs in the final stint, Bottas passed his team-mate for 13th a couple of laps from home. Had the pair turned in such performances in a car a second a lap faster, people would be talking up Bottas rather than suggesting he had been disappointing.
There is clearly more to come from Bottas, in qualifying in particular. But given the experience advantage Maldonado has over him, he has good reason to be very satisfied with the first three weekends of his career in such a tricky-to-drive car.
ESTEBAN GUTIERREZ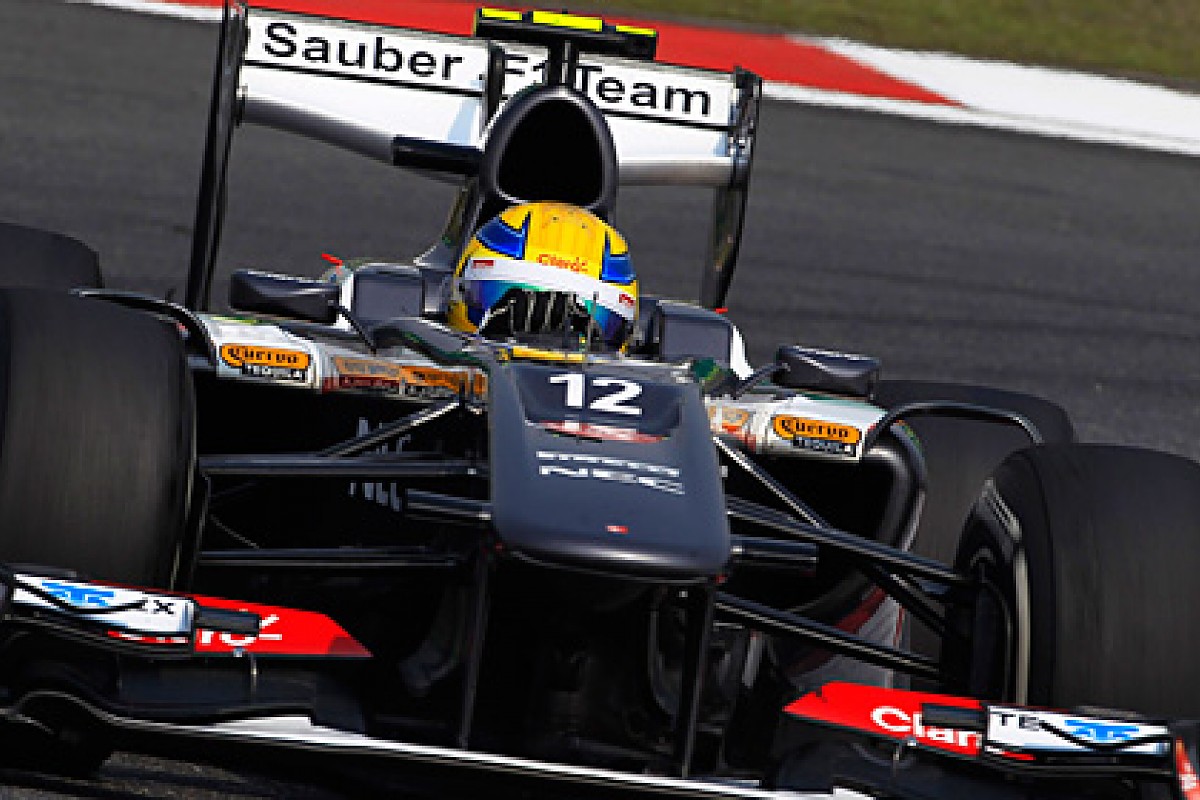 Race results: Australia - 13th, Malaysia - 12th, China - crashed
Of all the rookies, Gutierrez faces the toughest task. Not only is he up against Nico Hulkenberg who, by rights, should be in a top car and has undoubtedly flattered the difficult Sauber so far, but his 5485kms of test mileage are backed up by a solitary outing as Friday driver.
He is also the youngest driver on the grid and was arguably promoted a season too early after two up-and-down campaigns in GP2.
No question, Gutierrez has struggled. He has yet to get within a second of Hulkenberg in qualifying and made a big error at Turn 6 on his qualifying lap in China which he was certain cost him a Q2 slot. This was fair enough given his Friday afternoon time would have been enough to put him there even if his qualifying simulation didn't.
After two unobtrusive and conservative runs in Australia and Malaysia, during which he never seriously threatened the points, he made an embarrassing mistake in China and clattered into the back of Adrian Sutil.
To his credit, Gutierrez immediately realised what he had done, blaming his failure to factor in the extra speed he was carrying thanks to DRS, combined with the loss of downforce caused by Sutil's wake. Perhaps Gutierrez's desire to kick on after his solid start played a part.
"The results in my first two races, it was very important to gain this experience and seat time," said Gutierrez before the race in China. "Of course, finishing a race is not enough, from now on I am aiming for the points. I want to make this next step. My main focus is to minimise the small mistakes throughout the whole race, which make a big difference by the end.
"The improvement can be more on the race side. The reality has been better than what I expected, the speed that I had compared to Nico is better, and this is something that keeps me very motivated. The conditions have not been the easiest.
"I just try to focus on what I have and push my own limits. It's very valuable to have Nico as a team-mate because some team-mates don't have the same level of car or someone as good [as team-mate]. But he is my most precise reference."
While Gutierrez's start to the season has been unconvincing, he needs to be given at least half-a-season's grace given the hurdles he faces. Rookie errors have their name for a reason, and can be forgiven.
The team has been impressed with his approach and willingness to learn - qualities that must come to the fore over the next few months to ensure he doesn't sink without trace.
JULES BIANCHI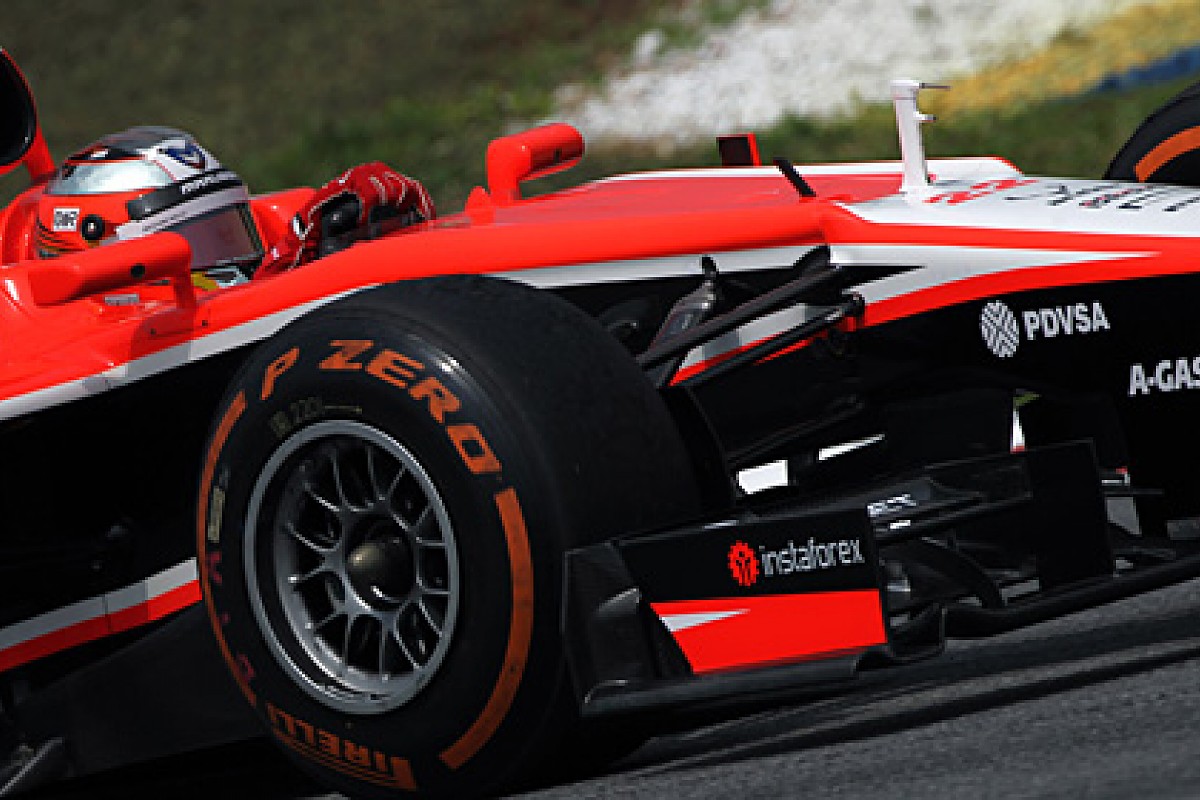 Race results: Australia - 15th, Malaysia - 13th, China - 15th
In a way, the only surprise about Bianchi's season is just how surprised people are by his pace. Frankly, this has never been in doubt, but what is more impressive is the way he has handled the pressure of the big league.
While some circumstances were against him this season, notably the late deal that allowed him only a day-and-a-half of running in the car pre-season, he does have a significant experience advantage over team-mate and fellow rookie Max Chilton. It was certain he was going to win the intra-Marussia battle whatever happened, even if such emphatic supremacy was less assured.
Bianchi has been affiliated with Ferrari since 2009, meaning he has the advantage of regular running both on-track and in the simulator. While he has only had 6300kms of testing in F1, he also had nine practice outings with Force India last year.
This is not to belittle his progress, which has been very impressive and has rightly earned him rave reviews, not least from Ferrari team principal Stefano Domenicali. If he keeps this up, he will certainly start to attract the attention of bigger teams.
GIEDO VAN DER GARDE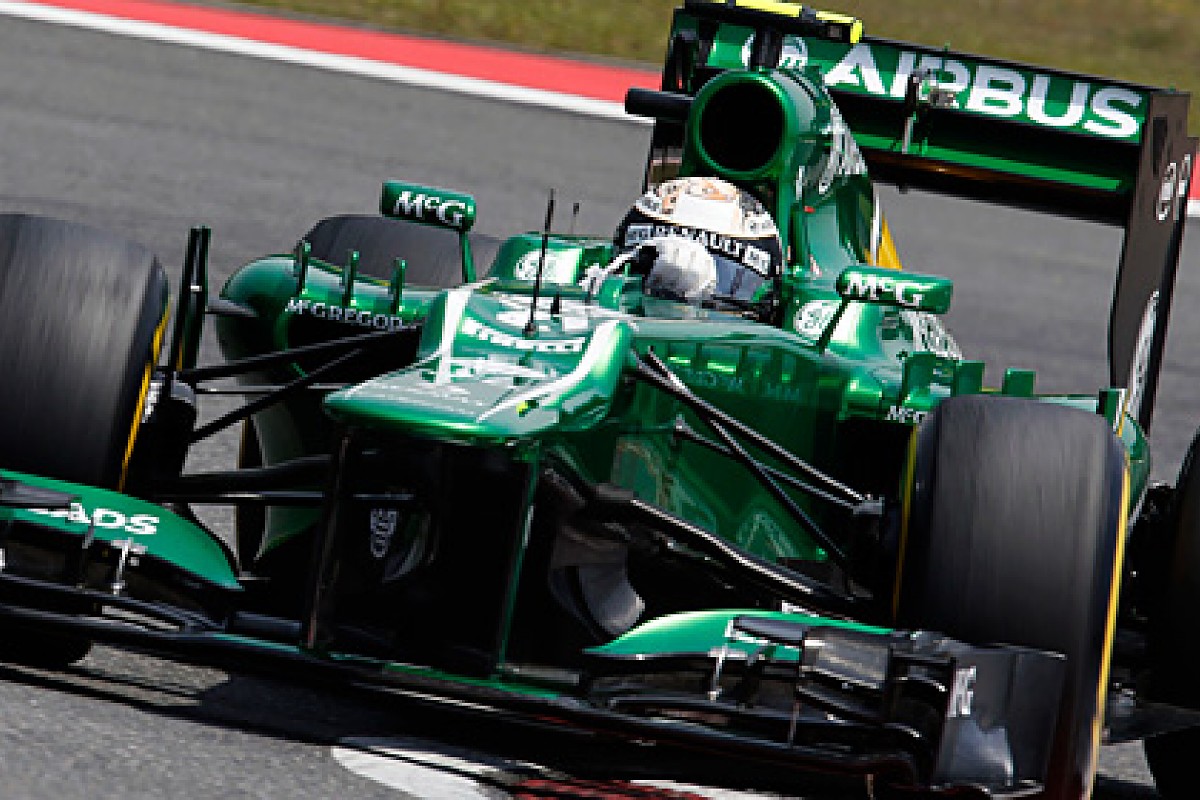 Race results: Australia - 18th, Malaysia - 15th, China - 18th
The affable 27-year-old has been on the periphery of the grand prix scene for a long time, dating back to his first, very brief, test with Super Aguri in January 2007. Since then, he has also had outings for Spyker/Force India, Renault and Caterham prior to landing a full-time ride, although his 21 days still only add up to 5549 kms of testing, plus six Friday outings last year.
When you are in the worst car in the field, particularly when it is also very difficult to drive, it is by definition almost impossible to make an impression. The only times he has been picked up by the television feed are when he has been off the track.
But he has finished all three races, beating Chilton in Malaysia and outqualifying Pic in Australia thanks to getting a bit more out of a car that proved very tricky in wet conditions before putting it in the wall.
"It's how it is at the moment," says van der Garde of life at the back. "For me, it's a really good step to come into F1 but it is very different, because normally I've been top five and am now at the back of the grid. Normally, when I get to the grid I had lots of time, but now you stop and then it's 'oh shit, the lights are on!'"
While he has been unable to match Pic on a consistent basis, generally getting embroiled in the secondary Caterham vs Marussia battle with Chilton, his team-mate does have a year's advantage over him.
All in all, while not extraordinary, his start to the season has been about par. Particularly because, as van der Garde says, "it's not an easy car".
MAX CHILTON
Race results: Australia - 17th, Malaysia - 16th, China - 17th
The complexion of Chilton's rookie season has been completely transformed by the three changes of team-mates. Had he been up against Timo Glock, everyone would have expected a big gap and probably thought he was doing fine.
Against Luiz Razia, he would have likely been on a similar level, certainly not far behind, and maybe even been able to be the lead Marussia driver. But against Bianchi, who people had strangely low expectations of, he has ended up looking very much a second-class citizen.
That's an unfair way to look at his season so far. While he did have far more pre-season running in the Marussia than Bianchi, he only has just over half of the total mileage and didn't have his first taste of an F1 car until the 2011 rookie test, two years after his team-mate.
He's not beyond criticism, however. He has spent a little bit too much time scrapping with van der Garde, although he did comfortably beat the Dutchman in China, and did appear to get somewhat lost in Malaysia.
Likewise, the qualifying deficits to Bianchi have been too big - he hasn't been closer than three-quarters of a second - although in China he lost all of Friday afternoon practice and his second Q1 run and also had car troubles in Malaysia.
But on the plus side, he has finished all three races and learned a little of the black art of managing blue flags.
Much like Gutierrez, Chilton has to be given half-a-season's grace before drawing anything other than the most tentative conclusions. While his junior career suggests he is potentially a decent, rather than a great, driver and you would expect him to be eclipsed by Bianchi even in ideal circumstances, the difference between the pair so far is far from representative.
For Chilton, the bottom line is a "could do better" but realistically he was always going to be battling a very steep learning curve early on.