The three-week gap since Malaysia and Red Bull's 'multi 21' team orders controversy had served only to stoke the feverish anticipation for Sebastian Vettel's first at-length reflections on the matter when the Formula 1 circus reconvened in China on Thursday.
While Webber took the high ground in the official FIA press conference, insisting the matter was sorted and it was time to move on, Vettel did anything but during a remarkable media briefing just afterwards.
In front of a packed audience of reporters and television camera crews at the Red Bull office unit, he spoke candidly about what had happened in Malaysia.
And rather than being repentant for his actions, Vettel showed the kind of steely determination and self-belief that has helped drive him to three successive world championship titles.
While sorry for not being a team player, he said he felt no remorse for costing Webber a win that he felt the Australian did not deserve, and that he would probably do the same again if circumstances repeated themselves.
AUTOSPORT's Jonathan Noble was in the thick of the throng of journalists quizzing Vettel. Here are his words in full.
Q. Before Malaysia you were viewed as the good guy, but since then you have become the bad guy. How do you feel about the situation?
SV: I don't consider myself being the bad guy. I don't think I did something that was in particular bad. I think I said everything I had to say after the race, and I apologised to the team - which was important to me to get things straight. I took the opportunity to go see the team after the race straight away and explain what happened from my point of view, like I did to you after the race, and that is it.
Q. Helmut Marko has been quoted as saying there will be no more team orders at Red Bull. How much more difficult does that make your job of winning the championship?
SV: I don't know. I haven't seen Helmut yet. But it makes no difference.
Q. How do you define your relationship with Mark Webber now, and do you think you can count on his support?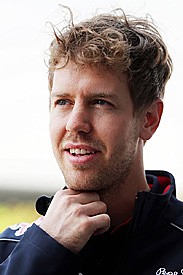 Vettel said he would probably do it all over again © XPB
SV: I think being completely honest, I never had support from his side. I have a lot of support from the team, and the team has supported both of us the same way. But in terms of relationship to Mark, I respect him a lot as a racing driver, but I think there was more than one occasion in the past where he could have helped the team and he didn't.
Q. Is that why you did it then?
SV: I explained to you why I did it. But whether you believe me or not is on a different page.
Q. But you said that Mark never helped you. Were you paying him back?
SV: You could say indirectly so, but as I tried to explain to you after the race, in my opinion it is always best to be truthful. But sometimes the truth is not what the people want to hear.
As you can see controversy is more popular than the truth. I told you after the race what happened. I was racing, and as a racing driver I was solely focused on winning the race and I got a call on the radio, which I heard, but I didn't understand at the time. I should have understood. That is why I apologised to the team, because in my action I put myself above the team. Whether you believe me or not is up to you.
Q. Didn't you know exactly what you were doing though?
SV: I apologised to the team because it was the last thing I want as a team member, which is what I am and how I feel. I am one of the guys, you might say I am more or less important but I feel more or less on the same level and as a team member I didn't obey the team's order, which as I said was not my intention. My intention if you look at it as a racing driver is to win the race, so I don't apologise for winning the race.
Q. Going back to earlier in the race, was the decision to change to slicks at the first stop your call, or was it made by the team?
SV: It was my call. I came on the radio at the beginning of the lap saying that it looks pretty dry. At the end of the lap I felt it was the point of crossover and I thought I would come in and take the risk, because I thought it was dry enough.
Unfortunately as it turned out it was not the perfect call and it was probably one lap too early. Plus I had the gap, so I was not in need of being the first one in. But I felt it was the right time and that is why I went for it.
As it turned out it was still a bit damp, plus I came out in traffic, turn 1/2/3 was still a bit damp so people passed me straightaway on inters, and then I was behind them when I came onto the dry section and couldn't make use of that. So the bottom line is that I lost too much.
Q. Was what happened later on your way of making up for it then?
SV: Well what happened was that I was racing and I wanted to win. In that regard, I succeeded.
Q. You apologised to Mark after the race, but you are not doing so now. Have you changed your mind?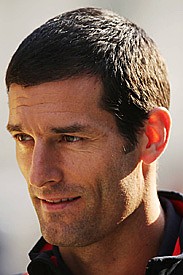 Mark Webber also faced the press in China © XPB
SV: These kinds of things I sort out with him straight away, face to face. I think everything that happened in the past, there was sometimes more talk about what happened, sometimes less. It is not my style to run to the media and explain myself. If I have something to say then I prefer to say it internally.
Q. During the race you were backed into the Mercedes by Mark. Did that annoy you?
SV: Not annoyed, I came on the radio and said that I was faster. I think it was a bit misunderstood because probably what I said came across a little bit arrogant but what I actually meant was that I had pressure from behind.
Mark speeded up as soon as I got closer and to be fair he was even a little bit faster towards the end of the stint. At the beginning I ran a little bit into the back of him, which I am not blaming him for, and Lewis was very close, Mercedes had strong race pace and fortunately from our point of view they ran out of fuel and they could not keep pushing until the end.
Q. Have you been punished by the team?
SV: There are a lot of marks on my back! No. As I said, I like to deal with these things face to face. I have always been open and I think I have always been truthful so if I have something to admit or talk about something I did wrong, then I have no problem admitting it.
It is probably not the easiest to say the truth but that is what I did straight away after the race, and straight away to the team as well. My intention was not to put my interest above the team's interest because as I see my position, I am a team member, I am one of them - and the team is putting a lot of effort to give me a good chance to win races and have a strong car, and ultimately trusts me. I want to give that trust back as much as I can.
Q. Do you think Christian Horner's position has been weakened by your actions?
SV: Well you could say so... but as I said, I went to talk to everyone straight after and explain what happened. The intention was not to undermine the decision by the team principal.
Q. How do you go about resolving the situation with Mark? Can you trust each other?
SV: I wouldn't call it trust, to be honest. I think we have a professional relationship. As I said in the past, obviously, there was more than one occasion where things didn't work the way they should have, and as I said - I respect him a lot as a driver. I think he has achieved great things in his career in F1, and also before F1, and I respect that.
Q. Do you want a different team-mate next year?
SV: It is not for me to decide.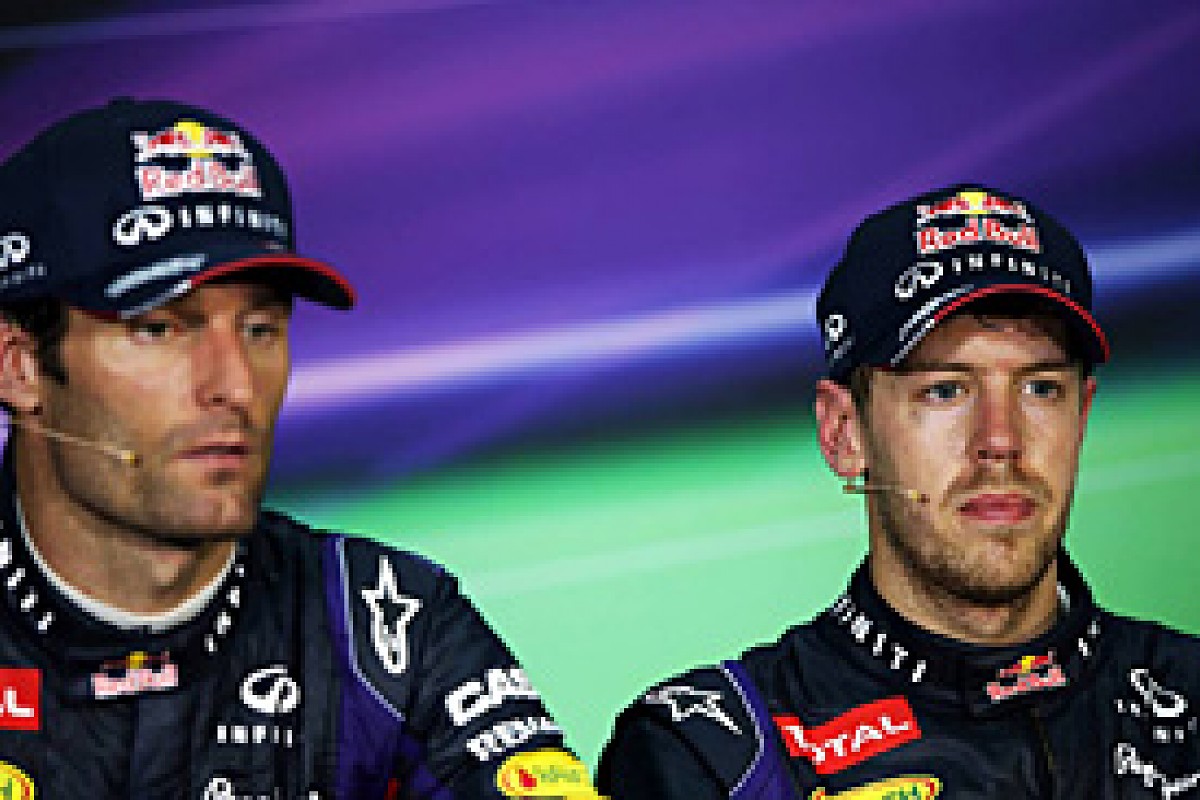 Red Bull tension has not eased since Sepang © XPB
Q. No it's not your decision, but you can have an opinion. Do you want a new team-mate?
SV: I see where this is going...but I don't like talking bad about other people. It is not my style to complain or talk to everyone about everything. If there is something that I feel I have to say, I do address it to the people that are important for the decision.
Q. Had you understood the team order properly, would you have obeyed it - as you had saved the best tyres for that final stint?
SV: I think as you mentioned, I was faster in the end. That is why I was able to overtake. Overtaking is not easy, let's not forget that, in F1.
If I had understood the message and would have thought about it, I am not sure I can give you a perfect answer on this because thinking about it, obviously I probably had realised in the moment that there is quite a conflict, because on the one hand I am the kind of guy who respects team decisions and the other hand, probably Mark is not the one who deserved it at the time.
Q. So you would do it again under the same circumstances?
SV: I am not sure I can give you a proper answer because in the moment it might be different, but I would probably do the same.
Q. How do you deal with racing Mark now?
SV: It is not the end of the world here. At the end of the day I cross the paddock entrance every morning because I do something I love, I love racing and I love coming here, I love working with the team and the guys, I enjoy that a lot.
It gives me so much satisfaction and I cannot think of anything else that gives me that much pleasure. I think the bottom line is I don't want to forget that. Sometimes we have easier or more difficult times but at the end of the day I am here for that, and that is what I enjoy most.
Q. Christian Horner said that there was no point in ordering you to give up the lead in Malaysia as you would have ignored it. Is that a sign that this is your team now, and that Christian is no longer in control?
SV: I don't think that is right. I think the circumstances for that have a different nature. He is the boss, he is in control of all the employees and he is leading the team so I think I am not in any other position than I am. I am the driver.
Q. But you broke an order and you got no sanction?
SV: I did speak up and I did apologise and I meant it. Sanction as in punishment? Maybe it is a little bit of a dreamland that you all live in, but what do you expect to happen. Make a suggestion!
We dealt with it internally. As I said I did apologise to the team, I took it very seriously, I went to see the whole team as soon as I could, not just the people working here, and told them as well.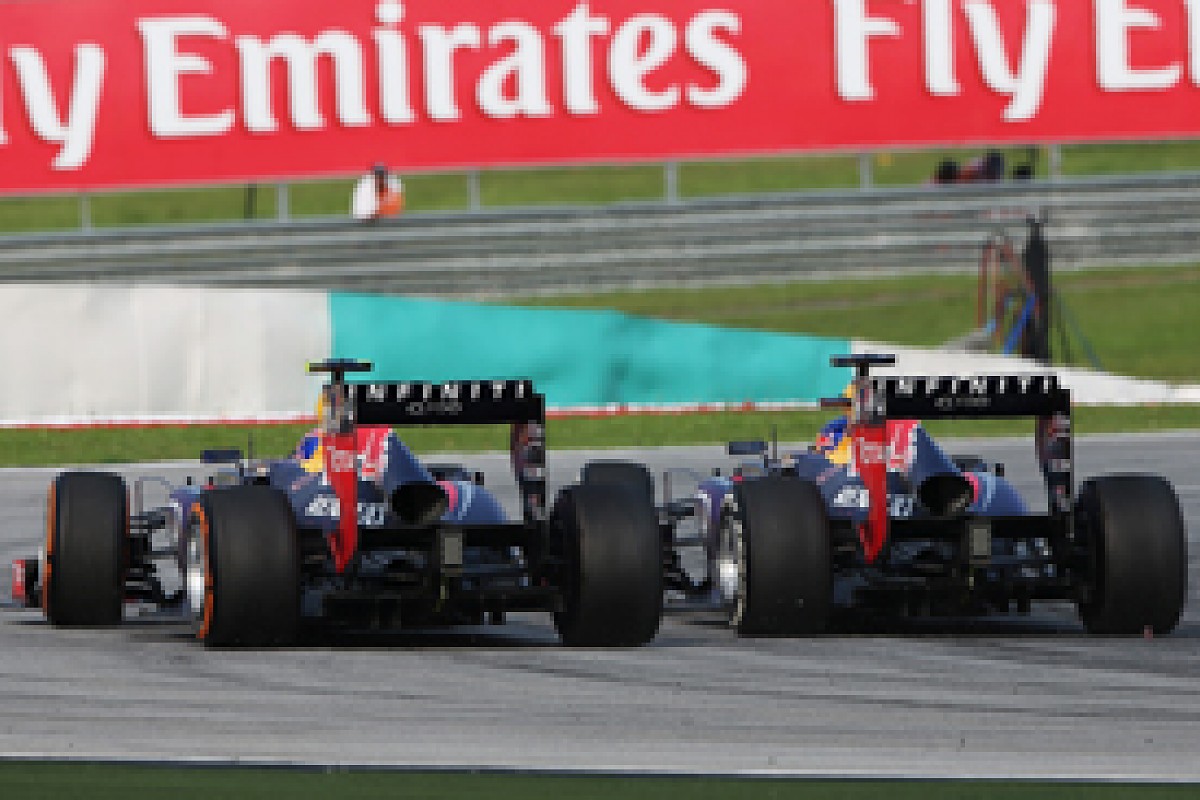 Vettel and Webber during the Malaysian GP © XPB
Q. So if Christian had asked you to give the position back, would you have done it?
SV: I didn't mean to ignore the team's order because I didn't understand it. I heard it but I didn't understand it in the proper way, the way I should have. I apologise for that because with my action I disobeyed the team order and put myself above the team. Had I understood the message and had I thought about it, reflected on it, think what the team wanted to do, to leave Mark in first place and me finishing second, I think I would have thought about it and I would probably have done the same thing. He didn't deserve it.
To me it is best to be myself. I have always been truthful and I said the truth after the race.
Q. You said that you don't like to talk about other people - but you complained about Mark earlier in the race on the radio...
SV: Your translation is complain, my translation is that I can see why, because if you take it word by word, I can see how it means and how it comes across. The fact is I was faster at the time and I was under pressure from behind. As soon as I closed the gap to Mark he speeded up - I had no problem with Nico at the time, and I was able to pull a little bit away from Lewis. In the end it wasn't enough but I am not blaming him for that.
Q. Will the war in the team affect your title hopes?
SV: I don't think we have a war, to be honest.
Q. So what part of Multi 21 did you not understand?
SV: It is a code....believe it or not is up to you. I can only say what really happened, whether you buy it or not. I was looking on the steering wheel and got a little bit not confused but couldn't find the map change as we do map changes all the time in the races, you don't get that usually. I am not sure if you got the code as well. We have this code for quite a while in the team and I should have understood, full stop. But I didn't.
Q. Why do you believe that Mark did not deserve to win?
SV: I don't like to talk about other people. It is not my style. I have said enough. The bottom line is I was racing, I was faster, I passed him, I won.
Q. Is it not the case that you passed him because you knew that Alonso was out of the race?
SV: Honestly I didn't care where Fernando was.
Q. But he is likely to be your main competitor. Maybe you don't consider Mark as your ultimate competitor and you couldn't go away from that race leaving seven points on the table?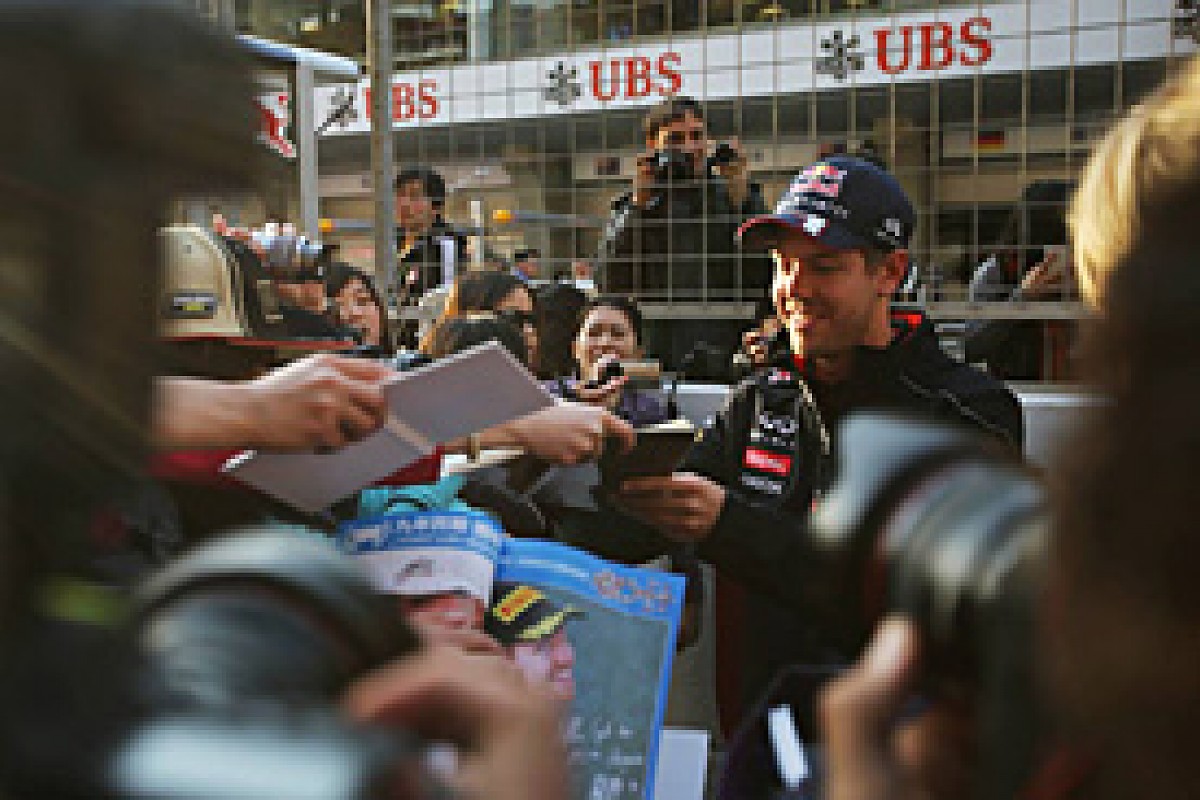 Vettel was in the spotlight at Shanghai © XPB
SV: Well, to be honest with you I didn't think maximum points, maximum points. I thought winning the race, winning the race. It is race two of the championship. I know there are so many races.
We have won the championship three times in a row. I know how many things will happen. Sometimes you will like it, sometimes you will not like it. But over the course of the season...things like what happened to Fernando when he damaged his front wing slightly, and that meant end of the race, zero points.
These things will happen to everyone over the course of the season. Like it or not. Can you get away without it happening? No. There is probably a reason but you are also a little bit lucky.
But these things, they hit on everyone and in that moment, race two of the championship, I don't think about numbers. I don't think about points. I think about winning the race.
Ultimately you can say it is stupid, but from my point of view if I think about the championship and the points situation too much then I am not in the moment. I am not racing. I will give away a gap, or I don't go for the gap, because maybe I think it is too risky, I shouldn't do that because I might lose points - and it is better to have 12 points in the bag for fourth than three more points for third.
You don't have time in the car where, if you are really going for that gap that all of a sudden is there, to reflect on whether it is right or not? Is there the right amount of risk or not?
If you see a gap and you are free in your mind, you go for it. If you have any doubt you go for it and you crash.
I can give you an example. Last year I started dead last in the pit lane in Abu Dhabi. I damaged my front wing and I was dead last again. I was fourth at the end of the race, with Jenson to pass. He was very difficult to pass because he was as quick as I was.
You could say, I came from last, Fernando was only two places ahead, what is the point for three points? I am in the lead of the championship, so relax. Take the points and don't risk the very risky manoeuvre I had with Jenson. I saw the gap and I wanted to finish on the podium. I went for it.
I knew the championship is important and I wanted to win it; but I saw the gap and went for it. I didn't think twice. And I got third place, and won the championship by three points. So...that is my view.
Q. There is a lot of tension between you and Mark. How are you dealing with it?
SV: We say hi just like we do every other time.
Q. Is this ultimately a big fuss about nothing? You gave the fans what they wanted to see, you were given a team order and you said screw it, I am here to win, I am here to race...
SV: I had a very normal two weeks, very quiet. I had time to prepare for this race which I am happy for. I tried to prepare and I am here in the best shape I can be and I am looking forward to driving the car. Maybe that sounds too simple for you, but that is how I feel.