One victory and one [proper] pole position. That's the scant reward Mercedes-Benz had gleaned after three years as master of its own destiny since returning the Silver Arrows to Formula 1 at the start of 2010.
It's little wonder, then, that a fair deal of soul searching took place in the middle of last year when it came time for the German car manufacturer to either commit itself to F1 - by signing the Concorde Agreement - or ship out.
In the end, it agreed that an F1 future was the right thing to have, but with a new way forward. A slump over the second half of last season proved the catalyst for that deeper look at what needed to be done, with it clear that the outfit must not squander the opportunities afforded it by the capture of Lewis Hamilton.
Cue a massive management overhaul almost as soon as the 2012 campaign was over. Former world champion Niki Lauda came in as a non-executive director, former Mercedes-Benz motorsport boss Norbert Haug fell on his sword after taking responsibility for the F1 team's failure to deliver more, and in came Austrian entrepreneur Toto Wolff, previously best known as an investor at Williams, as new motorsport chief.
The scale of the changes at the top prompted talk of a coup d'état by Stuttgart to get itself an F1 team it could be proud of. The rumour mill duly went into overdrive about the future of Brackley's other senior management - especially team principal Ross Brawn - when it emerged in the German media that McLaren technical director Paddy Lowe was being lined up as a future Mercedes boss.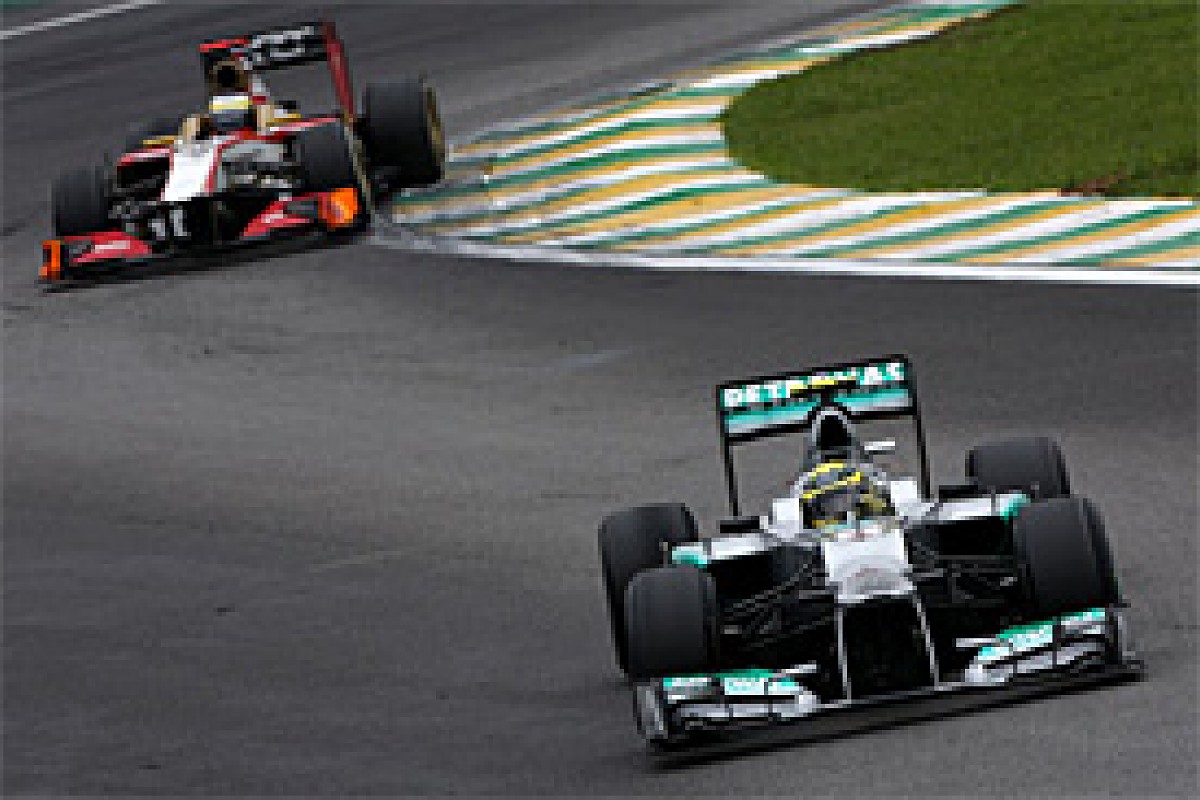 A difficult second half of 2012 led to an overhaul © LAT
However, while some big decisions needed to be made, especially by Brawn himself over whether he wanted to be part of the new way forward, the winter has ultimately proven to be a time of knuckling down at Brackley, not one of chaotic upheaval. It's been a period of empowerment rather than takeover.
The settling down has been due in part to the calming presence of Wolff, whose deep understanding of how both big business and racing teams work has helped ensure that everyone's feet have been kept on the ground.
There may be a deeper-than-normal motivation for not throwing the baby out with the bath water - because he and Lauda are to be shareholders in the outfit - but equally that meant he sought out guarantees from Daimler about how committed it was to the Mercedes F1 team before the signed up.
"There was an angle that came into my analysis, which was whether I thought it had all the ingredients to be successful," explains Wolff about why he took on the Mercedes role.
"If I'd decided that it didn't, I wouldn't have taken the job. So it was very clear for me to understand what Mercedes' motivation was, and the reason why they thought it was the right way forward.
"They said they were taking a long-term view on F1, because they believe that success does not come quick and easy [there]. If you look back at all the big manufacturers, they have package everything together.
"You need to have the right engineers, the right infrastructure, the right money, the right drivers and the right management. Once you get everybody on board, you have to shape it and make it work as a team. That doesn't take a year: it takes many years.
"However, while Mercedes is a multi-national organisation with 280,000 employees, Brackley is a small company, which needs totally different management skills and structures. It needs to be very efficient and for there to be very quick decision making, and that doesn't necessarily fit with a big multinational organisation.
"That's probably another reason why some of the big manufacturers have failed: not giving it enough time and not having the right decision-making process in there. They were almost paralysed by their own organisation.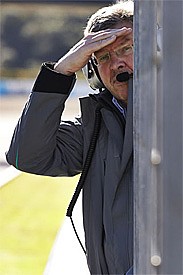 Brawn has stayed on after the reshuffle © LAT
"So they [Daimler] said what they needed was an individual, who is a co-shareholder of ours, is a managing partner of ours. He takes the decisions there, he takes the risk with his own money, he has a track record in motorsport and he understands what is going on in the broader picture, and he manages that for us. And this isn't necessarily in the way we would manage a 280,000-strong company."
Wolff's arrival didn't happen without some scepticism from outside, though, especially in raising questions about just how many chiefs an F1 team needed. Just as Mercedes is often derided for having a multitude of technical directors in place, so there was uncertainty at how the mix of Brawn, Wolff and Lauda was going to work.
Those doubts have not been lost on Wolff, but he is adamant that the trio's skills all complement each other, and that it's a world away from the weakness of the way the Mercedes F1 team used to work with a management structure split between Brackley and Stuttgart.
"Let's look back historically to 10 months ago," says Wolff. "Mercedes committed to F1. They invested in the team, but it didn't perform in the way they wanted. And every weekend they saw disaster, damaging the reputation and the image of the brand.
"The head of motorsport was based in Stuttgart and not Brackley, and they [Daimler] didn't have the insight into what was really going on there. They had to rely on information they were getting - but did they get all the information or had it been filtered?
"So they said: 'Lauda, help us. Help us to understand what's going on.' Niki, because he has a track record, was the first one to make an assessment of what's going on, besides helping them with their relationship with Bernie [Ecclestone] over the Concorde Agreement. That gave them the first block of understanding - the idea that it needed a co-shareholder to run the team."
Wolff makes it clear that his role, and Brawn's and Lauda's, are clearly defined. Lauda's presence as a non-executive director is useful for what he refers to as "keeping our back free from the Daimler board".
"Also, because Niki has a lot of experience as an entrepreneur and as a racing driver, he's a good sparring partner," continues Wolff. "He's not someone who gets involved in the detail, but he is someone you can access and ask for his opinion. He is also there in the paddock, and he sometimes upsets people, which can be in our favour! And he has a vast network, so it works. But it's not an operational role.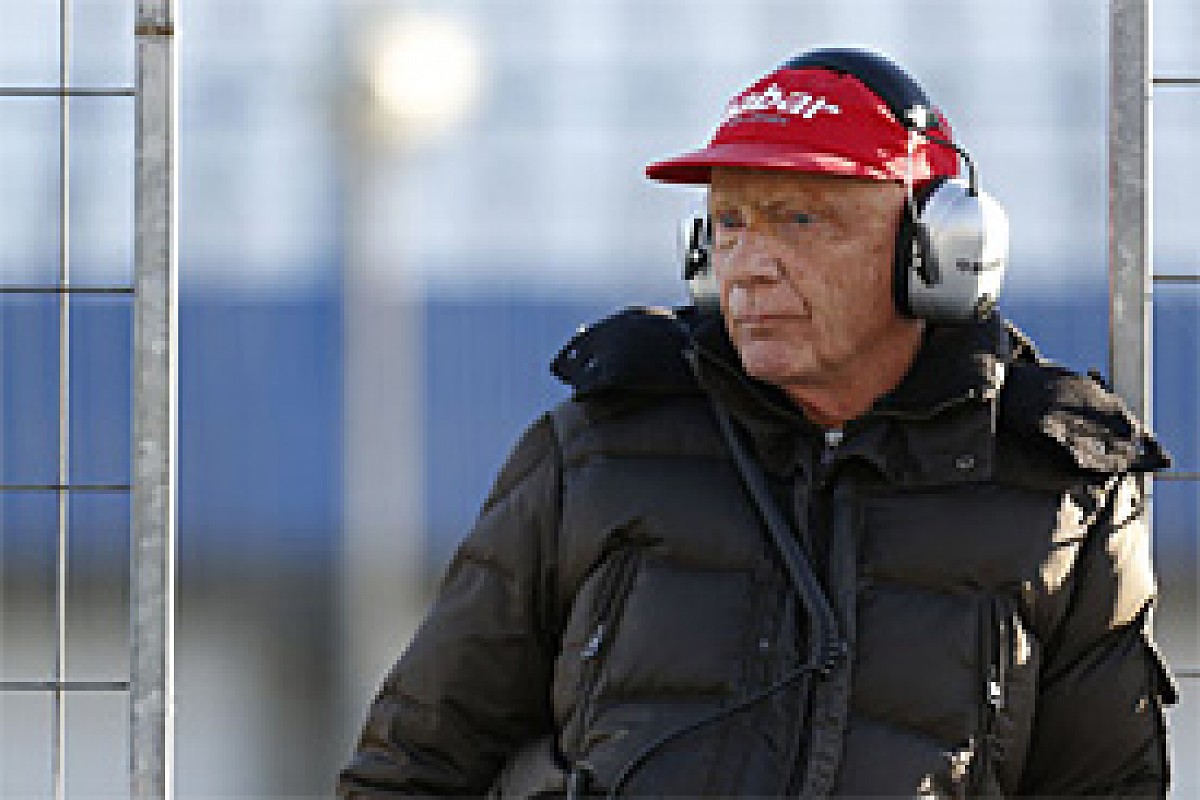 Lauda handles board affairs © LAT
"There is absolutely no fighting between Niki and me. We are both shareholders in the team, so fundamentally we have the same target. I consider him a friend, and we have a good laugh every evening on track. We are pretty much aligned with everything we do.
"Sometimes we have discussions about whether he has the right idea or I do, but it is an absolutely intact relationship. With Ross it's the same. We have a laugh sometimes about Niki and his ideas that might have worked in the 1970s! But still he has a lot to offer. It's a good structure."
However, the arrival of Wolff is as much about ensuring the management structure is right for several years down the road, as it is about getting things spot-on right now. That's why from day one there has been such a focus internally and externally on a long-term succession plan for when Brawn decides to step back from his team principal role.
And although Mercedes isn't commenting on it yet, that succession plan involves Paddy Lowe, who is currently serving out his contract at McLaren. He'll join Mercedes in January next year (unless a deal can be agreed for an early contract release) to work alongside Brawn in a senior technical position until there's a formal handover to a new regime.
The most likely scenario, then, is that Wolff and Lowe will take complete charge of the team, with Brawn moving to a non-executive position within the team that will fit in closer with his desires. Wolff will not talk about the longer-term plans for Brawn/Lowe, especially because the situation is very fluid and the timing of any transition depends entirely on how the 2013 season shapes up.
However, one thing he's keen to make clear is that there has never been any desire to push Brawn aside. In fact, the only management tweak that was pretty much defined early on was moving CEO Nick Fry to a new role.
"The decision about Nick taking on another role as a consultant was taken fairly early," he says. "As for Ross, I'd be the biggest fool on earth to say to the guy who is probably the most credible engineer in the paddock that he's out. Actually, the opposite happened.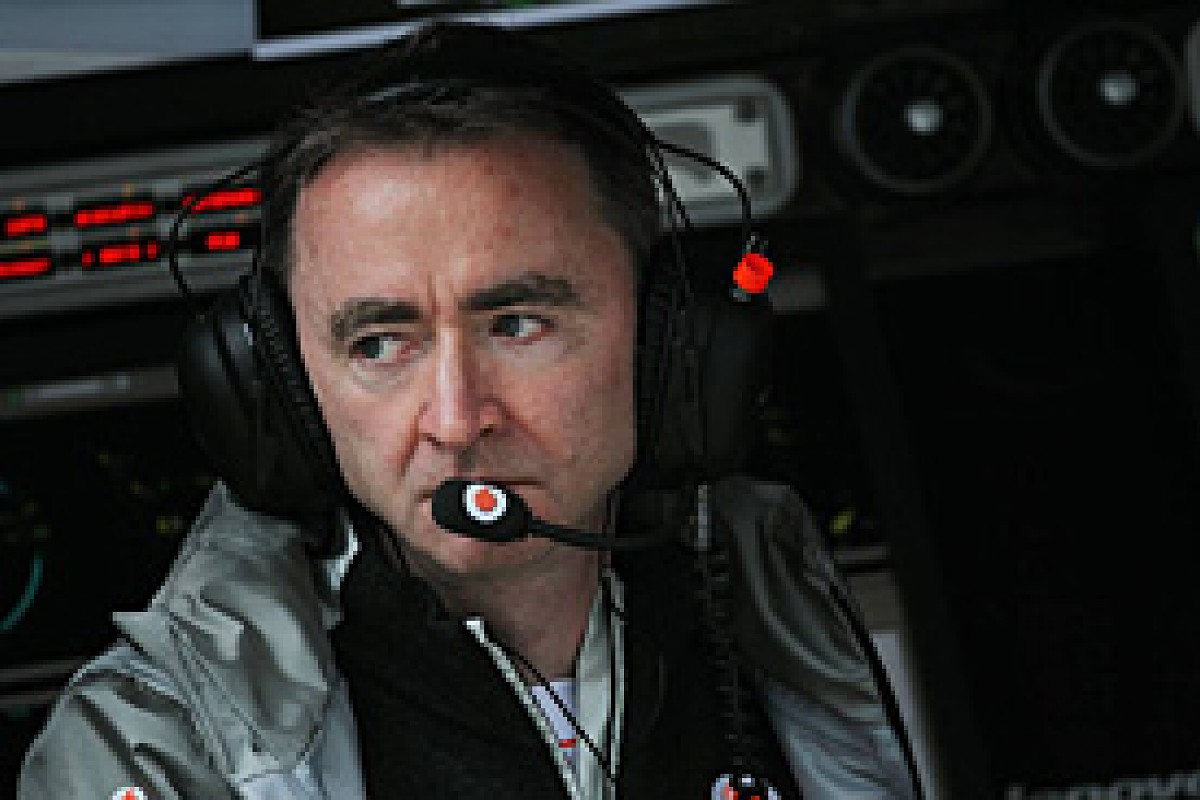 Lowe will leave McLaren to join Mercedes © XPB
"I've tried to make sure that Ross feels comfortable and settled in his position, which isn't easy with all the changes that have happened. I still think he's probably the best senior technical guy around here. I don't want to damage the team and its performance with a rash reaction that last year wasn't good, so therefore the most senior technical person has to go. Not at all."
There's very much the impression from Wolff that he's a man whose decisions are dictated by logic that comes from listening. He doesn't feel under pressure to make changes simply for the sake of it, or to discard all that came before him just because it didn't work.
"You know, at this level it's not massive things that are wrong," he says, when asked how he's found things at Brackley. "It's more in the detail. It's not about restructuring, hiring and firing. Doing that doesn't work, and it would need years to build it up again. It's about analysing and assessing the structure, and looking at how the people interact with each other. And I'm not relying on just my own opinion and my own gut feeling, because I could be terribly wrong.
"If there's an engineer who's just not on my wavelength, it doesn't mean he's not a good one. It takes quite some time to get an understanding of the structure, to get an understanding from the interaction between the people, and then at the end of the day implementing what I think works.
"You can't just buy a team, even if you are Mercedes, and say this is how we want it to run. But as a shareholder you want to understand what's going on, you want an influence in the decision-making process on a senior level.
"So that's why putting me into Brackley was a condition for Mercedes. When they suggested it, I said that absolutely I should be based in Brackley. It's the only way. You can't run a company from 1500km away. It doesn't work."
Wolff's situation has been made easier by the stronger-than-expected start to the 2013 season that Mercedes has delivered. Yet he understands the game well enough to know that his impact on what's happening right now is minimal.
What's unfolding on the track this year hasn't come from what he and Lauda have brought on board. It's the legacy of decisions taken months ago by Brawn in recruiting Aldo Costa, Bob Bell, Geoff Willis and Mike Elliot, and of upgrading the team's windtunnel facility and making that push for Lewis Hamilton.
The honeymoon period at Brackley feels good for now, but Wolff knows the challenges that lie ahead and just how much work is needed before Mercedes can be happy once again with its lot in F1.
"One must be very careful about attributing success or defeat to yourself," says Wolff. "You must never think of it as one person. It's always about a group of individuals."
It's the pack mentality, the benefits of being in it together rather than alone. Stuttgart and Brackley have never been as close as they are now, and the rewards for that could be just around the corner.