"What matters most is when you get back - either to a hotel or to home - and finally you can face yourself in the mirror and know exactly what happened. You have to understand it yourself and deep down in your heart you have to know what is going on.
"That is more important than whatever people think, or they write or say. In the end, it is impossible to please everybody. Sometimes it might be seen from a different angle, but as long as you know for yourself, then that is all that matters."
Those words, uttered to me by Sebastian Vettel on the evening he was handed his first Formula 1 world championship trophy back in 2010, came flooding back in the hours after perhaps the most controversial of his 27 grand prix victories.
Life has changed a great deal for him since then, but perhaps an even greater sea-change in how we view Vettel played out during a remarkable afternoon under the searing Malaysian sun.
Back in 2010, Vettel was referring to one of the other times in his career that he did something for himself: backing up the field after a safety-car restart at that year's Hungarian Grand Prix to try to help Mark Webber get a bit of a head start.
Vettel found himself on the wrong side of a team scenario in Hungary in 2010 © LAT
The idea then was not to give Webber the win, but instead to help the Australian's strategy play out so he could follow Vettel home later on and act as a buffer to the Red Bull duo's main title rivals.
Vettel's actions in letting Webber get away meant he breached safety-car protocol by not following the leader closely enough. He got a drive-through penalty, had handed a win to Webber and left himself miserable on the podium. Yet he never preached about what happened; instead only confiding to team management later in the year.
That day's decision to do his own thing - just like him ignoring numerous orders over the past few years to back things off in the final laps rather than chase fastest laps - pales into insignificance compared with the stun grenade he threw into the Red Bull camp in Malaysia.
But however much Vettel feels his Sunday-night apologies have addressed his feelings - and left him believing that he could look in the mirror when he got home and feel he was true to himself - it's Red Bull that now needs to do the serious soul searching about where it goes from here.
The team may feel it has been here before: with the Webber/Vettel crash in Turkey 2010, the front-wing controversy at Silverstone later that year, the hold-positions order and Webber's defiance at the 2011 British Grand Prix, Webber's secrecy at not telling bosses of a fractured shoulder injury in 2010, Webber making life hard for Vettel in Brazil last year. The list goes on...
But make no mistake: what happened in Malaysia on Sunday is in another league - for this was about a deliberately defiant act.
It's one thing being upset at the imposition of team orders, following it and complaining later; it's quite another being told to do one thing and completely ignoring it.
Team bosses often say that no driver should be bigger than the team - and yet that is exactly the situation Red Bull now faces. Vettel has put his head above the parapet to show that he has the power to do what he wishes within the team. His defiance on Sunday was a sign that he can call the shots.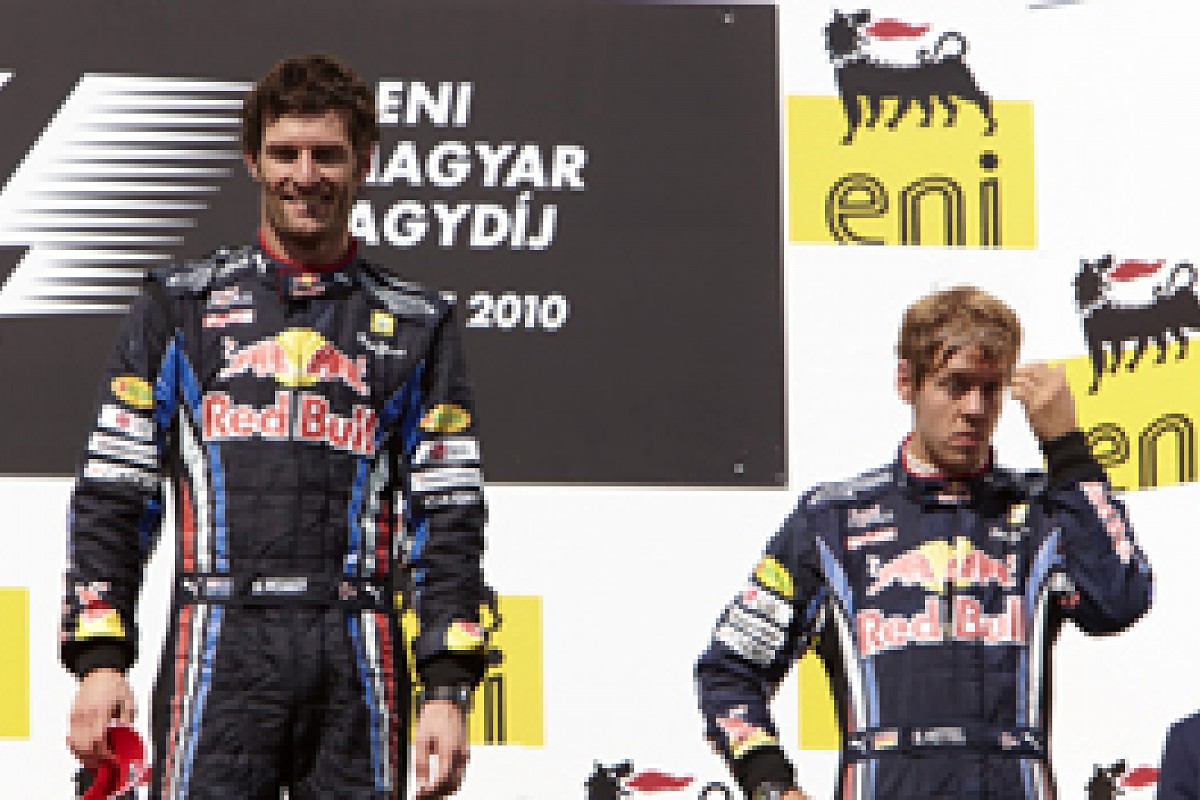 The Red Bulls ended up racing hard when the team was expecting a formation cruise © XPB
Vettel made the decision to put his own interests above those of the team in the most public of ways - and the fact that the team was too anxious to order him to hand the position back to Webber further proved the point.
It was a remarkable admission from team principal Christian Horner on Sunday night that the order to tell Vettel to let Webber back through was not made because the team knew it would be ignored. That says everything about who is the real boss at the team.
Just contrast that situation with Mercedes' Ross Brawn making it clear from the pitwall to both Lewis Hamilton and Nico Rosberg that he's the team principal. He makes the call and they must do what he says. He stood firm in the drivers' briefing afterwards, too.
For all Red Bull's hopes that the team can learn from the situation, and that matters will move on in China, it's fairly clear they will not. Just as Silverstone followed on from Turkey in 2010, so too what happened on Sunday is not going to be the final chapter.
It's not insignificant that for the first time in Red Bull's history in F1 there was no post-race team-celebration photo in the pitlane.
The bond of trust between Webber and Vettel may have been broken years ago by those events in Turkey and Silverstone in 2010 and in Brazil last year, but what exists now is blatant distrust.
For the team, such an environment can eat away at every relationship in the outfit and prove corrosive to the way things work.
What happens next time the order comes for Webber and Vettel to hold position?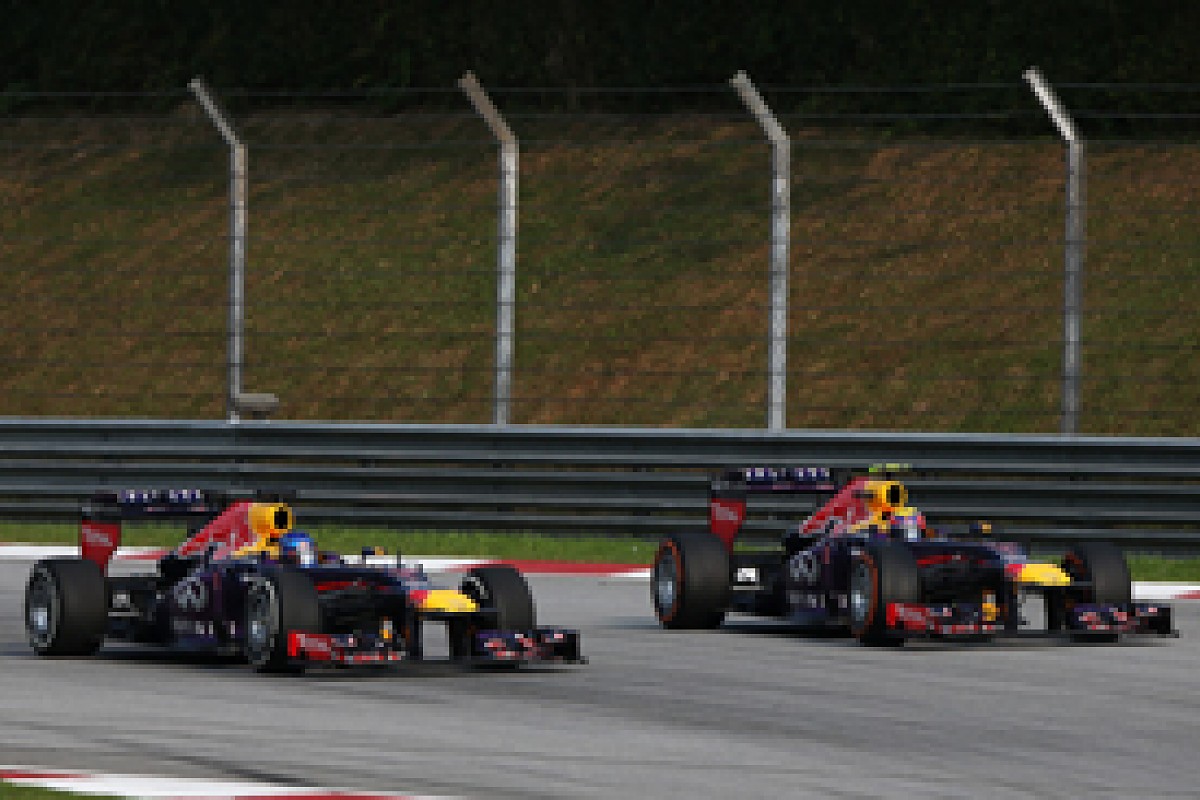 Webber left Vettel in no doubt of his feelings post-race © XPB
If Vettel is ahead, will Webber feel that he is now justified in ignoring it, stealing the win and then muttering a simple apology but bagging the 25 points?
Will Vettel fear that that he will not be able to back off because he knows Webber may try something?
In the reverse position, will Webber feel that he can take liberties and back things up even more, thereby challenging the Vettel dynasty to do the dirty again?
Will either of them ever trust what is being said on the pitwall again? Will there be suspicions of betrayal about who is doing what with engine maps and tyre preservation? Will the team now be too scared to ask either of them to do anything?
It has been suggested that Vettel owes Webber one now, but what if the only opportunity comes in the final race of the season when it's the pair of them battling for the world championship? Does Vettel not pay him back, stick to his guns and take a title that he stole and is sorry for?
The ramifications of Malaysia are only going to grow as the championship fight between the pair becomes more intense.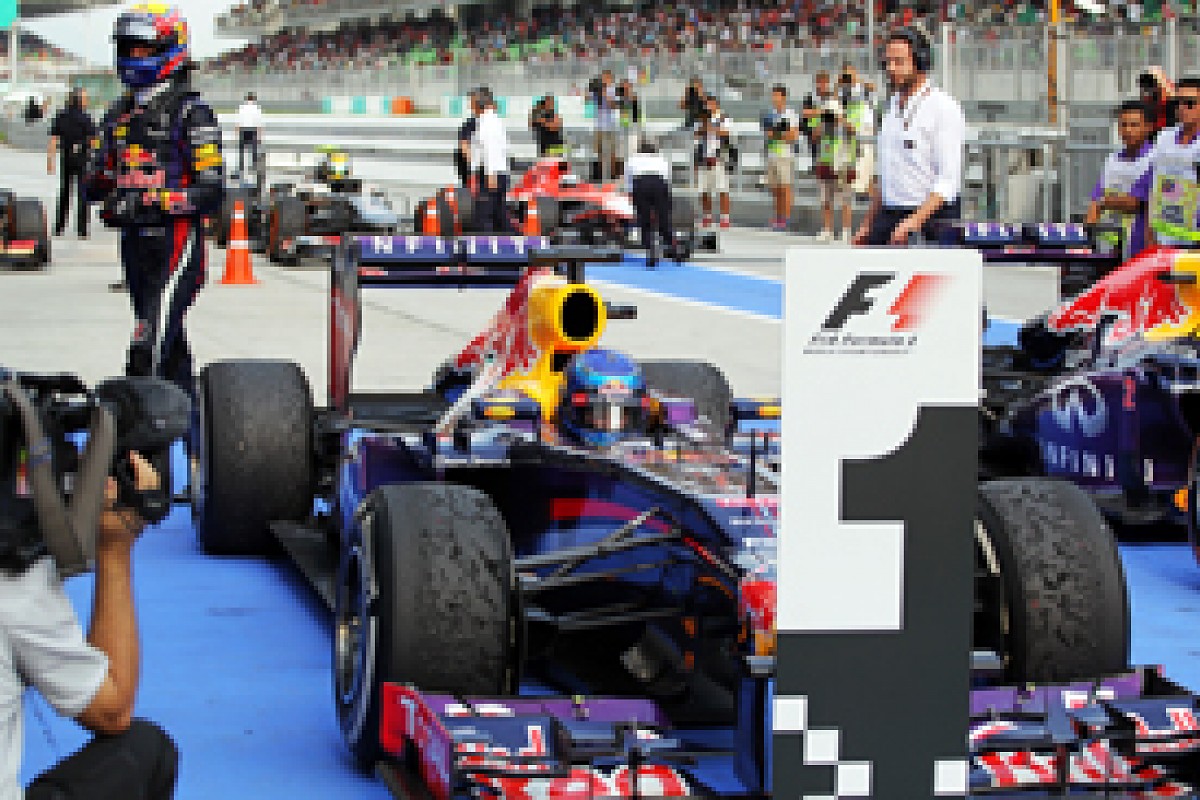 Marko is firmly in Vettel's corner © XPB
Ultimately, this is a situation that Red Bull has created itself, for it has moulded an environment in which Vettel has been allowed to anoint himself as the unthreatened 'chosen one'.
That stance has served a purpose - delivering three consecutive championship doubles - but it has also not been done in the best of ways. Webber is not totally innocent in all this - just remember how after Silverstone in 2011 he said that he too had ignored team orders. But equally he has not created the situation either.
Would any other team in F1 have allowed an in-house publication to let a senior team manager slate a driver as it did when Helmut Marko criticised Webber earlier this year in the Red Bulletin? Would any other team have remained silent about the matter amid a media backlash, and not rushed to publicly back its star?
Red Bull played its part in creating how Vettel behaved on Sunday, for his actions were not those of a disgruntled driver fed up with constantly being crushed. This was a man who has thrived, and become so central to the team that the line between his interests and those of the team have become completely blurred.
How Red Bull reacts in the next few days will be fascinating.
Will it come down hard on Vettel: impose some kind of sanction (even a one-more-strike-and-you're-out threat)? Force him to apologise further? Clip his wings and seize back control of affairs?
Or will it do what Webber fears: ensure Vettel 'has protection' as he always had? Claim the matter has been sorted out behind closed doors? Host a staged photoshoot of Webber and Vettel shaking hands and try to move on by pretending everything is back to normal?
Mirror, mirror on the wall, whose team is this after all?