If you thought the Australian Grand Prix was a bit of a rollercoaster in terms of the fluctuating fortunes for the frontrunners, it was nothing compared to the shifts in opinions and moods that swamped the Albert Park paddock throughout the opening weekend of the season.
Everyone who swiped their art-deco Formula 1 passes in through the paddock gates on Thursday was in agreement that the outcome of the first race was totally up in the air.
Some engineers suggested they had never known a situation like it: testing had offered limited opportunities to work out what was going on and almost no clues to the pecking order.
By Friday evening, the mood had swung around almost completely, with the media and technical personnel all pretty confident (in private at least) that the two practice sessions had delivered almost all the answers we were waiting for.
It didn't make for pretty reading.
Red Bull (especially the car with the number 1 on its front) was well clear, McLaren and Williams were in trouble and Mercedes was as strong as it had looked all winter.
Yet as the sun set on the paddock on Sunday evening - and the teams had little time to ponder all that had happened because they were packing up ready for Malaysia - we were left with even more questions about what was going on.
This, then, is what we did learn at the Australian Grand Prix...
RED BULL HAS THE 'FASTEST' CAR...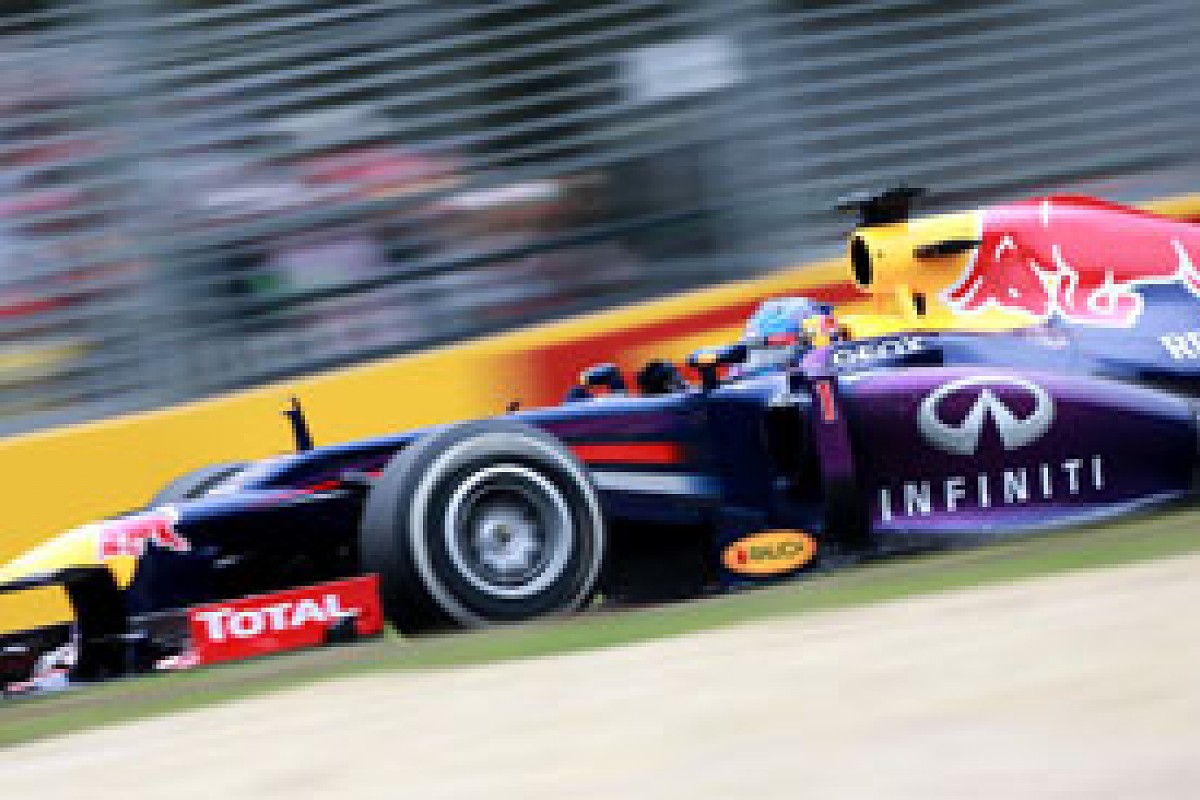 Vettel and Red Bull flew in practice and qualifying © LAT
It wasn't just Sebastian Vettel's topping of the lap times during both Friday practice sessions in Melbourne that convinced everyone that the new Red Bull RB9 was the class of the field.
Instead, it was the fact that his best lap on the super-soft Pirellis in FP2 had been set on tyres that were past their prime. Had he delivered when the grip was as its best, then he could have been at least one second clear at the front.
Such instant pace was reminiscent of Ferrari back in 2002, when Michael Schumacher unleashed unbelievable speed from his car in Australian GP FP1 - 1.5 seconds clear of the nearest non-Ferrari rival - and left no one in doubt about what was going to happen that season.
Vettel's pace in qualifying - even with what looked like a tricky balance during the weather-hit sessions - proved beyond doubt that the RB9 is super-strong. And you only have to look at the way in which he streaked away on the opening laps of all his stints in the race to realise that there is phenomenal speed in there.
Although tyre degradation left Vettel as the 'hare' to Kimi Raikkonen's Lotus 'tortoise', no one is under any illusions about how strong Red Bull is.
Expect many front-row lockouts, even if Sundays may not be so straightforward for Vettel and Mark Webber.
...BUT IS THIS A SEASON WHEN YOU NEED THE FASTEST CAR?
When Pirelli re-entered F1 in 2011 there was great uncertainty about the degradation of its tyres.
Raikkonen's ability to pull off a two-stop strategy was key to victory © LAT
I recall a long conversation with one senior engineer. He voiced his fears that a team that had done its job brilliantly over the winter to produce the 'fastest' car would find its advantage wiped away by the tyres.
Such a scenario never quite played out in Pirelli's first two years, but has Australia shown us that its aggressive step in compound choice this year is edging things that way?
Everyone had raised their eyebrows at the impressive race simulation that Romain Grosjean carried out in the first Barcelona test, so the Lotus's long-run form was a given - as it was last year.
In 2012 Lotus could not switch its tyres on for qualifying, and its long-run advantage was not enough to allow it to overcome what it lost on Saturdays.
Things have changed this year. The Pirellis switch on much better in qualifying, and the increase in degradation means that, if the Lotus is head and shoulders above the rest on tyre management, it's going to reap bigger rewards than 12 months ago.
So races in which it came close to winning in 2012 - Bahrain, Spain, Canada and Hungary - may well be perfect for Lotus this time around, even if degradation is just a few percentage points more.
This weekend's race in Malaysia produces high temperatures and a track layout and surface that are going to push the medium and hard tyres to the limit.
Should Raikkonen be able to pull off another blinder, with Vettel struggling again from pole, we will have the answer: you'll need a 'tortoise', not a 'hare', to win.
THE TOP FOUR HAVE EDGED AWAY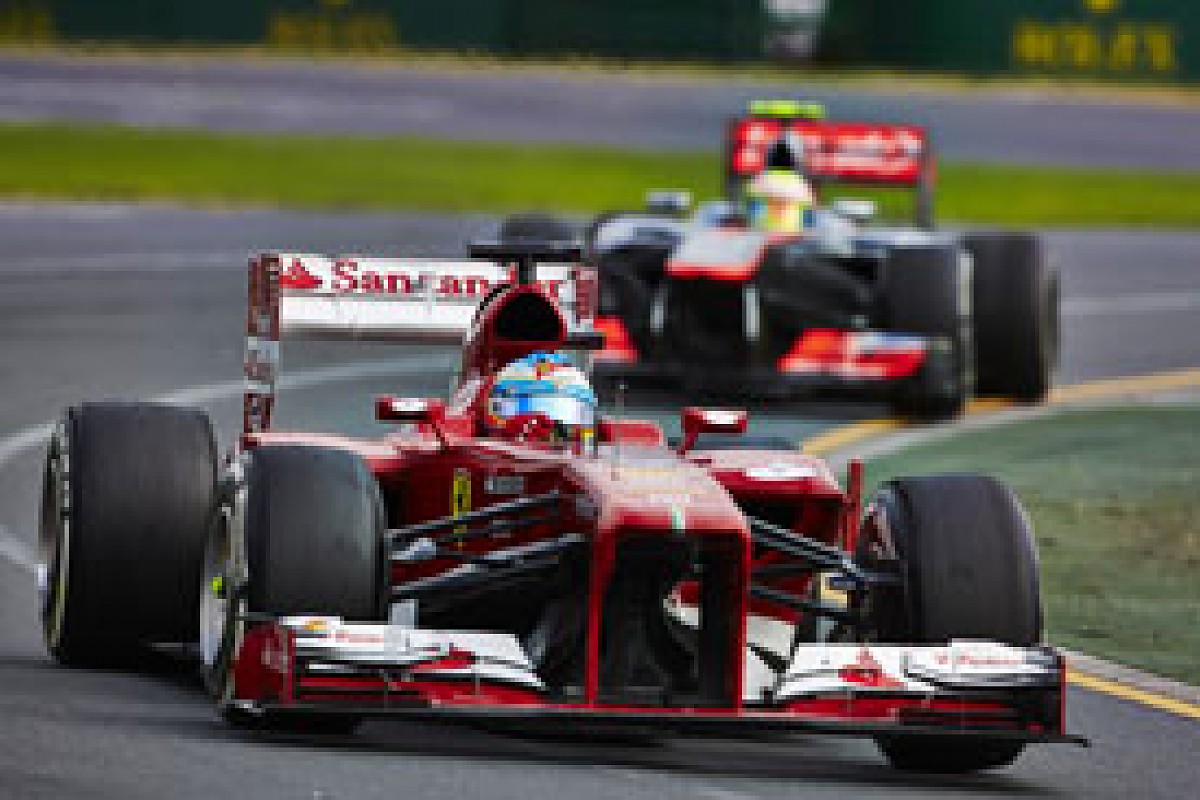 Ferrari, Red Bull, Mercedes and Lotus appear to have edged away © LAT
When 2012 delivered seven different winners from the first seven races, with Lotus adding a win later in the campaign and Sauber coming mighty close a few times, there was little doubt that the swing in form was the result of a grid that was closer than ever.
During the tricky winter-testing period, when cold temperatures and wet weather disguised the formbook pretty well, there was every suggestion that the F1 grid had closed up further. It had seemed such a logical thing to happen, because of the almost complete stability of the regulations.
Yet, judging by what we saw in Australia, it seems that the top four teams (Red Bull, Ferrari, Lotus and Mercedes) have made a pretty good jump over the winter and edged clear of the chasing pack.
McLaren's struggles mean it has been dumped into the tight midfield battle with Force India and Sauber, locked in a fascinating battle to pick up the scraps from Q3 and fight over the limited opportunities to score points.
Adrian Sutil's starring role in Melbourne, albeit helped by his alternative tyre strategy, showed that there is every chance we are going to see drivers with free tyre choice for the start of the race pull off some surprises.
But in terms of the championship, it already appears to be locked down between the top four, unless McLaren can pull off a spectacular recovery with its MP4-28.
It's unclear who's on top of this four-team battle for glory.
Mercedes seems to be the team with the most ground to make up, while Ferrari appears the most consistent.
Can Red Bull, with its blinding speed but questionable tyre degradation, or Lotus, with its questionable speed but light tyre degradation, trump Maranello?
This time next week, we should have a lot more clues.