With comparatively few airlines covering all Formula 1's non-European destinations, these are generally well-populated by grand prix personnel and the sport's media members. Thus the two factions mix and mingle in lounges and on aircraft, with talk invariably turning to the state of the sport.
The long flights to Australia, with inevitable stops in Asia, again provided a host of opportunities. Without exception the main topic of conversation as F1 headed down under was the sport's lack of umbrella structure.
With the Concorde Agreement - the tripartite document that has outlined the mutual sporting, technical and commercial obligations of the governing body, commercial rights holder and teams collectively - having expired on December 31 2012 and no replacement imminent (despite regular mutterings and disingenuous reports to the contrary), Sunday's season opener marks the first grand prix for 30 years not run under the historic agreement.

While it is true that a two-year gap existed between expiration of the 1998-2007 Concorde and implementation of its 2010-12 successor, the fact remains that previously all parties agreed to continue operating under the provisions of the expired document until a replacement was agreed. Thus there is no recent parallel.
That no Concorde Agreement exists - and therefore no clear-cut sporting and technical governance procedures - is absolutely inexplicable, for during the FIA's December World Motor Sport Council meeting in Istanbul Bernie Ecclestone, present in his capacity as representitive of commercial rights holder FOM, allegedly assured the gathering that agreement was nigh.
According to a number of impeccable sources this was repeated at the March 9 WMSC meeting in Geneva, with a promise given that the agreement would be in place 'by the first race' - this weekend.
Yet, according to sources very much within that loop, commercial terms and little more have been agreed with 10 of the 11 teams). As revealed here, the outgoing Concorde Agreement, which provides the basis for the revised document, consists of the following 12 Schedules:
- Schedule 1 Signatory Teams
- Schedule 2 Team Details
- Schedule 3 Definition of a Constructor
- Schedule 4 Grand Prix Host Contract (Promoter/CRH)
- Schedule 5 Grant of (Commercial) Rights
- Schedule 6 Grand Prix Host Contract (National Sporting Body/FIA)
- Schedule 7 F1 Technical Regulations (as prevailing from time to time)
- Schedule 8 F1 Sporting Regulations (as prevailing from time to time)
- Schedule 9 F1 Governance
- Schedule 10 Financial
- Schedule 11 Driver Contract Recognition Board
- Schedule 12 Definitions
Ecclestone is pushing for a two-tier structure in F1 © XPB
Given that FOM wishes to totally restructure F1's governance procedure and revise the present revenue-distribution format, major revisions to Schedules 9 and 10 are required. The Definition of a Constructor (Schedule 3) is also up for change.
Extremely slow progress is said to have been made on Schedule 10's wording, while broadbrush agreement on the provisions of Schedule 9 has yet to be reached. FOM CEO Ecclestone appears to have intensified his push for an 'A Team/B Team' structure, with the latter procuring 'old' technology from the former, so Schedule 3 could yet be rewritten in its entirety if agreement on the concept is reached.
Thus there is no way that the 2013-20 Concorde Agreement could have been signed by a dozen different parties - each with their own agendas - during the week between the WMSC meeting and the opening grand prix of the season, particularly as each party would have, at the very least, consulted legal counsel. Then, of course, the EU Commission may elect to intervene...
In fact, about the only recent progress made is that Ferrari's historic veto over regulation changes has been retained, removing the possibility of the Italian constructor withdrawing from Concorde talks. But a raft of other potential obstacles, such as Marussia's status (the team still having no commercial offer, despite having had its entry accepted and confirmed by the FIA) remain outstanding.
Despite - or possible due to - these glaring anomalies, 82-year-old Ecclestone elected to give Melbourne a wide berth. Paddock speculation blamed his age and the effects thereon of a long-haul flight, although the need to postpone Melbourne's event-hosting contract negotiations (it expires at the end of 2015, with incoming state premier Denis Napthine expressing reservations about FOM's fees) was also cited.
FIA president Jean Todt did make the long trip and was observed enthusiastically pressing flesh up and down the paddock, including with all team principals.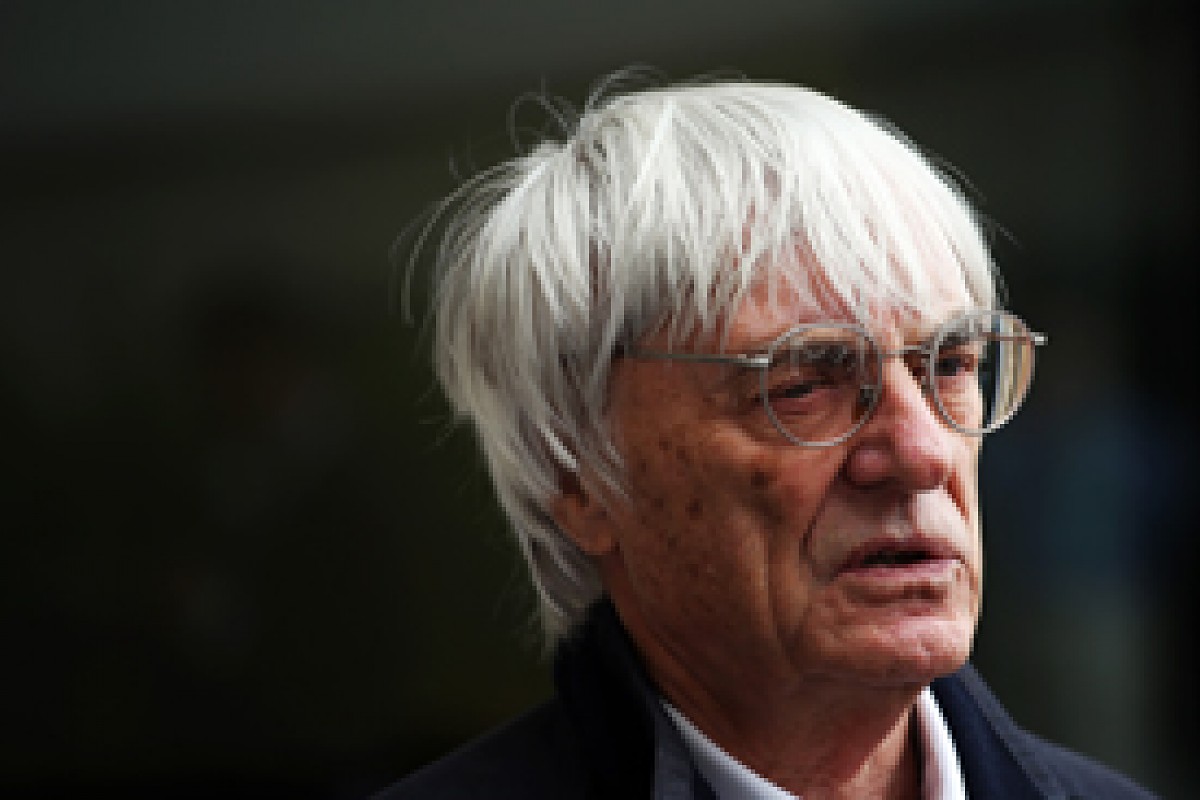 Marussia top brass Lowdon and Booth are in positions of power right now © XPB
F1's two main players, who held high-pressure talks in Geneva on the eve of the WMSC meeting (the subject of which was Concorde), are due to meet again in Malaysia next weekend if Ecclestone makes the journey. Oh to be a fly on the wall for, as disclosed here, the pressure is now very much on Ecclestone to get Concorde sorted.
Unusually, Marussia finds itself in an extremely powerful position, for inherent in entering into commercial agreements with FOM is the ceding of teams' image rights to the commercial rights holder for broadcast and other commercial purposes.
Thus, unless a binding agreement is in place, the team retains full control over its image, which no other party may exploit for commercial purposes without express permission.
Effectively FOM is a wholesale trading organisation, one purchasing F1 products and services (including image) from suppliers (teams) and repackaging said products to make them attractive to race promoters and broadcasters.
These in turn retail them to spectators or viewers as the case may be. Traders dealing in goods without supply agreements in place are effectively doing so without authorisation. Isn't that called theft?
Accordingly Marussia, as a supplier, would be well within its rights to forbid FOM from televising footage of its image until such time as agreement is struck - which could place broadcasting of races in jeopardy.
Could it come to that? According to a senior team member, "Unlikely; we'll see what develops", but it's clear that should the financial pressure on Marussia increase, so it will no doubt be forced to review its options...
The big question is why Ecclestone has not made an offer, having done so with all others. Marussia has not, after all, disgraced itself by failing to qualify despite the 'budget' team participating in an open warfare scenario after having signed up under former FIA president Max Mosley's £34.5million annual budget cap concept.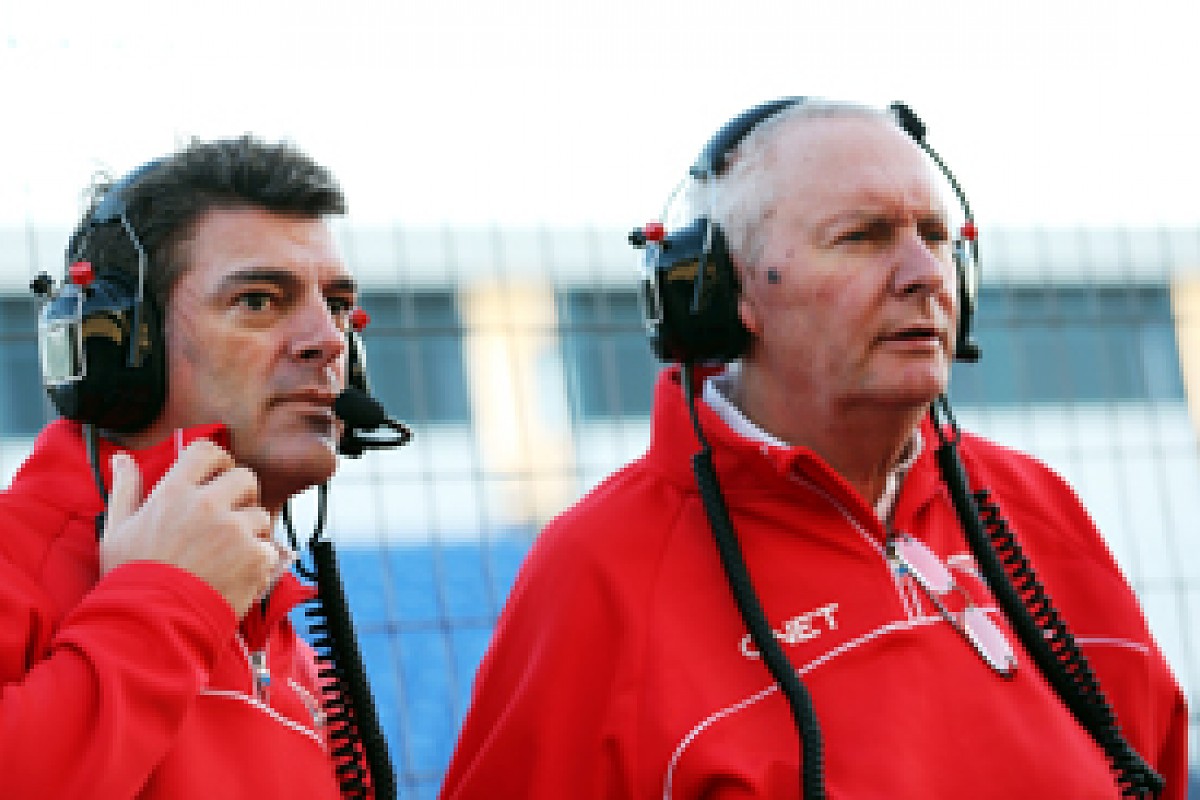 Scorpion Racing attempted to buy HRT during the winter © XPB
The best supposition is that the team has become an inconvenience by placing a spoke in the wheels of Ecclestone's preferred A Team/B Team structure, for this requires an even number of teams to function - even if it goes against the basic tenet of F1, namely that teams build their own cars to prescribed regulations.
This also explains why Canada's Scorpion Racing, which planned to acquire the assets of defunct HRT, was initially welcomed with open arms by Ecclestone, the F1 tsar going as far as to assure its principals their (extremely) late entry would be accepted by the FIA, despite such acceptance being in breach of the FIA's code.
Marussia's demise would ensure the 10 remaining teams are split evenly with five teams in the 'A' division and five as 'Bs'. However, its dogged refusal to lie down and die meant Scorpion Racing would have redressed the balance by making it six each.
Although the concept was knocked firmly, albeit temporarily, on the head during recent team-boss meetings due to the complex 2014 chassis/engine regulations making it difficult for A Teams to sell customer kit during the eco-friendly formula's inaugural season, Ecclestone is believed to be pursuing the concept for introduction in 2015 or later. However, to do so, provision would need be made in the Concorde Agreement.
CVC Capital Partners, FOM's ultimate holding company, sees the concept - which has been floating about for more than a few years - as means of reducing payouts to 'suppliers', for A Teams would generate revenue by selling off their previous year's technology, with smaller operations benefitting by not building new cars each season.
Under the concept Red Bull would supply Toro Rosso, with Sauber running customer Ferraris. McLaren would supply, say, Force India, with Caterham buying technology from Lotus.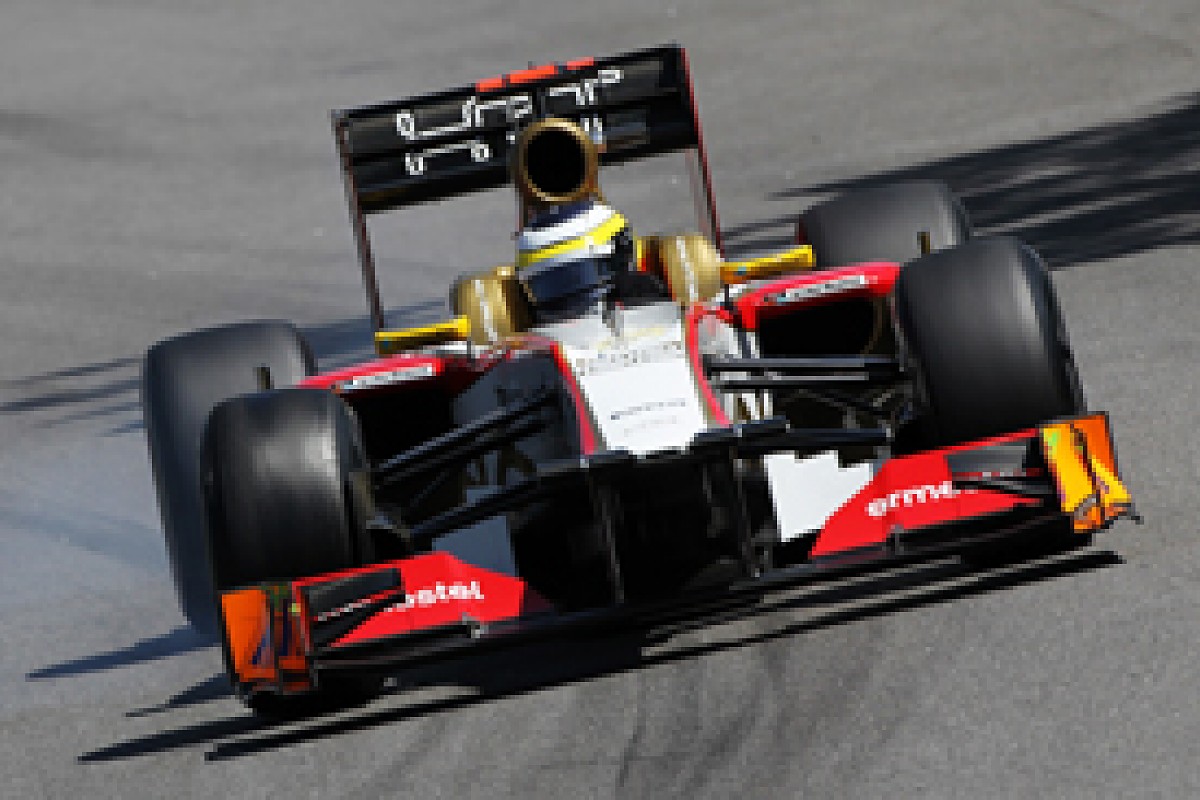 Would Sir Frank build or buy? © XPB
The ideal scenario would have enabled Mercedes to supply Marussia, and for Williams to hand down used kit to Scorpion - in fact, according to sources negotiations along these lines were in progress when HRT's liquidators auctioned off the cars.
Hence the inconvenience that is Marussia, for Sir Frank (as odd A Team out) would surely refuse to buy used Mercedes kit, but therefore need a customer team to make the concept viable.
Thus F1 continues to hang in limbo, despite the season having got underway as this is written - with it appearing increasingly likely that the entire season will mirror the bloody acrimony of 1981, when the championship last ran ungoverned.
Yes, all parties are currently working hard to keep the lid on and avoid controversy, but whether they can do so for the full 19-race season is another matter entirely.