Lewis Hamilton's encouraging early practice form at the Australian Grand Prix - aside from that late run off the track - has delivered proof that Mercedes's winter-testing speed is as genuine as his enthusiasm for his new surroundings.
After a winter of varying expectations for the Brackley-based outfit, from the woes of the first test days at Jerez to the promise of the final runs at Barcelona, Hamilton is on a high ahead of his first race for the Silver Arrows.
He not only appears to have a car underneath him that gives him a genuine shout of fighting for victories, Red Bull dominance permitting, but he is equally in love with the way Mercedes approaches its work.
When asked by AUTOSPORT if what he had found at Mercedes had made him happier, he said: "It definitely has. The move has definitely given me a new spur of life and excitement, which is great.
"The other day just going on the simulator... I had driven the simulator at McLaren since I was 13 so that is a long, long time...with lots and lots of laps.
"It got to the point where I was dreading going back and doing the simulator running. Even though it feels great and people would love it.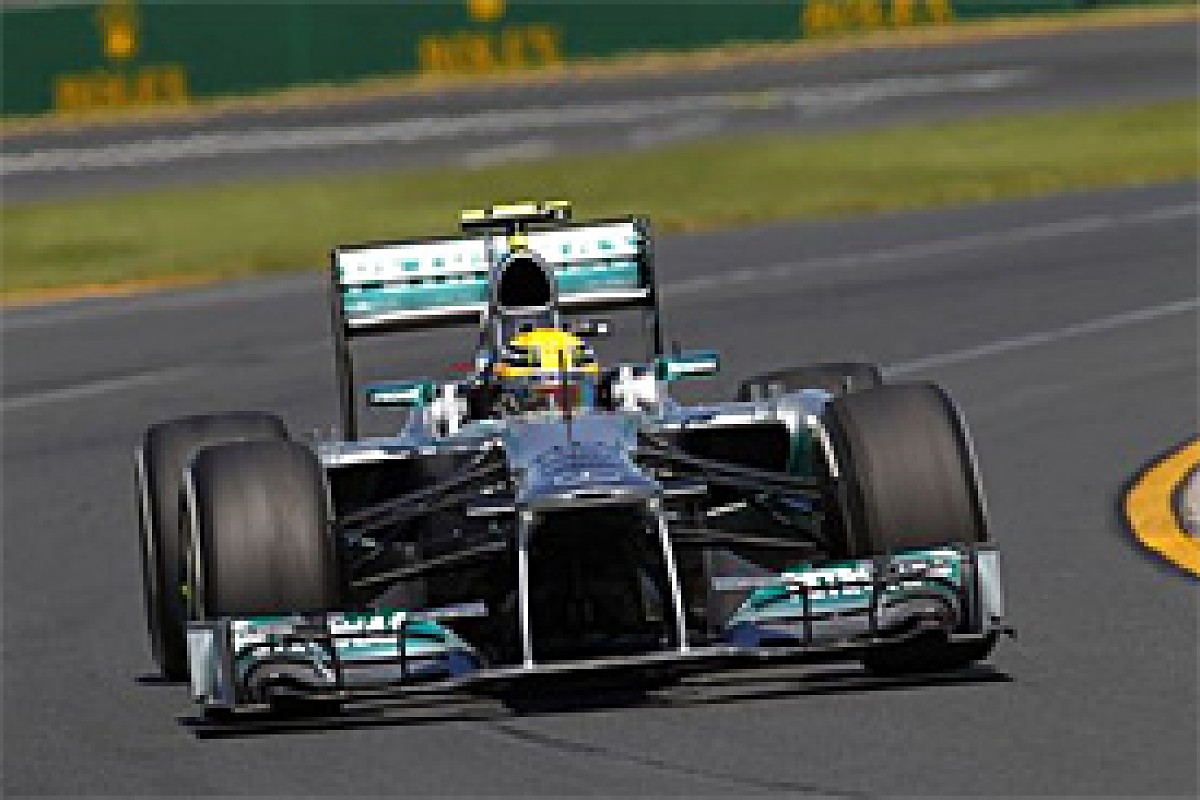 Hamilton showed encouraging pace in practice © LAT
"But now I am calling Mercedes and saying, 'I am coming in today, hook me up and sort out the sim for the whole day because I want to work on this area, and fix this area that we want to work on.'
"There is so much to do. When I am in the cockpit it is just a completely different feeling."
REINVIGORATING MERCEDES
Ahead of the action kicking off at Albert Park, Mercedes team principal Ross Brawn said that Hamilton's arrival had reinvigorated the outfit, and delivered a new sense of purpose to its efforts.
"He has brought quite a fresh gloss to the team in terms of the way he has approached it and the way he is working with the engineers. I am delighted with the way it has gone so far," said Brawn during a lunch with the media ahead of the weekend.
"It is very encouraging so far, and it is really a motivating buzz for the team to be working with Lewis."
New Mercedes motorsport boss Toto Wolff backed up that stance, too.
"You can see the difference between the good drivers and the very good ones," he said.
"Working with Lewis is very interesting. He is not only very talented with a heavy right foot, he has also settled in well with the team. He has big intelligence, is building alliances and is a great guy."
Hamilton may be reluctant to accept the total praise, but said he had been aware of a change of atmosphere since he joined.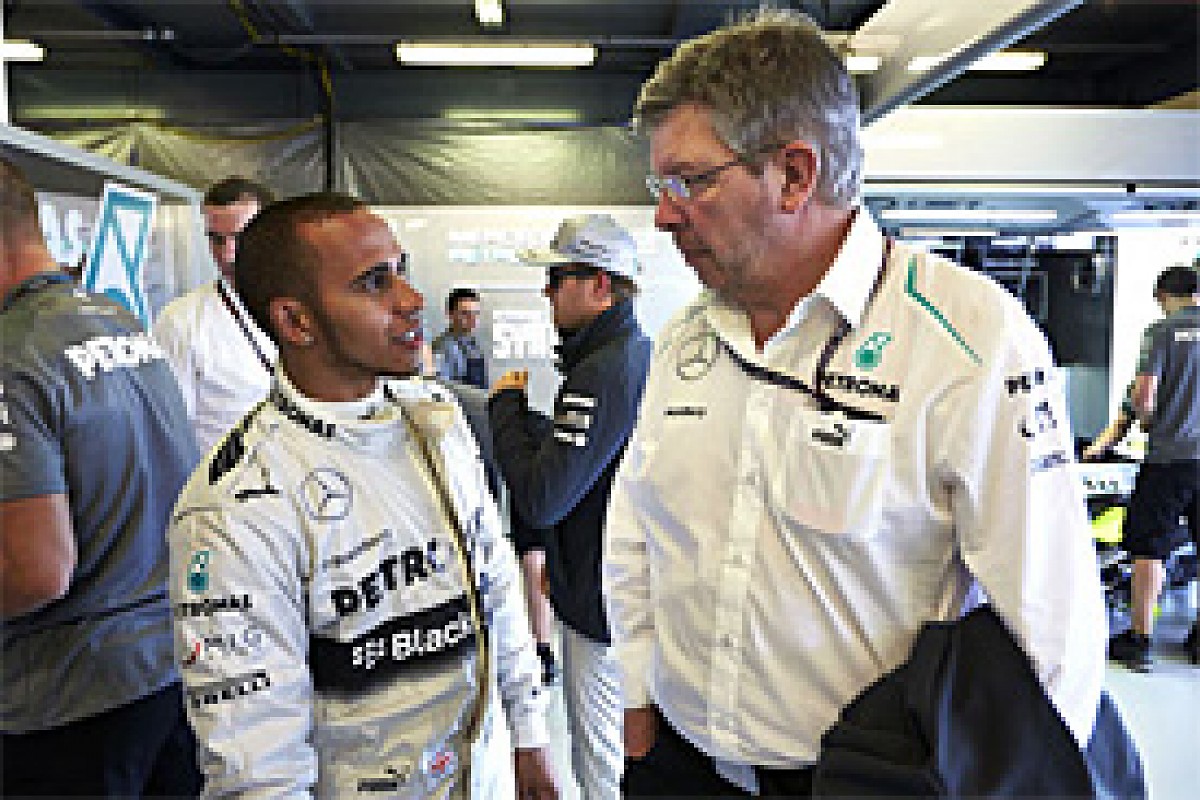 Brawn reckons Hamilton reinvigorates his team © LAT
"I wouldn't like to say I have lifted the team. The team are a great team. They were a great team, and they have been unfortunate to not have a good car.
"But I hope that, because I have come in with a lot of energy and excitement, saying, 'guys let's do this, let's do that', it shows I am on it.
"So hopefully I am inspiring them as they inspire me. I say to them, 'have you thought about this? Have you thought about that?' Working with these guys and asking them questions gets them thinking and that's good to see.
"It has been great to see some of the input I have had, and to see it happen immediately has been great."
NO MORE NEED FOR A HAPPY BUBBLE
It may still be early days, but Hamilton appears back to his best, with his house fully in order.
It's far removed from the man who famously said he was chasing the notion of having a 'happy bubble' around him in F1 during a difficult spell at McLaren.
"I think what I relate it to is when I was really young, I had superstitions," he smiled. "Say something goes wrong and you don't have your lucky boxer shorts on - everything goes to pot.
"When I talked about the bubble, I thought I needed that bubble. Then, if someone pops that bubble, you are in trouble.
"So somehow I like to think I have worked around it and now I don't think I have to have a bubble.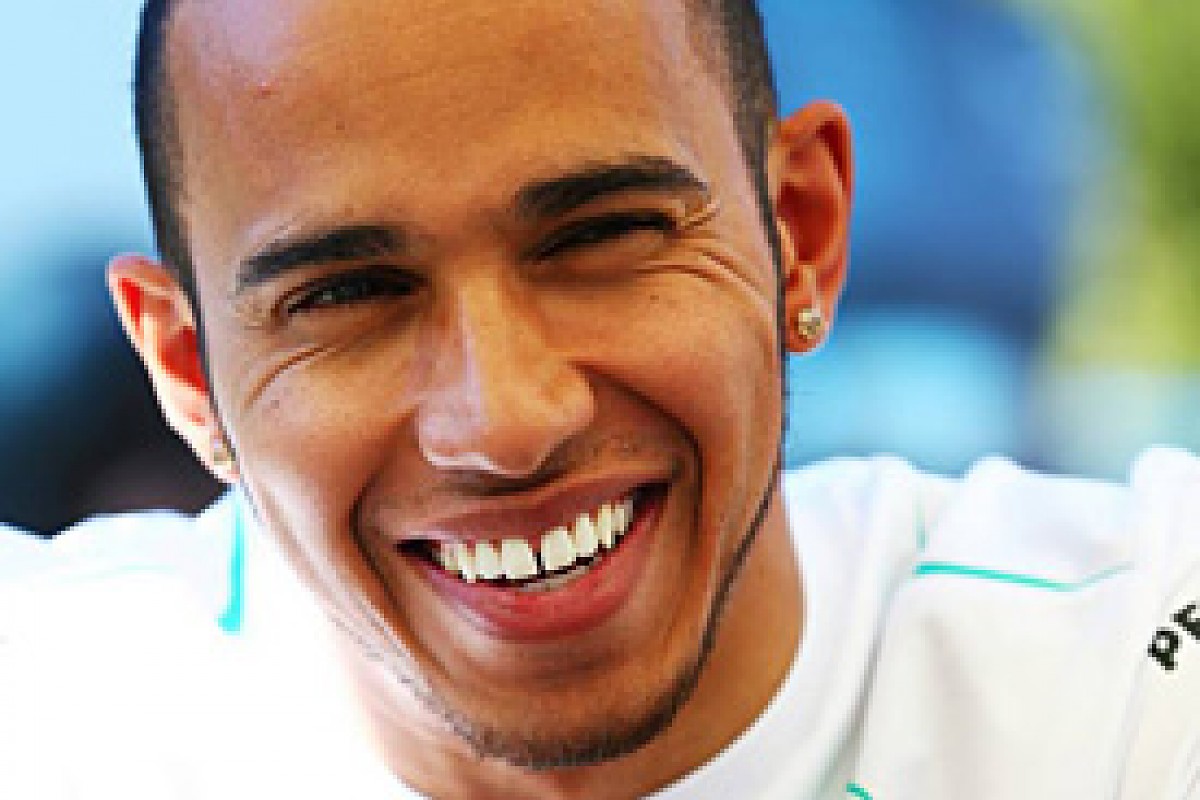 Hamilton, all smiles at Mercedes © XPB
"I've got a good group of people around me. There's a question mark over whether it's too many or too little, but I'm on the limit in terms of how many people I've got working with me.
"But I feel I have the right people in place. The right assistant, the right manager, the right assistant managers. And I'm in the right team, with the right girlfriend, with the right place where I am living.
"I feel I have all the pieces of the puzzle coming into place - and more so in the future."
The next step will be to get hard results on track. And that could just be hours away in Melbourne.