Drivers
• Sebastian Vettel secured pole position and victory in 2011 and was second last year in Melbourne - his only two podium finishes here. Previously he had retired three times on the trot. He started from pole in 2010 and '11 and has never missed a top-10 grid slot at Albert Park
• Mark Webber has never been on the podium in his home grand prix in 11 attempts. His best result, fourth, came last year. He hasn't shone in qualifying either, starting from the front row only once, in 2010 (second). His form has improved though: he has scored points in the past three races, while in the previous eight he scored only twice.
• Fernando Alonso has only been on the podium in Melbourne four times, from 2004 to '07 (victory in '06, second in '07, third in '04 and '05). He has scored points in his past 10 Australian GPs (missing out only in his Minardi year). He has only started on the front row twice, in second in both '06 and '07, while last year he infamously missed the Q3 cut. He is 9-2 up against his team-mates in qualifying here, a testament of his qualifying speed.
• Albert Park is not one of the best tracks for Felipe Massa. He has retired six times out of 10 (three accidents, three failures) and has only climbed on the podium once (third in 2010). He has also only qualified in the top 10 five times out of 10 and has never spent a single lap in the lead here.
• Jenson Button is second only to Michael Schumacher for wins in Melbourne, winning three times in the past four years. He missed out on the podium in 2011 after serving a drive-through penalty for overtaking Massa while shortcutting the track. He has started from pole twice, in '06 and '09, and in the past four years has always qualified in the top four.
• Sergio Perez was eighth last year, after starting from 22nd on the grid. A superb start catapulted him up to 12th at the end of the first lap. He had finished seventh in his debut race the year before, but was disqualified for a technical infringement on his Sauber.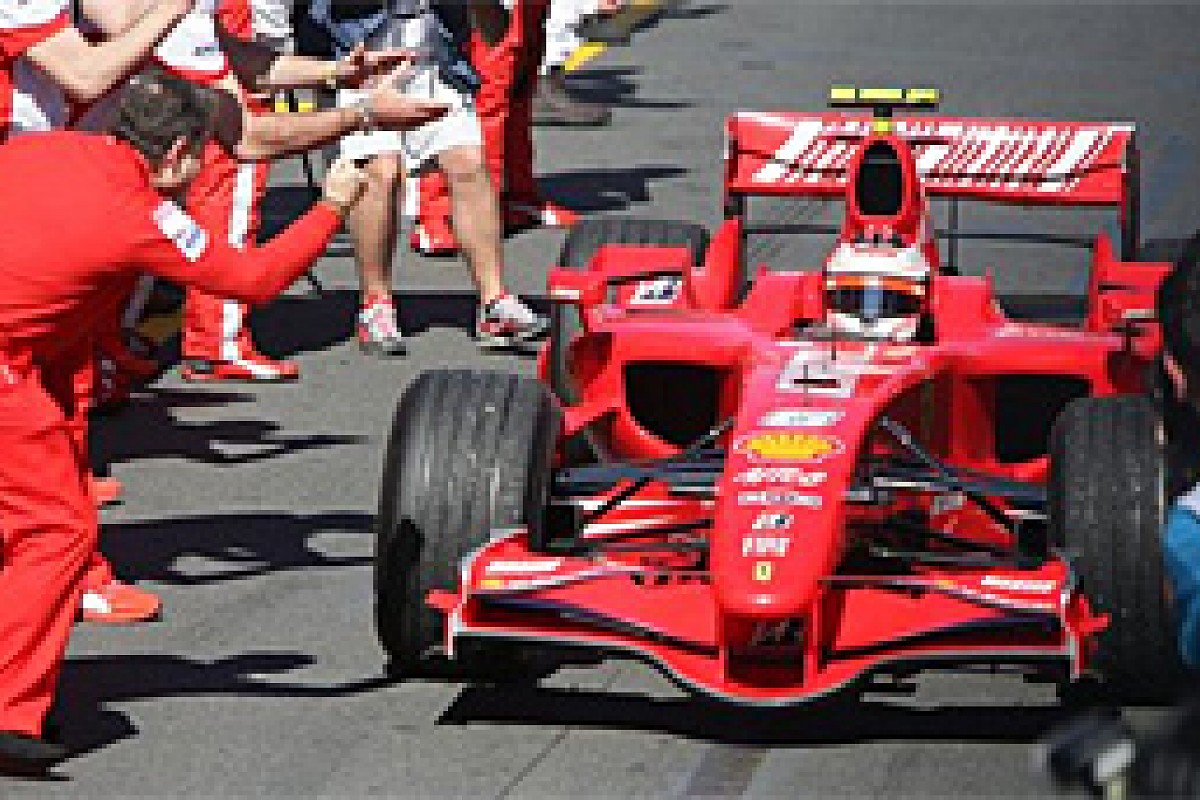 Raikkonen won for Ferrari in 2007 © LAT
• In 2007 Kimi Raikkonen scored the pole, victory and fastest lap hat-trick, but wasn't able to climb on the podium in his next three races here. He has been on the podium four times in total in Melbourne: three with McLaren plus the aforementioned win with Ferrari. He has missed out on points here only twice, in '04 and '09, when his car failed. Despite these strong race performances, Kimi is only 3-7 in qualifying against his team-mates here.
• Lewis Hamilton has finished on the podium in Melbourne four times out of six, with a win and a pole position in 2008. He was again on pole last year, but he had to settle for third after a safety-car intervention ruined his strategy.
• Nico Rosberg scored here his maiden podium here in 2008 (third for Williams), his best race here. In the past two years he has been involved in accidents - last year with Perez, two years ago with Rubens Barrichello.
• Nico Hulkenberg has raced twice in Melbourne and suffered first-lap accidents on both occasions - in 2010 he was hit by Kamui Kobayashi, last year by Webber.
• Pastor Maldonado has missed out on points in his two Australian GPs: in 2011 his transmission let him down and last year he crashed on the last lap trying to keep up with Alonso.
Teams
• Australia is not a lucky race for Red Bull. Only Vettel has managed a podium for it here, on two occasions with a win in 2011 and a second-place finish last year. In the past two years Red Bull has never finished the race lower than fifth and never qualified lower than sixth. Curiously, only the Red Bulls have lapped under the 1m24s mark here: Vettel did it in '10 and '11 in Q3 (1m23.919s and 1m23.529s). The best of the rest is Alonso, with a 1m24.111s, set in Q3 in '10.
• With three wins in the past five years, McLaren equalled Ferrari at the top of the charts for wins in Melbourne, with six each. Like Red Bull, the Woking squad also showed good pace here recently - in the past three years it missed out on a top-four qualifying slot only in 2010 with Lewis Hamilton (11th).
• Ferrari has the same number of wins (six) as McLaren in Melbourne, but it hasn't won since 2007 with Raikkonen. Since then, the Scuderia has only scored one podium - a third from Massa in '10. Ferrari's most-recent front-row start here came in '07 (Raikkonen, pole), and since then the red cars have started no higher than third. Last year both cars missed the Q3 cut.
• Mercedes usually shows good pace in qualifying in Melbourne: five times out of six it has started between the fourth and the seventh grid spot, and only Schumacher missed the top-10, two years ago (11th). Mercedes' race results are a different story, and its last points finish came in 2010, with Rosberg fifth and Schumacher 10th. In the past two years the cars retired three times from four starts.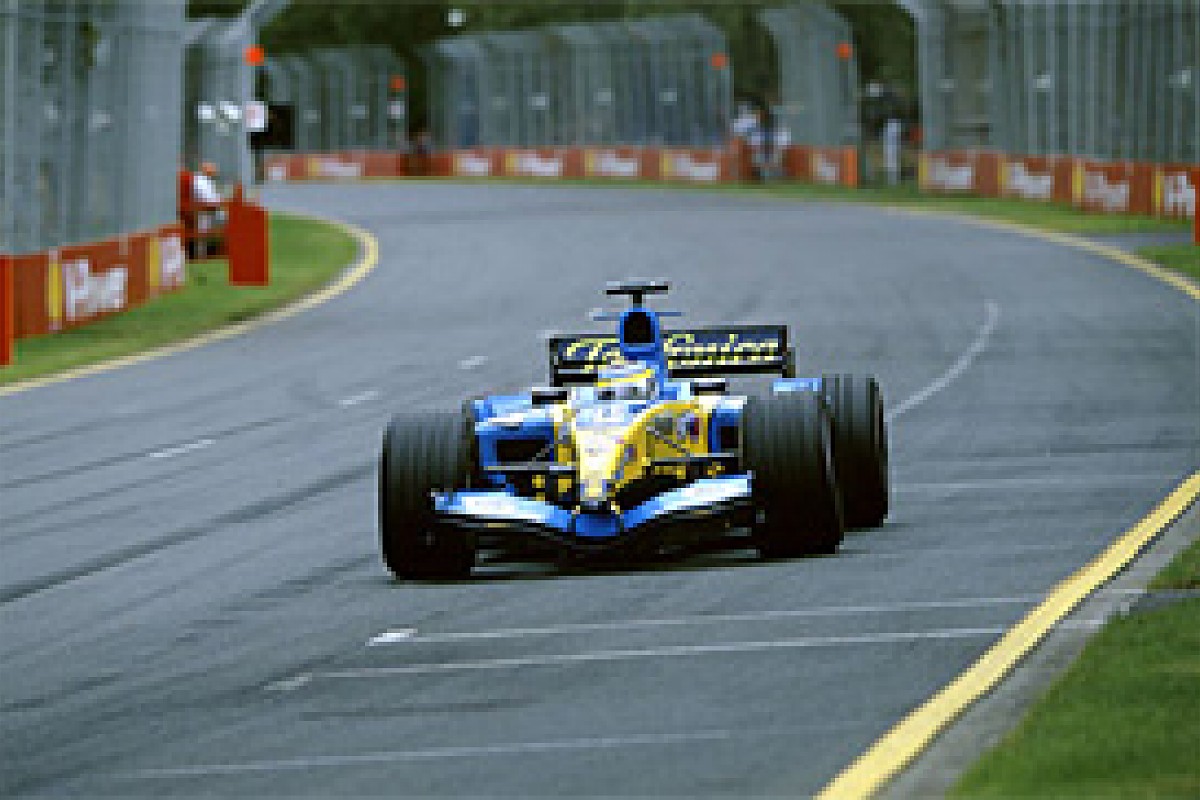 Fisichella on his way to victory in 2005 © LAT
• Lotus won here as Renault in 2005 and '06 with Giancarlo Fisichella and Alonso respectively and took its most recent Australian podium finishes in '10 and '11 with Robert Kubica and Vitaly Petrov respectively.
• Williams has won only once in Melbourne, in the inaugural race held here back in 1996 with Damon Hill. Since then, it has amassed six podium finishes, the last in 2008 with Nico Rosberg. Its last points came in '10 with an eighth place by Barrichello. In the past two events it didn't get to the finish: last year thanks to accidents, two years ago with a double transmission failure.
• Since 2009 at least one Force India car has been able to finish in the top-10 here. In the past two years it has scored points three times from four starts.
Other notes
• Only two drivers have led the Melbourne GP from start to finish: Michael Schumacher (2004) and Jenson Button ('09).
Schumacher is the winner of both the slowest Melbourne race (2001: 116.490mph) and the fastest (2004: 136.093mph).
• The pole-winning lap has never dipped below the 127mph mark, the slowest being the first one, in 1996, at 128.403mph.
Notes on the new (and the old) drivers
The new veterans of F1 are Button (228 races) and Webber (36 years of age). They take over from Schumacher, who in 2012 started the season at 43 and 286 races under his belt.
With Schumacher gone, there are no drivers on the current 2013 grid who raced in the '90s.
The oldest champion (based on the first championship won) now is Alonso, who took the crown in 2005. He is only 31.
The oldest race winner is now Raikkonen, who won his maiden race 10 years ago in Malaysia. Last year the oldest winner was Schumacher, who took his maiden win exactly twenty years before, in 1992.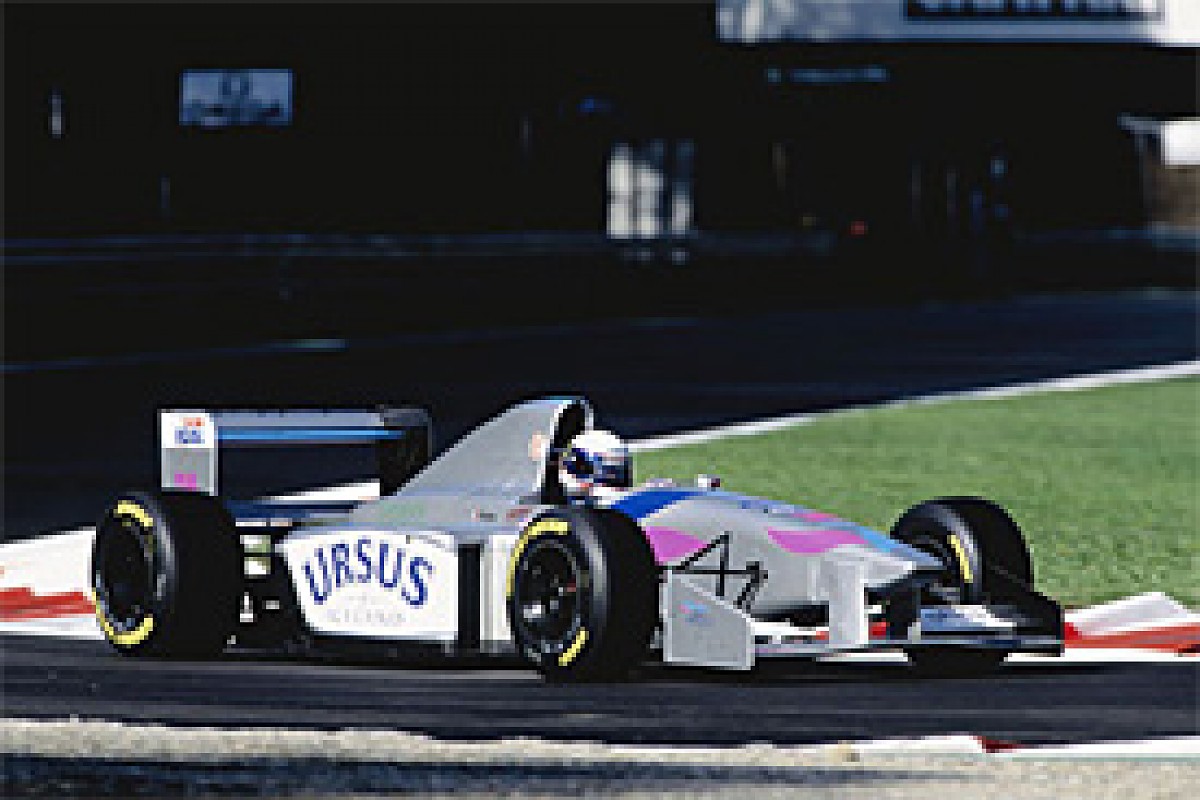 Bertrand Gachot, one of the 10 French drivers who raced in 1994 © LAT
For only the second time in history, and the first since the 1968 Mexican Grand Prix, there will be two Mexicans on the grid - Perez and Esteban Gutierrez. The last Mexican pair to race together was Pedro Rodriguez and Moises Solana.
For the first time since the 2001 season, there will be no Japanese drivers on the grid.
There haven't been four French drivers on the grid since 1994, when no fewer than 10 appeared at some point: Jean-Marc Gounon, Bertrand Gachot, Philippe Alliot, Yannick Dalmas, Erik Comas, Franck Lagorce, Olivier Panis, Paul Belmondo, Eric Bernard and Jean Alesi.
Twenty years ago, in 1993, there were four French starters: Alliot and Comas in the Larrousse team, Alain Prost (who became champion at the end of the season) with Williams and Alesi at Ferrari. During the year Gounon also made two appearances for Minardi.