Eleven years ago, Mark Webber climbed onto the Australian Grand Prix podium after his sensational Formula 1 debut with Minardi. He wasn't there on merit, but his appearance there was merited for he had hauled an uncompetitive Minardi home an unlikely fifth.
But he hasn't got anywhere near the Albert Park podium since.
Webber has bettered that result, finishing one place higher than he did back in 2002 with fourth place for Red Bull last year. But his Australian Grand Prix CV is predominantly one of mishaps, misfortune and mistakes.
That's why, while many are tipping Red Bull to shed its low-key testing form and hit the ground running with victory in Melbourne this weekend, few are looking beyond the German side of the garage. And with good reason.
Webber typically downplays his desire to win at home. But forget the rhetoric about this race being worth the same as the other 18 on the calendar. Everything we know about him tells us that he wants this one more than any other.
He has been frustrated in the past by home press coverage of his F1 exploits. That remarkable debut raised expectations far beyond what was realistic. For the first seven years of his grand prix career, the narrative was too often of criticism for failing win in mediocre machinery.
That's why a home victory would mean so much. It would wipe away some of the hurt of the years of negative coverage and establish him as a much-needed green and gold hero at a time when members of the once-mighty Australian cricket team are being left out of test matches for failing to hand in homework...
This is where Webber's old nemesis, pressure, comes in.
Webber does live up to the stereotype of the hardened Aussie sporting star. Even his Twitter handle - @AussieGrit - references that.
But while he has shown admirable strength of character to prevail in some situations, in others he has come up short. Like a suspension arm, he is mighty under the pressure of being the outsider but brittle when it comes from a different angle.
Webber on the podium in 2002 © LAT
Back in 2002, Webber had nothing to lose. He was on a short-term deal with Minardi and the prospects of his F1 career lasting more than a few races were bleak. He had made it to the top level through the aforementioned grit and determination, not to mention a decent amount of success. Just being there was a triumph.
When he went into that race with zero expectations either of getting a result, or of laying the foundations for a long top level career, he excelled. Maybe there was an element of the "me against the world" mindset that served him well at times during his 2010 world championship campaign, but which backfired disastrously when he tried to recreate by criticising the team for lack of support in that year's run-in.
That brings us back to the home hoodoo. Since 2009, he has had a car under him capable of challenging for victories but while there has been some bad luck in his way, he hasn't always responded well on home soil. This won't have escaped the notice of Webber, who is a keen student of sports psychology.
Ultimately, there is no reason to expect things to be any different this weekend. Or this season, for that matter. It's impossible to be certain at this stage that the Red Bull will be good enough to win this weekend, but if it is Webber will have the bit between his teeth. Potentially too hard. At the top level, it's a psychological game and he will have to prove that his desperation to win at home doesn't distract him from the job at hand.
Psychologists refer to the dangers of losing 'process focus' - the ability to concentrate, step by step, on the usual processes needed to achieve success - in favour of 'object focus' - whereby the driving desire to achieve a set goal means that the bread and butter work is neglected. This is why drivers so often mumble something about taking things "step by step" when asked about objectives and targets.
A home win could have a transformative effect on Webber. In 2010, he did get himself into a championship-winning position, only to blow it with that crash in Korea and a poor performance in the title shootout in Abu Dhabi. Having spent much of the year playing the underdog, once he had driven himself into the position of favourite, things went wrong. The pressure was applied in a very different way. Granted, it was only two races that let him down, but at this level the margins between ultimate success and failure are tiny.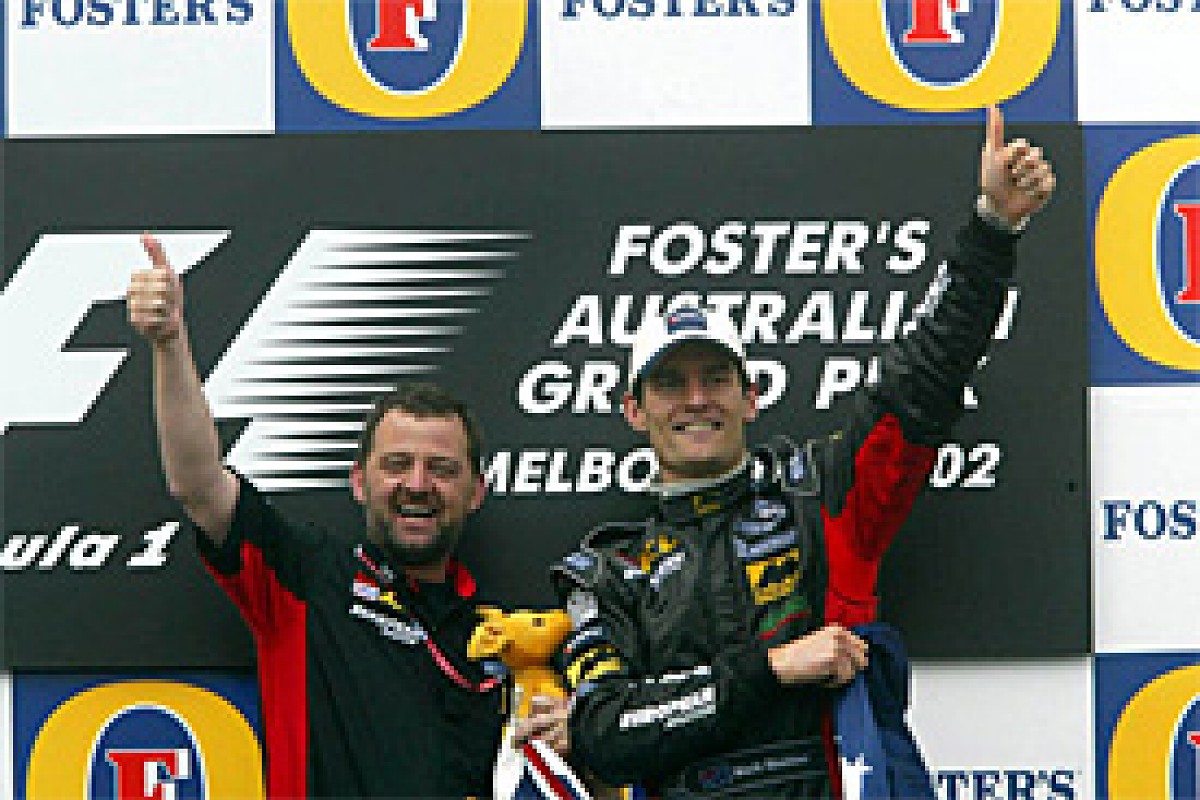 Webber finished fourth at home in 2012 © LAT
Since then, team-mate Sebastian Vettel has gone from strength to strength. Webber, meanwhile, remains as convinced as ever that he can be a champion but has been relegated to a handful of great weekends and a lot of consistent scoring over the past couple of years.
What Webber really needs to do is take his eyes off Vettel. Until pitted against the German, Webber was famous for the mind games he would play on his team-mate to gain supremacy in the team. Vettel's focus is unbreakable (save perhaps for his own home soil jinx), however, and he has proved unflappable. Ironically, the failure to get under Vettel's skin appears to have got under Webber's skin.
While Red Bull's motorsport advisor, Helmut Marko, doesn't rate him, that doesn't mean that he's a second class citizen in the team, for Red Bull co-owner Dietrich Mateschitz does like Webber. What's more, any suggestion that his side of the garage isn't doing everything it can to win is risible.
For the past three years, Webber has had the equipment to win the title. He probably will do again this season. It's up to him how he uses it. Most drivers would kill for one season in a title-contending car and Webber will probably have a fourth crack at it in 2013.
Momentum is key. Webber is unfortunate in combining a need for a strong start with the fact that the highest-pressure race of the season is the first one. But if he can get the best out of himself and take a home win, perhaps that might disabuse him of his more self-destructive tendencies.
Webber isn't a Vettel or a Fernando Alonso-beater over a season, but he's not as far off as many think. He's merely a very good driver being made to look worse by an all-time great team-mate. That's why he has kept his drive despite two campaigns that pale into mediocrity in terms of results when compared to Vettel's.
But he remains a seriously quick racing driver and at the top of the second-drawer pilots behind those few of championship calibre. A strong start, allied to the kinds of drives that we've seen at Silverstone and Monaco in recent years, could help him to achieve more this year. That could be enough to keep him close enough to the points lead to be a factor if the more fancied runners hit trouble. But, ultimately, much depends on what happens in Melbourne.
If he did win, it would be a famous win for a popular, likable, very quick and well-respected driver. But there remains the nagging doubt over whether he can get it together.
Sunday's race is far, far more than just five per cent of Webber's season.