Gambit. From the old Italian expression dare il gambetto, literally to extend a leg to trip someone. A classic opening to a chess game where you, in effect, offer a pawn to your opponent in the hope that they accept its sacrifice and in doing so lay themself open to attack.
Nico Rosberg knows a thing or two about games. He lists chess and backgammon among his hobbies - more about that later - and in his first year in Formula 1, driving alongside Mark Webber, he learned the hard way about the repertoire of mindgames a veteran driver can bring to bear on a rookie. It would serve him well when he came to share a garage with Michael Schumacher.
Nico has always been among the smartest and most articulate of F1 drivers, but after seven seasons in the sport he can streetfight with the best of them. Little wonder then that it was him rather than Michael who became the first Mercedes driver of the modern era to record a grand prix triumph.
"It was an amazing feeling," he says of China 2012. "It had been a long time coming both for me and the team, and it was special to share it with everybody because they all deserved it. It was about time!"
Although of Finnish parentage, Nico was born in Germany and races under the German flag. He speaks with Germanic precision and more than a hint of canny PR-iness, distributing praise with diligent equality and seasoning his narrative with caveats when required.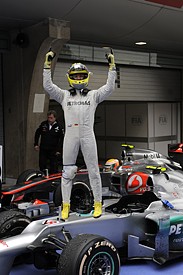 Rosberg dominated in China last year © LAT
Asked if the pre-race simulations suggested a win was on the cards in China, he says: "Definitely not, no. I think maybe we knew during the last pitstops or something, but not before that. The previous two races we'd had a bad race car - a bad car for the race, I mean, because in qualifying we'd been good - so I didn't have such high expectations.
"But we changed a lot of things and it came good in China. At the last stop I knew that I was on a two-stop and the others were on three."
Well, that's what he says. But the fact that he'd been ballpark quick throughout practice and had then completed only three laps in each of the final two qualifying sessions suggests that he and his team knew they were on to something. It takes a gambetto to persuade Nico to stumble a little.
F1 Racing tentatively suggests that China was one of those early-season races where everyone was getting used to the new tyre characteristics and it was therefore pretty much open for anyone to win.
"What do you mean?" His eyebrows furrow with a touch of indignation. "I was miles away in the distance!"
True enough, but there's always the possibility of a safety car deployment...
"Ah," he says, with a twinkle of amusement in his eyes, "but I was the fastest guy on the track..."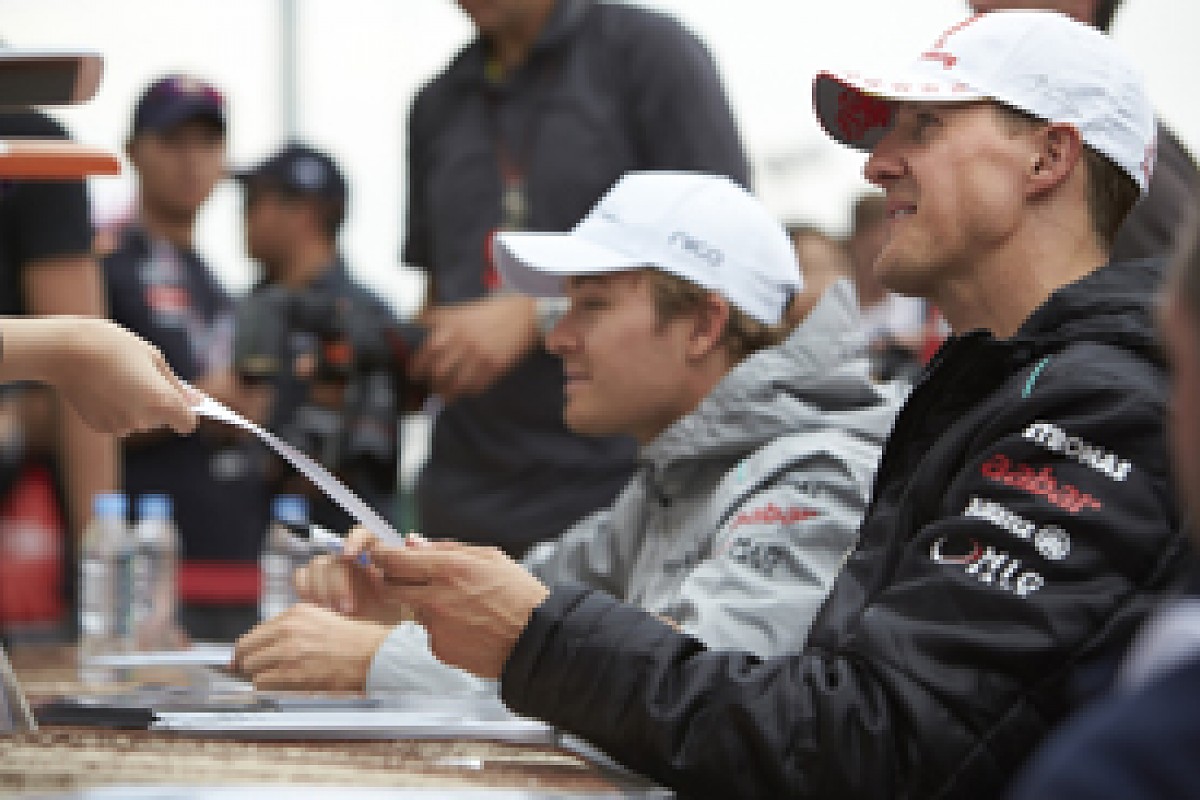 Rosberg saw off Schumacher, but the seven-time champion was past his very best © LAT
This season will present a challenge to Nico, following the arrival of Lewis Hamilton, but it's also an opportunity. For you could suggest - mischievously - that while Nico was the Mercedes driver who took that significant first win, Michael Schumacher's status meant the focus of the media and the bigwigs in Stuttgart remained fixed on Schumacher's garage right up until his retirement.
"Not really," says Nico. "The core team respected both opinions all the time and really tried to stay even. That came all the way from Ross [Brawn] at the top. I was fortunate to be in that situation because that was one of my questions on starting up: having Michael in the team, how equal was the treatment going to be? In the end it was equal, and that was great, because it was what gave me the opportunity to do so well against him over the three years.
"Definitely it's been a great experience against Michael. I didn't know how it was going to go. I was sure I was going to do well, but against the best of all time you just don't really know. In hindsight, I've beaten him in all three years. That's very important and I'm very pleased to have stayed ahead. We pushed each other hard and each of us picked out things from the other, helping ourselves to improve. It's obvious from his approach to the job why he was the world champion so many times. He's very professional.
"With Michael leaving I have a bigger... I have a chance to help lead the team even more strongly and assist with development direction, to strengthen my opinion. I'm very motivated to help out as much as possible and to grow in my role. That's why I've been visiting the team so much, even in December, because the day after the last race was the first day of the next season. And I look forward to the challenge."
Over the winter Nico has been carefully manoeuvring his pieces, regularly visiting the factory, demonstrating an interest in technical developments and, above all, showing willing.
He might have beaten Michael Schumacher, but this was not the Schumi of old, not the rapacious operator who steamrollered his way to seven world championships. This was an occasionally befuddled man in early middle age who ultimately sought to resign at the very moment of checkmate, fooling nobody.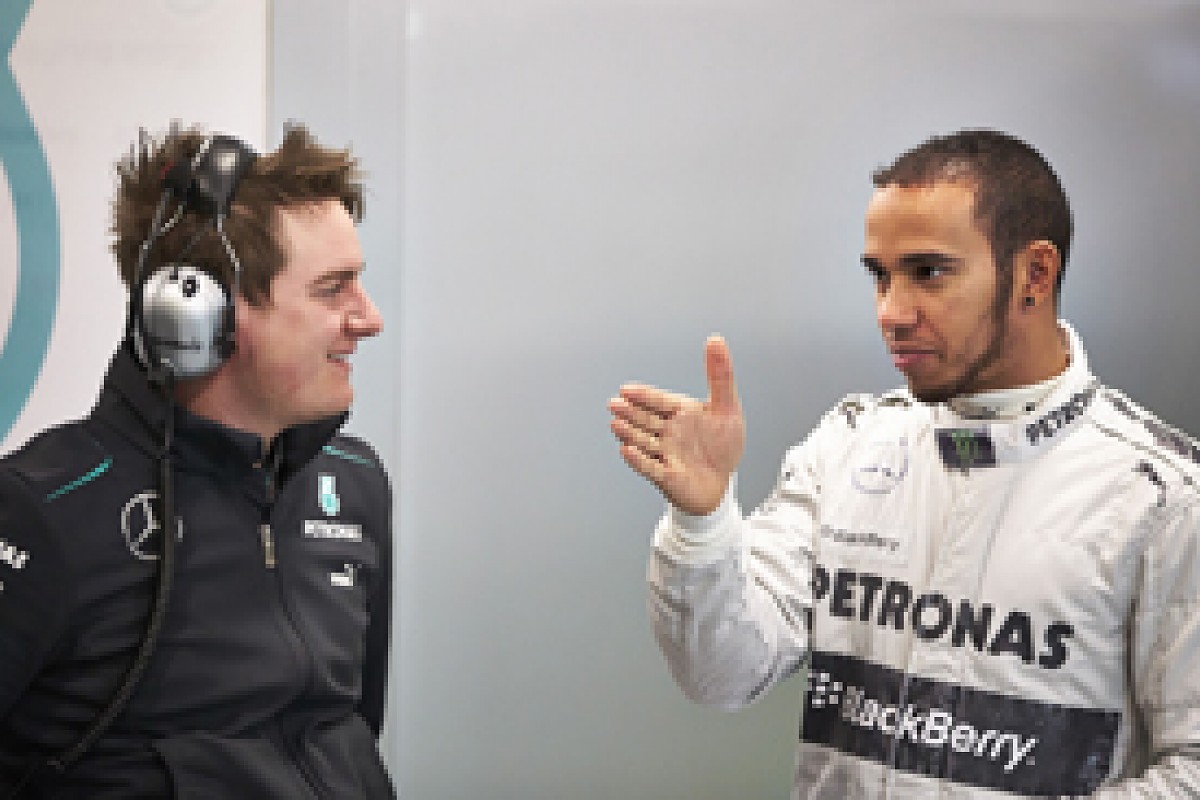 Hamilton's arrival raises the stakes © LAT
This cannot have escaped Nico's notice, for all that he's benefited from watching Michael work the garage. So how did he feel when he knew he would be competing alongside the ultra-competitive Lewis Hamilton again for the first time since their karting days?
"It was a positive feeling. It would have been good also to continue with Michael because we got on well, but I'm pleased by the change because it brings a breath of fresh air for everybody. Change is always good, I think."
On page it may read like a carefully diplomatic response, but Nico says it like he means it. There have already been a number of changes elsewhere within Mercedes over the past 12 months or so, beginning with the arrival of various former technical directors from other teams - Bob Bell, Geoff Willis, Aldo Costa - to fill an assortment of newly created technical roles, and ending with Toto Wolff slotting in at the upper end of an already top-heavy senior management organogram.
And somewhere within all that flux, Niki Lauda was slipping his feet under a desk in some nebulous role as a non-executive chairman. Is he Stuttgart's eyes and ears on the factory floor or Bernie Ecclestone's? Perhaps we need a Venn diagram to figure out the answer to that...
What the changes illustrate is that the people who sign the cheques are no longer willing to put up with also-ran status. Which is to be expected, since the Mercedes-Benz brand is built on being the best - on winning - in a way that, say, Force India's isn't. Nico is clear about what is expected of him and his new team-mate.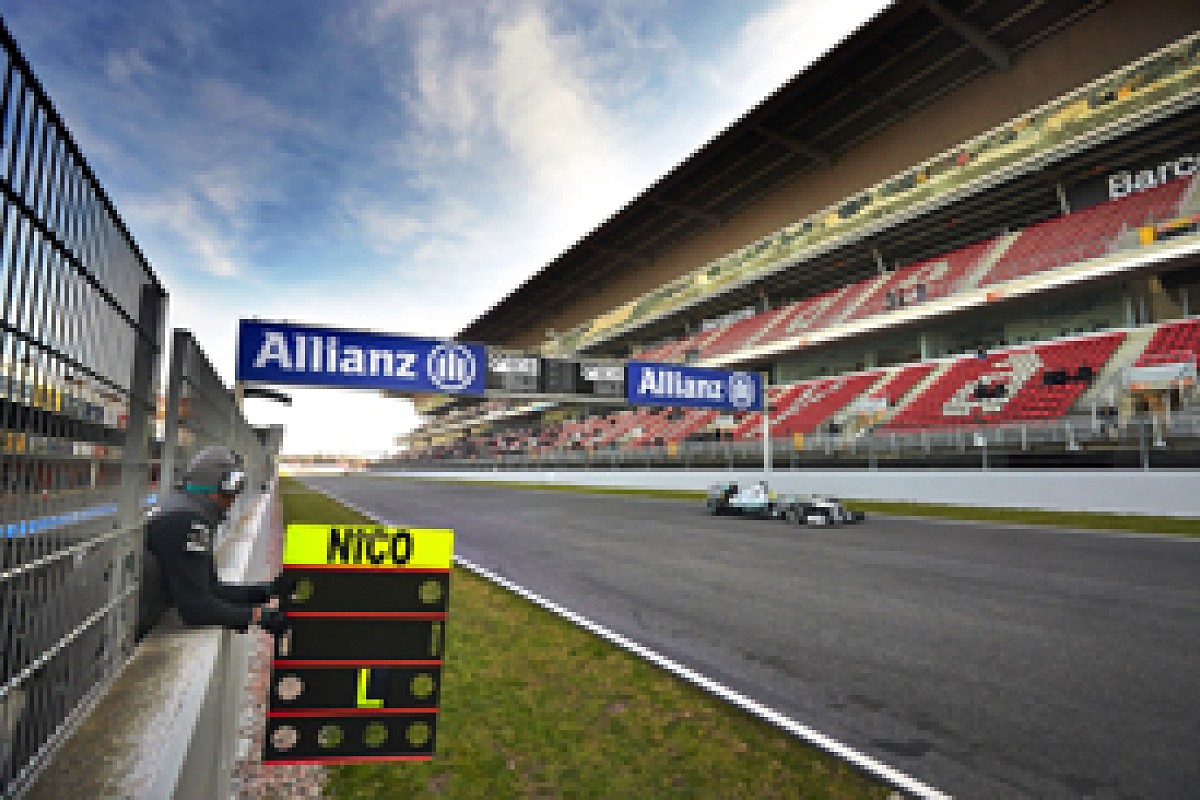 Anything less than victory is failure for Mercedes © LAT
"Winning regularly was important already last year. And we started off really well, but we tailed off in the second half. So what we need to do is start off a little better but also to hold it. That's our challenge for this season and it won't be easy, especially at the end of the season.
"But the team is strengthening: that should be obvious. The factory is a stronger team than it's ever been and it's making big steps. I have no doubts that a better car will come out of that. Will it be enough? We don't know yet, but we're improving.
"I don't think anybody sees 2013 as an interim year. Of course, the development for 2014 started earlier than it would normally start to look at the next season's car, but that's not unusual. It was the same with 2009."
It seems fatuous to ask Nico if he thinks he can beat Lewis, because he's a racing driver so the answer is always going to be an unequivocal 'yes'. He's certainly left nothing to chance in his preparations for the new season, so it's interesting that away from the circuit he expresses a preference for backgammon over chess - the latter being a game of pure skill from opening gambit to endgame; the former involving the roll of the dice.
"Backgammon is sort of a family game," he says. "My dad taught me how to play and I like it because it's fun and in the long run it's not so much about chance. It's more about skill.
"I enjoy the challenge of playing games and that's very similar to what I enjoy about F1. Whether it's the challenge of going up against Lewis or the challenge of playing backgammon against a friend, it's very much the same. You try to get the best out of yourself and perform well."
Your move, Lewis...