Sunday March 3 - Why rivals still fear Red Bull
Kevin Turner
Nobody knows what Red Bull is up to, but pretty much everyone is worried it will be clear of the field when everyone gets to Melbourne later this month.
Red Bull's best lap in the final test was 1m22.514s, well down on Nico Rosberg's benchmark of 1m20.130s for Mercedes, and Sebastian Vettel has admitted the test hasn't gone as well as might have hoped.
And yet many figures in the paddock still expect the RB9 to set the pace come the Australian Grand Prix.
"I know for a fact that other competitors haven't shown anything near what they're able to do," said Rosberg. "Among other things, Red Bull is a big uncertainty."
In a data-driven sport like Formula 1, it may seem a bit odd that 12 days of pre-season testing has left many talking about gut feeling. But there is more to it than just an expectation that the reigning world champion squad will be the team to beat.
Many factors have made the situation murky. The variable weather conditions have played havoc with the teams' programmes and there have been issues making the tyres work. Throw in varying fuel loads and the fact that, against expectations, very few teams tried proper race runs today, and it seems there is little useful data to go on.
Even Vettel doesn't seem sure. "I think we never had a winter that was less conclusive than this one," he said at Barcelona. "Tyres last for one lap, or maybe for some other people it's different depending on how much temperature you can generate.
"I think it's impossible to read the pace of the car, and therefore to make someone a favourite for Australia is not that easy."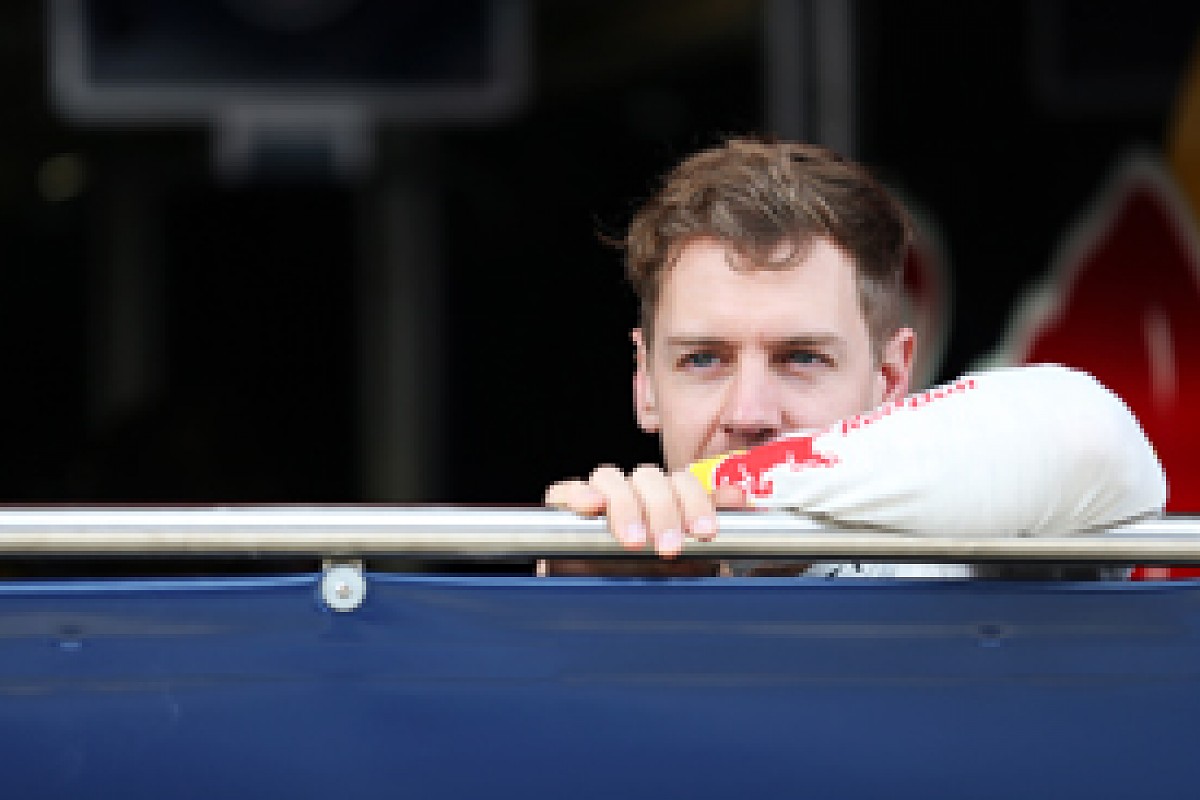 Vettel has kept a low profile © XPB
But there are clues. First off, historically Red Bull has run higher fuel levels - suspected to be around 70kg - than many of its rivals.
If we take Red Bull's best time from the two Barcelona tests - which was Vettel''s 1m22.197s last month - take off 0.7 seconds for the track improvement that happened this week, and deduct 2.45s to fuel correct it down to empty and you are left with a probable potential of 1m19.047s.
If Rosberg was running 30kg of fuel today (as could be expected), then that leaves a theoretical best of 1m19.08s. However, if the W04 was running on even less fuel, its potential best would start heading towards the mid-1m19s.
Taking into account their historical testing fuel loads, Lotus, Ferrari and McLaren also appear to be in the 1m19.2s-1m19.3s range. That puts them a couple of tenths behind the RB9, assuming Red Bull wasn't running lighter than expected.
On track, the Mercedes and Red Bull both looked impressive, but the difference seemed to be that one team was more concerned than the other with putting in a really quick time. Rosberg engaged Fernando Alonso in a faux fight for 'pole' this morning, which left the duo well ahead of the rest.
Then there are the hard-tyre runs that happened this afternoon. Mercedes concentrated on the medium rubber, but Jenson Button, Alonso and Vettel all had reasonable runs on the hard rubber.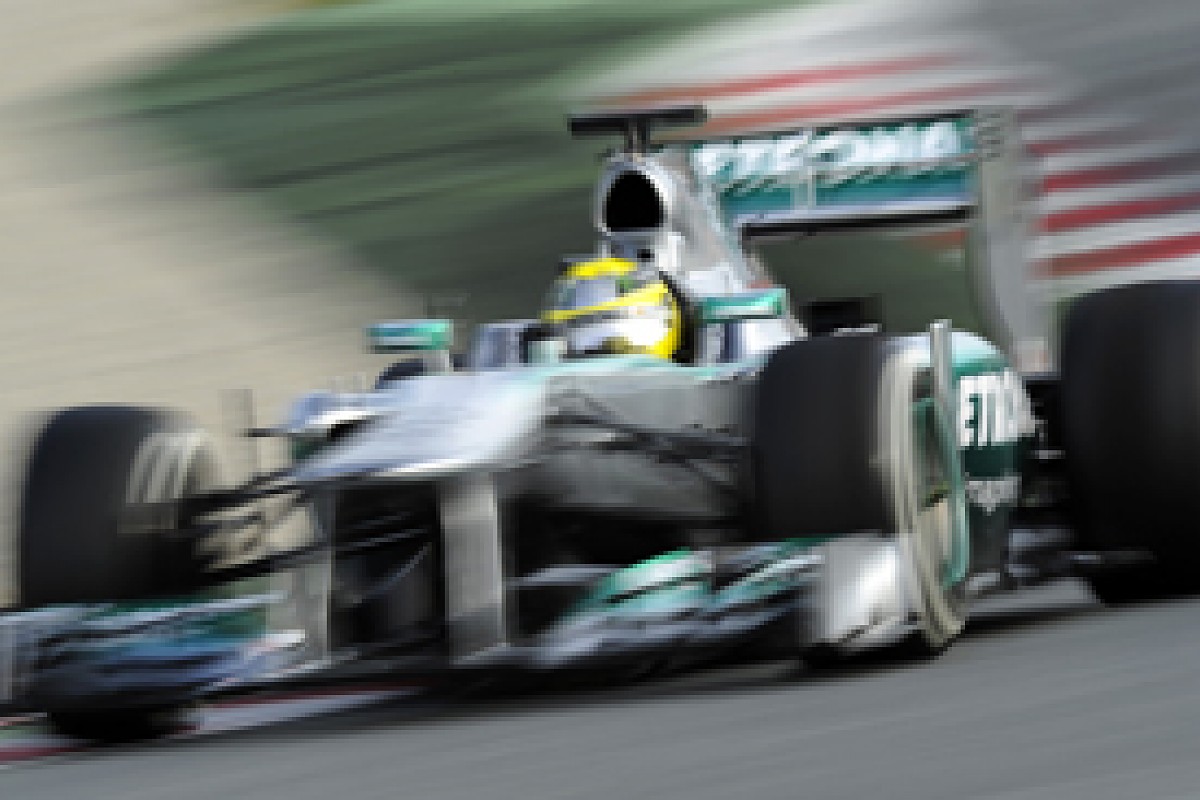 Mercedes was the pacesetter on the timesheets © XPB
Button's McLaren had three runs in which he consistently lapped in 1m29s-1m32s. Alonso, on one shorter Ferrari stint, was in the 1m25-1m27s window, while Vettel's multiple runs ranged from 1m23s to 1m28s.
On mediums, Button was in the 1m28s and 1m29s, whereas Rosberg's times ranged from 1m27s to 1m29s, raising an interesting question over the relative tyre degradation rates of the McLaren and Mercedes.
The variables remain fuel load and how new the tyres were at the start of each run, but it again points to Red Bull being on the right end of the spectrum. Or wrong end if you are one of its rivals.
"We can be pretty happy," said Vettel at the end of his running, despite his reservations. "On the last two days some people decided to put in some pretty fast lap times.
"We saw the Mercedes lap time but it's a bit unclear at this stage which tyres give what kind of step to you. With fuel loads it helps if you put a bit less in the car.
"I think lap times are not that important and the timesheet is not that important."
Of course, even if this week was a fair reflection of where everyone is at, there are still two weeks to go for someone to find a little something more. And the different temperatures in Australia could mean some teams suddenly find themselves in - or out - of the operating range of those all-important Pirelli tyres.
But everyone will still be checking the times of the RB9 first.
Saturday March 2 - All good news for Hamilton
Jonathan Noble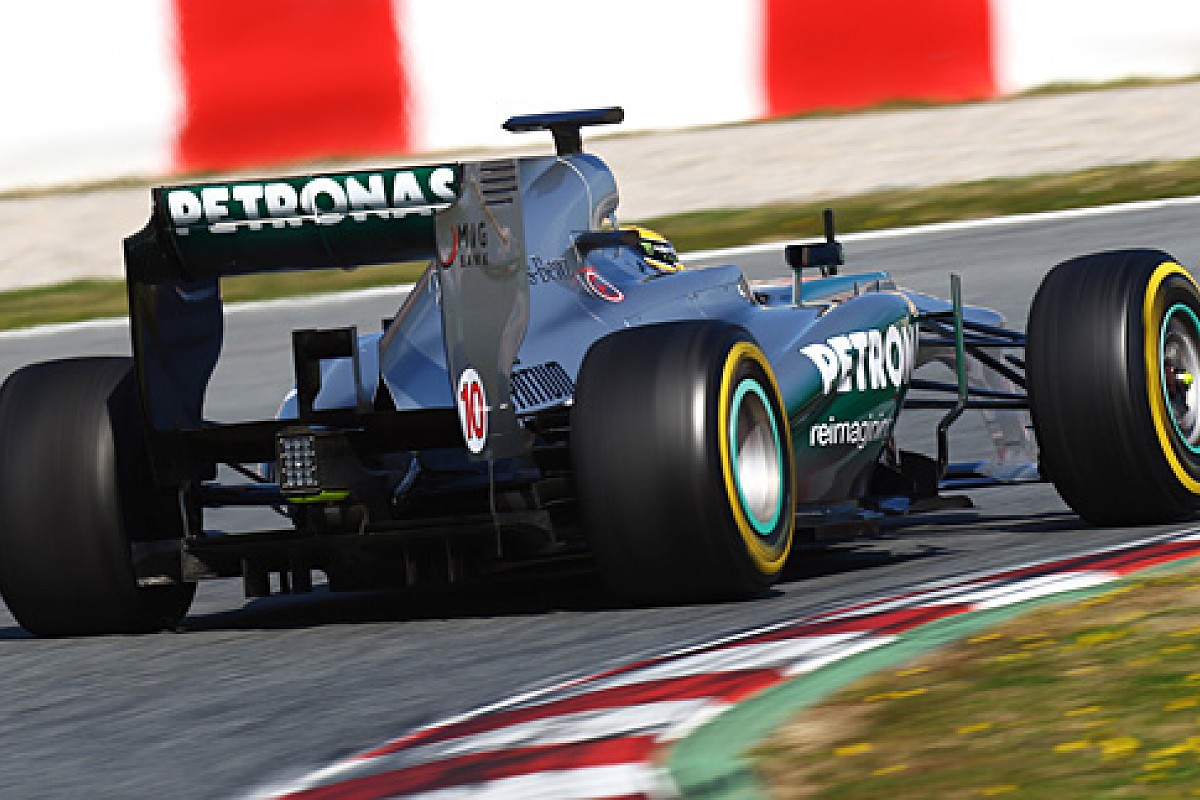 On Saturday, Lewis Hamilton got the news that he had been waiting for all winter. And no, it had nothing to do with Bernie Ecclestone giving him the green light for pet bulldog Roscoe to have a Formula 1 paddock pass this year (as long as FOM get sent the necessary identification photo in time....)
Instead, if Hamilton had been searching for evidence that, far from preparing for a campaign of likely woe with his Mercedes team, he is heading in to one where he believes he can win a race, it was delivered here to Barcelona on a silver plate.
There had already been a growing feeling over the past week in Barcelona that, while Red Bull is still favourite to kick off its title defence as the pacesetter, it could well be Mercedes joining Lotus as the leaders of the chasing pack.
Some of the long runs shown in Barcelona both last week and in the dry parts this week have been in the right ballpark, especially considering how badly the W04's predecessor suffered with degradation in 2012.
Plus, allied to that, some single-lap simulation efforts on Saturday morning - using soft tyres for three consecutive runs - delivered that eye-catching best winter effort of 1m20.558 seconds, as well as another lap that was just one tenth slower.
Of course, the usual caveats about fuel loads come in to play (with 10kg counting for approximately 0.3 seconds per lap around here), but even so, a 1m20.5s is genuinely quick even if it was done on nearly empty tanks.
And over longer runs, while no one has yet matched that impressive 20-lap run on mediums that Romain Grosjean delivered in test 1 last week, there have been hints in the past few days about Hamilton and team-mate Nico Rosberg not having as bad a time as some had feared.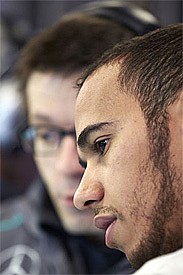 Hamilton now thinks he can win a race © LAT
Hamilton may have been eager to play down matters when he spoke after the session, but behind the downbeat comments there was a glint in his eye, and almost an overeagerness to make it clear that expectations are being kept in check.
"Yeah, I think it's important to bring everyone back down to Earth and realise that we've still got a lot of work to do," he said.
Yet F1 testing - especially at this stage of the campaign - is about the art of distraction. If you know you are genuinely quick you don't want to show it; you want to let the opposition think that you are nothing special, and play down any strong performance shown.
On the other hand, if you are in trouble, you want to start bigging things up a little; deny that there is a crisis unfolding back at base that you hope can be sorted.
What the Mercedes real situation is we don't know yet, and neither will the team properly until Saturday afternoon in Melbourne.
Yet rival teams are certainly keeping a close eye on what the Brackley boys are up to. Jenson Button singled the team out earlier in the week as the only outfit to have shown speed and consistency.
Down at Lotus, which is widely viewed as being bang in that mix at the front, there was some intrigue about Hamilton's headline time, but nothing of huge concern.
Romain Grosjean said: "I think they used three sets of softs tyres in a row to get there, but that is quick we know.
"I thought they were going to do well this year, and they are maybe a little bit better than I was expecting. But let's see in qualifying in Melbourne."
His team boss Eric Boullier was not blown away by the 1m20.5s lap of Hamilton, but said it pointed towards at least another strong start to the season for Mercedes.
"I think they definitely have improved relatively compared to the other," he said. "If you remember last year they were competitive at the beginning of the season as well, so there is no reason why they will not be competitive again at the beginning of the season."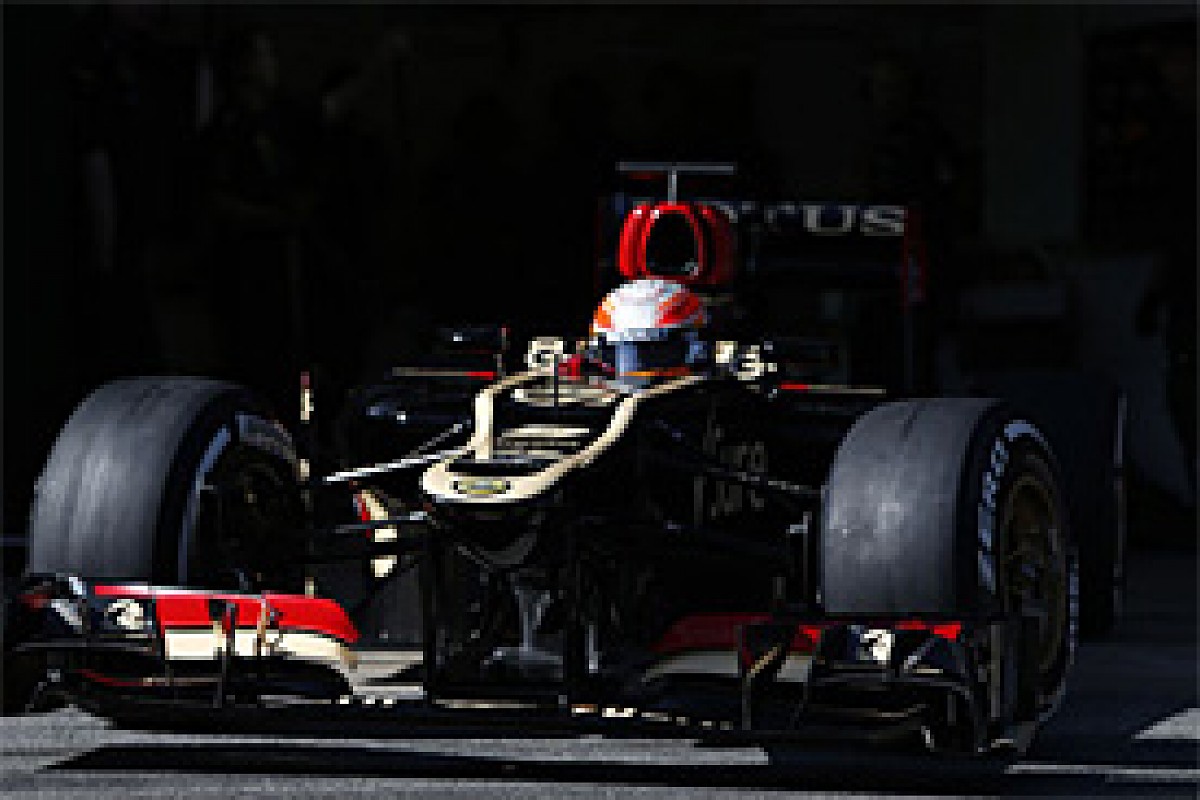 Grosjean got an extra half-day of running © LAT
Yet, for all the uncertainty of where Mercedes are, there still remains a nagging feeling that not only is Red Bull ahead right now, it could be ahead by some margin.
The team is in a different place to 12 months ago when its final update package did not deliver what it had hoped.
More worryingly, in this period of great deception, it has not shown any proper glimpse of its true potential with a headline-grabbing time, which is often viewed as a sign of supreme confidence.
Boullier is not too pessimistic, but accepted he was open-minded about Red Bull's potential.
"Yes, they have been hiding very much what they are doing. Everybody hopes they hide too much and they got lost...."
For now though, Hamilton is happy with what he has found. He's got a car underneath him that he knows has potential to be made in to a race winner this year, and he will be swiping his four-legged friend through those paddock gates later this year to come and cheer him on.
riday March 1 - Grosjean's work is done
Jamie O'Leary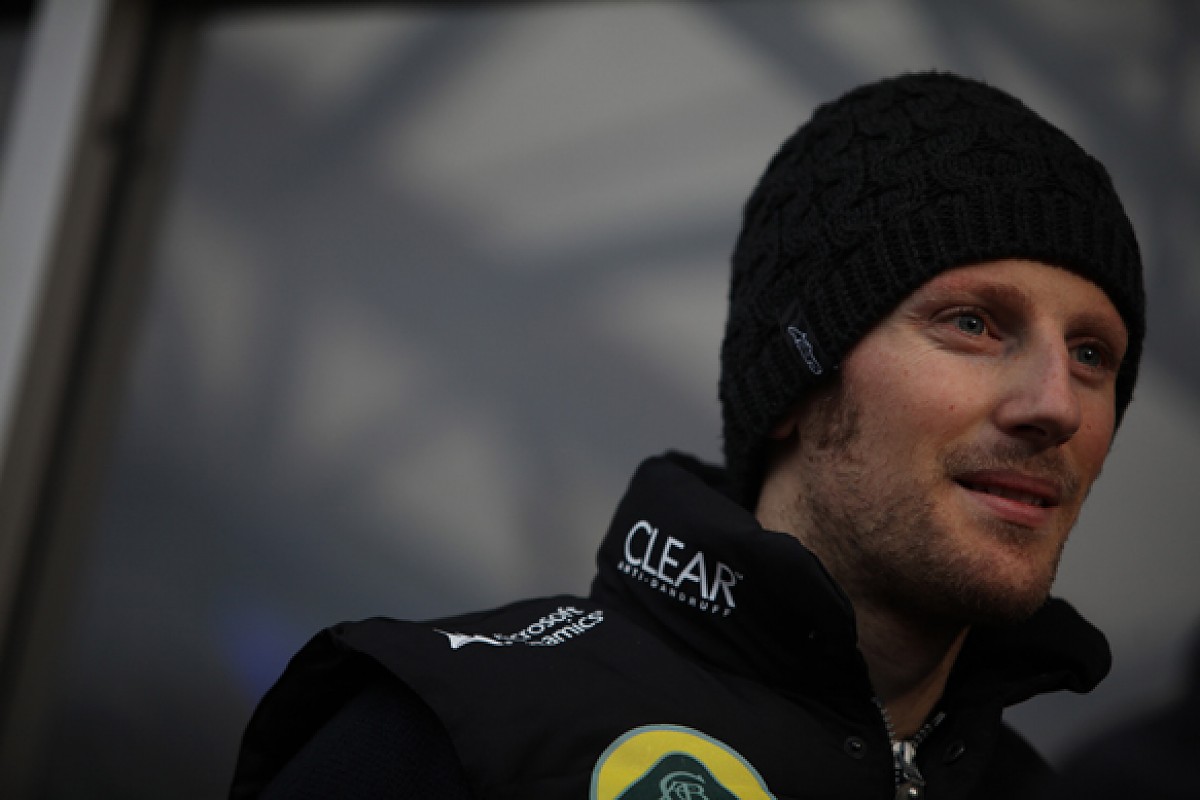 Romain Grosjean can do no more. His part in Formula 1's pre-season - the bit of it that gets played out on Spanish racetracks anyway - is over.
By becoming the first of the 2013 season's expected big-hitters to conclude his winter programme, he found himself heading for the airport on Friday night without having reached many conclusions.
The reason for that largely lies with that great unpredictability that has been around since before grand prix racing - and most things, for that matter - begun. The weather.
With temperatures failing to edge above 13 degrees on either Thursday or Friday and showers limiting teams to no more than five hours of dry-tyre running at this crunch test, the Frenchman is not where he needs to be in preparation-terms ahead of the Australian Grand Prix weekend, which gets underway in less than 14 days.
Team-mate Kimi Raikkonen will take over the Lotus E21 for the final two days of pre-season running, for which dry and warmer conditions are anticipated. This, and the baseline set-up work that results from the following two days, could set the balance of power in the team for the opening events of the year. On such fine details are seasons scuppered as quickly as they are made.
But these days Grosjean is not the impetuous youth of 2009. Nor is he the on-track tyrant his one-race ban made him out to be following the massive first-corner pile-up at last year's Belgian Grand Prix.
No. Instead he gives off an air of calm and of self-assuredness in front of an audience. Why dress up a negative day as a positive one when the only person you'll be fooling is yourself?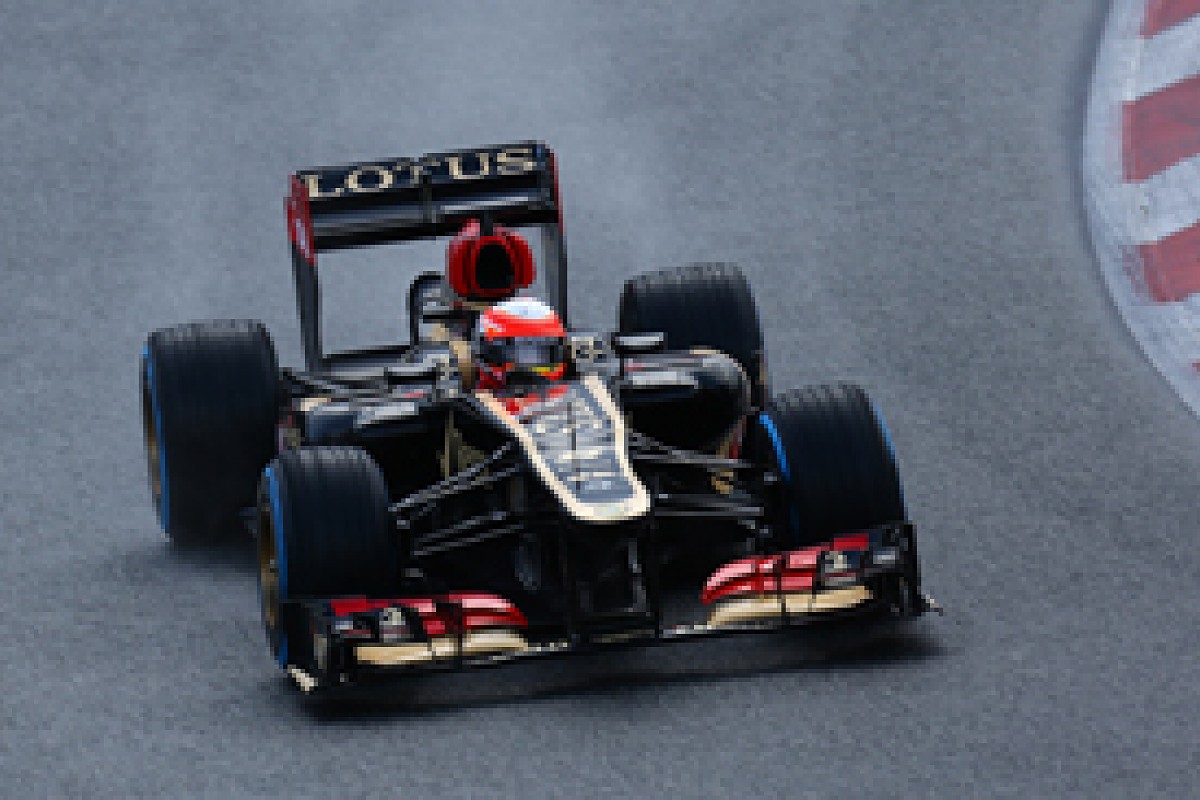 Grosjean's final days of testing were marred by rain © LAT
"You can't push set-up in conditions like today's," he said. "And there's almost nothing you can learn when you put new tyres on, are losing five or six seconds per lap after only three laps, and then switch to new tyres.
"It's a disaster and it's frustrating. Teams want to put mileage on cars [at tests] and then the conditions are like this and there's nothing you can do. At least it's the same for everybody."
Should the weather hold out for Raikkonen's two days behind the wheel, fine-tuning will inevitably occur and information will continue to be gathered ahead of the trip to Melbourne.
The Grosjean of 2009 might have lost sleep over that. Not this one. He's got a former world champion alongside him and is comfortable in his skin, safe in the knowledge that a man with only 26 F1 starts to his name is under no real pressure to be team leader. It shows.
"I'll go home tonight and get some energy back for Melbourne. There's no reason to stay. Even my engineer will go home," he said.
"I'll have a few days back with the team in the factory before Melbourne where we'll have a regroup and a report on what we learned and what Kimi learned and decide where to go on a baseline set-up for Melbourne.
"At least we know a bit more about where we are compared to last year. Last year's qualifying in Melbourne (Grosjean started third) was a total surprise. We know now that we are in the top four or five cars."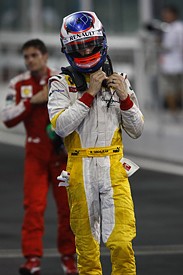 Grosjean was a different character when he first tried F1 in 2009 © LAT
Lotus technical director James Allison was with the team in its former guise as Renault, when a younger Grosjean was lifted straight out of a GP2 title fight with Nico Hulkenberg, to replace the departed Nelson Piquet Jr.
He's seen first-hand the change in Grosjean, even if he's unwilling to admit the extent to which his driver has matured.
"I think he's been more open the second time round. He's easier to get to know and a bit less defensive," said Allison.
"The main difference probably was that Romain Mk1 had to drive a dog of a car and Romain Mk2 got to drive one that was quite nice. It gave him a chance to show his talent."
Grosjean himself admits that he'd drunk from a poisoned chalice first time round, and that Allison's assertion that his non-performance was more down to his machinery than his own ability to deal with the big time, is not far off the mark.
"The better the car, the easier your life is generally. You certainly don't have to push as hard, so you make less mistakes," he said.
"Plus the atmosphere has changed a lot in the team. I was just in the wrong place at the wrong time back then.
"I know I'm lucky to have a second chance because the first time, I thought it was all over."
You get the sense that he's not going to waste it either.

Thursday February 28 - Data versus doubt
Jonathan Noble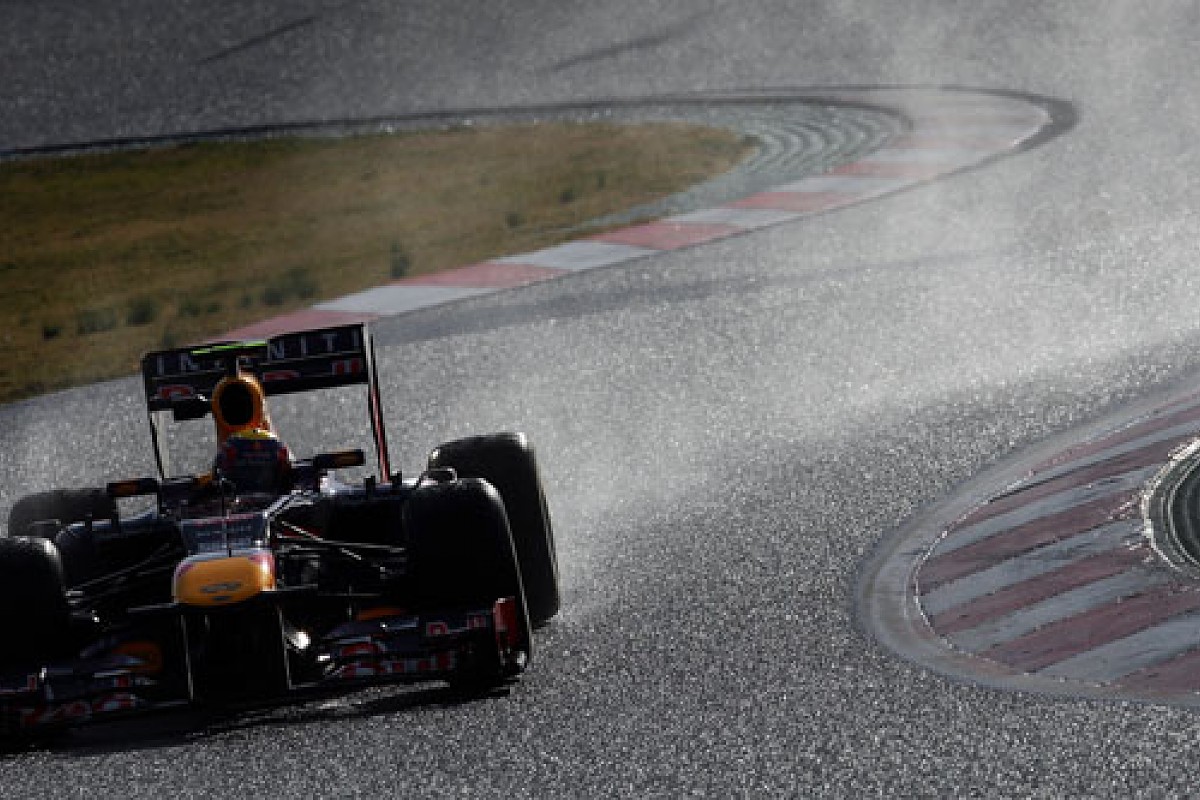 As drivers and team personnel opened their bedroom curtains on Thursday morning at Barcelona, their worst fears were realised. The rolling dark clouds confirmed it was going to be a rain-hit opening day to the final pre-season test.
For what is widely regarded as the crunch test ahead of the season-opening Australian Grand Prix, the perfect circumstances would have been glorious Spanish winter sunshine, temperatures in the high 20 degrees Celsius range and consistent conditions. It was anything but that today.
Coming a week after teams struggled to get conclusive answers about the state they are in because of the high degradation of this year's Pirelli tyres, it has created a growing sense that, as each day of testing passes, we are actually more rather than less confused about the competitive picture.
So with just three days of running left - and one of those expected to be a wash out - it means that each driver is now facing the prospect of trying to get some answers about what is going on from a single race simulation run that will likely take place in the dry conditions of this Saturday and Sunday.
Mark Webber was one of many drivers who admitted things were not ideal, for the parameters being examined at Barcelona - like crossover times from wet tyres to inters and slicks - are not necessarily issues that teams want to tick off right now.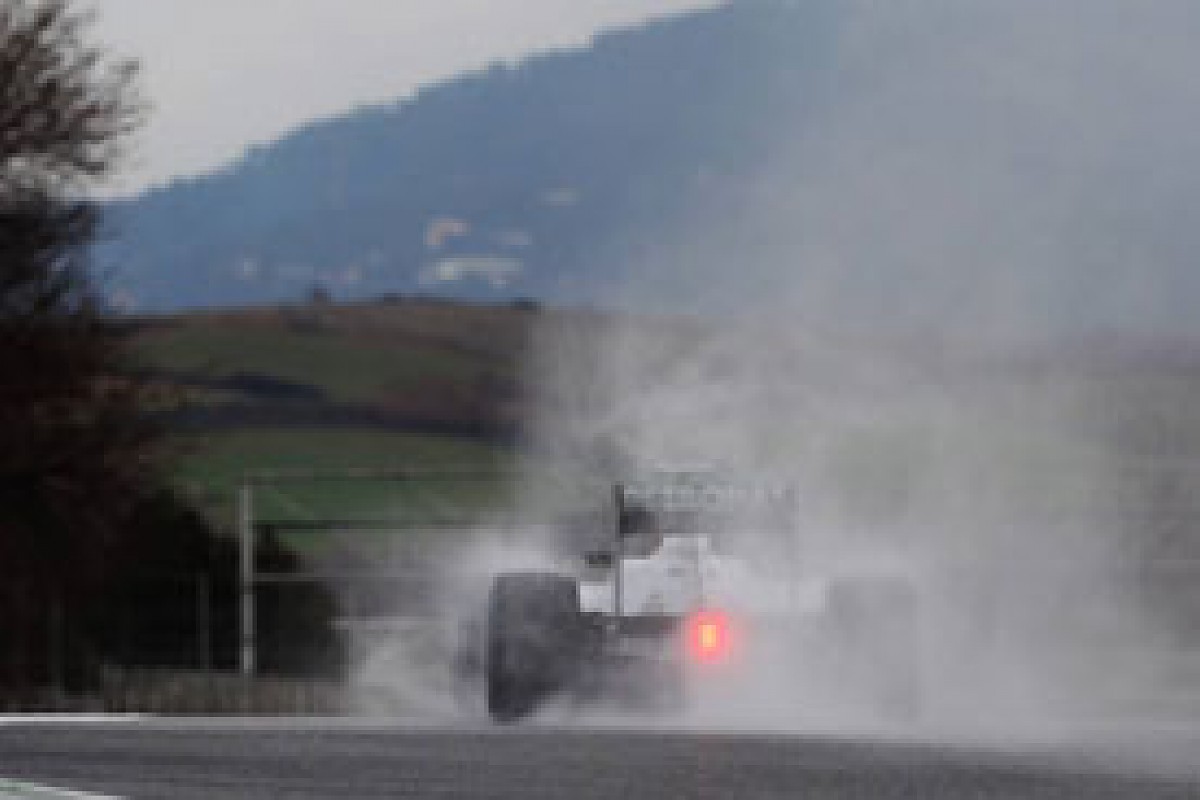 Cold and wet conditions hampered teams as the final test commenced © XPB
"We have to be getting more data by getting more running, but unfortunately the conditions have been similar at both Barcelona tests - pretty cold," he said in the Red Bull motor home on Thursday evening, when asked by AUTOSPORT if things were getting more or less confusing right now.
"We haven't been able to test the tyres in too many different conditions so have captured a lot of data in the same conditions. Sunday looks a bit better in terms of temperatures but in general we have grabbed as much as we can grab.
"We might be able to use some of that in Melbourne, but this is nowhere near [the temperature of] Sepang. It is not relevant to Sepang. It is not relevant to Bahrain.
"Maybe Shanghai can be cold, we know that. So we can grab sections of it, but it is certainly a long, long way from a majority of grands prix that we are going to be competing in."
There seemed to be a running theme of drivers not feeling as though they were as far along with their understanding of the current situation as they would have liked. Just look at the comments from Romain Grosjean and Sergio Perez at the end of Thursday's running.
What the teams and drivers are crying out for is the sunshine to drive the clouds away for the final days of testing, so they can run through race simulations without hitting trouble.
Webber added: "We really want to close the envelope on balance and that comes with consistent conditions. So if we get a window on Saturday to get a consistent handle on things that will be great.
"You saw I ran some tyres at the end there, but every time I went out the track was improving a lot. When the track is consistent, we need to do even more fine tuning to understand the fine parameters that we might expect on Saturday afternoon in Melbourne."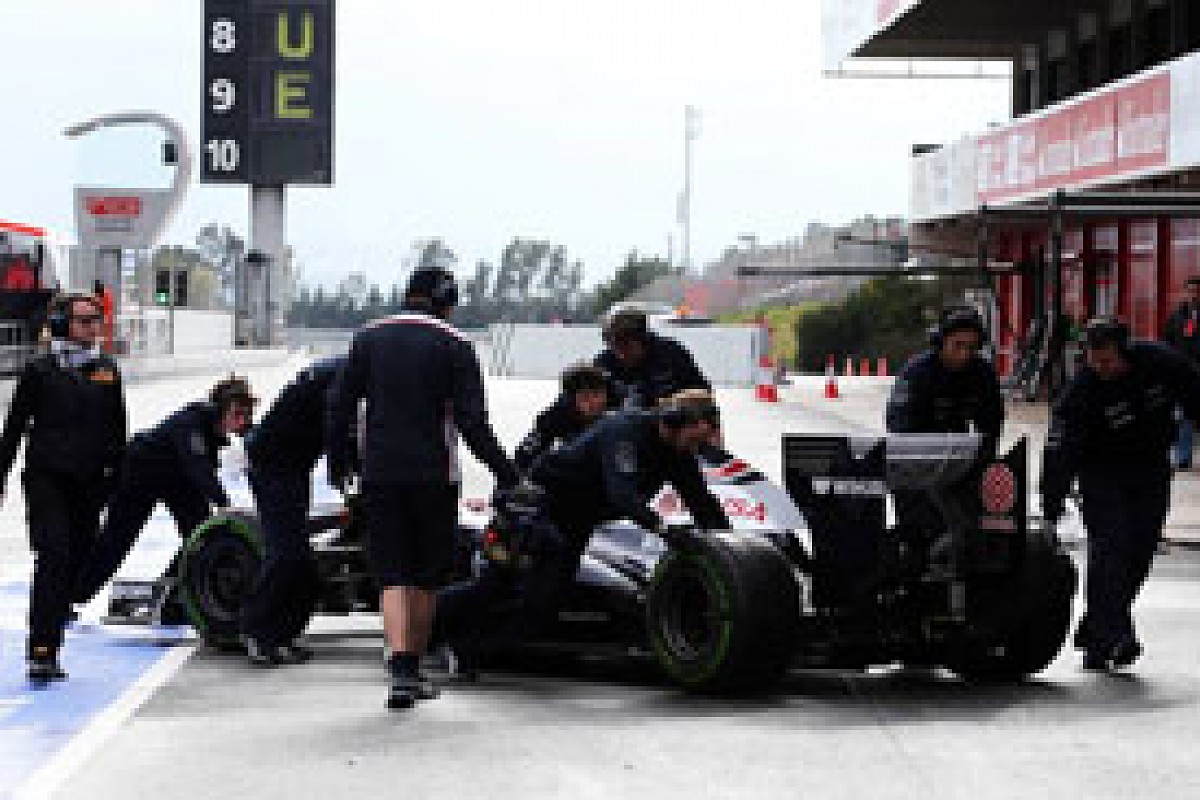 Williams's Xevi Pujolar admits the conditions pose new challenges to the teams © XPB
But what if that doesn't happen? What if the cold weather front remains - or the temperatures don't lift - to give the teams any decent indication for what is going to be experienced come Australia, Malaysia, China and Bahrain?
The answer is simple. It will be bad news for drivers and for their engineers, who would love to be able to fire up their computers back at the factory before Melbourne and know exactly where they stand and what needs to be done for the first race.
But not having that luxury is good news for everyone else, especially the fans. There is no clear picture emerging; no suggestion that anyone is clear at the front. Each of the top outfits appears to have its doubts.
Williams chief race engineer Xevi Pujolar thinks that Pirelli's aggressive tyre choice has clouded the picture as much as the bad weather, as it has made it more difficult to execute a proper programme.
"I think a lot of winter testing has been dominated by what is happening with the tyres," he explained. "The regulations haven't changed much; the cars are going in a similar direction so the differences you get are what is happening with the 2013 tyres.
"We went to Jerez and said the track was too aggressive, as we thought Jerez had always been the same. Then we thought it would be the same at Barcelona and came here last week and it was still aggressive.

"Maybe if you put the last 20 degrees of track temperature there, the situation might be different but that is something that we will find when we start racing. At the moment we can say the racing will be interesting.
"But it is good for the spectators and also more interesting for the engineers. It is a challenge for everyone."
So roll on those curtain twitching moments each morning for the rest of this week. It will help make Melbourne even more sensational.