This article first appeared in GP Racing magazine.
2011: A LEADER LOST
By James Roberts
It's not a Lotus. It's not a Renault. Nor is it a Ferrari. Robert Kubica is sitting in a Mercedes as it peels south along the B4027 towards Woodstock. That means a tight turnaround for the taxi driver, who has to hurry him back to the airport in time for his flight back home to Italy.
This is just a short trip to Oxfordshire for Kubica's seat-fitting in the R31, the car on which Renault and Lotus are pinning their hopes in 2011. It's an innovative new chassis, with its fancy forward-facing exhausts, but it needs to take the Enstone crew back to the top step this year. Not only for the team's sake, but to convince their lead driver that Renault is the team he should stay with for the long haul.
When, at the tender age of 13, Kubica left his native Poland to pursue a career in karts, he settled in Italy and he retains a close affinity with the country. Not for him the convenience of an Oxford base near team HQ. That option suits team-mate Vitaly Petrov, but not Kubica, who remains close to all things green, white and - most importantly - red.
Throughout 2010, F1 gossip frequently connected Kubica with a future at Ferrari - although those rumours were quashed in June when Ferrari extended Felipe Massa's deal to the end of 2012. A month later, Kubica extended his contract to keep him at Renault until the end of 2012. But if Massa has another poor year, will the Kubica-Ferrari rumours reignite?
Unlikely, some reckon, given Ferrari's tendency to focus the team's efforts around one car. And with Fernando Alonso sticking around, it was little surprise to hear Renault team principal Eric Boullier warning Kubica he'd be "mad" to leave in favour of Ferrari.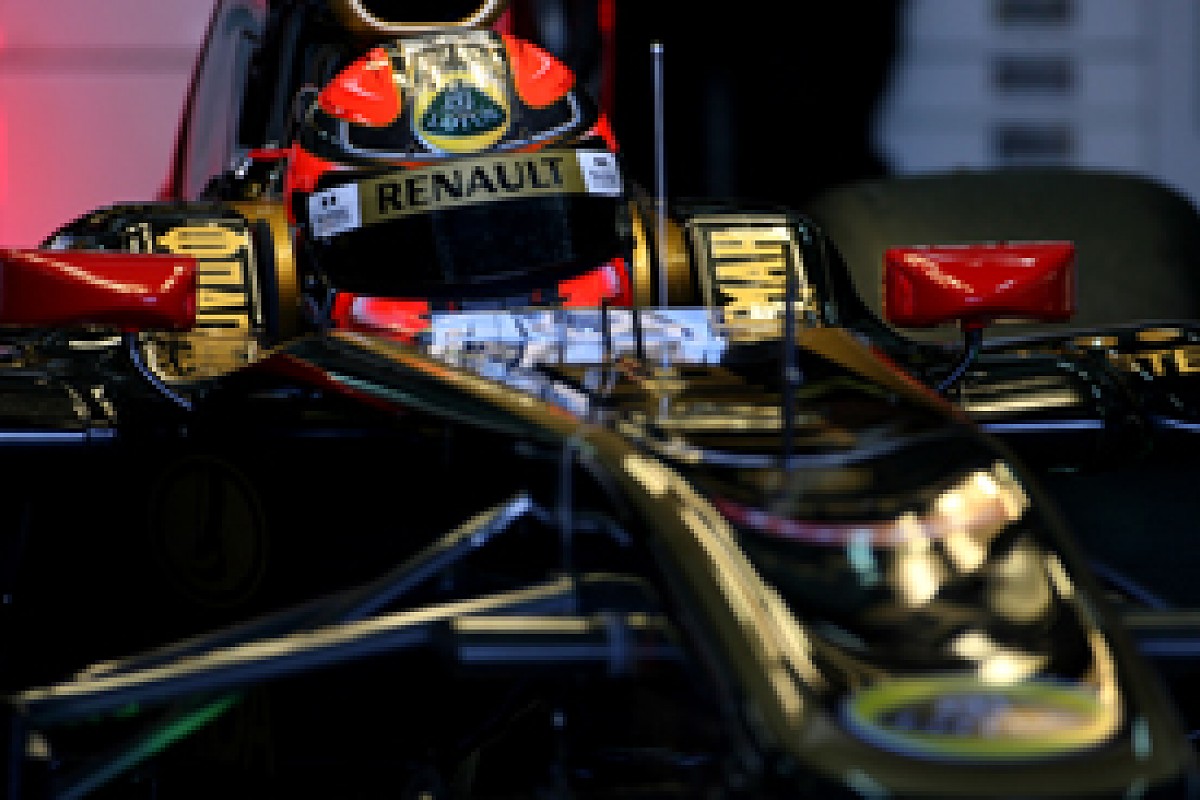 Kubica tests the car he should have raced in 2011 © XPB
But on the eve of the new season, what does the man himself think of his boss's sentiments?
"Well, maybe I am mad, but for now I'm driving for Renault. Some people said I was mad to sign for them. So I think, this world where we are, you have to be a bit mad, otherwise you will not achieve anything. But you have to be mad in a positive way."
Although Alonso is a friend of Kubica's, he's also a formidable team-mate and a driver you'd have to be 'mad in a positive way' to go up against. Wouldn't you?
"Well I don't know. Why?" Kubica fires back.
Have any of Alonso's team-mates beaten him?
"I don't know."
It would be tough...
"Well, life is tough," he says, suddenly bursting into laughter. "Anyway, if one day..." he trails off, realising - PR-trained as he is - that he doesn't really want to be caught saying something he perhaps shouldn't.
"I think that it is better to be in the same car and to try to beat one of the current best drivers in Formula 1 on the same level, rather than to be in an inferior car, which makes it nearly impossible. You never know how Formula 1 will work out. Ferrari will be one of our biggest competitors for the championship, but then maybe this year our car will be better than theirs. Likewise, look at Red Bull: they haven't always been as competitive as they are now.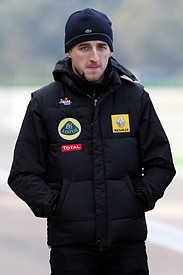 Kubica's accident happened on a weekend off between winter F1 tests © XPB
"So I will concentrate on what I need to do and we shall see what will happen this year." And, with that, the subject of Ferrari is neatly circumvented.
Heading north from the sleepy villages of Wootton and Glympton on the approach to Renault's Whiteways Technical Centre, the return of the Union Jack at the factory entrance is striking.
There's also a new logo, a new title sponsor and a new colour: or should that be an old title sponsor and a retro livery? In the main entrance, a new black-and-gold F1 car stands vertically, from the floor to ceiling and, if that doesn't spell out the message clearly enough, writ large everywhere is the team's new identity: Lotus Renault GP.
We sit down in the marketing offices overlooking the car park to mull over the new season with Kubica, who is rather incongruously wearing his fireproof overalls, after coming straight from the factory floor where he was having his seat-fitting for the new R31.
Outwardly it's all-change, but inside the team there has been very little alteration. The new car, under the technical direction of James Allison, could once again - in Kubica's gifted hands - be steered towards the sharp end of the grid.
The only problem is that in pretty much every engineering meeting of every rival team in the neighbouring counties that make up motorsport's 'silicon valley', there's the identical belief that they have built the best car. And testing doesn't provide any clues to performance either - as Robert himself discovered back in 2008.
"There is always a big question mark over the package at this time of year and, on paper, the car might look competitive. But you never know what your competitors will bring to the race track," he admits.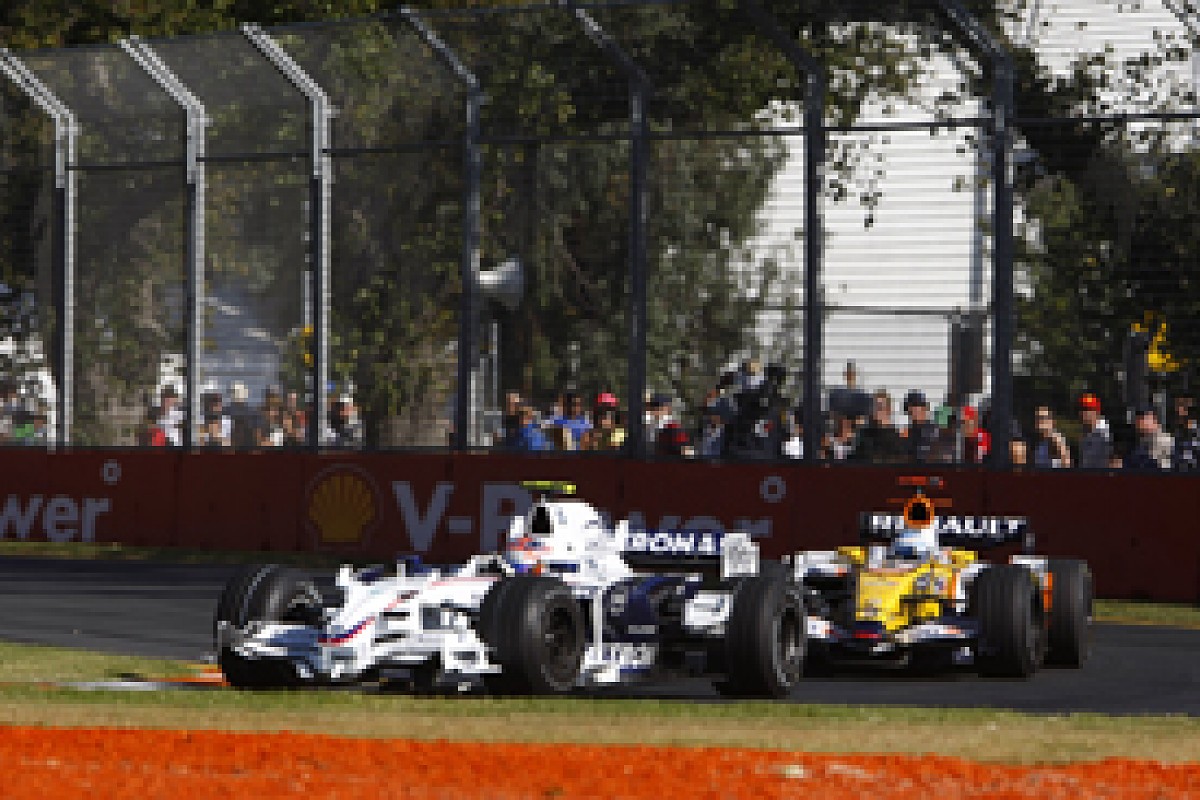 BMW looked set for a disastrous 2008 campaign but resolved its issues before testing was even over © LAT
"I have a clear memory of when we thought the new BMW was a very good car and then we brought it to Valencia and we were more than two seconds off the pace. From there the team did a good job and we went to the first race in Australia and actually qualified on the front row of the grid. It shows how quickly things can change."
Now entering his second season with Renault, he's in a much more comfortable position as it's no longer a case of finding his feet, trying to remember names and understanding how everything works. He's better prepared and so is Enstone.
The R31 is the first chassis to benefit from the new windtunnel and uprated CFD facility and, with more lead time, the fruits of these efforts have resulted in an innovative design where the exhausts point forward from the sidepods and blow onto the floor's leading edge. It's a sign that things are in better order than in the recent past.
"Twelve months ago we presented the car in Valencia and it was actually the 2009 car painted in 2010 colours," says Kubica. "The first new aero bits didn't arrive on the car until the last day of the last Barcelona test. Everything was rushed because of the uncertainty of the team and this had a big effect on the development programme."
Despite the late start, in 2010 Kubica delivered a number of strong performances, scoring early-season podiums in Melbourne and Monaco, and he could have challenged Red Bull for victory if the wheel had stayed on his wagon at Suzuka. Heading into 2011, it will be three years since he scored his last and, to date, only F1 victory. It's time for another.
"As Eric Boullier said, and I do have to agree with him, we would like to win races," Kubica affirms. "It would be great if we have a car capable of winning as that means we could challenge for the championship, but there is always an 'if'..."
Among the 2011 'ifs' are the small tweaks to the regulations - notably the new tyres, movable rear wings and the reintroduction of KERS, which could have large repercussions.
When KERS appeared in the sport, Kubica suffered more than most because of his size. But a raised minimum weight limit in addition to a fixed weight distribution should mean he's penalised less this time round.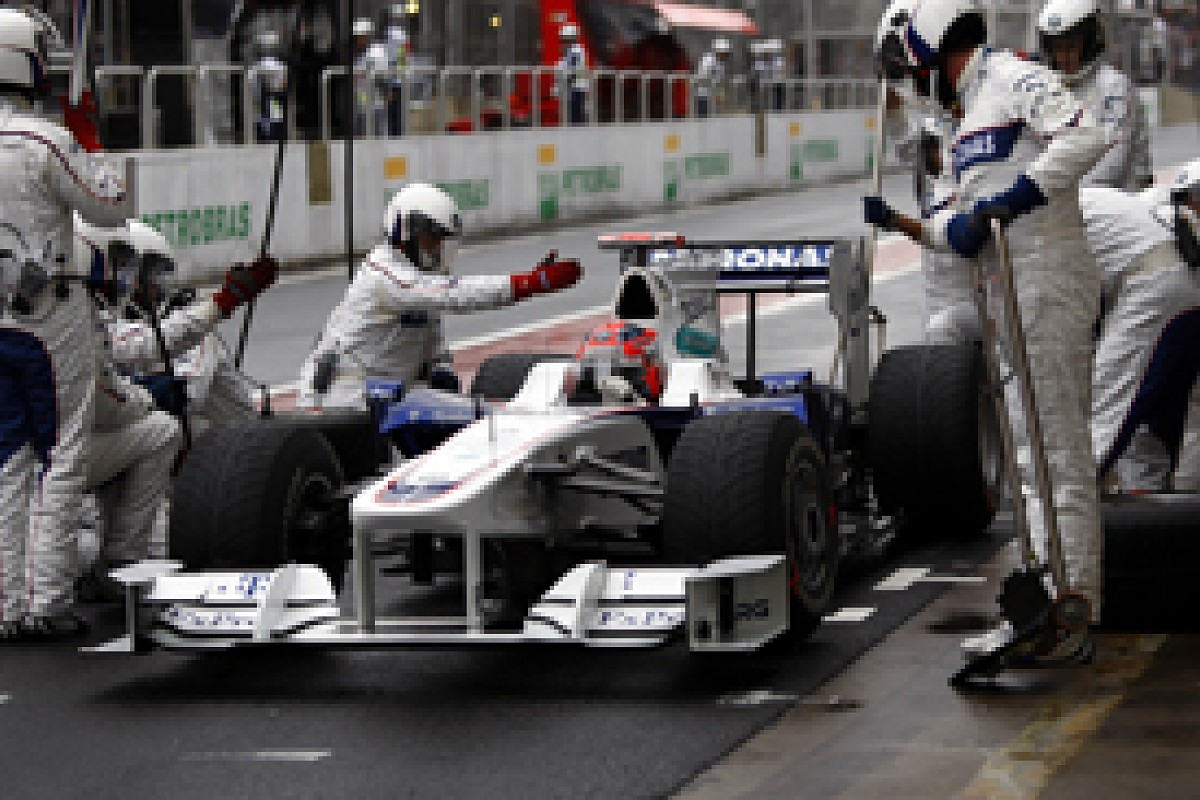 Kubica's final BMW season was a tough one © LAT
"I have a bad experience of KERS from the BMW days, but I think that we might not have the same problem here at Renault or Lotus or Lotus-Renault, or [he turns to a colleague] what are we calling it now? Because we will have a wider range of operating window for set-up and balance.
"Plus I'm happy the f-duct has gone, because I can now put both hands on the steering wheel again, even though there will be lots of switches on the wheel this year. That will be difficult in the beginning, but I think we'll soon get used to it."
The continual pressing of the right buttons will require the utmost concentration this year and, in addition to his usual training programme, Kubica has spent time over the winter with Riccardo Ceccarelli's Formula Medicine team, preparing himself mentally. "I did a number of tests to help build my concentration levels," he says.
"They do a lot of research into the brain, concentration and heart-rate levels, all of which are very important. Physically, F1 is demanding but it's also mentally demanding. We don't have a simulator here, so after the long winter break, every lap in testing will be important and this was the best preparation for that."
Kubica is already a much-feared competitor and if the machinery is up to scratch then the little Oxfordshire team with its flash new sponsor could spring a surprise or two this year. Renault is by no means title favourites, but could challenge on its day. And while the Lotus naming row rumbles on in the public eye, in private, as a team, there is quiet confidence.
So what can Kubica himself improve on this year?
"I think there are many things," he says, one eye on the clock, his taxi waiting outside. "I have to balance speed with keeping the car on the track. It's not easy when you are fighting the big guys to find the limit of the car, but if I can extract the best from myself and the car on every single lap, then we can achieve an even better result this year."
With that he dashes for his waiting ride and heads home to contemplate the year ahead. If there's something mad about another F1 team called Lotus Renault, there's clearly nothing mad about its lead driver.
2013: A NEW HOPE
By Anthony Rowlinson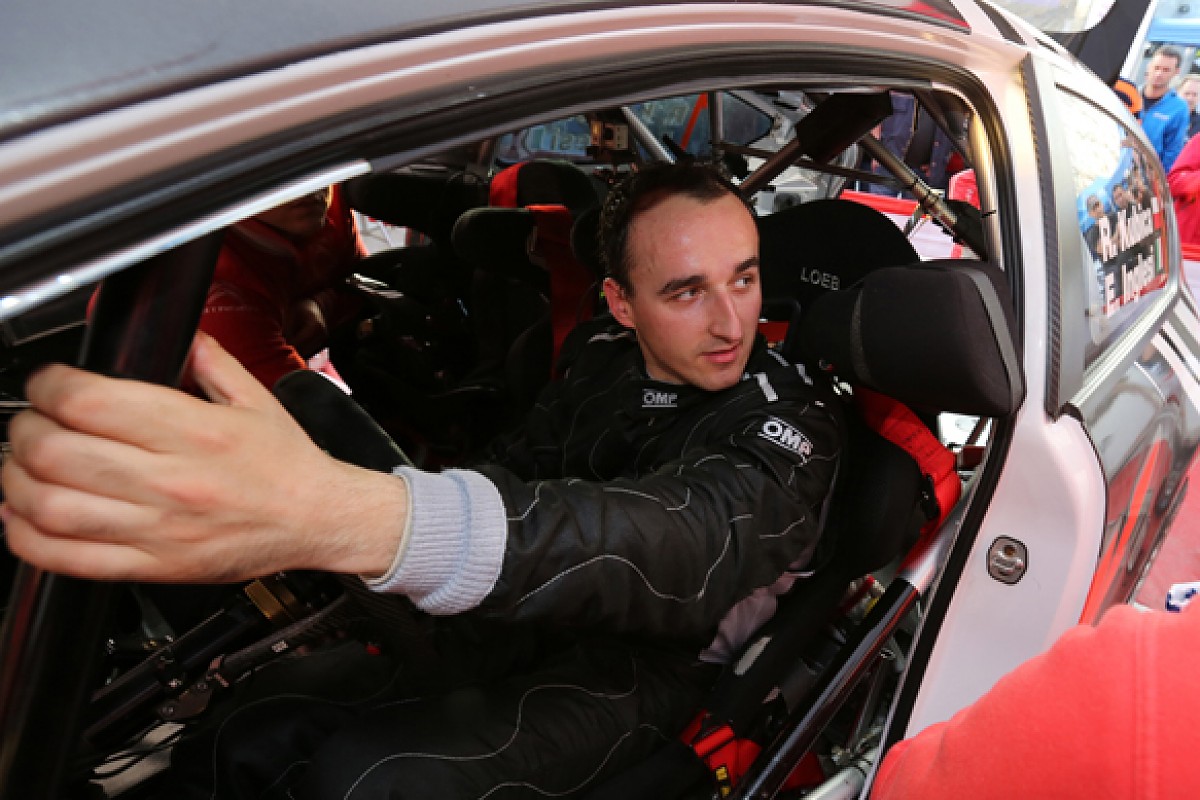 Robert Kubica holds out his right hand, as he's done a thousand times to a thousand journalists. We shake - the F1 grip 'n' grin - but the moment unnerves more than it reassures.
By rights, Kubica's hand shouldn't be there. Neither should he, after the rallying accident in February 2011 that almost severed his right arm and caused multiple fractures along the right-hand side of his body.
To say he came within inches of death would be an understatement. When he hit a barrier at the Ronde di Andora rally and a section of Armco penetrated the car's safety cage, slicing into its helpless driver, Kubica's life was spared by millimetres.
For a second, it's as if the ghost of Robert Kubica, hammer-hard F1 driver and Poland's first GP winner, has appeared from the shadows of the French service park where he has been recceing stages for the Rallye du Var, a round of the French Rally Championship.
The warmth and surprising strength of the grip confirm, however, that the tall and pleasingly solid form before me is indeed the man who, with luckier stars, might already be a world champion.
"Time for some of that F1 stuff, huh?" is his droll opener as we usher him towards camera and lights for a photoshoot. "I don't get so much of this any more. Maybe I've been missing it."
His body may have been shattered, but evidently his spirit and sandpaper-dry wit have remained unbroken.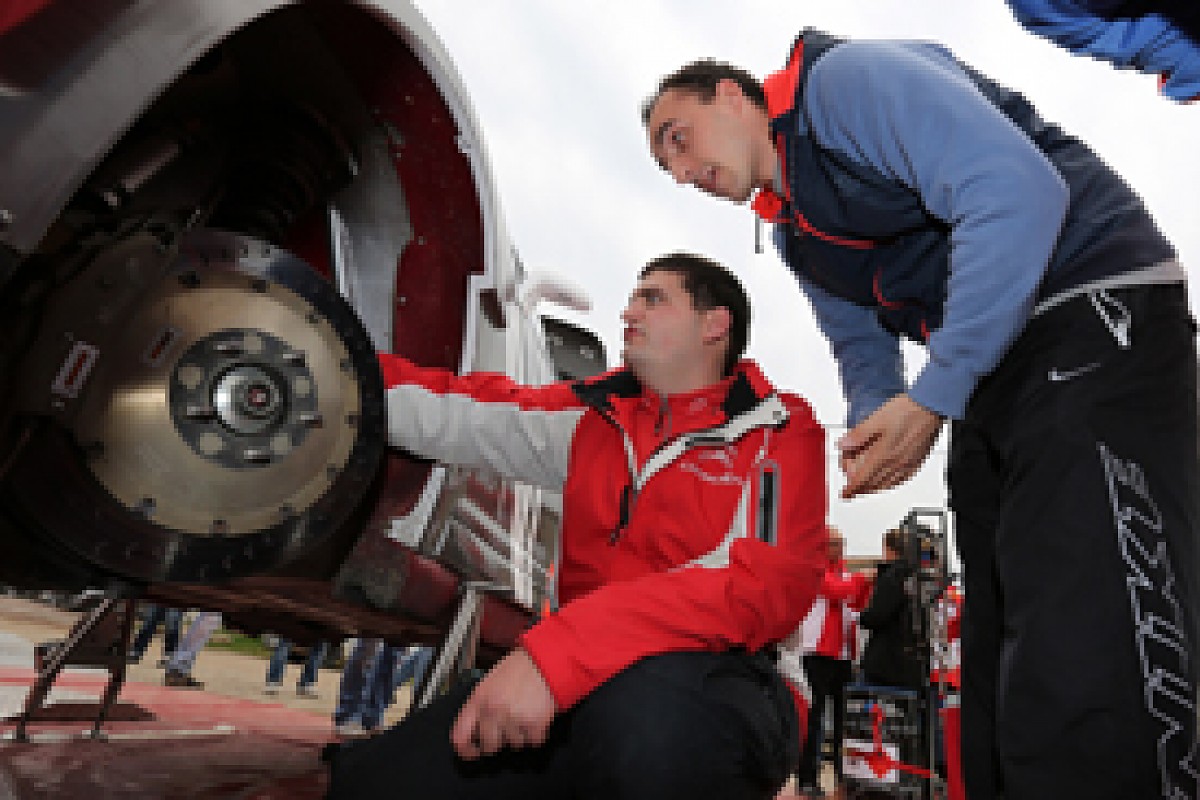 Kubica inspects his Citroen WRC © XPB
"You'll need to use a lot of Photoshop," he says. "I've been up since six. And no lunch!"
The banter is a welcome reminder of the big heart in that big frame - indeed, it's easy to forget how big Kubica is: by F1 standards he's a giant at six-foot-plus. Away from a training regime brutal enough to keep his long bones down to a tech-director-pleasing 75kg, he's increased his girth and, these days, he's quite a strapping lad, rather than a gaunt whippet.
He looks strong.
"Yeah, I am," he shrugs, "...well, OK anyway."
Kubica has a remarkably philosophical air for a man who had his dream snatched away so suddenly, let alone one who's had to undergo multiple operations - initially to save his life, latterly to secure his rehabilitation. He seems, in fact, reconciled to the vicissitudes of fate, aware that things could have been so much worse:
"It's just life," he says, "I will not gain anything by being frustrated. There's no other option than to keep pushing in this kind of problem situation. There's never an end: you will always try to get better and improve. You always hope that one day you will wake up and there are new things going on with your hand. When you have a problem, you start realising how small things might become complicated."
But the small things, for a sportsman who was poised to ascend to the very top of his game, are of scant concern. What Kubica cares about, and what the world wants to see, is his racing return.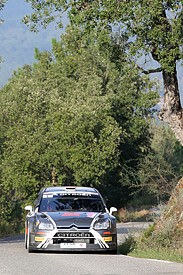 Kubica in action in Var © XPB
Today he's hurtling around French mountain roads in a Citroen C4 WRC car, with a paddle-shift gearbox that's easier for someone with limited hand movements. Tomorrow he's set for a campaign in the European Rally Championship.
But the big one - the shining F1 light at the end of the darkest tunnel?
"I still believe I can come back," he says in a voice devoid of wishful thinking. "It's not just a dream. Right now I have limitations with driving single-seaters, but they are less than they look from the outside.
"Things are improving. It wasn't like this six months ago and it wasn't like this three months ago. And thanks to rallies and tests on the race track, slowly my condition is improving - but there's still a long way to go."
Kubica explains how in private testing he found the main physical impairment is to his right forearm and wrist. This, he says, is overcome relatively easily in a roomy rally car, as he can compensate with shoulder movement. But in the shrink-wrapped confines of an F1 car, the space to allow this kind of complementary twist would almost certainly not be available.
"When I have two arms on the steering wheel and I can operate everything on it, I don't notice a difference," he says. "The strength in the arm is not what it was, but if that was the only problem then two months in the gym could solve it.
Kubica won the Como rally on his first outing in the Citroen © XPB
"The bigger problem is the limitation in the supination and pronation [rotational turning movement] of the arm and the limited functionality in my fingers. But I'm convinced that this will come back slowly: nerves need a lot of time and I see progress even if it's slow. I am quite sure this will be... not fixed, but not a big problem."
While his rehabilitation could be indefinite, Kubica takes comfort from his speed. In the 2012 Rallye du Var, against opponents such as former WRC hot-shot Freddy Loix, he dominated until a crash caused by a pace-note wrong call. Robert and co-driver Emanuele Inglesi were unhurt, but the car was torched in the ensuing fire. It seems Kubica knows only one speed: flat-out.
The performance wowed Citroen team boss Yves Matton: "I was very impressed and for sure he has the pace. The times he did against Loix were very surprising and he beat his rivals on every stage. All the time he was so motivated."
The spirit that took Kubica to the top of F1, despite numerous accidents along the way, is still manifest in conversation, for all the twinkly eyes and laconic humour.
"Day by day, rally by rally and test by test I see fewer limitations and my goal is one day to drive properly," he asserts. "I don't think pace will be a problem."
And driving comes easier than other tasks. "When I drive it takes concentration and I forget my body's limitations," Kubica says. "With the damage I have, I cannot achieve 100 per cent of what I had before - but I hope to improve. If the limited pronation and supination were fixed 80 per cent, I would say 'yes' to coming back to F1."
Surgery to help fix this specific limitation has not yet brought the desired results so, for now, a return to single-seaters remains on hold - even if going back to the arena with which he's most familiar would, in all regards other than the purely physical, be the most straightforward.
"With rallying," he explains, "I have to learn a lot and, for sure, a WRC car is difficult to bring to the limit - but that's good for my experience."
It's as if Robert's convincing himself that yes, this is really what he wants to be doing. Then he drops the pretence and just admits outright: "If you cannot have the thing you want, you want the thing you have. Most important for me is that I have seen the pace is still there and I am absolutely sure I can drive competitively again."
A mental flashback to images of Kubica being stretchered away from that torn Skoda, wrapped in body-insulating medical foil, bags of medical fluid attached intravenously... you catch yourself and remember once again that here's a driver who's fortunate simply to be standing in a team hospitality area, chatting, late into the evening.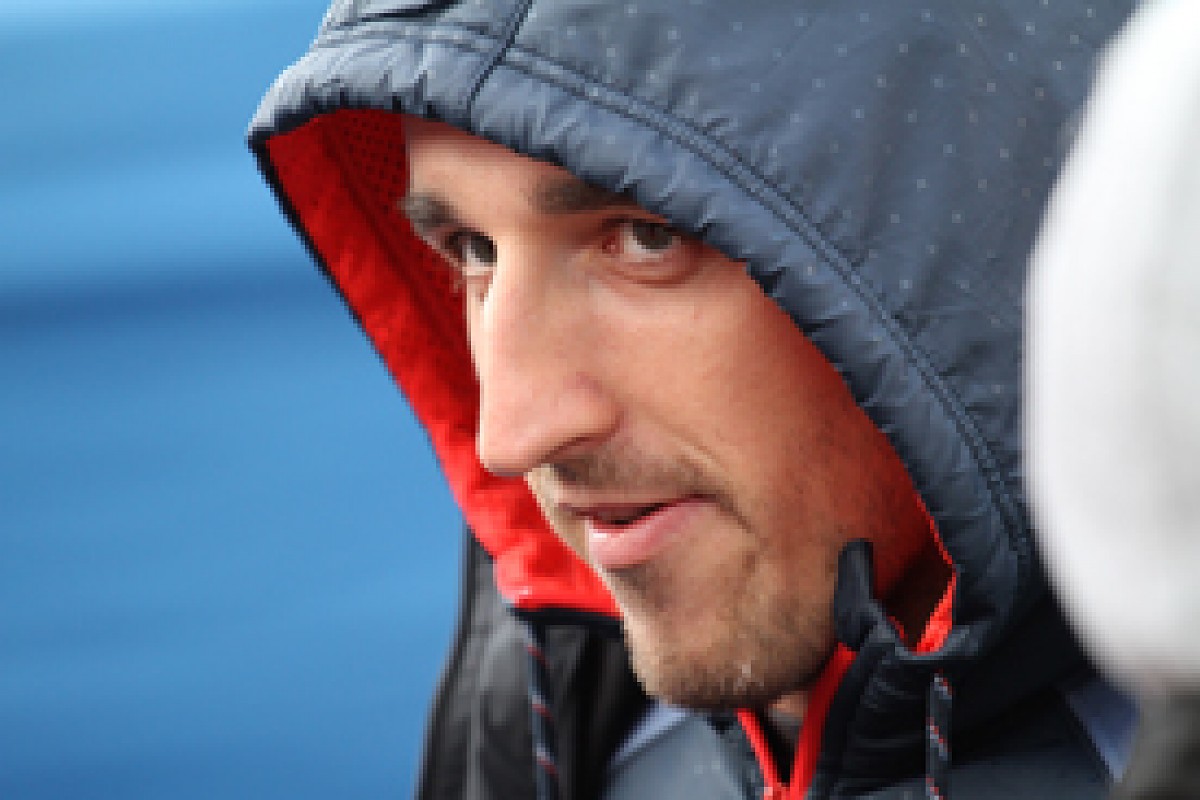 Rumours of Kubica secretly testing cars were rife throughout his recovery © XPB
Sensing the pause, Kubica offers a brief glimpse behind the curtain: "You say that I seem very positive but, believe me, sometimes I am not as positive as I seem.
"But when you are in deep shit, when you get out and you can see some positive future, you realise that even small things are important. In F1 when everything is working well, maybe you do not give enough value to other things, which, for sure, you should be giving value to."
The drop in guard is brief and quickly we're back on topic. He offers another insight into the mentality that has driven his recovery so far:
"I was back in a car pretty quickly, you know..."
"Really? How soon?"
He doesn't want to say, but...
[Long pause] "Ha. The first of August 2011. Quite soon, right?!
"I'm not going to tell you where, but it was in Italy, at a track I know well. I keep some of my cars there and there were big emotions for me.
"It was in the summer and it was a simple day. In fact it was disappointing for me because even after such a long stop the pace was there straight away. It would have been easier for me if I had been two seconds off the pace and struggling.
"When you know that and you know that you have physical limitations, everything else becomes disappointing. The feeling was the same and the pace was better than expected. I couldn't believe that the body and mind could adapt so quickly."
As Kubica tells it, he beat his own lap record by half a second and found himself in emotional turmoil: thrilled still to be so quick, dismayed at the suspicion that maybe he could become an even better pilot, with a new-found zeal for his craft. "I felt even more pleasure from driving. Maybe I was driving with anger. I don't know..."
The date for our conversation is poignant: it's the eve of the 2012 Brazilian GP, at the end of a memorable season, one highlight of which has been the performance of Kimi Raikkonen in the Lotus E20 that should have been Kubica's.
Bitter? No. But don't doubt that Robert isn't acutely conscious of what he's lost.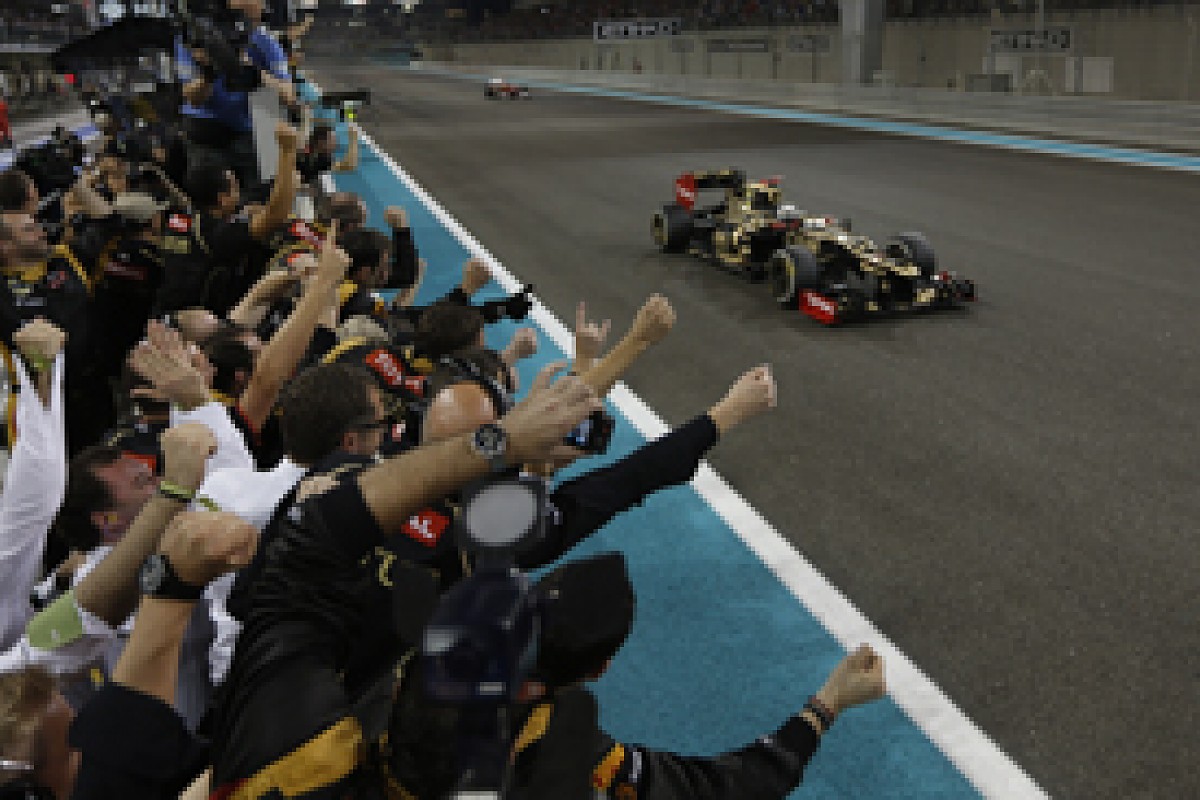 With Kubica sidelined, Kimi Raikkonen eventually became his former team's new talisman © LAT
"F1 has been a big part of my life," he confirms. "I still follow it, but it's not easy to watch. The best thing is not to think about it or, for sure, your mood goes down. Yes, I would 1000 times prefer to be there than here, but I cannot be there on the grid.
"I cannot do anything. The accident happened. Life is going on. I'm just lucky I'm able to drive - and able to drive competitive racing cars."
The buzz of competition and a philosophical streak have helped keep Kubica's body and soul together these past months and he admits as much.
"Rallying has helped me to not think too much about F1 and life before the accident," he says. "I still believe it could have been much better... but it could have been much worse."
That Kubica retains the mental armoury to return to F1 is not in question. And the evidence so far suggests he's lost not a shred of speed. But can he overcome the physical obstacles?
Former F1 medical delegate Gary Hartstein was at first sceptical that Kubica could make an F1 comeback, but he has since reconsidered.
"I was initially pessimistic," he says, "mainly because drivers need a lot of fine motor control, which, in Robert's case, was compromised.
"But people underestimate the recuperative capacities of these guys, how high their level of health is before they're injured, the intensity of their commitment and how hard they work. I wouldn't bet a lot of money, but I wouldn't be shocked if he got in an F1 car and did respectably well."
Kubica's too smart and too battle-worn to believe there's a fast fix for injuries as severe as his; neither is he blinkered as to the ruthlessness of a sport that rejects imperfection.
But he still hopes: "When you have raced for 20 years, and one day you have to stop... it's not easy, especially when you are hit with big problems. But being in a rally car is helping me with recovery and the day I sit behind the wheel and don't think any more about limitations... this would be the best rehabilitation.
"If I have luck and keep working and the puzzle comes together, maybe one day I will drive an F1 car."