Friday February 22 - Rain, hail, cold...and pitstops
Edd Straw
If you were to come up with one word to describe the final day of this week's Barcelona test, it would be 'cold'. If you were to go for two words, and keep the language clean, it would be 'very cold'.
Romain Grosjean even suggested a bold rule change to incorporate heaters in the cars after a day in which frost-bite was a more serious danger than the barriers. Unfortunately, the FIA is unlikely to approve such a change because of the potential for heater-blown diffusers.
Even AUTOSPORT's live test commentary team had a few moments when the fingers were seizing up through cold.
As if to stress the fact, Mark Webber greeted the media at the end of the day decked in a snood (among other warm items of clothing).
"I can't remember having a full day this cold," he said. "Early in the morning, it's pretty fresh, but it was a very, very cold day of testing.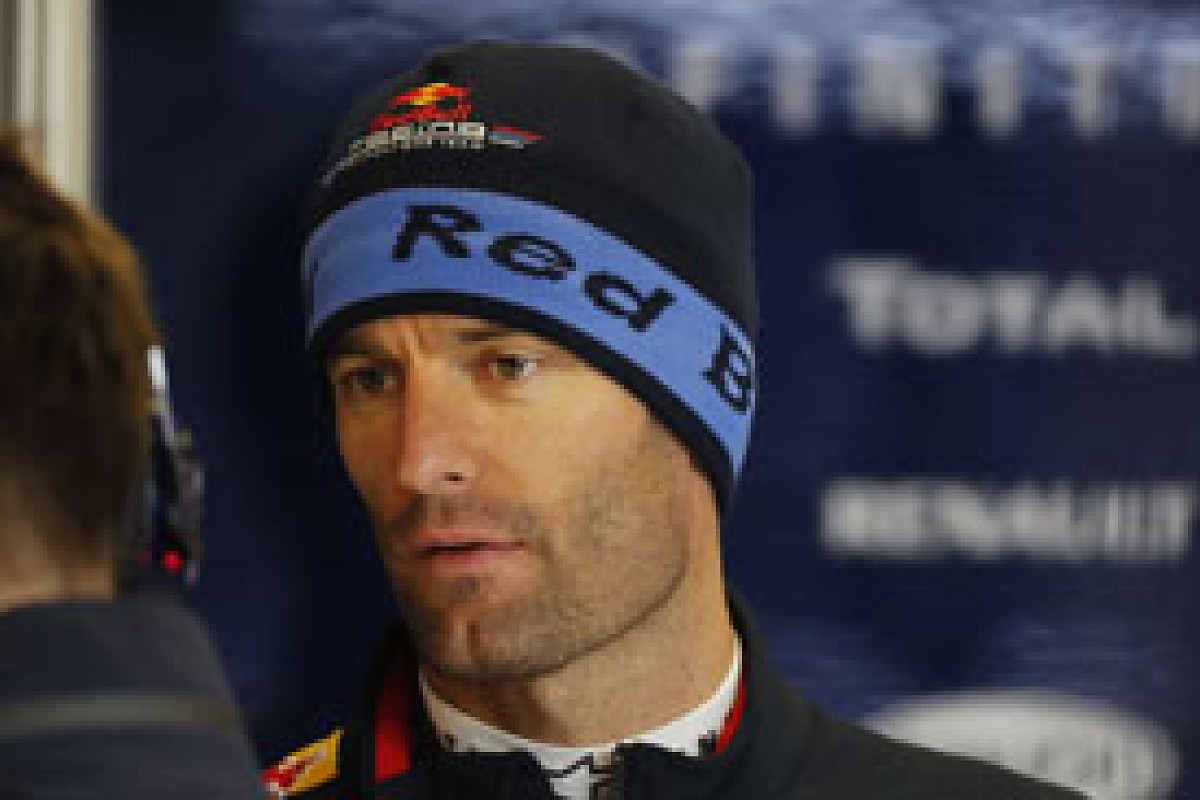 Though cold, Webber said the conditions were at least consistent © LAT
"Actually, conditions were pretty consistent, pretty stable, although probably not very representative at all of what you would have on a grand prix weekend. [Except] maybe a Nurburgring on a Saturday morning."
This was certainly Nurburgring weather. At least, it was to a point, for while the legendary track in the Eifel Mountains has a proud history of snow interrupting events, it was hail that marked the nadir of today.
Thankfully, it was during the one-hour lunch break, although Valtteri Bottas did find himself caught in it while conducting some press activities after his morning in the car. But as a Finn, he was well qualified to deal with it.
Bottas was among the drivers with the most to gain today, enjoying the chance to complete pit-stops after Williams had cunningly allocated the final day of the test, which was always the most likely to be wet, to practice.
Of all the things that new drivers have to learn, the pit-stop is the one that could go the most catastrophically wrong. And the Finn had very good reason to enjoy today more than most as he has never made a full racing pit-stop, outside of inevitably slower stops to change tyres because of weather conditions. The Australian Grand Prix will be the first time he has ever done a 'normal' in-race stop.
He wasn't the only rookie to revel in the conditions. Esteban Gutierrez took the opportunity to move along his learning curve in such conditions and was given licence to explore the limits. He certainly enjoyed himself.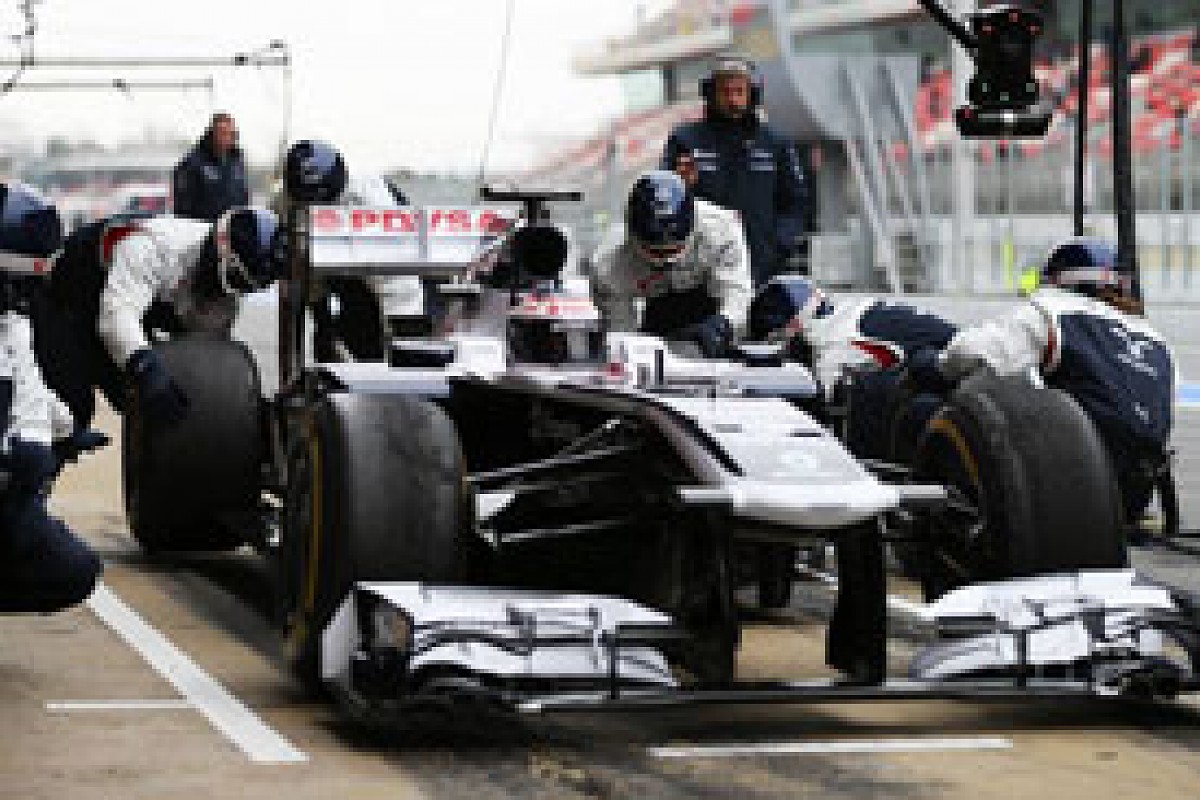 Bottas and Williams practiced numerous pitstop drills © XPB
There were a couple of off-track moments, but when the first wet grand prix of the year comes round, he might have very good cause to look back fondly on a thoroughly miserable day in Barcelona.
But by and large, it was a day of frustration for the 11 teams, particularly for those who have yet to undertake serious race runs and are in need of more tyre data.
There are only five days between now and the start of the final pre-season test at the same venue and the Australian Grand Prix, once a distant objective, looms very large.
For now, the chorus of "it's too early to say" continues to proliferate with pretty much every driver uttering some variation of that phrase in the eight days of testing banked so far.
Even now, the final upgrades and development parts expected to appear at the final test are being finished off in the team's manufacturing departments and time is running out.
Formula 1 2013 is about to get very serious indeed.
Thursday February 21 - All eyes on Sutil
Matt Beer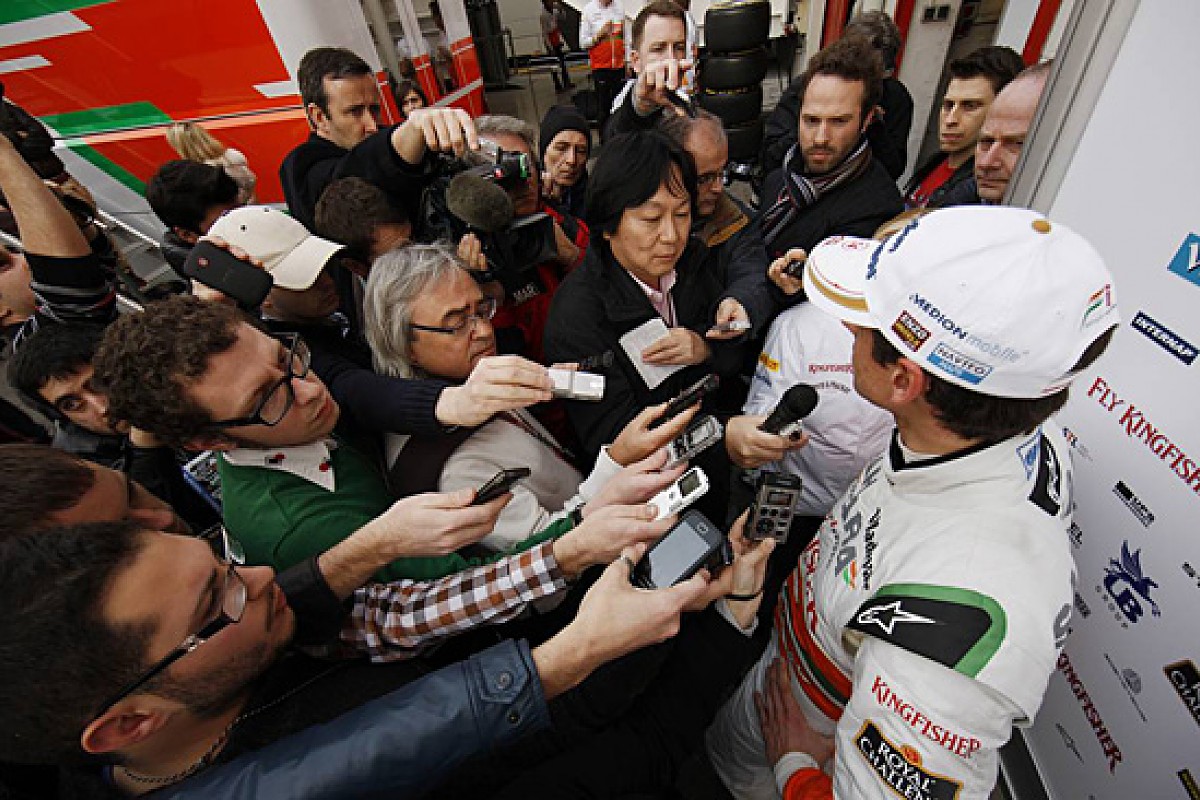 There is a distinct hierarchy in the intensity of post-session media scrums at Formula 1 tests.
The Hamilton/Alonso/Vettel-level superstars require an elbows-out, on-tiptoes approach to get a dictaphone through the throngs. The midfield meetings are much more civilised affairs, and for some backmarkers the 'scrum' becomes a one-on-one.
Force India is normally a destination where bruised ribs are unlikely.
But amid what the team insists is definitely, definitely not a shoot-out for (probably) the final vacant seat on the 2013 F1 grid, Adrian Sutil's audition drew a press clamour worthy of title contenders.
Faced with a cluster of outstretched dictaphones so close that had he been Nick Heidfeld, they would've nustled his beard, Sutil slipped straight into F1 veteran mode.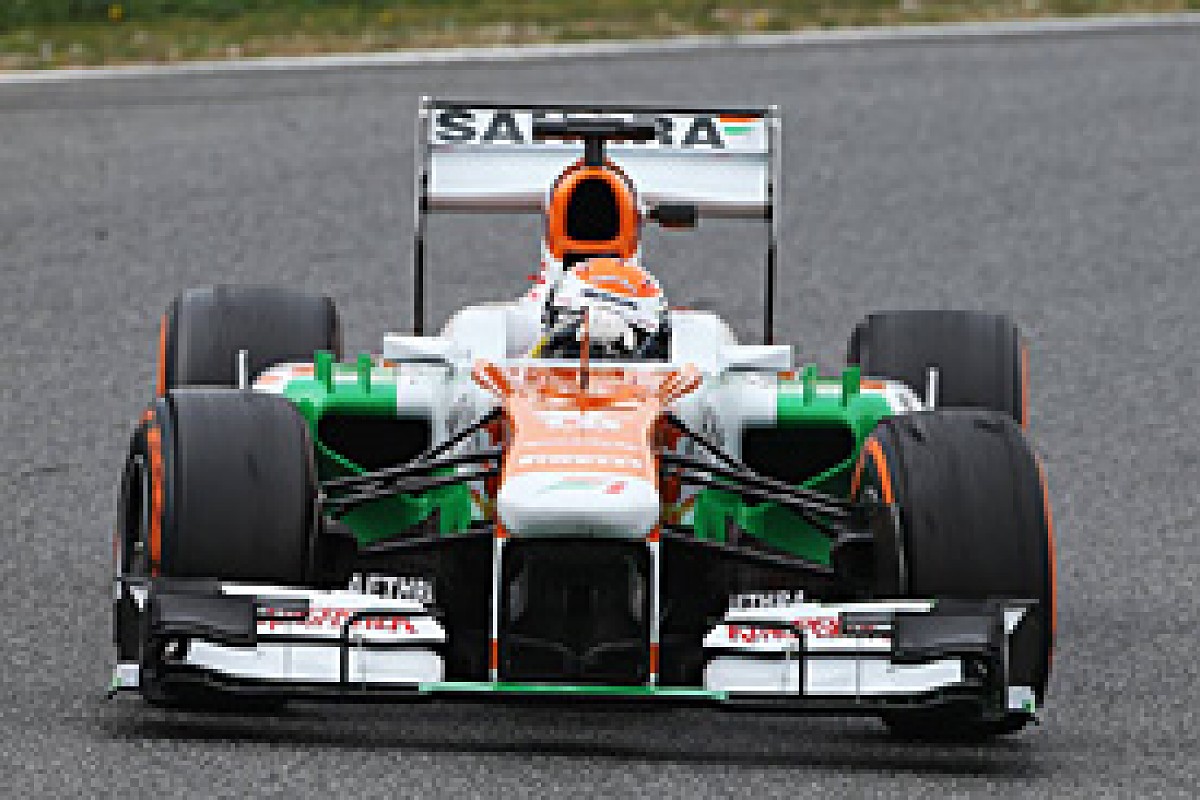 Sutil left no doubt about his speed © XPB
He recounted his day's programme with the detached formality of a full-time regular mid-season, rather than someone who hadn't been in the cockpit since November 2011.
It was only at the end of his opening answer that he clicked out of routine, grinned and added "...and it's nice to be back in a Formula 1 car!"
As Sutil pointed out, Force India knows all it needs to about him. He was within the family for six seasons, from his impressive Spyker test outings in 2006 to his exit from the race seat.
Today, he said, the challenge was just to prove that no rust had gathered during his year on the sidelines.
"I think it was important for them to see me back in the car, how I behave, what my speed is," said Sutil.
"From the first lap I was quite on the pace and I think they were quite surprised. That was nice. Their faces were all quite happy."
This 'not-a-shoot-out' stretches far beyond Sutil and Bianchi's back-to-back performances this week. The off-track considerations are really the only nebulous quality in the mix as both contenders are far from strangers in the Force India garage.
Sutil openly admitted that there were commercial elements at play ("otherwise they would've confirmed a driver in January"), and acknowledged that 2014 engine supply might be a factor, with Force India's current partner Mercedes understood to have a passing preference for Sutil, and his rival Bianchi deeply embedded with alternative engine firm Ferrari.
Whichever way Force India swings, its choice will attract scepticism. Sutil has 90 grands prix under his belt, but in that near-century of races he never impressed enough to trouble top teams' radars. Bianchi's recent seasons have had their flaky moments, he hasn't won a title since Formula 3 despite great expectations, and Force India has already said it didn't expect him to be race-ready for another year.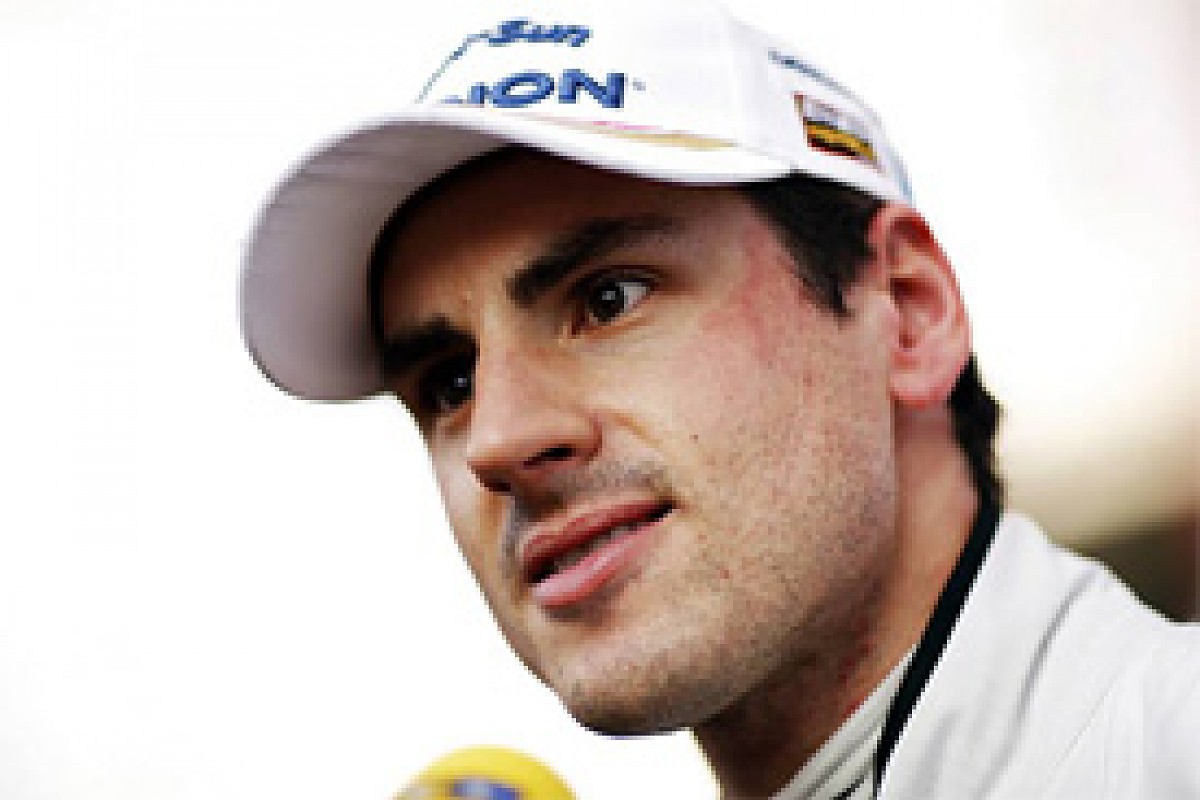 Sutil is now hoping for a quick decision by Force India © XPB
Sutil's conviction for his 2011 nightclub incident also hovers in the background. Rarely mentioned and technically not a factor at all, it is nevertheless an ingredient most driver choice quandaries lack.
Overall, though, the stress lays with Force India, rather than Sutil, whose mood was more sanguine and serene than exasperated and impatient. He did chuckle, however, when predicting a decision "in one week", noting that "a few people in the team have been saying for a month that in one week they will do the decision..."
As he admitted, for a 30-year-old to make a comeback after a one-year absence is little drama. If the hiatus starts stretching any further, re-acclimatising will be far harder.
There was an underlying sense that Sutil feels he has nothing to lose. He's had a perfectly respectable F1 career, he might squeeze a few more years and a few more decent underdog results in. He might not. It's worth a punt. He may literally be fighting for his F1 career, but he also has nothing to prove.
"If this doesn't work, there's always something else to do in life," Sutil mused. "I haven't checked out what my plan B is at the moment. I want to have this cockpit and I'm trying everything for it. There are many other categories and I'll have a look afterwards.
"The team know me very well. If there's business going on behind it, I can't really influence it.
"But I'm standing here as a driver ready to race."
Wenesday February 20 - Tyres bewilder
Sam Tremayne
Increased uncertainty, increased performance: two key components of Pirelli's pledge for the 2013 season. We will have to wait until Melbourne to assess the latter promise, but the first has already become the dominant topic of conversation.
After four days at Jerez and two days at Barcelona, teams and drivers are finding the 2013 compounds' high degradation rates a hindrance to their respective programmes. Long runs are being cut short or completed at much slower speed, while medium and short runs fall away after a handful of laps. Uncertainty? You bet.
"At the moment we are still learning about the tyres, but it's a big concern," Sergio Perez reports.
"These days, just by going around the circuit you are wasting a lot of energy on the tyres."
It's not an entirely new situation; teams faced a similar battle acclimatising to Pirelli's aggressive compounds in testing last year. By the season's end, one-stop races weren't uncommon.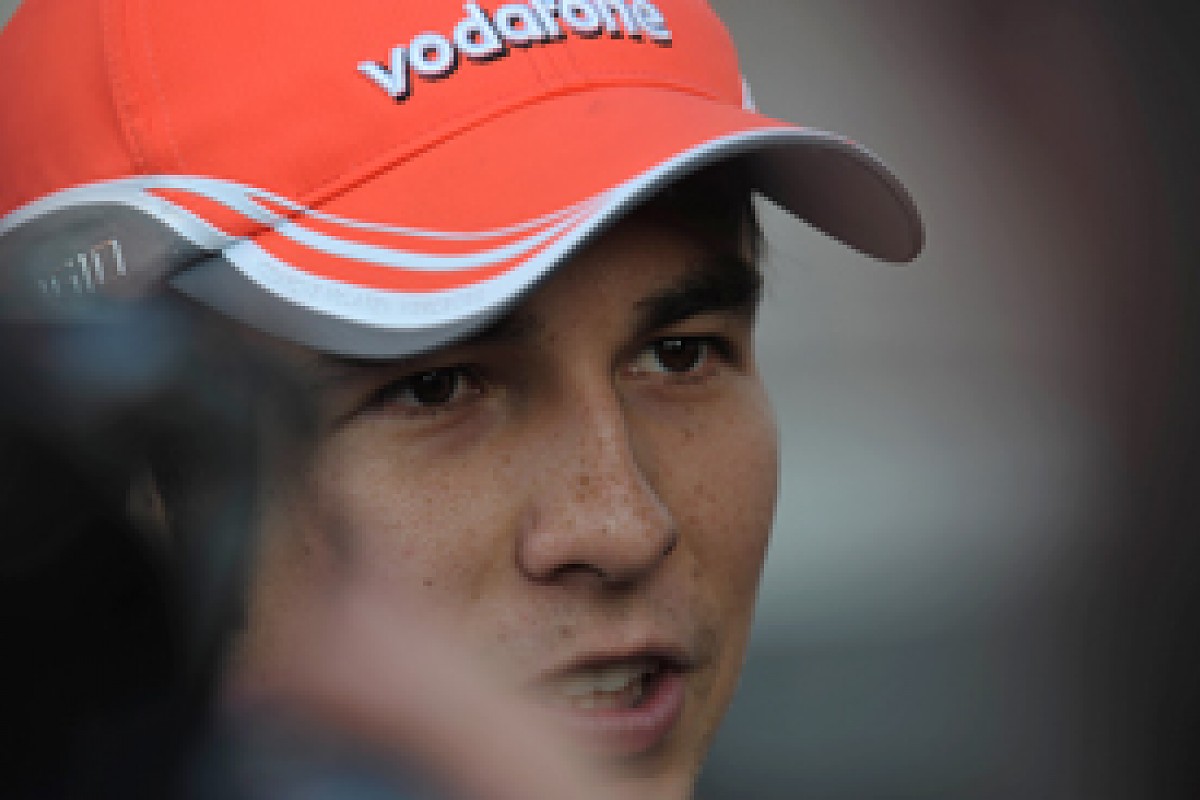 Perez said there was little he could do to ease tyre degradation... © XPB
Particularly in the early stages, Perez and Sauber actually profited from the confusion, their ability to find and maintain the sweet spot producing podiums in Malaysia, Canada and, later on, Italy. But while he argues that a driver's style could make a difference last year, Perez says this year's offerings are simply degrading too quickly.
"Before you could do more as a driver," he says. "Now, it doesn't really matter what you do. Obviously you can help the tyres last a bit longer, but at the moment the tyre is very weak, so there is very little that the driver can do to help the degradation."
While that may have implications for Melbourne - a multitude of stops are already been talked of as a possibility for Formula 1's 2013 opener - the point, says Nico Hulkenberg, is that it is affecting how teams go about their pre-season preparations.
"The continuity and consistency hasn't been there today and that makes testing very hard," he explains. "Can you get a feel for the car? Yes, but not for very long...
"It's difficult with the tyres. It's challenging to make them last longer and get some proper testing. It's a gradual degradation, but still there is only a lap or two where you can feel them. I only ran on the medium and hard tyres, and that was the case [with both].
"I'm not negative about it. There's still work to be done, still room for improvements, but we have to take it as it comes."
As both Perez and Hulkenberg explained, the picture is clouded by the low ambient temperatures at Barcelona.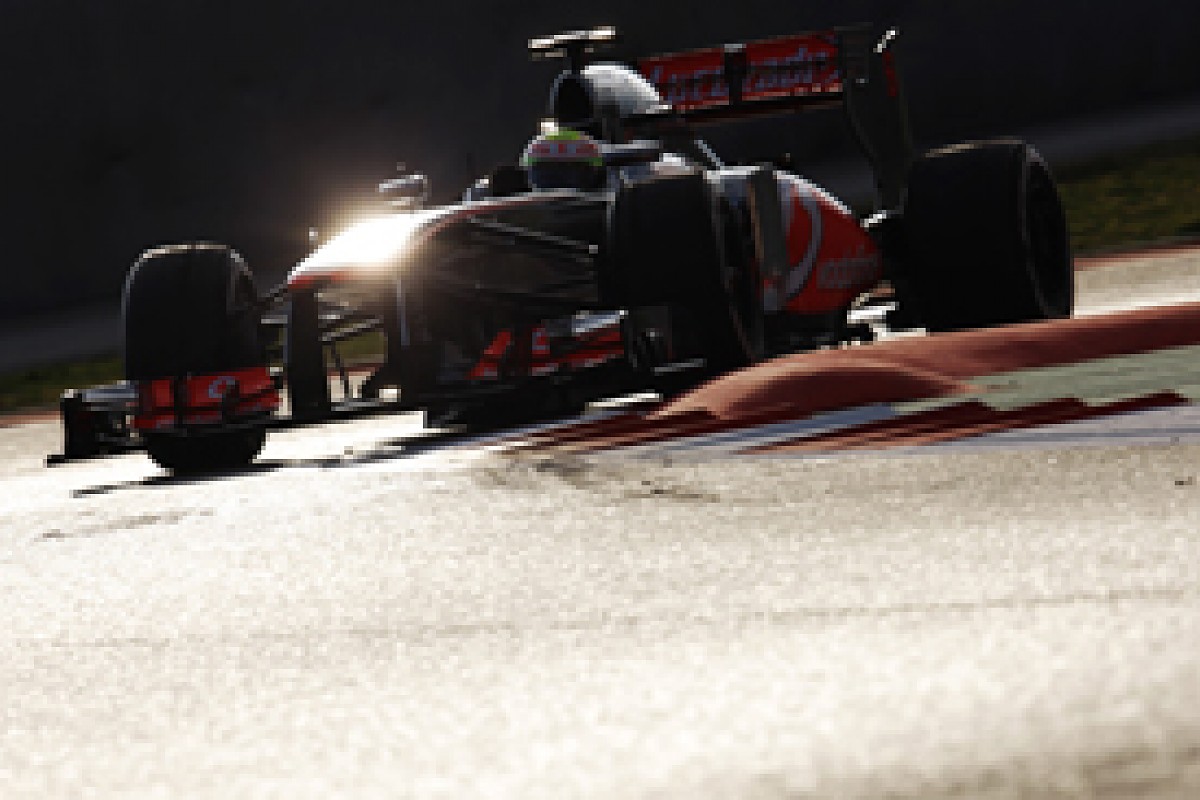 ...an issue worsened by the cold temperatures at Barcelona © XPB
Three degrees Celsius in the morning became 12C in the afternoon, but it's still far from representative of what you'd expect - or perhaps hope for - when F1 returns to the Catalunya circuit in three months time for the Spanish Grand Prix. Crucially, it's also conducive to graining, a problem also suffered at Jerez two weeks ago.
Because of that, it's dangerous to make too many predictions for Melbourne. F1 teams do, after all, have a canny way of adapting to the latest challenges thrown their way. Higher temperatures may play into Pirelli's hands, while teams will figure out ways of negating the rapid degradation experienced so far. We're back to the uncertainty.
Depending on your stance on tyres, that can be good or bad. More uncertainty and more stops could produce potential thrillers and watching trackside, the speed disparity between fresh tyres and scrubbed sets was striking.
It could also upset the order. Or, as Hulkenberg put it, introduce an element of a lottery into what appeared to be a fairly stable handover from last year's running order. Adapting, then, is once again the name of the game.
"What happens in testing is not necessarily what happens in the season; I'm really not sure at this point but it could be that we have races with a few more pitstops this season," Hulkenberg says.
"I'm relaxed about it. New year, new situation."
Tuesday February 19 - The phoney war starts
Edd Straw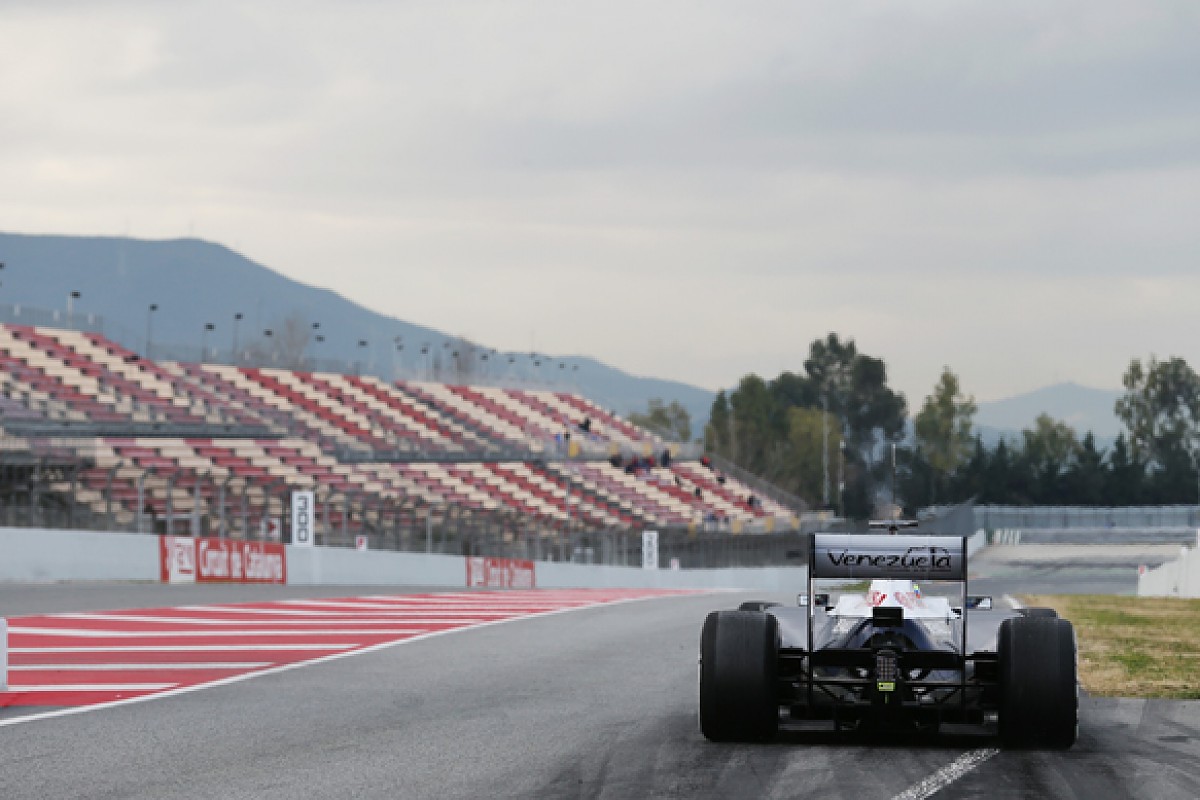 A complete set of 2013 machinery, the first outing of the year for last season's star driver and a move to the best Formula 1 test circuit in Europe all adds up to pre-season testing hotting up, in terms of intensity if not ambient temperature.
Vital as it is, testing is the embodiment of a phoney war and the four days of running at Jerez a couple of weeks ago was a preamble even to that.
With Williams and Fernando Alonso joining the fray today, it's now all systems go at a track that is far more representative of the kind of venues that these cars will race at during the year.
There has been a lot of talk about Williams opting to mess the Jerez test, but technical director Mike Coughlan left no doubt as to his feelings on that venue.
He was damning in his evaluation of the relevance, or lack thereof, of running at Jerez, making you wonder why F1 doesn't just go with his suggestion of taking up permanent pre-season residence in Catalunya.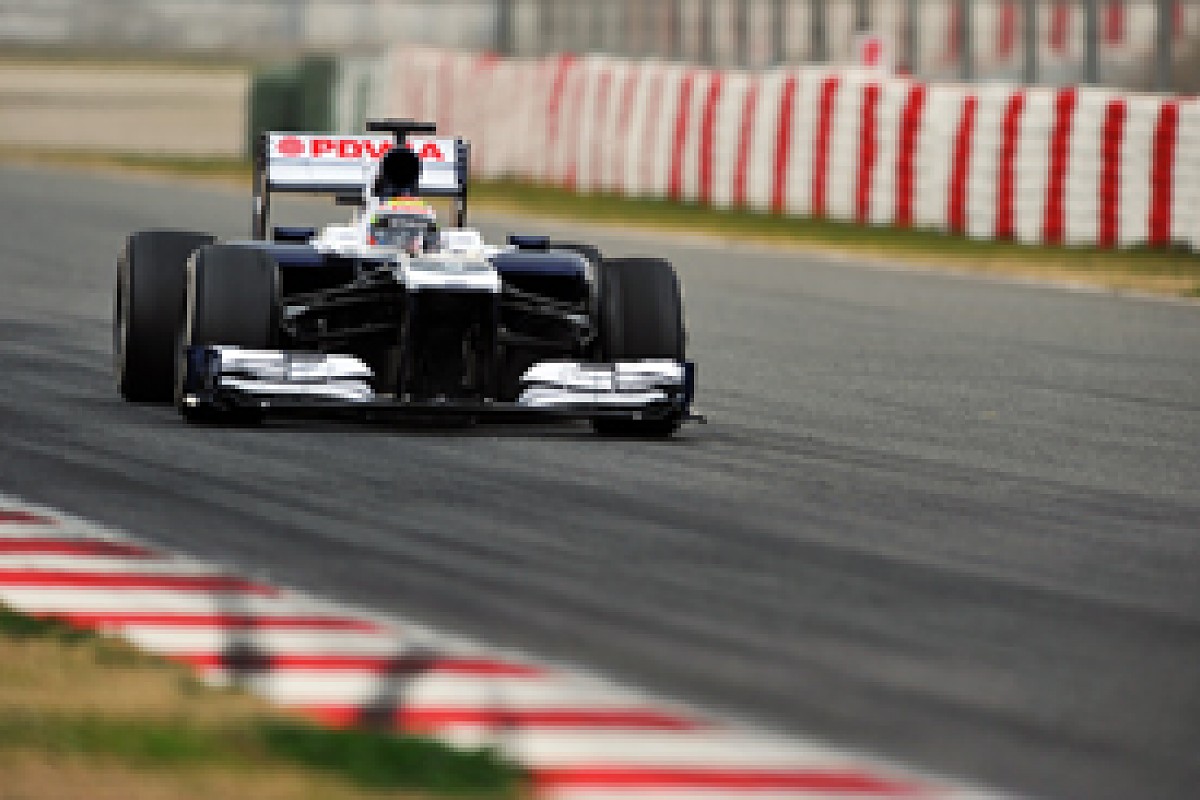 Maldonado gets up to speed in the FW35 © XPB
"To begin with, we didn't plan to do Jerez at all," admitted Coughlan. "We only did Jerez because Pirelli was bringing its new tyres and we felt it would be better to run with the old car so that we had a known platform.
"I'm sure that a lot of people went to Jerez with a new car, new driver and new tyres and got lost. We didn't.
"If it was Barcelona, then we'd have gone, but it was Jerez. Jerez is unique; very high degradation, very aggressive, very rear-limited. You have to ask yourself is there really a track we go to that is even a similar type? And with weather conditions, you have to say 'do we learn a lot?'
"Barcelona is very good. We all have lots of simulations of the track. It's easy to get to, cheap flights, nice hotels. I'd rather see three tests at Barcelona."
Not that there will be a great deal of time for the Williams team to enjoy the local sights and gastronomic delights. Aside from a row about the legality, or otherwise, of the vane that sits atop its Coanda channel into which the exhaust pipes lead, it has some serious work to do in playing catch up for that missing first test.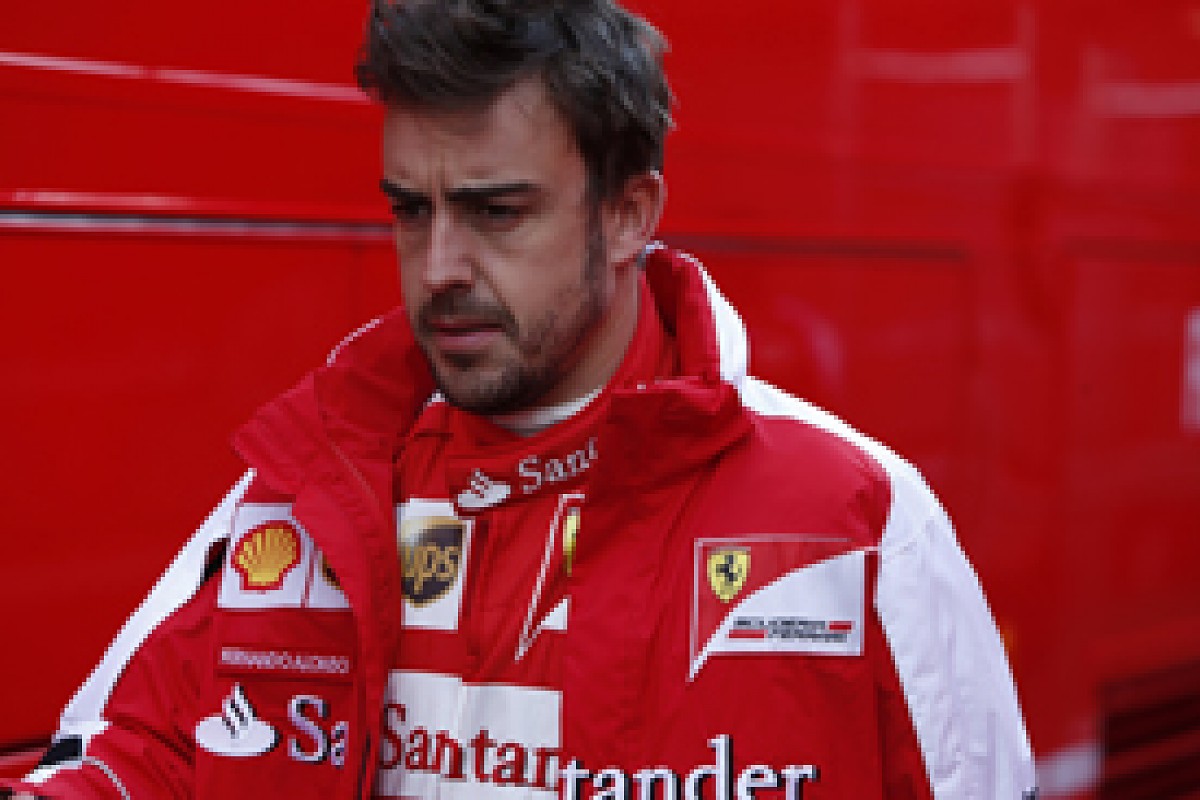 Alonso didn't feel he missed much at Jerez © LAT
You could say the same for Alonso, who completed a marathon 110 laps on his first day behind the wheel of an F1 car since last year's title-deciding Brazilian Grand Prix.
"I feel OK," said Alonso. "Just the neck is now a little bit stiff. But it's normal for the first day. Whatever neck training you do, the car is a killer on that.
"Always the first day is difficult. It depends how many laps you do but even the first lap in the first day if you do 100 laps of Barcelona, it's normal."
Alonso certainly wasn't keen to waste his time doing donkey work at Jerez - a privilege that his status as Ferrari's talisman affords him. His words after his first day of running were pretty positive, although there was a hint of equivocation, suggesting that while Ferrari is in a much better position than it was this time last year, there's still a lot to be done.
Either way, he will have a more clear understanding of his team's position having sampled the car at Barcelona - a venue where any aerodynamic weaknesses are ruthlessly exposed. That's why the drivers generally look forward to getting to this part of Spain rather than the south west.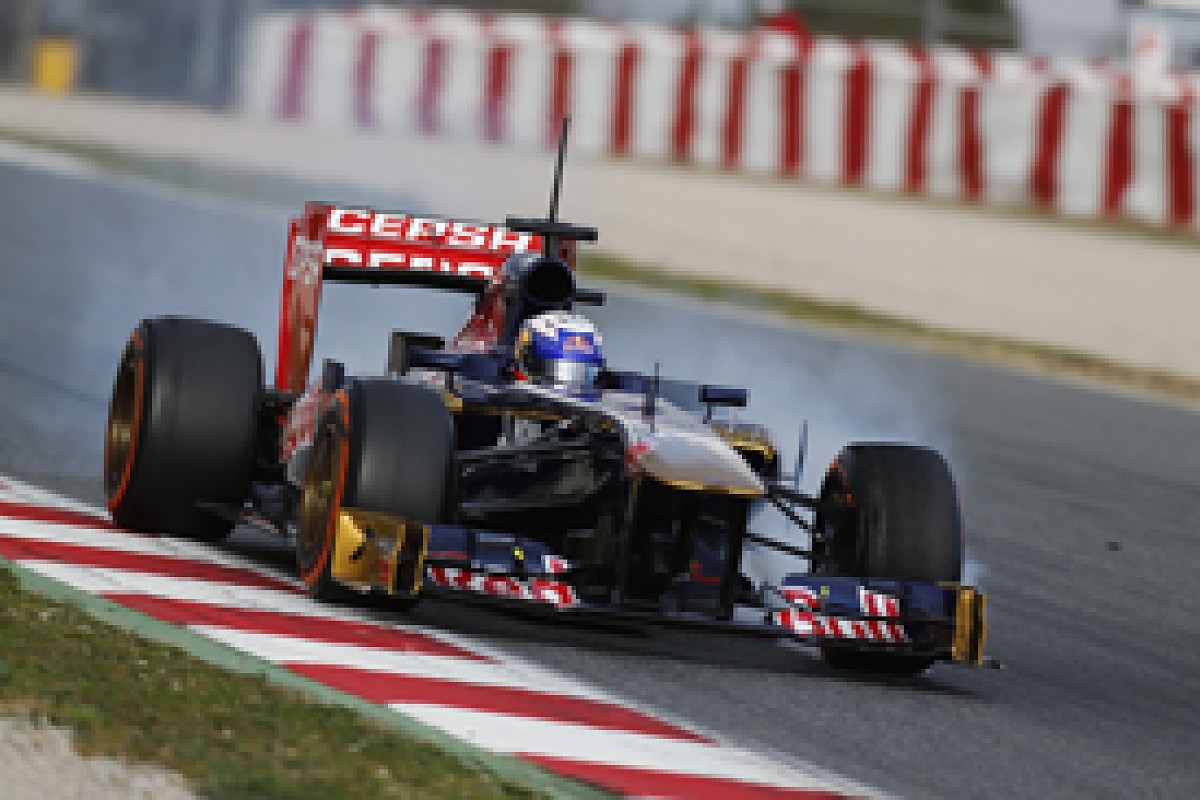 Ricciardo just wants to be in Melbourne © LAT
"You do," said Toro Rosso driver Daniel Ricciardo. "But at the same time May normally brings different track conditions. I think it is a better picture of where everyone is at [compared to Jerez] but I highly doubt that we will have the cool conditions we have now in May.
"It's frustrating that you know maybe what works here today won't work in May. Maybe what you are scratching your head about here could work in May.
"There is still a little bit of an unknown but you will start to get a clearer picture."
That's a phrase that will be tossed around a lot over the next month or so. It's a tired cliche but one that is steeped in reality. No wonder the more straight-talking of the drivers admit to champing at the bit to get out to Australia and race.
"I get a big frustrated with testing to be honest, I just want to go racing," admitted Ricciardo.
"I guess testing could be a bit more exciting... if it were racing! That probably doesn't make sense, but I just can't wait for Melbourne!"
Unfortunately, for fans, teams and drivers alike, the opening race of the season is still a month away.
For now, we'll all have to be satisfied with picking through the bones and half-truths of this phoney war.