Click here to read AUTOSPORT's James Hunt special, guest-edited by Niki Lauda and featuring insight into Hunt's relationship with Hesketh, the comeback that never was and a technical analysis of his McLaren M23.
There was always a drama around James Hunt, a hurricane of colour and controversy and, at its eye, a blond vision of neurosis and hyperactivity. This was Hunt fuelled up in racing mode - a state he believed necessary to do something that, by his own admission, scared him.
Anyone working with him had no choice but to fall in with his assertive dynamic. Even Teddy Mayer's super-regimented McLaren found itself marching to Hunt's drum almost immediately he arrived as a late-notice replacement for the departing Emerson Fittipaldi in the winter of 1975-76.
Jochen Mass had spent the previous season as understudy to Fittipaldi - who was already a legendary figure when he arrived at the team - and now, as the McLaren incumbent, the German felt ready to step up, to run as an equal to Hunt.
They'd arrived in Formula 1 in the same year, each established themselves as comingmen, each had even taken their first grand prix win in 1975. So it seemed logical to Mass that as team-mates they'd be equals.
But that was to reckon without two things: that centre-of-attention drama Hunt brought, and a turn of speed that up until he climbed aboard the McLaren M23 had been underappreciated by a sport often prone to dismiss anyone not buying into its social mores - and James Hunt didn't buy into anyone's.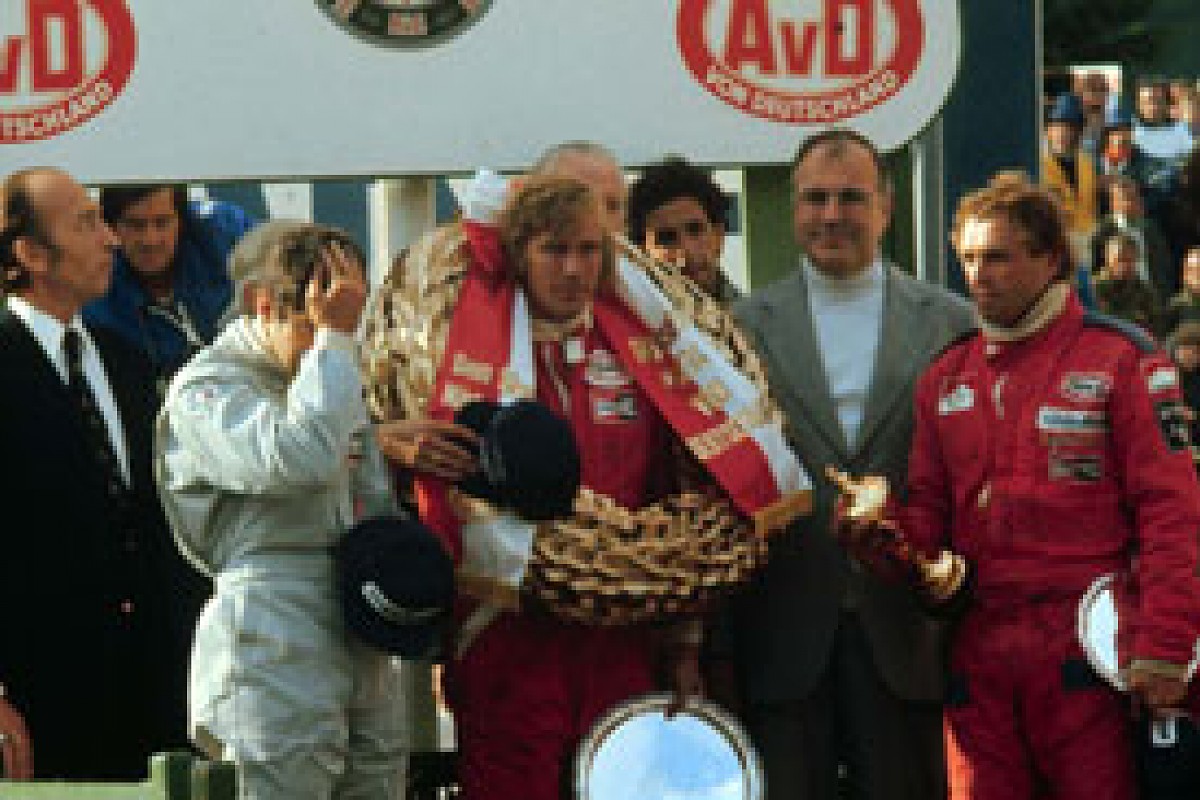 Mass (far right) found Hunt a tougher team-mate than Fittipaldi © LAT
"Everyone loves an eccentric driver," says Mass, "and you especially love eccentric drivers who deliver. He was a tougher team-mate than Emerson had been.
"Emerson arrived there as the golden boy, a world champion already, and was left to do the job, so he was almost nonchalant. But James was very demanding within the team. There was more of a performance, a drama, about him. My personality meant I found it very difficult to deal with."
It was Hunt who coined Mass's nickname of 'Hermann the German', a tag Jochen didn't enjoy, and it's easy to visualise the dominant Englishman within the British team getting everything spinning in his orbit and leaving the introspective Mass looking on.
Mass arrived in the garage on one occasion aghast to find Hunt sitting in what had been his own car, with the mechanics working around it. 'Don't worry Hermann,' Hunt shouted, 'I'm making it better!' This was now Hunt's chassis...
But how could the team not respond to him? He was utterly brilliant right from the start of 1976.
He'd not driven the car in anger before Interlagos, the opening round, as each of the two Silverstone test sessions had been rained out. With Niki Lauda's Ferrari on a provisional pole and the final minutes of qualifying ticking down, Hunt was in a screaming match with Mayer; he had asked for the screen to be altered as he was suffering a lot of buffeting in the cockpit and there hadn't been time yet to do it.
Mayer told him to stop his whining and just get out there, and it was a furious Hunt who took to the track. The resultant lap was two hundredths faster than Lauda's; Hunt was on pole and the tenor of that extraordinary season had been set. Mass, 1.1s slower, was probably not part of the celebrations.
That superficial conflict Mayer often seemed to engender worked brilliantly well in triggering the adrenalin Hunt needed to access his best stuff.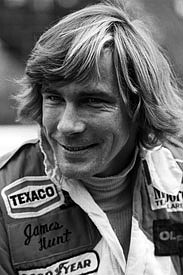 Hunt was a highly strung maelstrom of emotions in the car © LAT
It was something that John Watson, later Hunt's replacement at McLaren and someone who knew both men very well, could see. "Teddy would have seen the strengths James had were very valuable to the team," he recalls.
"Emerson had not been prepared to drive the car as close to the edge as James. Teddy would have recognised that and possibly adopted a devil's-advocate role. Not in winding James up, but in allowing James to wind himself up.
"There was a funny psychology Teddy and some of the other members had. They knew how to extract James's blue-riband performance. I don't think James was even aware Teddy was doing that."
Hunt had always needed to psyche himself up. The state he got himself into was frequently betrayed immediately he got out of the car after an incident: perhaps a marshal might try to physically dissuade him from walking onto the track; several times in his career Hunt pushed or punched an official.
In one such episode in Monaco in 1974, the mercurial nature of his temperament - flash-quick to ignite, just as quick to subside - is clearly visible. He's barely finished assaulting the marshal when a consolatory, apologetic gesture emerges.
"He used to get himself into such a state before a race," says Mass. "He'd be a quivering wreck.
"It reminded me of a highly-strung racehorse. He'd have almost no idea what he was doing.
"At Fuji one year he went to take a pee outside but instead of doing it around the back, he did it out the front, facing the grandstands of people. He was just out of it."

Without winding himself up, it is unlikely he would even have been able to get into the car. But once in the cockpit he was able to direct his very real talent with focus and intelligence.
The fear was subjugated to that competitive will - which must have been wearing and surely explains the brevity of his F1 career: a bright new thing in 1973; world champion in '76; a disillusioned retirement partway through '79, by which time the cars he was driving were not competitive and there was no allure of victory to overcome the terror.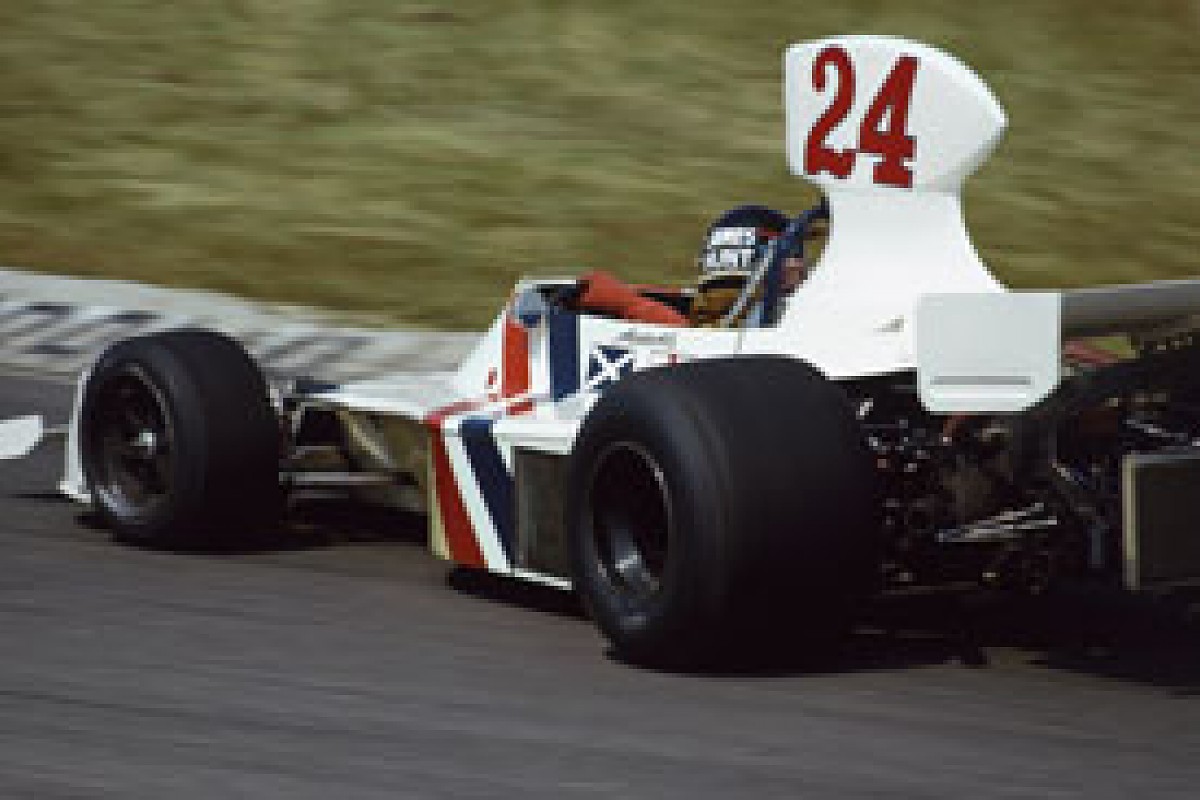 Hunt delivered Hesketh's only grand prix win at Zandvoort in 1975 © LAT
In his peak years he would apply his intelligence to block out any reservations about the danger of what he was doing. It would have been all too easy to have lifted his throttle foot just a little - but then he would still have been subjected to the danger without any prospect of the rewards. So the foot stayed down, the brakes stayed off that fraction of a second longer.
He referenced this rare combination of bravery and smarts in his 1976 title-year book with Eoin Young: "I intend to keep going full chat... an accident that starts at 165mph is as bad as one that starts at 170mph."

He'd arrived at McLaren after a thoroughly unconventional grounding at Hesketh - a serious engineering core beneath an aristo's whimsical vision of a team, one that encouraged Hunt to be his unconventional self. It was certainly the last team to have included a grand piano in its shipping cargo to a race.
They and Hunt had hooked up in F3 when neither had much in the way of reputation: Hunt was quick, but so were lots of others, and he crashed a lot. It was only when they arrived in F1 that he began to mark himself out. Their debut part-season in 1973 with a customer March was pretty sensational, but in the eight GPs he appeared at that year, two drivers - Roger Williamson and Francois Cevert - were killed.

The fear was well-founded.
His driving wasn't in the silky idiom of Jackie Stewart nor the high-wire acrobatics of Ronnie Peterson, but somewhere in between: a hard, hustling and relentless driver, quite at home with a bit of oversteer. Sheer competitive will marked him out.

But how good was he? At this stage, no-one - himself included - was really quite sure. He'd made that March go much faster than the works car of Jean-Pierre Jarier, but the works car didn't have the benefits of the development tweaks Harvey Postlethwaite had made on the Hesketh-run machine.
The late Postlethwaite recalled in 1997 that "when I worked at March I was constantly wanting to do my own front wing for the cars, because Marches of that period always understeered and I reckoned I knew why, but Robin Herd [designer] was always resistant to my ideas. So when I got to Hesketh I was able to do the tweaks to the March I'd wanted to do all along."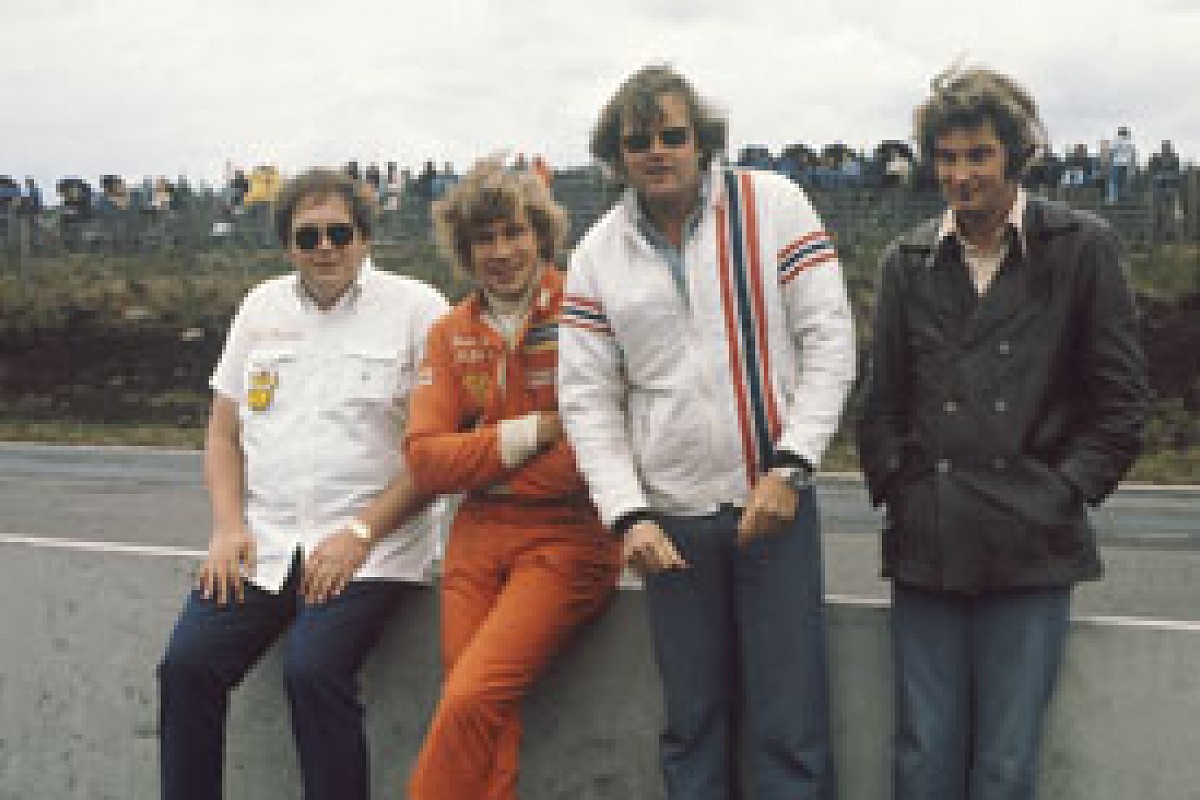 (L to R) Lord Hesketh, Hunt, Horsley and Postlethwaite © LAT
Postlethwaite progressed his ideas to a full car for 1974, still loosely March-based: the Hesketh 308. On its debut in the Race of Champions at Brands Hatch, Hunt impressively put it on pole against a good field, then went one better by winning Silverstone's International Trophy in a superlative performance.
He had to wait until a wet day at Zandvoort in '75 to record his first world championship GP win, his smart call on when to pit for fresh tyres in the changeable conditions and his unflappable resolve under subsequent relentless pressure from Lauda's Ferrari being crucial.

There probably weren't too many others on the grid who could have turned the circumstances of his day into a victory, but still he was uncertain - as he put it - of "whether I was driving an average car brilliantly or driving a brilliant car averagely".
With no known-quantity team-mate for comparison, it wasn't easy to tell.
Those questions were answered with his move to McLaren. He had indeed been driving an average car brilliantly and, once his own questions were answered, a new-found confidence seemed to give him access to a yet-higher level.
Some of his contemporaries might have looked more gifted on the way up, but it's doubtful any of them could have delivered the way he did in 1976 and '77; virtually always substantially faster than a pretty reasonable team-mate and making the McLaren M23 look more competitive than had Fittipaldi (11 poles and six victories in 20 events, compared to Fittipaldi's two poles and five wins in 28 attempts).
Going into those last races of '76, he absolutely had to win in Canada and America to have a hope of staying in touch to the finale, and impressively did exactly that.
Only Lauda seemed to be operating at a similar level of consistent excellence.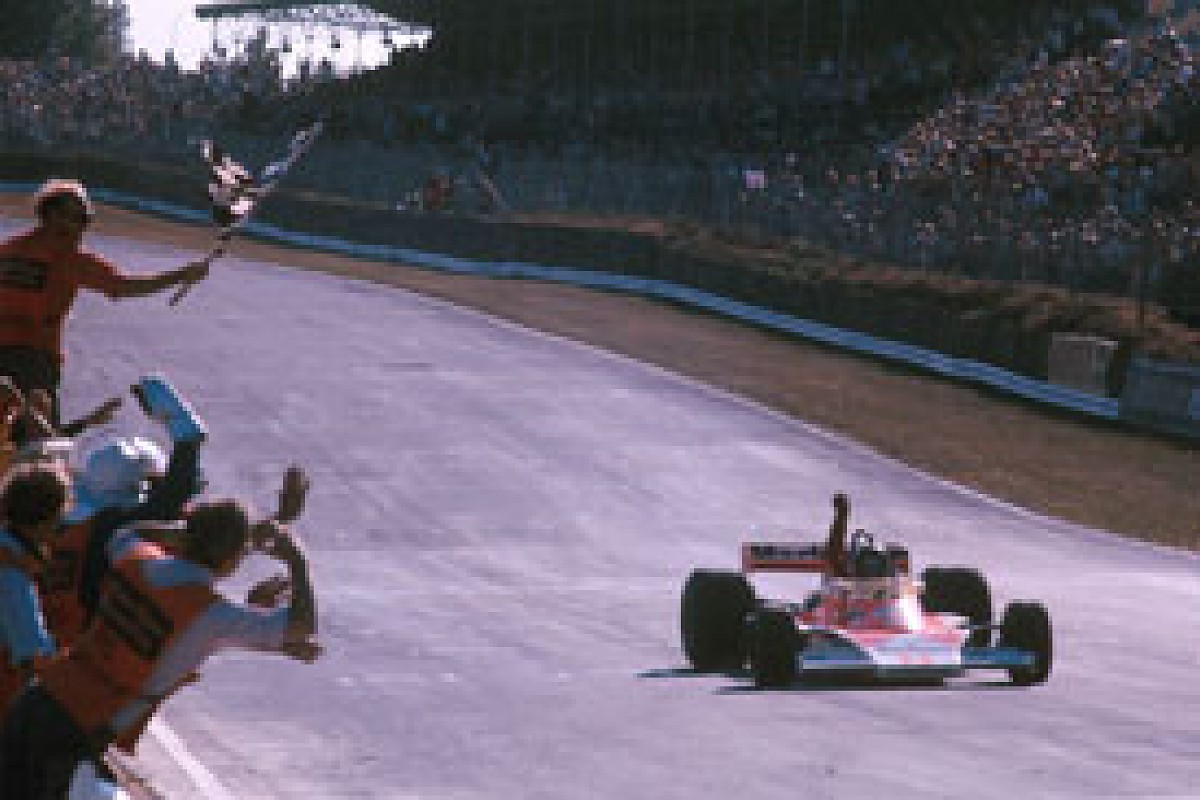 The win that wasn't - Hunt takes the chequered flag at Brands Hatch in 1976, but lost victory under protest © LAT
"I don't think Niki was quite as quick as James over a lap," says Watson, "and I don't know whether he could have dragged every last ounce from the McLaren the way James did.
"On the other hand I don't think James would have had Niki's motivation and clarity at Ferrari. Teddy Mayer lit the adrenalin in James, whereas Niki was the person who lit Ferrari's fuse. They were each the perfect matches for their situations at that time."
Once racing was done for the day, Hunt was not one for dwelling on how to go faster. His pursuits invariably involved ladies and alcohol. This is the man who, along with his mate Barry Sheene, was said to have bedded over 30 BA air hostesses during a two-week period in the Tokyo Hilton. As preparation for the 1976 Fuji title decider, it didn't seem to do him much harm.

His penchant for walking around in T-shirt, denim and bare feet, his showbiz associations, all painted him as larger than life, and did much to take F1 from being a sport with a purist-only following to something much more newsworthy.
Many purists didn't like that and still don't, and this often seems to colour their judgement about how good a driver he was. But he was of his time: just being himself, he jolted F1 out of its insular world view.
The 1970s were a time of individualism in art and culture and he epitomised that better than anyone else in the sport. And for a period of three or four years he was a quite brilliant racing driver.

Mayer passed away in 2009, but eight years earlier spoke about his time with Hunt: "As he got success, he became more confident. That improved him as a driver. It also made him behave however he wanted out of the car, as long as he was the star. It made him a wilder person, less conventional than he already was.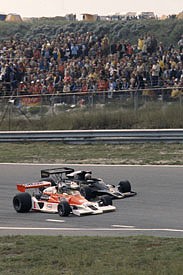 Dicing with Mario Andretti in the 1977 Dutch GP © LAT
"He was able to keep that side of him separate from the racing driver. But being a racing driver did take a lot from him. He'd often disappear around the back of the pits before a race to throw up.
"When the cars became less competitive, he became less interested. He never was one who would want to spend a lot of time at a test track. But in that period 1976 and '77 I don't think there was a better driver out there. He was certainly quicker than Emerson had been, pushed the car harder, yet very rarely made mistakes."
By 1978 the McLaren M26 was hopelessly outclassed and, although Hunt was invariably quicker than new-boy team-mate Patrick Tambay he was able to take only one podium.
A move to Wolf for '79, back to a single-car team with Postlethwaite, promised much on paper. But the car lagged badly behind and, partway through the season, Hunt simply stopped.
A week later Ligier's Patrick Depailler broke his legs hang-gliding and Hunt was all for accepting the team's offer to replace him, but Wolf understandably wanted a big payment for that, so it didn't happen. If it had, he'd likely have been somewhere near the front once more. His replacement at Wolf, Keke Rosberg, was no more competitive in the car than Hunt had been.
By his own admission Hunt didn't fully 'get' motor racing until after he'd retired. When he was doing it, all he saw was his own part in it - very much in keeping with his approach to life in general. That the quality of the machinery was such a dominant part of the equation was a constant frustration to him, something that got in the way.
Only later, in his commentary years, did he come to view the technical fight between teams as fascinating too, and that a driver forming a productive partnership with a team and its engineers, each bringing the best out of the other, was actually what made the sport interesting on a much deeper level than he'd previously seen.
He could see this from the clarity of retirement, when the adrenalin that always fuelled his competitive appetite was no longer clouding his vision.
But it's fair to say the sport didn't fully get him either - and there was much to get, and sadly so little time left.
He wasn't old when he died in his sleep, but he'd certainly lived a life.