The numbers are damning. The 58 grands prix entered by the HRT team yielded no points, a solitary 13th place and 19 back-row lockouts for a spend of around £70 million.
It's easy to compare this to the debacles experienced by the Life and Andrea Moda teams of the early 1990s, but it would be grossly unfair. By no measure was HRT a success during its three years in Formula 1, but in the circumstances completing three seasons was a remarkable achievement.
It's often overlooked how credible the team appeared initially, with Adrian Campos's operations having won titles at levels as high as GP2. Dallara was the perfect choice to build the car, so it was no surprise to see Campos Meta 1 on the 2010 F1 entry list.
Soon rumours of trouble emerged, however. Gian Paolo Dallara admitted that "factors outside our control are slowing the process [of completing the car] down". As ever, such problems were financial. And it wasn't just due to governing body the FIA scrapping the £40 million budget cap.
"I started off with a very nice programme with Dallara, but my partners were not the people I expected," says Campos, who left as team principal after Jose Ramon Carabante bought him out.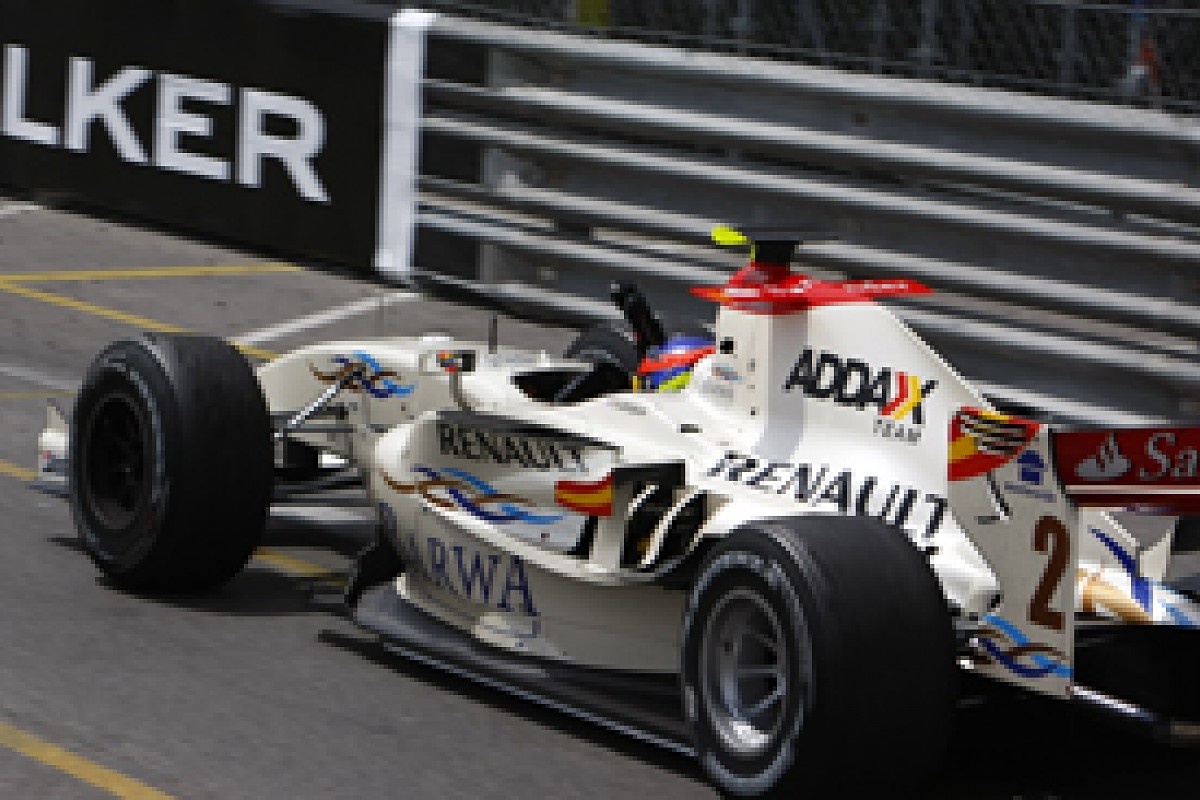 Adrian Campos's successful GP2 team should have made a good starting point for the squad © LAT
"I preferred to sell my shares and let them go on because they wanted to be the face of the team. It was better to take one step back and leave the people with the money to it.
"In my opinion, they [the team owners] made a big mistake. They thought that because they had the money, they knew the business of motorsport. But it's very difficult. You need to be there for many years to know how it works. My part was to organise the technical and the sporting side, and they put the money in."
Dallara was still nominally working on the car because the arrangement with the team - now known as Hispania (HRT) in deference to the Carabante-owned Hispania Group - did not officially come to an end until May, but progress was stop-start.
The owners sought Bernie Ecclestone's counsel and the F1 supremo put them in touch with Colin Kolles. That HRT raced at all owed much to the resourceful former Force India team principal.
Geoff Willis came in as technical director, after leaving a similar post at Red Bull in June 2009. Another ex-Honda man, Jacky Eeckelaert, had been working for Kolles' sportscar team and was brought in as they scrambled to get the cars ready for the opening race of the 2010 season in Bahrain.
"Colin had a [ready-made] team because he ran the Audi LMP1 cars in 2009, so he had the equipment, trucks, flight cases for overseas races, mechanics and a few engineers," says Eeckelaert.
"The first day I could be involved [because he was on gardening leave after departing Honda/Brawn a year earlier] was March 1. That day, I took a plane to Bologna. What we discovered at Dallara were three bare monocoques, a few cardboard boxes containing some suspension parts, and a model of the gearbox and engine. Two weeks later, there was a race in Bahrain. It looked impossible."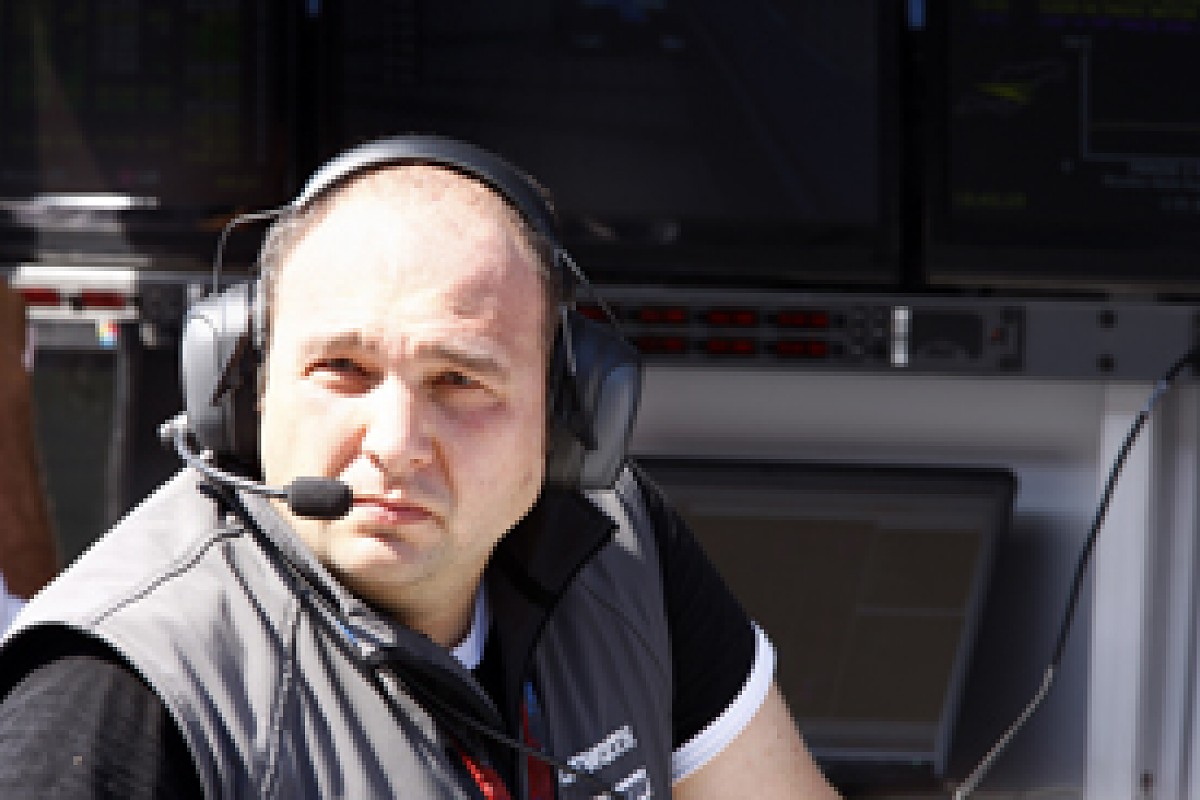 Kolles came to the rescue © LAT
Thanks to Kolles, the parts required to build up a running car started to arrive. The team laboured flat-out before heading to Bahrain at the last minute, where work continued.
It was a chaotic time. The driver line-up was in a state of flux. Bruno Senna had been signed by Campos with no budget required. Pressure was put on the Brazilian to pay or lose the seat, but liberal waving around of the original contract meant he kept the deal. Ultimately, though, he did bring a small amount to assist the team.
In the other car, Karun Chandhok paid less than he would for a full-blown GP2 drive for his half-season.
Intriguingly, among a selection of driver-name decals found in a drawer at the team's garage that included the likes of Christian Klien, Pastor Maldonado and Sakon Yamamoto was a certain Jacques Villeneuve...
Senna's car hit the track on Friday in Bahrain, Chandhok's not until Q1, and both started only because the 107 per cent qualifying cut-off rule was not enforced. Merely running was a miracle, and there were genuine expectations that things would improve.
"We were promised an aero update for Barcelona, another for Silverstone and a low-downforce package for Spa and Monza," says Chandhok. "Based on that, we thought progress would be made."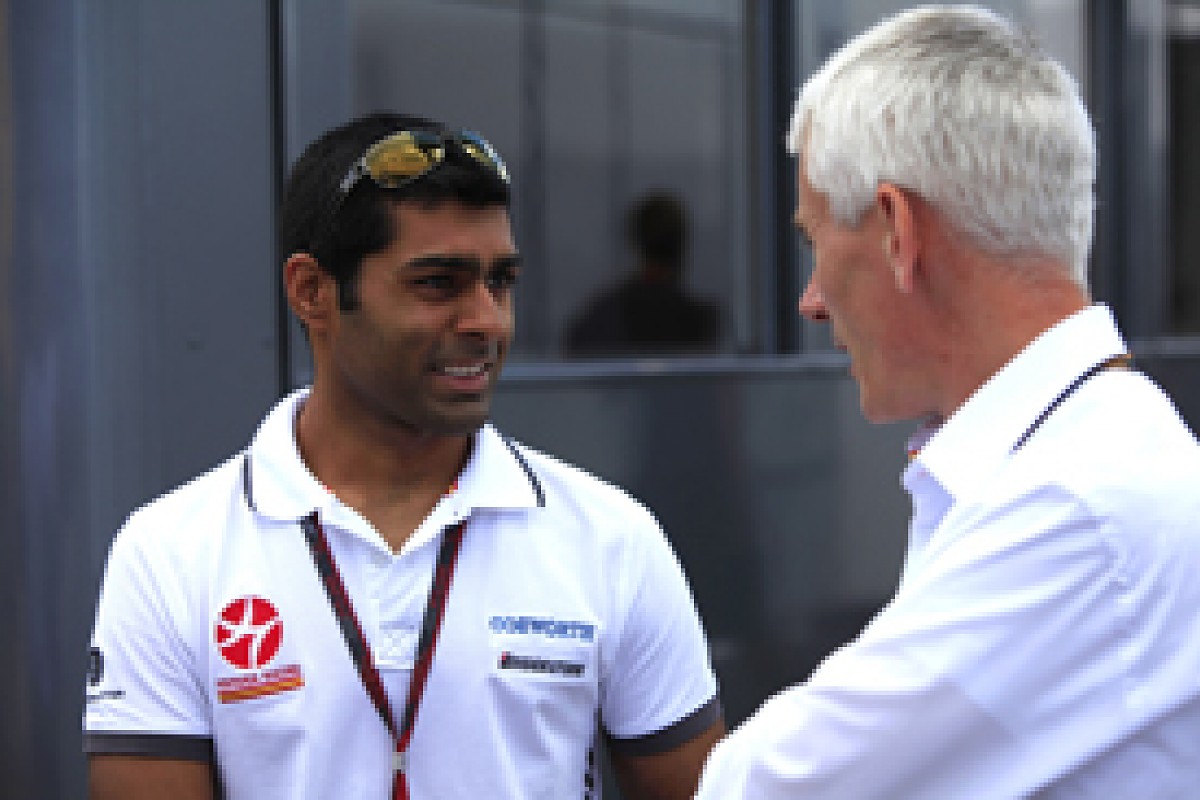 Chandhok and Willis did their best © LAT
It wasn't. Dallara had designed a major aerodynamic upgrade that HRT was never able to afford to produce (a similar thing happened with a package Willis came up with in 2011).
Chandhok realised he couldn't keep paying and, after Senna sat out Silverstone on a disciplinary pretext after being critical of the team in an email, Sakon Yamamoto took up a full-time ride at a cost of $500,000 (£310,000) a weekend.
With the team operating out of Kolles's base in Greding, Germany, moves were made to engage Toyota to design and build its 2011 car. This would be based on an evolution of the stillborn Toyota TF110 chassis, with its engines used unbranded.
When Cosworth refused to end what was a three-year engine supply contract without suitable recompense, that plan collapsed and a deal was struck for Toyota to do CFD and windtunnel work for HRT. Five months later Toyota, by then owed around $5 million, pulled out of the arrangement.
This was a major blow. Kolles struggled to get money from the owners to cover the bills - on occasion paying for things such as transport for the team out of his own pocket. In the circumstances, there was nothing the team could do for 2011 except build up a 'new' car around the same three chassis it used in 2010.
Unfortunately, after doing a great job in its first season to make a basic car reliable and capable of threatening Virgin on occasion, the team faced a similar challenge in 2011.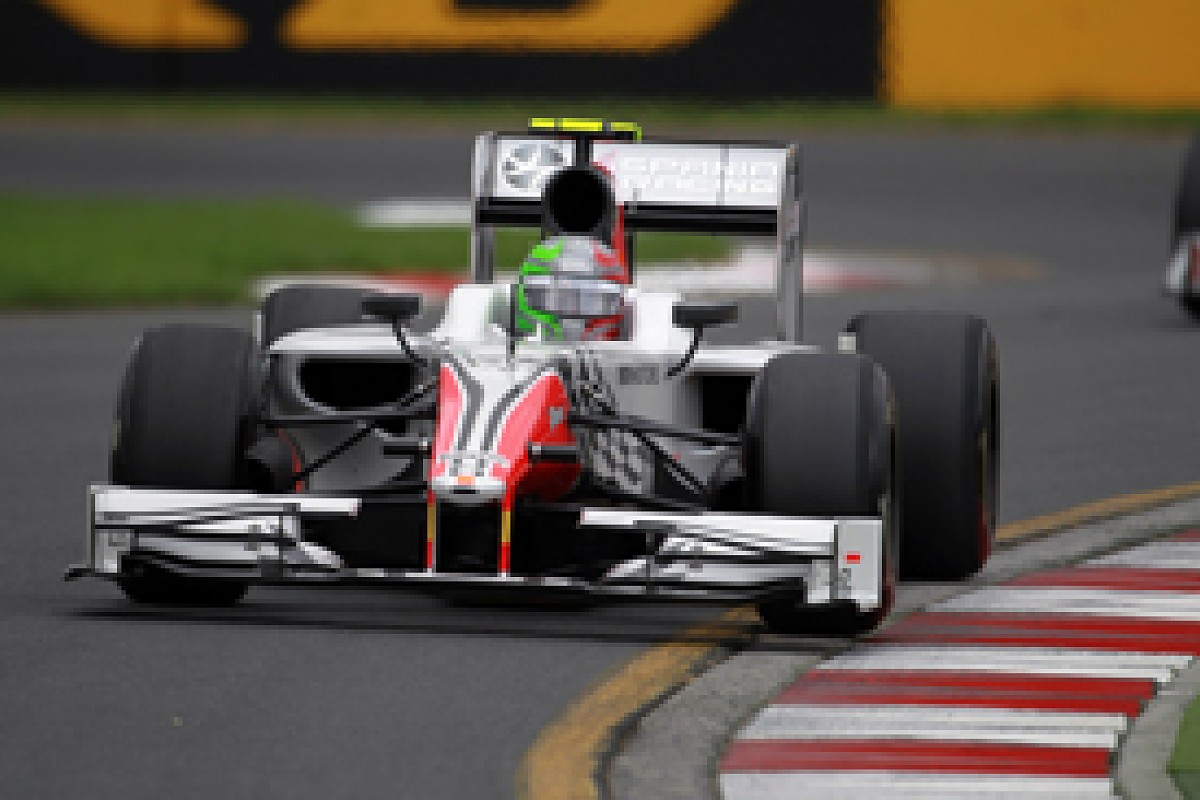 Liuzzi joined up for 2011 and failed to qualify in Melbourne © LAT
However, off-season cashflow problems meant further delays for the 2011 construction programme. Once again, it wasn't until the season opener that the cars were finished. Not surprisingly, drivers Narain Karthikeyan and Vitantonio Liuzzi failed to qualify.
Again, the cars were made reliable and occasionally bothered the Virgins, but struggled on a shoestring. Willis's plans to develop a permanent design office in the UK Midlands never came to pass and any work that was done was spread between as many as seven sites.
With Carabante's businesses struggling thanks to the economic situation in Spain, Thesan Capital bought HRT in June 2011, with a view to selling it on for a profit. The new owners resurrected a dubious plan to make HRT the Spanish national team, eventually setting up a new home for it in Madrid.
Kolles had aspirations to acquire the team himself and build it up with proper investment, but was ousted at the end of the season and replaced by Luis Perez-Sala, a less-dynamic team boss.
Willis left in August 2011 after realising that the long-promised investment simply wasn't coming, and Eeckelaert took over as technical director.
HRT did produce a new car for the following season, having used the 50-per-cent-scale 'old' windtunnel at Mercedes, although with cashflow still an issue the cars were once again not built until late on. They were shaken down pre-season, but neither Karthikeyan nor Pedro de la Rosa could qualify in Australia.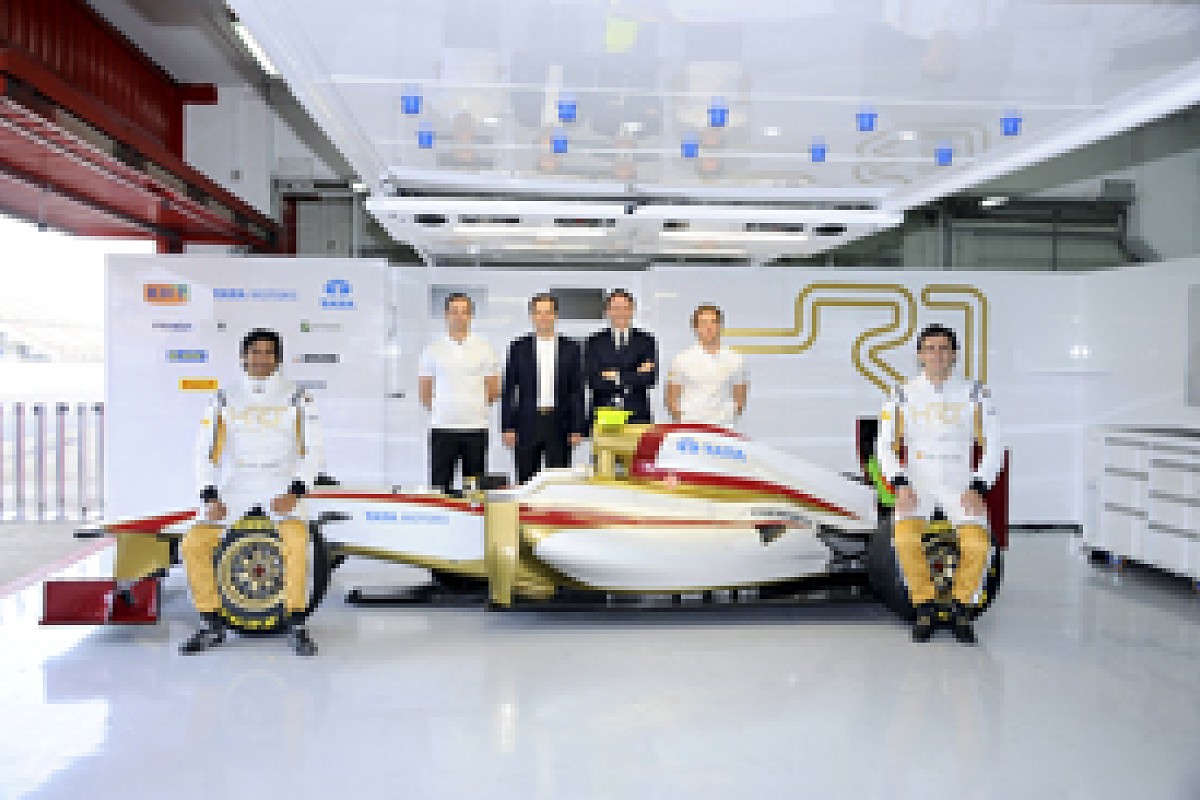 Thesan tried to revive the Spanish theme for 2012 © LAT
Thesan did bankroll the establishment of modest roots with a view to making the team more saleable. On track, it was the same old story, with the team doing a good job considering a minuscule total spend of around £20 million (including the cost of the new facility). But while things were tough in 2010 and '11, things took a turn for the worse in the second half of last year.
"At the start, Thesan wanted to invest a lot of money and put [the operation] all under one roof," says Karthikeyan. "Somewhere during the year, they started compromising on everything, including using old parts on the car. They came into F1 with closed eyes and they got bitten by it because they weren't aware of the financial input needed to be even half-decent.
"There were some good people at the team, lots of good mechanics, so the racing side was good. Even after getting sacked, they were motivated. But you can only do what you can with what you have, and from July onwards it was really bad.
"Towards the end of the year, we were risking ourselves. At one point, my number one mechanic said he would not send the car out. I was lucky. I had some massive shunts - particularly in Abu Dhabi - but got away with it."
Thesan redoubled its sales efforts. Attempts to raise money in Spain and off the back of underqualified reserve driver Ma Qing Hua came to naught.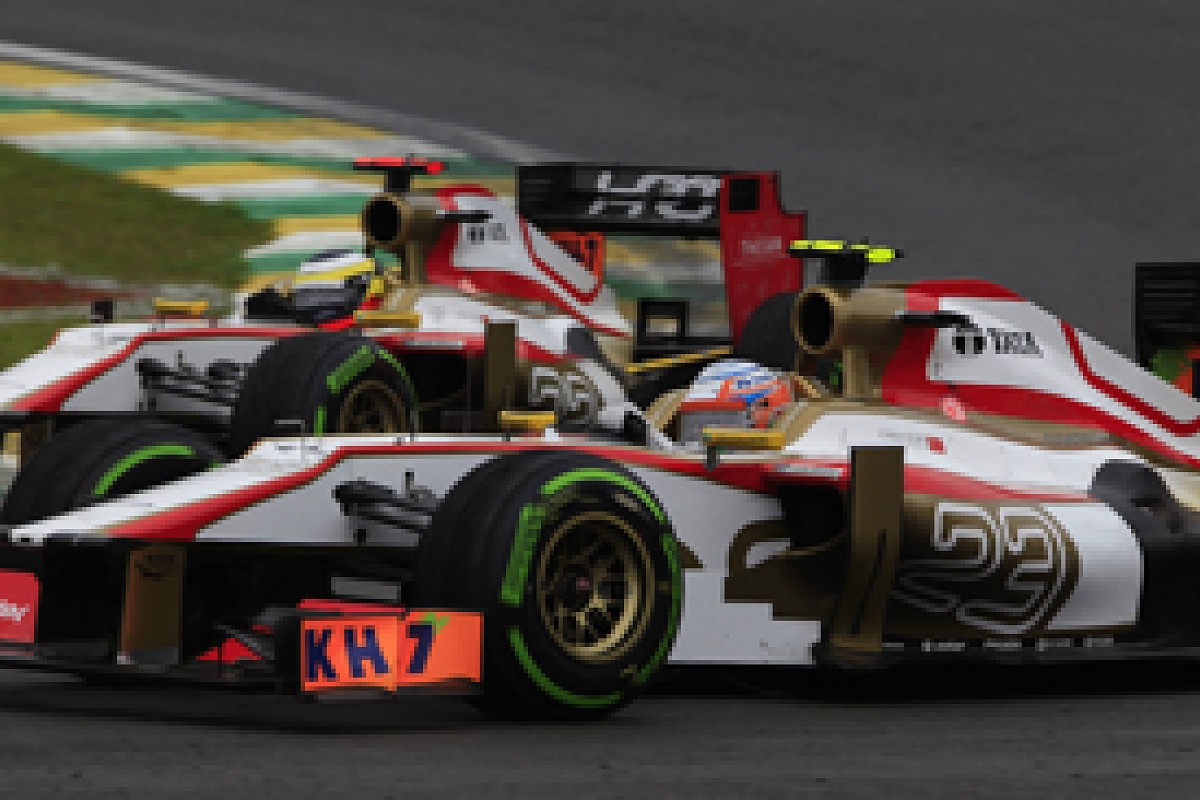 Karthikeyan and de la Rosa battle it out in what would be HRT's final grand prix © LAT
When the time came to pay the $500,000 entry fee at the end of November, no money was forthcoming. HRT was left off the entry list, and even though (at the time of writing) there are still parties attempting to buy the remains and restart the team, if a phoenix rises from the flames it will effectively be a totally new squad.
"On paper, the statistics make HRT a complete failure," says Eeckelaert. "But I have a lot of good memories from my two years there. We had some good moments, and I've seen how it is possible with a micro-budget to race in F1.
"The human story was one of a lot of effort, and people should not forget that. It is easier to win a race with a McLaren or a Red Bull than it was to put an HRT on the grid at Bahrain in 2010."
Plenty of wealthy, motivated, motorsport and business-literate individuals have tried, and failed, in F1. A few have succeeded. But once Campos was ousted, the team's owners had their eye on nothing more than turning a profit and had little genuine sporting interest.
No team can thrive under those conditions, and it's to HRT's credit that, for three years, it survived.