Sir Stirling Moss is a stickler for punctuality. So precisely three minutes before our appointment, photographer Lorenzo Bellanca and I ring the bell to his Mayfair town house.
Spread over five floors, this has been the Moss abode for more than 50 years. I've read all about it but never been inside; one of many reasons to look forward to this lunch with a motorsport legend.
The door is opened by Mandy Shepherd, Sir Stirling's PA. We are ushered in past his ground-floor office and up a spiral staircase, pausing at the first floor to be greeted warmly by Lady Susie Moss before climbing up to the kitchen.
Seated at a desk by the window, that familiar stocky figure removes his spectacles and rises - slowly, it has to be said, given the horrific accident he suffered in his lift shaft two years ago, which injured his ankles, legs and knees.
Once on his feet, his aura of urgency and energy is all too evident, just as it was when SC Moss was one of the world's greatest drivers. Moss is more famous for not claiming the world title than some champions are for having won it at least once. It is a mark of the man and the reason why, at 83, he is always on the move.
He's just returned from a visit to the United States, then he'll fly to the Isle of Man the day after our interview, then back to London and on to a function in York just 24 hours later.
"As busy as ever, boy," he says, making room at the table. Then he pauses before adding: "Thank God I am." He means it. Sitting still and doing nothing is not an option in the world of Sir Stirling Craufurd Moss. Never was and never will be. He's ready. Let's get going...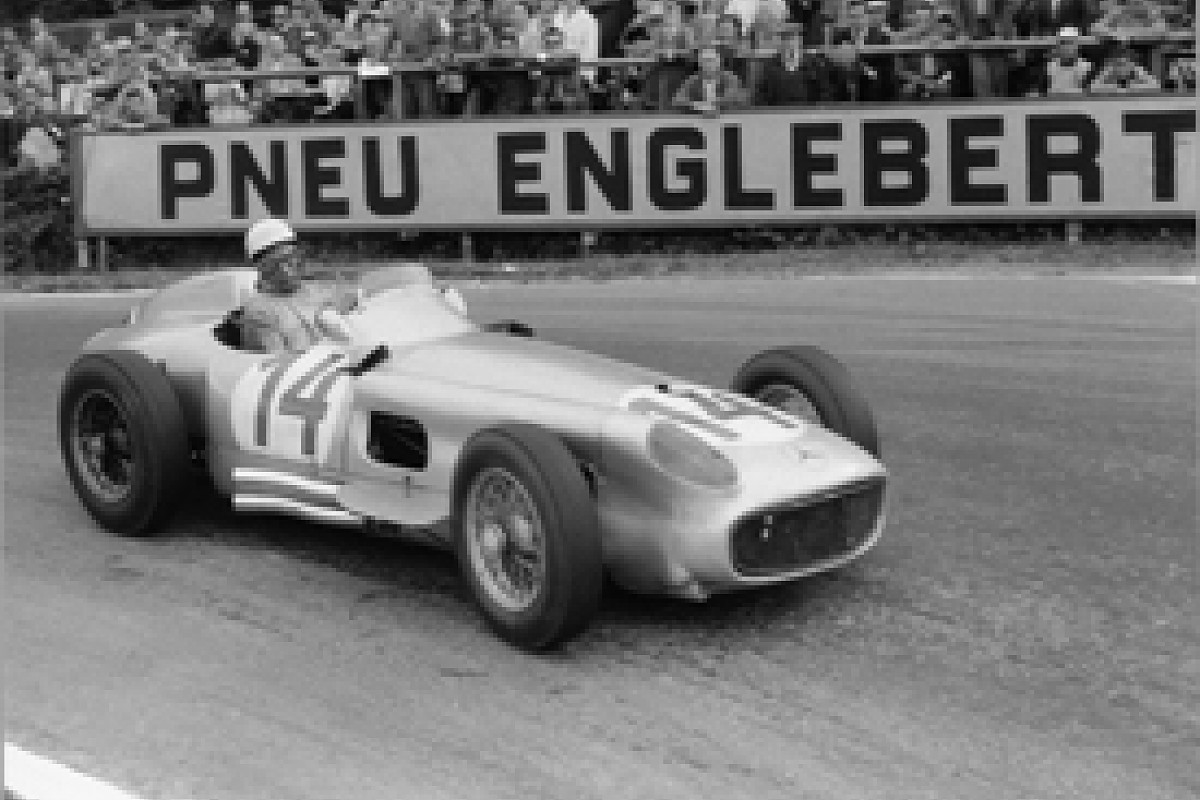 Moss's Mercedes team was very different to the one Hamilton is joining © LAT
Maurice Hamilton: I want to start by linking the past with the present. Mercedes are in the news because Lewis Hamilton has decided to move there for 2013, so I guess you'll have had people asking about when you raced for Mercedes?
Stirling Moss: I have, and there's no comparison at all. In 1955, I was driving for a major motor manufacturer who were going motor racing. It was a racing department; part of a big company.
There were lots of reasons why going to Mercedes made sense. Alfred Neubauer [team manager] was there and so was Rudolf Uhlenhaut [chief engineer], both of whom were exceptional, particularly from a driver's point of view. Uhlenhaut was talented enough to race if he wanted to - can you imagine that now? He spoke perfect English, which was very useful. But they wouldn't let him race as he was too valuable.
MH: The standard of engineering must have been extraordinary at the time. You hardly had a single retirement, did you?
SM: Just one. And the thing was, at Mercedes, whatever you wanted, you got. If you wanted square wheels they'd look in the book and say: "We tried it in 1928 and they vibrated too much." Or they would be fitted the next day. They used four-spoke steering wheels, but I liked three-spoke, so that's what they made.
MH: From your point of view, the most valuable asset had to be having Fangio in the other car. You were, in effect, number two to the great man - and you were happy to accept that?
SM: You bet I was. But I wouldn't have accepted that with any other driver in the world. I was not told to follow Fangio; it was a completely free situation. But I was very happy to sit right behind him. Neubauer said: "I don't like you going that close. What happens if Fangio goes off?" I said: "He doesn't."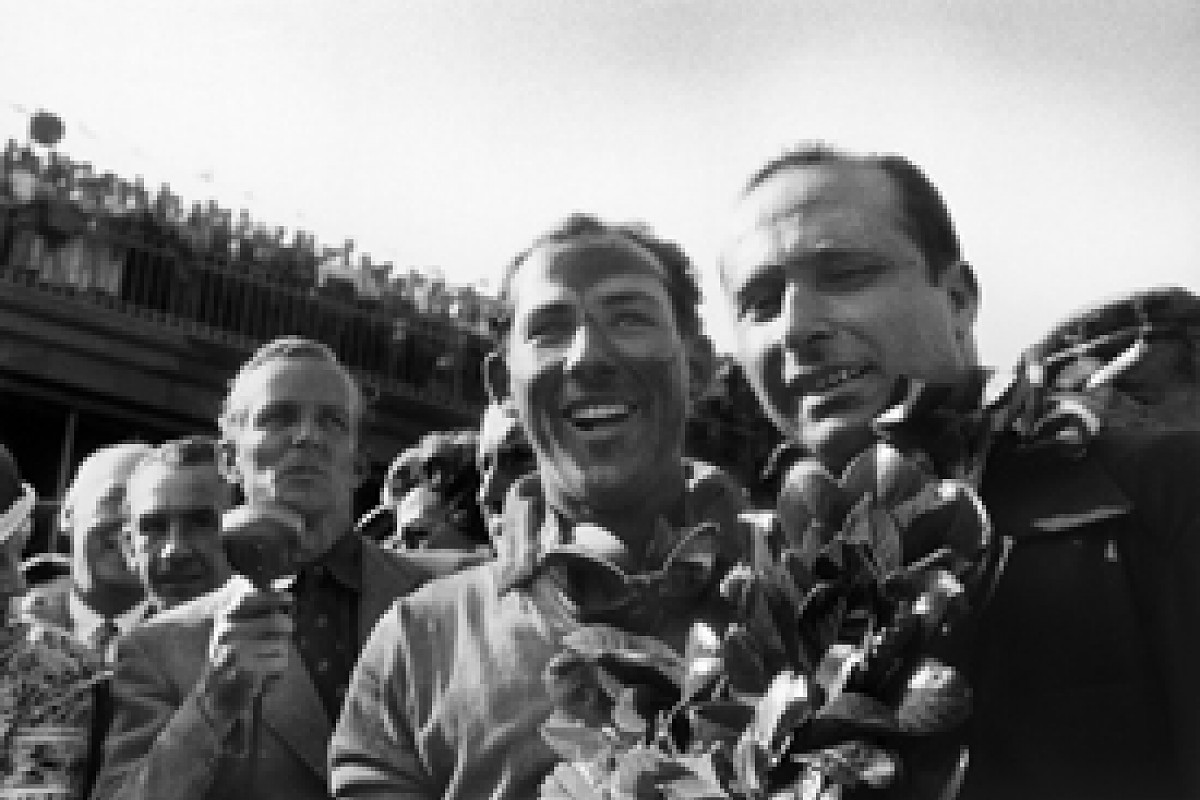 Moss with Fangio after the 1955 British GP © LAT
MH: It must have been nice to know you could match his pace?
SM: It was, yes. But he gave me what you might call a lot of hints about driving; about where to place the car. But he never, ever said: "You're getting too close", or whatever.
MH: I guess the learning had to come from what you were seeing because you had a language problem, didn't you?
SM: Yes, he was Spanish-speaking and all I could manage was a little Italian. But I tell you, boy, if you're only talking cars, crumpet and food, you don't need much! A few hand signals and you're in business. Our dialogue was kept to a minimum.
MH: Fangio always seemed such a gentleman. And he never gave the impression that he felt threatened by you. I say that, not in the sense that you weren't as quick - because you were - but because he was confident and mature enough to cope. That's always the sign of a top performer, isn't it?
SM: Exactly. I was faster than him in sportscars. When I asked him why, as far as I could make out, it was because he liked to see the front wheels. I can't really understand that because, apart from when you're in a hairpin, you never look down at your front wheels.
MH: That's interesting because when he had the streamlined W196 at Silverstone, he was hopeless - by his standards, anyway.
SM: Yes, he kept hitting the barrels marking the inside of corners.
Moss found the 250F a joy to drive © LAT
MH: The W196 was quite a big car. Did it feel big when you were in it?
SM: It was not an easy car to drive. Not like the Maserati 250F. The 250F was the most user-friendly F1 car - you ask anybody who has driven one. But the Merc was a large car; not what you would call an easy thing to throw around.
MH: I seem to remember you saying there was something tricky about the gearshift?
SM: It was back-to-front, very difficult until you got used to it. My problem was that I was racing every week. So, if I wasn't racing a Mercedes, I was driving something else. I had to remind myself about the gear change each time I got into the Merc. It had an off-set first [he indicates top left] then second back here [down, across left to right and down], then third up here [straight up], down, across and down to fourth, and then up to fifth. So, in any other car, you would flick it across and back one when changing down. Which I did in Argentina in the Merc.
MH: So, you went from fifth to third?
SM: Exactly. But it was no problem mechanically because that was where the desmodromic valves came in. Had it not been for that [the lack of springs], the valves would have bounced. Do that once at speed and you soon learned. I don't know why they had it like that - I never asked.
MH: Sadly, however, one aspect of your career that I must ask you about is that you never got to race for Ferrari. You were about to in 1962. Indeed, if the car had turned up as promised at Goodwood, you wouldn't have had the accident that ended your career. I often think, and I'm sure you do too, that...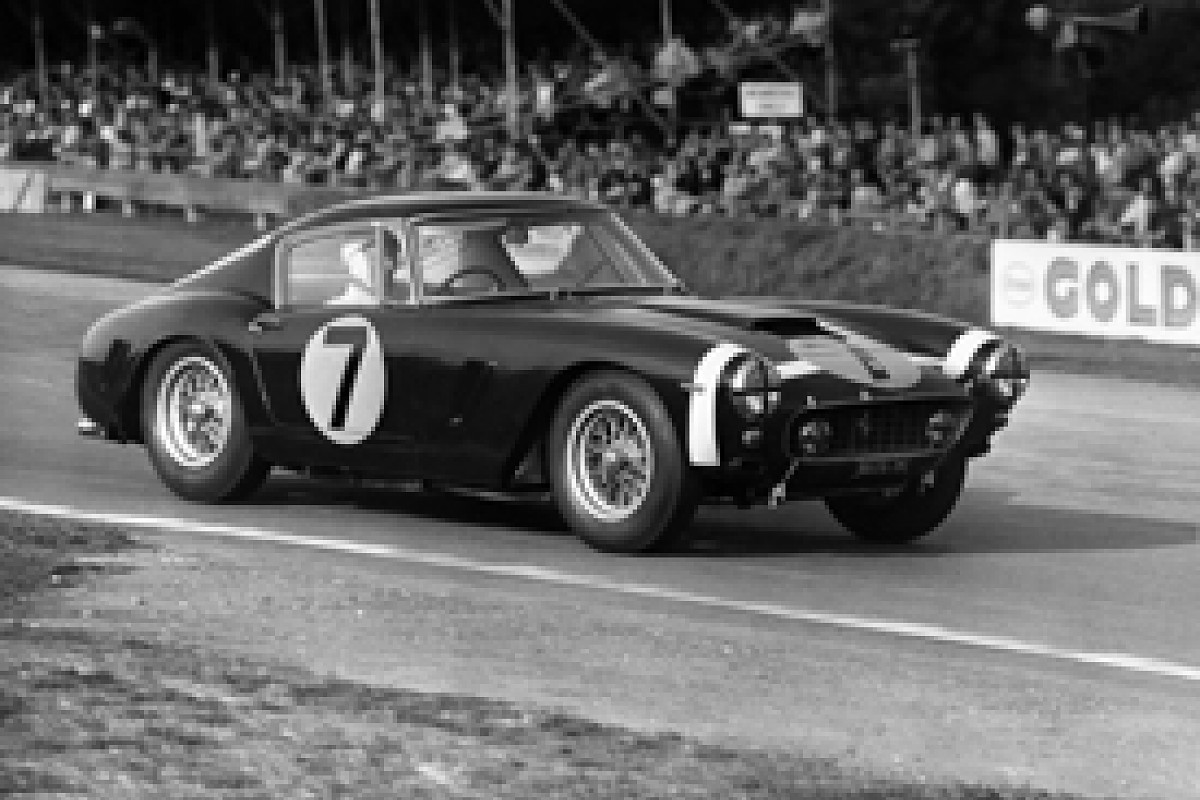 Moss in a Ferrari at Goodwood in 1961 © LAT
SM: ...that if the Ferrari had arrived, I wouldn't have been in the Lotus and I probably would have continued racing until I was 50? It was a dream deal. Ferrari would have made whichever car I wanted. And it would have been painted, not red, but in the blue used by Rob Walker. Absolutely amazing, really.
MH: That is such a public admission of how much Mr Ferrari wanted you as a driver.
SM: It is, particularly when you know what the man was like and how he really couldn't care a sod about his drivers. In fact, he preferred to have different drivers winning because, for the Old Man, it was all about his cars rather than the driver. He would say it was the best car - which was not necessarily true at all.
MH: This deal you had with Ferrari is all the more interesting because you got off to such a bad start with the Old Man in 1951. He promised you a drive at Bari and you went all the way to Italy, only to find he'd given it to someone else. I don't blame you for being pissed off about it.
SM: I flew down there with my father and we went to the Fiat garage where the racing cars were being prepared. I saw the four-cylinder car, knew that was mine and I was about to get in when the mechanic asked me what I was doing. I told him I was Stirling Moss and I was driving this car. He said something like: "No you're not. Taruffi is driving this car."
I was, as you say, really pissed off. Ferrari didn't even have the manners to call me and say: "Look, sorry. I've changed my mind." I thought: 'That's it, boy. I'm never going to drive for you. Never'.
MH: So when this incredible offer came along in 1962, you really had to put all that behind you, swallow your pride, and accept.
SM: Absolutely. It was the car to have. Apart from anything else, I couldn't think of anyone who had been killed in a Ferrari because of a mechanical failure. Not one. And that was saying something in those days. That sort of thing was fairly high in my mind because I had been driving Lotus cars and there was a 10-to-1 chance something was going to fall off.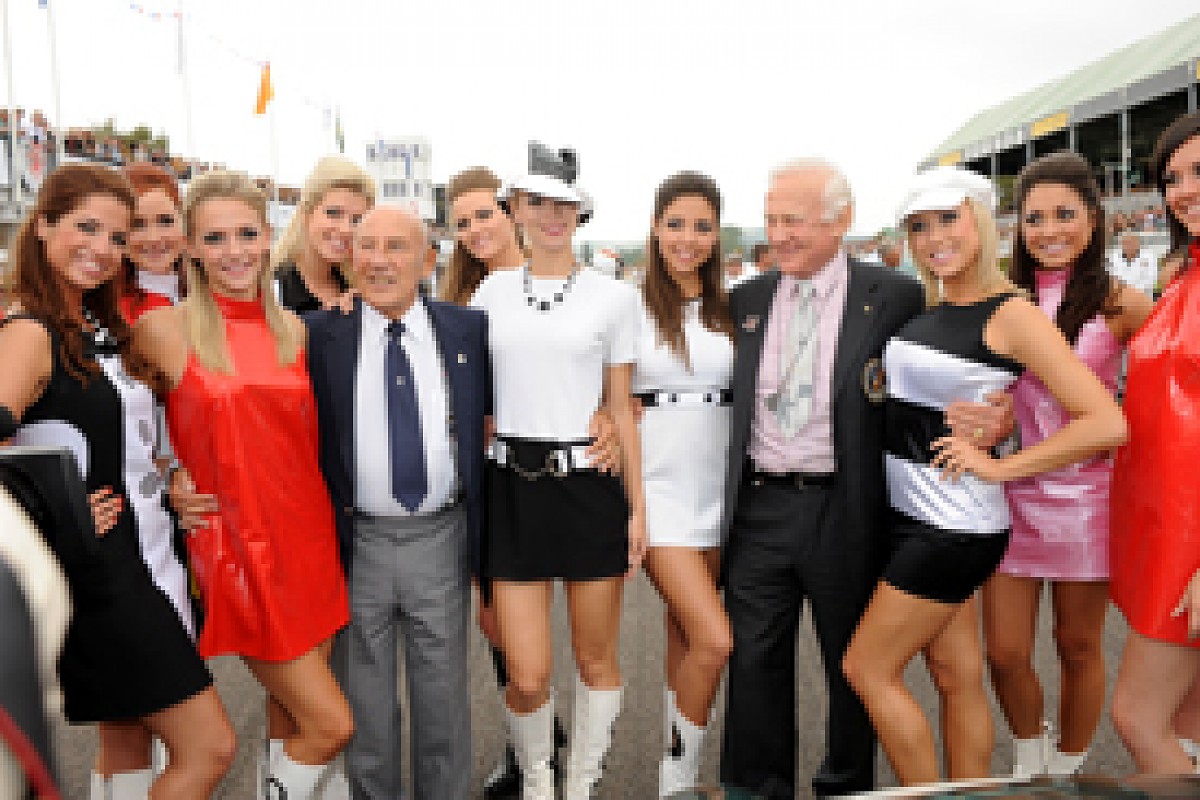 Moss celebrates his 80th birthday © LAT
MH: Before coming today, I started to re-read Ken Purdy's book, All But My Life, which he wrote about you. I was reminded what an incredible effect that book had on me when I read it for the first time in the late 1960s.
SM: A fantastic book - absolutely fantastic. It was the only one of its kind in that era. He wrote in a vicarious way. Although he knew nothing about racing when he started out, he wanted to be part of it. He contributed articles to all the very big magazines and Playboy sent him over from the States to do a piece on me. But after a while, he said: 'There is so much material, this is a book and not just an article.'
MH: Purdy started all this before the accident and was with you right through the recovery, which meant he could provide a real insight into 'Stirling Moss before and after'. He lived it with you. Which is the perfect situation - not for you, of course - but for a writer.
He described you - and I want to quote this - as being 'beyond doubt the best-known sports figure in the world'. He went on to make the point that, for example, Sonny Liston [World Heavyweight champion from 1962 to 1964] was well-known in the USA, but that your name, because you raced here, there and everywhere, was global. That's a big claim. You probably wouldn't have said, but do you feel, looking back, that he was right?
SM: I suppose I was recognised wherever I went and, as you say, racing every weekend seemed to take me somewhere around the world. But I was lucky to have the name Stirling Moss. I was very nearly called Hamish - which is a ghastly thought! It also helped to be viewed as the underdog because I drove so many crappy cars early in my career. The English people get behind that sort of thing and, of course, they knew I was always looking for the British win.
MH: Yet you ultimately had to go for a Maserati 250F as a privateer in 1954 if you were to make any sort of mark in F1. Did you feel uncomfortable with that?
SM: I called in the British press and told them: "Look, I want to drive a British car, I've tried it and there's nothing suitable. I have to go with the Maser." They agreed it would be better if I had a British car but that if I had to have a foreign car to win, so be it. I needed to get that endorsement. It was political as much as anything else.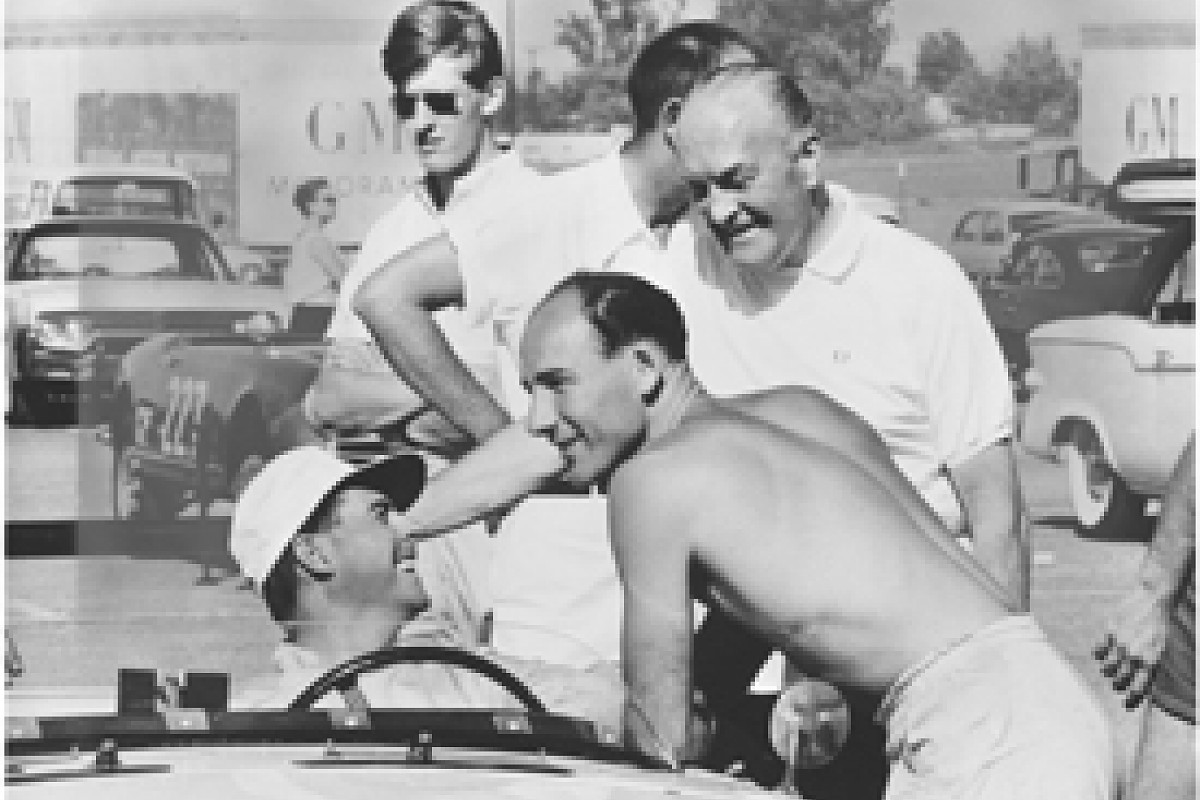 Moss with Jack Brabham at Riverside in 1961 © LAT
MH: Saying that, you wouldn't leave the pits until your car - be it a Maserati or a Mercedes - had the Union Jack somewhere on its flanks...
SM: Oh, absolutely.
MH: So there's that and the BRDC badge on your overalls; the nice young Englishman, winning races, with an eye for the ladies afterwards...
SM: Chasing crumpet. Exactly!
MH: And yet Ken Purdy also wrote that you were - are - shy.
SM: Very much so. I wouldn't go into a room if I was on my own. If you were there and I could see you, I'd come in and say hello. Or take somebody with me. But otherwise, I find that quite difficult.
MH: And yet you chat away 19 to the dozen; you are very easy to get on with. But you're saying it's the initial approach. Do you put this down to British reserve, or what?
SM: Lack of confidence - if I'm honest. I don't know why. I knew I was pretty good at what I did because of the success I had but, when I got out of the racing car, my disguise had gone. When I was in the car, I was perfectly at home. But when the race stopped, reality returned. I had confidence in the car, but I didn't have the confidence to walk into a room full of people.
MH: It always struck me that you looked so relaxed at the wheel; your facial expression... everything. You appeared to be completely at ease and in control.
SM: There were bad cars when I probably wasn't quite at home, but I'm lucky in that of the 108 cars I drove, probably 100 of them were good.
MH: On that subject, this is a good point to mention that one of them was a Sunbeam Talbot saloon with which you won the Alpine Rally, not just once but three times, to claim the coveted Gold Cup. That's an immense achievement in its own right because that was a very tough rally.
SM: We were on public roads and you could really get your foot in. The cars we were driving were slow - the Talbot had a top speed of about 105mph - but it meant I could work harder and make the difference. If I had done it in, say, a Jaguar XK120, then, to me, that would have been far less of an achievement. It was all about time controls, and on one occasion I got in by a gnat's cock. The whole thing hung on this. I had tears in my eyes, boy; it was so emotional.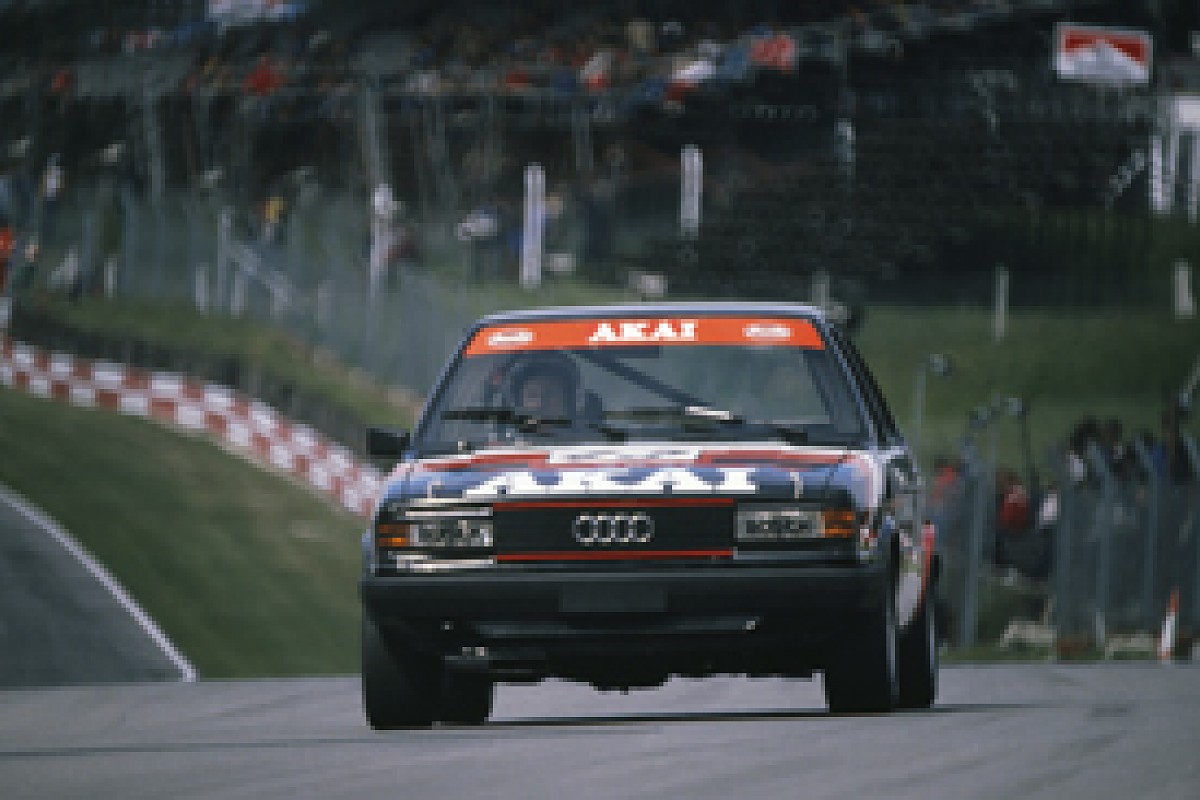 Moss regrets making a comeback in touring cars in 1980 © LAT
MH: You drove touring cars on your comeback in 1980 with Audi in the British Championship.
SM: Biggest mistake I ever made, boy. I never researched it. I'd never driven on slicks. I had no idea at all that the tyres had no grip whatsoever if the track was wet. And I wasn't ready for the driving standards; it was like stock cars.
MH: Not your style, is it? So, what do you think when you see the start of an F1 race today and the guy on pole swoops straight across the track in a blatant movement to block the man on the outside of the grid?
SM: There are certain things they're allowed to do. I presume it's done within the regulations - so that's it. I can see why they do it under those circumstances. My attitude is that you learn the rules and, if it's within the rules, you push the envelope as far as you can. But I'm not saying the rules are necessarily right to allow it.
MH: What would you say about incidents such as Senna and Prost at Suzuka in 1989? And Michael taking Damon off the road in Adelaide in 1994?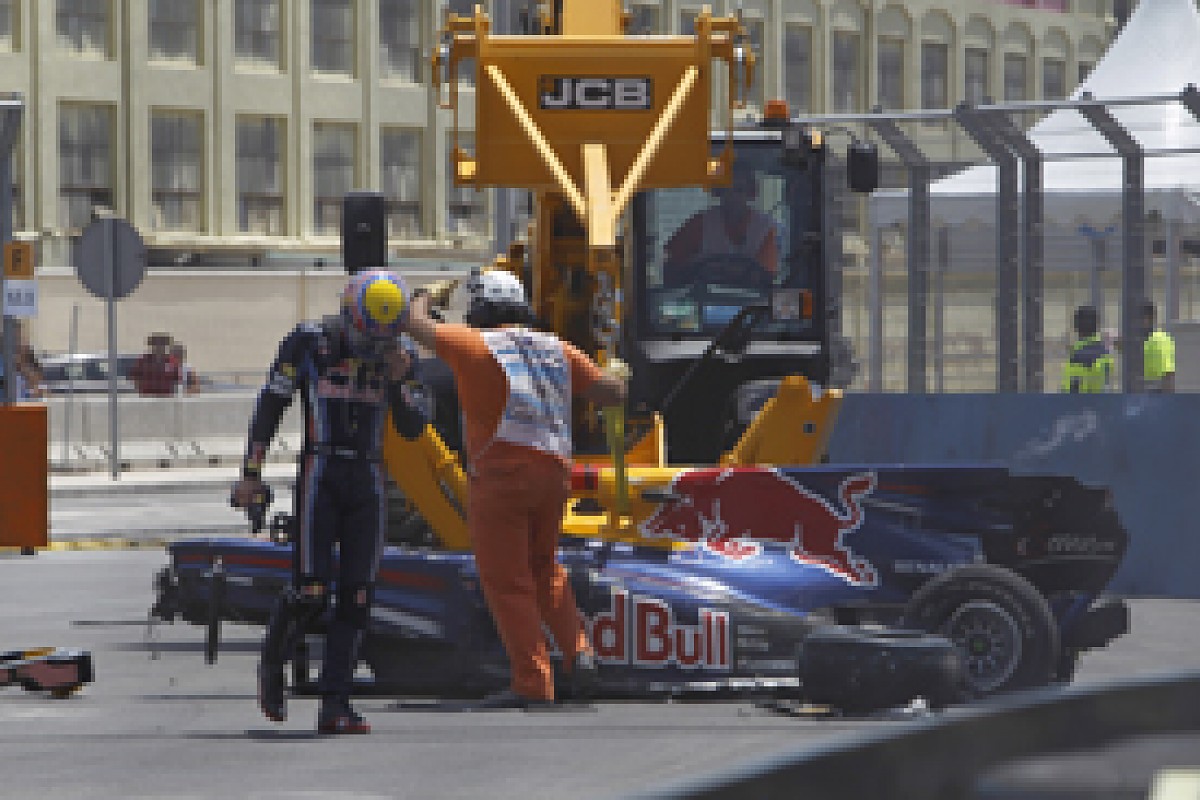 Webber escaped this terrifying crash in Valencia in 2010 © LAT
SM: Those things happen because the cars now are so safe. If you want to live, get in a racing car. It's remarkable what they've achieved. The shunt Mark Webber had in Valencia - unbelievable. That's the way it is. If the cars were as dangerous as they were in my era, I don't care how big your balls are, you simply wouldn't do what people do today. It was a dangerous sport. That was one of the reasons I entered it; I like playing with fire. I wouldn't swap my era for now.
MH: Why is that?
SM: I think the danger added a huge amount to it. If you and I are playing cards, you want to try and win. If I give you chips, you want to try and win a bit more. If I give you cash, it becomes even more important and you really concentrate if you are losing your money. The fact that there is danger on your shoulder certainly sharpens up your attitude towards what you are doing.
MH: And I presume racing in cars like that generated more respect between drivers?
SM: It did. There were certain drivers you knew damn well were likely to cause problems - Willy Mairesse was one; people who were competent to a degree, but not great. When you caught someone like that you had to make allowances. You'd say: 'OK, I'm going to take two seconds to get by rather than go straight past'.
MH: In Purdy's book, there's a reference to a sportscar race in Sweden where you deliberately gave a slow driver a little tap.
SM: I did. I hit him in the arse. It was on a little circuit, in some former gravel pit somewhere. He kept blocking me all the time. When we went into a hairpin, I just nudged the back and he spun off. It wasn't dangerous. But that was dirty driving and I meant to do it. It was the only time I ever did anything like that.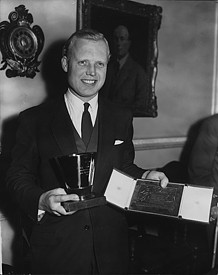 Hawthorn would have lost the title had rival Moss not been so sporting © LAT
MH: This really was a different age. People today would have difficulty getting their heads around the fact that when officials tried to throw Mike Hawthorn out of the 1958 Portuguese Grand Prix for going against the traffic after he had spun, you sprung to his defence. You had no hesitation.
SM: No, certainly not. Mike did go up the escape road and that was penalty enough in itself.
MH: Yes, but it was you - not Mike - who pointed out that, although he was going in the wrong direction, he was on the pavement and not actually on the track. The officials agreed and allowed his second place to stand.
SM: But I can't see how this is open for debate! He was not on the circuit...
MH: Yes Stirling, but if you hadn't said anything and he lost the six points, you'd be world champion. He was your only rival. That didn't come into your thinking?
SM: No! [Mere words cannot portray the genuine incredulity of Sir Stirling's expression at this point. It did not figure then - and doesn't now. Hawthorn was being hard done by. End of story.]
MH: I suppose you've gained more notoriety for never having won the championship?
SM: Absolutely.
MH: After your accident in 1962, you tried a Lotus sportscar at Goodwood, but it was too soon and you had not fully recovered.
SM: The reason it was too early was purely because of the press. I was only 32 and all the time they were asking: "Are you coming back? Are you going to race again?"
MH: You didn't allow for the length of time it would take your functions to fully recover from the brain injury caused by the shunt. You were unconscious for how long?
SM: A month. And I was paralysed on one side for six months. But so much had happened in between. Jimmy Clark had arrived and he was looking over my shoulder.
MH: You eventually got over that injury. But how, nearly 50 years on, did you recover from that fall down the lift shaft?
SM: I opened the doors and got in at this height [two floors up] but didn't realise there was a malfunction and the lift was actually on the floor above. My knees and my ankles aren't as good as they were before I did it! When I get up, I have to take my time before they'll take some pressure. And when I wake in the morning, I'm a bit stiff.
MH: But you must have such a strong constitution. The shock alone...
SM: It wasn't such a shock. It wasn't a case of: "God, it's not there!" because the first thing I knew, I was hurting in my legs and ankles. I was lucky I didn't bang my head. Broke both my feet, ankles and rest of it.
A few rather depressing people said the recovery would take longer because of my age. Well, age is what you make it. There are times when I feel older than I am, but most of the time I feel really good, I must admit.
When you've been through what I've been through in racing, you become professional with injuries and take them in your stride, so to speak. You name it, I've broken it.
MH: Well I must say, you look fantastic on it. It's been a lovely chat. Thank you.
SM: A pleasure, boy.