It is impossible to draw a line under our time with Benetton without saying some words about Michael Schumacher and his enchanting wife Corinna.
We spent over three years with Michael and we got to know him very well. He is very sensitive, caring and extremely family oriented, which is quite different from the public's perception of him.
We had a lot of good times with the two of them, particularly when Michael was testing because, as I have said before, it's a little more relaxed then. Testing is all 'hurry up' and 'stop', with the drivers sitting around a lot of the time with nothing to do. The four of us used to discuss all manner of things.
In his earlier days with the team Michael, Corinna and their West Highland terrier Jenny came to the house where we were staying in the south of France and we have a picture of them sitting on the sofa with Stuart's mum and her friend Meg, whose daughter lives in Germany and has regularly impressed her friends with photos of this event.
I have a great memory of Stu and me standing with Michael in the garden, near the pool; as he looked across the valley to the hills between us and the coast he said, 'One day I'll have a house like this.' I think it's fair to say that he has achieved that dream.
After he had relaxed for a while we went out for a meal in La Napoule to a restaurant we used quite regularly. The people who owned and ran the restaurant vaguely knew we were involved in racing but didn't really know what we did or even if we were telling the truth. One of the waiters was obsessed with Formula 1 and he just couldn't believe it when we walked in with Michael. Service was pretty good that evening, if a little over-attentive.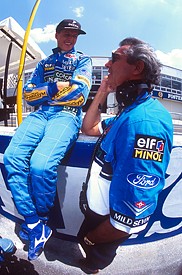 Schumacher and Briatore in 1994 © LAT
Corinna used to come to a lot of the tests and she and Michael brought Jenny the dog to some of them, which of course was strictly not allowed. Corinna used to sit upstairs in the motorhome with the dog in the area that doubled as our bedroom and Flavio's office. Normally that wasn't a problem. However, Flavio decided to fly out to one particular test in Jerez and when he arrived at the motorhome he walked upstairs and put his foot straight into the dog's bowl, spilling dog food all over his expensive deck shoes. He wasn't impressed.
On another occasion in Jerez it was Stuart's turn to be unimpressed by Michael's fondness for animals. We had started feeding a stray kitten that was hanging around the circuit and, when the test was over, Michael said, 'Can you bring the kitten round to Estoril?' (It was the next race.) Stuart put his foot down firmly, because it was an overnight trip. 'What the hell am I going to do with a kitten?' he said. 'No, Michael, I am not bringing it.' Michael argued back. 'Well, I will collect my plane in Germany and will have it at Estoril and I want to take the kitten home, so would you mind bringing it?'
Stuart was adamant, however, so Corinna asked what we could do for the moggy. I suggested we get it some food, so she came to the supermarket with me and we bought a carrier bag full of cat food and gave it to the slightly bemused gate attendant, asking him to feed the kitten after we'd left. I'm sure he probably took the food home for his own cat, but the thought was there.
When we weren't looking after animals and the motorhome was being used for its proper purpose we used to keep lots of videos in the rest area upstairs, to try to keep the drivers occupied when it was raining or they were waiting for the engineers to try some wacky modification to their car.
Michael watched a lot of videos on his own in an attempt to get some time away from the scrum that usually followed him around the paddock. On one occasion, when we were at Silverstone, he had been watching Mr Bean and he had cracked up, lying on the floor with tears rolling down his face. Shortly afterwards there was a knock on the motorhome door and when I opened it who should be there but 'Mr Bean' himself, Rowan Atkinson; he'd been brought round by someone from McLaren, where he was a guest. Rowan said he was a fan of Michael's and asked if it would be possible to see him. I was completely amazed by yet another in a long line of coincidences in racing.
Michael wouldn't come down to meet many people, and I always had the job of working out who he would be prepared to see and who he wouldn't. This time I went upstairs and said, 'Michael, you'll never guess who's downstairs,' to which he looked at me a bit warily and responded 'Who?' 'It's all right,' I said, when I told him to come down and see. 'You'll enjoy this.'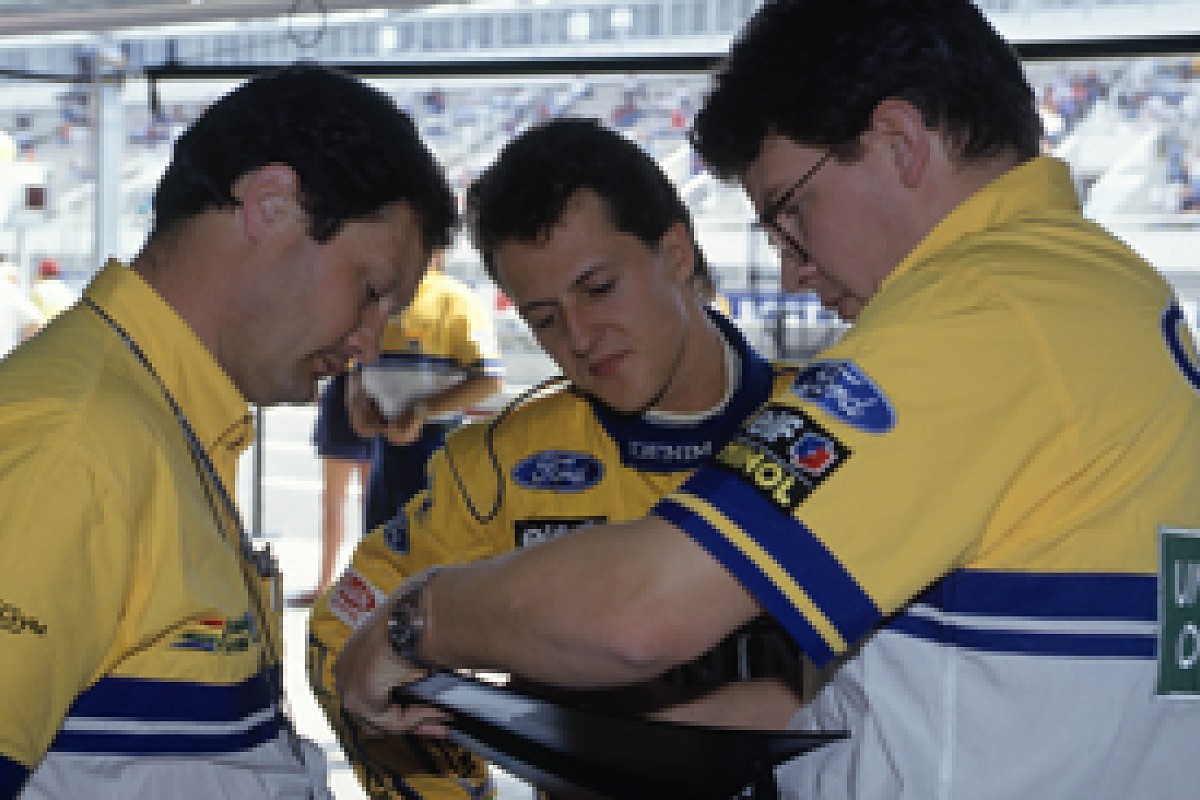 By 1993 Schumacher had firmly established himself as the most exciting new star in F1 © LAT
He wasn't at all sure about it - he could be a little bit touchy sometimes - but in the end he said, 'Oh, OK if you say so.' Coming downstairs he looked at Rowan and exclaimed 'Mr Bean!' because he didn't know Rowan's real name. I just burst out laughing because there was Mr Bean in awe of Michael in awe of Mr Bean.
Their faces were a real picture, so I just said, 'I'll leave you two to it,' and disappeared.
If someone used Michael's name to gain an advantage of any sort it really annoyed him, even if it was his own brother. One particular incident emphasised his irritation with name-dropping and I felt quite sorry for his brother, Ralf.
It happened at a race in Hockenheim, before Ralf was racing in Formula 1. Ralf was staying with Michael and made a bit of a late start one morning. Hockenheim was always crowded with fanatics and, of course, Michael was the local hero so he made sure he was in the paddock early. On the day in question I asked Michael, 'Isn't Ralf coming in today?'
He just said, 'He was late and I couldn't wait for him. He should be here soon.' A little later Stu and I went out shopping and, as we were coming back, there was Ralf at the main entrance, unable to get into the circuit. Stu and I stopped and asked him why he was standing there. 'I have left my pass in the hotel.'
The place was absolutely packed and there was no way he could travel back to the hotel against the tide of traffic, even if he'd had a car - he had got a lift in - so he was stuck. He said, 'I've told these people I am Michael Schumacher's brother, but it didn't make any difference.'
I told him that Michael probably had 150 'brothers' at every race and of course they wouldn't believe him. In those days the people who had paddock passes and permission to bring their car into the paddock to unload at certain times were designated a special road in and out of the circuit. Stuart pointed it out to Ralf and told him to walk up to it and around the corner and that we would be there shortly. When he was well and truly around the corner we drove up, stopped the car, shoved him in the boot and drove him into the circuit in that somewhat unglamorous fashion.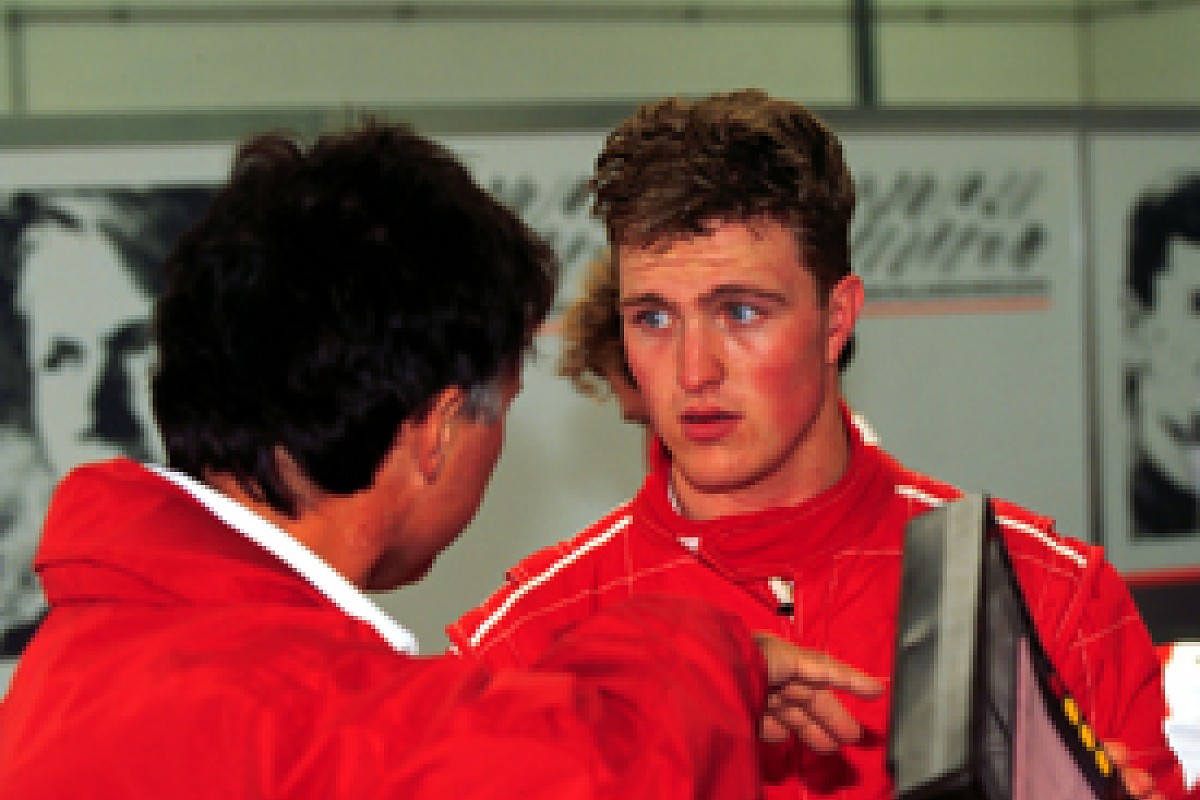 Ralf Schumacher didn't get any favours from his big brother © LAT
Later, Michael found out somehow that Ralf had forgotten his pass and really laid into him. It wasn't the first time we had heard Michael rollicking him for telling people he was his brother. He had told him quite clearly, 'Don't ever say you're my brother because I don't want any accusations of favouritism.' Ralf was still under 18 at that time and Michael had given him a hard time as an education, not a humiliation.
At another Silverstone test Michael used our car, a Honda Prelude with four-wheel steering, to check the condition of the track, and adopted a more conventional driving position than Ralf had when he had 'borrowed' our car. Michael thought the four-wheel steering was excellent, and he kept the car so long we never expected to see it again - he was thrashing it around the track lap after lap. We thought it might need an MoT by the time it came back.
George Harrison was at our last race with Benetton and he was in awe of Michael Schumacher. He asked if I would mind introducing him - of course I didn't mind, it was a pleasure to do so. At one point, in the garage I had to get George a chair so that he could stand on it to see over the crowd to take Michael's photo; it seemed incredible that anyone so famous could be such a fan but I caught him in the act with my camera. The picture is reproduced in this book.
George had been at our first Formula 1 race and then at what proved to be our final one with a race team, and he had remembered us all that time. We met him in Sydney a couple of days later, by accident. We had gone to stay with some friends and George had apparently gone there with his son, Dhani. We were walking along the street, across from the Opera House, and they were coming in the opposite direction. We stopped for a chat, then went for an impromptu coffee together in the Hyatt Hotel.
George had become quite nervous and odd by that stage in his life; you only had to speak to him and he would jump. He had a rather large bodyguard with him for protection after an incident at his home. We were very sorry when he lost his battle with cancer in 2001.
After Michael had retired from racing he often attended tests in an advisory capacity with Ferrari. I was walking past the Ferrari kitchen one time when he saw me and shouted 'Mum!' He told me to come in and I sat chatting with him, surrounded by a full complement of Ferrari guys, all looking perplexed and obviously thinking, 'That can't be his Mum. She's English!'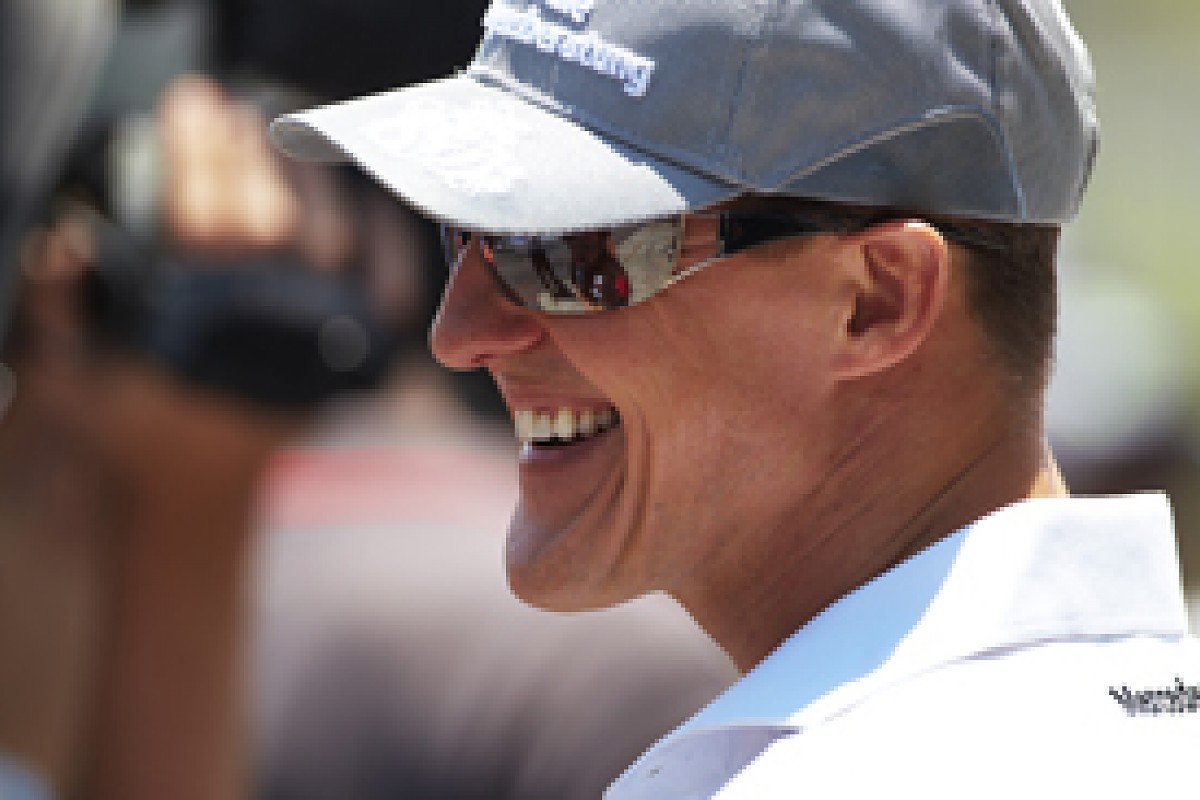 Schumacher came back to F1 a more relaxed man © LAT
When I saw Michael at the test in Valencia in 2010, when he came back into Formula 1 after his retirement, I asked him, 'How's the house in Geneva?' He just smiled and replied, 'It's not a house, it's a ranch. Every time I go back there are more animals than when I left. We have cats, dogs, horses, ducks - you name it and we have got it. There will be something else when I get back.' Looking back to that kitten in Jerez I thought, 'Some things never change.'
I couldn't believe how happy he was when he came back. He was much more relaxed and enjoying every minute of his time at the track. He seemed to have a new perspective on life and racing. It wasn't always like that, though.
When Johnny Herbert and Michael were driving together they didn't really hit it off, but if you ask any of his partners I am sure they will say the same thing. In his first spell in Formula 1 Michael was a lot like Ayrton, a completely different person on the track to the man we knew off it. Just like Ayrton, he always knew what he wanted and made sure he got it.
I don't think that Ayrton showed the same level of aggression as Michael, but then again Alain Prost may disagree. Both Michael and Ayrton seemed to be changed into much more determined characters by the Formula 1 environment, which is probably why they were so successful.
Contrary to the impression he sometimes gives, Michael is a great person. Anyone who still talks to me like he does after all these years and seven world championships is certainly OK by me. I've always said that it was necessary to work closely with a driver to really know him and I think it's appropriate to mention one last example of Michael's nature.
I said at the beginning of this book that one of the unexpected roles that came along with the job in the early days was sewing badges on drivers' overalls and equipment. By the mid-1990s that part of the job had largely disappeared because the drivers' uniforms usually arrived complete with all the decals for the season.
However, occasionally a last-minute sponsor appeared and their logo needed to be added right away. One such occasion occurred about an hour before the start of the pivotal 1994 Adelaide Grand Prix when two Technogym badges were thrust at me with the request that I hurriedly sew them in a conspicuous position on the back of Michael's gloves, so that they would be prominently displayed on the TV coverage.
I just managed to finish up, with Michael already in the car on the grid, hoping for his race gloves but with spares just in case. When I handed them over he winked at me and said, 'Mum, if I win the world championship, I'll give you these.'
He won the world championship and, true to his word, he gave me the gloves. I asked him to sign them, and they will always be a treasure.