Interesting to see Bernie Ecclestone saying that he'd rather Michael Schumacher had retired when he left F1 for the first time instead of now. Better for fans to remember the hero than the human who can fail.
Business and top-class sporting achievement might be different spheres, but you'd have thought that if there's a man on the planet who understood not being able to leave F1 alone, it's Bernie.
On the plus side, he added: "Michael doesn't have to work, he doesn't have to worry and he can do what he wants to do. Doesn't that sound good?"
I've lost count of the occasions, over a beer or two, that we've contemplated what it must be like to have been blessed with sporting immortality and a bank balance that probably hovers around half a billion, give or take.
OK, you might not be able to walk around unmolested for a while, but just think of the possibilities, what you could do!
Inevitably, the next thought is, OK, so what would that be?
Easy, you might think. You'd do all those things you want to do that are constrained by lack of funds, lack of time, etc.
But what would actually be your purpose? You'd be surprised at the number of people whose life has been so totally immersed in one field, who struggle with what comes next.
Schumacher's first retirement in 2006 © LAT
I guess it must be like walking into Harrods with a fiver to spend versus being able to have anything in the store. The latter may take a little longer to work out.
Michael's lack of need to work, his ability to do anything he fancied, was just as valid at the end of 2006 as it is today. And yet three years later he was back.
That, in itself, was interesting. Back in '94, the year that Michael first won the world title, Ecclestone must have viewed him as the saviour.
Williams had been the dominant team for the past three years, Ayrton Senna the best driver for the previous five, and now they were together. Great. How the hell was Bernie supposed to promote that?
Nobody really foresaw Williams taking time to overcome the ban on active suspension nor, of course, the tragedies of Imola.
Michael then picked up the baton. It helped that he had the best car, or very close to it, in 1994-95, but then he left for Ferrari.
He quite clearly didn't have the best car at Maranello in 1996-97, but he did remarkable things with what he had and so the legend continued.
By '98 Ferrari was almost there and Michael produced drives like Hungary, but lost out to Mika Hakkinen and McLaren at the death. In '99 he broke his leg at Silverstone and Mika won again.
Then the Ferrari steamroller took over and for five years Michael couldn't lose.
In 2005 Bridgestone couldn't make its tyres last a whole race as effectively as Michelin and so Michael scored fewer than half the points of Fernando Alonso's Renault, but the rules were changed the following year and he was back.
It was clear by this time that Alonso was pretty special and there were people who thought that Kimi Raikkonen was quicker still, so with talk of Kimi heading for Ferrari, you could understand Michael taking stock.
When he announced his retirement at Monza in 2006 it did look as if it had been forced upon him. Raikkonen had been announced, and part of Michael's justification was that he was fond of Felipe Massa and that the longer he prevaricated, the worse it was for the Brazilian. He had to make his mind up.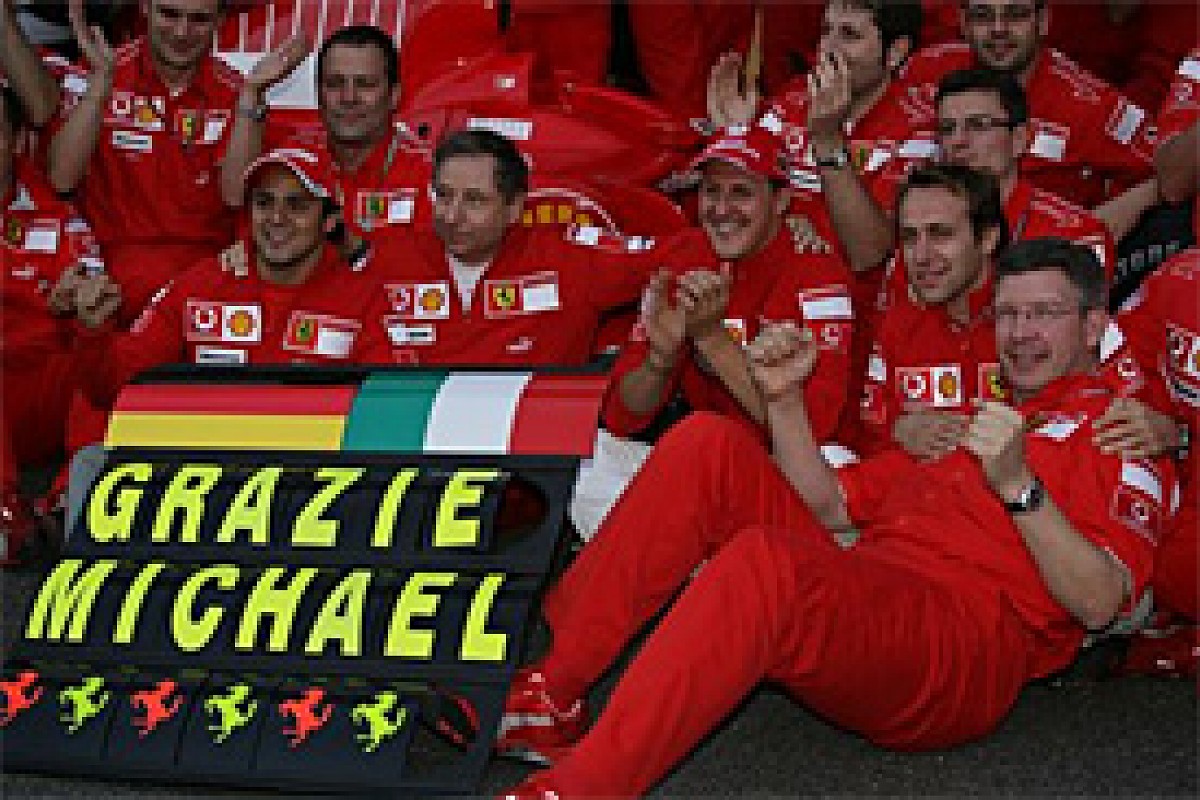 The German said goodbye to F1 again this year © LAT
There may have been a small element of that, but nobody bought it as the real explanation. After all, such selfless magnanimity had hardly been the hallmark of Michael's career to that point.
Back then, rigorous testing was still part of an F1 driver's lot and Schumacher admitted that it had started to get him down.
He was just finishing his 15th full season of F1, most of it in the spotlight, Ferrari had clearly identified 'the new man' and Michael, evidently, was no longer about to have the whole show structured around him.
He was also 10 years older than Kimi. Did he have the energy reserves in the bank and the motivation to compete?
When Schumacher decided to go, you wouldn't have put it so strongly as to say that he was running scared, but, just being logical, it was probably a little about protecting his legacy as well.
He was no doubt gutted when he then witnessed Massa, who Michael was regularly quicker than by half a second, handling Raikkonen as often as not.
Then, presumably, Michael found nothing to fill the hole, nothing to sate the addiction that is F1. And if you look at what he did, it was, again, entirely logical.
He started talking to the team that had just won the championship, run by the man who had overseen all of his success at Benetton and Ferrari.
What he maybe didn't appreciate was just how much of Brawn 2009 was down to a political situation that allowed double diffusers to stay. Had he been in the paddock full-time, he may well have been casting nervous glances at what Red Bull's RB5 was doing without one.
But, at the time he signed on the dotted line, Schumacher no doubt believed he would have a frontrunning car upon his return.
It will, I'm sure, have surprised him that he has driven the past three seasons for a team that's not been in the top three, and against a team-mate who has outqualified him more than 70 per cent of the time.
Schumacher's second F1 spell was tough due to weak cars © LAT
The first he will have been able to rationalise; the second will have been more difficult even if, in races, mechanical interventions not withstanding, he was at least Nico Rosberg's equal in 2012.
Should he have come back? Only Michael can answer that. It surely hasn't gone the way he would have hoped - expected even - but if it's given him closure and moved him nearer to being able to address the 'what next?' conundrum, then it's helped.
"I think it showed the strength of Formula 1," thinks Williams executive director Toto Wolff. "If he had not come back, everyone would have said Schumacher was one of a kind and would still blow everyone away.
"When he announced he was coming back, my gut feeling was that he would be very strong and that he would beat Rosberg. It shows that the young boys going up the ranks are better now.
"Every generation has its superstars and now there are a bunch of guys who are the new ones - it's just how it goes."
There's a lot of sense in that. But it also underlines, in case anyone is in any doubt, just how important strong technical teams are to the overall equation.
You could have put Ayrton Senna at his prime or even the good Lord reincarnate in this year's Mercedes and, China tyre sweet spot and possibly Monte Carlo notwithstanding, it wouldn't have won a donkey derby.
You listen to Lewis Hamilton talk about how he hopes to turn Mercedes around and you hear a load of old hogwash. Racing drivers don't do that. Technical management does that.
And when it's happened, if the team also has a top driver (a la McLaren for most of the '80s, Williams for some of the '90s, Ferrari in the early '00s and Red Bull now), then they blow everyone away.
If Mercedes comes up with a decent car, Lewis is sure to win with it. But it won't be him that's done it, even if he gets the credit.
For years there was the cliched question: what's worth more, a Schuey or a Newey? Michael has answered that beyond any reasonable doubt.