"I've done a couple of these," says Mark Webber as he strolls across Red Bull's hospitality area and sits down ready for a thorough quizzing.
We were inundated with three times as many questions as usual for the likeable Aussie, who is always a popular target. He's consistently forthright and honest with his answers and never shies away from a tricky topic.
And, as a veteran of more than 10 seasons of F1, he's no stranger to interrogation either.
Next year, with Michael Schumacher heading off to enjoy his second retirement, 36-year-old Webber will be the second-oldest driver on the grid, behind only HRT's Pedro de la Rosa, who will be 41.
Yet despite being closer to the end of his career than the start, Webber attracted strong interest from Ferrari this summer before eventually signing up for a fifth successive year as Sebastian Vettel's team-mate at Red Bull.
Recent history would suggest that there are few tougher jobs in F1 than taking on Red Bull's golden boy in his own team, but 'Aussie Grit' has never been one to back down from a challenge and he approaches this interview with similar gusto.
"You would've put the soft ones on top," he says, randomly grabbing a question card from the middle of the stack, "so I'll just go straight to the heavy-duty ones."
As he turns the card, he realises his hunch is right and winces at the subject: "Oh. We're going straight in." Yes Mark, we are...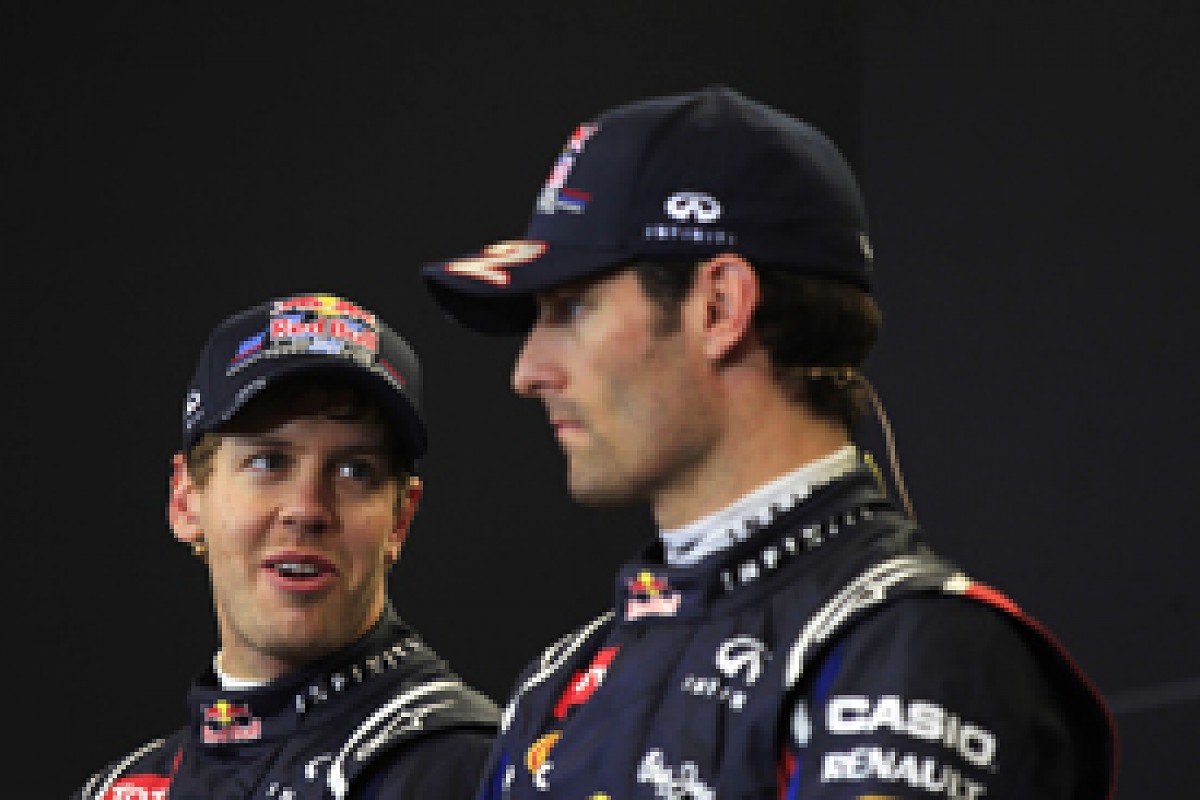 The Webber and Vettel relationship hasn't always been smooth © LAT
Do you honestly feel you are treated as an equal at Red Bull and that you are not their number two driver?
Tim Anglin, USA
[Long pause] Yes I do. We've had an incredible run here as a team and success with both drivers, although obviously more for Sebastian with the world titles. In 2010, it was very, very close between the two of us and it could have gone either way.
But I feel that momentum is very important in any team and it's up to the driver to be performing well to have the team with them.
Red Bull is a team I feel happy with. I'm not staying with the team next year feeling I don't get a fair crack. It's a very difficult question to answer fully, to give people the whole view of everything, but I'm happy here.
Would you stop racing in F1 if the sport introduces closed cockpits as a safety requirement?
Martyn Boshell, UK
I don't think it's going to happen while I'm racing in F1, so I don't need to worry about it. If they do close the cockpits, I think it will still be done in a good way.
But if you want to race on the best tracks, with the best drivers, in the best cars, you have to sometimes hang around and race with certain things that you might not completely like.
If it does happen while I'm still racing, then I'll keep on racing, but I don't think it'll happen in the next five minutes.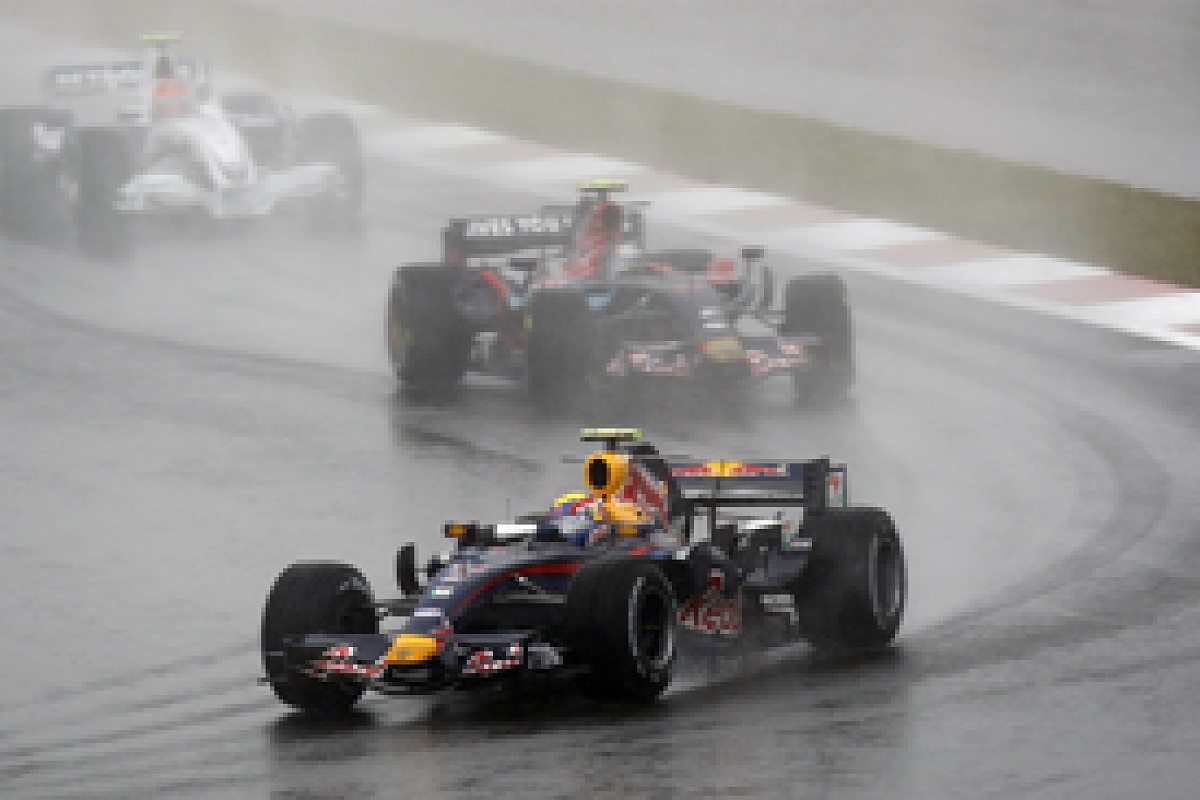 A sodden Fuji is even tougher with food poisoning © LAT
Mark, how hard was it to race at Fuji in 2007 with food poisoning? And how did you manage to still drive so well?
Michael Ward, UK
I was mainly pretty weak. The problem was that I woke up at 4.30 that morning and was very, very ill. I couldn't keep any food down.
I was pretty confident I got most of my, shall we say, 'issues', up before the race started, but the hardest thing in the grand prix was being sick while sitting virtually upright.
Most of us have been sick and we all hunch forwards to do it - you never sit upright. That was the hardest part of it. I recommend next time you're sick to try to sit up and see how you go!
Other than that, I just had to get on with the job.
Can you please tell Sebastian Vettel to stop giving us the finger?
O Nevell, UK
Yes, I have done already. Let's see how many more times we see it.
Having been to the Isle of Man TT a few times, what do you really think of the races, the riders and their need for this unique challenge?
Robert Graham, UK
The TT is one of the most amazing motorsport events there is. To have them race on such a long course against the clock is incredible. It's so refreshing to see these events still happening, because there are so many events like this that don't happen any more.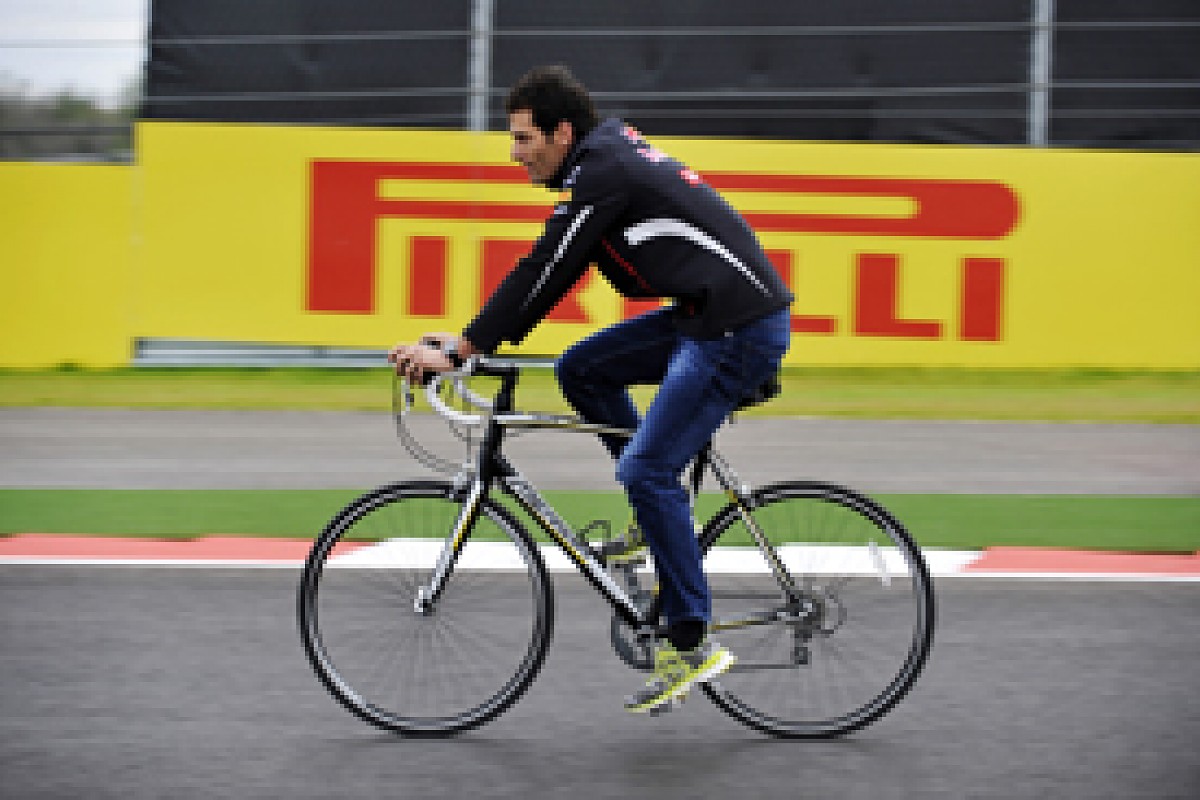 Webber on two wheels © XPB
We're all still wired up the same as we were in the '50s and '60s; we just have different technology and the organisers are less happy to take risks because of insurance issues.
It's just so rewarding to see a race where the best road racers in the world can lay it on the line on the granddaddy of all tracks.
I'm very lucky to know some of the riders and to have had the chance to pick their brains and get a snapshot about how they go about it.
I don't think they're crazy - you could say boxers or big-wave surfers are crazy; some people say I'm crazy to do what I do - they're professionals and they know what they're doing.
Mark, I understand that you have your own pub? So which do you prefer, Aussie lager or British bitter?
Simon Cooke, UK
Well Ann [Webber's partner] has the pub so she's involved in it a lot more than me, but obviously I like to see it do well for her sake.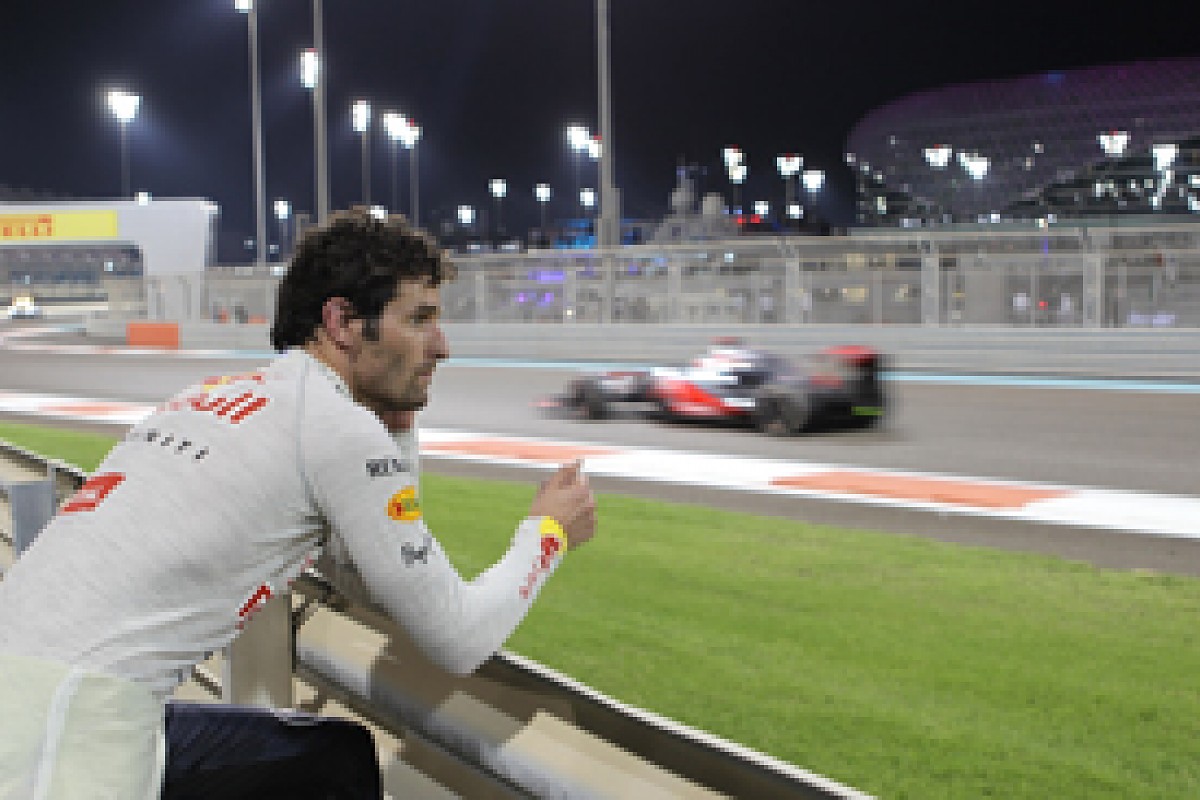 Webber watches the action after being taken out in Abu Dhabi © XPB
It's been rewarding to see it go well and we do some great food up there. She's very proud of it. Lager or bitter? Lager.
On Twitter you often post photos of your pets. The donkey trimming the grass was lovely. How many and what assortment of animals do you have?
Karen Clements, UK
I don't often tweet photos of myself, so the next things in the line of fire are the pets. We've got one donkey, some chooks, two dogs and some alpacas, too.
The dogs are my main passion though: my Weimaraner and my Rhodesian ridgeback. It's nothing sensational - loads of people have got dogs and I love mine.
Would you like to comment on your good friend Lance Armstrong's lifetime ban from cycling?
Brad Purvis, USA
It's great they're trying to clean up cycling, but first of all let me clarify: I'm not a good friend of Lance Armstrong. Times always change and they have; I'm not a good friend of his. I had a small snapshot of spending some time with him and it was interesting.
You've taken this year's GP3 champion, Mitch Evans, under your wing. How did you first hear of him and do you think he can go all the way to F1?
Senga Wishart, UK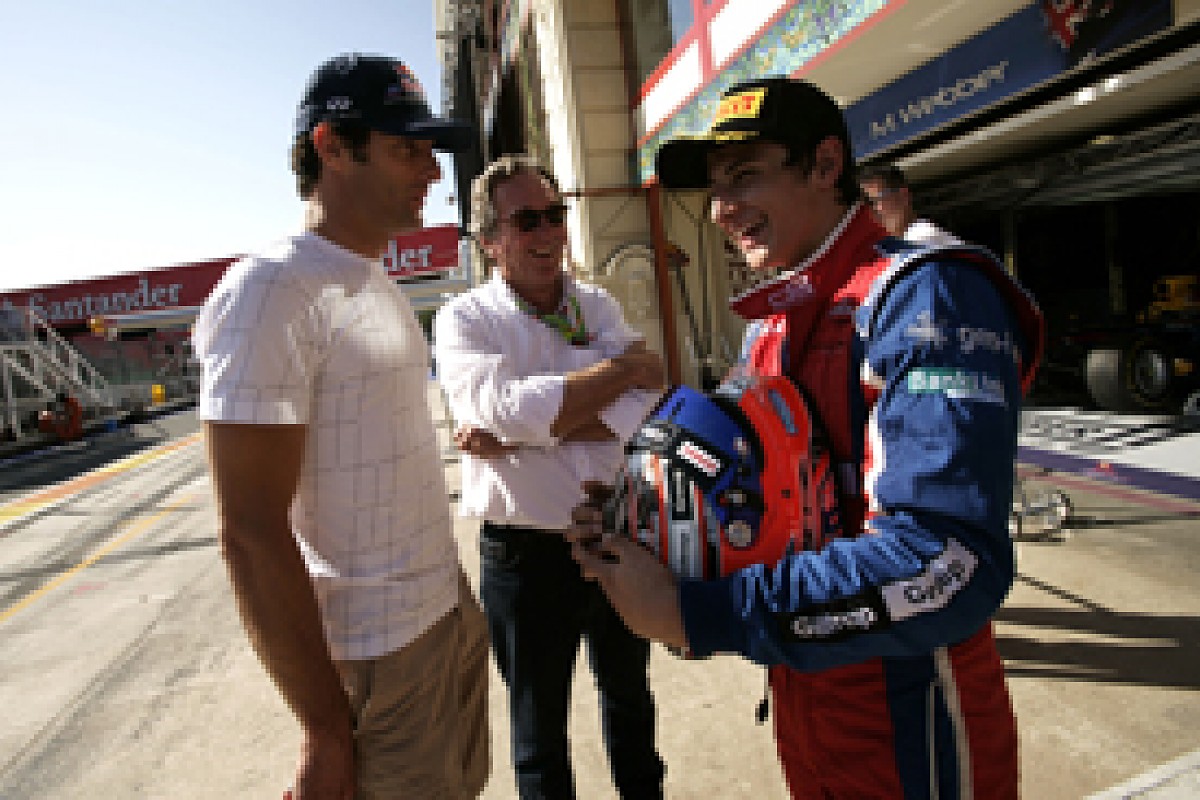 Webber has taken rising star Evans under his wing © LAT
Someone introduced me to Mitch about three or four years ago. But also Mitch, to be fair, got himself into the Formula 1 paddock somehow. God knows how - knowing him, he probably jumped over the back fence.
He was about 13 and looked really cool with his sunglasses on. He just wanted to say hello to me and since then we've stayed in touch and then I've helped him with his junior career.
Ann and I have absolutely loved it. It comes with its challenges and responsibilities, but we wouldn't want it any other way.
He's absolutely got what it takes to make it to F1. He's got some polishing to do because of his age and because some of the guys have got a bit more experience than him, but I believe he can go all the way - he has a great personality and a lot of tenacity.
I know you're an outdoor enthusiast and that mountain biking is a hobby of yours. What type of riding do you prefer? Technical single-track, relaxing open trails, or blistering downhills?
Dale Quinlan, USA
I do love my mountain bikes. I'm definitely not a downhill guy; I prefer technical single-track and a bit of open trails. So a mixture of everything, but it has to be cross-country for sure.
Not too hideously technical in terms of rocks and tree roots, but I do like technical climbs.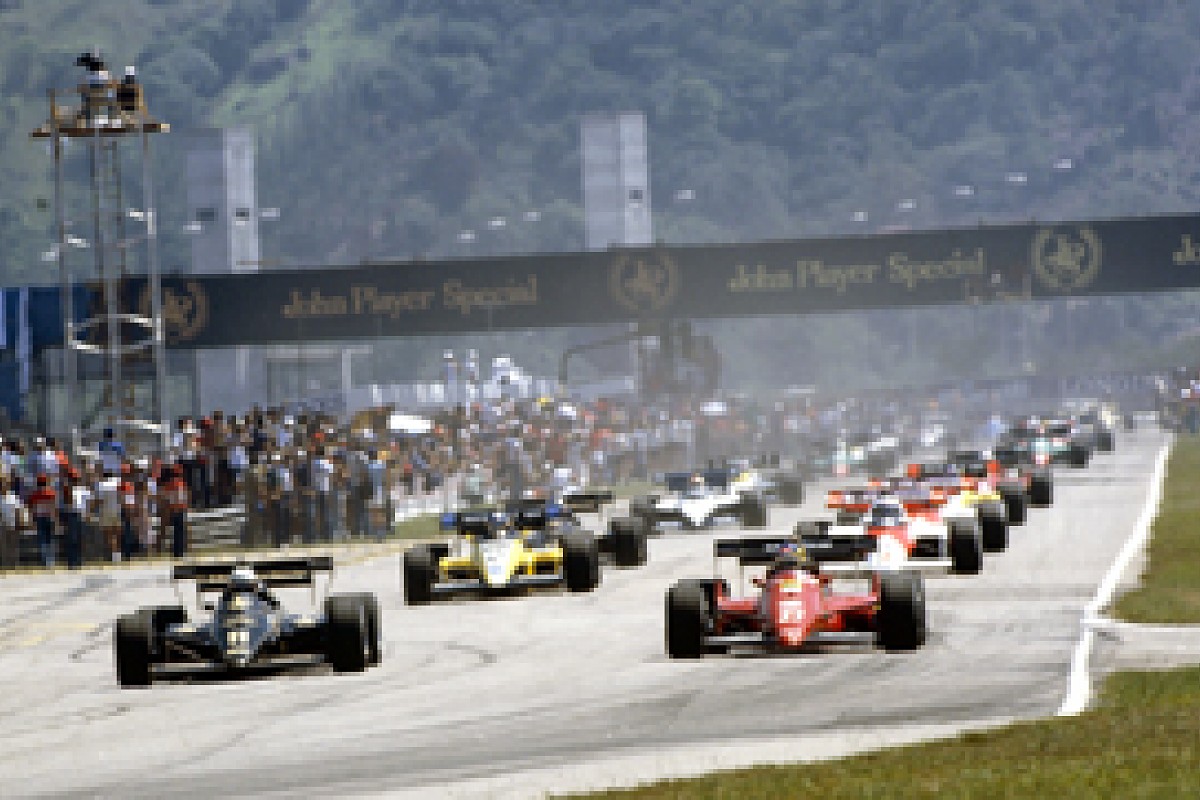 Webber suspects F1's next generation of turbo cars will be less spectacular © LAT
What are your views on bringing turbocharged engines back into Formula 1?
Joshua Lenton, UK
Turbos are always exciting because they generate a lot of power. But when you have the engine capacity we'll potentially have for 2014, coupled with KERS and all sorts of other stuff, I'm not sure how much power turbos are going to generate.
Also, there's the noise of a turbo engine - acoustically they can be a bit flatter.
But I remember the turbo days from when I went to the Australian Grand Prix in Adelaide in the late '80s with my dad. It was attractive back then because the cars were less drivable and the turbo was more aggressive.
Now, because we have so many clever devices and software, it would be less dramatic, I think, to witness.
If you never become F1 world champion, how would you like to be remembered?
Ihan Ahmed, Bulgaria
As someone who raced hard and fair. Someone who was very consistent in terms of 'what you see is what you get'. And, if I never become champion, someone who gave it a pretty good shake to try to be one against some pretty good competition.
I think the wins are what I'll be remembered for. There have been some special victories and they're very rewarding for me.
Which grand prix win has been your best?
PD Hughes, UK
Umm... that's difficult [long pause]. Probably my first one at the Nurburgring in 2009 because it was a big moment to finish the job off, especially as I had a drive-through.
I could have won by a big margin that day. I remember radioing the team to see if Sebastian was in traffic because I was maintaining the gap. They said, 'No, he's in free air.' So that's how good it was feeling that day.
You know it's going well when you've got the guy in second so under control.
Monaco this year also stands out. We didn't have the strongest car, but I was very happy with my qualifying lap. It was a special win for me because we didn't have the car we'd had the previous two years.