Fernando Alonso made a very good point when he described the 2012 campaign as the best of his career. For all the brilliance of his back-to-back world championships with Renault in 2005 and 2006, he came so close to pulling off a rare feat this year by winning the title in a car that was demonstrably not the best in the field.
That's not to say that it was a bad car for, aside from the four races that preceded the Spanish Grand Prix, the F2012 generally had the race pace to be in the mix for the podium. Yet even at Interlagos, in conditions that gave him the best chance to excel, it was a long, hard slog to get into the second place that kept his hopes alive until the chequered flag.
The Ferrari F2012 was not the standout machine. A good indicator of raw pace is to look at the fastest individual lap set by each car on a weekend. Only once did a Ferrari manage the best outright lap, and that came thanks to Alonso's qualifying simulation in FP3 at Silverstone, which would surely have been eclipsed by Red Bull had the afternoon been dry.
The Ferrari had a troubled birth, with Alonso describing it as being two seconds off the pace in the opening pre-season test at Jerez when reflecting on the campaign last weekend.
To Ferrari's credit, the race team did an excellent job of getting what it could out of it, but save for that remarkable victory in the rain-hit Malaysian Grand Prix, Alonso could manage only a fifth, a seventh and a ninth in the other three of the opening quartet of races. That was towards the upper limit of what the car could achieve at a time when it was a marginal Q3 contender.
The plan was to weather the early season races and stay in the hunt while Ferrari vastly improved the car. Alonso was only 10 points behind championship leader Vettel after the first four races and it seemed for a while that the upgrade programme that ran from the Mugello test through to Canada had worked.
Alonso won against all odds at Sepang © LAT
The reality was, however, that Ferrari was only hanging in there. During the topsy-turvy first half of the season, in which seven different drivers won, Alonso was the most consistent. After taking that great win from 11th at Valencia, albeit aided by Vettel's Red Bull retiring from the lead with an alternator failure, he looked unstoppable.
On paper, that win, which was followed by second from pole position at Silverstone and another victory, again from the front of the grid, at Hockenheim, established him as title favourite.
Come the mid-season break, he was 40 points clear of the rest. But that position was illusory, a result of the combination of Alonso regularly getting the most out of the car and the inconsistency of Red Bull and McLaren.
Had Vettel not retired in Valencia, and had it not rained in qualifying at Silverstone and Hockenheim, the picture would have been very different. That he finished fifth in Hungary in a car that was, at best, the fourth strongest was a clear warning sign.
In the two races that followed, Alonso appeared to dodge a bullet when he could easily have lost most of his lead. At Spa, he was completely innocent as he was wiped out by Romain Grosjean's flying Lotus at the first corner.
Then, at Monza, Ferrari came up with a strong low-downforce package. Nowhere was the Ferrari more competitive in dry conditions than in Italy and Alonso reckoned he would have been on pole easily had a rear anti-roll bar problem not ruined his qualifying. He came through to third, restoring a 37-point championship lead. But in retrospect, the points lost in those races did a lot of damage.
There was still the feeling that if one team could consistently hit form, Alonso's lead could disappear rapidly. It seemed McLaren was the team with the potential to do that, but when Hamilton's gearbox failed while leading in Singapore, ensuring Vettel won, it was the start of Alonso's undoing.
By then, it was abundantly clear that one of the weaknesses of the Ferrari was its DRS not allowing the airflow in the diffuser/rear wing system to reattach as quickly as it should, creating rear-end instability that made life difficult.
This was one of the keys to the deficit between qualifying and race performance and, as Vettel proved repeatedly, controlling a race from the front is a lot easier than trying to fight your way through from seventh or eighth.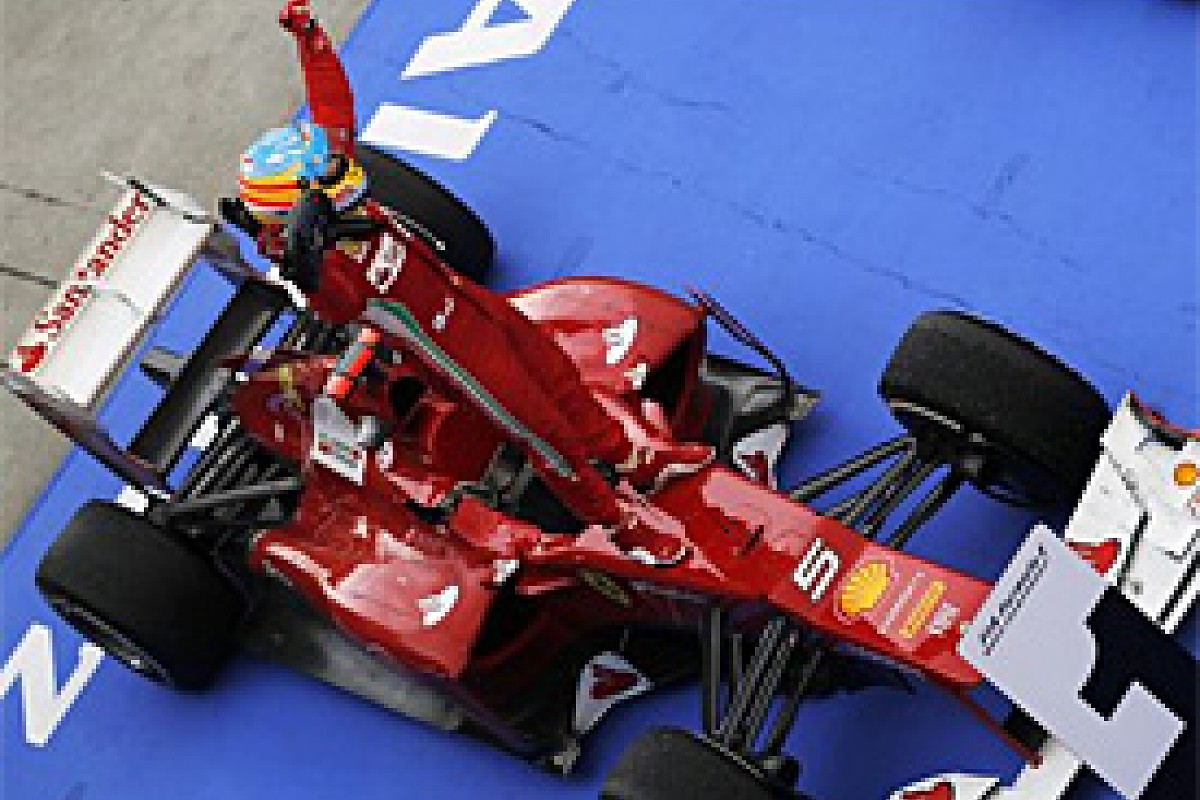 Vettel erased Alonso's advantage with a late surge © LAT
Vettel won in Singapore, Japan, Korea, and India. Alonso did what he could, finishing on the podium in three of the races, but Suzuka was his most catastrophic race of the season.
Could it be that his willingness to put a risky squeeze on Kimi Raikkonen, a misjudgement that wiped out his Ferrari at the first corner, was caused by his realisation that drastic measures were needed to stop the Vettel/Red Bull combination from overhauling him?
Or was it just that he was so keen to keep out of Button's way that he over-reacted to a slight movement from Button to his right? Either way, the championship gap was down to just four points. And it was Alonso's error, not Raikkonen's.
Alonso's second in Abu Dhabi, one place ahead of Vettel, gave renewed hope. And a great start in Austin, after Ferrari very cleverly (but in the eyes of some less than sportingly) triggered a five-place gearbox penalty for Felipe Massa, ensured that it went down to the wire. Frankly, it was a good move by the team: as well as helping Alonso jump to fourth at the start it likely improved Massa's position on the first lap as well thanks to both being on the clean side to the grid.
Alonso's approach was simple at Interlagos. All he could do was make damned sure that he was on the podium and put as much pressure on Vettel and Red Bull as he could. It was a tough afternoon's work but despite Red Bull's troubles, he couldn't quite pull it off.
It was a season in which Alonso did everything he could to be there at the end, to give himself hope against hope. That strategy served him well to the end and few would argue with the assertion that Alonso is a three-time world champion in a two-time world champion's body, especially given he's now lost three title showdowns.
To do what he did in a car that was, on average, the fourth-fastest in qualifying and third fastest on race pace - and in a head-to-head against another true great in Vettel - made his performance all the more remarkable given that the main weapon he had in his armoury was reliability.
So what if in a 'normal' season with Vettel or Hamilton, say, stringing together consistently strong years would have made that impossible? Alonso made the best of a difficult job in 2012 and that's all you can ask of a driver.
He gave himself 10 out of 10 for the year - and he was right to do so. While he wasn't perfect - Suzuka and the final couple of races when he was eclipsed by Massa proves that ­­- it was a campaign as close to perfection as a driver could realistically be expected to deliver.