There is something deeply imbedded in our brains that makes us love an underdog.
Rooted somewhere in our DNA it says that there must be checks and balances for the world to keep turning, that those most privileged don't win all the time, and that those who are less fortunate, but perhaps make a bigger effort, get their just rewards.
Life isn't fair at times but there needs to be recompense for being good.
It was no surprise therefore that in the days building up to the Brazilian Grand Prix, there was almost a universal phrase from the neutrals in the paddock about their feelings on who was going to win: "The head says Sebastian Vettel and the heart says Fernando Alonso."
We had an 'underdog' in the Ferrari and a clear 'favourite' in the Red Bull. This was nothing more than F1's equivalent of a fable, a comic hero tale, or a Hollywood movie script: of the small kid with the big heart who overcomes tremendous odds to beat the more privileged opposition.
Think the slow Tortoise vs swifter Hare; small David vs giant Goliath; the unknown boxer Rocky Balbao eventually being champion; little Luke Skywalker taking on evil Darth Vader; the Karate Kid coming good.
Alonso, the underdog this year © LAT
The victory of the underdog not only makes a better story - how dull would each of the above been if the underdog lost? - but his very glorification is important if there is to be any interest in life's narratives that unfold in front of us.
F1 is no different. The championship cannot automatically go each year to the man who gets given the fastest car. He has to go out and earn it.
There has to be belief that virtue can overcome natural advantage. That incredible efforts, either by team staff or a driver to turn around a deficit, pay off.
It is why Alonso's challenge this year stirred up so much appreciation for what he did. At no point in the campaign did he have the fastest car, yet here was a man who hauled a car into positions sometimes it did not deserve to be.
It was an upsetting of the natural order and one that made everyone value Alonso's efforts even more. We don't want the villains with the bigger guns winning all the battles. The Death Star had to be destroyed...
Ultimately though an underdog is an underdog because he has less chance of winning. In sport, more often than not, the favourite is the favourite because they are doing a better job - and better jobs often result in success.
It is that fondness of the underdog that resulted in no end of comments on Sunday night that the wrong man won; that it was Alonso and not Vettel who really 'deserved' the world title. That the Spaniard's lionheart efforts, his determination, his focus, his charisma were more worthy of the world title than Vettel?
Vettel's standing was never going to stir such feelings. Here was a man who clinically made the most of Red Bull's upswing in form since the Singapore Grand Prix to deliver a brilliant run that ultimately proved crucial in the title fight.
But worse than that, because he is the reigning champion - a man who, along with his team, has ruled F1 for the last two years - he had no chance of basking in that underdog spirit. Favourites don't get much love.
In fact, when favourites keep on winning - even if once they were underdogs - they become disliked and then get cast as the villains who ruin the sport. Think McLaren in the last 1980s, Williams in the early 1990s, or Ferrari in the early 2000s. It's the same for Red Bull now.
There is little affection for Red Bull in the paddock. Its rivals accuse it of arrogance. Its stance in team principals' meetings infuriates its opposition, its frequent involvement in tech rows leaves it open to claims it pushes the rules too far, it gives the least media access to its drivers out of all the teams, and its garage music annoys rival mechanics.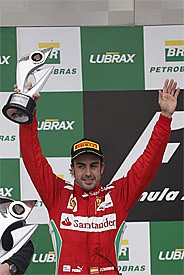 Alonso leads Vettel at the Brazilian GP © LAT
Yet how much of Red Bull being not being liked is simply down to the fact it has been winning all the time? There is no better way to be unpopular in F1 than have repeated success.
In fact, rather than vilify Red Bull for its total devotion to victory and its belief that every action every member of the team must only be in the interests of making it better on track, shouldn't we really be applauding them?
Three consecutive title doubles is a hugely impressive feat, and it is only the second team in F1 history (after Ferrari) to have done that with the same driver. None of those titles have been won by luck - they have been won by making the most of exactly the same regulations as everyone else. That only comes from hard work.
It was a tweet from Sebastian Vettel's systems engineer Tom Batch as he landed back at Heathrow on Tuesday that summed things up perfectly: "Back in the freeeeezing UK! Apparently Alonso deserved to win the WC. No one deserves it you have to go out and make it happen #workharder."
Red Bull went out there, came back from a difficult start to the campaign, and made it happen.
It might have warmed our hearts if Alonso the underdog had triumphed against the odds in Brazil, but were his efforts any more worthy than those of the Red Bull staff who turned the RB8 into a dominant machine?
Did he drive any better than the way Vettel capitalised on opportunities to overhaul a 40-point deficit after the summer break?
Were Alonso's victories against the odds any greater than the way Vettel kept his head and came back from near disaster in Abu Dhabi and Brazil?
This is not to take anything away from the great job that Alonso did this year - for he was sensational in 2012. But Vettel and Red Bull went out there and did it, and that is ultimately what it is all about.
Sometimes, even in the movies and kids' books, the favourite has to win. Only then can the underdog learn to be even more determined to triumph at their rematch. And in doing so, that taste of victory becomes even sweeter.
It is something Alonso may well find out in 2013. Bring it on...