There were echoes of Sebastian Vettel's late charge to the 2010 drivers' championship this year, with the final third of the season yielding an avalanche of points and a third world title.
But there was more than a late charge to Vettel's year. For better or worse, these were the 10 key events dictating the course of the Red Bull driver's 2012 campaign.
Alonso's Suzuka retirement opened the door for Vettel's comeback © LAT
1. ALONSO LOSES HIS CUSHION
Race day in Japan was unquestionably the biggest in Vettel's charge to the championship. Or to be more specific, what happened in the first 15 seconds of the Suzuka race was.
Vettel started from pole position and made his customary excellent start to settle into the lead ahead of Kamui Kobayashi's Sauber. He had good reason to be pleased with that, but it will have become all the sweeter when he learned of Alonso's fate.
While the Red Bull driver settled into the lead, Alonso made an uncharacteristic mistake. His Ferrari moved over on Kimi Raikkonen's Lotus on the run to Turn 1. The Finn did everything he could, within reason, to avoid what proved to be the unavoidable.
The resulting contact put Alonso out of the race and Vettel's straightforward victory slashed the gap in the championship from 29 points to just four.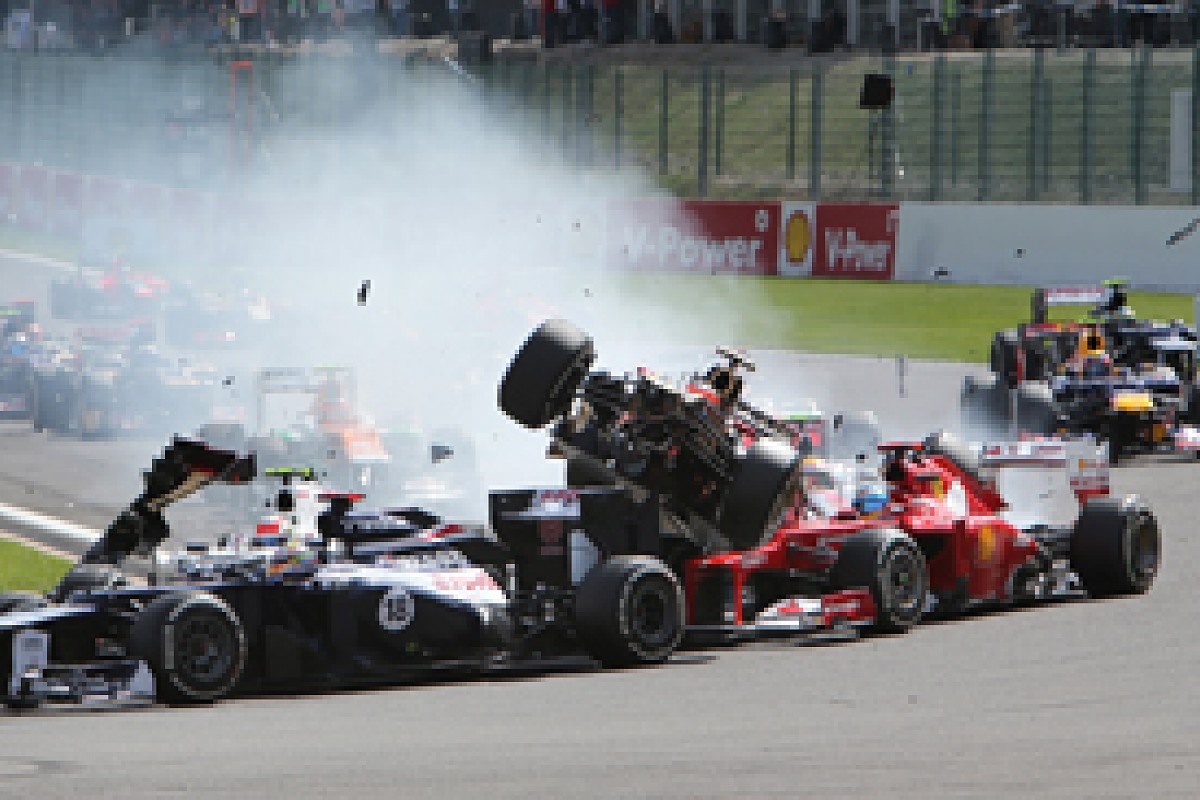 Another race and another Alonso DNF. Vettel's not even in shot © LAT
2. LUCKY 11th PLACE
It seems odd to pick out Vettel's worst qualifying performance of the year (along with China) as the second most important moment of his title push. But lining up 10th after grid penalties were applied at Spa, proved to be a great piece of fortune.
It meant that Vettel was far enough back to be able to see the carnage unfolding as Romain Grosjean hit Lewis Hamilton's McLaren on the run to La Source, catapulting his Lotus into the air and wiping out Alonso's Ferrari, among others.
Vettel completed the lap down in 12th but had climbed to second by the finish, just 13 seconds behind dominant winner Jenson Button.
This added up to an 18-point gain on Alonso. A huge result.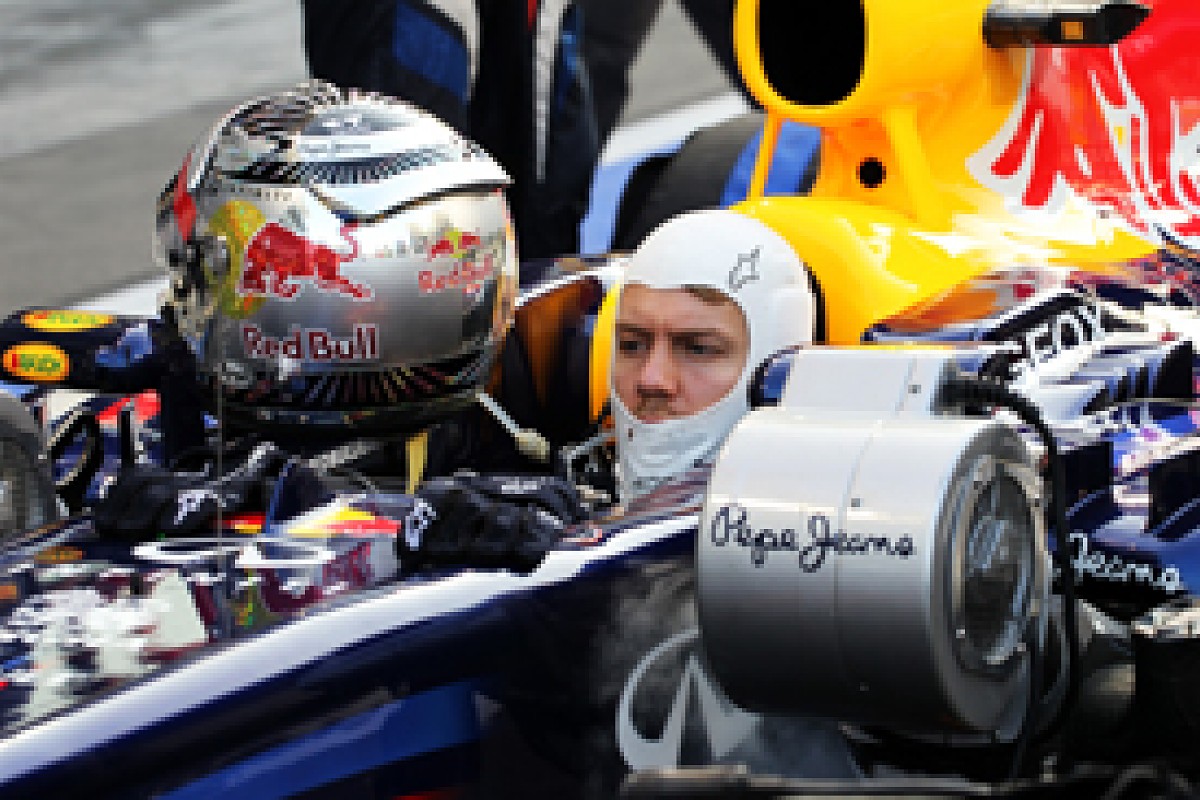 Vettel exuded calm on the grid - well OK, the pitlane - at Yas Marina © XPB
3. BAFFLING, BUT WELL-PLACED, OPTIMISM
In 2010, Vettel astonished Red Bull by bouncing back from the disappointment of suffering an engine failure that seemed to have put him out of title contention. Remarkably, he was the one trying to lift a despondent team after a disastrous race.
It was a similar story in Abu Dhabi this year, where Vettel kept insisting to the team that a big result was still on the cards despite him being excluded from qualifying for having insufficient fuel in the car to provide a sample.
Starting from the pits and having made setup changes to aid overtaking, Vettel looked to have a tough task to score decent points.
There were some mishaps along the way, notably making contact Bruno Senna early on and damaging his nose further after allowing himself to be caught out by Daniel Ricciardo behind the safety car and wiping out a DRS board, but for the most part his drive was excellent.
He certainly had some luck on his side, with plenty of incidents meaning the race opened up for him. But he also had to work hard, notably with his beautiful passing move on Jenson Button to take an unlikely third.
This combination of luck, brilliance and good timing meant he finished just one place behind Alonso on a day on which everyone, except, it seems, Vettel, expected him to lose serious ground.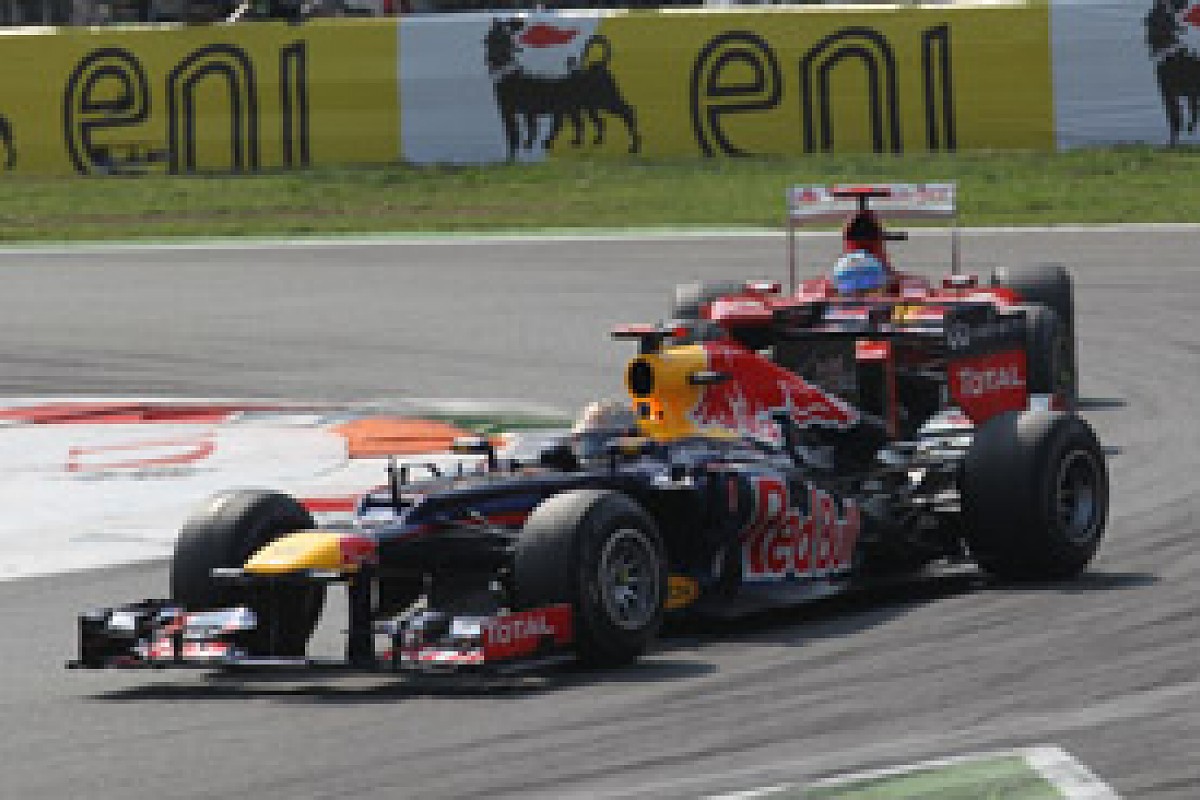 Seconds later the controversial moment would occurr © XPB
4. THE GLOVES COME OFF
One of the highlights of Vettel's dominant run to the 2011 drivers' championship came at Monza, where he took a bite of the grass in passing Alonso for the lead at Curva Grande. It was an incident that has proved to be the source of considerable needle between the pair.
This year, there was a reprise of this moment...in reverse. This time, it was Vettel defending vigorously - too vigorously, as it proved - forcing Alonso to take to the grass in the same place and remain behind the Red Bull.
But Vettel pushed Alonso a little harder than Alonso had him the year before. Combined with changes to the overtaking regulations that force a leading driver to give room if there's any overlap from another car, this led to a drive-through penalty.
Ultimately, it wasn't particularly costly, for Vettel later retired from sixth with an alternator failure. But it was the most explosive on-track moment between 2012's two title protagonists.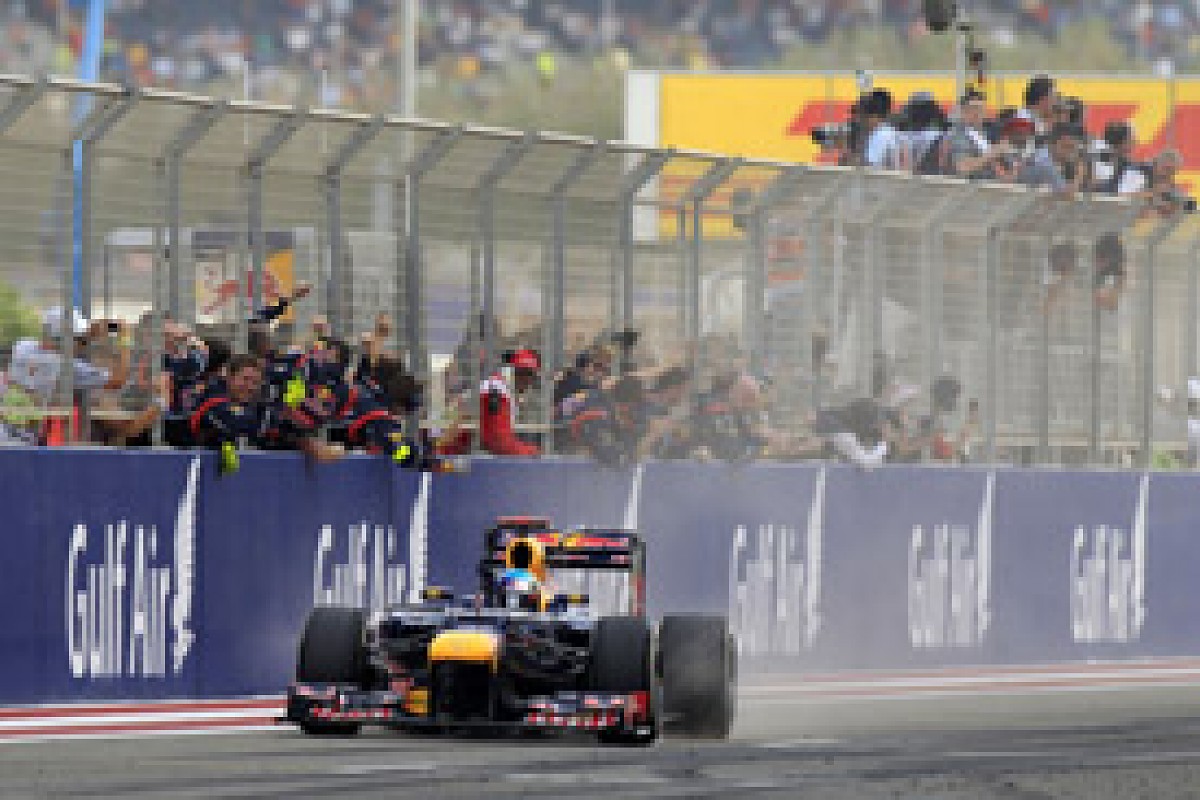 Bahrain was the scene of Vettel's first win of the 2012 season... © LAT
5. THE FIRST WIN
Vettel and Red Bull didn't have the best of starts to the season. The German didn't appear to posess anything like the supreme confidence that he had when it came to attacking corner entries and in China he had struggled badly, failing to make the top 10 in qualifying.
But come the next race in troubled Bahrain, he had it all his own way. After taking pole position, he controlled the race beautifully.
Lotus driver Raikkonen pressured him, coming close to mounting a serious move into Turn 1 before Vettel slammed the door. But this was one the Red Bull driver never looked like losing.
Alonso, meanwhile, struggled home seventh in a Ferrari that wasn't, metaphorically at least, at the races.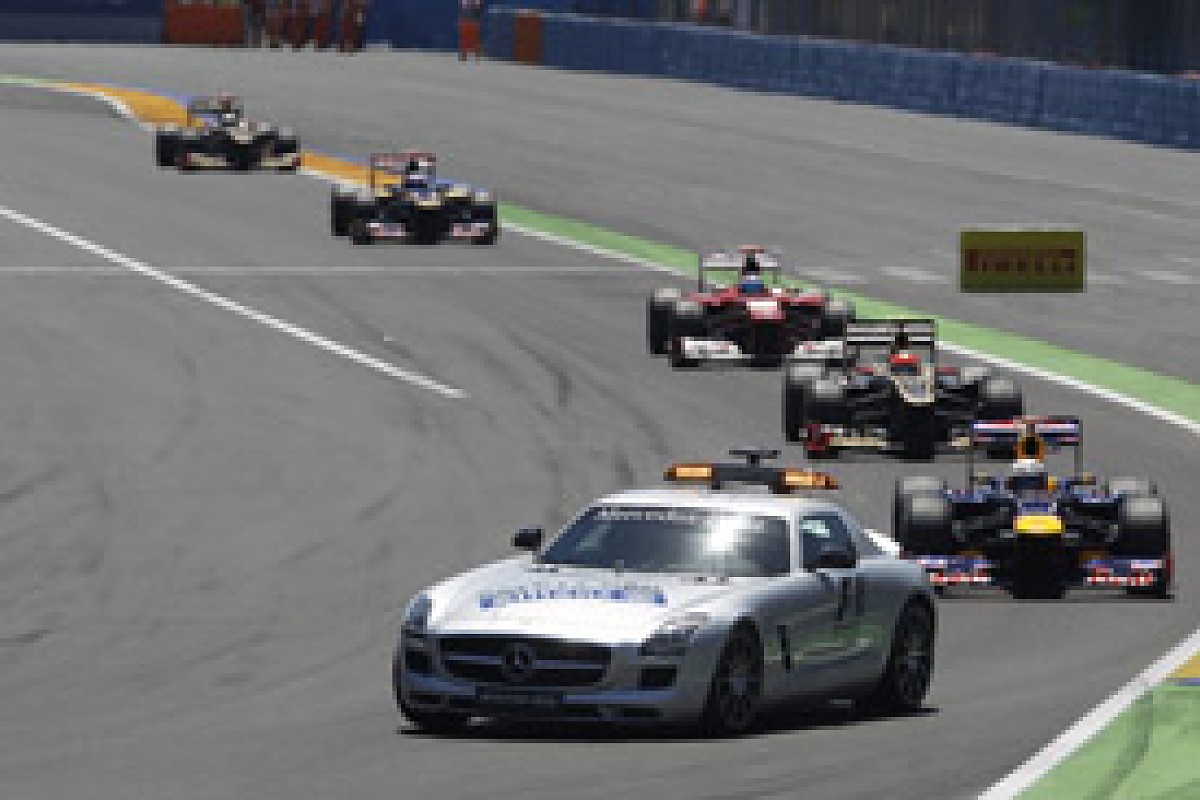 ... And he was on course for another victory at Valencia until disaster struck © LAT
6. THE LOST WIN
There can be no doubt that Vettel was on his way to winning the European Grand Prix on the streets of Valencia as the safety car pulled in. While his advantage at the front had been slashed, he had everything under control.
But Red Bull had already spotted some concerning data during the safety-car period. Sure enough, on the first lap after the restart, Vettel's car lost power and he ground to a halt.
The cause was an alternator problem, one that would strike again later in the season and hang over Vettel's title push throughout 2012.
With Alonso charging from 11th to first, in terms of the points gap between the pair, it took Vettel a long time to make up for that 25-point swing.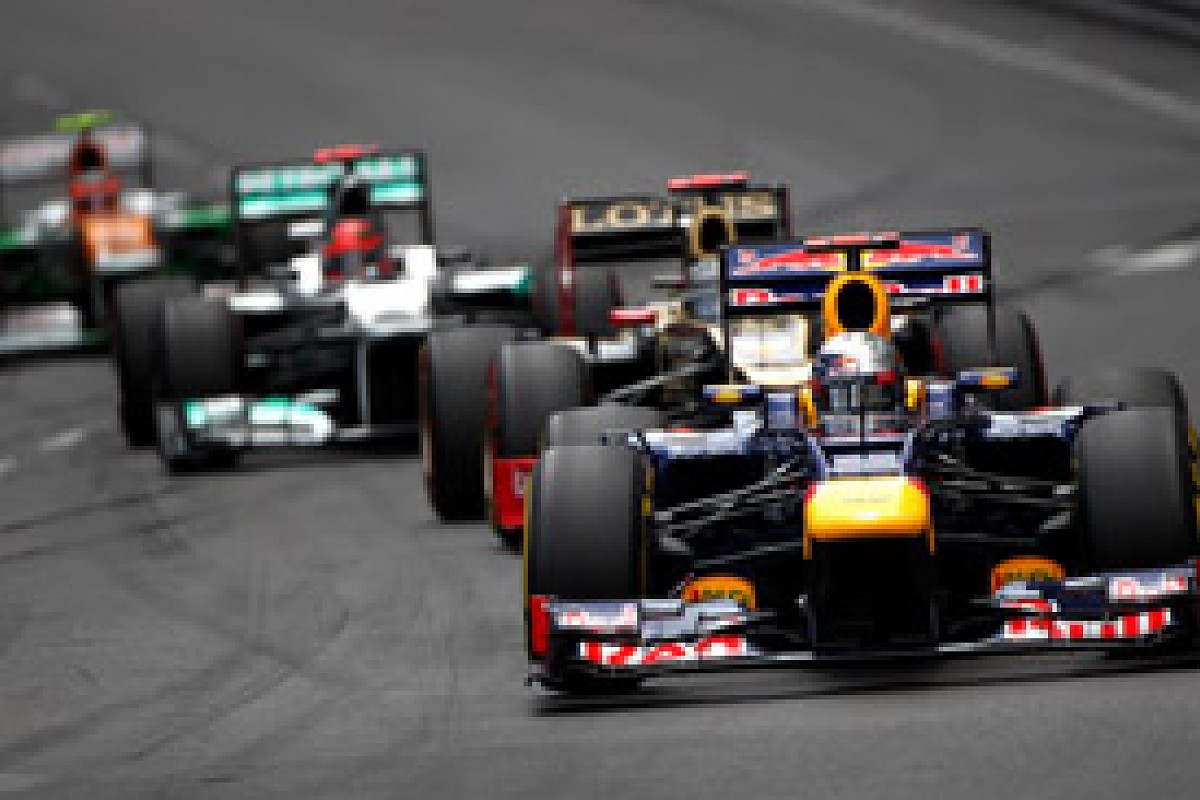 Vettel and Red Bull played it cool on the Monaco streets to take fourth © LAT
7. MONACO LONG RUN
Vettel didn't have the best of times in qualifying at Monaco, so opted to run on the soft Pirellis in Q3. From ninth on the grid and with everyone in front of him on the shorter-lived, but quicker, supersofts, it was a logical move.
It paid off for Vettel, who could conceivably have won but for the inevitable traffic disadvantage of starting on the fifth row. Once the rest had pitted, he led the race and was able to pit and rejoin in fourth place.
That earned him an important 12 points in a race where he could easily have lost far more than three to Alonso.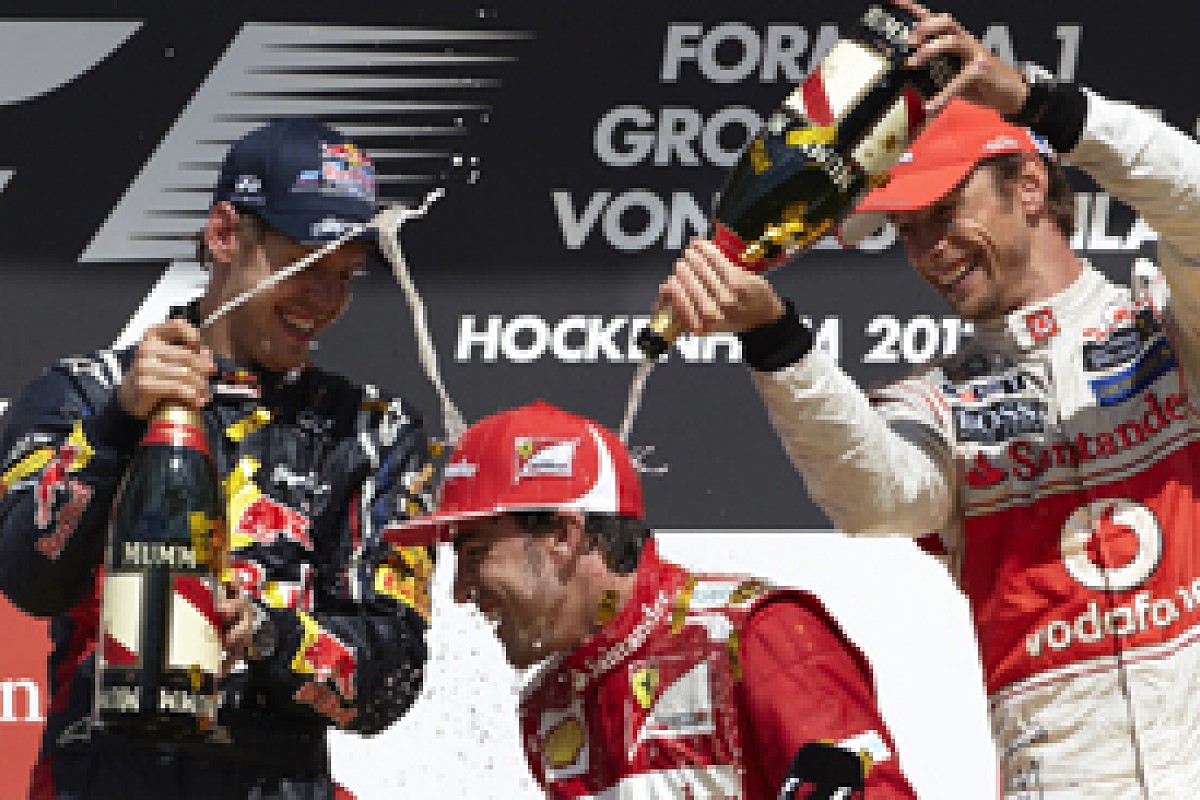 All smiles here, but Vettel would lose his second place to a 20s penalty © LAT
8. HOCKENHEIM MIS-STEP
Vettel was firmly in the mix for victory at Hockenheim, although it was Alonso who won the race after taking pole position in the wet.
But Vettel had still pulled a decent result out of the bag, coming home second after passing Button late on.
Or so he thought. For Vettel had, rather optimistically, thought he would get away with running wide and well off the track at the exit of the hairpin in making the move.
The result, predictably, was a 20s post-race penalty, dropping him from second to fifth. Relative to Alonso, it was costly, turning an eight-point loss into a 15-point one.
On the plus side, both team and driver appeared to learn from the mistake. Four months later, Vettel passed Grosjean by running off the track at Yas Marina, wisely giving the place back before re-taking the Lotus.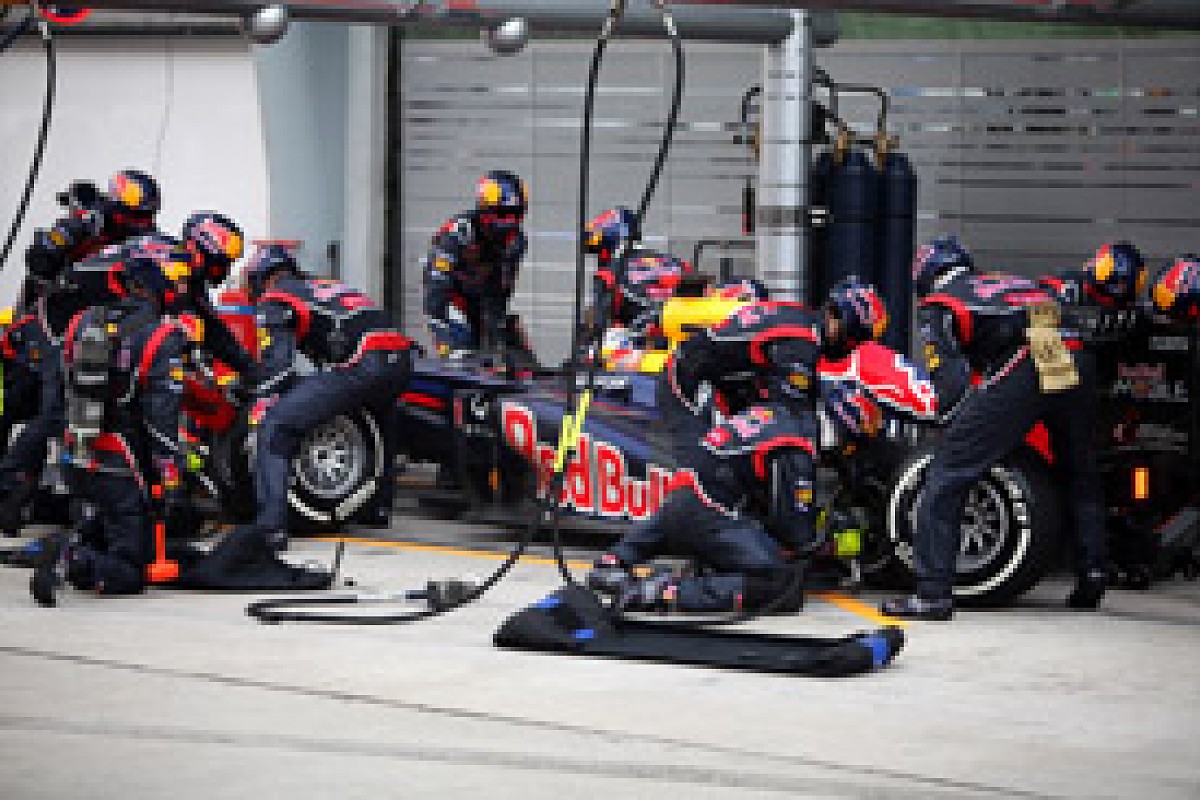 Vettel needed a new nose after that Karthikeyan incident © LAT
9. CLASHING WITH A CUCUMBER
Running fourth and in the closing stages of the race, Vettel closed up on the HRT of Narain Karthikeyan.
Unfortunately, as Vettel passed him, Karthikeyan had a wobble on the kerb and moved to his right, just clipping the Red Bull's left-rear wheel.
This gave Vettel a puncture, forcing him to the pits. He could only finish 11th from that setback. With Alonso winning, the damage to his drivers' championship fight with the Ferrari driver, in retrospect at least, was significant.
"As in real life, there are a few cucumbers on the road," Vettel told a German television crew after the race.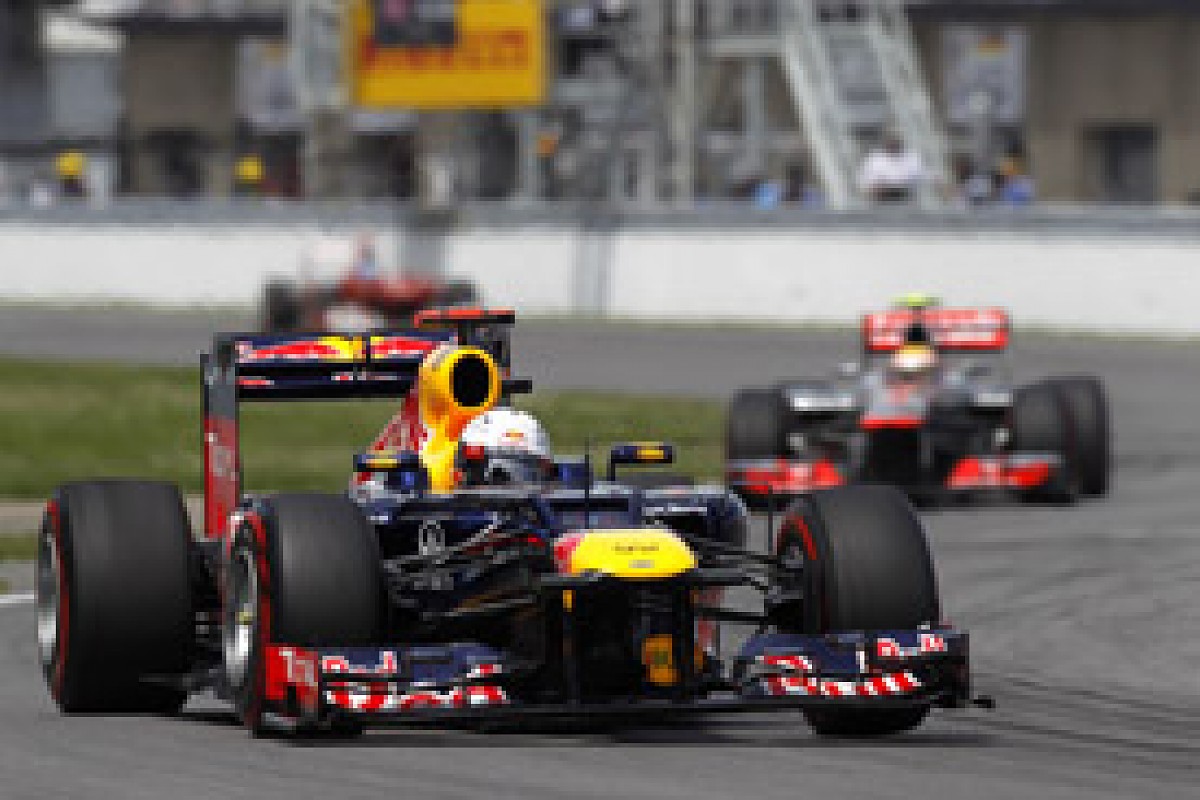 Alonso's in the background, a legacy of tyre selection. Hamilton won though © LAT
10. BAILING OUT IN CANADA
Vettel found himself running second to Alonso in the closing stages of the Canadian Grand Prix. But, crucially, the pair were both gambling on tyre life.
They tried to hold on, but Lewis Hamilton, on fresh rubber, soon ate up their lead and breezed past. At that point, Red Bull decided to abort the futile effort to go to the finish and he headed to the pits. It was a brave, and vital, piece of damage limitation.
While Alonso stayed out, Vettel had the advantage of completing the last seven laps on fresh rubber. It was more than enough for him to get ahead of Alonso, passing him for fourth with two laps to go.
On the day, it didn't seem that significant, but in the context of the world championship fight, that decision equalled a four-point swing in Vettel's favour over his title rival.