It was the sort of snag that gives a team on the verge of a title the chills; the Red Bull water leaks weren't actually too costly but in two successive events there have been three of them - all during practice, but with the implicit threat of a race retirement.
Mark Webber's car sprung its leak at the end of first practice, Sebastian Vettel's at the beginning of the second for reasons the team isn't keen to discuss.
As Formula 1 took in its new Austin surroundings with awe and excitement, for the two title contending teams, the backdrop was next to irrelevant and those leaks were the most significant thing in their universe.
But a retirement would probably be the only way of stopping Vettel here; after missing 25 minutes of the session, he took precisely four laps to move the goal posts, lapping 0.7 seconds clear of the field.
The Red Bull development continued apace, the RB7 running here with a new rear wing. Ferrari ran with a new diffuser on Fernando Alonso's car and though the race pace was good, there was nothing to suggest the car's qualifying pace deficit has been wiped out.
Alonso's race pace looked better, as usual © XPB
With the usual provisos about not knowing the relative fuel loads, Red Bull, McLaren and Ferrari looked extremely evenly matched on the heavier-fuelled race simulation runs - though Ferrari did not do a properly long run with Alonso.
For the fourth race in succession, the smooth Tarmac combined with a conservative tyre choice looks set to make for a strategically simple one-stop race.
"There's virtually no degradation," admitted Pirelli's Paul Hembery, "and only a little bit of wear. With hindsight we have been conservative.
"We had to make this choice two months ago when there was still some uncertainty about what the surface would be - and we were expecting temperatures around 15-deg C higher than what we have. We could actually have run a soft/super-soft combination at this and each of the three previous races."
But even beyond strategy, the prospects for a thriller of a race unfortunately do not look great. Fantastic driving challenge though the Austin circuit is, overtaking is going to be difficult.
"I can't honestly see there's going to be much at all," said Jenson Button on the question of passing. "The corners onto the straights are too slow - the cars are very accelerative at such low speeds and you can only get on the power in reaction to the guy ahead and that makes it very difficult to get close enough. You really need medium speed corners onto the straights."
So, no strategy variation and no overtaking: qualifying takes on an even greater importance than ever - and in qualifying it is difficult indeed to look past Red Bull.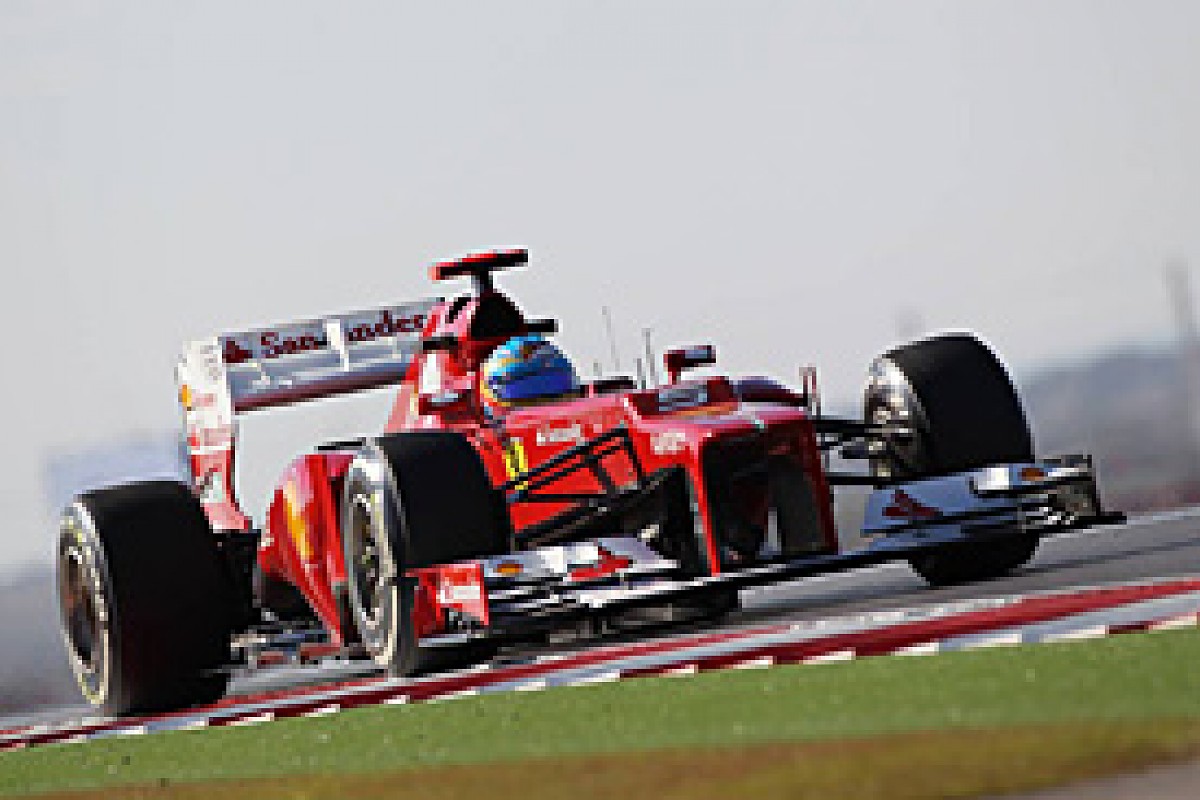 Button is predicting no overtaking © XPB
Logically, from there it's difficult to look past a Vettel victory also. Unless, of course he were to suffer another leak... If Vettel wins, the question then becomes can Alonso finish fourth or higher - in order to keep the title fight open going into the much less predictable final venue of Interlagos next week?
The prospects for that must be excellent, given that it's difficult to see him being beaten by both McLarens, especially given their recent reliability. Any other potential Ferrari-beaters that could ensure Vettel's title?
The Lotus team ran a very different programme to the top three with regard to fuel loads, so it's not impossible there could be a Kimi Raikkonen blockage to Ferrari's title hopes - which would have a certain irony given their history together and the manner of Kimi's departure to make way for Alonso.