There's a wonderful sense of symmetry to Sebastian Vettel bringing up his century of grand prix starts in the United States. After all, this is where it all started for him with BMW Sauber back in 2007.
That day at Indianapolis, he scored a point on his debut after being drafted in to replace the injured Robert Kubica. It was the start of a journey during which he has progressed from charismatic, fresh-faced youngster to grizzled, multi-world champion veteran by the astonishing age of 25.
Vettel will be only the 63rd driver to notch up 100 world championship grand prix starts and with a win rate of better than one in four, his record is extraordinary. But when asked about his landmark achievement this afternoon, one of the main things that Vettel stressed about his debut at Indianapolis in 2007 was that it showed him just how much work he still had to do.
"At the end of the race, I was physically destroyed and knew that I had a lot to do," said Vettel. "But I knew that this is what I want to do in the future.
"Sitting here 100 races later is quite crazy in a way. If the number gives you anything, it's that you don't realise how quickly time goes by.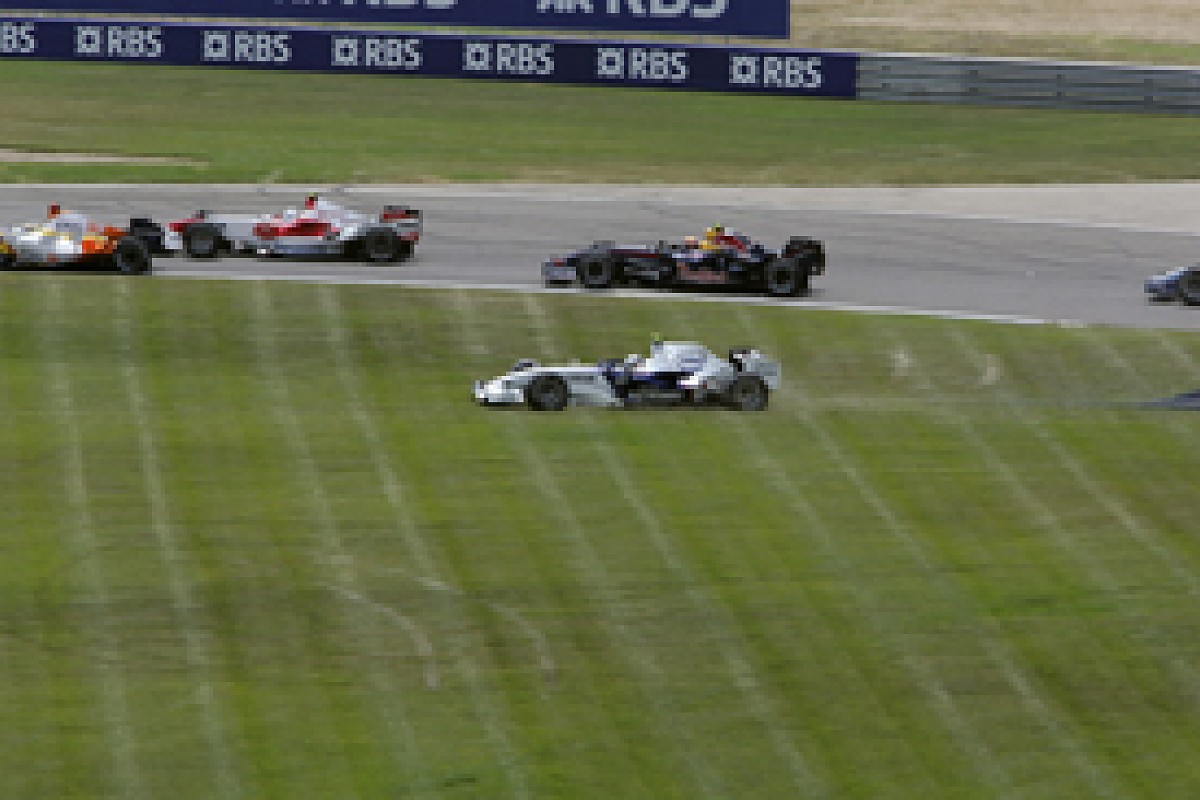 Vettel takes to the grass at the first corner of his maiden F1 race © LAT
"It's always like that when you do something that you enjoy a lot. You don't count the days, months and years as they go by, so looking back now it doesn't seem a long time ago. But looking at the calendar, it's five years ago!"
It feels a lot like that to the outside world too, with this once rising talent now an established superstar on the brink of becoming only the third driver to bag three consecutive world championships.
The writing was already on the wall back at Indy, where Vettel's eighth place made him the youngest driver ever to score a world championship point, claiming the record from a certain Jenson Button.
"I remember my first race," he reflected. "You can't forget it. Obviously, there were some positives, some negatives.
"I didn't have the best start and not the best first corner, but it was quite an interesting race and a big challenge."
He went into that weekend in June 2007 with seven appearances as a Friday tester for BMW Sauber and 15 test days under his belt, so he at least had a decent amount of mileage to fall back on. But he didn't learn that he would be racing until a few days before after Kubica sprained his ankle in that famous crash in Montreal.
Vettel qualified a very respectable seventh, slipping down to 11th at the start after dodging trouble at the first corner. By the finish, he was eighth, right on the tail of future team-mate Mark Webber's Red Bull.
Crashing into Webber was a low point of his Toro Rosso stint © LAT
That was more than enough to ensure that he would be fast-tracked into a seat at Scuderia Toro Rosso. Sure enough, just before the Hungarian Grand Prix at the end of July, the Red Bull-owned team confirmed that he was replacing Scott Speed.
While that half-season with STR was a little fractious, initially playing second fiddle to team-mate Vitantonio Liuzzi and infuriating his paymasters by crashing into Mark Webber under the safety car at Fuji - a race that Webber might very well have been on his way to winning with only championship-chasing Lewis Hamilton ahead - he had done enough to justify the hype.
Since then, he's continued to live up to those expectations. There are those who, even if he does claim a third world title this year, still doubt his claims to greatness. But if the next 100 races are as remarkable as the first, he will be well on his way to being unquestionable one of the greatest drivers in the sport.
Not that Vettel will be getting ahead of himself. One of his greatest strengths has always been a ferocious focus on the job in hand.
For him, it's always a case of first things first and, right now, that means whatever number start he will be making in Austin, he will be doing everything he can to wrap up the title against another true great in Fernando Alonso.
And if he does seal it this weekend, I'm sure that he'll enjoy the 100-race symmetry of it all as well.