Lewis Hamilton sits down in the McLaren motorhome at Monza and smiles that gleaming smile. You sense everyone wondering: is this the real Lewis? Is he putting on an act? Is he really this nice guy, defying the standard Lewis drama of the day and proving he is just misunderstood?
Or is this the Other Lewis, the anti-Button, the future Mercedes driver, who plenty of British F1 fans - and probably a few Spanish - love to loathe?
It's been a while since my first meeting with Lewis. It was in Valencia 2006 when he was testing a GP2 car for the first time. He was breathtaking that day - so good into Turn 1 (the only decent corner on the circuit) that all else around him quickly faded.
Lewis was, to my eye, as good as anyone I'd seen since... Nigel Mansell. His driving had a suppleness to it that Michael Schumacher's lacked. He had none of the acuteness of Fernando Alonso. He was slightly more energised than Kimi Raikkonen. He was doing more with the car's front than Mika Hakkinen.
We sat in an empty grandstand later that day, Lewis and I, chatting about life and his early years and about the GP2 season that lay ahead. I regretted never having seen him compete in karts or F3. And I was filled with awe at the achievement of McLaren's Ron Dennis and Martin Whitmarsh.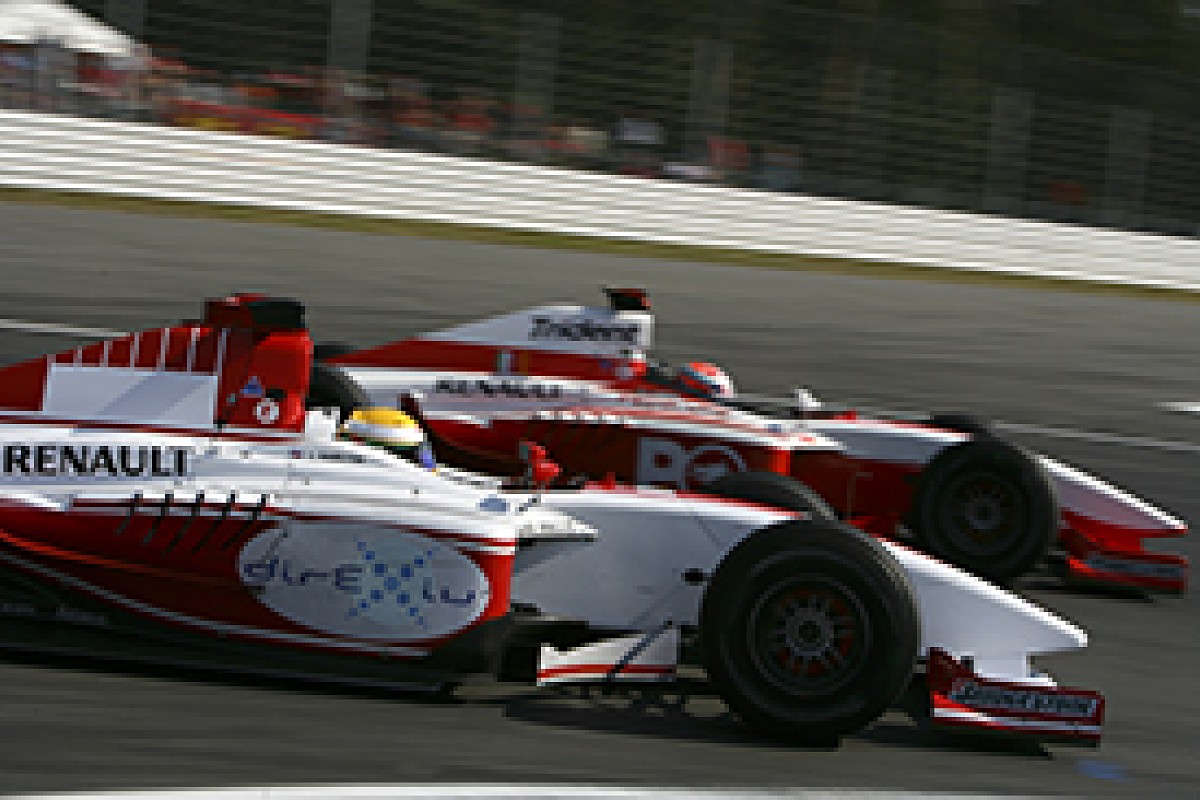 Hamilton stormed to the GP2 title in 2006 © LAT
They had spotted this prodigy and they had nurtured him right through to GP2. What a thing. What a brilliant thing. No F1 team had ever before identified, and fully supported, a driver so young.
Fast-forward to today. What do we have? We have a driver who has won 20 races and one world championship and who, but for his car's fragility, would have been in the running for another. Not bad, you might say. Brilliant, say I.
It's difficult, indeed, to withhold the praise, given that Lewis in addition nearly won the championship in his rookie season (2007); was obliged (like the rest of F1) to stand aside for the Brawn team in 2009; and drove a car inferior to Adrian Newey's Red Bull in 2010 and 2011.
And yet still they continue to criticise him, in ways that drivers have never been criticised before. He was an innocent party to the Ferrari 'Spygate' scandal in 2007, but is tainted by association. He is super-quick out of the box alongside his team-mate Fernando, but is later heckled in Spain for supposedly cheating the Spanish star.
He pushes too hard in the early laps of several races and is immediately pounced upon by other drivers for being impetuous. There have been ill-judged passing moves to which his subsequent reactions have been tetchy. In short, there have been mistakes - and plenty of them.
Criticism of Lewis - which has given rise to the rumour that sales of some racing magazines now decline when he is on the cover - is intense. Lewis for the most part appears irascible.
'Why?' they ask. 'Why can't he be as laid-back as Jenson Button?' The answer is simple. Lewis hates to be outqualified by a team-mate - just as Fernando hated to be outqualified by Lewis at McLaren. It comes with the territory of naturally being faster. It is anathema to him. This year, Lewis has outqualified Jenson by the astonishing margin of 14-4.
If this situation were reversed and Jenson was demolishing Lewis in qualifying, I daresay that the media coverage of Lewis's apparent destruction would be immense. As it is, the qualifying news has focused almost exclusively on what happened at Spa, where Lewis was annoyed and disappointed not to be on the pole.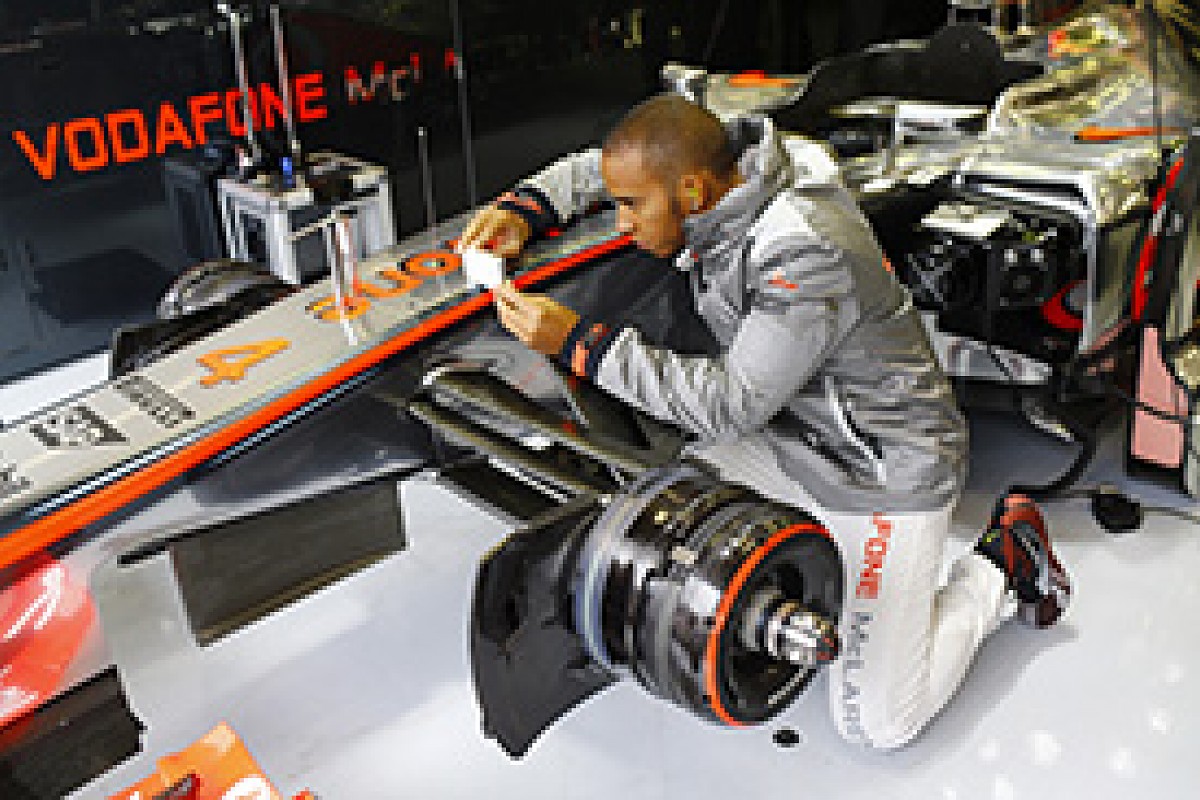 Spa's Twitter revelation sparked criticism © LAT
He and his side of the garage opted for a higher downforce set-up that proved to be a mistake. Lewis was furious. A potential win had been lost on a weekend when the McLaren was a pace-setting car. His anger took on a strange form, however: he tweeted a photo of a telemetry overlay, comparing his fastest lap with Jenson's.
It annoyed the team and it made rival engineers smile in wonder. It was petulant and it was unnecessary. For those who support new media, though, it was also quite amusing. Lewis had, in one moment of rashness, taken an F1 team debrief from the motorhome to fans around the globe.
I can think of worse things he could have done. Flashback to Brazil 1977, when Niki Lauda felt he'd been blindsided in qualifying by Carlos Reutemann: Niki demanded that Carlos be immediately 'relieved' of all testing duties. And don't tell me that Mario Andretti was relaxed when Ronnie Peterson began to outqualify him at Lotus.
As recently as Canada 2007, when he had again been outqualified by Lewis, Alonso put more pressure on McLaren to switch from Carbone Industrie brakes to Hitcos.
As we sit now, chatting at Monza, Spa 2012 already seems an age away. At this moment his Italian GP win is still in the future, but Lewis is calm and relaxed:
"I feel very blessed in my life. I have an incredible family who I can support and who support me; I get to race the coolest cars in the world; and I'm in a position where I can do positive things with my life, like go to the Philippines [with children's charity UNICEF] to meet street kids, for example.
"People ask if I'd like a situation like Fernando's right now at Ferrari, with basically the whole team working around me, but, to be honest, I don't think I would. I kind of like having someone as quick as Jenson there, and having to beat the dude every time.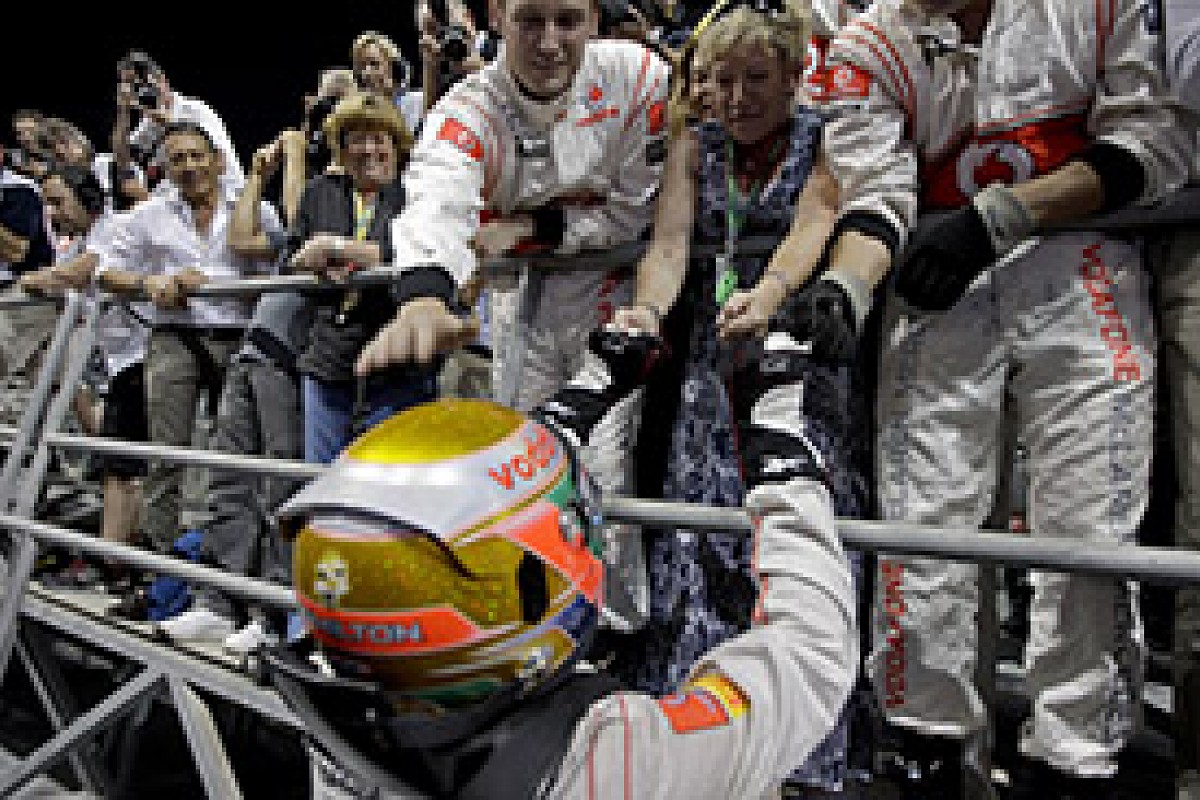 Family support has always been important for Hamilton © LAT
"I suppose at a couple of points over the past six years I've had the fleeting thought that perhaps I should quit and get out of the whole business, but those thoughts are always gone in a second. It's life. Sometimes you think, 'I can't do this any more. I want to do something else.' But there's nothing I want to do more than race in F1."
I ask Lewis to describe his most enjoyable moment this year so far - the circuit, or the lap, in which he has felt most in harmony with the car.
"Hmmmm. Probably Canada" [where Fernando Alonso led for most of the distance before his tyres went away], he says. "It has felt similar since, but in Canada I had one of the biggest gaps so far."
We talk, too, about how he has developed and changed as a driver since 2006. How much, for example, did he learn from Fernando in 2007? "A lot. His mannerisms, the way he worked within the team, his driving style..."
Driving style? I question whether Lewis has changed his style at all - and, if so, whether he's introduced a 'Fernando' element to his repertoire.
"I didn't try to copy him, but I learned from the way he approached minimum speeds and braking points, for example. When to attack, when not to attack, pushing the car to the limit. All Fernando things.
"I'd look at the data and see that he was doing something differently and then I'd have to go out and try to find for myself what he was doing - or why he was doing it. That was how I tried to improve my technique and skills.
"Since then, I think it's been about me making lots of mistakes and then learning from them. I haven't learned from anyone else the way I learned from Fernando.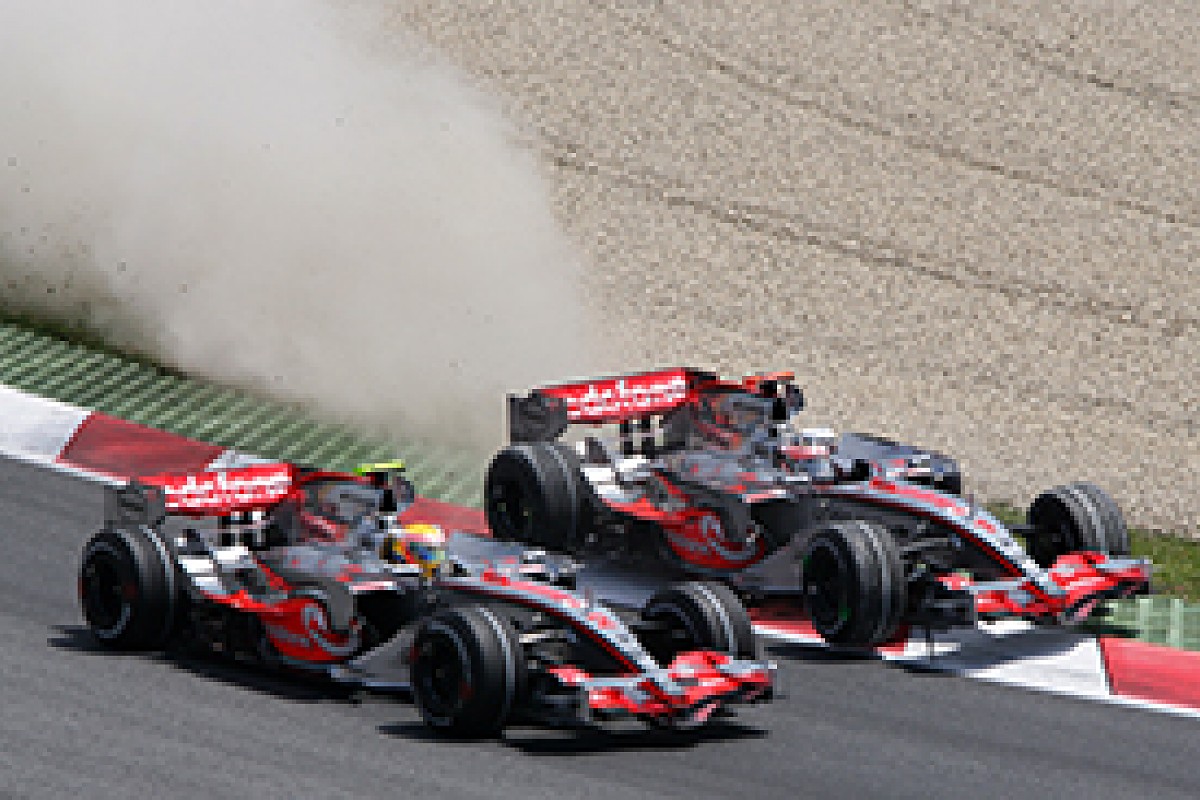 Alonso and Hamilton go wheel to wheel in the 2007 Spanish GP © LAT
"Having said that, I'm still making lots of mistakes. There are many ways in which I can improve and hopefully I'm always working at those."
We spoke at a time when Lewis's plans for 2013 had yet to be announced. "I would like to finish my career with the team I started with," he says, circumspectly. "I think that would be nice - but you've also got to weigh up all your options. You have to look around you before you can decide."
With Michael's shocking race in Singapore and therefore the quantum shift in the way the Mercedes board viewed the seven-time champion, the door then opened wide for Lewis. He accepted the invitation, defying most of the racing logic you could apply, but nonetheless demonstrating his willingness to take a risk.
The challenge ahead will be immense but he will learn even more in a new environment and he will do so probably at a faster rate. The budget behind Mercedes is cast iron and immense; their facilities are excellent and they're a team hungry for success.
In a neat double-take, Lewis would also be completing the 'swap' deal - ie he'll be taking Jenson's old ride. If he can win with it - as he surely will - that too would be a nice touch.
And so we come to what, for me, is the nub: how do we peel away the layers to expose the heart of Lewis - the one we saw in rough-diamond form back in 2006? I ask him about his use of words like "blessing" and his open references to "God". That sort of vernacular is standard procedure in sports like golf but generally verboten in conspicuous-consumption, super-cool Formula 1. Not even Rubens Barrichello was that brave.
So what does Lewis think, or believe, I ask (somewhat intrusively)? And why is he so open about a subject that he knows could induce ridicule?
"I don't like to discuss it too much," he says, "because there are lots of opinions around the F1 paddock about what I say. I grew up in a religious family. I grew up going to church a lot. Racing got in the way, but I still go to church now whenever I'm at home, either in the States or in Monaco, and that's because I think that without God, I wouldn't be here today. I wouldn't have these opportunities. And so I think it's very, very important that I stay close to him."
I remark how unfashionable he is in his thinking, given the ways of the F1 paddock.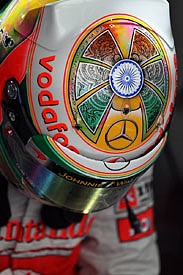 "Believe in yourself enough, and anything is possible" - Hamilton's helmet message in India © XPB
"Yes, talking about these things gets me into trouble," he says with a smile. "But I don't really care. I respect all religions. I respect anyone who has a faith and who believes in something higher than themselves. Beyond that, everyone should be true to themselves."
Lewis looks me straight in the eye. His sincerity is palpable. And there is a naked honesty about him now that belies his paddock persona. In motorhome alley, knots of people discuss matters of moment - of F1 Monza moment. Here, now, in the McLaren unit, Lewis Hamilton is discussing our very existence.
"Speaking of trouble," I say, "you are constantly under the microscope - perhaps more than any driver in the history of the sport. How do you handle that? What is your default mode?"
"It's up and down. It feels from where I'm sitting that you're correct - that that is the case. But also I try to tell myself that maybe it's the same for everyone. Maybe it's something to do with the first couple of years I had in Formula 1 - with the way things went so well for me.
"Maybe I raised the bar to the point where they raised their expectations. I've been told by people like my dad and Ron Dennis that receiving a lot of criticism is a sign that you're achieving something. Perhaps they're right. That's one way of looking at it..."
"Does the constant attention keep you awake at night?"
"No," he says, laughing. "I sleep well at night. I'm just hard on myself. I always have been. I take things differently to other people in terms of how I perform. The most important thing to me in the world is how I perform.
"Of course, we're in front of millions of people, but when it comes down to it I don't think that I have a bad bone in my body and I'm sorry if people think I have. But that's life. People sway one way or the other. I try my best to do the right thing - and with the people I know who touch me. So I just need to try to touch more people as I continue my career. That's what I aim to do."
Lewis Hamilton in full flow in the 2007 Canadian GP © LAT
We chat a little more - about driving, mainly - and then Lewis rises to leave: there is a charity function to attend with Jenson. Photographers are gathering outside, perhaps hoping for a bit of 'angle' between the two drivers. To be sure, they are not as close as they used to be - which is to be expected. Lewis dropped his guard at Spa. Next time, perhaps, he will smile a little longer, hide his feelings a little better.
Lewis has plenty of faults - as do we all. The difference is that Lewis is up front and emotional about his. He doesn't necessarily avoid them or conceal them in the way a Jackie Stewart or an Alain Prost would. He is very human, with very human shortcomings. Which is why he's an easy target. On the flip side, he is an astonishingly good racing driver with deep self-belief and genuine faith.
Jim Clark used to say to Team Lotus manager Andrew Ferguson: "You'll miss me when I'm gone" - and so it is with Lewis. It's too easy to take him for granted, to magnify his faults because detailing them will make good reading. McLaren, I'm sure, will miss him; indeed, you could argue that their loss is potentially greater than Mercedes' gain.
Time, though, will ultimately do its thing. Back in 1984, Nigel Mansell was the driver who everyone - by which I mean the F1 in-crowd - loved to hate. Even in 1992 he was borne with sufferance. Now he is an admired elder statesman.
Lewis is living the same transformation - first in the cool McLaren years, now with Teutonic Mercedes. In the meantime, like Nigel, he is simply remaining true to himself and to his beliefs, regardless of the consequences.
For Nigel read Lewis - with one important difference. Nigel was rewarded with a quick car only halfway through his career. He had little time in which to win. Lewis, with big results already behind him, has all the time in the world. Time enough to switch to Mercedes for no better reason than 'because he wants to'.
Lewis has as much idea as you or I about the competitiveness of next year's Merc - and it doesn't matter to him. He's good enough to know that he'll win prodigiously if it's a quick car - and that he can still produce a win or three if it isn't. That may surprise the Lewis-watchers, but in reality it's completely in character: the hunt, for a guy like Lewis, is just as important as the kill. He's a racing driver, after all.