Silverstone had a close call this summer. What could have been a catastrophe, and in its most extreme scenario the first forced cancellation of a British Grand Prix, ended up being an impressive save because of courageous and decisive management.
While other events around the country - including a high-profile concert in Hyde Park - fell victim to unprecedented rainfall, Silverstone's round of the Formula 1 world championship went ahead in front of a larger Sunday attendance figure than in 2011. That could be seen as a triumph over adversity.
But it probably wasn't viewed as such by the thousands who took the circuit's advice and stayed away on Saturday's qualifying day to preserve Silverstone's saturated grass car parks for Sunday; or for those who were turned away from the campsites during the biblically wet practice days; or for those who spent hours in their cars before giving up hope.
Some three and a half months on and the last of the refunds for those who missed out have now been paid. Around 10,000 people got their money back in total, and it cost Silverstone just under £1m.
But the track's managing director Richard Phillips is well aware that Silverstone cannot rest in the knowledge of having done all that was possible if it is to regain the trust of those paid-up ticket holders spurned within sight of the circuit gates this year. He insists the circuit's management has learned from 2012's event and says it must never be repeated.
In an exclusive interview he told AUTOSPORT that, following an extensive review, he is confident and determined it won't.
What happened?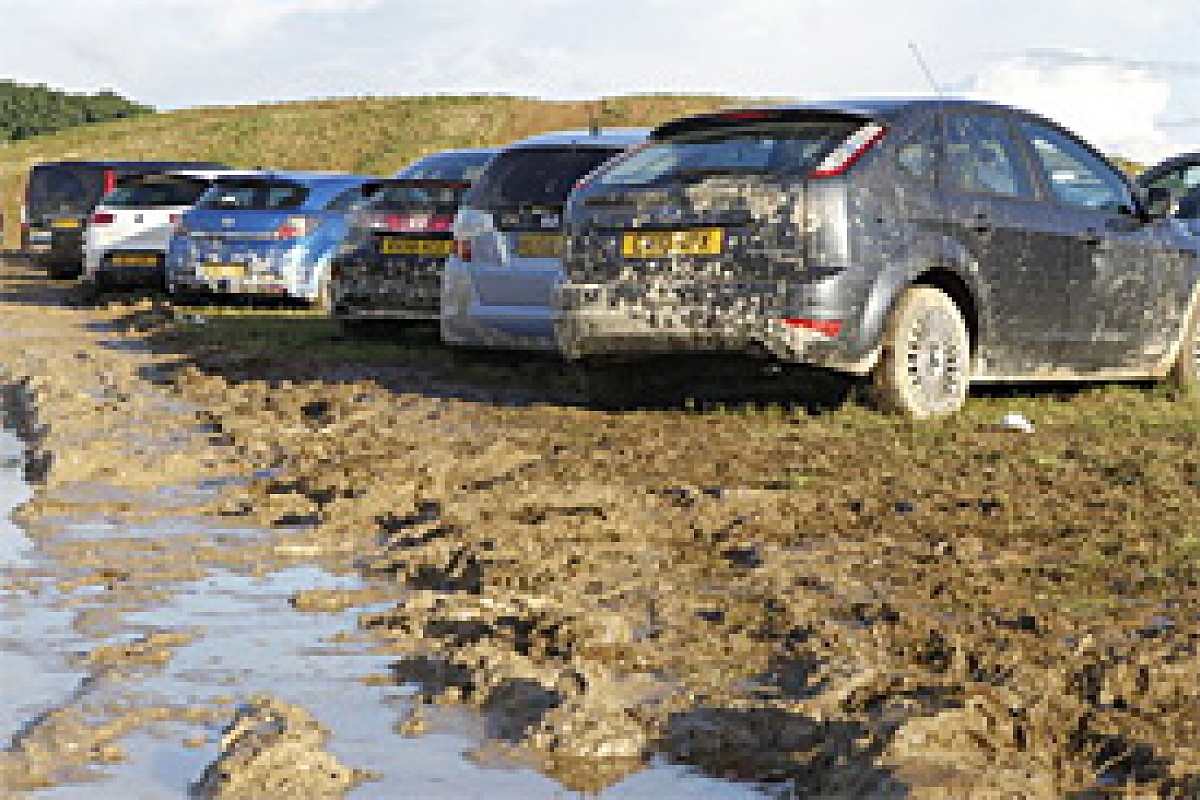 The state of car parks this year © LAT
By mid-morning of Friday July 6, the roads around Silverstone were in gridlock. Many people who travelled by car were denied F1 action. Not because they were turned away, but simply because they couldn't get to the track. There were reports of people sitting in jams for eight hours. Twitter accounts were gleefully buzzing to the tune of disaster.
It was a return to the bad old days and echoed April 2000, when the British Grand Prix was transformed into an impregnable mudbath.
Since then a sophisticated traffic management plan has vastly improved Silverstone's access into one of the easier events on the calendar.
But Fridays are ever more popular, due in part to Silverstone's three-day ticket policy. "We'd become our own worst enemy," explains Phillips. "In 2001 we were getting 18,000 attendances on a Friday. And that was no issue at all to deal with. Now we are getting theoretically equal numbers on all three days."
This year 80,000 made it through the gates!
That presents unique problems, because for non-race traffic, it is still a working day. That necessarily prevented access to Park & Ride facilities and buses that critically reduce circuit-bound traffic. Add to that the decision of many fans to travel up on Friday instead of Thursday and the traffic flow intensified substantially.
The unprecedented 40mm of rainfall that preceded the grand prix weekend then completed the perfect storm in waiting. Further rainfall on Friday only made the waterlogged campsites more unfit for purpose and by early morning some (privately operated sites) closed without notice.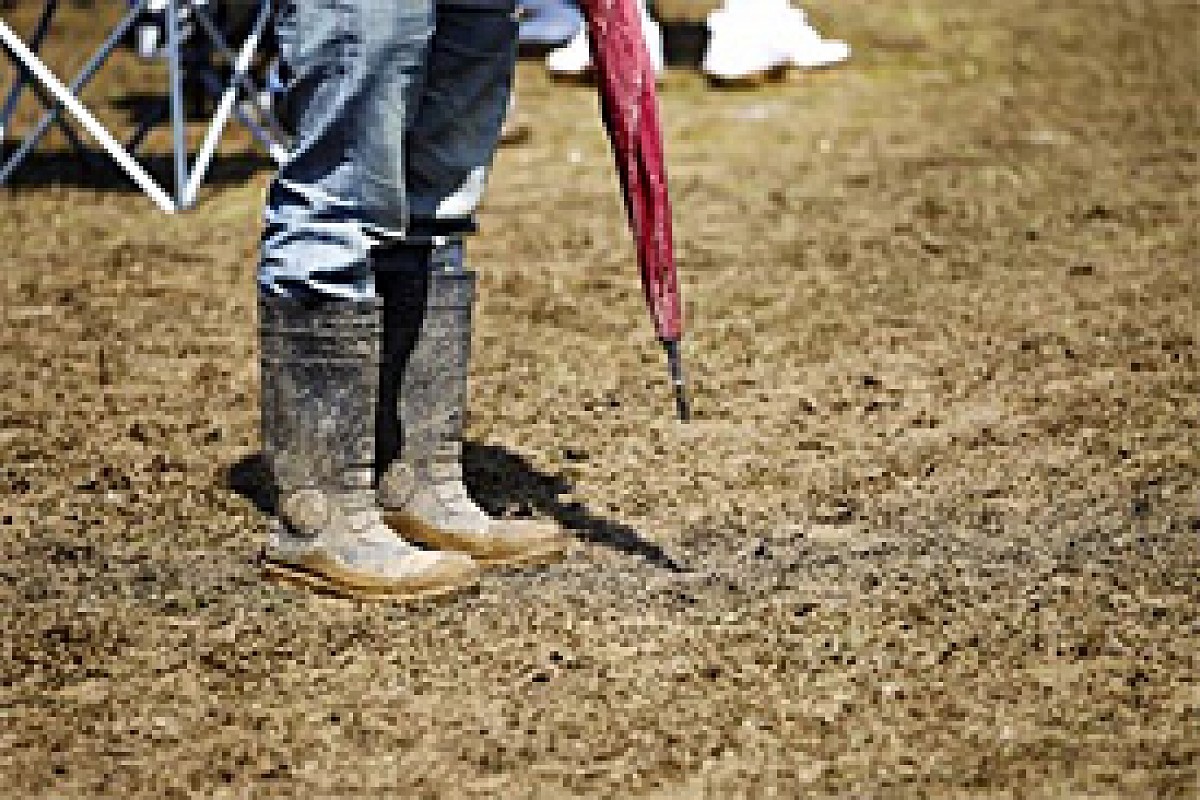 Fans struggled in the mud © LAT
This belched determined campers back out into a stream of traffic in both directions, and subsequently locked up the pivotal roundabout on the Dadford Road (situated near Club corner) that serves as the key access point to the circuit's largest public car park as well as the giant Woodlands campsite.
"What happened was that we had to put campers into car parks to try and get them off the roads," says Phillips. "The parking just disappeared into camping, and still there were queues for camping. The entrance to the main campsite was actually the same place as the entrance to the big car park. The fundamental issue was that you couldn't bring people in fast enough."
Perhaps things might have been different if the plans Silverstone wants in place for 2013 (more of which later) had been invoked for this year, but Phillips reasonably argues there was no way of predicting the events of that Friday morning.
"It wasn't evident that there was going to be a problem, because the forecast for the Friday was that it was going to rain later in the day. We were hoping that we would get all the traffic in before then. Of course when we got in very early in the morning it was already a problem.
"There were still people coming overnight on Friday. And because the other campsites closed - which we weren't warned about - those people started to block it up. It was very difficult to predict it was going to happen to that extent.
"We knew we still had plenty of 'soft' car parking, but we needed it for later in the weekend, so we set ourselves up to try and bring people into the Dadford Road and keep them to where our better car parks were.
"That wasn't the same system as we would normally use on a Friday, so then as the morning went on we started to push them into other car parks but that meant changing the plan on the fly."
Inevitably co-ordinated confusion followed.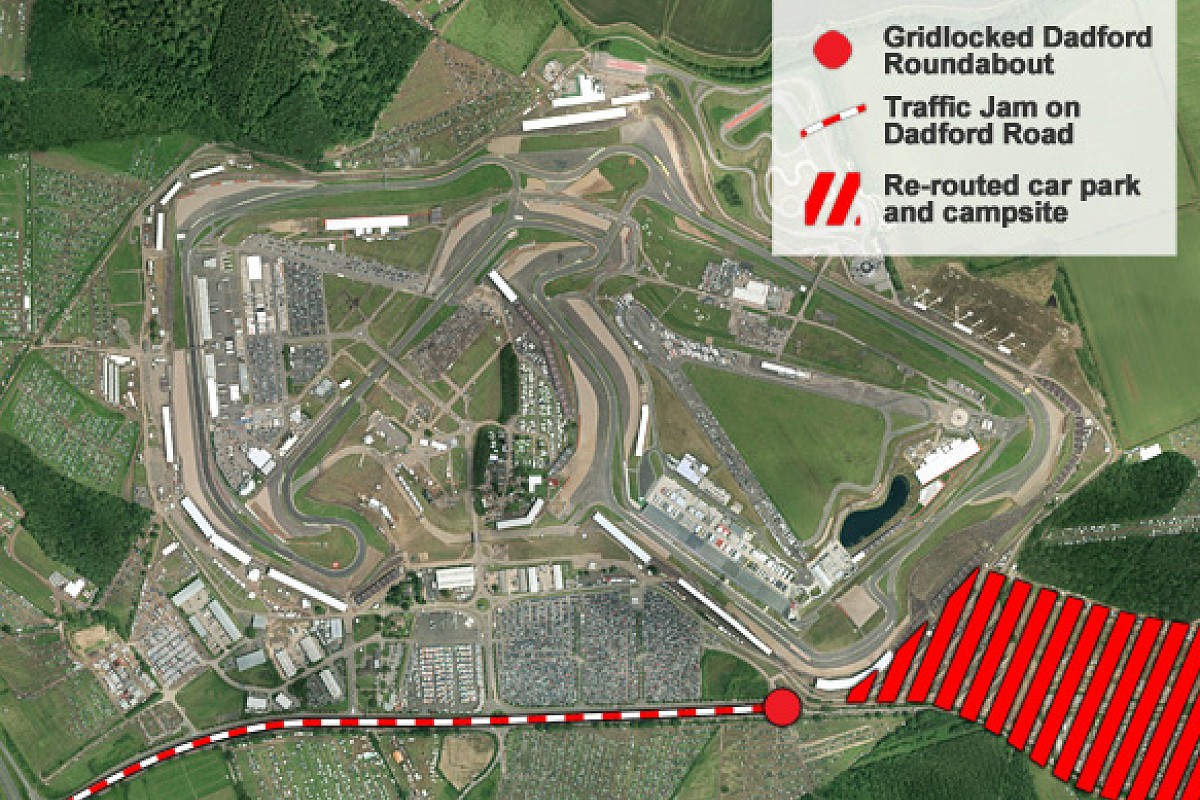 The unthinkable
Things got worse, and by the evening, Phillips - who admits the circuit's staff and local authorities faced genuine "crisis" - was forced into the unthinkable decision of asking people with public car parking passes for Saturday to stay away to preserve grass car parks for race day.
"I haven't laid awake at night thinking we made a mistake on trying to go for it on the Friday," Phillips says now. "But when it became evident we had to try and protect as many car parks as we could for Sunday, we had to ask some of the general public not to come on Saturday."
The decision was brave on several levels. Not only was Phillips committing Silverstone to certain PR backlash, but he was also unsure at the time whether the venue was insured for such a scenario. Silverstone could have been taking the full brunt of the hit.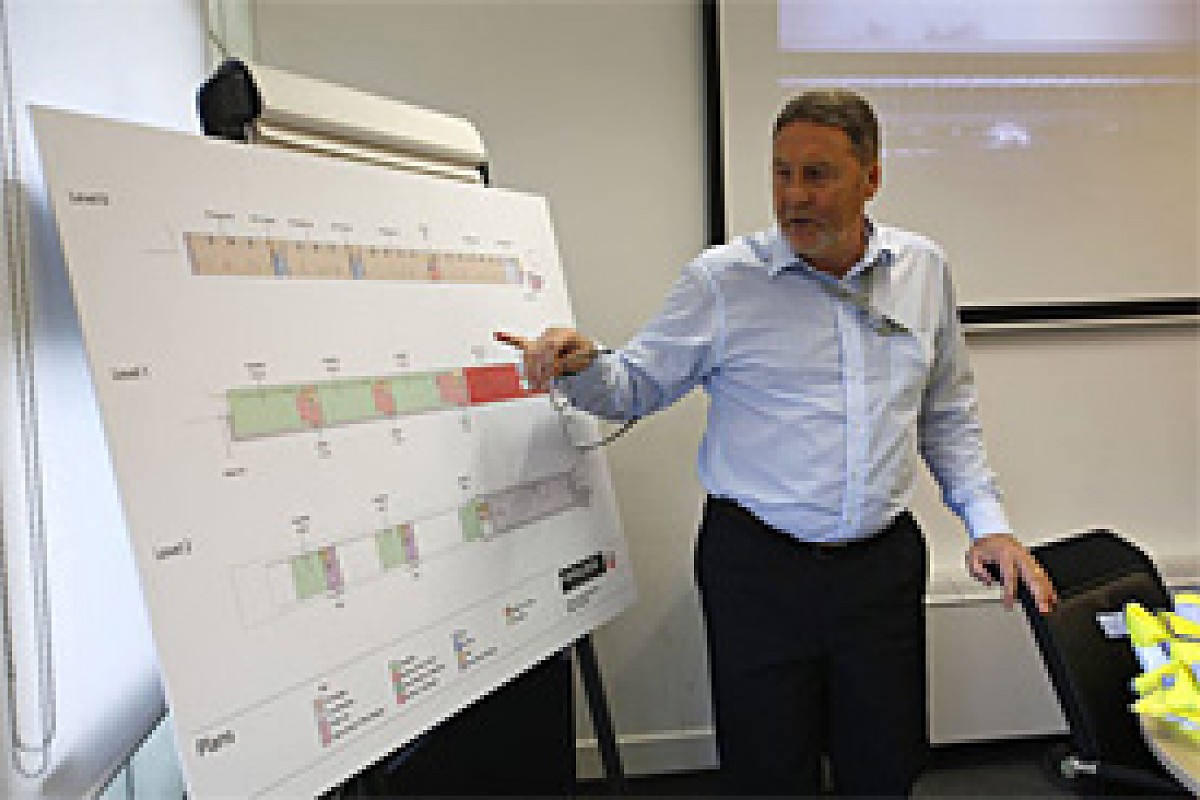 Phillips is confident the problems will not happen again © LAT
"It made it very difficult," he says. "Our insurance is really about staging the race, and if it doesn't go ahead then it is down to the interpretation surrounding that.
But the insurers eventually said: 'Well okay if you hadn't taken the measures you did then the claim would have been much bigger, because you probably wouldn't have been able to run the race'. In the end they've covered pretty much everything.
"We beat ourselves up about what happened at the grand prix, but actually, other than a few thousand people, of the 129,000 people that should have attended the event, a heck a lot of those people came in Friday, Saturday and Sunday.
"We had problems, which we put our hands up to, and we've done our best to refund people. The criticism really came for the Friday, I don't think people were really criticising us for the Saturday - I think they understood the logic of that."
Having explained himself to both the board of Silverstone and circuit owners the British Racing Drivers' Club before making the announcement on Friday evening to a huddle of interrogatory journalists in the press cafeteria, Phillips was feeling the pressure.
He even contemplated resigning once it was all over.
"I got pretty emotional over that weekend and it lasted for quite some time afterwards actually," he admits. "I felt personally responsible. I take it very seriously and I love this place, and you kind of think you've let it down. That was what really upset me at the time, and I thought; 'Oh god, should I hand this over to somebody else?'"
In the end more than 297,000 people attended through the weekend and 127,000 of those were on race day - that's 5000 more than in 2011. But over Friday and Saturday, 23,000 fewer people troubled the turnstiles than last year.
"A lot of people say that we did the honourable thing," says Phillips. "Actually I think we have refunded slightly more than people were expecting in a lot of cases. So the majority I think are reasonably on side with it and have said so. You get the odd ones who are angry, but they are very few. We didn't try to skin people. We've been very fair about it."
Why it won't happen again
Park & Ride
Park & Ride should have been available on Friday in 2012 and it could have helped Silverstone circumnavigate the problems. It will be online all three days next year, and from a wider selection of rally points.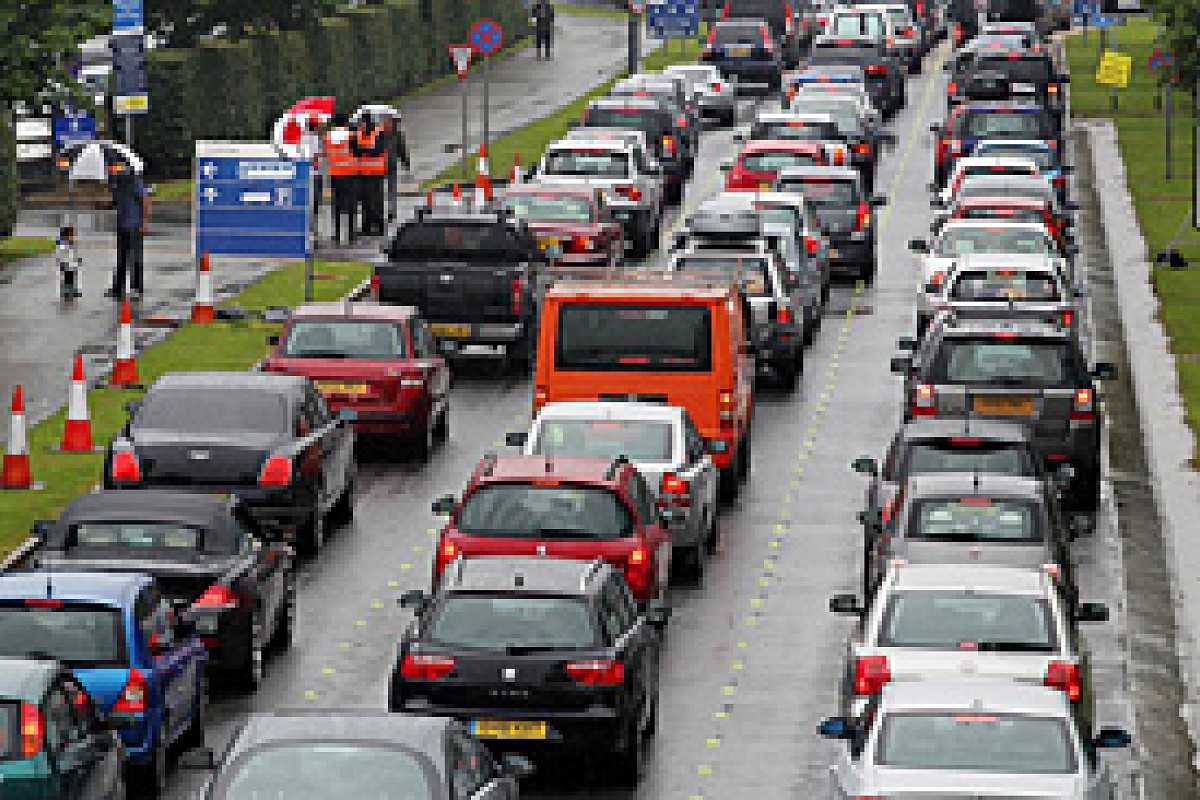 Traffic chaos during the 2012 event © LAT
But there is a larger concept at work too. Even before 2012, Phillips has wanted punters to make a paradigm shift in thinking about how they attend Silverstone.
The event has to reduce incoming traffic significantly as site development accelerates in the next few years. And while this year's problems won't preclude people parking at the track, Phillips is aware that more emphasis must be put on Park & Ride, tour coaches and trains.
"The balance has to change," asserts Phillips. "The numbers of cars that will be able to come to Silverstone in five or six years from now have got to be probably half of what they are now. And that is a lot of people.
"The Park and Ride will have to expand. We are finding now that people quite like the experience because they know that it's going to be busy and they can get in and get out. Turweston Aerodrome will be coming online for 2013 and we are looking at sites on the M1 at junctions 15A and 15 - because most of our traffic comes from the M1."
One-way systems and contingencies
It's not just about expanding Park & Ride, but making it more effective. At the moment, once the buses get in, it's difficult to get them back out again because of the volume of traffic and the one-way systems in place. The ambition is to have buses working through the morning to keep bringing people in.
"We have got to get to a point where we can recycle the buses, so we don't have to close the A43 (in one direction) at any point," says Phillips. "That's the ultimate aim.
"We only recycle about 20 buses in the morning, first thing, because they just can't get out again. So we want to get to a constant flow, then you can have buses all re-circulating faster, bringing more people in."
Phillips added that more contingency will be built in to better manage unforeseen developments too.
"We'll put signs in position so that you can take people away from here to somewhere else," he says. "It is very easy to say that we need to get people away from the site, when actually, how do you do that [when the one way system is in place]? It's the practicalities of doing it."
Car parking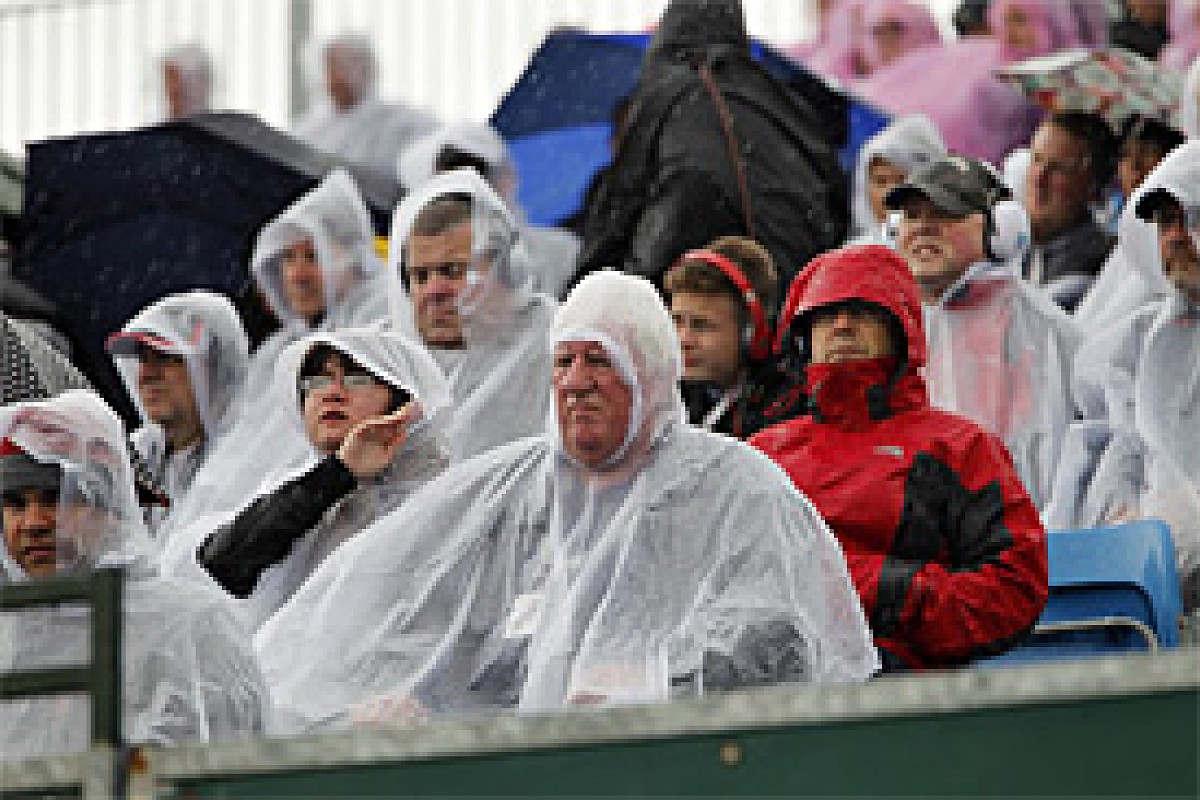 The rain didn't stop the fans from visiting the track © LAT
Forums lit up in the aftermath of 2012. 'Why don't they Tarmac the fields?'; 'Why don't they use the plastic turf protection?'; 'Why don't they build a multi-storey car park?'
The reality is that all of these things have been considered by Silverstone. Some, like concreting most of the surrounding area, will always be unfeasible on local ecology grounds. Others, like the multi-storey solution, might one day happen if the much-vaunted investors can be found. One suggestion though, will happen for next year...
"We've just bought the grass reinforcement system from the Olympics, but I can tell you that even though you might think the Olympics was huge - it wasn't that big..." says Phillips. "If you can cover 50 acres with that sort of thing, you're doing well.
"For the Olympics it might have been feasible, when you have got billions to spend, but for a commercial operation like us, you have got to be practical about it. We've got some hard standing and we can make the car parks better, even in wet weather we can improve them."
But how? Drainage.
"There is drainage in a lot of the car parks already, it was more about getting the water away. We had springlines but the water couldn't go anywhere so it was just sitting in the ground. We are going to moleplough the car parks again this year, which will help drainage. And we will look at the water courses that take things away from here as well."
Camping
Along with the rain, one of the critical issues was the failure in communication between Silverstone and the local privately-owned camping sites. It meant that when they closed suddenly, Silverstone and the local inter-agency group was left to deal with a traffic nightmare.. This needs to improve, along with the camping facilities themselves.
As Phillips explains, it's not possible to simply just close these sites down. The grand prix's impact on the local economy is intrinsic to the event's success, as is Silverstone's popularity in the region. The key, he says, is to work more closely with the campsites to help bring the overall standards up.
"We're beginning to get them on board and there are certain criteria that we try and insist that they adhere to," explains Phillips. "Some are better than others and some are really quite temporary. That is getting better. The network needs to be more efficient in future so that perhaps they will ring us and warn us that they are getting a bit full...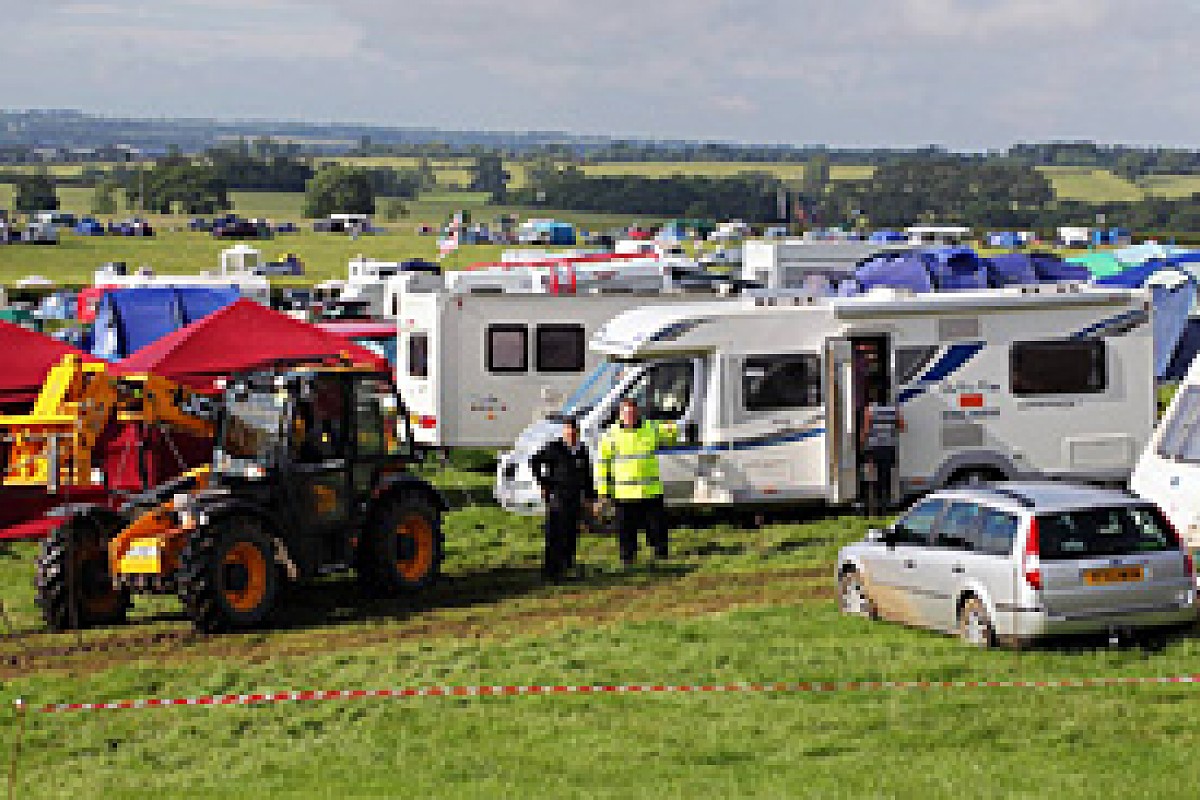 Camping sites will be improved for next year © XPB
"There are also a lot of people around here that rely on that income as well so you have got to be very careful in balancing what the grand prix is about, because if you make it just about Silverstone's money then it's not good for the local economy."
Silverstone is improving its own sites too.
"The Woodlands campsite we co-operatively run is currently 160 acres. For next year we have got some more land to put with it, but we are not going to increase the number of campers in there, while doubling the acreage. That's now the size of a big farm.
"That's just for something like 16,000 people and when you think of the numbers of people that we take into here and you count all the camping around Silverstone, it's quite a big arc around it.
"We estimate that around 40,000 people are camping now. That's a lot of people. It's getting on towards half of the general public attendance."
Moving forward
In the end there is no escaping that Silverstone salvaged all it could from a potential disaster in the summer, but as Phillips readily admits, no one is celebrating that. The lessons have been learned, and the promise is to act upon them.
"I'm pleased - if you can say the word pleased - that we got ourselves through it. We think we did the best we could, and that we've been honourable.
"We worked with the resources that we had and, short of a lot more investment in the place, it's not going to be as great as you'd like it to be when you get rain like that. Hopefully that will change in the future."