PRACTICE
By Jamie O'Leary and Pablo Elizalde
Lewis Hamilton started the weekend on top © LAT
Practice one - Friday pm
For the first time this autumn, Friday's running made it look - look - like Red Bull might be pushed hard in race trim at Yas Marina.
Certainly the hopes most fans had of watching McLaren pose a greater threat than of late seemed well-founded as Lewis Hamilton headed his team-mate Jenson Button at the top of the timesheets.
Hamilton's early times were his best, the 2008 world champion failing to match his 1m43.285s lap as he experimented with a variety of fuel settings later on.
Button and title contenders Sebastian Vettel and Fernando Alonso completed the top four, with the latter pair over 0.7 seconds adrift of the pacesetting time.
Ferrari's running revolved around Alonso and Felipe Massa trying out the team's new front wing and turning vanes, plus a heavily-revised rear wing, as part of a programme due to continue in the afternoon.
Incidents were limited, although Sergio Perez did nearly come to grief as he attempted to enter the pits at high speed late in the session.
The Mexican's Sauber understeered wide, causing him to drive over the run-off area and back onto the track. He had to complete another lap before eventually pitting.
The reserve drivers were out in force to a greater extent than at any other point in the year as Valtteri Bottas, Jules Bianchi, Ma Qing Hua and Giedo van der Garde (who was kept in the pits with engine installation issues) were joined by Friday debutant Max Chilton at Marussia.
Full results from practice one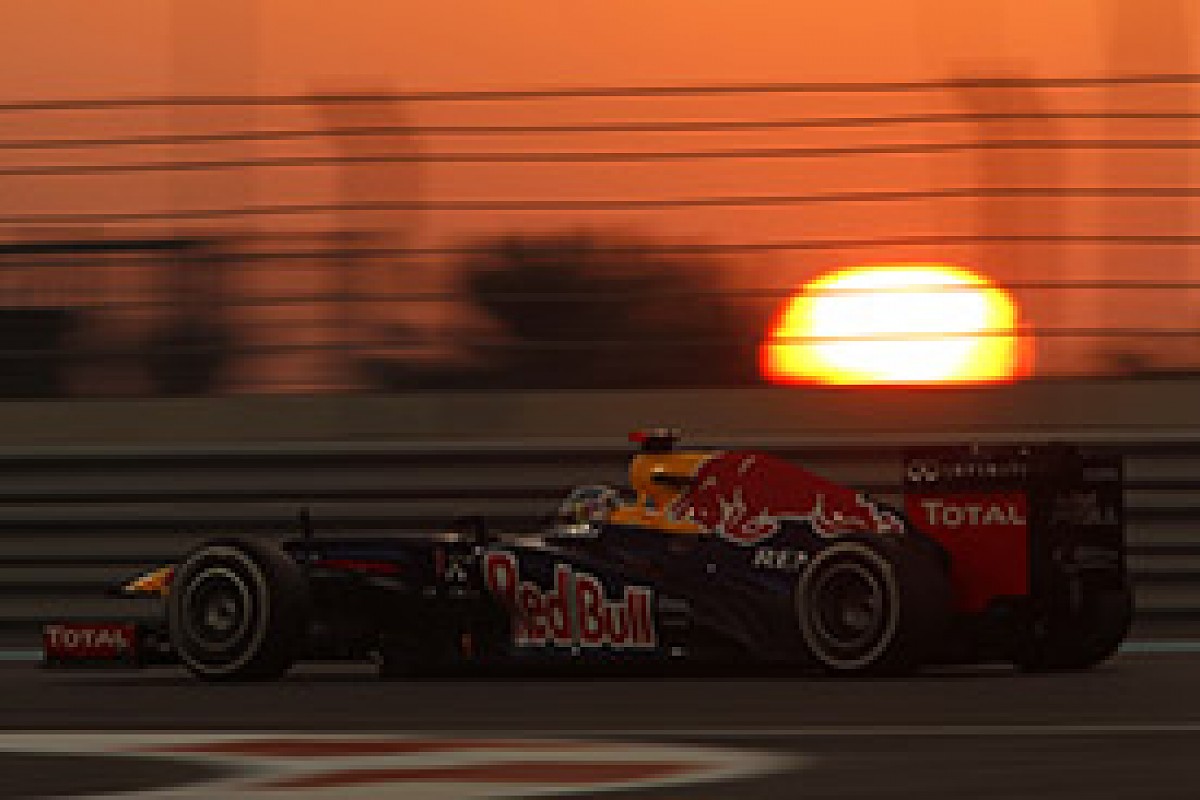 The timesheets had a familiar name on top again at the end of Friday © LAT
Practice two - Friday pm
Following Hamilton's pacesetting form in the opening session, it was back to routine in the second one, with Vettel moving to the top of the times as he restored the balance seen in the last few races.
The Red Bull driver was not miles ahead, however, and Hamilton followed him closely, confirming that the McLaren was far stronger than it had been just a few days back in India. The leading duo were in a class of their own though, with Button over sixth tenths of a second off Vettel's pace in third.
Webber finished the day in fourth position, but his evening session running was once again cut short due to reliability issues involving - yet again - his KERS.
Further down the order, Ferrari continued to show signs of a lack of competitiveness around Yas Marina, with Alonso down in seventh position nearly a second off the pace.
A spin by Vitaly Petrov was the most significant on-track incident of the 90 minutes of action.
Full results from practice two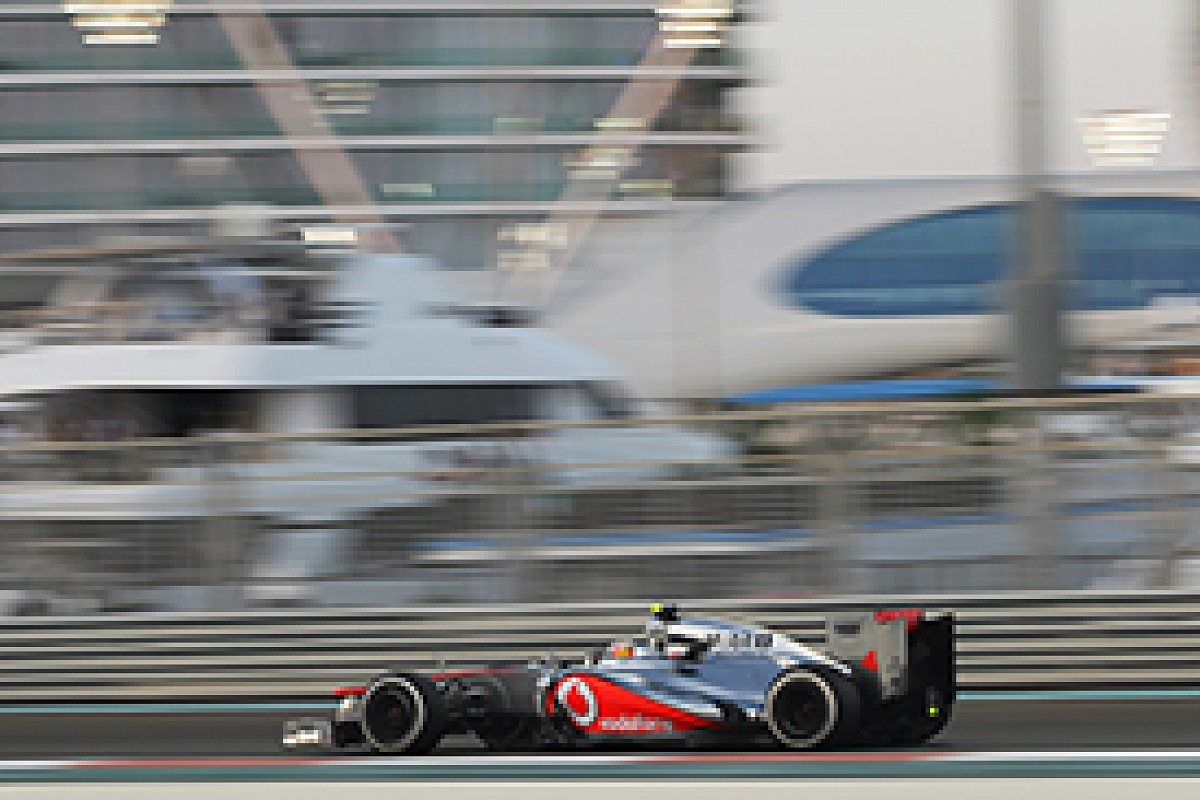 Hamilton responded to Vettel's Friday night pace when running resumed on Saturday © XPB
Practice three - Saturday pm
McLaren was back on top in Saturday's first session, but as significant as Hamilton's benchmark 1m42.130s lap on soft tyres was the time just 0.018s slower than he managed on the hard Pirellis.
Throughout the session there was little to choose between the two compounds on single-lap speed, posing a number of questions to team techies ahead of qualifying.
Hamilton was well ahead of Button, the McLarens chalking up the mileage while Vettel sat in his garage, the Red Bull squad carefully examining, dismantling and reassembling his car's braking system.
The German's only proper flying lap within the five minutes he was on track netted him third spot behind the McLarens and served as a warning to the silver machines.
Alonso dropped to eighth behind impressive performances from Nico Hulkenberg (fifth) and Pastor Maldonado (seventh) for Force India and Williams.
Full results from practice three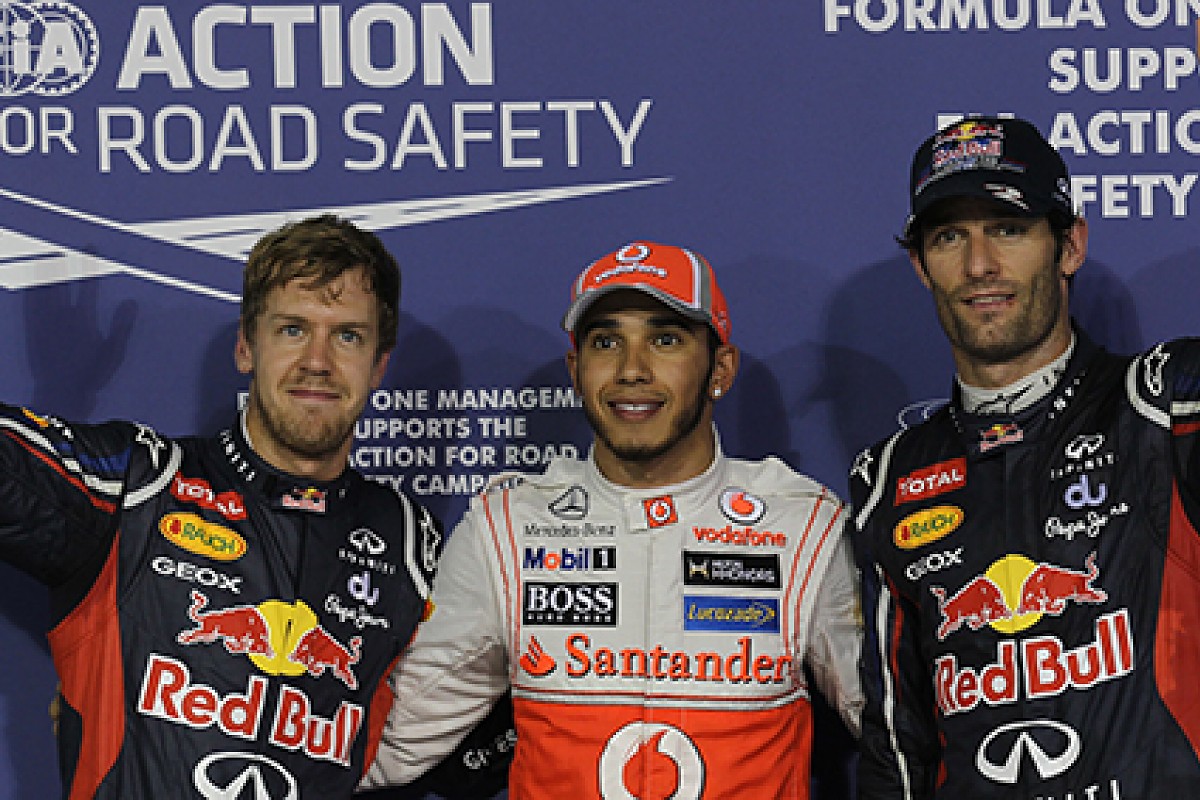 QUALIFYING
By Edd Straw and Matt Beer
1. Lewis Hamilton
"It's the first time for a long time to be ahead of the Red Bulls, and not to be seeing the tail of them at the start of the race but I know it's going to be, as always, very, very tough in the race because they've got great race pace. But we are strong enough to fight them, the team's done a fantastic job all weekend.
"The car's felt beautiful all weekend. I don't know why the car works so well here. We've not really made any improvements to the car since the last race, so I guess it just suits."
2. Mark Webber
"First of all credit to Lewis, he's obviously got a quick car this weekend and he bumped us off pole. I think it was a pretty smooth qualifying session for both Seb and I and we did what we could. I think it went well but we've got a little bit of a fire going which we need to tidy up. The quality of the team is exceptional, we know what we need to improve on."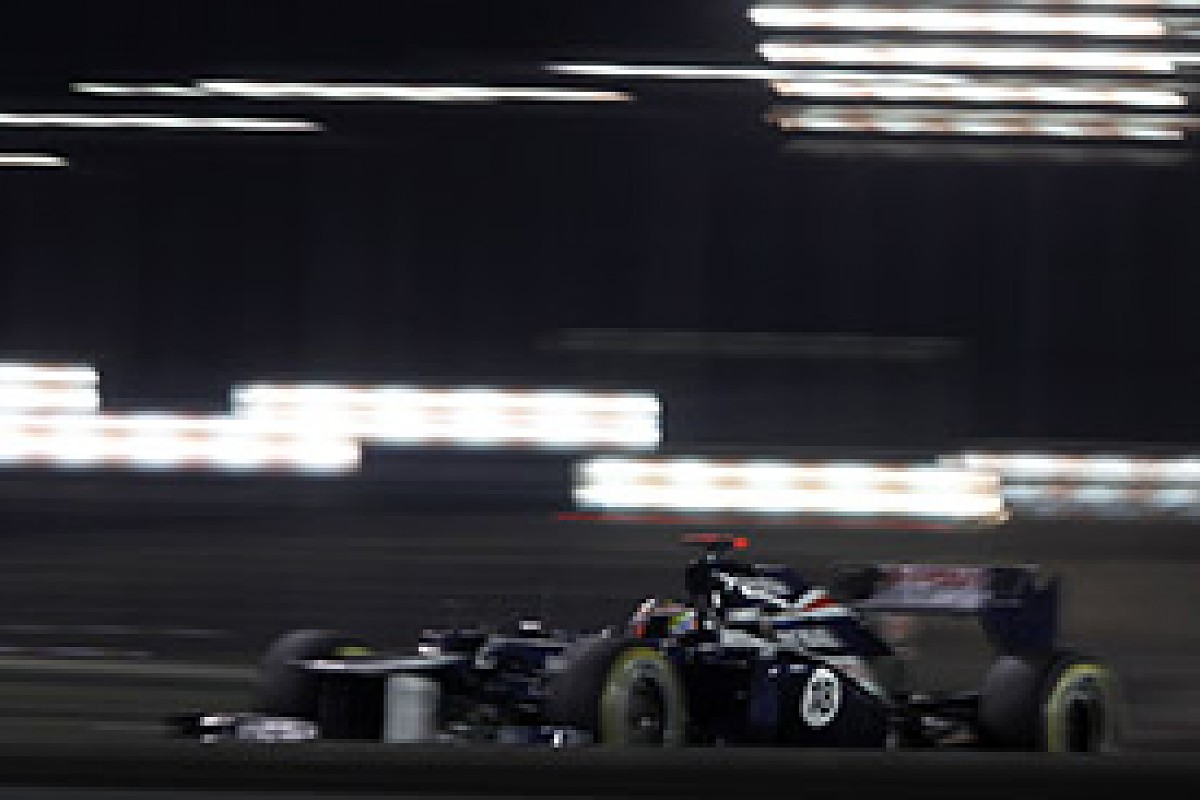 Pastor Maldonado had predicted Williams would be back near the front in Abu Dhabi © LAT
3. Pastor Maldonado
"I think we showed all through the weekend that we were competitive and very consistent in different conditions. I did my best in qualifying. The car was right there [on the pace] so I'm very happy for the team and very happy for myself as well. We're back to being strong again."
4. Kimi Raikkonen
"If we get behind the Red Bulls after the start, we have a good chance to stay with them and hopefully do something about them. It's a similar story to the last race. If we had qualified where we should have, it would have turned out to be a completely different race."
5. Jenson Button
"All weekend I've been happy and the pace has been good. But in qualifying it wasn't there and I don't know why. If I knew, I would've sorted it out, so I don't know. Obviously the car is very quick - Lewis is on pole by quite a bit. I'm five or six tenths off. It's a lot of laptime."
6. Fernando Alonso
"I think we were not competitive today, but myself, personally, I'm happy with the performance in qualifying. We extracted the maximum from the car. I did a 1m41.5s in Q2, a 1m41.5s on my first lap in Q3 and a 1m41.5s on my second lap in Q3. I think I could do the lap 100 times and do a 1m41.5s each time because that was the maximum today. Unfortunately there were six people faster than us."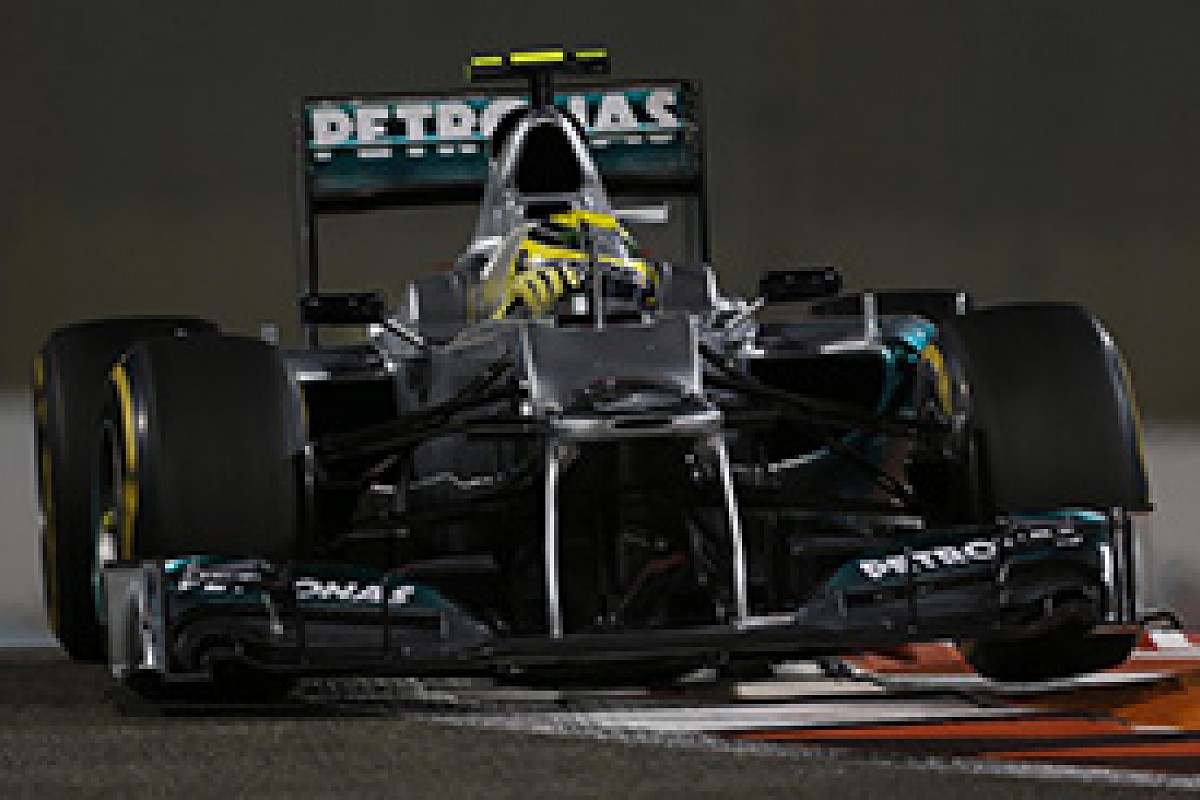 Rosberg performed well in qualifying on a tough weekend for Mercedes © LAT
7. Nico Rosberg
"My engineers and I did a good job, and also the mechanics who managed to fix my car just in time for qualifying because there was a bit of an issue. All of us did a good job, optimised the car and got the most out of it in qualifying."
8. Felipe Massa
"In Q3, I opted to run a different programme to my team-mate, partly because I only had one set of new options available. Looking back, one could say that was not the best choice, but it's always easy to be wise with hindsight. I did not have all the updates we brought here. That was definitely not great, but looking at Fernando's result, it didn't make a difference. On the last lap I had a bit of oversteer in one corner which cost me a few hundredths. Maybe I could have been eighth but it would not have changed much."
9. Romain Grosjean
"It wasn't a great qualifying lap for me today, and P10 is not where we want to be on the grid. In the last run in Q3 I had no grip so wasn't able to find more pace."
10. Nico Hulkenberg
"I expected a bit more from today, but it seemed that our car was not so competitive in the cooler temperatures because I felt much happier during final practice in the sunny conditions. So maybe the lower temperatures caught us out."
11. Sergio Perez
"The aim was Q3. We knew it was going to be very tough, but we tried our best. I think even though we didn't make it, we are in a good position. Our race pace is good."
12. Paul di Resta
"I've been struggling with the balance and the car has been quite difficult to drive this weekend, so it was always likely to be quite a tough qualifying session. Our long run pace hasn't looked too bad but I'm just struggling to get the ultimate performance from the car."
13. Michael Schumacher
"My qualifying did not exactly go according to plan today. We changed our approach a little for the last run in Q2, and then I did not properly make use of it in the first sector and particular in Turn 1."
14. Bruno Senna
"This weekend we have had a few problems, so that is how it is. Hopefully tomorrow the car will be quick in the race as we have a competitive car. We'll work hard tomorrow and will still be trying to get into the points."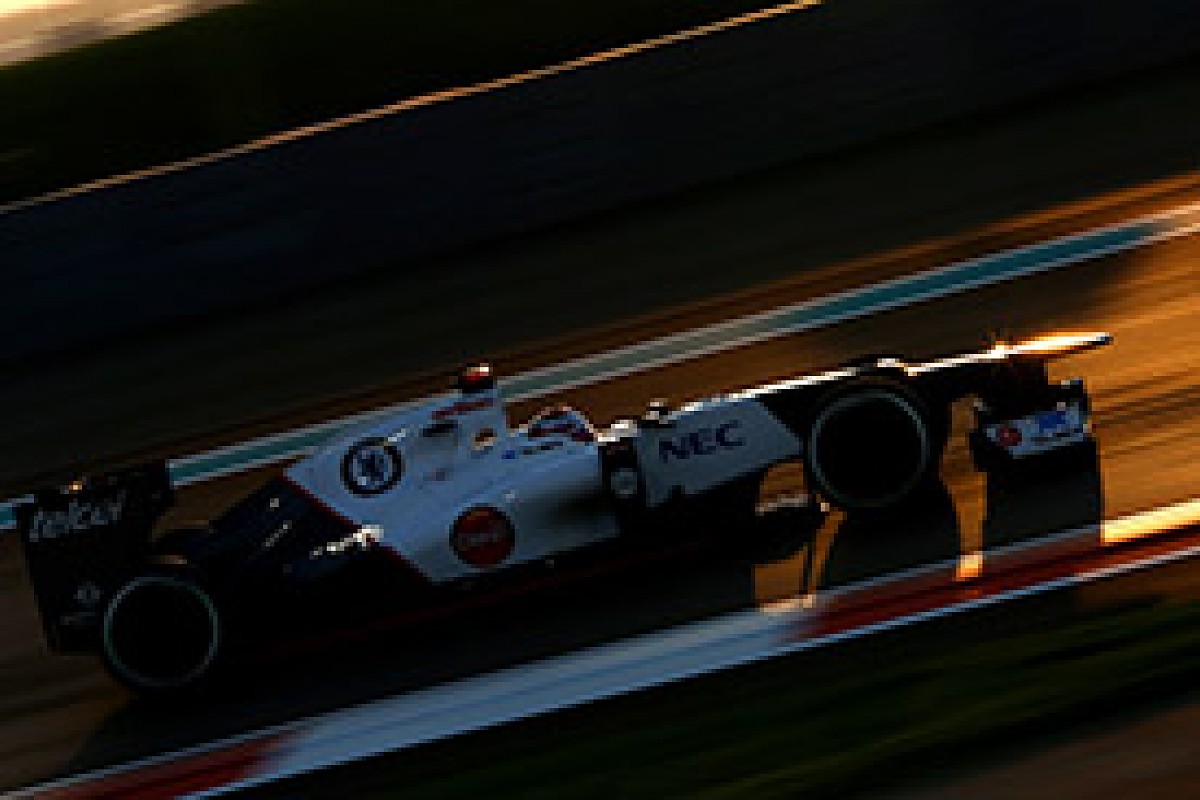 A scruffy lap cost Kobayashi © LAT
15. Kamui Kobayashi
"We did a lot of changes and managed to improve it to a certain extent, but I still had problems with the front brakes locking. This was also the reason for the mistake on my final flying lap in Q2. I hit the brakes, the front wheels locked and that was it."
16. Daniel Ricciardo
"Everything went smoothly on my side of the garage, apart from losing a lap on the prime, when my headrest was moving and I had to come in to have it fixed. I think this motivated me to then do two really good laps and the pace on the option was OK, showing we had made progress again."
17. Jean-Eric Vergne
"It's quite frustrating to fail to make it to Q2 today. We have been struggling all weekend with understeer and we are still trying to do our maximum and I was pushing a lot. We really only had one lap to see where the balance was this afternoon and the car seemed to be going the other way towards oversteer and I made a mistake."
18. Heikki Kovalainen
"I'm pretty pleased with my final lap but I know there was more pace in the car. My first run on the medium tyres was OK but on the second run on the softs I had a problem with the DRS that meant I wasn't able to really attack the high speed corners and that cost me a bit of time."
19. Charles Pic
"I am really very happy with my qualifying session today. I had a very good car; the balance was almost perfect. I lost a little bit of time in the second sector of my quick lap and that is how Kovalainen was able to get ahead. I have to be happy with the lap though as it represents my best qualifying result of the season."
20. Vitaly Petrov
"I'm a little bit disappointed with where I've ended up in quali today because I thought the car would be a bit quicker than it was. When I went out for my first run in Q1 it didn't really feel like I could push. It felt better on the softs and on my fastest lap I was looking good up to Turn 17 but a bit of traffic after that held me up just enough to cost me time."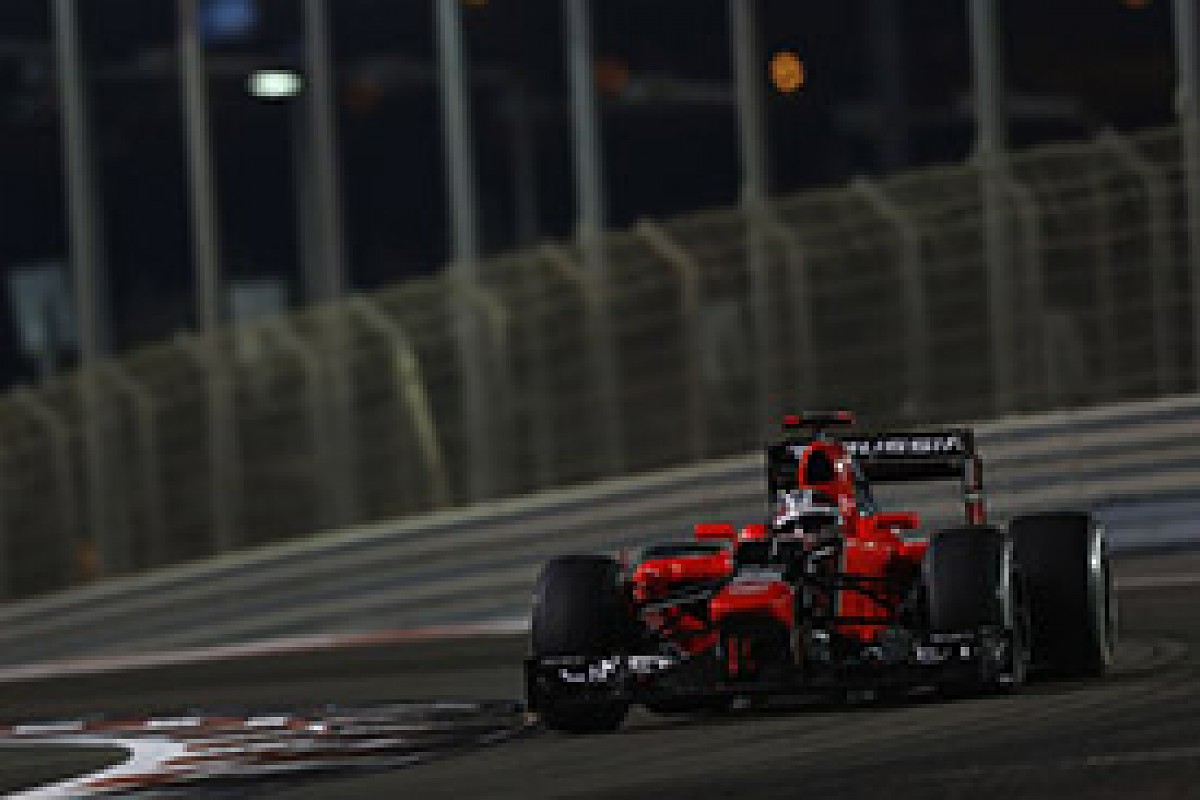 Glock was upstaged by team-mate Pic © LAT
21. Timo Glock
"Not a bad day overall but a disappointing end when it counted unfortunately. We seemed to have good momentum all the way through until the last, most important, lap when his car had no grip. Until then we were fighting hard with the Caterhams, so it's a little disappointing."
22. Pedro de la Rosa
"We completed a good practice and qualifying session. I was comfortable in the car and I'm sure that I could have improved by a couple of tenths but surely the rest could have too. The car was running well and we had no problems with the temperature of the brakes or the engine at a circuit like this one which is so hot, so I'm happy."
23. Narain Karthikeyan
"It was a tough qualifying session for me. I didn't manage to string together a good lap; I was running well on the first set of tyres but with the second set I found traffic and the rear tyres wore out before I could improve my time."
24. Sebastian Vettel - disqualified from third on grid after being unable to provide a fuel sample
"I don't why I was asked to stop. I think probably some problem. It shouldn't be something major..."
Starting grid:
Pos  Driver              Team/Car
 1.  Lewis Hamilton      McLaren-Mercedes
 2.  Mark Webber         Red Bull-Renault
 3.  Pastor Maldonado    Williams-Renault
 4.  Kimi Raikkonen      Lotus-Renault
 5.  Jenson Button       McLaren-Mercedes
 6.  Fernando Alonso     Ferrari
 7.  Nico Rosberg        Mercedes
 8.  Felipe Massa        Ferrari
 9.  Romain Grosjean     Lotus-Renault
10.  Nico Hulkenberg     Force India-Mercedes
11.  Sergio Perez        Sauber-Ferrari
12.  Paul di Resta       Force India-Mercedes
13.  Michael Schumacher  Mercedes
14.  Bruno Senna         Williams-Renault
15.  Kamui Kobayashi     Sauber-Ferrari
16.  Daniel Ricciardo    Toro Rosso-Ferrari
17.  Jean-Eric Vergne    Toro Rosso-Ferrari
18.  Heikki Kovalainen   Caterham-Renault
19.  Charles Pic         Marussia-Cosworth
20.  Vitaly Petrov       Caterham-Renault
21.  Timo Glock          Marussia-Cosworth
22.  Pedro de la Rosa    HRT-Cosworth
23.  Narain Karthikeyan  HRT-Cosworth
24.  Sebastian Vettel    Red Bull-Renault

RACE
By Jamie O'Leary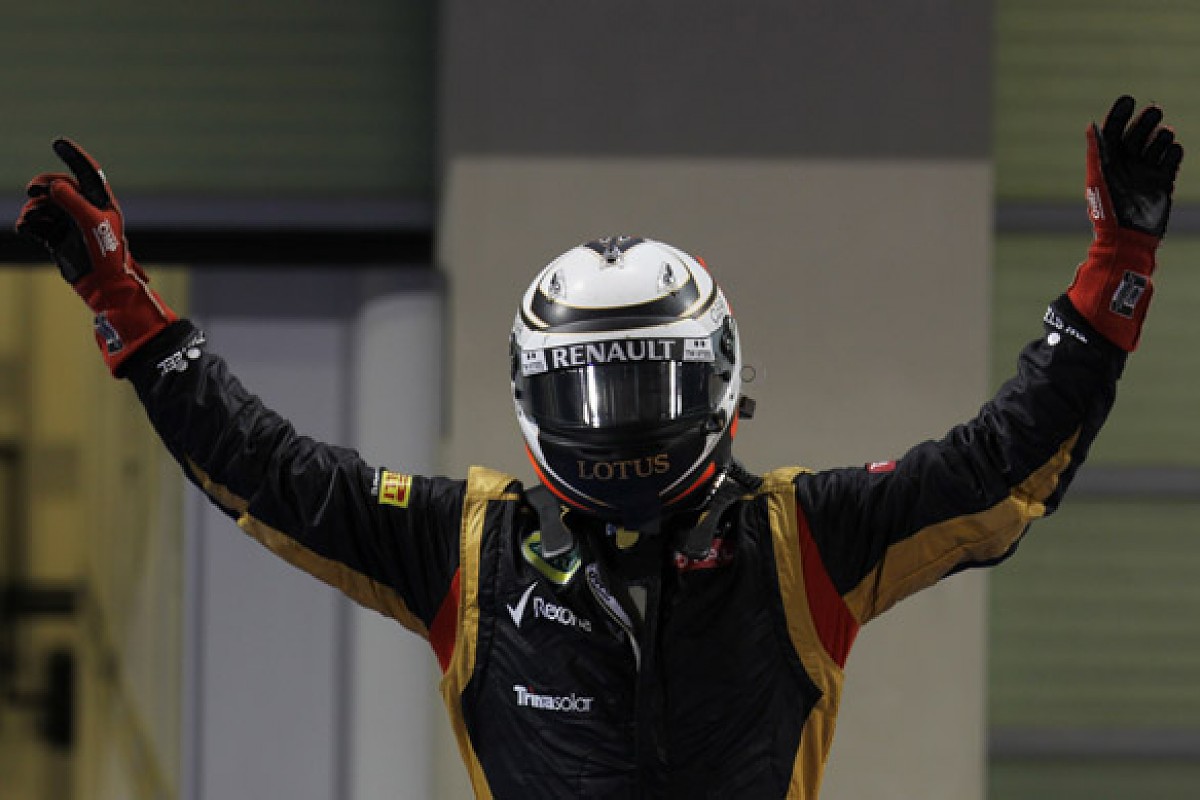 "Leave me alone. I know what I'm doing."
That was Kimi Raikkonen's response to a radio message from race engineer Simon Rennie informing him of the advantage he had over Fernando Alonso on lap 23 of the Abu Dhabi Grand Prix.
It was at that point that anybody thinking the identity of the race winner would be anything other than an ice cream-loving former rally driver in a Lotus, should have got their own message loud and clear.
Two laps earlier he had watched early leader Lewis Hamilton pull off the track, a fuel pressure problem rendering his McLaren powerless. Now the Finn was in control.
Throughout the middle section of the race he opened up a six-second advantage over Fernando Alonso's Ferrari, and then, after a late stint behind the safety car had bunched everyone up, he bolted for the hills (well, the sand dunes anyway), unwilling to give the Spaniard, Jenson Button or Sebastian Vettel even a sniff of an opportunity.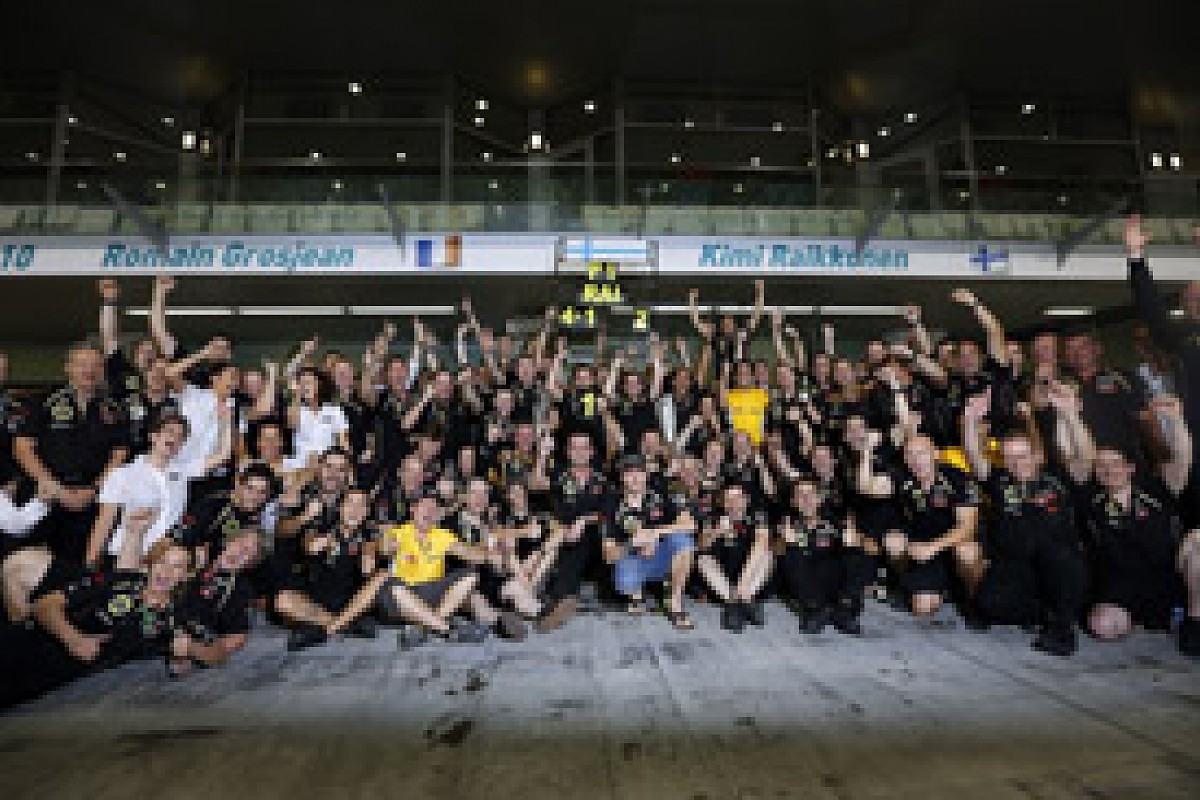 Lotus celebrates its first win of the season © LAT
During that second spell at slow speeds came another abrupt exchange between Raikkonen and Rennie:
"Keep working all four tyres please Kimi."
"Yes, yes, yes, yes I'm doing it all the time. You don't have to remind me."
Against the backdrop of such conversations, Raikkonen's no-nonsense personality has been caricatured.
It didn't matter in the slightest. The iceman was back in the zone, and reaping the rewards of a sublime drive and sterling work from the Enstone-based Lotus squad.
A terrific start from the second row, which launched him ahead of Pastor Maldonado's Williams and Mark Webber's Red Bull, laid the foundations for the afternoon's drive, although his failure to nail Hamilton for the lead early in the race while the Brit struggled to get his tyres up to working temperature did suggest that this was a man who would quite happily have settled for second.
When Hamilton - kept within range thanks in part to the emergence of the safety car on lap nine - fell by the wayside, Raikkonen's path was clear.
His first win since the 2009 Belgian Grand Prix - a gap that has encompassed two years in rallying - and first F1 success for a Lotus since Ayrton Senna won in Detroit over 25 years ago, was easily the most popular of the year so far.
Popular as Raikkonen's win was, however, it remains debatable whether his drive was the best of the day. Certainly Alonso, Maldonado and Vettel could all make similar claims.
Maldonado ran third early on and even spent half a lap in second after Hamilton's retirement. It was at that point that Alonso came by and grabbed the runner-up spot for himself.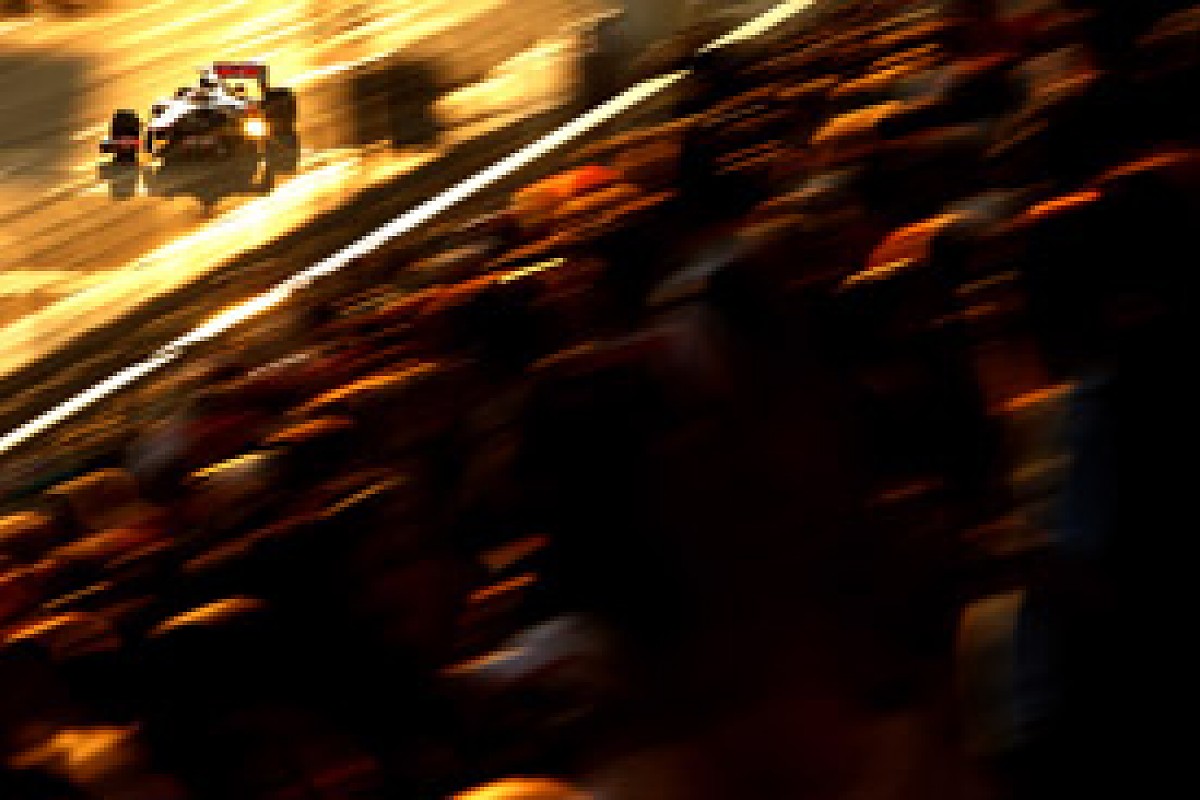 Hamilton looked dominant until he retired © LAT
The Williams driver had, by this point, lost the use of KERS, and was powerless to defend from the Ferrari man into the left-hander at Turn 10 on lap 22. One-by-one the cars stacked up behind and attempted to pass.
Next up was Webber, but he messed up his chance, almost clearing the Williams into Turn 10, but chopping off Maldonado's nose a fraction too early and spinning as a result of the contact that ensued.
"He tried an extremely risky manoeuvre," said the Venezuelan of Webber's attempt.
A lap later and Button was by for third, the McLaren driver wisely choosing the inside line into Turn 10, unlike Webber.
Maldonado was demoted to his finishing spot of fifth by Vettel when he made his only pitstop of the afternoon, and would not get back past the Red Bull driver either as the German's canny pitstop strategy, aided hugely by both of the safety car's appearances, helped his way through the field.
After being thrown out of qualifying for failing to provide a fuel sample of the required volume post-qualifying, Vettel lost his third spot on the grid and was sent to the back. A decision by Red Bull to pull his RB8 out of parc ferme and alter its set-up for the race (in a bid to improve overtaking chances) resulted in the double world champion starting from the pitlane.
By lap eight he was up to 12th, despite a light collision with Bruno Senna's Williams on the first lap damaging his front wing and leaving his car understeering through the quicker turns.
The first safety-car period, caused by Nico Rosberg launching himself over the back of Narain Karthikeyan's slowing HRT around the back of the circuit, gave Vettel a chance to try something a little different, but not before he'd almost ran into the back of Daniel Ricciardo's Toro Rosso on the main straight when the Australian stood on his brakes to keep the discs at operating temperature.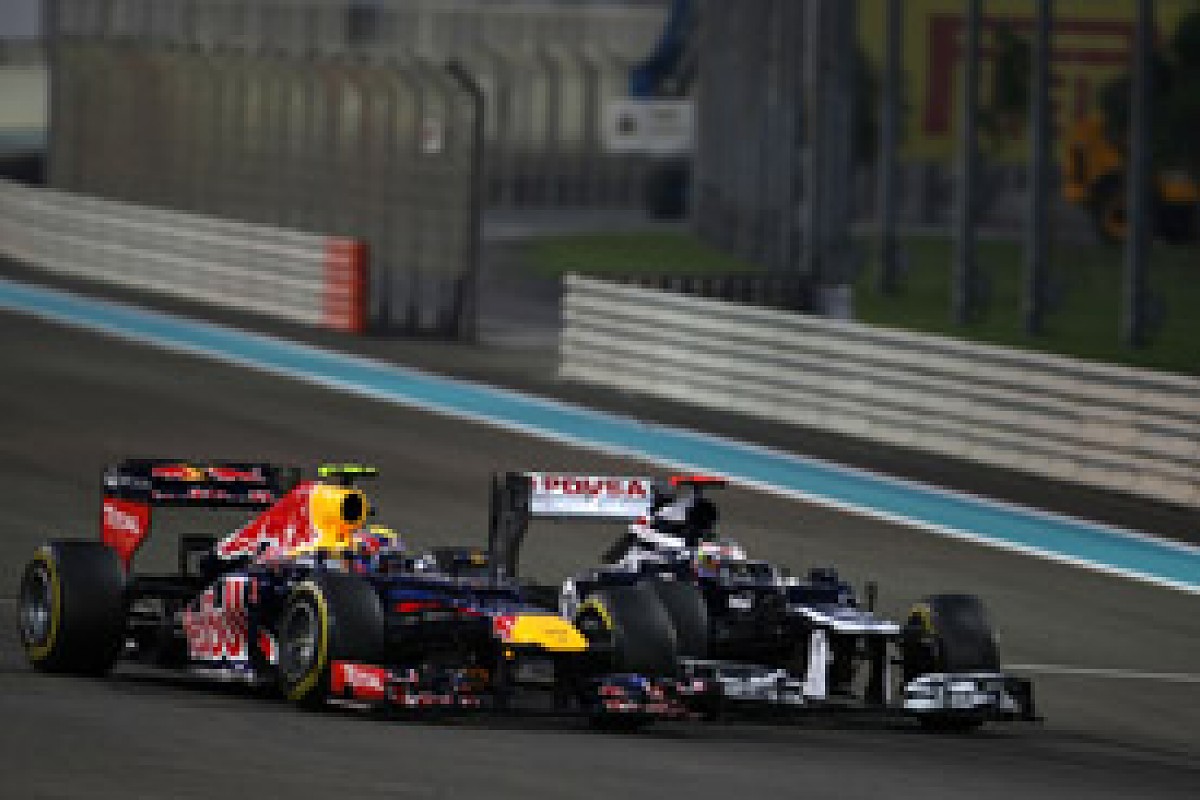 Webber fights it out with Maldonado © XPB
The result of that near-miss, which was that the German swerved right and clobbered a polystyrene marker board, was a pitstop.
Not only did this allow his damaged wing to be changed for a minimal loss of time, but it also enabled the Red Bull to be shorn of its white-walled hard Pirellis for the day. Better-performing medium rubber would keep the car in contact with the ground for the remaining 41 laps.
Vettel just avoided a penalty when racing resumed after putting all four wheels off the track to pass the Lotus of Romain Grosjean - the Frenchman having lost ground at the start to a puncture sustained in a collision with Rosberg and then pitting at the same time as Vettel.
Wisely, Red Bull instructed him to hand back the place on the following lap. After doing so, Vettel took just three more corners to re-pass the Frenchman. Easy as you like.
Vettel's ascent took him up to ninth before those running the expected pit strategies began to come in, and as high as second afterwards.
Even a further stop with 17 laps left only dropped him as low as fourth. And it is here he would have stayed but for a second period behind the safety car.
This time the cause was Sergio Perez, who passed both Grosjean and Paul di Resta in one go at Turn 10, but pushed the recovering Force India driver off the track on the inside as the latter tried to regain the position.
After running wide himself, Perez chopped off Grosjean heading into the next right-hander. The result was contact, a spin (and a subsequent 10s stop/go penalty) for the Mexican and a collision between Grosjean and Webber that put the Lotus and Red Bull out.
The slow laps brought Vettel onto the tail of third-placed Button and set up a fascinating scenario. Not only was the German on fresher tyres than the McLaren, Ferrari and Lotus ahead of him, but he was also the only one on the soft rubber.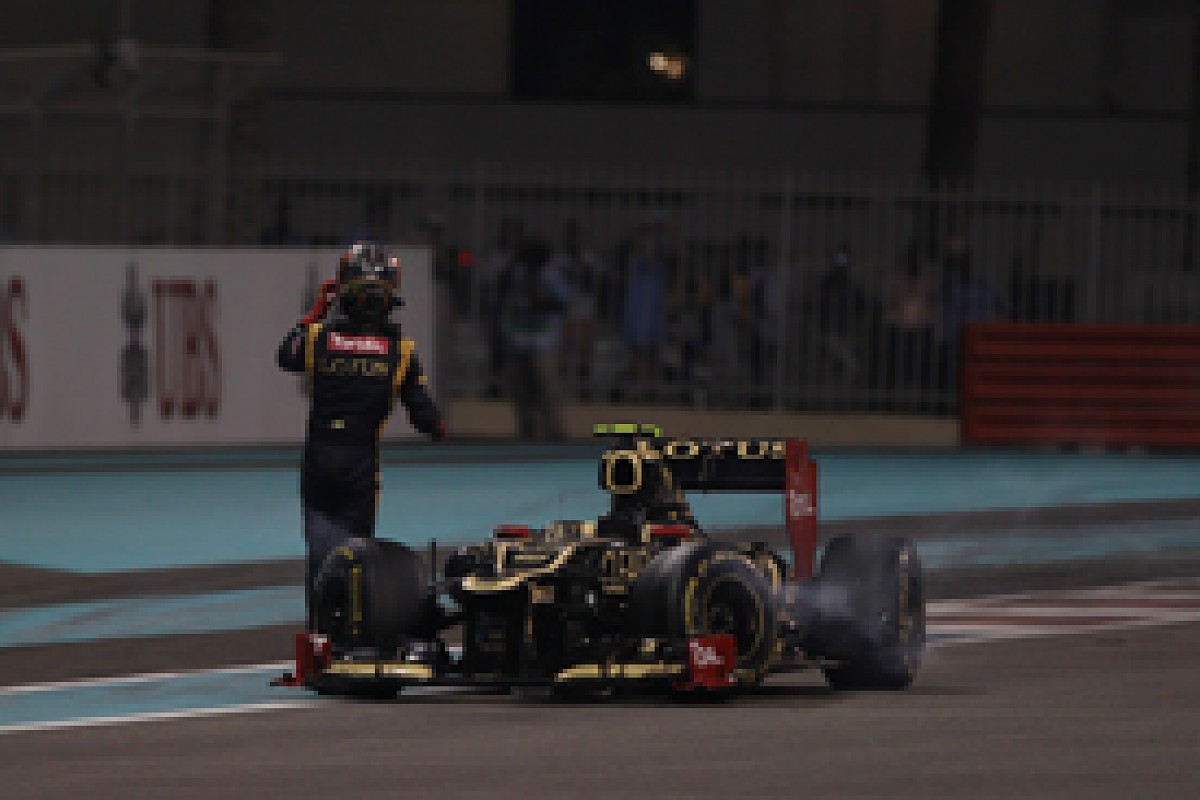 Grosjean retired after contact with Webber © XPB
It proved not to make too much difference, Vettel having to rely on his DRS to pass Button on the penultimate lap and take a podium finish that he never doubted would come.
Ahead of him was a delighted Alonso. Despite only taking three points out of Vettel's championship lead, and therefore reducing it to 10 with 50 available from the final two races, he had not anticipated finishing so high up.
Fifth or sixth, he said, was what he was expecting based on the complex maths done by Ferrari's technical bods overnight. The truth of the matter was that once again, this incredible driver had delivered a performance well beyond the merits of his heavily-updated F2012.
His team-mate Felipe Massa finished a spot behind Kamui Kobayashi's Sauber, not helped by contact with Webber mid-race that led him to whack a Turn 11 "sausage kerb" and spin. The result did, at least, keep the fight for the constructors' championship with Red Bull going to the USA.
The recovering Senna and di Resta - the latter more or less copying Vettel's strategy - were eighth and ninth with Ricciardo completing the top 10. Mention too should be made of Heikki Kovalainen's drive. The Caterham man ran inside the top 13 for most of the race and finished there too.
Lap-by-lap as it happened on AUTOSPORT Live
Race results
Pos  Driver        Team                       Time
 1.  Raikkonen     Lotus-Renault              1h45:58.667
 2.  Alonso        Ferrari                    +     0.852
 3.  Vettel        Red Bull-Renault           +     4.163
 4.  Button        McLaren-Mercedes           +     7.787
 5.  Maldonado     Williams-Renault           +    13.007
 6.  Kobayashi     Sauber-Ferrari             +    20.076
 7.  Massa         Ferrari                    +    22.896
 8.  Senna         Williams-Renault           +    23.542
 9.  Di Resta      Force India-Mercedes       +    24.160
10.  Ricciardo     Toro Rosso-Ferrari         +    27.463
11.  Schumacher    Mercedes                   +    28.075
12.  Vergne        Toro Rosso-Ferrari         +    34.906
13.  Kovalainen    Caterham-Renault           +    47.764
14.  Glock         Marussia-Cosworth          +    56.473
15.  Perez         Sauber-Ferrari             +    56.768
16.  Petrov        Caterham-Renault           +  1:04.595
17.  De la Rosa    HRT-Cosworth               +  1:11.578

Retirements:

Driver        Team                       On lap
Pic           Marussia-Cosworth            42
Grosjean      Lotus-Renault                38
Webber        Red Bull-Renault             38
Hamilton      McLaren-Mercedes             20
Karthikeyan   HRT-Cosworth                 8
Rosberg       Mercedes                     8
Hulkenberg    Force India-Mercedes         1


World Championship standings, round 18:                

Drivers:                    Constructors:             
 1.  Vettel       255        1.  Red Bull-Renault          422
 2.  Alonso       245        2.  Ferrari                   340
 3.  Raikkonen    198        3.  McLaren-Mercedes          318
 4.  Webber       167        4.  Lotus-Renault             288
 5.  Hamilton     165        5.  Mercedes                  136
 6.  Button       153        6.  Sauber-Ferrari            124
 7.  Massa         95        7.  Force India-Mercedes       95
 8.  Rosberg       93        8.  Williams-Renault           73
 9.  Grosjean      90        9.  Toro Rosso-Ferrari         22
10.  Perez         66       
11.  Kobayashi     58       
12.  Hulkenberg    49       
13.  Di Resta      46       
14.  Maldonado     43       
15.  Schumacher    43       
16.  Senna         30       
17.  Vergne        12       
18.  Ricciardo     10       
TEAM BY TEAM
By Matt Beer
Red Bull
After four very straightforward weekends, life got very complicated for Red Bull in Abu Dhabi, and it could consider itself fortunate to come away with only minor dents to its championship leads.
In practice it already seemed that McLaren might be about to interrupt Christian Horner's squad's dominance. Then things began to go really awry when a brake problem sidelined Vettel for most of final practice.
The champion salvaged third on the grid in a slightly scrappy qualifying session, then was put to the back. A looming issue meant he was ordered to park his Red Bull on track, and the FIA could not get the requisite amount of fuel out of it for the mandatory sample. Red Bull accepted the punishment but remained slightly baffled.
Starting from the pitlane with a car set up for a charge, Vettel made rapid progress but damaged his front wing both on Senna's Williams and on a marker board, the latter incident while dodging Ricciardo under the safety car.
Red Bull turned the front-wing pitstop to its advantage, and the combination of strategy and speed got Vettel up to second for a while before a second tyre stop dropped him to fourth. He re-passed Button for third late on.
Webber recovered from Friday KERS problems to qualify second. That was as good as it got. A poor start began a race that would feature incidents with Maldonado, Massa and finally Grosjean and Perez. Webber was utterly blameless in the latter, but it was the one that caused the race-ending damage.
McLaren
Hamilton dominated the first part of the Abu Dhabi weekend, leading every session bar practice two. He looked set to turn his commanding pole into a consummate win as well, only for a fuel pump problem to stop him before half-distance.
Button felt he had similar speed on Friday, then spent the rest of the weekend wondering where his gap had gone. Only sixth fastest in qualifying, he battled up to third in the race and fought Alonso for a while, but could not resist Vettel's late surge.
Ferrari
Was this a missed opportunity or a masterful salvage job? Ferrari looked like it might be fortunate to even qualify in the top 10 at times during a practice build-up in which it broke two curfews trying to get its upgraded car on the pace.
Alonso and Massa were only seventh and ninth quickest in qualifying. A swashbuckling first lap from Alonso got him up to fourth, and he then passed Maldonado and benefited from Hamilton's retirement. Despite an eleventh hour push, winner Raikkonen remained just out of his reach.
Massa was fighting for the top five until spinning in a battle with Webber. That dropped him into the midfield traffic and seventh was the best he could subsequently manage.
Mercedes
Mercedes' run of point-less races goes on. It never looked competitive in Abu Dhabi, so the lap Rosberg produced to take eighth in qualifying was impressive. Mistakes in his KERS planning left Schumacher 14th.
Rosberg tangled with Grosjean on lap one and had to pit for repairs, then went flying over Karthikeyan's slowing HRT as he attempted to catch the field. Schumacher looked set for points until a puncture, after which he fought back to 11th.
Lotus
Finally the win arrived. Lotus's pace looked promising all weekend, and when Raikkonen converted fourth on the grid (fifth before Vettel's penalty) into second off the line, the stage was set. He was being dropped by Hamilton in the first stint, but once the McLaren was out, the Finn was in control, fending off Alonso at the end as he returned to the top step.
Grosjean was disappointed with the qualifying lap that put him 10th. He clashed with Rosberg on the first lap, and then retired after a complex incident that began in dices with di Resta and Perez, and ended with his Lotus being collected by Webber.
Force India
Slightly disappointing qualifying pace left Hulkenberg and di Resta, and when they collided with each other and Senna on lap one, things looked even worse.
That tangle was the end of Hulkenberg's weekend, but things got better for di Resta. He rose to fifth for a while thanks to the alternative strategy he adopted after the clash, escaped a central role in the Perez/Grosjean calamity, and finished ninth.
Sauber
Sauber felt from the outset that this wasn't going to be a great weekend, yet it came away from the chaos with a top-six finish - though it could have been much better.
Perez qualified 12th, but displayed great race pace to join the group battling in the region of Maldonado. As strategies unfolded, he dropped behind Grosjean and di Resta, and it was while trying to pass them that he collided with the former. A subsequent pitstop and penalty left him 15th.
Kobayashi was only 16th in Q2 after an error, then struggled with downshift and brake issues in the race. Yet he still rose to sixth and fended off Massa, Senna and di Resta.
Toro Rosso
Ricciardo and Vergne were only 17th and 18th in qualifying, but Toro Rosso tried some different strategies in the race - bringing Vergne in for tyres under the first safety car and Ricciardo under the second.
That tactic allowed the Australian to make up ground late on and finish 10th, but for Vergne 12th place was the limit.
Williams
Maldonado predicted early in the weekend that Williams would be back among the frontrunners in Abu Dhabi, and so it proved. Fourth in qualifying, he was holding off Alonso in the podium battle until losing KERS. That began a slide down the field, during which he had a quick clash with Webber. The level of carnage meant he still finished fifth.
Senna underperformed in qualifying again and was 15th. He was collected by the Force Indias at the start, but recovered very well from the back to finish eighth.
Caterham
Kovalainen beat the tail-end pack to 19th on the grid and looked like he might pick up a valuable result in the race as he pulled away from his usual rivals and benefited from the frontrunners' errors. In the end, that only translated to 13th position.
Petrov wasn't on the Finn's pace and qualified 21st before finishing 16th, beaten by Glock.
HRT
HRT's weekend was continuing in the usual back-of-the-pack fashion until Karthikeyan's sudden hydraulic failure in front of Rosberg meant the Indian's car became a launchpad.
There were no such scares for de la Rosa, just the mild inconvenience of a pitlane start after a tyre blanket got stuck. He finished 17th and last.
Marussia
More signs that Marussia is catching Caterham, with Pic only just outqualified by Kovalainen. Glock's form looked similar until a lack of qualifying pace left him confused and 22nd.
Both men fought with Petrov in the race. Glock not only beat him, but held off the recovering Perez as well, finishing 14th. Pic's race ended with an engine problem.
RACE DATA