Spend time with Romain Grosjean and one thing is clear: he smiles a lot. And why not? The 26-year-old Lotus racer has had a lot to smile about this season: three podiums prior to Singapore, numerous Kimi-topping qualifying performances and he's just got hitched to French F1 TV presenter Marion Jolles.
The only thing to briefly wipe the perma-grin off his face was that one race-ban for triggering first-corner mayhem at this year's Belgian GP.
Much has been made of his erratic first-lap behaviour in 2012 (it wasn't just Spa: remember Malaysia, Monaco, Silverstone and Japan?) but you'd struggle to find anyone who doubts his speed - although pre-2012 that wasn't always the case.
Grosjean didn't cover himself in glory during his first stint in F1 in 2009 when, as a rookie, he was chewed up and spat out by a Renault team struggling to come to terms with 'Crashgate'.
That's just one of the topics put forward for discussion, but readers were also keen to hear Romain's thoughts on working with Flavio Briatore, being team-mate to two different world champions, and - somewhat off-topic - what it was like to work in a Swiss bank.
But let's kick off with that spectacular crash in Belgium...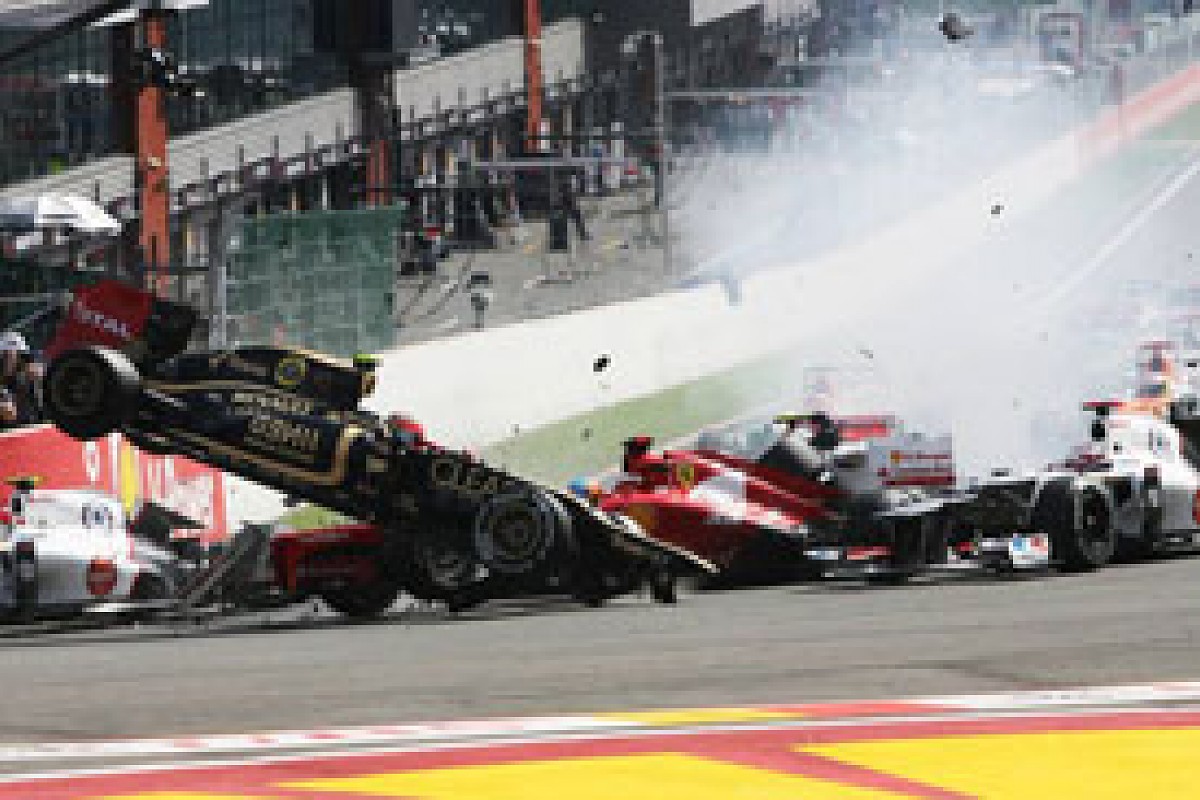 Grosjean was the cause of a massive first corner crash at Spa © XPB
Romain, what were you thinking when you drove into Lewis Hamilton at the start of the Belgian Grand Prix? (Scott Mathieson, UK)
I accept it was my mistake. La Source is a tough corner and it was a bit crazy with Maldonado jumping the start and Kobayashi smoking a lot. I made a mistake and I misjudged the gap with Lewis. I was sure I was in front of him. So a small mistake made a big incident. I didn't change my line, I went from left to right. I wasn't wanting to put anyone in the wall - I'm not here to stop the race in the first corner. I'm sorry for what happened and I'm glad nobody was hurt.
What's been the most enjoyable race of your career so far? (Benedikt Baxmann, Germany)
It's between Canada and Silverstone this year. It's quite difficult to choose just one out of all the races in my career. Every time you win a title or a race it's special. But thinking short-term, just in F1, it would be Silverstone or Canada. To come from almost last to sixth at Silverstone was great.
What's it like having Kimi as your team-mate? Does he give you any advice? (Daniel Cape, Australia)
Well, I don't know Kimi very well away from the track, but at the circuit our relationship is pretty good. We share everything and that helps the team progress. That's the key to why we are very close in qualifying, very close in terms of race pace, and very often at the front. It doesn't matter that we're not particularly close away from the track; as long as you're professional and get on well as team-mates, that's the main thing.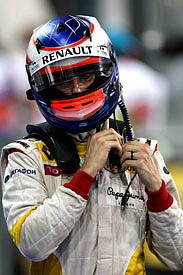 Grosjean earned his first F1 chance following 'Crashgate' © XPB
How did it feel to replace Nelson Piquet Jr, given the circumstances of his departure? (Chris Bickley, UK)
Well it was three years ago and when you have the chance to go to F1, you don't say no. It was just the wrong time, wrong place and maybe this time it is the right time, right place.
Did you reach a point after 2009 when you thought, 'Will I ever race in F1 again?' (Oliver Heycoop, New Zealand)
Yes, of course. I thought about stopping everything. At one point I wasn't sure I would ever get back to F1, but my passion was so strong. I believed in my dream and I believed I could make it back. It went through my head to stop racing altogether, but then I started racing again in the FIA GT championship and my feeling was, 'Racing is so good.'
Do you still work at a bank now that you're back in F1? What did you do there? (Richard Agnew, UK)
No, I don't have time to work in the bank any more. I used to be a portfolio manager assistant, selling and buying and trying to make the account as good as possible. It was a very good experience and I still have a close relationship with the bank. It was Baring Brothers Sturdza in Geneva and, actually, my boss from that time came to see me on the Friday of Valencia.
It was very good fun working at the bank. It was high-level private banking and it was good to see that small things can make a big difference. It was very different to F1 - I had to put on a suit and tie every morning - but it taught me a lot. No one recognised me as a racing driver at that time.
Is being Fernando Alonso's team-mate as intimidating as it seems from the outside? (Yew Liang Wong, Singapore)
No. When you are in the car it is good to have a world champion as a team-mate. It was good for me to be alongside Fernando - I learned a lot. As everyone knows, he's a fantastic driver and it was good to be not too far away from him in terms of performance. He helped me to understand a lot about F1. We were friends before we became team-mates and our relationship is still good today. I enjoy speaking to him during the drivers' parade and things like that.
How much have you improved as a driver since returning to F1 this season? (Andre Gair, UK)
Every second you spend in an F1 car you are improving. The limited testing doesn't help a young driver, but we have made some good steps this season and hopefully there is some more to come. I think from the day you start racing to the day you finish you are always improving. The more running you have, the better you get.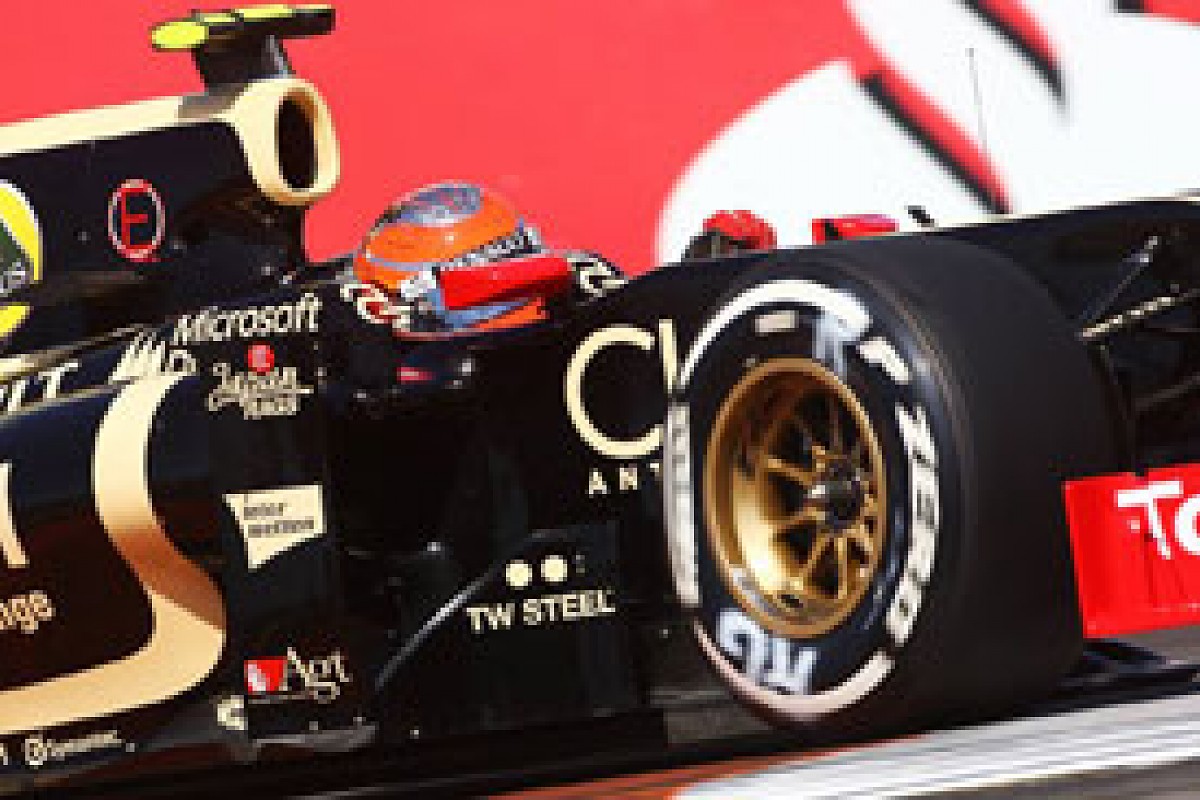 Grosjean was in contention for victory when he retired at Valencia © XPB
How angry were you when you had to retire from the race in Valencia, having been in such a strong position? (Marcin Manicki, Poland)
It's frustrating to retire, especially when you're fighting for the win, but there were so many positives from that weekend and that's what we have to focus on. We had a good start, we had a good strategy, and we were really quick; the only car that was faster was Vettel's. We were fighting for the win and that's what's important to me.
You've been team-mate to both Fernando and Kimi. What have you learned from them and which of them has given you the most help with developing your career? (Barrie Staley, UK)
I'm lucky to have had two world champions as team-mates. It's helped me to improve myself. Both are very different in character but there are a lot of similarities. They always try to get the best from their cars, they know what they want and they never give up - those are real strengths and it's helped me to never give up either.
At Silverstone, I was last after the first lap. Either you give up and stop, or you push the whole race and score good points. The way they drive helps me improve my driving, but perhaps watching their approach to racing is an even bigger help.
You were born in Switzerland, and lived there, but you race as a Frenchman. Why? (John Gullidge, UK)
Firstly, because I started karting in France and so my first licence was French. But I always got support from the French side, from Renault and then from Total [fuel supplier], so it was normal that I raced for France. Do I feel French? I feel European before anything else. I'm proud to have a French passport and I'm proud to have a Swiss passport, but mainly I feel European.
Looking back at your F1 debut in 2009, do you think you were ready? (Arjen Falter, Netherlands)
I don't think you are ever ready, even when you're sure you are. It's difficult and I'm still learning a lot of things, but I was more ready this time than the first. Even when you win GP2, which is the highest level below F1, I think it's quite a big step.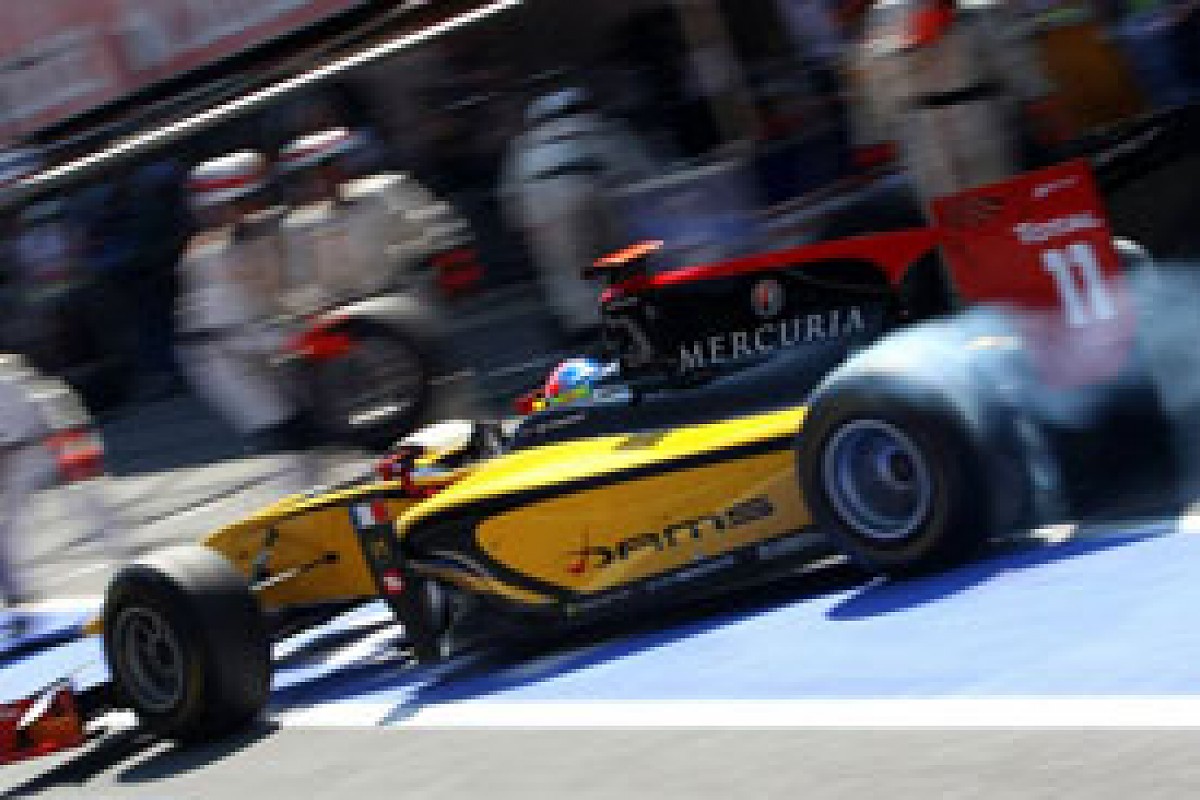 Grosjean during GP2's Barcelona weekend in 2011 © XPB
At the 2011 GP2 race in Barcelona you passed three cars over two corners. Do you think we will see some of that in F1? (Miguel Barrera, Poland)
I hadn't planned to overtake all three - I was going for one, then I got two and finally three. I've watched it on YouTube: it was a good move and I really enjoyed it. I've made some good passes this year and it always gives me the same feeling. It's harder to pass in F1 than in GP2 because it's quicker and the braking distances are shorter, but it's enjoyable either way.
How different is the team now to the one you joined in 2009? (Richard Farmer, UK)
In terms of the people working in the team, a lot of the same people are still here. The management is different and the atmosphere is very different - it's better today. We have a good atmosphere at the factory and in the team. You can tell everyone enjoys it and gives it their best.
If you make a small mistake, everyone works to repair it and nobody blames anybody for trying their best. Let's just say it wasn't the best time for the team when I raced for them in 2009.
How was it to work with Flavio Briatore? (Andres Blanco, USA)
It was different...
If Bernie Ecclestone could grant you three wishes, what would they be? (Vincent Williams, USA)
To win a race, then win some more races, and then plenty of world championships.
Are you satisfied with your podiums this season or angry at missed opportunities? (Georgi Petkov, Bulgaria)
I'm a perfectionist so I'd like to do better every time. But I think we should be happy with the podiums we have and to have fought for more. There are three races still to go, so hopefully we can have a few more podiums.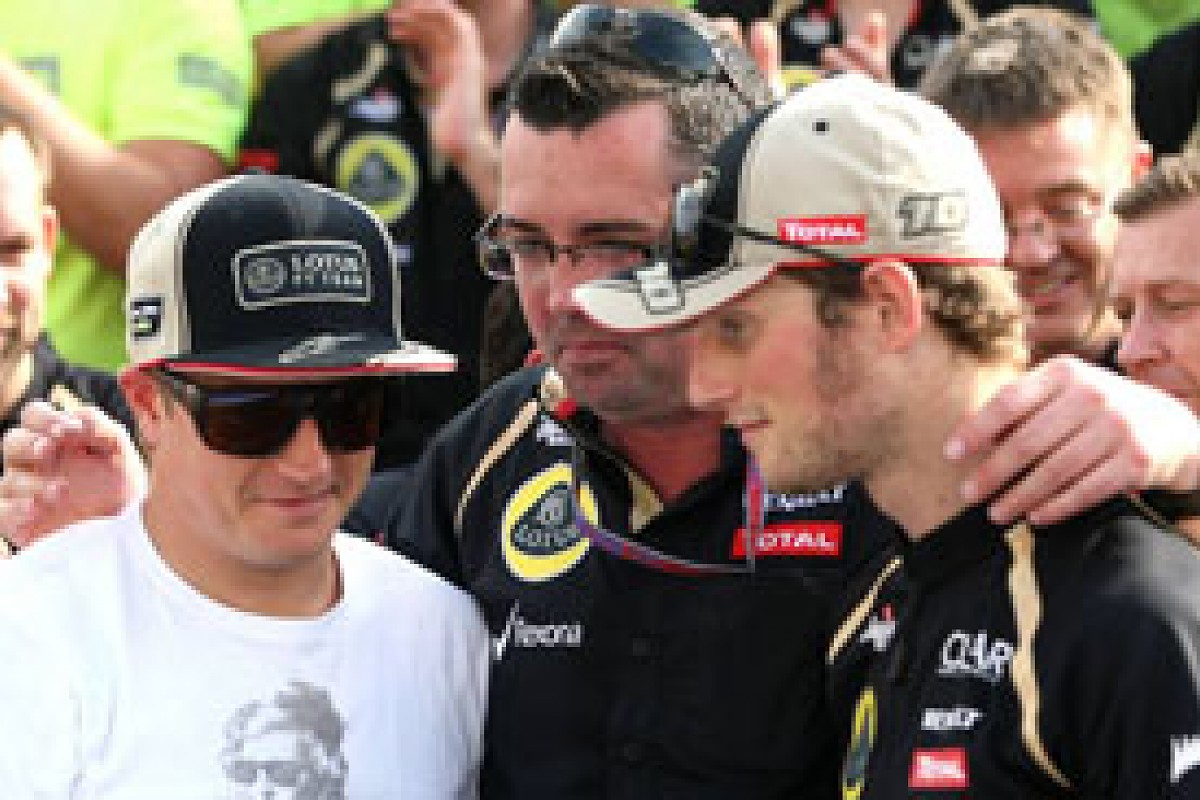 Lotus has come close to winning several times in 2012 © XPB
As a team, what do you think Lotus needs to do to start regularly winning races? (Timothy Schwartz, Australia)
I don't think it will take much; it's small bits coming together. This is the first year that Kimi and I have been with the team, so when we go to a racetrack we're always learning because we didn't race there with the team the year before.
It was harder at the start, but we're building up a relationship that's pretty good. If we keep going like this next year, then we'll start at a better level when we get to each track. It takes what it takes, but the team is ready to go for it.
What does it feel like to be interviewed by your wife on the grid? (Florian Bouchet, France)
It's not that strange - she's working, I'm working. She asks me the same questions she asks the other drivers on the grid. Do I answer her seriously? Most of the time...
Paul Ricard, Magny-Cours or another track. Which one would you choose to host the French Grand Prix? (Szymon Tomala, Poland)
Any one. I think it's special to race in front of your home crowd and I would be very happy if we could get the French Grand Prix back.
How much credit does Eric Boullier deserve for recognising your potential and guiding you back into F1? What are you getting him for Christmas this year? (Jorge Alvear, USA)
We have a very good relationship. Eric - along with DAMS [Grosjean's GP2 team], Jean-Paul Driot [DAMS boss] and Total - all believed in me when things were more difficult. I trust Eric and I think he trusts me. It's important for me to feel good and to feel welcome in the team in order to achieve the best that I can. What will I get him for Christmas? I'll see what I can do...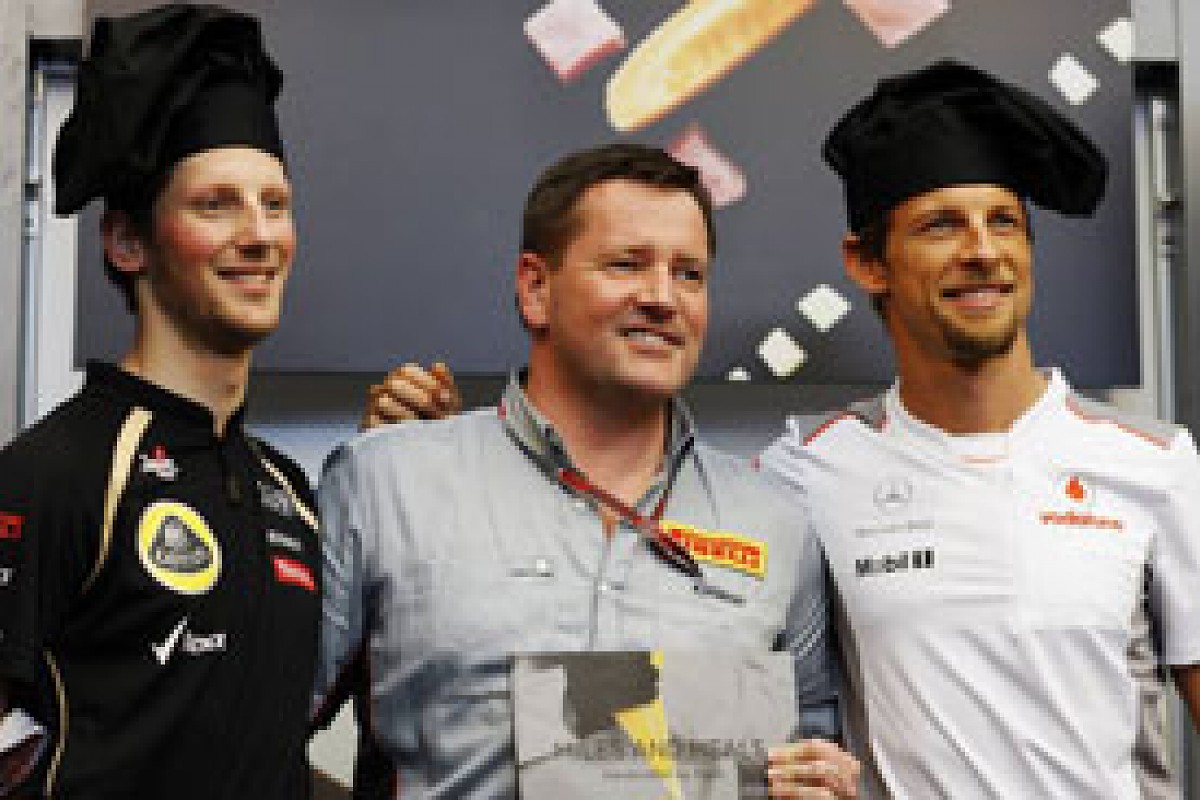 Aside from cooking competitions, Grosjean believes Pirelli has helped the F1 show © XPB
What do you think of the Pirelli tyres? Do they add to or detract from the racing? (Richard Davis, USA)
I think they're good for racing. We've seen a lot of overtaking this year and the cars are very close in performance. It is what it is - you have to manage the tyres in the race and get them going in qualifying, but all sets behave the same way. Some drivers complain that you can't drive to the limit lap after lap, but that's not true. You can push flat-out, just to the limit of the tyres, not to the limit of the car. The limit has changed.
If you and your wife were hosting an F1 dinner party, which three people from the paddock would you invite? (Bernard Noble, UK)
That's a secret, just for my wife and me. It would be a private dinner!
Whenever we see you on TV you always seem to be smiling. Is there anything about F1 that makes you sad or grumpy? (Phil Renwick, UK)
To be honest, not really. I lost my place in F1 once and it was difficult, but I'm back now and I enjoy every second I'm in the paddock. Even when I'm a bit tired or whatever I'm just happy to be here - that's why I'm always smiling.
I hear Fernando Alonso likes magic. Did he teach you any card tricks when you were at Renault together? (Ally Smith, UK)
I didn't even know he liked magic, so I've learned something new today!
What's your nickname? (Daniel Loughnan, Australia)
Hmmm, should I say it or not? At the moment I have two nicknames and at the factory the guys are joking with one of them. They're translations of my name in English, but there are two ways of translating it. The guys say that when I win a race they'll change it to the other one.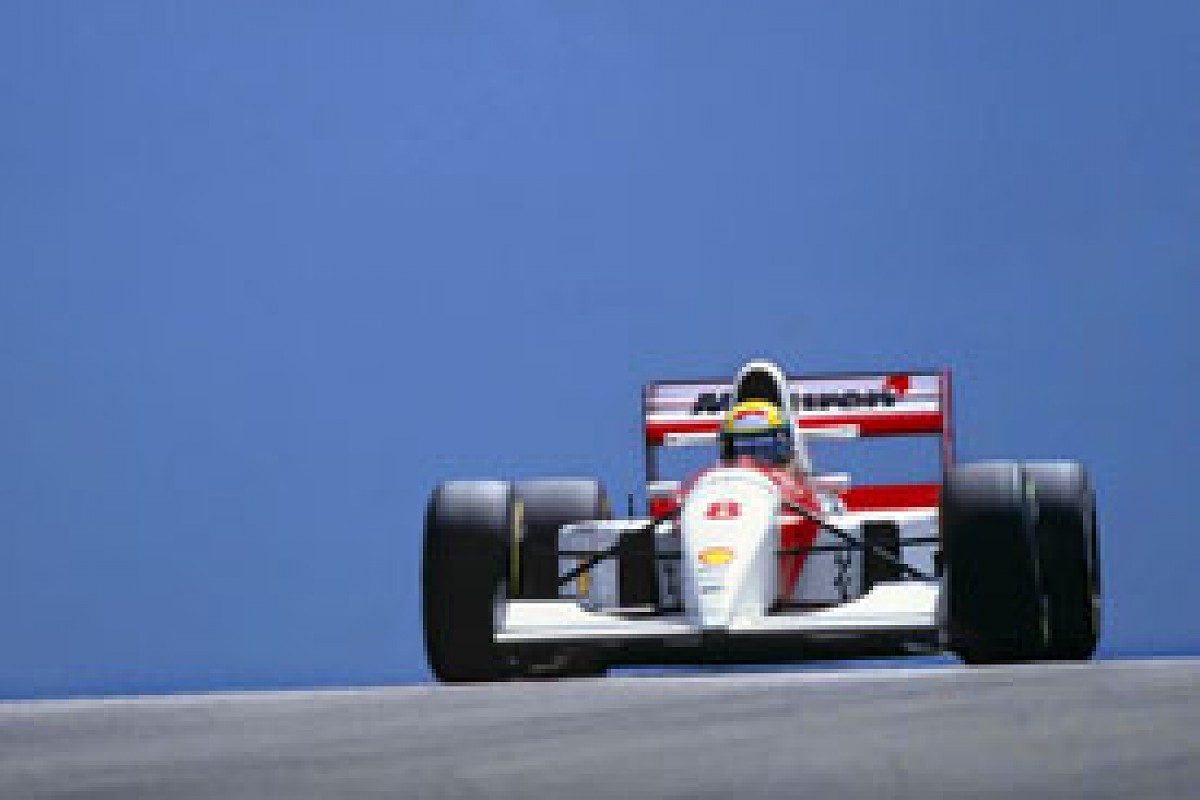 McLaren's MP4/8 - one of Grosjean's favourite F1 cars © XPB
If you could drive any F1 car from any era, what would it be? (Roderick Grant, Australia)
I like F1 cars from the '90s. The Benetton and the McLaren from 1993 and 1994 were pretty cool. I also liked the 2005 and 2006 Renaults.
Who inspired you to be an F1 driver? (Callum Barnard, UK)
My dad. He was passionate about racing. He used to race in the Swiss F3 championship. He took me to a race and I fell in love with motorsport.
Prost or Senna? (Matt Freeworth, UK)
For me, both were great champions. I like the way that Prost worked and I like the way that Senna drove. I can't choose between the two.
How did being dropped by Renault affect you and the way you approach your career? (Ross Owen, UK)
It wasn't the best time of my career, but it made me stronger. I'm happy with the process I've been through; the past three years have been important to me. Now, I'm happy to be here.
You and Kimi make for a fast driver line-up. Do you think Lotus has a chance of winning the constructors' championship? (Natasha Wood, UK)
This year would be a bit difficult, although we are doing a good job. Our objective is to become world constructors' champions by 2014/2015 and my dream is to become world champion one day. Finishing in the top three could be a possibility this year - our objective was to finish fourth as constructors, but if we do better then it's a bonus for everybody.