There are some qualities that a top Formula 1 driver must have that cannot be measured on a stop watch. And no matter how quick you may be - how much potential as a racer you may appear to have - if you don't have these inner strengths then you can forget it.
We are talking about 'belief' here - that vital element a team must invest 100 per cent in its driver. It has to know that if it goes the extra mile, then the man in the cockpit will dig deep to find another tenth, which can be all the difference between hero and zero.
Having that belief system in place is something that Lotus has been looking for ever since Robert Kubica was sidelined by that horrendous rally accident just ahead of the start of the 2011 campaign.
For all the drivers that the team had on its books since then - Nick Heidfeld, Vitaly Petrov and Bruno Senna - it took until the middle of this season for the outfit to get, what team boss Eric Boullier refers to as the 'positive spiral' back. In Kimi Raikkonen, Lotus has got the man it needs. A man it believes in.
That Raikkonen has re-signed for next year is not really a huge surprise but what is more interesting is how the Finn's impact on the team has transcended what he has done on track.
Raikkonen has been instrumental in Lotus's return to form © LAT
The results this season have been impressive, but even so there was a niggling feeling that perhaps he could have made much more hay while the sun shone early in the campaign, when the Lotus E20 was at the top of its game and well capable of delivering race wins.
Raikkonen would admit himself that perhaps he was a bit rusty at the start of the campaign, and you cannot help but concede that there was a case of him not being as race sharp as was needed if that victory was going to be delivered.
There were the more obvious errors, like the off in qualifying in Australia, and the early race mistake in Bahrain that let Felipe Massa through. But there were also times when a couple of tenths here and there during race stints - like in both races in Spain - were the difference between a podium finish and a win.
Yet seeing such opportunities slip through his fingers was not really to be unexpected. Raikkonen has spent two seasons rallying and had had very limited track racing experience in the period since he last competed in F1.
It was always going to take time to rebuild things up again, understand just how sharp he needed to be and why, especially in a season like this that started out so competitive through the order, a single lost tenth on a qualifying lap was more costly than it had been in any other period of F1.
It was nothing specific that he did, not one key 'eureka' moment that helped him deliver that. It was simply the added input from experience, plus a greater understanding of his F1 cars and tyres, helped in delivering those final missing pieces of the jigsaw.
Hungary was a brilliant Raikkonen race - albeit one where a better qualifying performance would have put him in with a proper shout of victory - but as the team left Budapest there was a real 'belief' that it could mark the start of something good.
Although ultimately the post summer-break period did not pan out as the team had hoped, the fact that it had begun its late-season push with a conviction that it was attempting a title tilt said just as much about the progress at Enstone from those troubled days in 2011.
And some of that belief came not from the impact of Raikkonen on track, but from this cult aura he has around him off it.
For a start, the fans love him - and teams like nothing more than working with a driver who is adored by the sport's followers.
In an era where corporate blandness and PR speak are the name of the game, Raikkonen is of the view that a spade should always be called a spade. He wastes no energy trying to get involved or talk about matters that do not involve him. If it doesn't make him quicker, what is the point?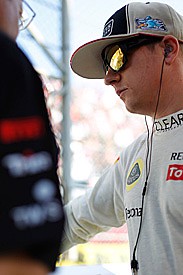 Boullier says Raikkonen has galvanised and inspired Lotus © LAT
That attitude has prompted criticisms from some quarters in the media that Raikkonen is difficult to deal with. But actually, get up close to him and you notice he can actually be one of the better drivers.
Yes, you are not going to get any lines that Jean-Paul Sartre would be proud of, but ask him a decent question about his car, the weekend, his driving, and he gives you a properly decent answer.
Ask him something stupid - like where he thinks he will qualify before a car has even hit the track for the first time - and of course he is going to reply "It is too early to say".
He is the same in how he deals with the team. A few years ago Boullier had hoped to create a team that revolved around Kubica. The Pole had that same 'belief' quality - and as a focus point for the outfit was vital for it to move forward.
When that element was robbed from the team, it was always going to take a while to find it again. Now though, Boullier has no doubts it has returned - and says Raikkonen's no-wasted-energy attitude is a huge help.
"We have this feeling in the team back like we had with Robert Kubica - where the team is gathering around the drivers," he says. "The team wants to do well and they know the driver will be pushing and delivering from what they are pushing for. That is a big help to push the team up.
"I think the best we can get from Kimi as a team is working and delivering together. With him we get a clear yes or no. It is a black and white answer straight - which is priceless. You can rely on him because you know he does not mess about. He is the main asset of this team."
Lotus got its mojo back this year. And it was all thanks to that vital belief system being in place where a good car, a great team and a star driver end up delivering something far greater than the sum of their parts.