Lewis Hamilton was a very happy man after the Indian Grand Prix. Considering that any pretence of being in the world championship fight had just been blown out of the water and a bad start had cost him a potential podium finish, this was very unusual.
But there was a good reason for his happiness. The 2008 world champion had been able to attack throughout the race. When he got onto the radio during his second stint and expressed his fear that his tyres wouldn't last, it was because he had become accustomed to not being able to push 100 per cent without paying the price anymore. He expected that terrible feeling when the rubber fell off a cliff, but that moment never came.
That's why Hamilton was so effusive after his fourth place. The result was secondary. He had quite simply loved driving to the maximum.
"It was actually a great race," he said. "Within the car, it felt great. I pushed every lap, even right to the chequered flag, like always but just more so... I can't remember the last time I had to be so much over the limit to catch someone, literally to the point where I was about to come off. It felt great. I've not been able to do that too much throughout the year because we've been saving tyres and all that stuff. But the tyres lasted so long."
Overtaking was at a premium in India © XPB
The reason for this was simple; degradation was very low at the Buddh International Circuit. Pirelli motorsport director Paul Hembery admitted after the race that the super soft could very easily have been pressed into action for the Indian Grand Prix. But even that probably wouldn't have transformed the nature of the race.
"Despite it being a circuit that's got the second highest energy input in terms of what goes into the front left, in reality it creates low wear levels so you've got minimal degradation," he explained. "At the start of the season, some people wanted some racing from the past. They got it today."
It was this 'historic' kind of F1 racing that Hamilton enjoyed. But it was also at the heart of a race that was widely denounced as boring. Over the past two years, Pirelli has been on the receiving end of plaudits and brickbats in equal measure for the high-degradation rubber. The Indian Grand Prix showed us what the alternative is.
Let's take a closer look at what we saw in the race. Here are the top 15 positions as of the end of the first lap:
 1. Vettel
 2. Webber
 3. Button
 4. Alonso
 5. Hamilton
 6. Webber
 7. Raikkonen
 8. Perez
 9. Hulkenberg
10. Rosberg
11. Maldonado
12. Grosjean
13. Senna
14. Di Resta
15. Ricciardo
16. Kobayashi
If you knock out the two drivers who dropped out of contention thanks to problems, Sergio Perez, who hit first blistering and then Daniel Ricciardo, and Pastor Maldonado, this is the classification it produces. The number in brackets represents the final finishing position.
 1. Vettel (1)
 2. Webber (3)
 3. Button (5)
 4. Alonso (2)
 5. Hamilton (4)
 6. Massa (6)
 7. Raikkonen (7)
 8. Hulkenberg (8)
 9. Rosberg (11)
10. Grosjean (9)
11. Senna (10)
12. Di Resta (12)
13. Ricciardo (13)
14. Kobayashi (14)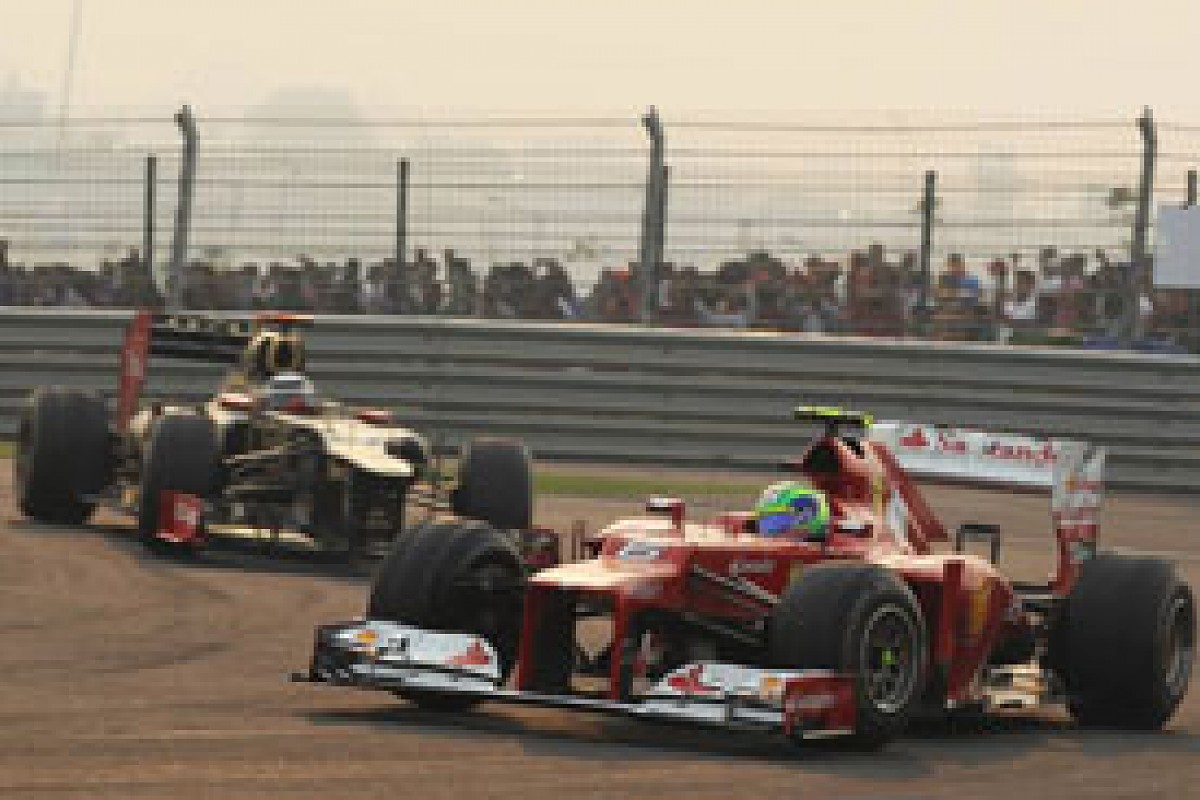 Hamilton was one of the rare few to manage a pass during the race © XPB
So, a summary of movements in the top 15 based on racing reads:
- Fernando Alonso passes Jenson Button and the KERS failure-hobbled Mark Webber to go from fourth to second.
- Hamilton passes Button.
- Romain Grosjean passes Nico Rosberg.
- Bruno Senna passes Rosberg.
For the expert eye, there was more than that going on, so it's a simplistic way of looking it. But to the famous 'average fan' that is so often invoked, those few changes of position and a dramatic battle for third on the opening lap sums it up.
The fact is that even quick drivers, Bruno Senna for example, could make very little progress with the tyre degradation variable neutralised. And while some will argue that the Buddh circuit is poor for overtaking, a large part of that perception is down to the fact that both grands prix there have been straightforward in terms of tyre use.
What the race does prove is the fallacy of claims that the DRS and KERS is enough to create the overtaking that every single fan survey tells us that the sport needs to deliver. It simply isn't. What you need is cars whose pace varies, rather than simply lapping the same level, subject to fuel load, for an hour-and-a-half.
The question of engineering high-degradation rubber is a thorny one. Some argue that the purist's position should be that drivers be allowed to lap at 100 per cent all race. Frankly, that misrepresents the nature of grand prix racing for the vast majority of its existence. Seeing a grand prix as being about 24 drivers driving as fast as they possibly can every lap is a reductionist way of looking at F1. Anyone who thinks that Juan Manuel Fangio, Jim Clark, Jackie Stewart and Ayrton Senna weren't masters at tyre management needs to look a bit more closely at history.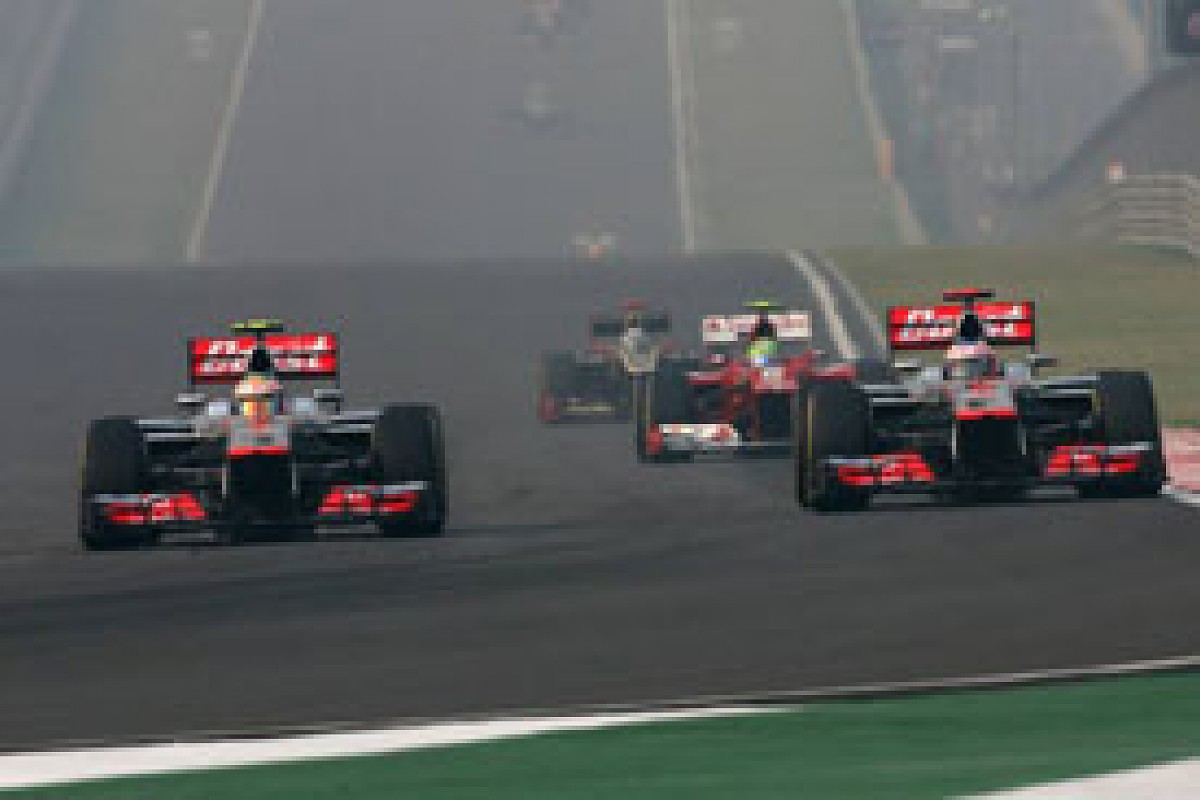 Pirelli's arrival in F1 has made a huge difference to the racing © XPB
If you're going to have a control tyre, it's a necessary evil to create ideal parameters for their characteristics. As the tyres connect the car to the track, this is perhaps the easiest way to have an influence on the nature of the racing. That's why much of the past two years of grand prix racing has been unpredictable and processions have been the exception rather than the norm. In a tyre war, you could take a completely different approach and things would be different. In that scenario, the dynamic is very different and '100 per cent tyres' will produce gripping racing. But there are sound economic reasons for that being a bad idea for a sport that is hardly in great financial shape.
Many have called for a return to a supposedly more 'pure' form of grand prix racing. You can see why it appeals to the drivers, but while the high-degradation Pirelli tyres and DRS era that we've had over the past two years hasn't been perfect, it has allowed greater scope for good drivers to showcase their ability. To suggest that tyre preservation is easy and just a question of 'driving slowly' does a disservice to the masters of this art. Again, the reductionist view ignores that.
Inevitably, there have been plenty of drivers queuing up to criticise the tyres. But they have always been an easy target. In the Bridgestone single tyre era, strugglers regularly blamed the rubber for their problems, particularly the mythical 'bad set of tyres' that so often cropped up in comments post-qualifying. This tendency has played its part in this idea that there's a tyre lottery coming on rather than accepting that the teams and drivers who did the best job get the results.
The real question is, do we want drivers to gain results simply on the basis of their performance on Saturday afternoon and make their job only to drive quickly? It should be about far more than that.
Thankfully, for most of this season, it has been.