Vettel domination updated
Sebastian Vettel's current crushing domination of Formula 1 set new records in India.
The world champion established a 13-point cushion over chief rival Fernando Alonso at Buddh with his fourth consecutive win - and that marked his equal best-ever sequence of domination.
The last time he managed to win four in a row was from the Brazilian Grand Prix in 2010 through the winter to the Malaysian GP the following year.
Vettel's victory also coincided with the 150th powered by a Renault engine and the 130th for a German driver.
He remains the only driver to have set pole, led and won the Indian Grand Prix so far.
After the Korean Grand Prix we explained how Vettel was putting together one of the longest streaks of consecutive laps led in F1's history.
Well of course this was extended in India as the German led from lights-to-flag for the third consecutive race. He is the first one to do so since Ayrton Senna, back in 1989.
But since laps, circuits and race lengths varied throughout the years, we've put the best strings together and ordered them for consecutive kilometres run in the lead - see the table below:
LONGEST DISTANCES LEAD
Sequence starts
Sequence ends
Cla.
Driver
Lap
Race
Lap
Race
Tot.laps
Tot.Km
Full races
1
Alberto Ascari
2
Belgium 1952
90
Netherlands 1952
305
2075
4
2
Ayrton Senna
14
Gran Bretagna 1988
49
Italy 1988
264
1435
3
3
Jim Clark
1
Belgium 1963
53
France 1963
165
1226
3
4
Jim Clark
1
Belgium 1965
80
Great Britain 1965
152
1150
3
5
Sebastian Vettel
23
Singapore 2012
RUNNING
205
1111
3
6
Nigel Mansell
32
Brazil 1992
70
Monaco 1992
235
1016
2
7
Ayrton Senna
1
San Marino 1989
33
U.S.A. 1989
237
978
3
8
Juan Manuel Fangio
1
Belgium 1955
2
Great Britain 1955
138
937
2
9
Jack Brabham
1
Netherlands 1960
3
France 1960
114
846
2
10
Jim Clark
1
Mexico 1963
36
Monaco 1964
186
771
2
Webber's (nearly) flawless Red Bull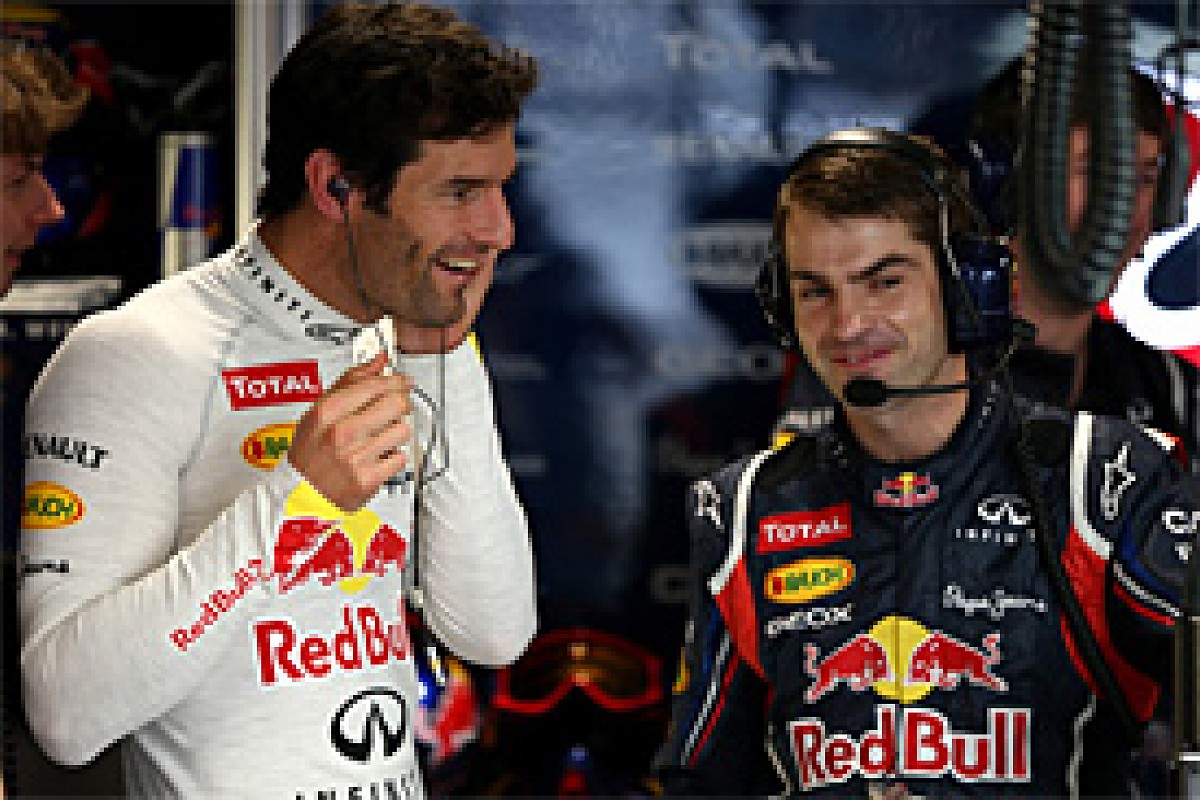 Mark Webber © LAT
It's perhaps ironic that Mark Webber lost second place to Fernando Alonso near the end of the Indian GP because he was suffering with a KERS issue, because the race was his 58th without retiring from a mechanical failure.
That total equals the longest all-time streak recorded by Michael Schumacher from 2001 to 2005.
Below is another table, which also shows that Alonso is in third, having just completed his 52nd straight race without failures:
CONSECUTIVE RACES WITHOUT FAILURE
Driver
Start
End
Races
M.Schumacher
Hungary 2001
Malaysia 2005
58
M.Webber
Japan 2009
RUNNING
58
F.Alonso
China 2010
RUNNING
52
L.Hamilton
Australia 2007
Brazil 2009
51
N.Heidfeld (*)
France 2007
Japan 2009
43
So close...
There were a couple of things that didn't happen in India...
When Alonso overtook Webber to take second place, it prevented Red Bull from taking its first back-to-back one-two. Amazingly, Red Bull has never recorded one. The last team to do so was Brawn in 2009 (Monaco-Spain).
During the last lap, and in the space of 27 seconds, both Vettel and Alonso were denied the fastest lap of the race. At 16:34:30 local time, Vettel crossed the line winning the race from pole and setting the fastest lap, thus recording the Grand Chelem.
But 10 seconds later, Alonso improved that fastest lap by two tenths, negating Vettel's Grand Chelem and recording the first fastest race lap for Ferrari since the 2011 British Grand Prix. But then 17s later... Button cut the fastest lap again, erasing Fernando's achievement but recording a milestone for McLaren - it's 150th fastest lap (Ferrari leads the all-time list on 227).
Race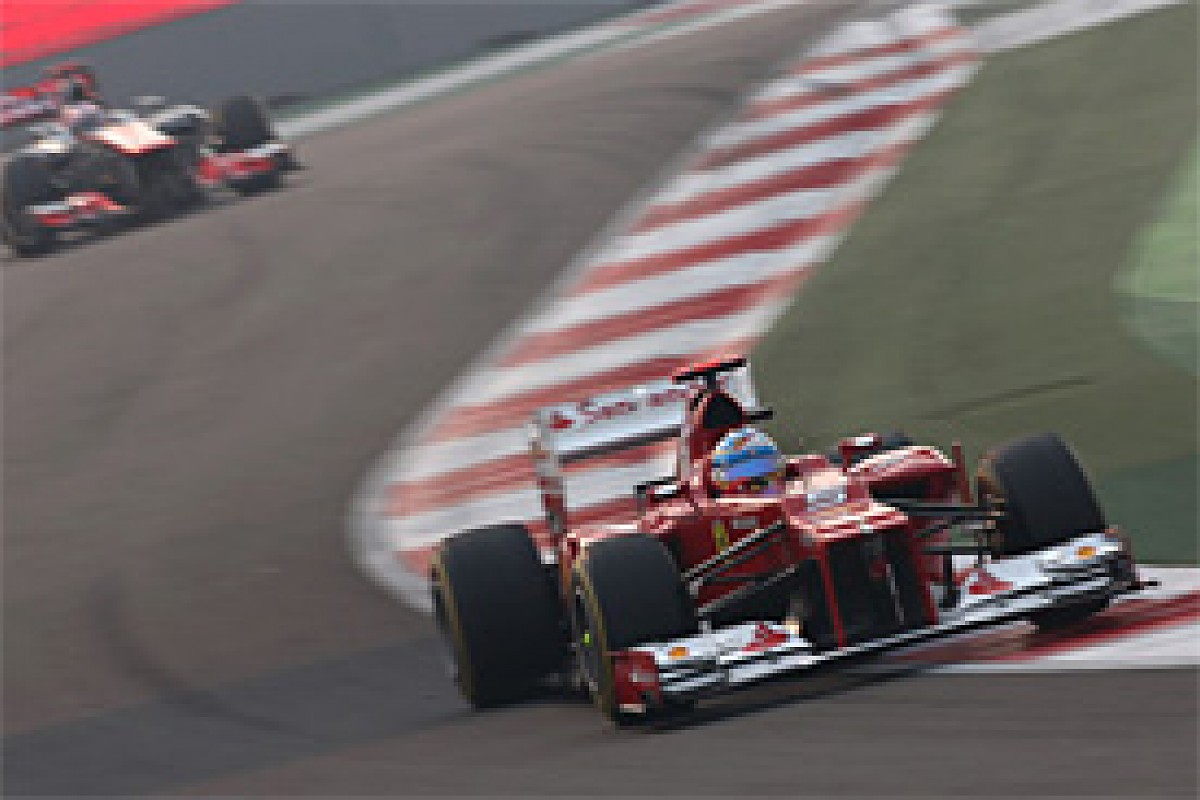 Alonso also set new records in India © LAT
• Fernando Alonso completed a remarkable feat in India. By coming home runner-up, he has now finished in first or second place at every circuit where he's completed an F1 race. He raced twice at the Austrian A1 Ring but he never finished, retiring in 2001 and 2003 for mechanical reasons.
This one is not a statistic per se, but it's worth noting that Alonso is the only driver among the first seven finishers in India who improved his position from his grid spot. Fernando went from fifth to second, demoting by one place Webber, Hamilton and Button.
India was also Alonso's 140th race in the points. That's the same number as Rubens Barrichello. Schumacher leads that all-time list at 220. Further back Button matched Coulthard on 121 and Kimi Raikkonen finished his 110th race in the points.
• Webber recorded his first back-to-back podium since Canada and Germany last year and joined Massa on 34 in total. They share the 23rd all-time spot.
• McLaren tied Ferrari's record of 55 straight races in the points. As often happens for points- related stats, it's always worth considering that Ferrari recorded its string when points were awarded to the top-six/eight drivers (Malaysia 1999-Malaysia 2003) and not the top-10 of now. McLaren's sequence, for example, remained alive in Korea only because of Lewis Hamilton's 10th place.
• For the first time in his career, Nico Hulkenberg strung three points finishes together in a row. For the third straight race, Paul di Resta finished 12th. It's his fifth 12th place this year - no one else has recorded as many in a single season in F1's history!
• Schumacher, who holds the record for consecutive points finishes (24), posted four straight races without a points finish after India - for the first time in his career.
Qualifying
• Vettel took his 35th pole position last weekend. It was also the 45th for Red Bull and the 115th for a German driver. In doing so he matched Jim Clark for front-row starts (48).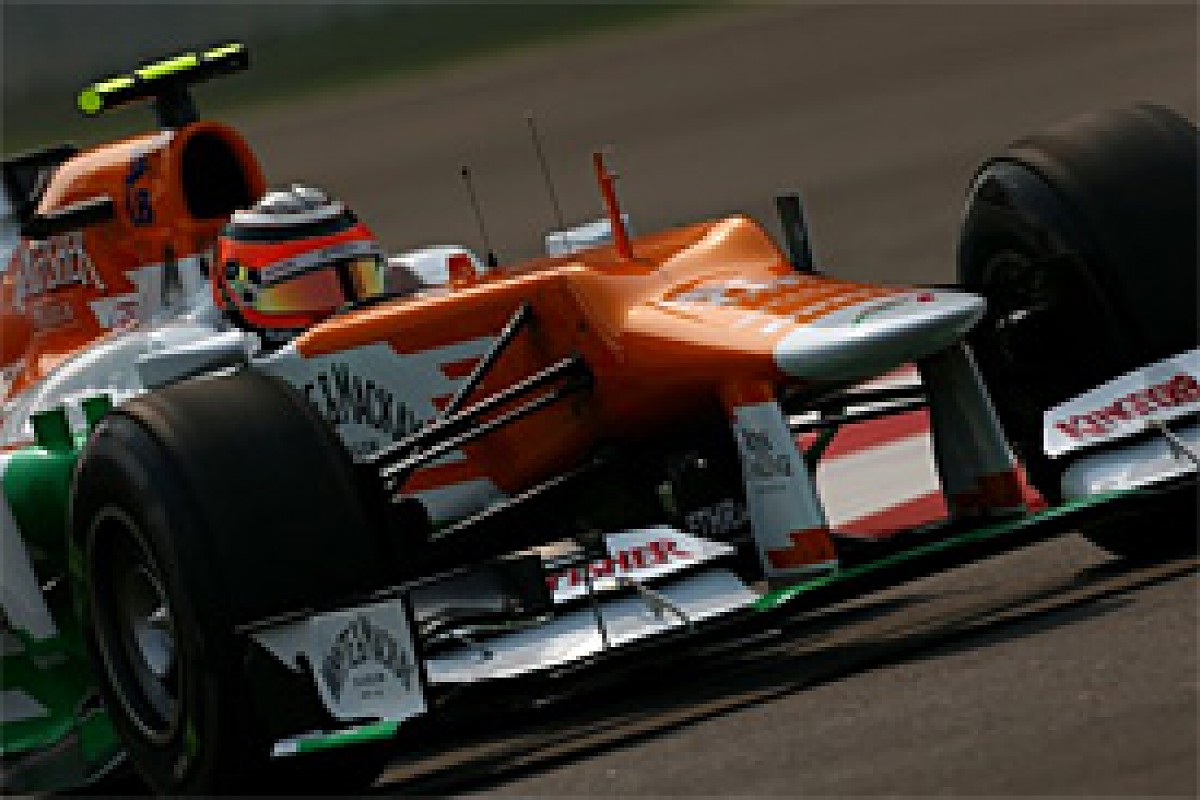 Hulkenberg was in the points again © LAT
• Webber recorded his first back-to-back start from the front row since the European and German Grands Prix of last year.
• Webber and Vettel now count 18 front rows together, the same number of a well-known McLaren duo from the last decade - Mika Hakkinen and David Coulthard - and another from the early years of F1: Juan Manuel Fangio and Alberto Ascari. But in those days, of course, the grids counted as many as four cars on the front row.
• This was the second time in history that two Red Bulls, two McLarens and two Ferraris started in formation on the first three rows of the grid. The other occasion was last year's Singapore race.
• This was only the third time this season that Romain Grosjean didn't start in the top 10, the other being the German GP, and at Monza (when he was serving a ban).
• Force India had at least one car in the top 10 in the 11 races prior to its 'home' round, where it failed to continue the streak - Hulkenberg was 12th and di Resta 16th.