In India, Sebastian Vettel continued his astonishing turnaround in fortunes with a fourth straight victory, and while his advantage over Fernando Alonso equates to a little less than a third-place finish, the impressive form of the RB8 means that it's going to take some serious misfortune to derail him.
The writing appeared to be on the wall from the start of the weekend, as Vettel topped all three practice sessions. Qualifying itself was perhaps closer than expected, with the McLarens seemingly in touch.
Depending on to whom you talked to, McLaren, Ferrari and Lotus all had race pace with which to potentially challenge Red Bull.
"Practice is the usual thing - you never know what fuel loads people are on," says Adrian Newey. "So it's not until you get to qualifying that you've got any real idea. "The circuit keeps evolving. When the gaps are so small then very small changes in balance and fuel load make a big apparent difference."
The one thing everyone did learn was that tyre degradation was low, and as the weekend went on a one-stop strategy became increasingly likely - although the top teams still weren't able to fully commit to it before the race.
For the guys on the Red Bull pitwall, the first concern was the start. In Korea, Vettel and Mark Webber gave each other just enough space, and they did the same again this time.
Sebastian Vettel and Mark Webber, Red Bull RB8, 2012 Indian Grand Prix © LAT
"We talked about the start, and Mark was very fair, as they both were in Korea," says Christian Horner.
"They raced each other to the first turn, it was a diminishing gap, and I think Mark did the responsible thing and needed to tuck in to make sure he got a good run down the second straight.
"With the bow wave that the cars created, you could see the tow that Fernando managed to get was quite remarkable. The drivers worked together extremely well there."
Crucially, both RB8s were able to open a little margin on their pursuers as the McLarens and Alonso lost time scrapping with each other. And once again Vettel was supreme over the first couple of laps on cold tyres.
"Obviously the key thing is to break the DRS initially," says Newey. "And then if possible build up enough of a gap so that if somebody pits behind, you can't be undercut."
Like the other drivers he was able to push harder than is usually the case, given the low degradation, but there were still a few concerns.
"We were unsure going into the race whether it would be a one-stop or a two-stop," Horner admits. "So therefore we didn't take too much out of the tyres in the early part of the race, so it was a question of monitoring what was going on behind us, and managing the tyres.
"We were pretty light on the tyres this weekend. We didn't suffer particularly badly on Friday, so it wasn't something we expected to be an issue here."
By coincidence or not Vettel went faster just as Webber - who hit a KERS problem - went slower.
One could speculate that Seb was told Mark had an issue and it was as good a time as any to hammer home his advantage and extend the gap.
Between laps 19 and 23 it jumped from 4.4s to 8.4.s, and Webber in turn also fell back towards Alonso.
Horner just says Seb simply upped his pace as it had become clear there were no tyre concerns: "He then wanted to see roughly what pace he still had in the car at that stage. And of course if you do pick up DRS as well from a backmarker, that could be worth half a second."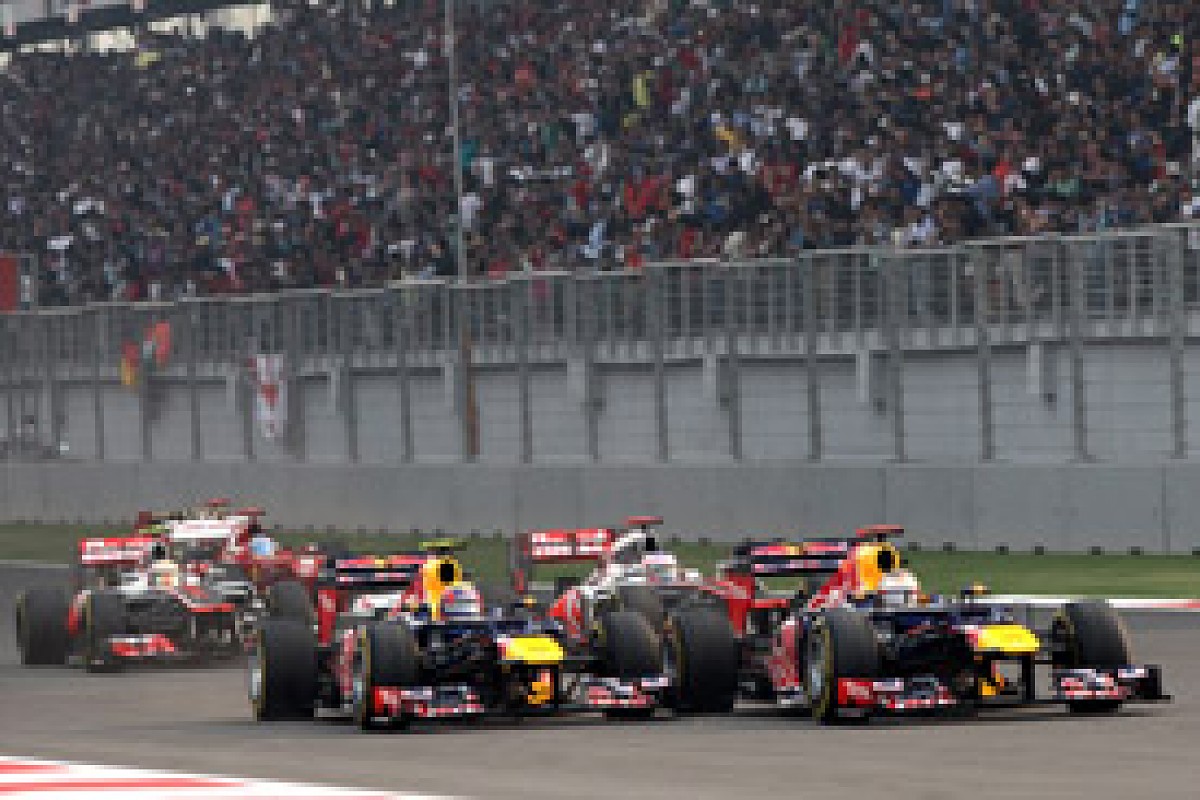 Mark Webber, Red Bull RB8 suffering a KERS problem during the race © LAT
Not for the first time a KERS issue struck Webber rather than his team-mate, although it was a random event, caused by overheating.
"The guys did a good job to get it going again," says Horner, "albeit in a reduced power mode, so he was actually only a couple of laps without the KERS."
Meanwhile, there was some consideration given to stopping twice, at least before Vettel got past the window where it would have made sense.
"It was nip and tuck at one stage, whether you looked at it," says Horner. "Especially as we had enough time to pit - certainly Sebastian had cleared Hamilton and he could have pitted into free air, run again, and then gone onto the prime, so we were giving it consideration.
"But the feedback he gave us from the car was that he was very happy with the amount of grip and tyre life that he had, and wanted to stay out longer than we did in the end."
By then any worries about the soft tyre had long since vanished, as Newey confirms: "You're always concerned, of course, but once he started to get towards the lap-30 mark then you're pretty safe.
"You've already taken, let's say, the equivalent of two laps out of them in qualifying, so at that point you've run over half distance on the options; you should be pretty safe on the primes."
Alonso pitted on lap 29, and that triggered a stop from Webber - who was some 11.2s behind his team-mate - a lap later. Vettel was the last to come in, on lap 32, which guaranteed that he maintained his record of leading every lap of the last three races.
"With Seb we obviously wanted to be last to stop if we could, so we knew what tyres everybody was fitting," Newey explains. "Let's say Fernando, for example, had put options on, then we would have had a bit of a dilemma - what do we do?" The last 28 laps of the race were pretty straightforward for the world champion, at least initially.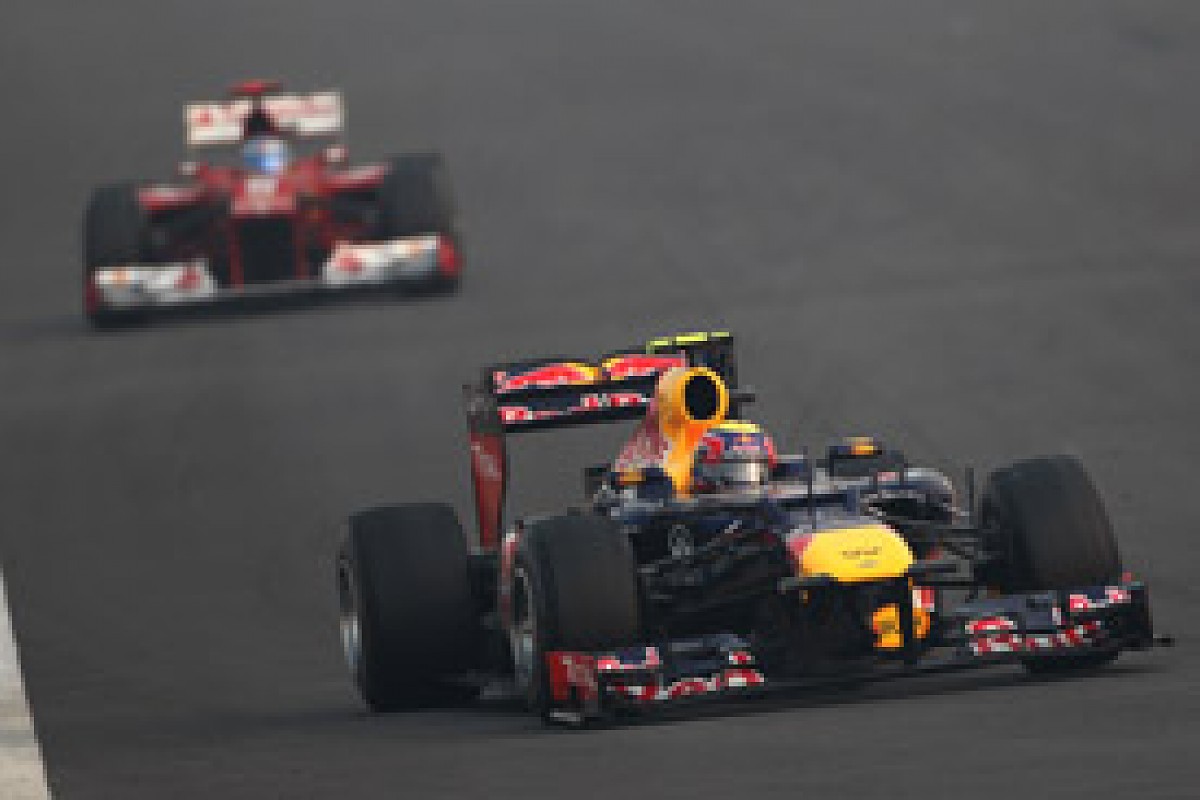 Adrian Newey kept an eye on both cars this weekend. © LAT
"Certainly in the first stint we were very strong, and then it was a question of managing the race in the second stint," says Horner.
"The Pirelli guys were fairly nervous about the harder tyre doing a long stint, so therefore we just wanted to make sure we didn't take too much out of the tyre."
However, things got slightly more stressful when Alonso passed Webber for second. The Aussie had struggled on with his KERS problem, and was never fully up to speed.
"It was intermittent about mid-race," says Newey. "Then from about five laps into the second stint it was pretty much off. Round here KERS is about 0.4s a lap, plus lots of straightline speed.
"So the loss in lap time and the fact that he was a sitting duck on the straight made it pretty easy for Fernando."
"We reinstated the KERS but it wasn't running at its optimum," says Horner. "Together with a backmarker - I think it was Karthikeyan - Mark lost a huge amount of time lapping him, and then once Fernando got into the DRS zone, within two laps it was so powerful today that was enough to get him past." While Vettel kept an eye on the gap to Alonso, Webber had to focus on keeping Lewis Hamilton behind and hanging onto his third place. He did well to keep the McLaren at bay.
"He did a great job to keep the gap just big enough to keep Lewis off his tail," Newey says. "The traffic today was horrendous. Both cars lost a lot of time getting through some of the backmarkers.
"Seb had enough of a cushion, it wasn't a problem. But if you lose 0.6s or even a second in one sector when you're battling like that, it's a real handicap."
In the end Vettel crossed the line 9.5s ahead of Alonso, establishing a personal record of four straight wins. It would have been fascinating to see how hard Fernando could have pushed him had he, say, qualified second, and not lost time working his way through the McLarens.
Attention now moves to Abu Dhabi, and it's worth remembering Vettel's first-lap puncture in 2011 as an example of how quickly things can change. This is not over yet.
"I've said before, trying to forecast the way it's going to go at any given race is fraught with problems this year," says Newey.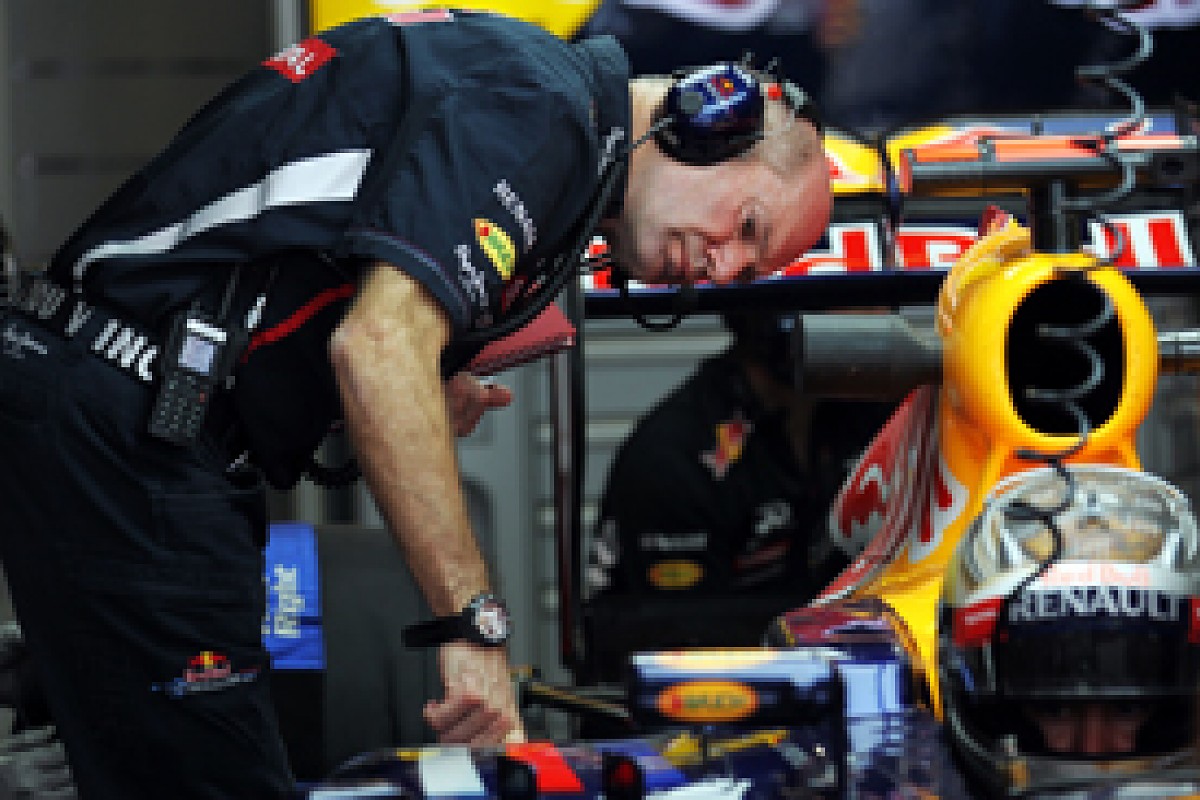 Fernando Alonso, Pit stop © LAT
"We don't know what developments other people have got coming, we don't know how the tyres will suit their cars versus ours, and so on.
"It's so close, so that if Seb suddenly had a DNF it could all look very different. "What's happened in the last three races is no guarantee, as we've seen this year. All we can say is it's been a very good three races for us, obviously."
The big question is why has it all come together so spectacularly over the last few weeks? In the end it's down to RBR's relentless hard work, as Newey confirmed: "It's taken us a while to understand the car with the bans on the exhaust technology and, to a lesser extent, the front wing."
"We've worked hard, we've tried hard to understand the regulations," says Horner. "Obviously the changes in the regulations over last winter had a significant effect, particularly on us.
"We've just got our heads down and tried hard to get performance to the car. "There hasn't been a silver bullet, it's been a pure case of working hard to understand these tyres and the regulation changes. The team has done a super job in achieving that."