There weren't many position changes, but this was flat-out racing like we used to have. For everyone except Red Bull's Sebastian Vettel, that is.
Pirelli brought what turned out to be a conservative choice of compounds to India. The hard/soft combination made a one-stop easily achievable - even for a Mercedes. This, in turn, meant drivers were able to race all-out pretty much from start to finish, give or take a bit of fuel saving. The usual necessity of having to start the first stint 2-3s off the pace in order not to damage the tyres on a heavy fuel load could be forgotten.
"It was fantastic," said an elated Lewis Hamilton after chasing Mark Webber's KERS-less Red Bull home and just failing to grab third from him off the line. "I can't remember when I was last so on the limit almost to the point of going off. We've not been able to do that for a while because we've had to look after the tyres. But this was flat-out the whole way. I loved it."
But Vettel's race wasn't like that. In taking his fourth consecutive victory - his third consecutive start-to-finish demonstration - he didn't really extend himself until lap 22. By which time he was already over 7s ahead of team-mate Webber, 9.5s clear of the first genuine rival, Fernando Alonso's Ferrari.
Knowing he needed to get to around lap 25 on the softs, Seb had cruised the early stages once his customary opening-lap sprint was done, 1.2s ahead of a team-mate unable to race after the first turn. So, with that lap-25 target in sight and the tyres still feeling in good shape, he let rip - just to see what he could really do. He improved by a full second.
Vettel led from the start and never looked back © LAT
That's how much he had in hand, and even when he maintained that pace he was able to run to way longer than lap 25. Vettel and the RB8 were in a different league, just as they've been since Suzuka; the first triple consecutive start-to-finish winner since Ayrton Senna in 1989.
"It was too easy for him," said Hamilton. "But he did a great job." That's as close to a compliment Lewis is ever likely to give Seb, the guy taking all the records he believes should be his.
The previous day Alonso - a fabulous second here, splitting the Red Bulls thanks to a) Webber's KERS failure and b) a wonderfully tenacious drive in the Ferrari that comprised 60 'qualifying' laps - had said he didn't feel he was competing against Vettel so much as against Red Bull technical chief Adrian Newey. Which is unfair on Vettel, a brilliantly gifted driver and ferocious competitor.
Seb alluded to the RB8/Newey deconstruction after the race when he said: "There's not one thing that stands out and makes the difference; not today, not yesterday, not this weekend. It's all of us working hand in hand together. Here on the track or back at Milton Keynes, everyone is pushing hard and that's what makes the difference. I'm very, very happy and glad to be a part of it."
That said, for the past three races the RB8 has allowed the team to revisit 2011 levels of domination. It's creating competitive paranoia among the team's rivals, several of whom were wondering how that 'tea-tray' section at the leading edge of the floor could remain so flat and unperturbed throughout the lap after footage was shown from a TV camera mounted low on the nose and facing rearwards.
That paranoia was only intensified when, eight laps from the end, sparks flew from that tea tray at the end of the long back straight. How could it be dragging its floor on the ground when so light on fuel, when the ride height has to be set to accommodate an extra 150kg at the start? Well, actually, it was just that Seb had hit the Turn 7 kerb particularly hard the previous lap, breaking the aluminium stay, which had then broken off and briefly been trapped between the tea tray and the passing 190mph track surface.
Talk to good engineers who've looked at the car, and they'll tell you that the essence of the car's improvement in form seems connected to how well it's responded to the double-DRS feature, and that the reason for that is to do with those unique tunnel inlets on the rear bodywork feeding the diffuser.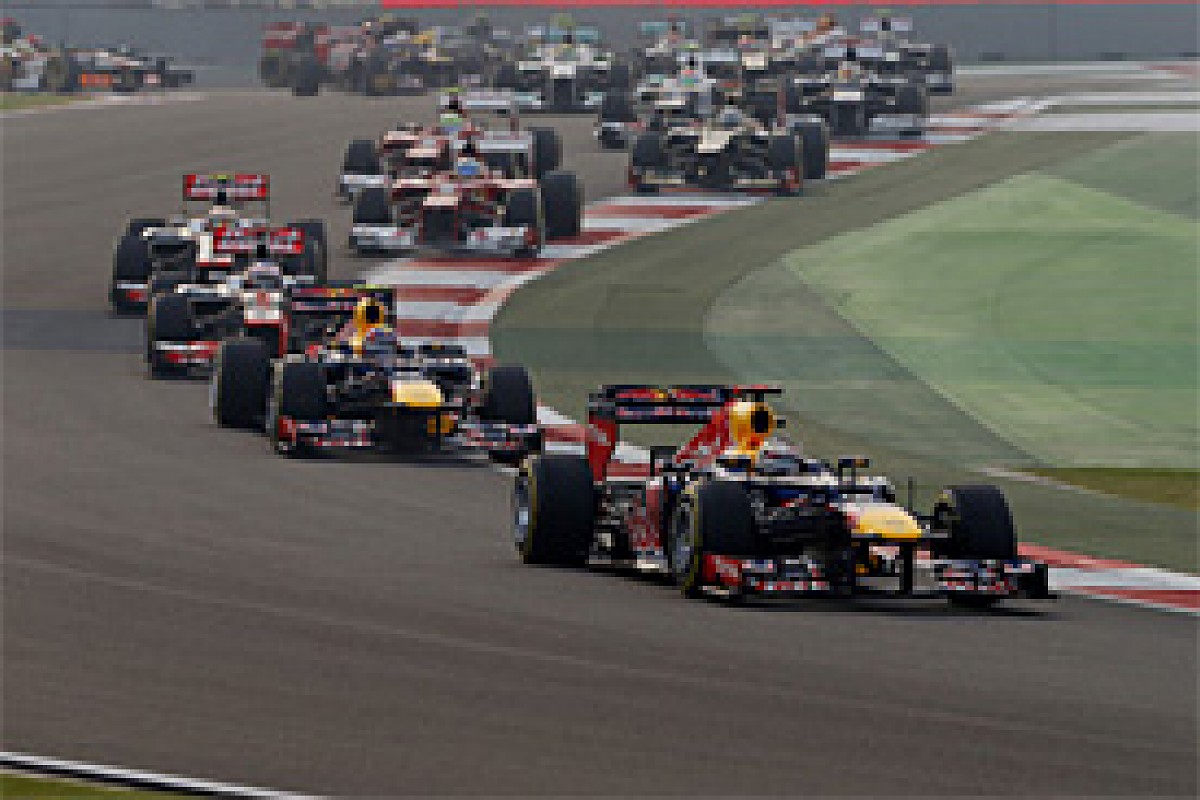 Vettel's floor issues did not affect the German © XPB
Normally through a high-speed corner, with the downforce pressing down hard, the diffuser will stall, there'll be a momentary reduction in downforce, the car will rise and the diffuser airflow will re-attach, With the RB8's system, as soon as that diffuser grounds out it simply sucks harder through those tunnel inlets, thereby maintaining downforce for longer and more consistently.
That would certainly help explain how that tea tray moves so much less than on rival cars: the downforce is more consistent. It would also tally with Hamilton's observation of Webber's car as he chased it down: "He was so fast through that middle section [comprising high-speed curves] it was unbelievable."
Earlier in the race it had appeared unlikely that Hamilton would even get near Webber. As the two RB8s sat on the front row of the grid amid the smoky haze of the Buddh circuit, noses down, you could see they were running more rake than any other car.
Their exhaust-blown diffusers may be nowhere near as effective as last year's regulations allowed, but they're still more powerful than any rival, allowing that hugely aerodynamically beneficial nose-down stance. All they had to do was get cleanly away at the start - and they did so, Vettel from Webber.
Mark's start was slightly better, in fact, and it looked as though he could easily have sat it out with Sebastian into Turn 1. But he didn't force the issue; just tucked in behind as the number 1 car swept across to take up the line. Things were a little fruitier off the all-McLaren second row as Jenson Button got a much better start than Hamilton, passed on his right and had so much more momentum he was then able to sweep left for a better approach to the downhill snaking right-left of Turns 1 and 2.
"Again," cursed Lewis afterwards. "I don't know why I keep having these terrible starts. Jenson got a flying start - he always does - and I've asked the team to tell me what I'm doing wrong."
Alonso was right behind them as the pack swarmed to the uphill approach of the Turn 3 hairpin, racing towards the sky, apex out of sight over the brow. The Red Bulls sprinted cleanly out of there, clear of the squabbling chasers already, just like in South Korea. With everyone heavily fuelled, the Red Bulls' low gearing and great traction from all that exhaust-enhanced low-speed downforce spat them out of there so much faster that their slower speed at the end of that long straight (194mph, 22nd and 23rd fastest, versus 199mph for the Ferraris) didn't matter.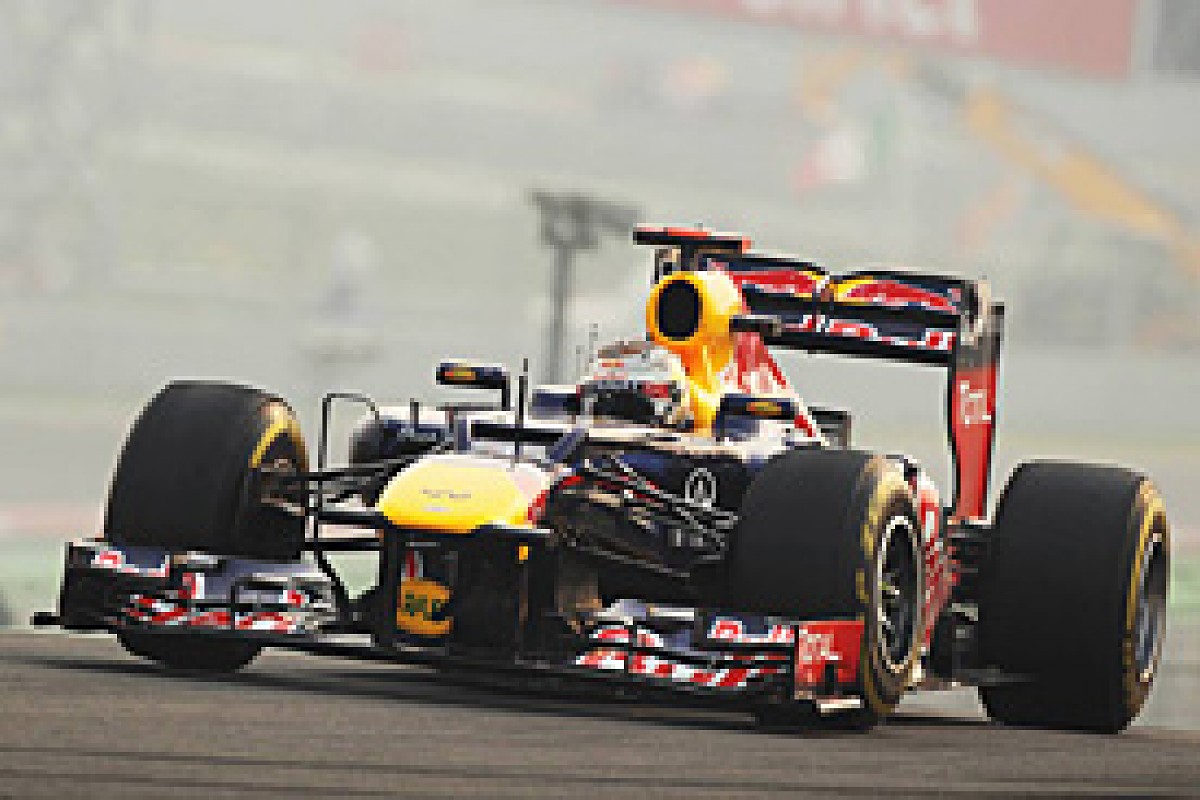 Hamilton lost out to Button at the start © LAT
As they accelerated out of Turn 3, Button was briefly thinking about maximising his exit to try to get a run on Webber, but that aim was rendered obsolete a couple of seconds later as Hamilton slipstreamed past him to the right.
The bow wave in the air created by the Red Bulls and two side- by-side McLarens as they pushed up and beyond 170mph made for the most fantastic vacuum that allowed Alonso a spectacular slipstream. Furthermore, the Ferrari's seventh gear allowed it to keep pulling after the McLarens were on their rev limiters.
Fernando kept his foot buried as he second-guessed which way Hamilton would move, then jinked to the right and past. As he braked, so Hamilton came sliding down his inside and Button locked up to his outside, the Ferrari briefly pincered by McLarens. They scrabbled out of the turn still fighting, Button's outside line there putting him on the inside for the run down to the fast left of Turn 5.
Alonso's more-circumspect approach to T4 had given him a better exit and, as Hamilton jinked right to avoid contact with Button, he came close to hitting the Ferrari, which nonetheless was able to get back ahead. Button took up his line into T5, chopping across Alonso's nose. It was a fabulous and beautifully judged piece of pure racing from three world champions - and it would prove to be the highlight of the afternoon. It also played further into the hands of Red Bull.
As DRS was enabled at the end of the second lap, Vettel was already 1.7s clear of Webber and pulling away, while Button was a further 2.5s back again. Jenson, in fact, wasn't happy with the car's feel, and on the fourth lap Alonso was close enough at the first DRS-detection point just before Turn 3 that he was able to use his DRS to slipstream effortlessly by on the back straight. Two laps later Hamilton did the same - and Button began falling away.
"There was a bit of rear movement," he explained, "making the car feel a bit nervous, but then I began to destroy the fronts as well. We couldn't really do much with the balance to help the front tyres. For some reason I always end up with more understeer than Lewis and we just can't get enough front end dialled into this car."
But even Hamilton could do nothing with it. After passing Button he continued to fall back from Alonso, at an average of around 0.5s per lap. "The car wasn't working well on the softer tyre," said sporting director Sam Michael. "That trait was there basically all weekend. The average performance gain from hard to soft was 0.8s but we couldn't get anywhere near that at any stage of the weekend. We were getting everything out of the prime but not the option."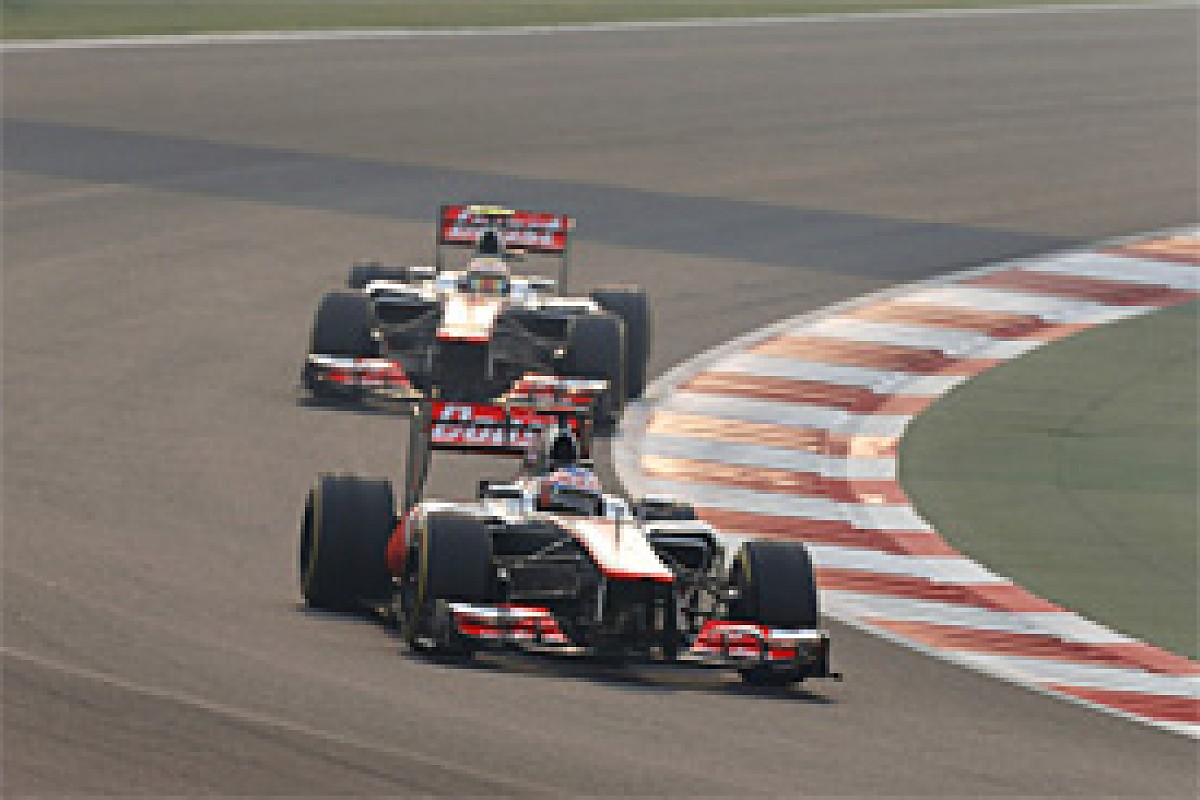 Alonso flew past the McLarens on the back straight © XPB
Even Button's tyres weren't degrading fast enough to warrant a two-stop. He was the first of the front-runners in, on lap 25. A set of fresh primes [the harder tyre] went on, easily durable enough to do the remaining 35 laps. Unfortunately, he rejoined behind Romain Grosjean, who had started his Lotus on the long-running hard tyres, and would be stuck to that pace for the next 11 laps.
Teams had started the race hoping to be able to one-stop - as it was anything between 5-15s faster than a two, thanks to the low degradation rates borne of the benign surface and the conservative compound choice. But there was a concern, as at Monza, about wear of the inside shoulder of the right-front, dragged across the track against the camber as the inside tyre through the fast sweep of Turns 10-11.
It didn't affect the performance, but if it got down to the canvas you'd need to come in. But the rubbering-in of the track meant this never became an issue, and up and down the pitlane the two-stop strategy disappeared off the radar.
Although Vettel continued to ease clear, Webber was regularly the fastest through the fast sweeps of that middle sector - which was surely taking more from his tyres. When the time came for Vettel to step up the pace on lap 22, with the fuel load now past its worst, he had more tyre life left than Mark.
But Webber had more pressing concerns than that. From lap 20 onwards his KERS was overheating and he was instructed to turn it off for a few laps to cool. Prior to this he'd been maintaining a gap of around 4.5s over Alonso, who continued to absolutely nail the Ferrari. Thereafter Webber's times increased by around 0.5s per lap and, by the time he was allowed to use the device again four laps later, Alonso had that gap down to 1.8s, relentlessly on it and sniffing blood.
With his KERS back, Webber eased the gap back out over Alonso to 2.4s, before having to switch it off once again on the 28th lap. Alonso pitted next time around and Red Bull responded by bringing Webber in, Fernando making up a vital 0.4s on his in-lap. The Red Bull continued in second for now, but Webber was having a trying day at the office - juggling between settings is the last thing you need with Alonso coming at you.
Hamilton had been struggling with a reluctant downshift for most of the distance, because of a steering-wheel fault. As he pitted on the 32nd lap, the team completed a remarkable change of four wheels and a steering wheel in 3.3s, Lewis quickly underway again despite the very different clutch/ gear procedure. What's more, now on the prime tyres the McLaren would soon be flying and cutting back into the deficit to Alonso.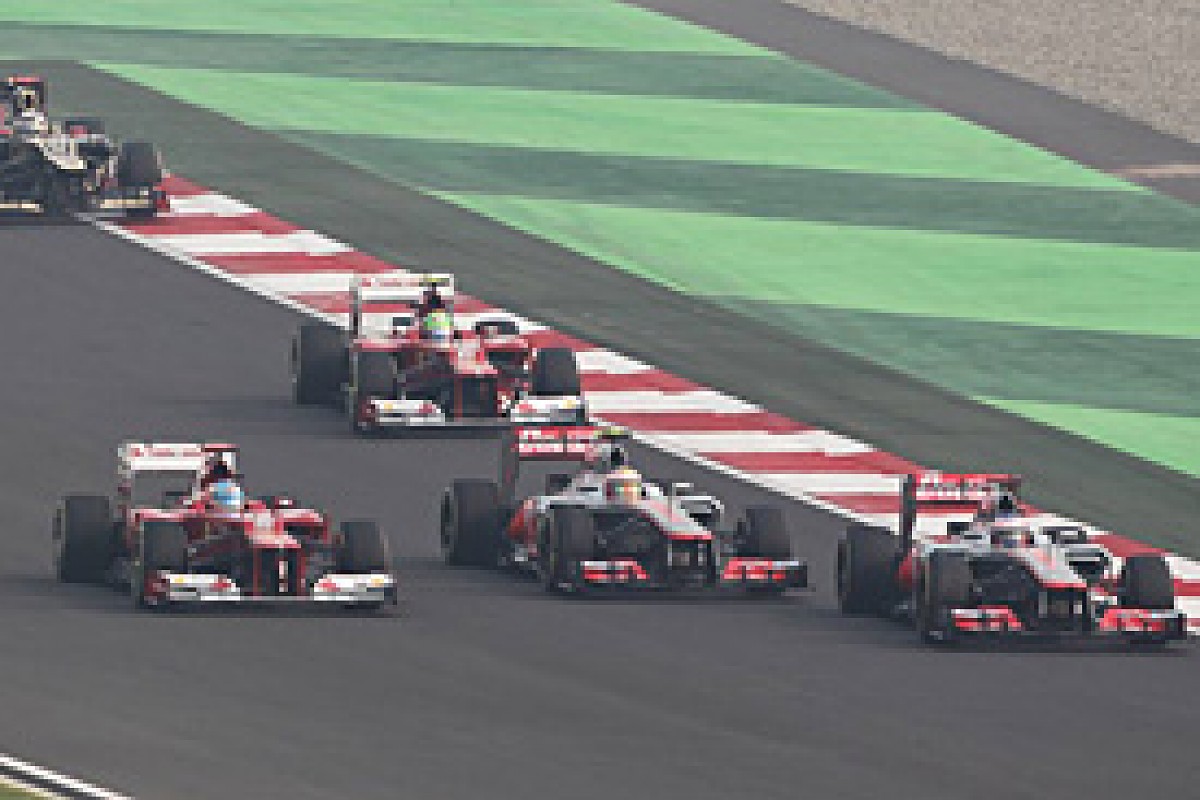 Webber's KERS started to fail on lap 20 © XPB
Vettel had wanted to go on even beyond the 33rd lap, but Red Bull was adamant he should come in. He was stationary for just 2.6s while a set of primes was fitted. With all the stops done, he led Webber now by 12s. Mark's KERS was working again, but Alonso was just 1s behind.
As Hamilton closed on that battle, Button was behind the yet-to-stop Grosjean. He got alongside the Lotus into Turn 4 and tried bullying him aside, but Romain wasn't having it and it was Button who locked up in avoidance. Once Grosjean had pitted, Button was suddenly setting Hamilton-matching times and it was clear that the McLaren was much happier on the hard tyres. The Red Bull was perhaps slightly less suited to them, Webber describing them as 'a bit more high-maintenance.'
As Alonso relentlessly closed him down, and he continued having to alternately use and not use KERS - making the appropriate brake-balance changes each time - Webber was finding it difficult to keep a rhythm. He locked up into Turn 3 on lap 38, as he desperately tried to keep the Ferrari from getting into the DRS zone. Backmarkers weren't his friend on this day, either. "The guys [being lapped] don't know how much they kill us in the fast corners. When you're racing Fernando, well, he's going to be all over that stuff."
When the KERS went for good, Webber was easy meat. On lap 48, with 12 to go, Alonso used the Ferrari's prodigious straightline speed to zap him on the run to Turn 4. Hamilton's charge by this time had brought him to within 4s of them, and now he too closed quickly on the crippled Red Bull. Mark pushed hard enough to delay Hamilton's arrival onto his tail until the last couple of laps.
Lewis was giving his all and, as he desperately tried to get within 1s at the DRS-activation point on the penultimate lap, he locked up in a big way. This effectively got Webber off the hook.
Button was going even faster and set the race's fastest lap last time around. Thirteen seconds earlier, Vettel had taken his fourth straight victory. In a season during which seven different drivers won the first seven races, could one man be set to win the final seven? Alonso defiantly doubts this. "I think Brazil [the final race] will be good for us," he said after a quite fabulous performance, "and hopefully that's going to be a happy grand prix for us."
Some way behind Button, Felipe Massa had kept the faster Kimi Raikkonen behind his Ferrari the whole way for sixth. The speed of the Lotus was evident, as in the opening stint Raikkonen would drop back into clear air, then close back up on the Ferrari at a pace comparable with that of the Red Bulls at the time.
But he couldn't get within sniffing distance down the back straight, not even with DRS, such was Massa's end-of-straight speed advantage. Massa was fourth in the speed-trap listing, Raikkonen last, 6.5mph slower.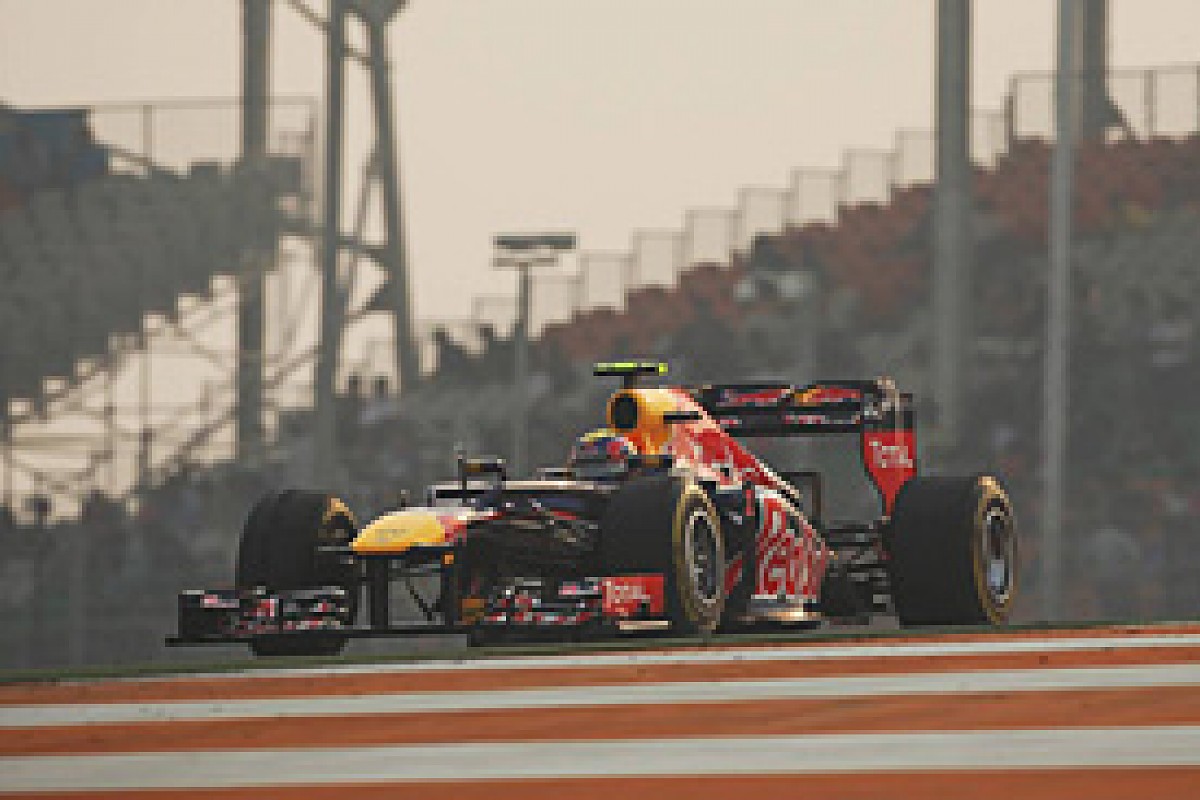 Massa beat Raikkonen to sixth © XPB
Ironically, the roll-bar change that had spoilt Kimi's car in qualifying was probably helping here, keeping the tyres in good shape. Lotus brought him in on the 27th lap, attempting the undercut. Ferrari responded a lap later.
The Ferrari stop was marginally faster and Felipe exited just ahead of the Lotus, but on his warmer tyres Raikkonen was able to sweep past between Turns 2 and 3.
That, it seemed, was that and we'd now get to see the Lotus unleashed... Which was to reckon without Massa getting his DRS open to comfortably re-pass the Lotus. Kimi was to be stuck there for the rest of the afternoon, at Massa's fuel-conserving pace.
The battle behind them was initially between Sergio Perez and Nico Hulkenberg. After three laps of trying, the Force India finally nailed a good pass on the Sauber for eighth, Hulkenberg forcing his way ahead between Turns 4 and 5.
A couple of laps later Perez would be in the pits with a blistered right front. A few laps after that he would be out after puncturing a rear tyre against the front wing of Daniel Ricciardo's Toro Rosso.
After winning a battle with the Williams pair of Pastor Maldonado and Bruno Senna, and then making his late stop, Grosjean put pressure on Hulkenberg for eighth, but the Force India held on.
Senna, meanwhile, took the final point off the Mercedes of Nico Rosberg in a spirited and strategically challenging performance that also netted him second-fastest lap. On a day where, uniquely in 2012, everyone was able to lap flat out the whole way, that was an impressive achievement.
But no one was impressive enough to be a threat to the championship leader. And, as the taxis and tuk-tuks gathered outside the gates for the 50,000-odd who'd come to watch, Vettel prepared to download to Newey in the Red Bull debrief room, each encouraging the other to keep their special stuff coming.