Sounds familiar, doesn't it? Sebastian Vettel is leading the drivers' championship and Red Bull has the best car. But while the superficial details are largely the same, Vettel's path to a possible third consecutive title has been very different to that of either of his previous two. So, too, will his journey to a possible third crown over the final four races of the 2012 season.
One of the great joys of watching the career of someone like Vettel, as with all the great drivers - not least title rival Fernando Alonso - is seeing how they react in various extreme situations. With subtly different pressures to deal with, we learn a little more about what they are made of with every crunch race. After all, when it comes to elite sport, it's as much a mental game when you're gunning for the final fraction of a per cent that makes the difference between winning and losing.
Last year, we learned that Vettel had taken a significant stride in his march to greatness. And he's still getting better. His 2010 campaign had been scrappy, coming alive in the closing stages. He was never favourite and, as he has been in the previous few races in 2012, was playing catch-up. But, crucially, he went to the season finale in Abu Dhabi as an outsider for the title. This year, if he plays his cards right, it will be a little different.
Vettel took the title against the odds in 2010 © LAT
Vettel's 2011 campaign was utterly polished. Frankly, after he had won the European Grand Prix, it seemed inevitable that he would be crowned champion. At that point, it would have required a turnaround the magnitude of which has never been seen in F1. Without, that is, one of the protagonists having a near-fatal shunt at the Nurburgring.
In 2011, we saw a Vettel utterly in control and at one with his machinery. Just look at the way that he destroyed Mark Webber over the season for proof of that. So comfortable was he that he was able to lay it on the line just for the sake of it, such as the way he took a bite of the grass while passing Alonso for the lead at Monza.
Despite all the criticisms of him having the best car, the Red Bull was not streets ahead of its rivals. It's just that the Vettel/Red Bull combination was. Few drivers have managed to pull that off so effectively over a season. Many more have squandered the golden opportunity to do so.
While the Red Bull, right now, is the class of the field, you can make a compelling case that it hasn't been over the course of the season. On raw pace terms, the McLaren has been consistently stronger and were you to give a driver a choice of any of these cars to race over the course of a whole season, they would head to Woking (and hope that the early-season pitstop blunders and the costly reliability problems don't strike again).
So we have seen, as everyone demanded, Vettel struggling with a car that isn't the best. Thereabouts, yes, but the best, no. There have been a few mishaps along the way in this tricky situation. Expecting to get away with passing Jenson Button at the exit of the hairpin at Hockenheim was stupid and a consequence of a touch of exasperation.
Likewise, when he attempted to take vengeance on Alonso at Monza by forcing him onto the grass at the Curva Grande, he neither did it quite as precisely as the Spaniard, nor took into account the change in regulations dictating on-track ethics.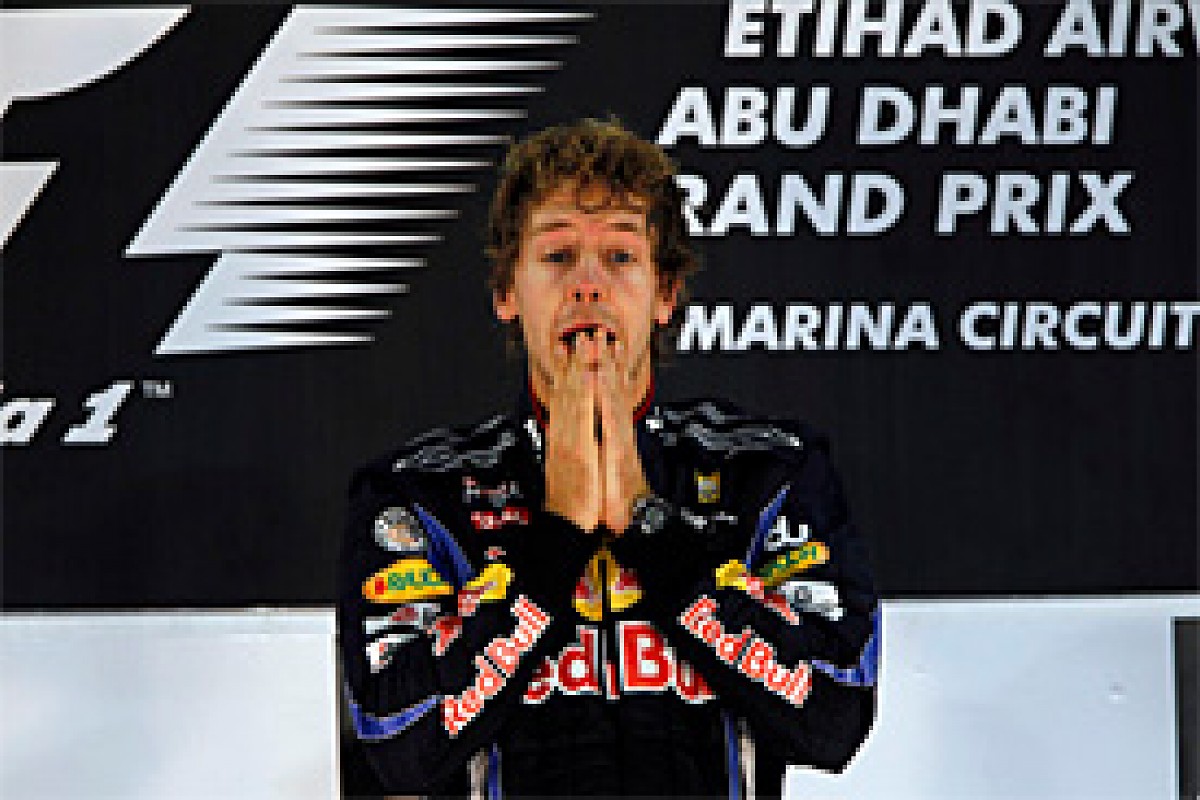 In 2011, Vettel was flawless and secured his second title © LAT
Hockenheim, in particular, is the race he should look back on most scathingly, for unlike the 30 plus points forsaken at Valencia and Monza to alternator problems, the loss in Germany was down to his own misjudgement
Vettel's season has certainly been very good, but unquestionably not quite as good as last year. Were you to award the world championship on subjective merit after 16 races, it would go to Alonso. But Vettel has shown an ability to drive development in the direction he wants over the season. The result is a machine that is now behaving as he wants it to, giving him the total confidence to commit that he had in spades last season, but not always this year.
How he comes out of the challenge of the next four races will define his season. He appears to hold all of the aces, but given that Alonso is unlikely to repeat his blunder at the start of the Japanese Grand Prix, Vettel has a limited amount of room to manoeuvre.
If he slips up in one race, he might need to win the other three to be absolutely certain of the title. There is very real pressure there, and pressure of a different kind to what we've seen him under before.
This time, he's neither an outsider on a charge, as he was two years ago, nor utterly in control. He has little margin for error and has an all-time great in Alonso breathing down his neck. And that's the most intense pressure of all, even if the Ferrari is, on current evidence, an inferior machine.
On paper, it looks a done deal. But Vettel still has a lot of work to do.