So this is it. Barring any last-minute surprises, the world championship battle has effectively distilled down to a battle between Sebastian Vettel and Fernando Alonso.
A poor run of form for Lewis Hamilton and Kimi Raikkonen has seen them fall away from the Red Bull and Ferrari men, with just four races remaining. The fat lady might not have sung yet, but she is about to finish her dessert and is ready to warm up her voice.
For even if Raikkonen won the remaining four races (which would be some feat considering he has yet to stand on the top step of the podium so far this campaign), Vettel would need just 53 points to secure the crown. He would need even fewer if Hamilton triumphed everywhere.
That means a mixture of thirds and fourths at each race - something he has done with ease this year, even at times when his car was not as competitive as it is now.
But while a straightforward head-to-head for the crown may not be quite as tantalising as a five- or six-driver shootout, as had appeared possible earlier this year, it still offers us the prospect of a fascinating battle between two of the sport's mega-stars.
And while Vettel might clearly be the man of the moment - having strung together a run of form that none of his rivals has been able to replicate all year - the fight with Ferrari is far from done.
For, while a fortnight ago as the lights went out on the Suzuka grid, Alonso and Ferrari may have felt that playing the percentages game would be enough to stay clear at the top of the standings, that's now no longer the case.
Ferrari has gone from hunted to hunter, and boss Stefano Domenicali will have returned to the team's Maranello base this week to urge his troops to do everything they can to produce the kind of update package that can close the gap to Red Bull.
Alonso, from hunted to hunter © LAT
How the title battle pans out from here is anybody's guess, but one interesting aspect to consider over the remaining five weeks of this season is which of the two deserves the championship the most?
Both have got pretty strong cases.
Vettel's recent amazing run of form in a season characterised by the inability of anyone (else) to find consistency is the kind of brilliance that's worthy of championship titles.
He had a tough opening part to the campaign, being far from comfortable with the handling of his RB8 when its definitive exhaust package appeared at the final pre- season test at Barcelona.
Red Bull swiftly got on top of matters, and while he might not have had the car to win regularly, he kept his focus and ensured that when the opportunities were there he was able to deliver.
His advantage is just six points right now, but you can't discount the points he lost in Valencia - which would have been a certain win - plus the potential of a podium at Monza.
He could easily have another 40 points under his belt, which would leave him on the verge of an amazing third consecutive drivers' championship.
Yet Alonso equally has a case to put forward that his points tally doesn't reflect what he's been capable of this season. Domenicali was eager to point out on Sunday night in Korea that the turnaround in title form - from Alonso's 40-point advantage pre-Spa to a six-point deficit - did not show the true story.
Alonso's first-lap exits in Belgium and Japan meant he did not compete in two of the five races that have spanned that gap.
At Spa he was an innocent victim of Romain Grosjean's error - costing him a potential podium place - while at Suzuka he was unlucky to puncture his tyre when he misjudged where Kimi Raikkonen was on the track as he tried to edge away from Jenson Button on the blast down to Turn 1.
Judging by Felipe Massa's run to second place in Japan, there is little doubt Alonso would have finished on the podium if he had been running.
So there are easily 30 points that he could already have - which would paint a very different picture in the championship table for him too.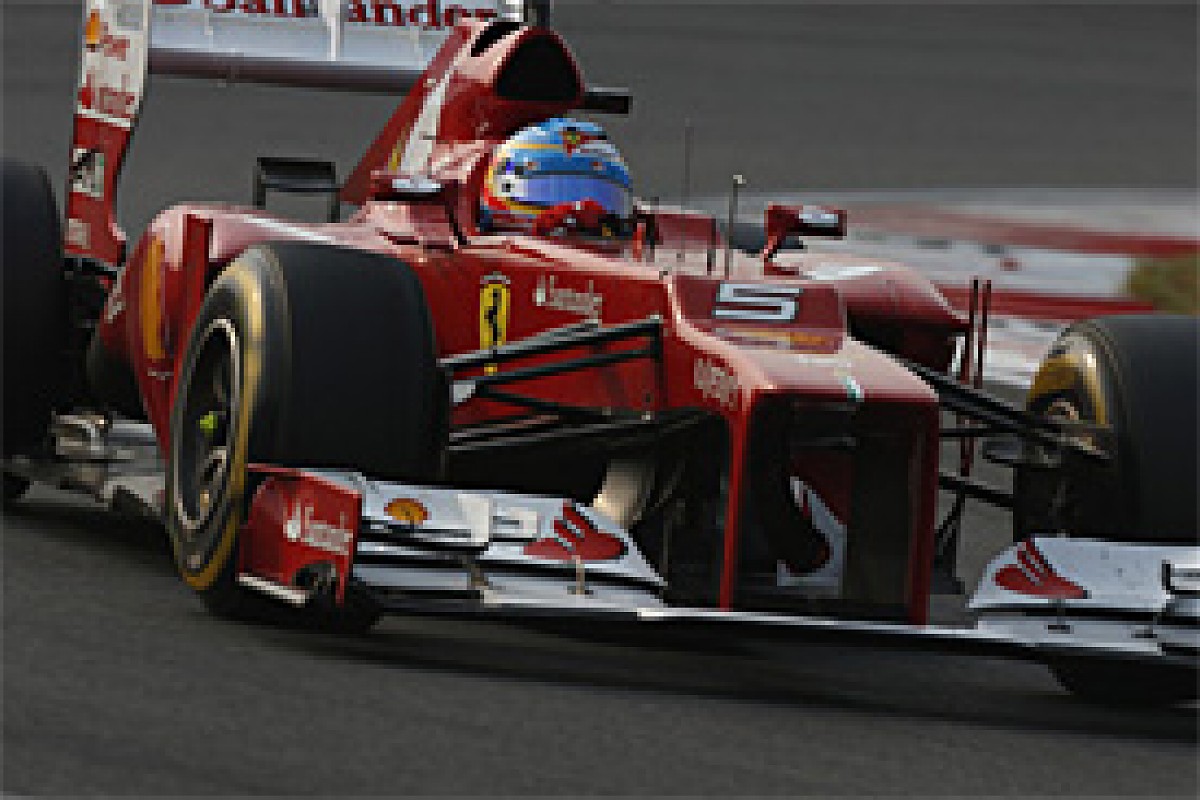 Vettel is the man on form now © LAT
Yet unlike Vettel's campaign, which has been built on getting his car into a dominant position, the foundations of Alonso's season have been based on outperforming his machinery brilliantly and making the most of every opportunity thrown his way.
There's been a splash of good luck too, because without the rain on Sunday in Malaysia or on qualifying days at Silverstone and in Germany, he would not have delivered anywhere near the points he gained at those events.
But F1 is about making the most of every slim chance you get, and Alonso has been the master of that in a car that's not been a match for the opposition.
So which of the two deserves the title the most? The man who has kept his cool during troubled times and performed flawlessly when his team has delivered him the best car?
Or the man who has driven out of his skin and extracted every result possible in inferior machinery? (How many weekends has Ferrari had the out-and-out quickest car?)
The nod at the moment has to go to Alonso, simply because if he pulls this championship off it will be one that was about driving excellence and not machinery.
What chance would anyone have given him and his team of gunning for the crown after those opening tests, when the full extent of the team's troubles with the F2012 became clear?
Yet there remains a chance for Vettel to prove over the next four races that he too fully deserves this crown.
Having moved to the head of the title chase, the four-race mini-championship that remains will offer us a fascinating insight into how he copes with the pressures of defending from the front, rivals breathing down his neck, and dealing with the prospect of losing it all at the last hurdle.
There is everything to play for, despite some suggesting that the title is now only Vettel's to lose.
Go forth you two and show us what you've got - and give us the answer as to who really deserves this championship.