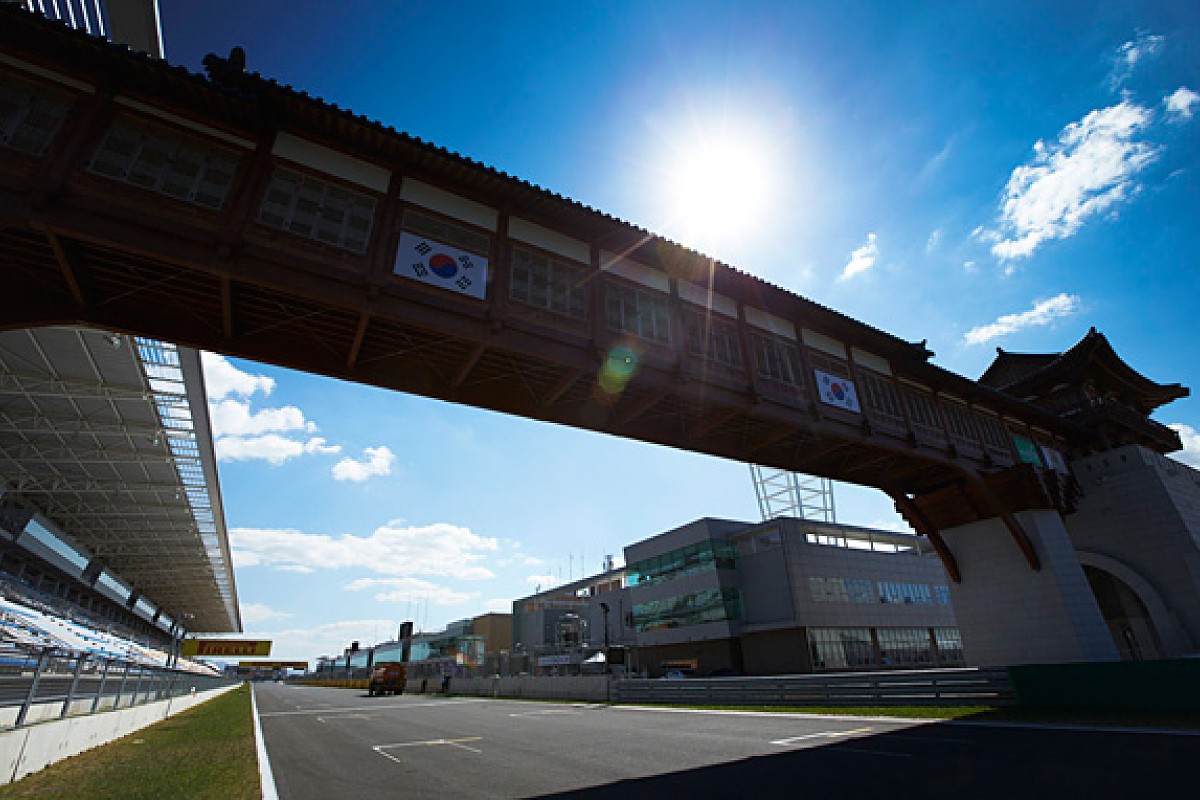 The Korean Grand Prix is one that's always struggled to win over the doubters. After a first year marred by bad weather and a second event that took place amid doubts about its future, this season's race at Yeongam was supposed to be third time lucky - the breakthrough opportunity for the organisers.
In a year when Korean culture has become so huge, with every music-radio station and TV channel pumping out the delights of K-Pop, there were plenty of reasons to feel it could ride on the wave of popularity surrounding local music hero Psy.
Yet somehow the race failed to hit the spot, with a paddock tired-out after two weeks on the road left counting down the days until they could head home rather than getting excited about the grand prix.
Its location doesn't help, being a four-hour trek from Seoul, while the circuit remains surrounded by open fields and sea, rather than the city and marina that was part of the original plans.
And the lack of accommodation for the travelling circus, which means the continued use of 'love hotels' for the weekend, doesn't help matters either.
Yet it's not all bad in Korea. Mokpo has improved considerably since the first race in 2010, with more decent restaurants and bars, plus the attraction of baseball and golf simulators. And the locals are as friendly as you could hope for.
Perhaps it will just take time for Korea to establish its identity, and the race to become an attraction to the locals. If the grandstands are full and the spectator banks packed, then the atmosphere is transformed - which gets reflected in the paddock.
Then there would be a real chance for the race to become a success.

No matter what changes in your life, it's been said that a song has the power to take you back instantly to a specific time or place.
For the F1 paddock, whenever the global hit Gangnam Style gets played it'll forever take us back to the 2012 Korean Grand Prix.
Having achieved worldwide fame with his K-pop hit and music video - which is the most liked in YouTube history - it was a no-brainer for race organisers to try to cash in on Korean rapper Psy's popularity.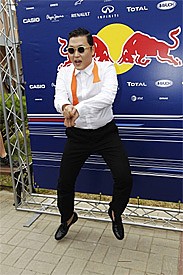 Korea's star Psy © LAT
He was duly appointed as race ambassador and made an appearance in the paddock, showing off to Red Bull duo Mark Webber and Sebastian Vettel the famous 'horsey dance' that's become his trademark.
"This is incredible," he said as he tried to teach the pair how to time their moves. Vettel had something more pressing to ask, in reference to a line in the song. "So, where are the sexy ladies?" laughed the German.
At the start of the weekend, there had been much enthusiasm for the song - and the dancing. Sky TV's Natalie Pinkham had got half the paddock bopping along, and a very enthusiastic Ted Kravitz joined in to help recreate a bus scene from the video.
But you can have too much of a good thing. And just as Psy's waving of the chequered flag was not done with the same enthusiasm that he has on stage, so too F1 was getting a bit tired of the song by the end of the weekend.
For F1, it will be Oppan Gangnam Style no more...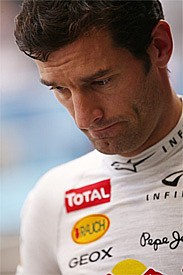 Mark Webber is one of the paddock's biggest 'sports' fans, with a love of anything that pits man against man in competition.
He organises his charity Tasmania Challenge each year, he was bowled over by the experience of spectating at the Olympics this summer, and he's known to follow as much competitive action on TV as he can.
Ahead of the Korean GP, Webber got to see the highs and lows of sport in two contrasting moments.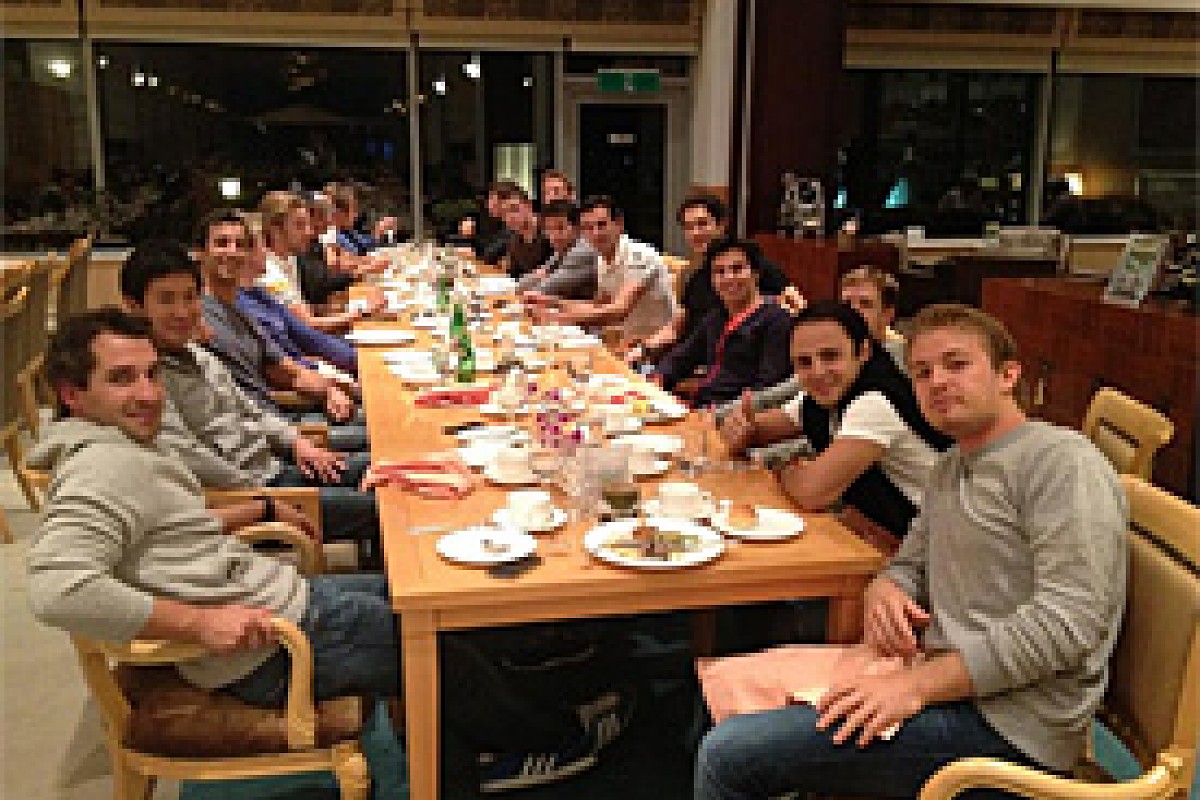 Mark Webber © LAT
On the downside, he was deeply disappointed by the latest revelations surrounding the Lance Armstrong doping scandal that has rocked cycling, and he delivered an interesting comment during the Thursday press conference.
"I was a keen cycling fan through the early 2000s. But slowly, slowly, slowly, over time lost a little bit of passion for the sport," he explained.
"It has been quite obvious, in the last few years, that this was probably going to come, from people on the inside, but the dam wall has now broken and I think that obviously he was the last tree in the forest they wanted to drop down, and a big tree at that.
"It's good that they're trying to clean the sport up, and even retrospectively it sends a message to lots of different sports that irrespective of what you've achieved and how you've done it at the time, we'll come and get you."
On the more positive side, between Japan and Korea Webber turned chauffeur for someone very special: the 'fastest' man in the world, Usain Bolt.
The six-time Olympic gold medallist was in Tokyo as part of a promotional tour with Nissan, and Webber was on hand to help out, even standing at Narita Airport arrivals with a sign for the Jamaican.
The pair spent time together blasting around Tokyo and chewing the fat over their different sports. For both men it must have been amazing.
Some F1 drivers stay away from Twitter, some don't get on with it, while others have embraced the format and made it work as a way of getting closer to the fans.
In Korea, there was a lot of talk about Twitter after Lewis Hamilton's mistake in accusing Jenson Button of 'disrespecting' him after he wrongly thought he had been 'unfollowed'.
F1 drivers having dinner in Korea
Hamilton apologised to Button, and admitted that perhaps he and Twitter did not 'get on'. He's not been back on it since.
Button himself was amazed that there had been so much interest in the matter and such in-depth analysis of who he was and wasn't following.
"We are all allowed to choose who we want to follow," he said. "That's the fun thing about Twitter. You don't always follow the same people, mix and match. There are millions of people on Twitter. I see Lewis every weekend.
"I followed Sergio [Perez] purposefully because I wanted to say welcome. That's the only reason I followed him, and now I can't unfollow him because I'm not allowed to do anything on Twitter these days! I'm stuck! I can't unfollow anyone any more!"
While the Button/Hamilton Twitter issue proved to be a storm in a teacup, Daniel Ricciardo showed exactly how effective the social media could be in providing a window to a world that fans never get to see.
On Thursday evening, the Grand Prix Drivers' Association held a dinner and Ricciardo tweeted a fantastic picture from it. Oh to have been a fly on the wall that night listening to those conversations!