Sebastian Vettel and Red Bull took a firm grip on both world championship titles with a third straight win in Korea, and while it might not have been as easy as he made it look, few would bet against the German making it hat-trick of crowns in 2012.
He's been helped in recent weeks by a slump in the fortunes of Lewis Hamilton and McLaren, which continued in Korea.
After a nightmare race during which everything that could go wrong appeared to do just that, Lewis crossed the line in a humble 10th place, poor reward for a hard afternoon's work.
For a third race in a row he was hampered by a mechanical failure, and yet despite a sea of troubles he fought all the way to the flag, earning unreserved praise from the boss of the team he will be leaving at the end of November.
"Everything that the world could have thrown at him was, and he was just tenacious and a fighter," said Martin Whitmarsh.
"In one sense I've got to be bitterly disappointed with the afternoon, in the other I've got to be immensely proud, because in those circumstances it would be very easy not to be fighting as hard as he was.
"You could see all the way through, with an awful balance on that car, he fought with everyone. That's Lewis as a great, great racing driver. So I'm immensely proud of him, but bitterly disappointed with the result."
Hamilton's world has been turned upside down since lap 23 in Singapore, when he dropped out of the lead with gearbox failure.
Hamilton had a testing weekend in Korea © LAT
He was remarkably chilled afterwards, content perhaps with the knowledge that since the summer break he had been the man to beat, with wins in Hungary and Italy and three poles in four races.
Whether that retirement also contributed to his decision to leave McLaren is something only Lewis can say, but we can assume that despite the focus on his future he went to Suzuka confident that with the pace he'd shown in the previous races he could still overhaul Fernando Alonso and win the 2012 title.
Alas in Japan he suffered an undetected rear damper failure, which badly compromised his qualifying and left him a humble ninth on the grid.
Helped by the first-corner chaos eliminating a few rivals, he slogged away to finish fifth. Meanwhile, Vettel's second win in a row showed which way the wind was blowing, and there were further signs in Korea last weekend.
Relieved that the Suzuka issue had been resolved, and that the reasons for his mediocre performance had been made public, Hamilton was on good form in FP1, topping the times.
But thereafter things went awry and he lost his way on set-up, only really getting his act together in Q3, where with a little Lewis magic he pulled third place out of the bag.
Hamilton made his life harder when he lost out to Alonso on the first lap, but was running a solid fourth and in a position to regain the podium slot when the gremlins struck again on lap 18. This time it was a rear anti roll-bar failure, unrelated to the issue in Japan.
Suddenly faced with understeer, Lewis wasn't able to diagnose the problem, referring to a loss of front downforce on the team radio. It was only after he stepped from the car and met sporting director Sam Michael that he found out the precise cause.
"I did ask," he said later. "They said we know what the problem is. The team said it was safe to drive, so I kept pushing and pushing as much as I could. The balance was changing from corner to corner."
A look at Hamilton's lap times tells the story. Lap 17 and 18 were 1m44.8s and 1m44.9s - then after the failure he went 1m46.1s, 1m46.6s, 1m47.0s and so on. Felipe Massa demoted him a place almost immediately, and then he got caught up in a fight with Kimi Raikkonen.
Whitmarsh hailed Hamilton's drive in Korea as 'heroic' © XPB
"Until the roll-bar failure Lewis was fighting for a place on the podium," said Whitmarsh. "He had an absolutely terrible car to drive, he had poor balance, he was absolutely destroying the tyres; in truth at that point I didn't think we'd get to the end of the race on the tyres we had available...
"So you've got to give credit to Lewis for a fantastic drive. It's very easy in those circumstances to give up.
"The fight he had with Kimi was great. Kimi is a great racer, and it was a tough one, they were both robust. Kimi could clearly see he was fighting Lewis with a wounded car.
"It would have been so easy the first time he got passed to say, 'This is silly,' but he didn't, he just went out there and fought everyone."
The problem then was that the car was punishing its front tyres even more than it normally would at Yeongam. Just 13 laps after his first stop, and eight laps after the breakage, Hamilton was back in the pits, some eight or nine laps ahead of schedule. To add insult to injury, he lost a little time in the pit with a slow right-front.
Initially we heard Hamilton being told to take it easy so he could go to the end on that set of new soft tyres - a marathon 29 laps. To be fair, it was fine in theory, as Pastor Maldonado ultimately ran a remarkable 34 laps to the flag, while Paul di Resta did a handy 27.
For Lewis, the task was to prove impossible. He was soon being told to push and use up the tyres before an unplanned third stop, and no doubt the change of emphasis caused frustration in the cockpit.
"It was an easy two-stop race, which is why all the top cars did that," said Michael. "The reason why we had to change to three is because of the problem with the rear anti-roll-bar. Once it fails, the balance keeps shifting around and you end up damaging the tyres.
"You're in a roll moment that you didn't set the car up for, so it's very difficult to drive and not damage the tyres. It meant we put a lot more duty cycle into the rubber than we expected to, so we had to do an extra stop."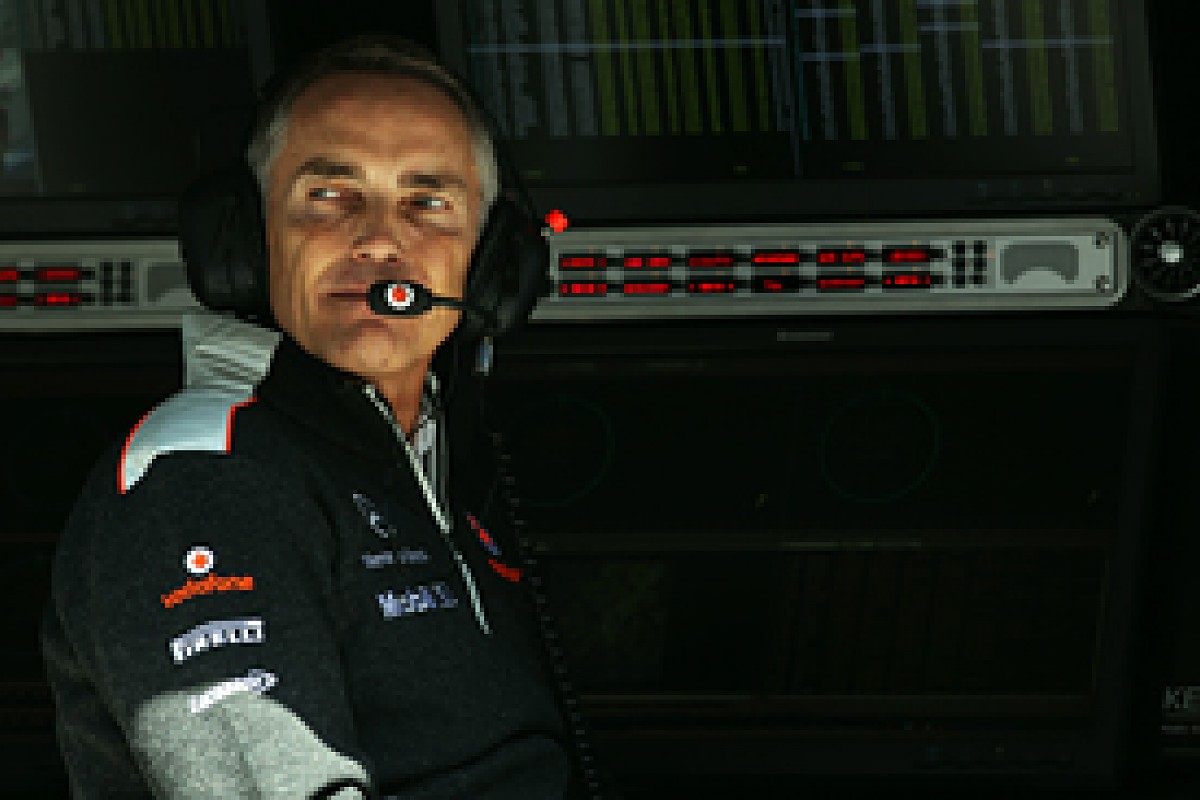 Hamilton had to make three stops © LAT
"He fell away, it was destroying the tyres and the balance was gone," said Whitmarsh. "We did all we could at the stops with tyre pressures and the front wing all we've got to try to counter it, but the car must have been horrendous to drive.
"It's not easy when you know you've got a wounded car like that. He knew it wasn't going to get any easier, and he also knew in all probability that he was going to put in one more stop than everyone else."
Later Hamilton found himself fighting with Nico Hulkenberg and Romain Grosjean, somehow keeping the Frenchman behind before he came in for set of used supersofts on lap 42, leaving himself with a 13-lap run to the flag.
He emerged in 10th place with hopes of chasing down the two Toro Rossos, but any chance of that happening vanished when of the 20 cars still running it happened to be Lewis who scooped up a section of loose Astroturf.
"It was just in addition to how badly it was already handling!" he joked. "It was very tough at the end, because that Astroturf was stalling the rear floor.
"In some places I had hardcore understeer, and it led me to go off trying to overtake someone. I didn't have much rear downforce, so it was very, very tricky to even keep the 10th place."
But he made it home, and the fact that he was holding off the man who is replacing him next year may or may not have provided a little extra motivation.
Whitmarsh, meanwhile, was full of praise for his driver: "The fact that he was there fighting with Kimi for quite a few laps, and Grosjean, and then actually caught the Toro Rossos at the end, when [his car] was eating its tyres and he had that balance problem, was truly remarkable.
"Then with four or five laps to go when he should have been able to get past the Toro Rossos he picked up the Astroturf which finished the day off.
"He was very lucky to stay ahead of [Sergio] Perez and rescue that one point. In terms of commitment, dedication and sheer determination to get one point, it's incredible.
"There's not much we can take that's positive from this, but I think his drive was truly a great one. I'm immensely proud of him, as I told him."
After the race, Hamilton made his frustration clear about a third successive failure "on my side of the garage", but to that you could add the fuel system issue that stopped Jenson Button at Monza, making four races badly compromised by problems.
It's unusual for such things to be happening late in the season.
"Absolutely, it's something that shouldn't happen," admitted Michael. "There's no such thing as unfortunate. You need to look hard at your processes and make sure you're doing all the right things.
"You make your luck in this business in my experience, and we need to go back and take stock."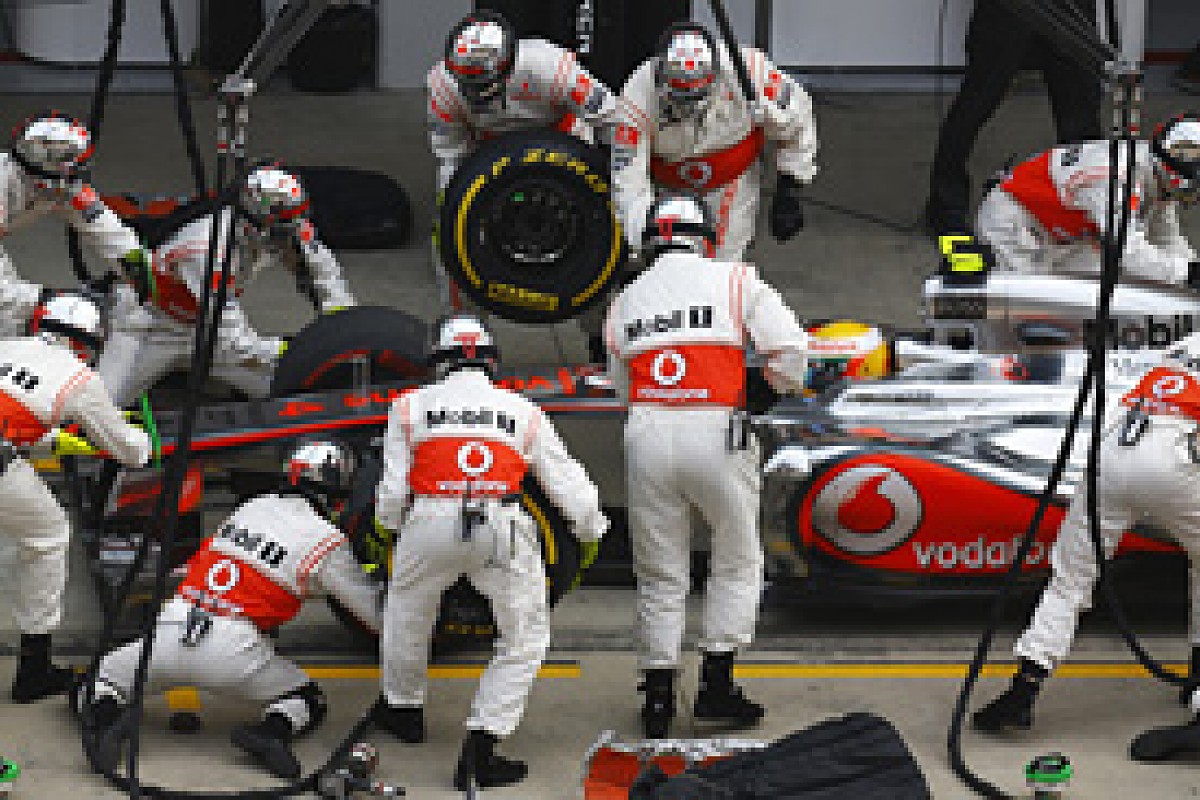 One by one, his rivals passed Hamilton as he struggled with the car © LAT
"It's disappointing," said Whitmarsh. "I don't think we can make any excuses. We've got to make sure those things don't happen."
The loss of Button to an accident beyond his control was even more galling for McLaren, given that he had started on the prime tyre and had already made a big step by getting ahead of the two Mercedes. His strategy should have seen him finish well up the order.
"He made a great start," said Whitmarsh. "He got past both Mercedes, which we wanted to do because we knew they'd have - or we believed they'd have - relatively high degradation.
"And actually he was going to be in great shape and would have got quite close to the front running that strategy. Most things that could have gone wrong this afternoon did, I would say..."
Both championships continue to slip away from McLaren, and indeed Felipe Massa's recent resurgence has helped Ferrari to move into second place.
While there are four races in which to make amends, it's out of the team's hands - Red Bull and Ferrari are going to have to hit problems.
"It's incredibly tough," said Whitmarsh of McLaren's title chances. "Just as Lewis didn't give up today, that should be the inspiration for the team. We're going to be fighting. We can win those races, and that's all we can try to do.
"In motor racing you have some good days and some bad days. I can't remember many much worse than this one, but I think the team is resilient. We've got to arrive in India focussed, make sure the reliability issues are solved, and do anything we can to win those races."
"It's not helpful for the championship," said Michael of the Korea weekend. "But we'll pick ourselves up and try to push on to at least get ourselves back to second in the championship.
"The car is fast enough to do that. There's no reason why in these last four races we can't get ourselves up there, and we still haven't given up on winning it yet.
"It only takes one bad race for the Red Bulls - if they have a day like we had today and we're first and second then it's all back on again. The car is fast, we've just got to make sure we work on reliability."
It would be easy to suggest that Hamilton might now lose interest, given that he's conceded that his title hopes are all but over, but Korea proved he should never be underestimated.
"I guess the pressure is now off; I guess that's us out of the championship," he said on Sunday. "It's tough because there's been so much work from the team, so much work to try to win this thing.
"We were still in the fight up until today, but it's too far away now. But we'll keep fighting to get as high as we can in the constructors' championship."