Hosting this lunch with Sir Jackie Stewart feels somewhat surreal. Back in 1967, I remember waiting patiently by the BRM truck for his autograph and then watching in awe as he provoked the hefty BRM H16 into a power slide through Becketts during practice for the British Grand Prix.
Seven years later, as a fan posing as a journalist, I blagged my way into a BMW 7-Series as he took a bunch of writers around the Nordschleife during a lull in practice for the German Grand Prix. I never uttered a word, but I wrote a story about that journey (how could you fail to find the right words after such an experience?) and the piece was published, thus providing the leg-up I needed into the world of motorsport journalism.
Since then, our paths have crossed in various ways, from my keeping lap charts for him during his days as a commentator for ESPN to joining his birthday dinners, which usually fall around the time of the Canadian Grand Prix.
And here I am now in the Old Plow in the tiny Buckinghamshire village of Speen, watching Sir Jackie Stewart cross the pub car park with that familiar bouncy manner. It's a reminder that, despite his fame, fortune and status, the triple world champion remains the same man he was at Silverstone in 1967. I know instinctively that this lunch will be insightful and wide-ranging. But slightly surreal nonetheless.
Maurice Hamilton: Before we get going, I wanted to ask about that podium interview you did at Silverstone this year. Where did that come from?
Sir Jackie Stewart: I have no idea. They asked me on Sunday morning. They said, "We'd like you to ask each of the guys a question or two, but keep it short. And by the way, the drivers won't know it's happening and it'll come after the champagne spray." I thought, 'Well thank goodness for that!' It was straightforward and all three drivers delivered very well. They even took the chance to thank the crowd after all they had been through with the weather and so on.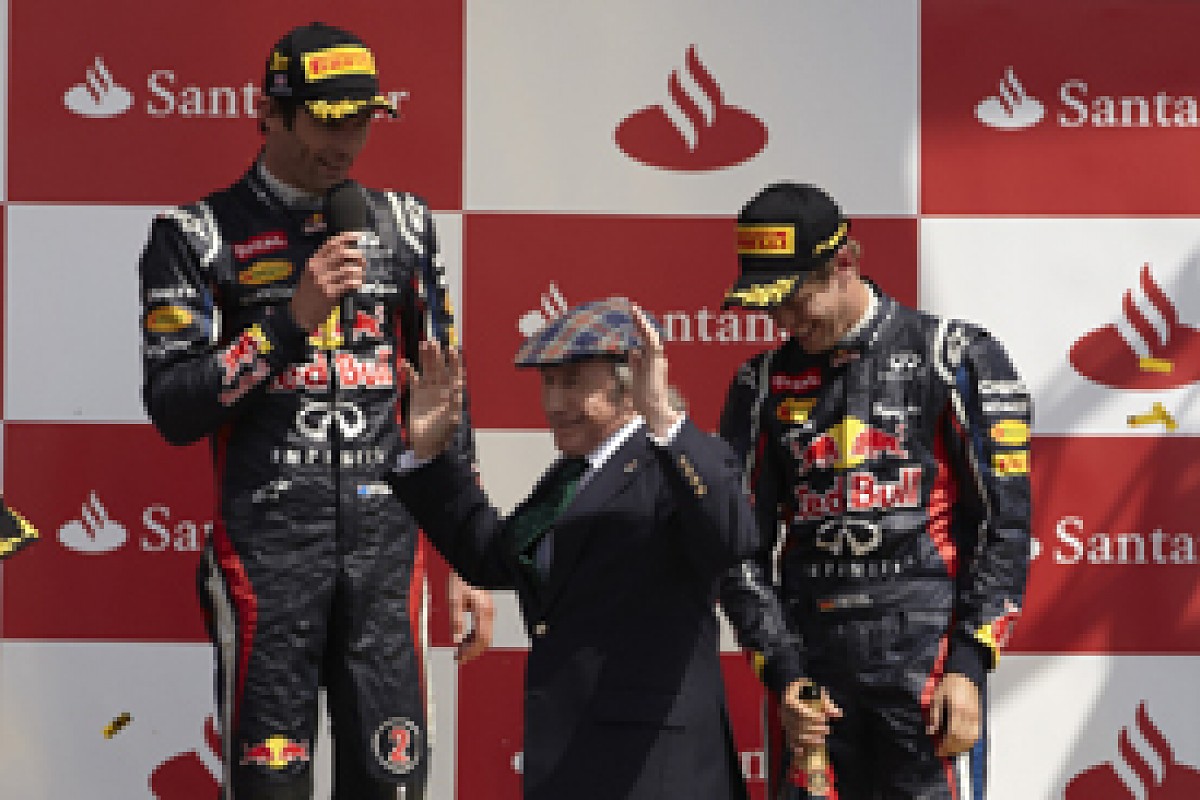 Stewart kicked off the new style F1 podium interviews at Silverstone © LAT
MH: What sort of reaction did you get?
JYS: Everybody seemed happy. As I walked back, Bernie came out of his place and said thanks very much for doing it. He said the podium is a new design and much smaller. I said it was a bit awkward because I was on the lower level, which meant I had to reach up with the mic, which wasn't so good. But typical Bernie, I see they learned from it.
MH: It made a connection between Formula 1 and the crowd that they don't normally get. Do you think F1 is guilty of not connecting properly with the fans - the people paying the money?
JYS: Yes, there's much more to be done. Frankly, a lot of drivers will go a long way to avoid the autograph bit. The only opportunity the fans get is when the drivers arrive in the morning and go out at night. I think it's very important for fans to have the opportunity to meet everybody. A huge number of them have autograph books. I've still got the autograph book I had as a wee boy.
MH: Me too.
JYS: I still do my signature in a way that means it can be read. It takes longer but I remember going home at night from Silverstone when my big brother was racing, I was awfully disappointed if the signature wasn't clear and I couldn't read it. The drivers just do this now [imitates a squiggle] and I think that's a mistake.
MH: Are we talking long term here? Because you're still in demand nearly 40 years since you last raced in F1.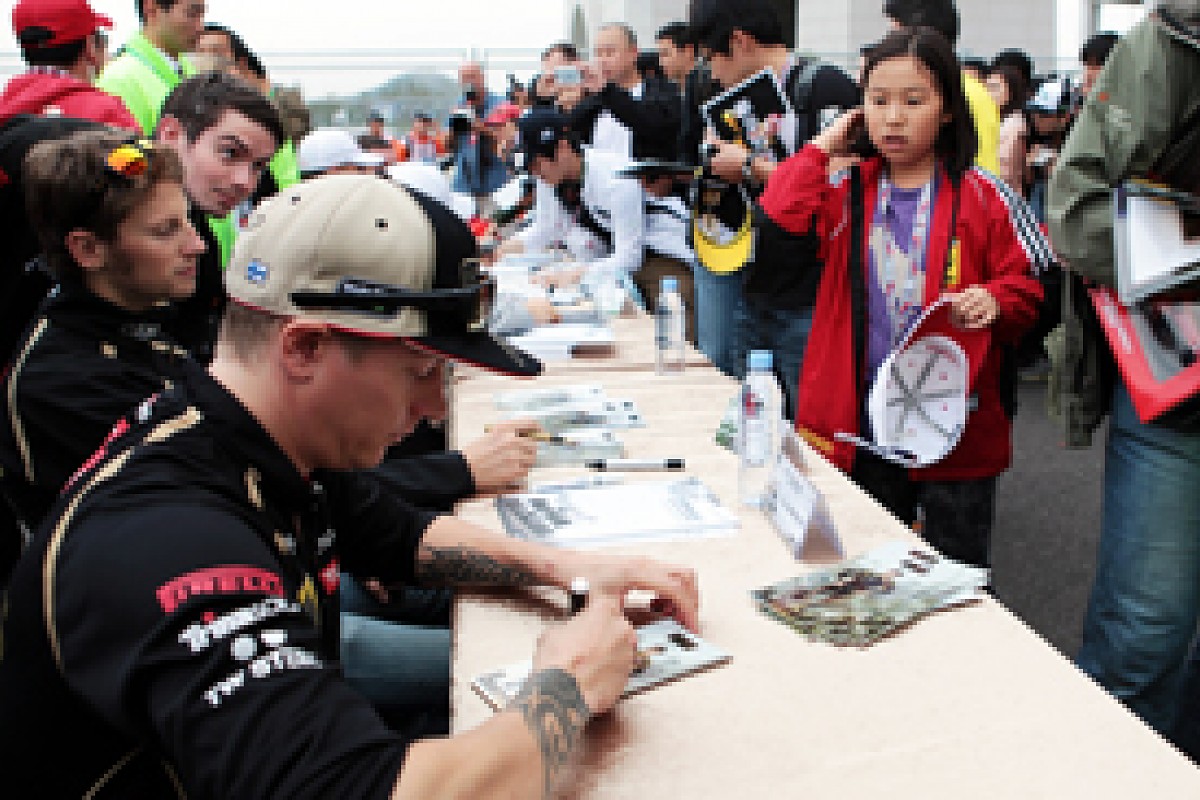 Fans still clamour for F1 drivers' autographs © XPB
JYS: That's the point. The drivers are too short-sighted. If I go to Goodwood or a grand prix in Italy or Spain or wherever, there's still a huge number of people who want autographs. It's easy when you're at the top to think autographs are unnecessary. But it's part and parcel of your duty as a world champion or a top-line F1 driver. You never know where tomorrow is going to take you.
MH: Does this tie in with your insistence on a smart appearance? I remember when you started Stewart Grand Prix, you had Rubens Barrichello walking around in hand-made shoes!
JYS: Drivers don't think it's important to present themselves well. When you're earning good money, you think you're never going to need anything else. But that's wrong. There's got to be life after driving cars and I think there's a missing factor with nearly all F1 drivers at the moment. You've got to look clean and tidy and present yourself so you're appealing to everyone.
I don't care if you're talking about the top people at Microsoft or Apple or wherever. Mr Microsoft wears a collar and tie because he's now bigger than the genius he once was. He's stepped up a level. He's dealing with governments and monarchs and world leaders. This is not me being pedantic; this is a realistic observation. David Beckham is bigger than he has ever been and he's better presented than he's ever been. Jean-Claude Killy was on the board of Coca-Cola - in the USA, not just in France - and he's on the board of Rolex. He was a skier in a very casual world, and yet 40 years later he's at the top level. F1 drivers need to think about that.
MH: At the age of 73, you have to be the living proof of how this works.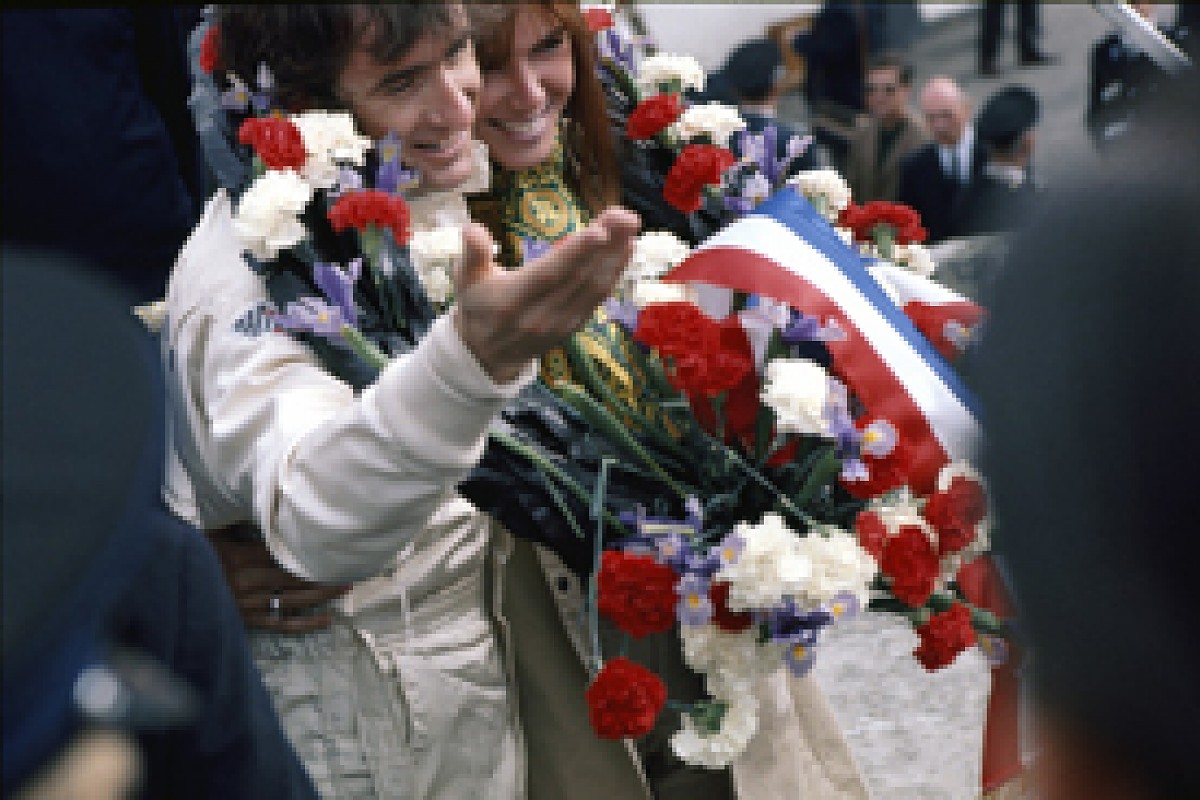 Stewart wins the 1969 French GP... and prepares to start a long association with Moet © LAT
JYS: I've been lucky enough to establish long-term relationships. I've been with Rolex for 44 years; with Moet since I first sprayed it at the French Grand Prix in 1969 - and I'm now on the board of Moet Hennessy; and I was with Ford for 40 years. I'm earning considerably more now than I ever made as a racing driver, but it all stems from my having been a racing driver. My business interests all grew from that. It's no good me saying it's because I'm a really good businessman; it's because I delivered back then.
MH: You mentioned your autograph book and, as I say, I've got one - which has your autograph in it, by the way - and if you go back over time it's interesting to see how these days drivers just do a quick squiggle that fills a page, whereas then, drivers would carefully write out their name and you'd get two or three signatures to a page.
JYS: Quite right. I would think it presumptuous of me to take up a whole page; it just wouldn't be the right thing to be doing. I think all that stuff is more important than the guys realise. Yes, it's intoxicating when you first start to win, but then there come times when you get annoyed because you're being intruded upon. But it's wrong to think that; totally wrong.
MH: Can we blame poor driver management?
JYS: I think one of the really important missing links in F1 - and motor racing generally - is that we are the only major sport in the world where we think we are so clever we don't need coaches. How can that be? It's absolutely nonsensical. The best skiers, cricketers, rugby players, boxers, golfers, tennis players, rowers - they've all got coaches. Yet grand prix drivers apparently don't need them. Rubbish. Now Sir Frank Williams has taken on Alex Wurz to try to help Maldonado and Senna. That's absolutely right and I think Alex is the right guy; he's intelligent and he's got the experience and the vision.
MH: You always mention mind-management. It's come up when we've discussed Lewis Hamilton...
JYS: It's the single most important thing that a top sportsperson of any kind needs to have. Once you let your emotions out of the box, you're in trouble. Particularly at the wheel of a racing car.
MH: Again, you're touching on quite an interesting point. How much can you tell that's happening when you're just looking at the pictures from the on-board cameras?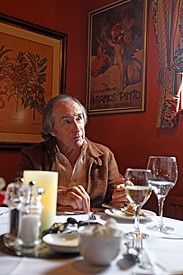 Stewart has a unique insight into driving styles over five decades of F1
JYS: Look at the driver's hands on the steering wheel. Some of them are all over the place; everything's an adventure. What you don't need is a challenge; what you really want is an invitation. The Matra MS80 I drove to win the championship in 1969 was an invitation. I gave it time to do everything, and it let me do things I would not have been able to do had I been trying to keep up with a difficult animal. You want to lead a placid animal into a corner. If I overdid it under braking and it became too busy, suddenly I was trying to consume this business just to get the apex. But if everything is calm, on the way in I'd be thinking of the exit - not the apex.
It's sometimes difficult to make a young driver understand this, because he thinks all he's got to do is drive it. When you get into F1, it's a whole new package. Suddenly there's not as much space between the exit of one corner and the entry to the next. You're up through the box and you're working the steering wheel and the buttons. You get to the next corner and you're not prepared. It's about being able to find time and create very subtle improvements that suddenly make the laptimes more consistent.
Most of the current F1 drivers turn in far too fast; you can see it on TV. Vettel turns in microseconds slower, and so does Alonso. It's only microseconds, but that little bit is taking all of the tensions within the car. It's very simple, but there are no coaches to tell them that.
MH: You say that, but I can't imagine a current F1 driver would want to listen to anyone, particularly a coach who hasn't won a race.
JYS: Again, that's missing the point. David Leadbetter didn't win any majors, yet he was the best golf coach ever. The same goes for Butch Harmon, who didn't win a lot, yet he was dealing with Tiger Woods at his peak. Why are drivers so clever that they don't need help?
MH: You now work closely with Lotus and Genii. What's your take on Romain Grosjean?
JYS: I'm concerned that one of the anomalies of F1 is what I call the second-year factor. Regrettably, in a lot of cases, the second year is not as good as the first. Right now, Grosjean is one of the fastest drivers; I've been very impressed by him. But I have been desperately hoping he'll win a race this year because history shows there's every chance that the second year will be disappointing - I'm obviously not including his period with Renault in 2009. It's not that he'll become big-headed or he won't be trying; it's because whatever the 'second-year' anomaly is, it has a consistent reality in almost every case, including mine.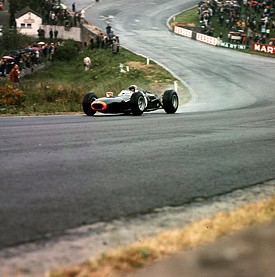 Stewart exploded onto the scene in 1965 © LAT
I finished third in the world championship in 1965, which was my first year. I won the Italian GP and took four podiums. For me, it felt unbelievable to be there. I was thinking, 'I've learned so much in this first year; boy, next year is gonna be good!' And it wasn't. I can't take much personal blame for that; it just happened.
MH: As a young driver, how do you cope with the setbacks that are bound to come?
JYS: I was lucky that when I got into the car I was able to remove all emotion. That was something I learned to do and I think it's to do with my shooting, which I did before I got into motor racing. In shooting, once you've missed a target, you'll never get it back. In racing, once you've missed an apex, you can't get it back.
I thought at one point that I was God's gift to shooting. The other competitors were of mature years and here was a kid, who'd never had any success in his life, doing well and getting slightly carried away with himself. Then I suddenly went for ages without winning. I had to understand that I wasn't going about it the right way. I was trying too hard. I didn't know what I was doing at the time and that's where the mind-management came in. I later realised that if I removed the emotion, I also drove better races.
MH: But wouldn't you say it was true that drivers, in the 1960s particularly, had to deal with totally different emotions?
JYS: Very true. I think that emotion is less today than it was before and, to be frank, that's partly because of the danger. Those grid walks that Martin Brundle does: you wouldn't get anything like the same responses in my day because somebody was likely to be killed. I don't care who you are; when you've been to that many funerals and memorial services and you've seen the father and the mother at home after the burial and the whole family just in shock after suffering such a huge loss, it's very difficult to switch that off.
MH: How do you rate the current drivers - for example, that podium at Silverstone: Mark Webber, Fernando Alonso and Sebastian Vettel? You'd have to say that Alonso and Vettel would be in the top echelon...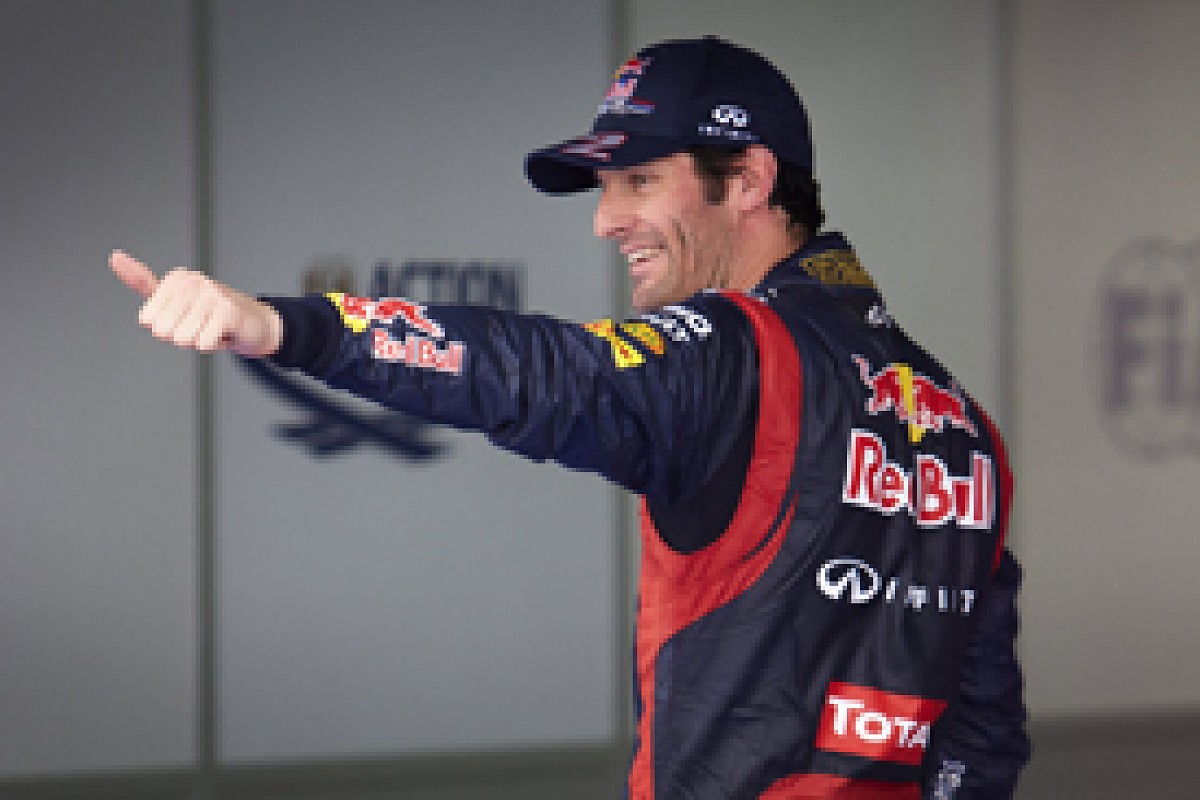 Stewart admires Webber's return to form this year © LAT
JYS: Absolutely. And I think that when he keeps his emotion under control and his car is good, Mark is as good a driver right now as any of the others. Last year, he overdrove the car; emotionally, he tried too hard. This year, so far, he's been much calmer. He is a more focused and capable driver in my opinion; he's considerably better than he was last year.
MH: Is the ability to win at Monaco a good guide? Certainly, it's a race at which you excelled.
JYS: I think so, yes. At Monaco this year, Webber was put under great stress towards the end because he wasn't as quick as the other guys and they knew they couldn't pass him unless he made a mistake. That was the problem at that point: calculating enough to keep going and yet not to overdo it - which, as many drivers have proved, can happen so easily at Monaco.
MH: You mentioned earlier the work the drivers have to do in terms of making adjustments on their steering wheels. But could you not argue that drivers of your era were actually much busier because you had manual gearboxes and a clutch and needed to synchronise your downshifts with the braking? Could you argue that you had to have more coordination?
JYS: No, I think they've got considerably more to do today. Then again, it could be said that what I had to do was probably more than Stirling Moss or Fangio had to do, because it took them longer to get from corner A to corner B. Saying that, it took me longer to do the same distance than the time the current F1 driver has to work with. We had one hand off the wheel changing gear, but today's drivers constantly have to make adjustments while travelling much faster.
MH: Mention of Vettel leads to the question of him winning three world titles - or more - in a row. Fangio and Schumacher have done it, but no one else. How difficult is that?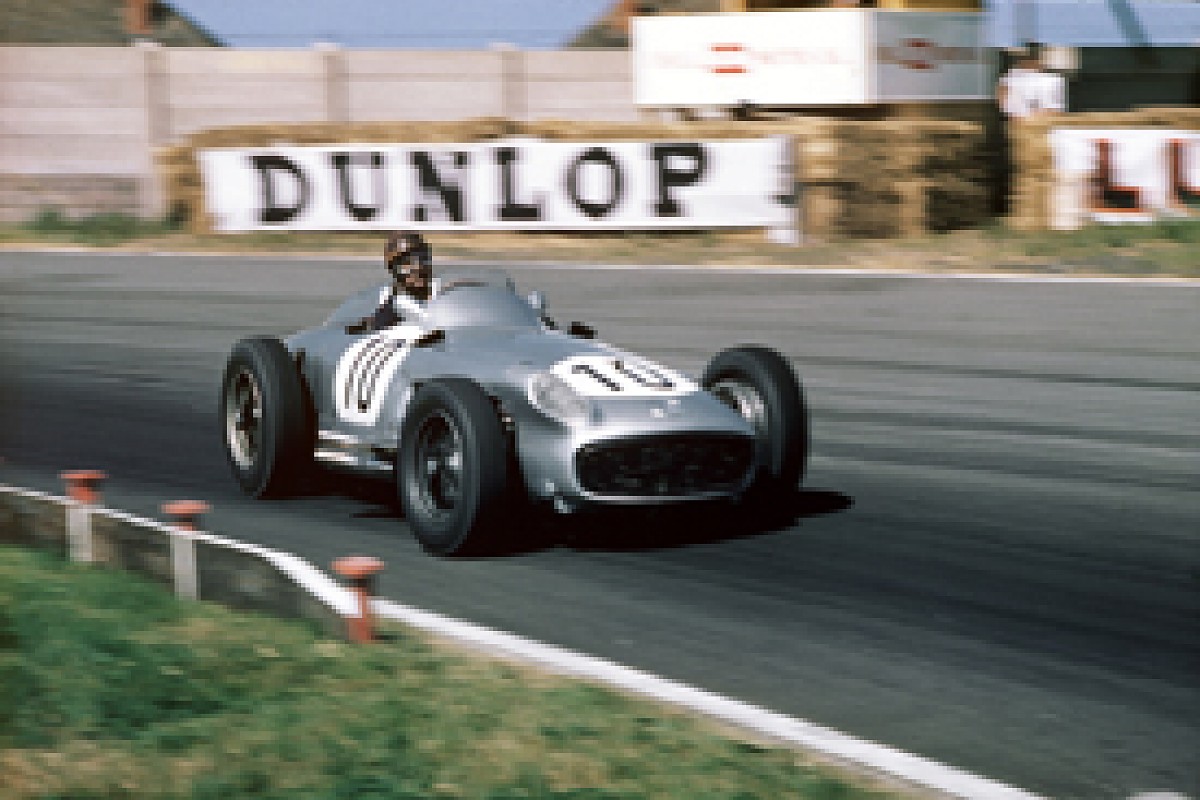 Fangio won consecutive titles with Mercedes, then did the same again with Ferrari © LAT
JYS: Michael was with Ferrari each time he did it, but Fangio had swapped teams from Mercedes to Ferrari after two of his four consecutive wins [1954-1957] and I think that's an important consideration. Winning the championship once puts a big strain on any team; do it twice in a row and everyone is wiped out. So going for a successive third puts a huge expectation on everybody - not just the driver.
Vettel is lucky in a way because he's with Red Bull and they are not what I'd call a normal team in that respect. Vettel doesn't have as much to do away from the racetrack as, say, Lewis Hamilton and Jenson Button, because they are running around servicing McLaren's sponsors.
MH: You never managed back-to-back titles. Did you run yourself ragged, crisscrossing the Atlantic, doing television stuff in America, racing in the CanAm series and so on?
JYS: That's true. A guy called Roone Arledge took me on at ABC's Wide World of Sports. Roone was the most creative man ever to have worked in sports television. He produced Olympics coverage and he was the president of ABC Sports and ABC News. He was a genius. So when he put me under contract for 1971, I was doing the Olympics, summer and winter; I was doing all the stock car races, Indycar races and sprint car races. I was doing the bobsleigh, the luge and the cresta. I was in 25 prime-time American television shows a year. So the Jackie Stewart factor became big in America.
Drivers today don't understand the dimensions of that. You talk about the Vettel factor. Just think of the intoxication for Sebastian of winning the world championship. You'd probably negotiate a salary of around £20 million off the back of that. Can you imagine £20m coming your way? I was earning a lot of money when I was doing it, but in those days you had to do more to get that money. You were having to deliver.
MH: So, are you saying that Vettel doesn't have to work so hard?
JYS: As I say, he's a lucky boy because he's with Red Bull and I understand he may have as few as 12 days a year of obligations. I had 40 days with Ford alone. Now Sebastian travelled to the US after Canada to drive on the New Jersey circuit. That was part of an Infiniti deal and, if I were him right now, I'd be doing everything for Infiniti that I could because that could become a life-long relationship. I did that with Ford for 40 years. That's a lot of money; a few million a year.
MH: Your association with Ford led you to set up Stewart Grand Prix. You were going into an area that you knew little about, because you'd never actually run a team. Looking back now, was it more difficult than you expected?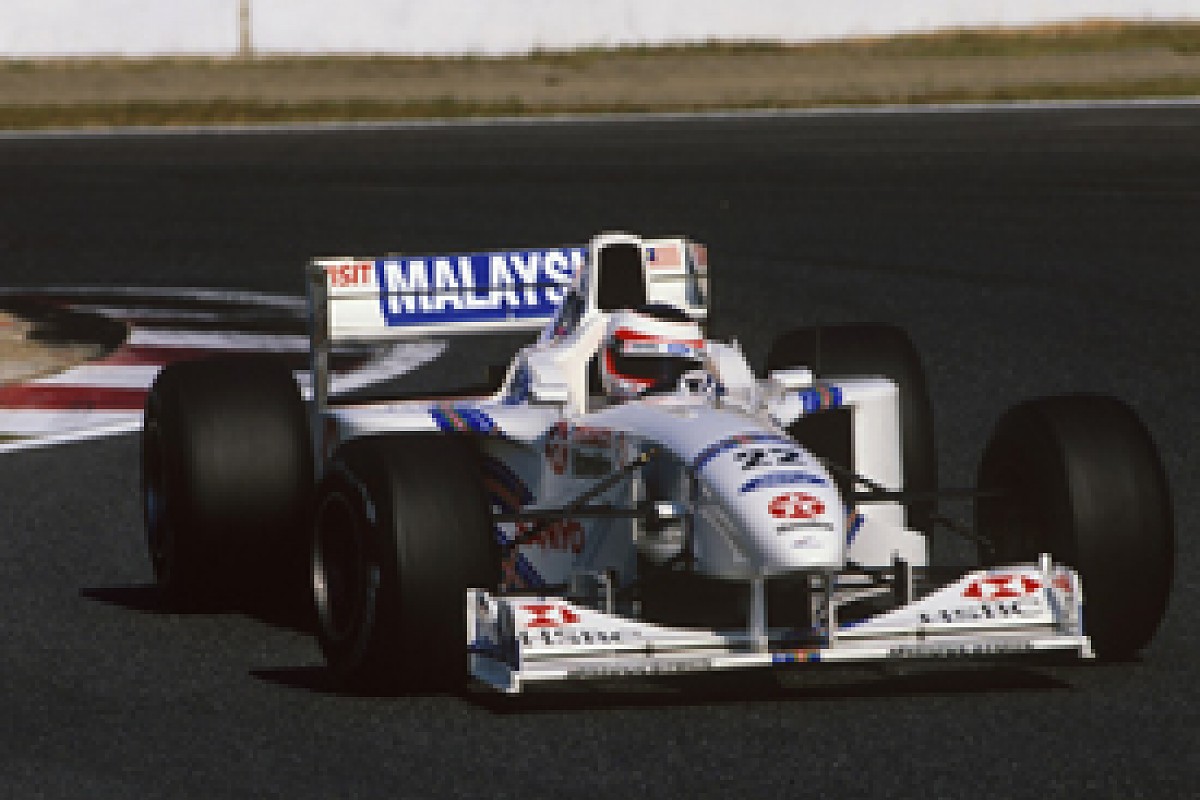 Stewart took his own F1 team from start-up operation to grand prix winner in three years © LAT
JYS: It was much harder than I expected.
MH: I remember particularly the 1997 British Grand Prix was a disaster because you had a lot of high-flying guests and the Cosworth engines were blowing up left, right and centre.
JYS: Two of them blew up in the garage! I had the Duke of Kent there and a number of sponsors. When the first engine went, you couldn't see a thing for the smoke. Then another engine went 20 metres after the car had left the garage - and then a third let go in the garage. It's hard to believe now but, in those days, we were taking 12 engines to each race.
MH: Would you agree that being a team owner was more difficult than being a driver?
JYS: Oh it was much more demanding. I was on the shop floor every day. It was hard work but there were fantastic relationships. We had about 250 people, so it was very intimate: we knew everybody. But the most important thing was that we never had one penny of overdraft in the whole time we were running Stewart Grand Prix. Everyone said I was going to lose everything. I'll never forget an English F1 driver saying to me: "You're mad. You're going to destroy your reputation and you'll end up with no money."
I pre-financed everything with every sponsor. They paid one third as a deposit when we did the deal. We made money in our start-up year. And we made a minimum of £5 million every year. I don't think that's ever happened before and I don't think it will ever happen again.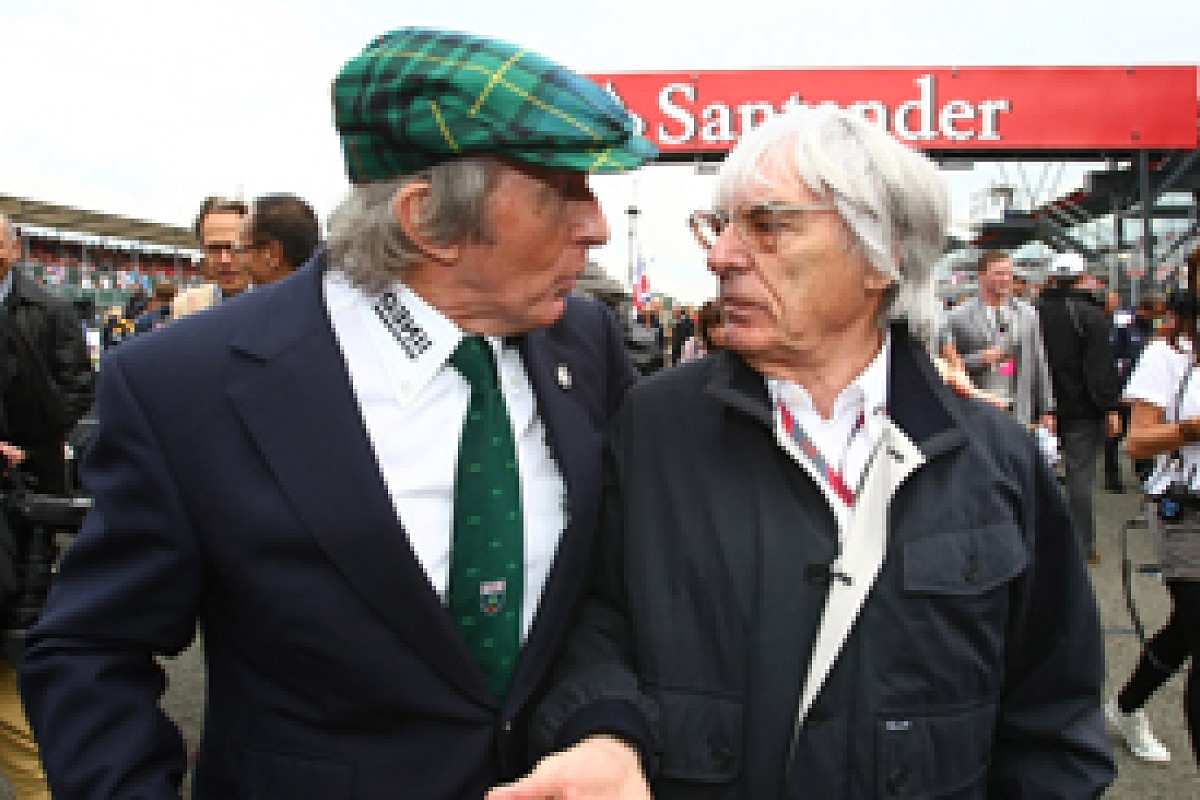 Stewart and Ecclestone have been both friends and opponents © XPB
MH: You've been on both sides of the fence: working as a team owner and also, with the BRDC as a promoter, dealing with Bernie Ecclestone. Even allowing for CVC putting half the proceeds in their pocket, does F1 really need the money the race promoters are forced to pay?
JYS: F1 has become a huge money machine, and one man is responsible for that: Bernie Ecclestone. He has made more money personally than any man in F1. I was one of his biggest critics when we were fighting to keep the British GP; the threat of losing it was very real and I don't think Bernie had a real care about the race.
That was one of the most difficult times of my life, actually. Someone once said you shouldn't work with children or animals. If you're in a business, then don't work with clubs or memberships. Members are invited to join a club - they can't apply - and yet they think they own it. They don't.
One of the most important things I did was to separate the BRDC's business from the club membership. The board, many of whom are not businessmen, were appointed because they were jolly good chaps. It's like being a trustee; it might be flattering to be asked but it will probably be the most taxing thing you've ever done. The same applies to being on a board if it's not done properly. Martin Brundle was a good chairman when I was president, but it took up huge amounts of our time. And the government didn't help much, unlike other governments around the world, be it China, Malaysia, Singapore, the Australian State of Victoria, or anywhere else.
MH: But you used your contacts to get some government assistance?
JYS: The only person who helped was Tony Blair. He gave £8 million towards the Silverstone bypass. But then the British Grand Prix was moved to April. Why was it moved to April? They wouldn't hold Wimbledon or the Summer Olympics in Britain in April. I think you know the answer to that...
MH: Because the BRDC was being shown who was boss by Mr Ecclestone.
JYS: Saying all that, I like Bernie very much. We have good times sitting down and talking about Jochen [Rindt, who was great friends with, and managed by, Ecclestone] and racing in those days. Today I get on with Bernie very well and I really like him. He has a fantastic sense of humour. But at that time, he was so tough - he wouldn't give an inch. I don't think we could have been friends then because I had to say certain things to support the BRDC and the cause. And he would say some fairly strong things. None of that felt good.
MH: So, having been through all that, do you think F1 is too expensive for its own good?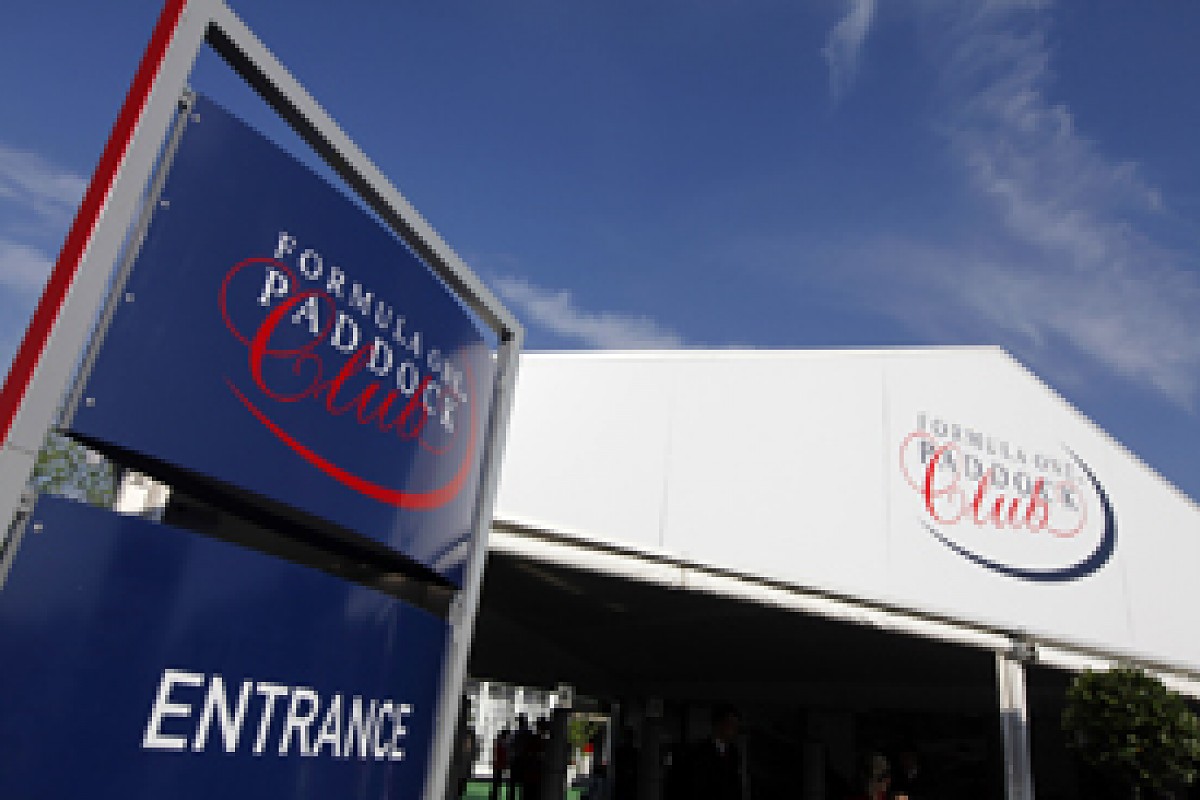 Stewart says F1's Paddock Club sets a benchmark for sports © LAT
JYS: The bar has been moved to such a height that it would be unrealistic to bring it down during Bernie's lifetime, or that of CVC, given what they have bought into. They have received a huge amount for their investment and it's been a success because of the way Bernie Ecclestone runs it. Whatever we may think about Bernie, F1 is the best-presented sport in the world. Bar none. It's global. The Paddock Club has no equal and it's the same standard everywhere we go
- with one or two possible exceptions.
MH: You say this having sampled all the right places, such as Ascot, Wimbledon and so on?
JYS: I do. They use the same waiters at every grand prix, the same chef, the same kitchen equipment. From the moment you arrive at reception and experience the free massage and so on, it's impressive. It costs around £1900-£2500, but the sponsors and their guests get value from that. It's all about the detail, right down to the quality of the credential. The whole thing is very expensively done. Go to Ascot and you don't get a credential like that. Saying that, I'm always in trouble because I tie my F1 credential through my trouser-belt loop and keep it in my trouser pocket. If I put it round my neck it obscures a sponsor's name.
MH: Which leads me nicely into asking why you would want to work for Genii or RBS or whoever? Do you like being involved and keeping busy because, without wishing to be rude, you're not doing it for the money, are you?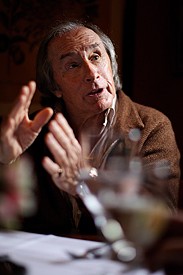 Lunch with Stewart is a fascinating experience
JYS: I can't deny that it's financially rewarding. I've been completely domiciled in Switzerland since 1968; that's my permanent home. I have residency of the United Kingdom because I come in to service relationships, for which I pay British tax. I don't have a mortgage and I don't have any overdrafts. I'm very Scottish in that I believe you can't spend what you don't earn!
MH: What I'm trying to say - and what is evident from our conversation - is that you're still as much a fan of the sport as you ever were.
JYS: Very much. I still love the sport. But I'm proud of F1 and the fact that, for example, all the trailer units are lined up in the paddock within a centimetre of each other. That sort of attention to detail, when you're dyslexic as I am, it's something you're really good at. And the F1 paddock is spotlessly clean. I bring CEOs, company chairmen and very important people into the paddock and they are hugely impressed by what they see. They cannot duplicate it in their industries.
We tend to lose sight of that and take it for granted because we see it every two weeks. Just look inside the garages; given the intense technical work that's going on in there, they're absolutely immaculate. Where else in the world do you have that?
I still get a buzz when I go onto the grid. I don't care who the CEO is, or how successful he's been or how much money he's got; if he's not impressed by the F1 paddock and grid, there's something wrong with him. F1 is such a good example of teamwork, of motivation, of the desire to keep that performance at such a high level. And then you see the presentation skills in the Paddock Club and in the motorhomes.
MH: So how do you see the future for F1?
JYS: It's simple. Whatever anyone says, there is no viable alternative to the motor vehicle, either for the transportation of people or goods. You can have planes, trains or ships, but there has to be wheels to move people and goods at the end of each journey. So why should motor racing not continue for the foreseeable future and, following on from that, why should F1 not continue to be the top level?
Why should the next F1 generation not want to do as well as the current generation in the same way that they wanted to emulate people like Alfred Neubauer, the racing manager at Mercedes from the 1930s to the 1950s, or Enzo Ferrari? F1 is a great maker of people. It develops that kind of hunger, that kind of need, that kind of delivery. Sport as a whole does that. All the people who won gold medals in the Olympics sacrificed so much to achieve that one performance. It's the same with a racing driver. There's no free lunch.
MH: Well, there is today - this one is on us.
JYS: An Irishman buys a Scotsman lunch! Someone make a note of the date - I accept. Thank you.
MH: Not at all. Thank you. It's been fascinating, as always.